The most delicious fruit smoothie is a classic strawberry banana smoothie made with frozen fruit, Greek yogurt, and milk. Enjoy!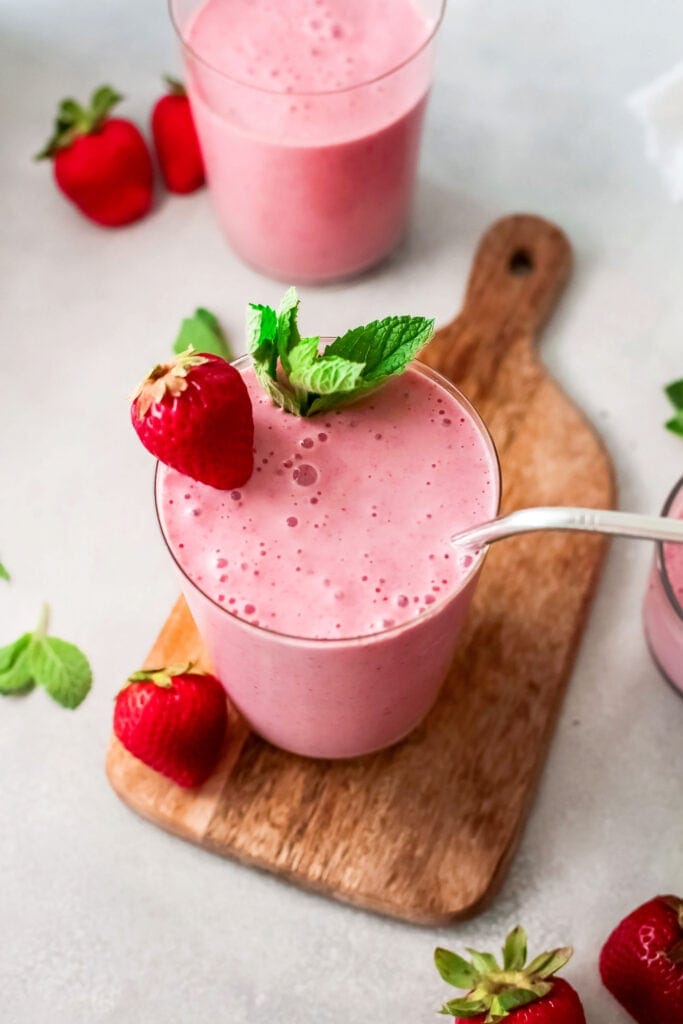 The hardest part about making a smoothie, is choosing between all of the flavors! Some of our most popular fruit smoothies on FFF include our Peanut Butter Banana Smoothie, Classic Strawberry Smoothie, and our Green Smoothie.
Favorite Strawberry Banana Smoothie
If you're a smoothie lover like us, then our strawberry banana smoothie with yogurt is a must! It's naturally sweetened, packed with nutrients, and so delicious.
Real Food Ingredients – all ingredients in this fruit smoothie are real. No sugary purees or additives.
Naturally Sweetened – this recipe is naturally sweetened with real fruit. No added sugar of any kind!
Gluten-Free – it is naturally gluten-free without even trying!
Kid-Friendly – when your meal tastes like dessert, I say that's kid-friendly for sure.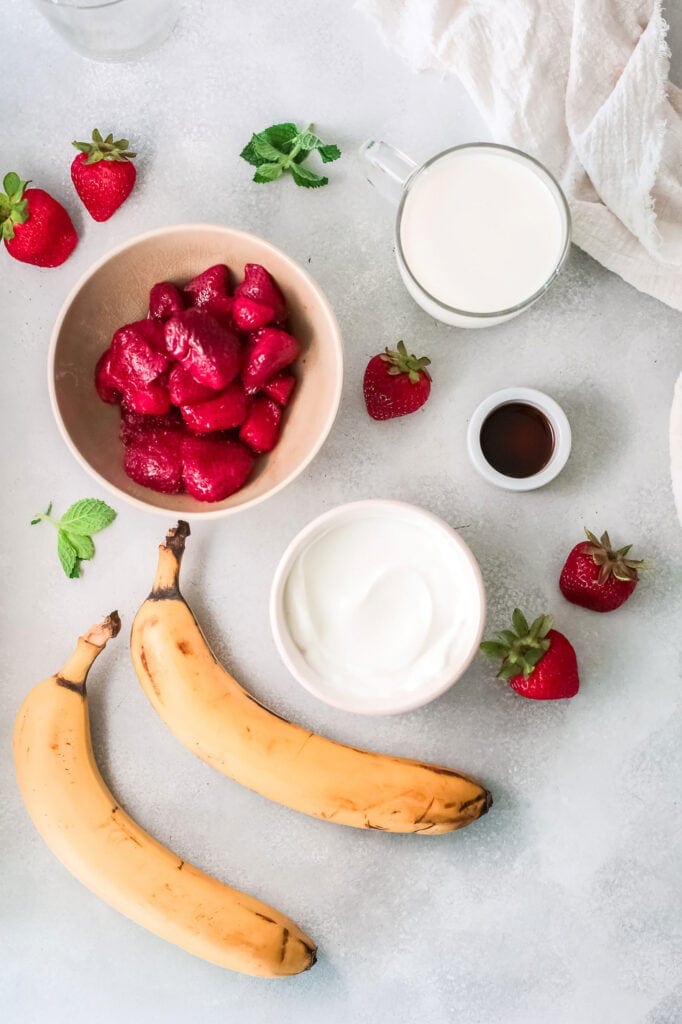 What You Need
5 basic ingredients are all you need for this healthy strawberry banana smoothie!
frozen strawberries
frozen banana
Greek yogurt
vanilla extract
almond milk
Only have fresh fruit?
If you only have fresh fruit, then you have a couple of options.
Freeze your fruit: strawberries and bananas can easily be frozen. This process will take around 2 hours, but you can follow our frozen banana tutorial. It works the same with strawberries!
Use ice: this would be our last resort suggestion only because ice dilutes your smoothie, however, it is a good option if you only have fresh fruit.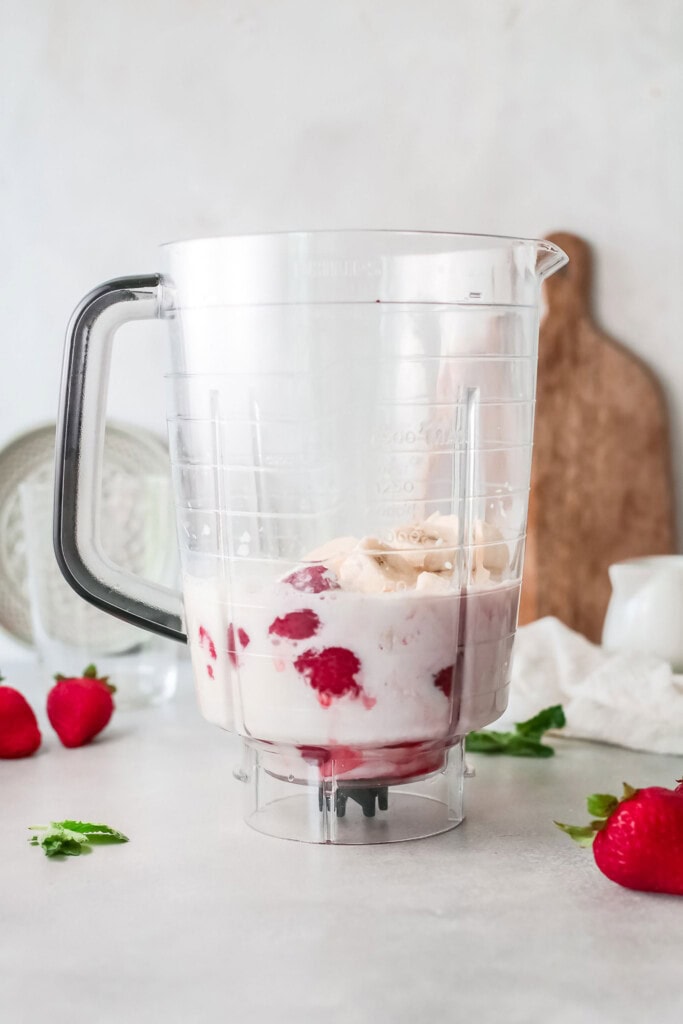 How to Make a Strawberry Banana Smoothie
In under 5 minutes, you're going to have a wonderful and naturally sweet frozen fruit smoothie recipe ready to go!
Place all ingredients into your high-speed blender.
Blend on high until smooth. Option to add more milk as needed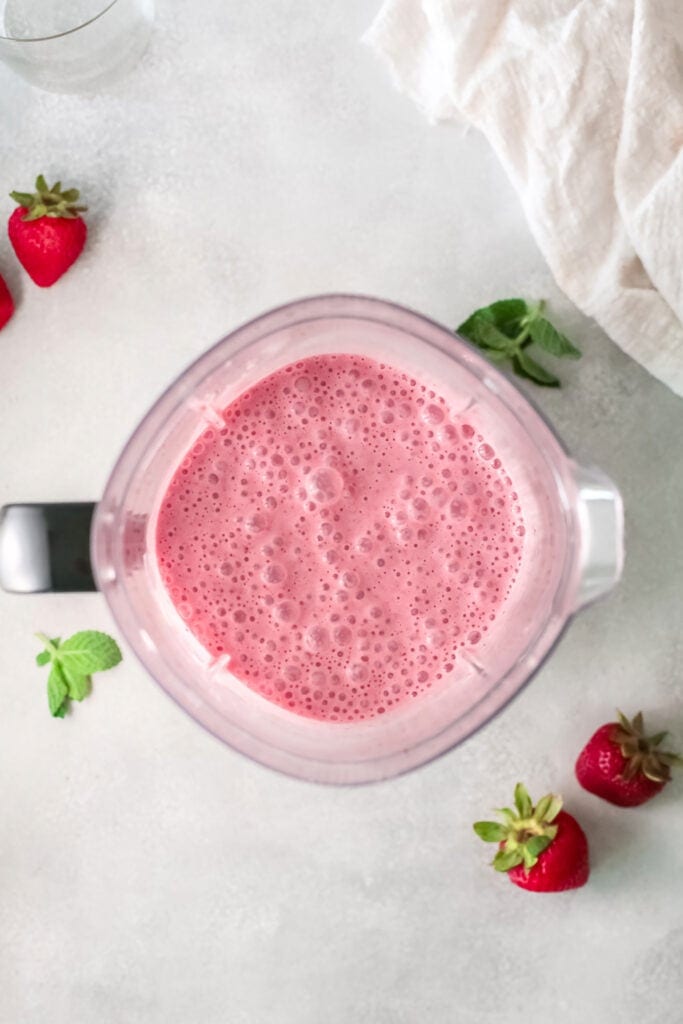 Strawberry and Banana Smoothie Variations
Want to take your strawberry smoothie up another notch? Here are some optional add-ins and variations to make this recipe even more nutritious.
Add-Ins
chia or flax seeds: add 1 teaspoon for extra nutrition.
protein powder: add around 1/4 cup of your favorite protein powder.
peanut butter: add 2 tablespoons peanut butter for a "PB and J" kind of flavor.
honey: want it sweeter? Add 1-2 tablespoons of honey.
spinach or kale: Add a big handful of spinach or kale for some greens.
Variations
Make it Vegan – simply swap the Greek yogurt for a non dairy yogurt.
Make it a Protein Shake – add in 1/4 cup plain or vanilla protein powder for a protein boost.
Make it a GREEN smoothie – add in a handful of your favorite greens such as fresh spinach or kale.
Make it a Smoothie Bowl – use 1/4 cup less milk so that your smoothie comes out nice and thick. Serve it in a bowl and top it with fresh fruit and granola.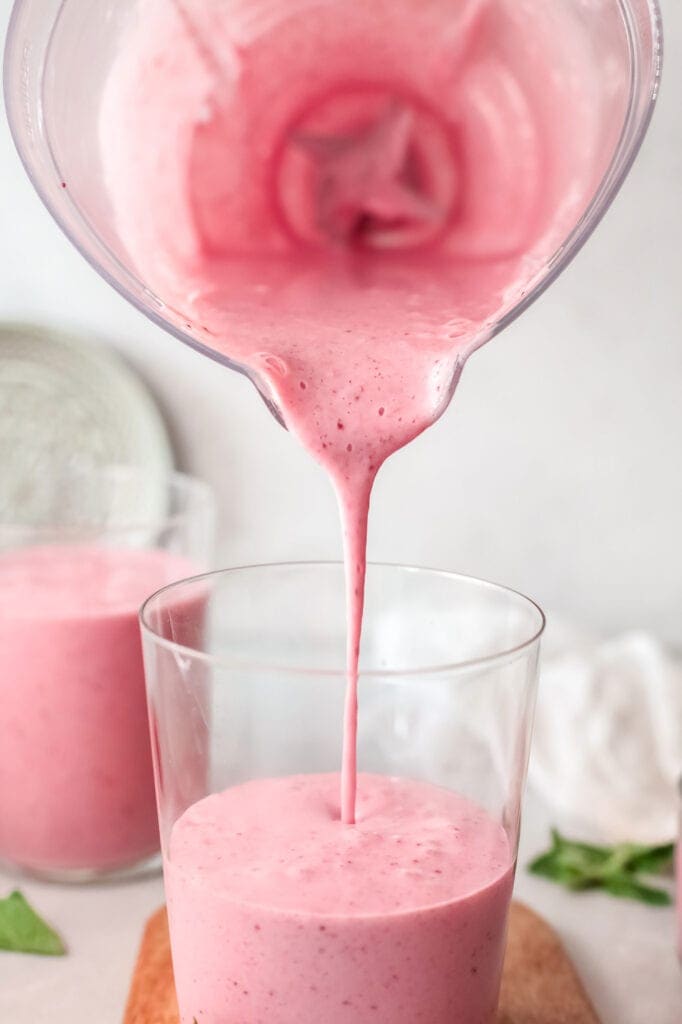 Top 3 Tips for a Perfect Frozen Fruit Smoothie
Use Frozen Fruit: this might be an obvious tip, but make sure to use frozen fruit for your frozen fruit smoothie! The more frozen the better, too.
Start with Less Milk: you can always add more milk. So, if the recipe calls for 1 cup, start with 3/4 cup and add from there. Some people like thicker smoothies and other people like them thinner.
Your Blender Matters: there is nothing worst than a chunky fruit smoothie. So? Make sure to use a high-speed blender that can puree everything together nice and smooth.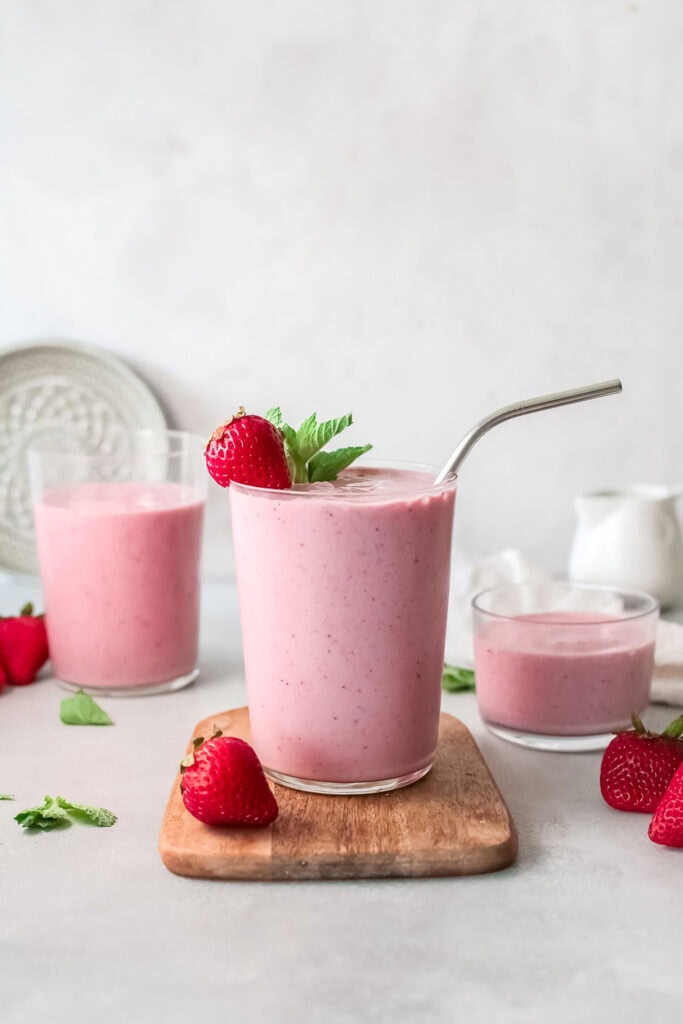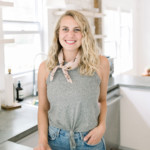 Lee is the founder of Fit Foodie Finds and based in Minneapolis, MN. She started this website in 2010 as a way to share her love for real food and wellness.