Start your day off right with this protein-packed healthy breakfast smoothie. One serving of this breakfast shake gets you 12g protein and 6g fiber!
Filled with fruit, oats, protein powder, almond milk, and a touch of peanut butter, this healthy breakfast smoothie of all breakfast smoothies will keep you feeling satisfied until lunch.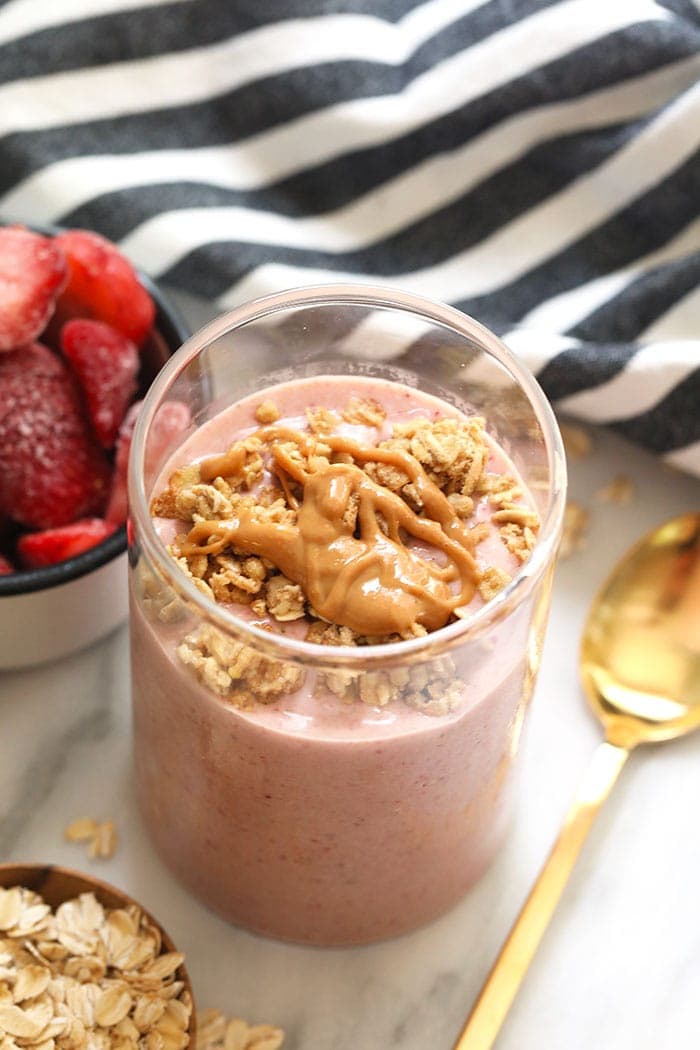 Best Breakfast Smoothie!
Healthy breakfast smoothies are definitely a morning go-to on Team Fit Foodie, and we have officially dubbed this bad boy The Best Breakfast Smoothie because it truly is the best ever.
Not only do you get your protein, a serving of fruit, and healthy fats, but this smoothie recipe tastes like dessert. I make this smoothie weekly, and I'm here to tell you it's truly the best.
Is it healthy to have a smoothie for breakfast?
Smoothies are a healthy breakfast idea and pretty much any fruit smoothie made with whole ingredients such as fruit, seeds, nut butter, greens, etc. is a great option for breakfast!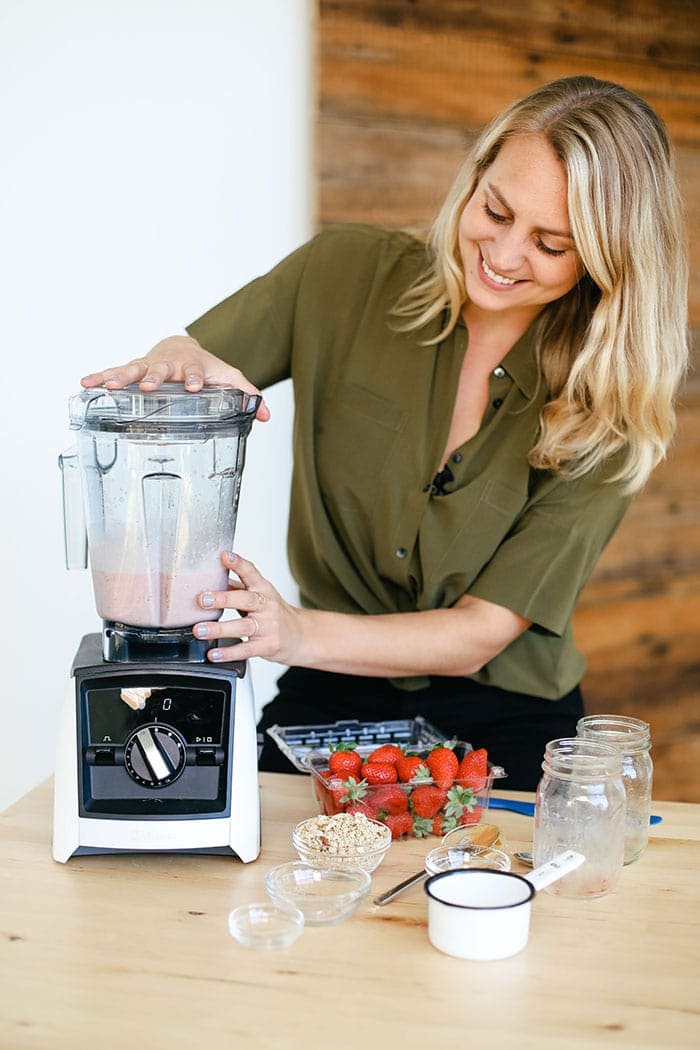 Smoothie Preparation
We love having smoothie recipe ingredients on hand so that whenever the smoothie mood strikes, we're ready. One of the easiest ways to prep for this ahead of time is to cut up your favorite fruit to use in healthy smoothies and get it in the freezer.
That way, you can grab already sliced fruit from the freezer when you need it and plop it right into your blender. Where are my thick smoothie fans?! Using already frozen fruit in your smoothies will help give them this delicious texture.
If you haven't check out our posts on how to freeze bananas and berries, do it now!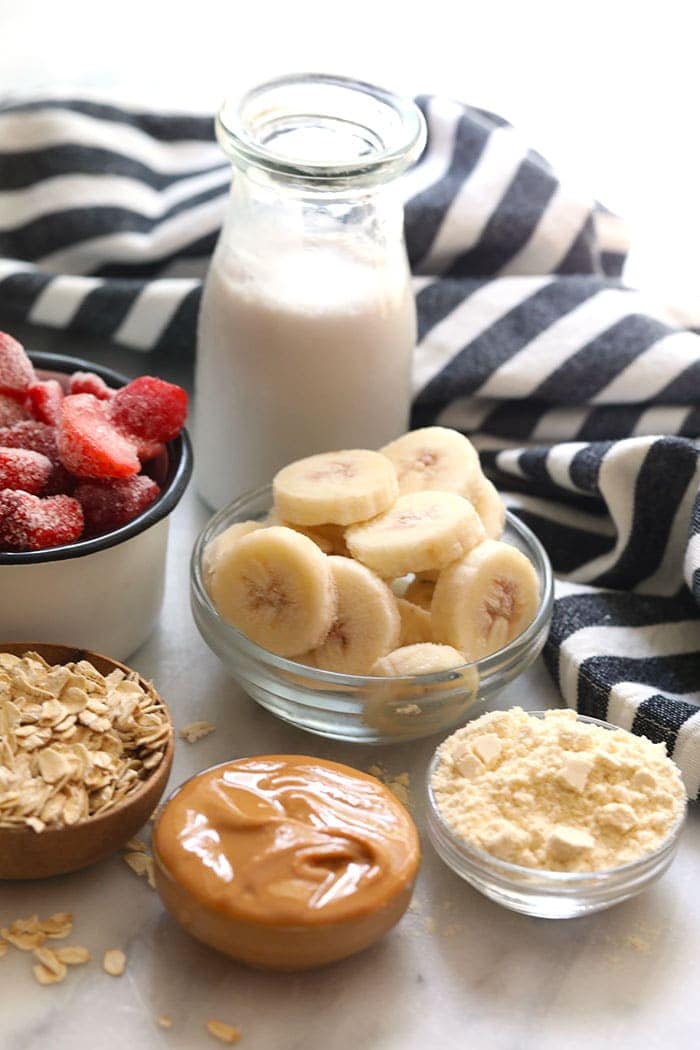 What You Need
What does this smoothie taste like? Short answer- dessert! In my opinion, it tastes like a strawberry peanut butter shake, but it's only 200 calories with 12g protein!
In order to make this smoothie, here's what you need:
rolled oatmeal
protein powder – check out our fav protein powders.
peanut butter
almond milk (any kind of milk works!)
Can you put raw oats in a smoothie? You can put raw oats in a smoothie and in fact, we recommend it! Rolled oats add whole grains and a fabulous texture.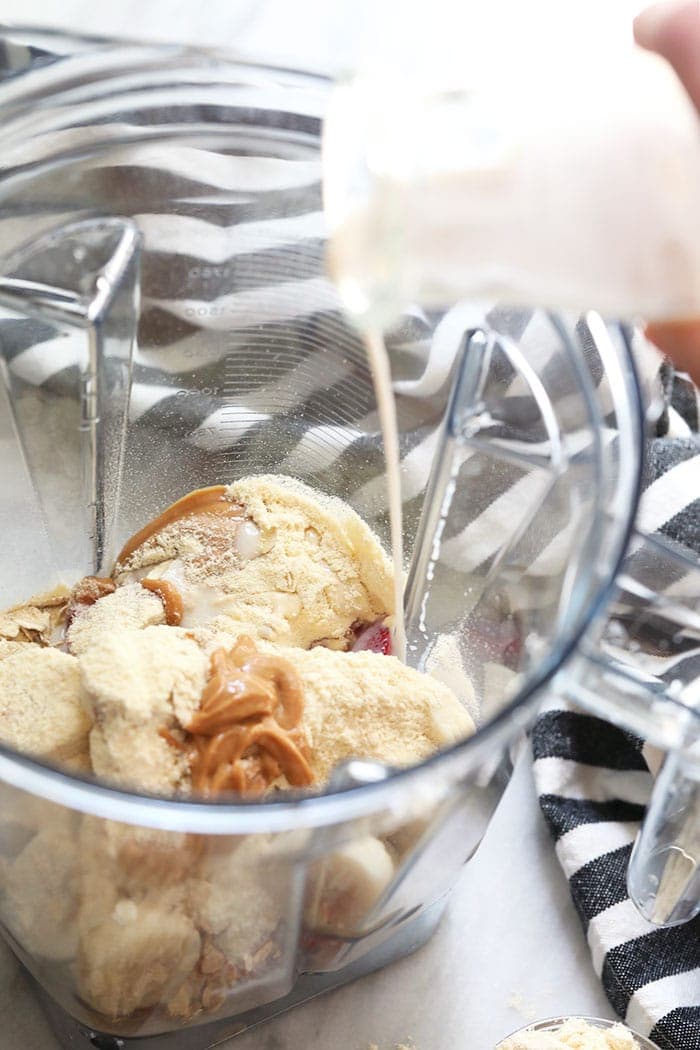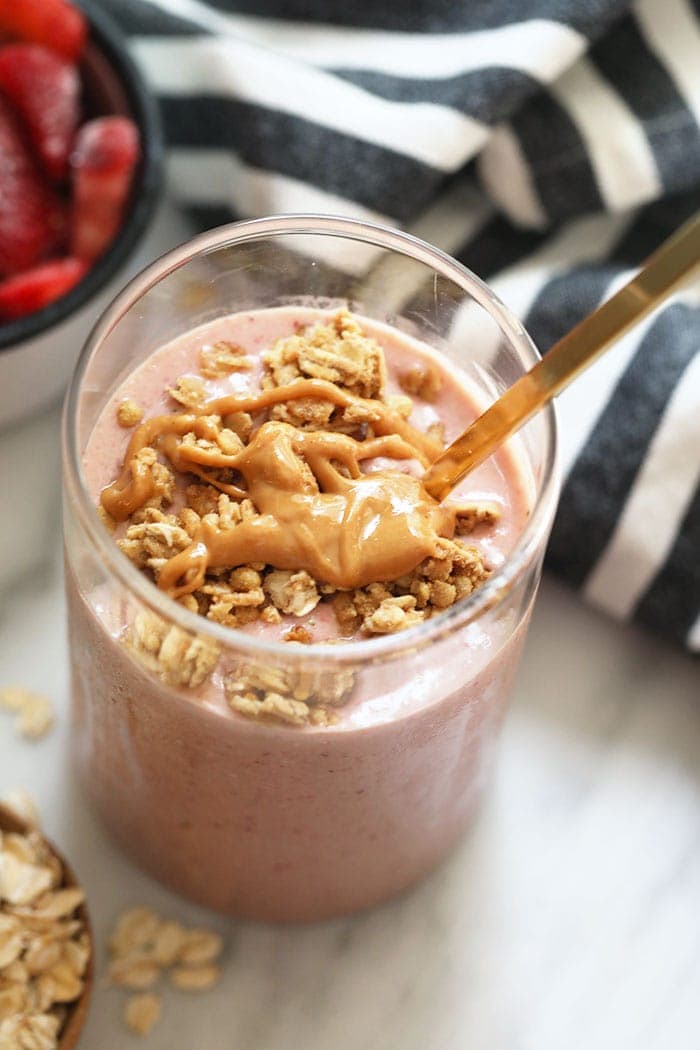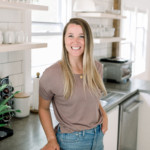 Emily spent the first 10 years of her career in marketing and advertising roles and started side-hustling with Fit Foodie Finds in Fall of 2015. She joined Team Fit Foodie full-time in the Spring of 2018. Em lives in Minneapolis with her husband and dog, and manages FFF business operations as well as all things sponsorships and brand collaborations.