This kale smoothie is packed with greens, nutrients, and flavor. It's made with kale, banana, flax, dates, and orange juice.
Whip up this green smoothie in 5 minutes and you're off and running with a healthy breakfast or snack on the go.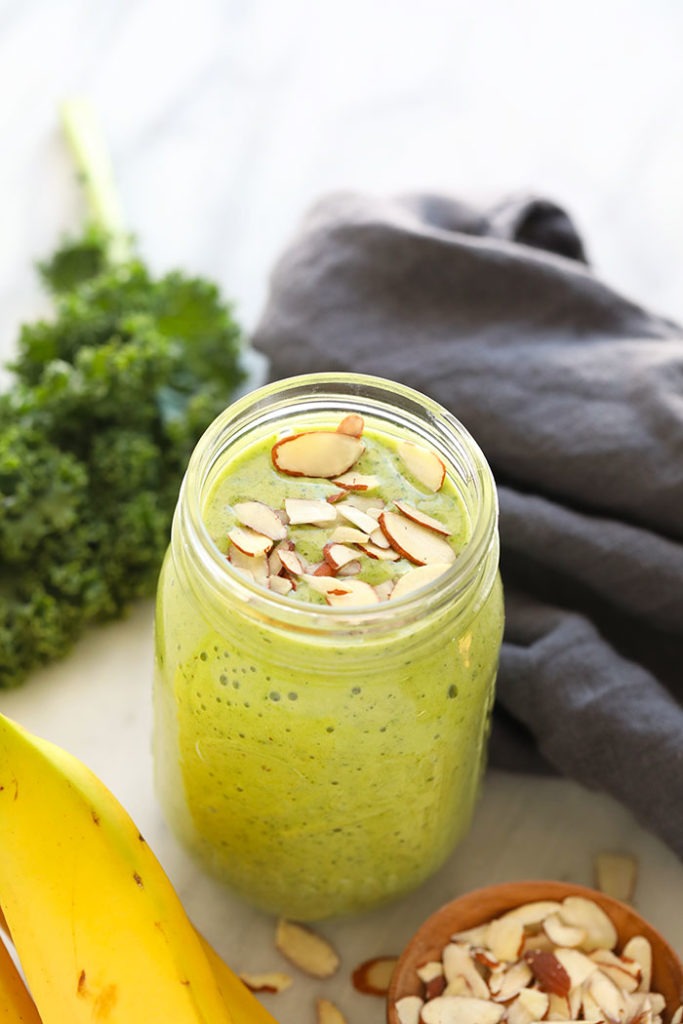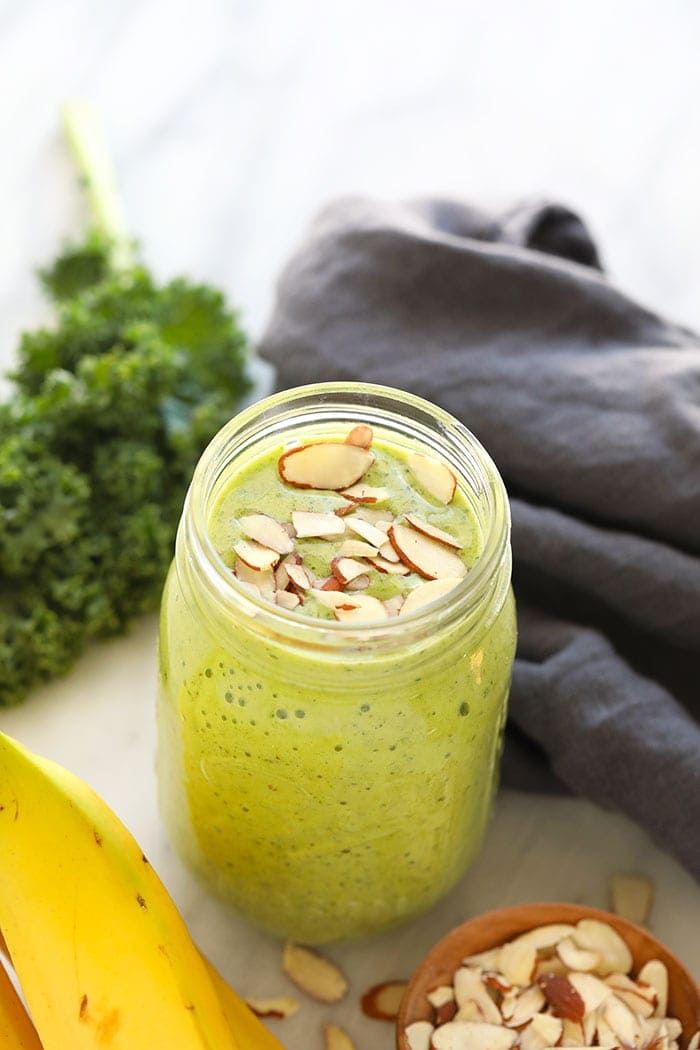 From green smoothies to breakfast smoothies to protein shakes, we have all the smoothie recipes you could ever need on Fit Foodie Finds. And this kale smoothie recipe is one of our absolute faves.
Kale Smoothie of Your Dreams
This kale smoothie recipe is the smoothie of our dreams, and is hopefully soon to become your dream smoothie as well! It packs 5g of protein and 6g of fiber per serving AND doesn't taste too earthy green like so many green smoothies do.
Just make sure that you're set up with a blender that can do some serious blending and puree all that nutrient-dense kale and let the banana, orange juice, and ginger deliciousness do its flavor work.
Best blenders for smoothies
We highly recommend investing in a high-speed blender such as a Vitamix or Kitchen Ninja because it will make blending anything (not just smoothies!) so much easier.
Both the Vitamix and the Ninja are high-powered enough that you can drop all your smoothie ingredients in at once, and never have large chunks of kale (or other hearty ingredients) infiltrating your green smoothies again.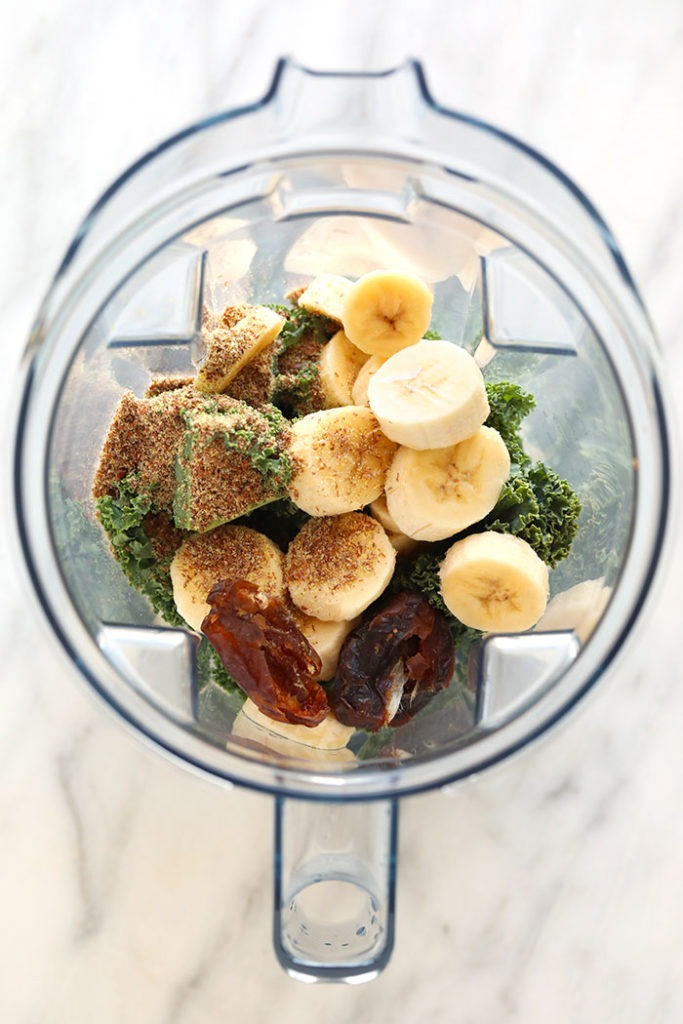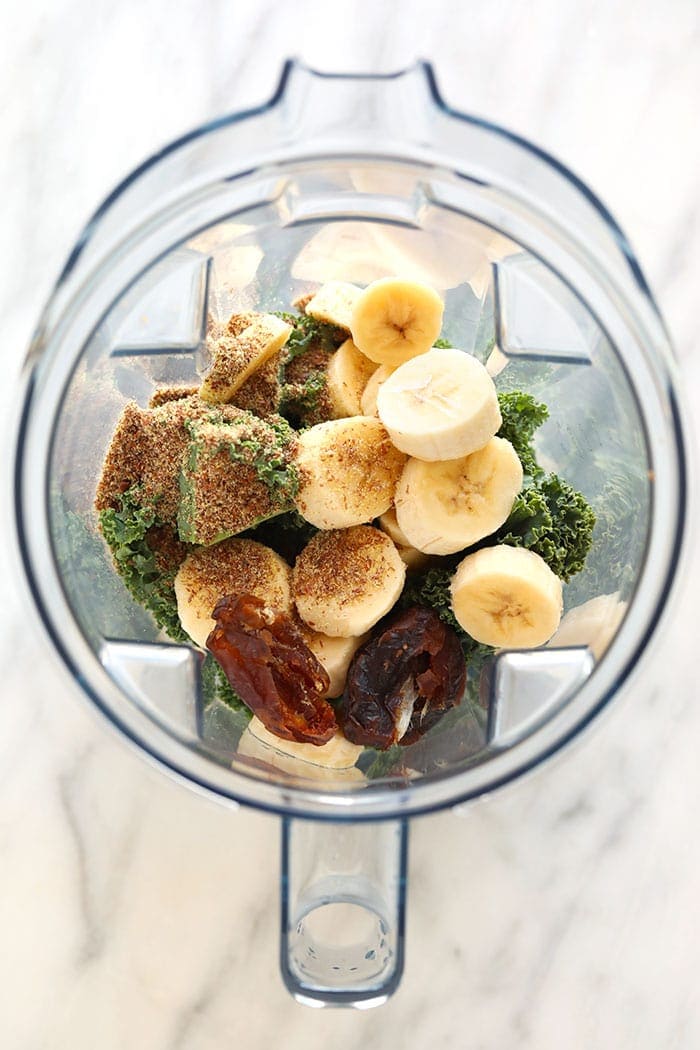 Kale Smoothie Ingredients
Fresh kale: This recipe calls for 2 cups of packed fresh kale. This means you'll want to PACK your kale into your measuring cups. The more kale the better! You're getting your greens in with this smoothie for sure.
Frozen sliced bananas: You can buy frozen sliced bananas at most grocery stores, but if you can't find them, no worries! You can make your own at home.
Ground flax meal: Flax is such a great source of protein, fiber and omega-3s!
Orange juice: The citrus zing the orange juice provides in this smoothie can't be beat! Use fresh orange juice from your fridge or freeze orange juice cubes ahead of time in an ice cube tray and keep in the freezer to have on hand for smoothie time.
Medjool dates: We love adding dates to smoothies because they're packed with antioxidants, and fiber and add just the right amount of sweetness. Just make sure to pit your dates before you put them in your blender, and if your dates are especially dry, simply soak them in a glass of water for a few hours before blending.
Fresh ginger: The fresh ginger in this kale smoothie is 100% optional, but 100% delicious if you like the taste of ginger. A little grated ginger goes a long way here!
Should I use fresh kale or frozen kale?
Good news, either work! I typically always have fresh kale on hand, but frozen kale works perfectly, as well.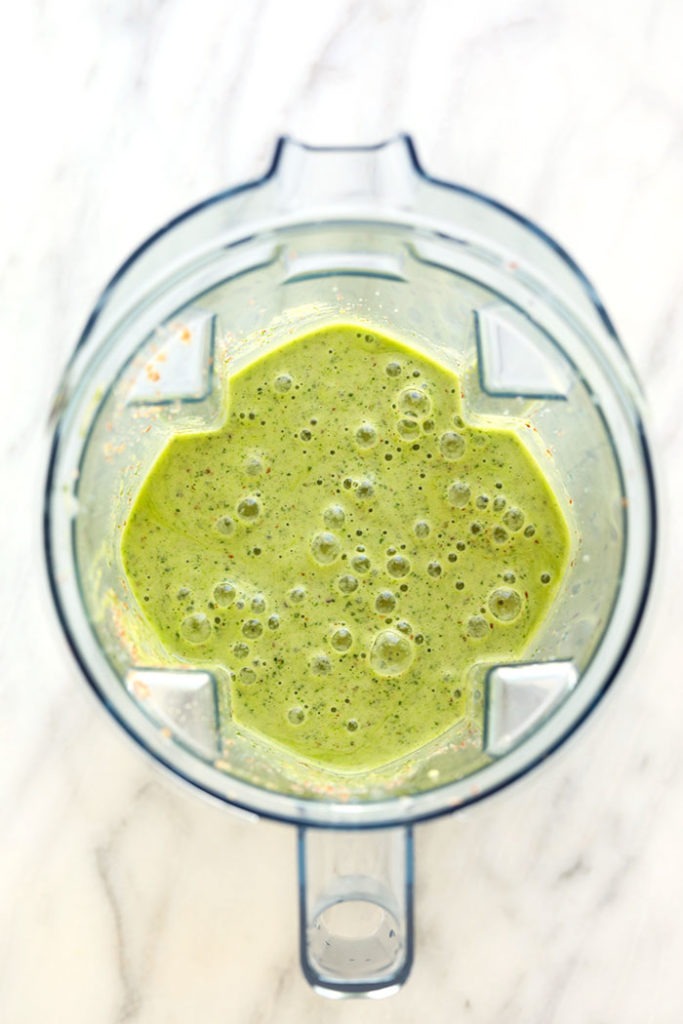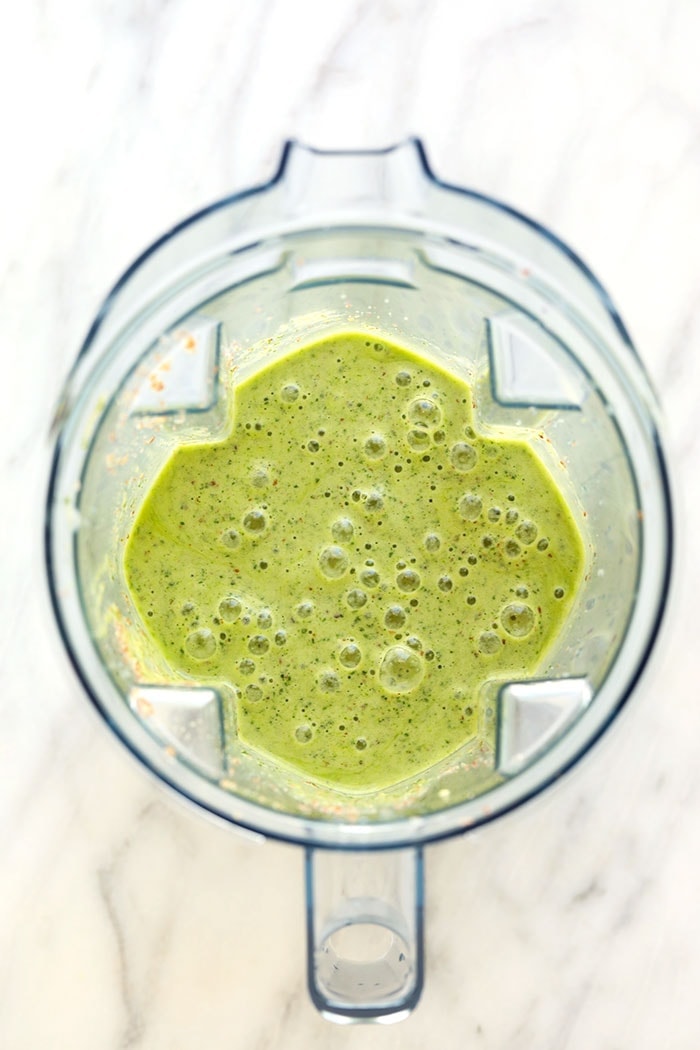 How do you make kale smoothies not taste green?
The burning question that we get about so many of our smoothies is how to make your green smoothie not taste green! We've got 3 tips for you:
Blend: make sure that you blend, blend blend. The smaller the chunks of greens, the less you will taste them.
Add other flavors: Pulverized greens don't really have a super potent flavor as it is, but if you use other flavors such as fruit, nut butter, protein powder, or dates, you'll cover that taste right up.
Toppings: toppings add texture and really add the cherry on top!
Kale Smoothie Add-Ins
The beauty of smoothies is that you can throw in anything your body needs right into the blender! If you need more protein, add it! Need a little extra fiber? Go for it. Some of our favorites include:
Protein powder: here are our top whey and plant-based protein powders!
Nut Butter: peanut butter, cashew butter, or almond butter.
Rolled oats: a great way to add nutrients and a little thickness to your smoothie.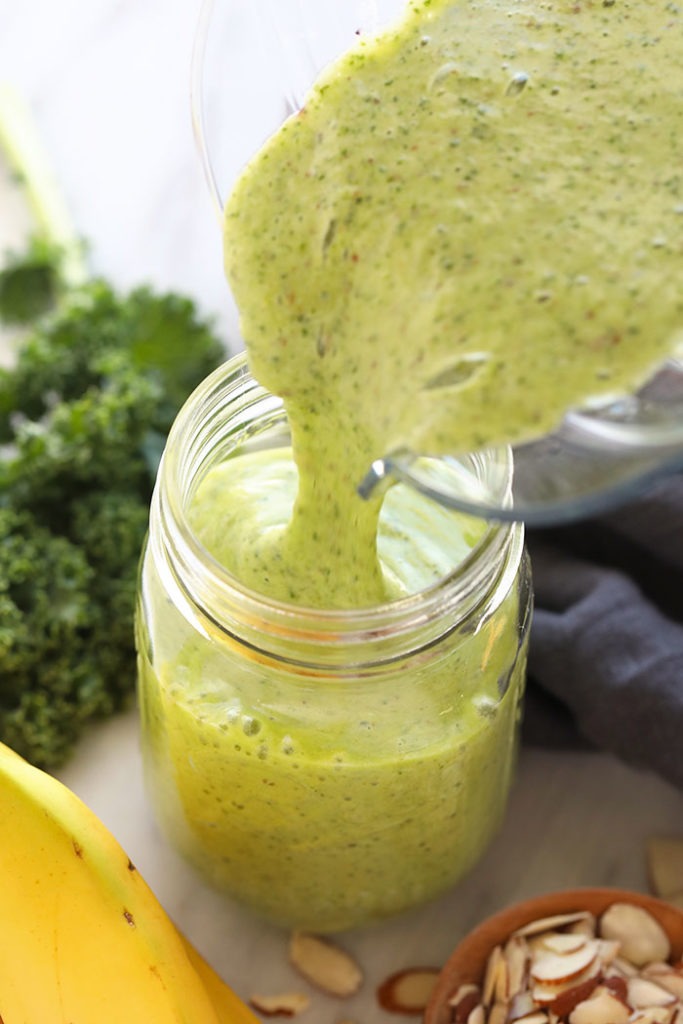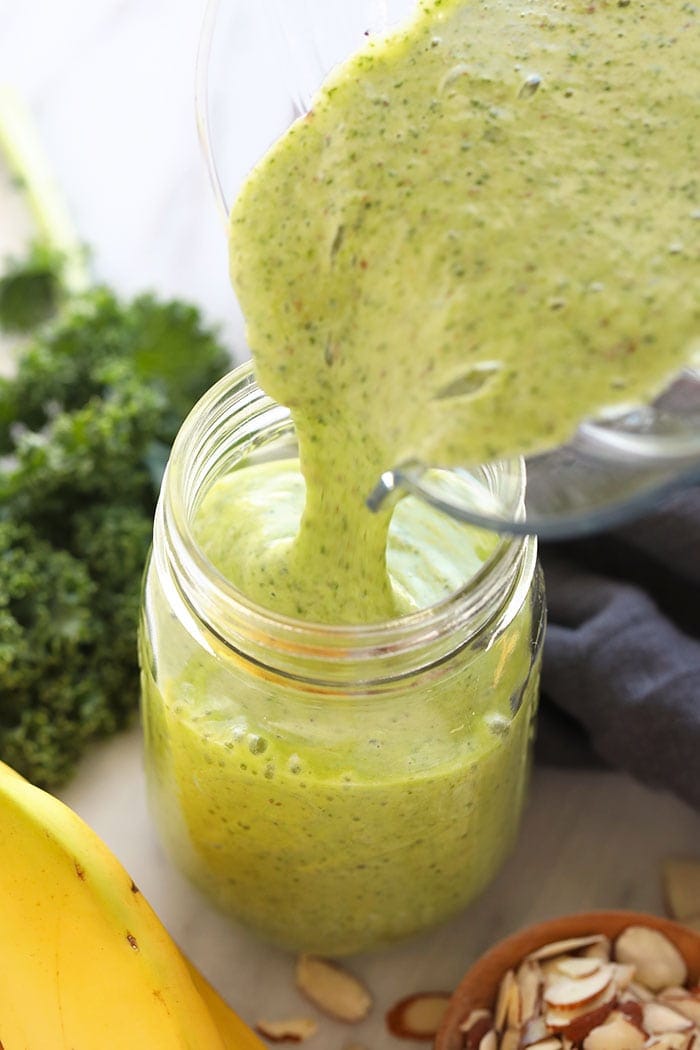 Topping Ideas
Smoothie bowl fans, where you at?! We love sprinkling our smoothies with so many delicious toppings that it requires a spoon for proper consumption. Even if you're not looking to whip up a full-on smoothie bowl, here are some of our go-to smoothie toppings:
Seeds: chia seeds, pumpkin seeds or hemp hearts
Nuts: walnuts, peanuts, cashews or almonds
Fresh fruit: apple slices, blueberries, sliced strawberries or raspberries
Dried fruit: coconut flakes, craisins, raisins or banana chips
Granola: WholeMe, Seven Sundays, KIND or Brandless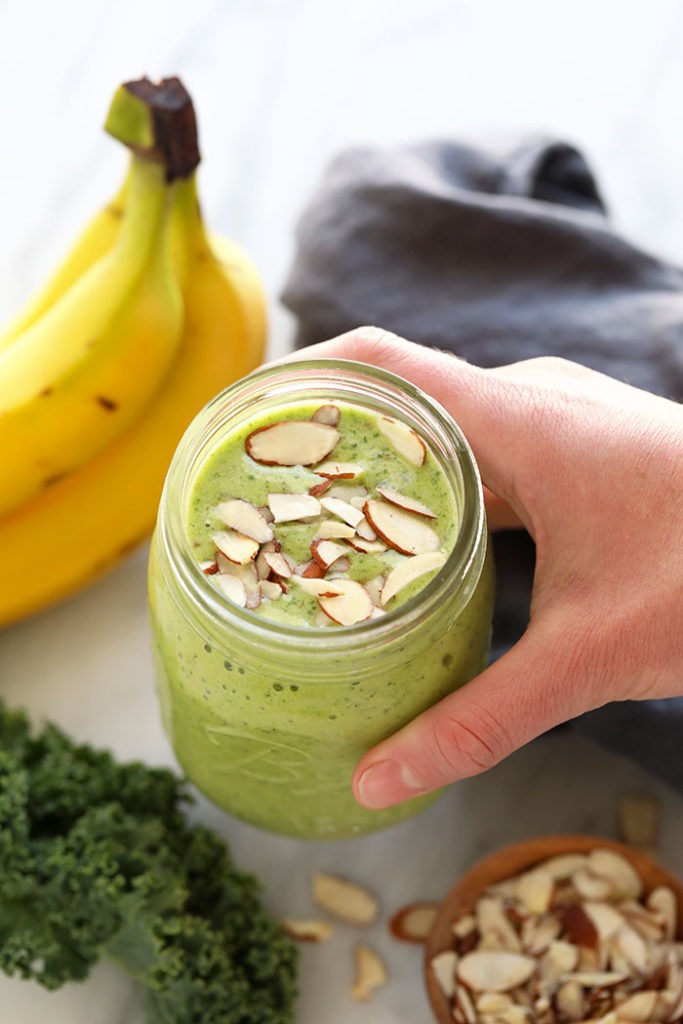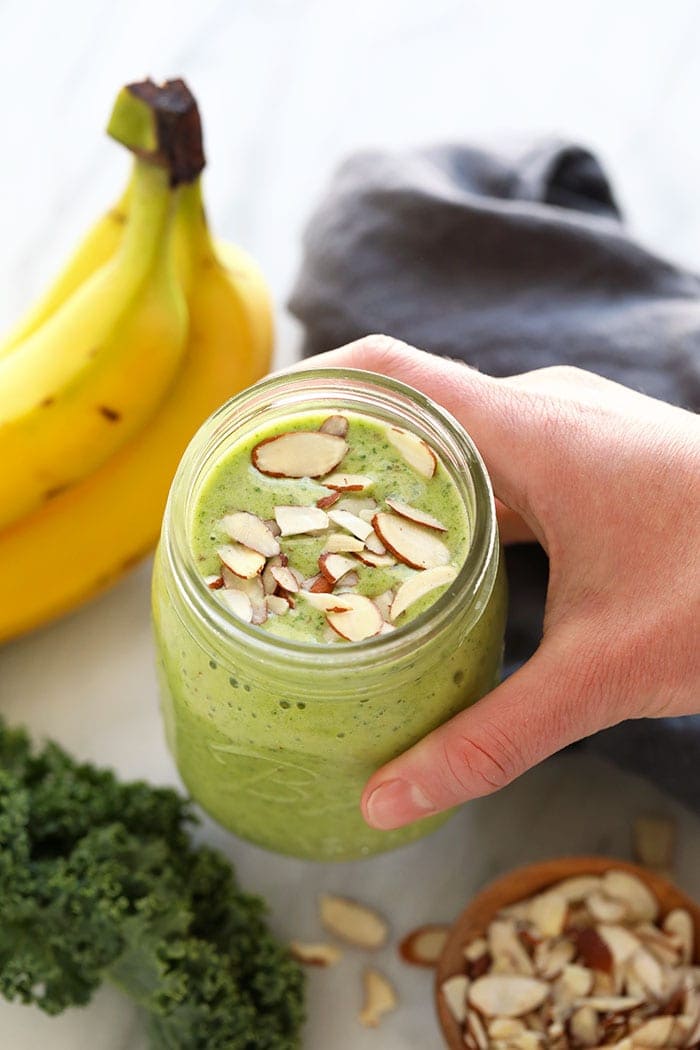 Can I store leftover smoothie in the fridge?
Yes, you can store your leftover smoothie in the fridge. We recommend blending it with additional frozen fruit or ice before eating your leftovers.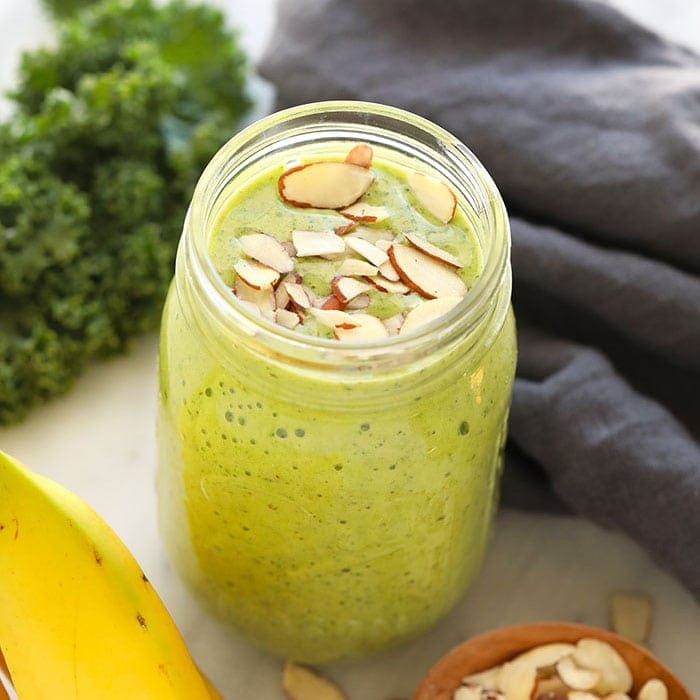 Kale Smoothie Recipe
Pack in the protein and nutrients with this delicious kale smoothie recipe made with banana, flax, kale, and orange juice.
Prep:5 minutes
Cook:0 minutes
Total:5 minutes
Ingredients
2

cups

frozen bananas

2

cups

packed chopped kale

1

tablespoon

flaxseed meal

2

Medjool dates

pitted

optional: 1/2 teaspoon fresh grated ginger

1.5

cups

orange juice
Instructions 
Place all ingredients in a high-speed blender.

Blend on high until smooth. Option to add more orange juice as needed to thin things out.

Serve smoothie immediately and top with your favorite toppings.
Nutrition facts
Calories: 326kcal Carbohydrates: 76g Protein: 6g Fat: 3g Fiber: 10g Sugar: 50g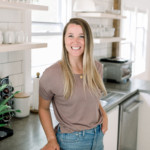 Emily spent the first 10 years of her career in marketing and advertising roles and started side-hustling with Fit Foodie Finds in Fall of 2015. She joined Team Fit Foodie full-time in the Spring of 2018. Em lives in Minneapolis with her husband and dog, and manages FFF business operations as well as all things sponsorships and brand collaborations.