This blueberry banana smoothie is the smoothie of all smoothies! It is made with frozen fruit, almond milk, flax meal, and a little bit of vanilla. This blueberry banana smoothie is thick and perfect for a healthy breakfast or a tasty snack.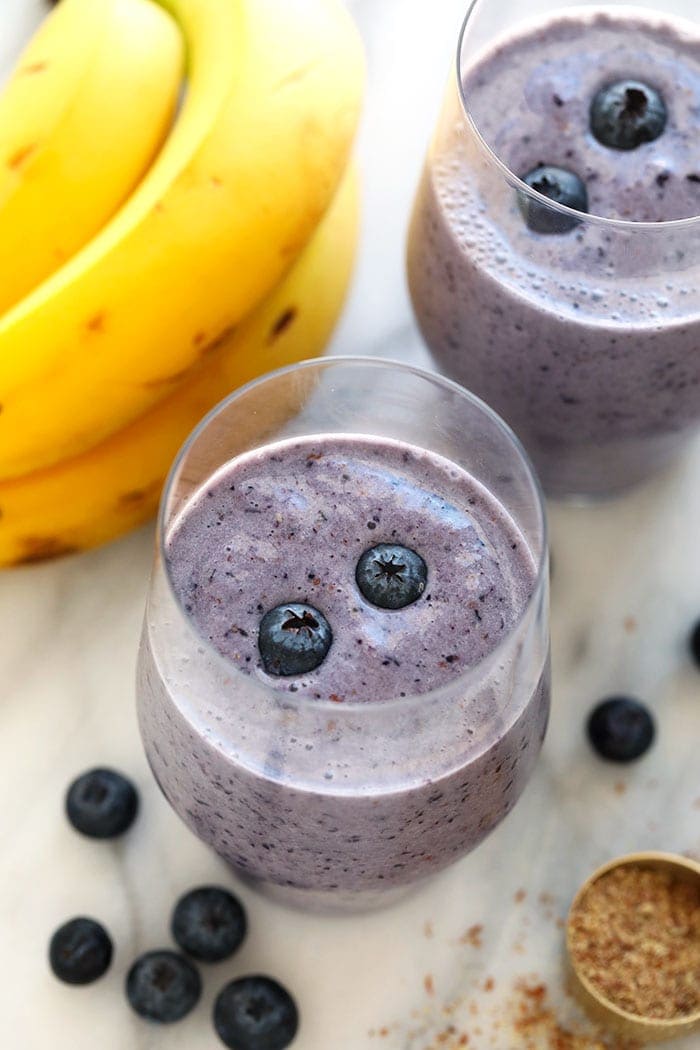 It's a Smoothie Kind of World
Smoothies are all the craze these days. Not that smoothies haven't always been popular, but honestly, growing up I never really made smoothies. Smoothies used to get a bad rap for having too much sugar.  If you ordered a smoothie from a coffee shop or a restaurant they were so packed with process sugar that they weren't worth ordering.
The times they are a' changing and people got the memo that throwing ice and sugar-packed juice into a blender and blending it doesn't make a healthy smoothie. I love that homemade smoothie recipes and restaurants and cafes have shifted and started to use real ingredients in their smoothie recipes!
We Love Smoothies
We are all about smoothies on FFF! We prepare smoothies for breakfast (mostly), but also make smoothies for snacks and other meals if we are in a hurry.
Usually, we try to pack as many nutrients into our smoothies as possible, or pair them with one of our favorite snack bars (PLEASE tell us you've tried Perfect Bar! They're one of our go-tos!). Though we change up what we put in our smoothies, we usually incorporate something from each category below!
Frozen Fruit – We like to use frozen fruit in order to omit ice from our smoothies so that you can get a smoother, creamier smoothie. We recommend banana, berries, mangoes, pineapple, etc. For a single serving, shoot to use around 1 cup of frozen fruit.
Greens- obviously every green smoothie has some kind of green! Whether it's spinach, kale, or micro green, any kind of green will work! Pro tip: instead of throwing out greens that are about to go bad, freeze them and use them later in a green smoothie! Try and pack in as many greens as you can…no less than 1 cup!
Milk/Liquid- you're going to need some kind of liquid for your green smoothie and our favorite is almond milk. While you can use any kind, we found that unsweetened almond milk isn't super overpowering and a great base milk for pretty much any smoothie. Use anywhere from 1/2 cup to 1 cup for a single serving.
Seeds- because why not amp up your green smoothie with more nutrition! We try and get around 1/2 tablespoon of ground seeds such as flax or chia per smoothie.
Protein Powder– Adding protein powder to a smoothie is totally dependent on personal preference. If you are looking to add more protein to your diet or if you are making a smoothie for a post workout meal, add a scoop of protein from one of the protein powders in our Guide to the Best Protein Powder!
Crunch-Some people need crunch and some people do not. If you are a crunch person, go ahead and add some granola, hemp hearts, or nuts to your smoothie!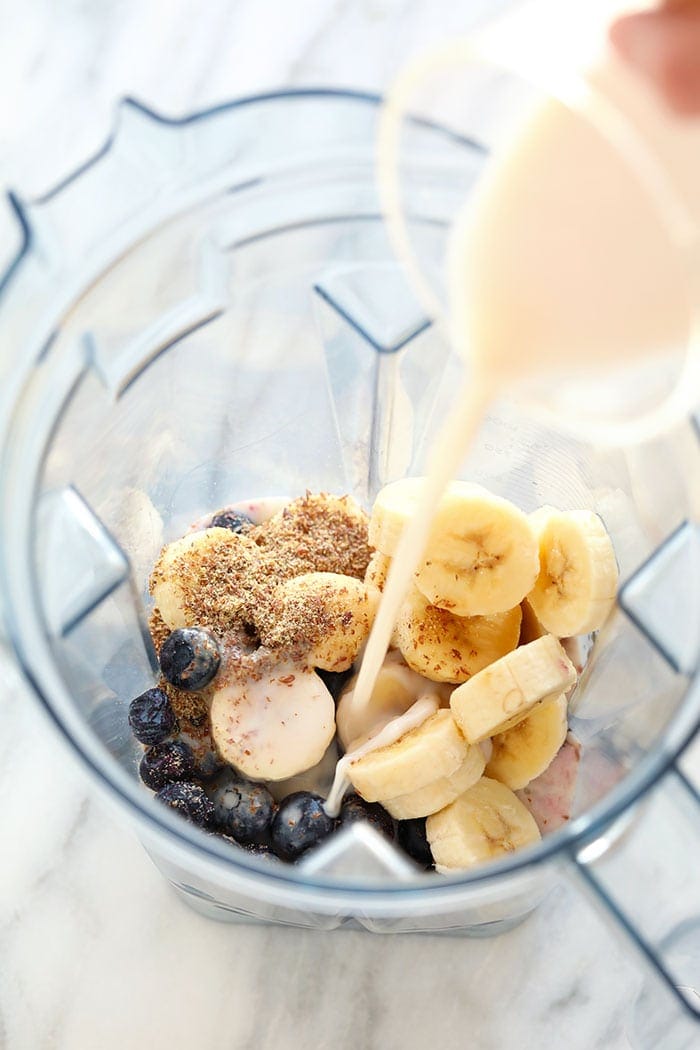 The DL on Blueberry Banana Smoothies
Blueberry banana is a delicious and classic flavor combination that we just can't get enough of! Frozen blueberries and bananas are so affordable and readily available all year round, so you can always count on a blueberry banana smoothie.
We generally like buy frozen blueberries over fresh, because they are usually cheaper. However, if fresh blueberries are on sale at the grocery store or if you go blueberry picking, rinse those bloobies and throw them in a freezer safe bag and into the freezer. That should work just the same.
As for frozen bananas, has anyone noticed that they don't usually sell frozen bananas at any grocery store? I haven't been able to figure out why. Preparing every other fruit to be frozen is the same process. Peel, chop and freeze. Either way, we created this How to Freeze Bananas post that makes freezing banana easy for you and great for any of your meal prep needs!
Before you head out and blend up a blueberry banana smoothie, we are answering some of your most asked smoothie questions!
Are blueberry smoothies good for you? Yes, blueberry smoothies are good for you! However, just like any other food or meal make sure you are using whole, healthy ingredients in your smoothies. So, try to use all natural fruit juice rather than fruit juice mixes. Add greens and frozen veggies to your smoothies if you need an extra veggie boost.
It's all about what your specific needs are and don't be scared to make any smoothie recipe your own!
Do you put ice in smoothies? We do not typically use ice in our smoothies! Frozen fruit is the way to go as a base for smoothies. Frozen fruit gives smoothies a thicker consistency that we just love. If you are looking to thin out your smoothie or need to add a little ice to your smoothie that's ok, too!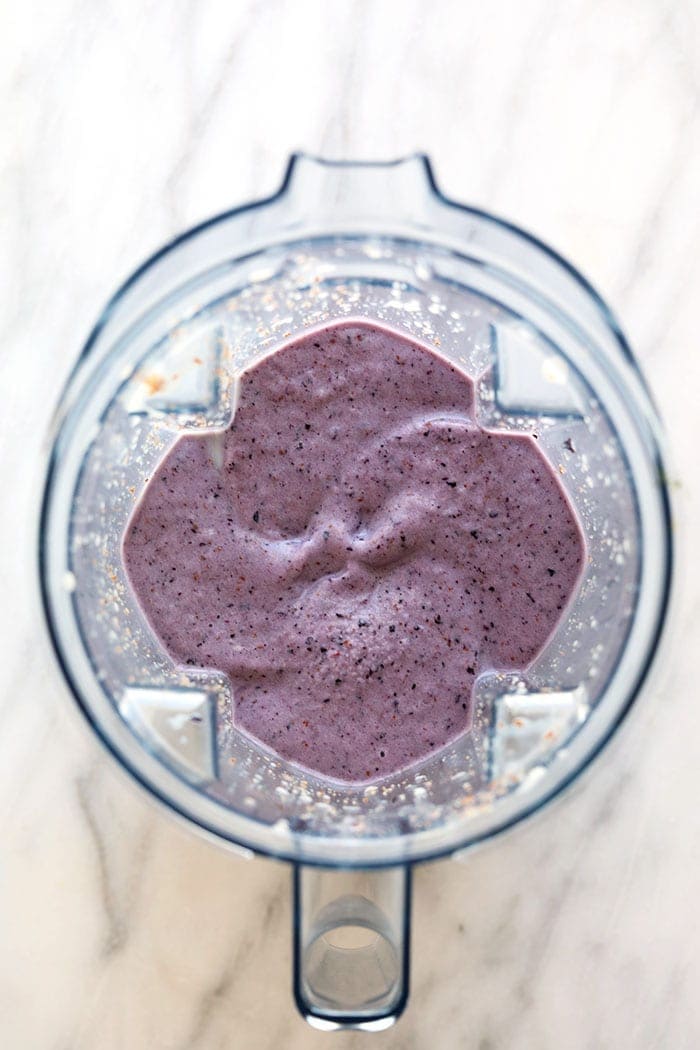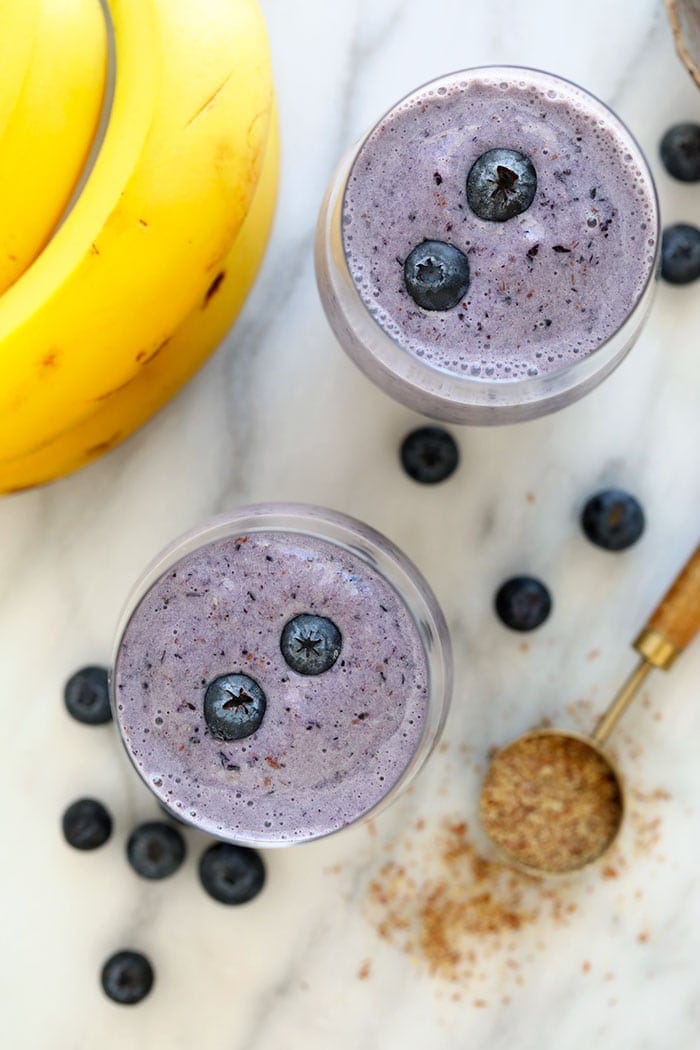 Other Healthy Smoothie Recipes
Blueberry Banana Smoothie
This blueberry banana smoothie is the smoothie of all smoothies! It is made with frozen fruit, almond milk, flax meal, and a little bit of vanilla. This blueberry banana smoothie is thick and perfect for a healthy breakfast or a tasty snack
Prep: 5 minutesCook: 0 minutesTotal: 5 minutes
Fat 3 Carbs 29 Protein 3
Yield 2 smoothies 1x
Ingredients
1 cup

frozen blueberries

1 cup

frozen sliced bananas

1 tablespoon

flax meal

1 cup

unsweetened almond milk

1 teaspoon

vanilla extract
Instructions
Place all ingredients into a high speed blender and blend until smooth.*
Tips & Notes
If the smoothie is too thick, add a tablespoon of almond milk at a time until smoothie reaches your desired consistency.
Nutrition Facts
Serving Size: 1/2 Calories: 147 Sugar: 17 Sodium: 92 Fat: 3 Carbohydrates: 29 Fiber: 5 Protein: 3
Author: Linley RichterCategory: SmoothiesMethod: No BakeCuisine: American
Keywords: blueberry banana smoothie