This smoked chicken legs recipe is made with a delicious homemade smoked chicken dry rub making them so tasty and irresistible.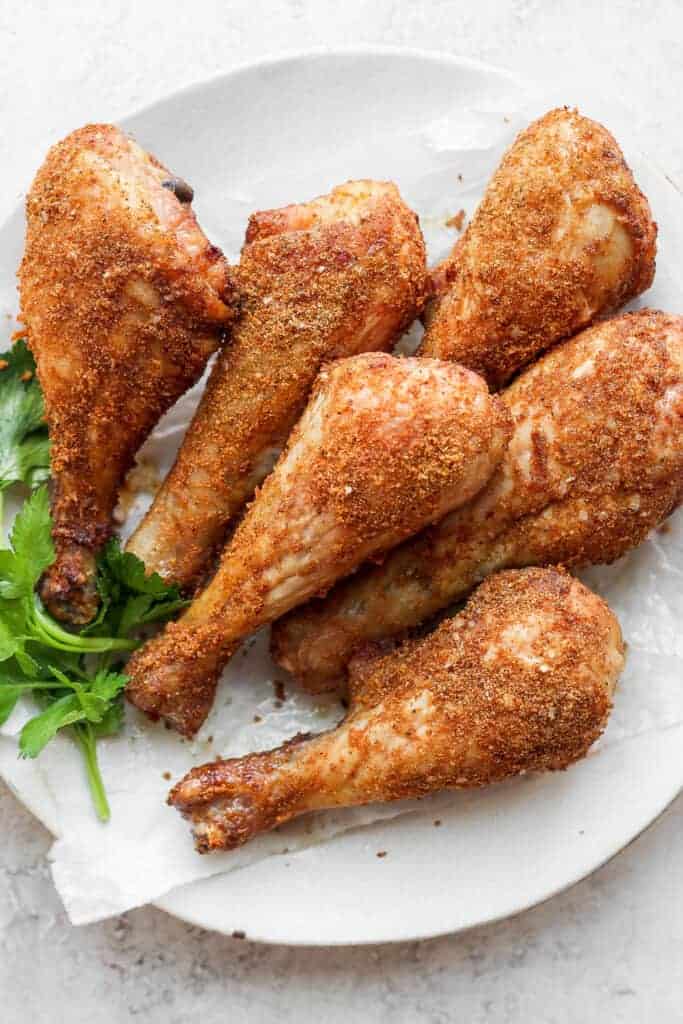 There's something about chicken legs that everyone loves. I think it's the fact that they're made with dark meat, making them extra flavorful.
If you're here for a simple smoked chicken legs recipe, then you're going to love this one! Cooked low and slow on a smoker, these dry-rubbed smoked chicken legs are the perfect beginning smoking recipe!
Why Make Smoked Chicken Legs?
If you've had our smoked chicken thighs or smoked whole chicken, then you know exactly why you should make these smoked chicken legs!
These smoked chicken legs are tender on the inside and crispy on the outside made with a simple dry rub. In this post, we're sharing tips and tricks on how to get perfectly smoked chicken legs every time.
PS: For those wondering, we have a Traeger Pro Series 575 and this is what we tested this recipe with.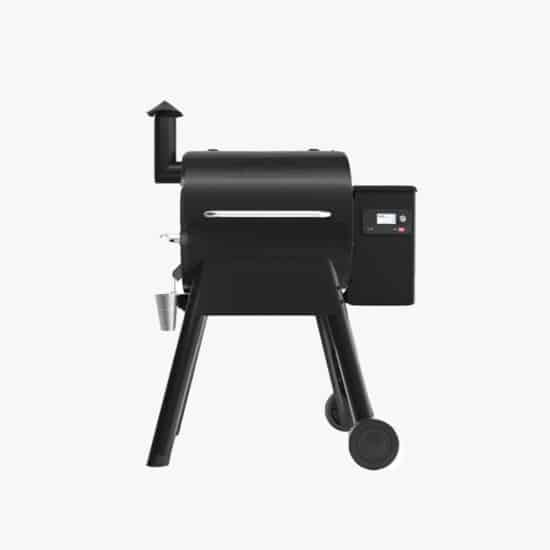 Recommended
Traeger Pro Series 575
All of our smoking recipes are tried and true, tested on a Traeger Pro Series 575. We highly recommend this product if you're in the market for a new smoker!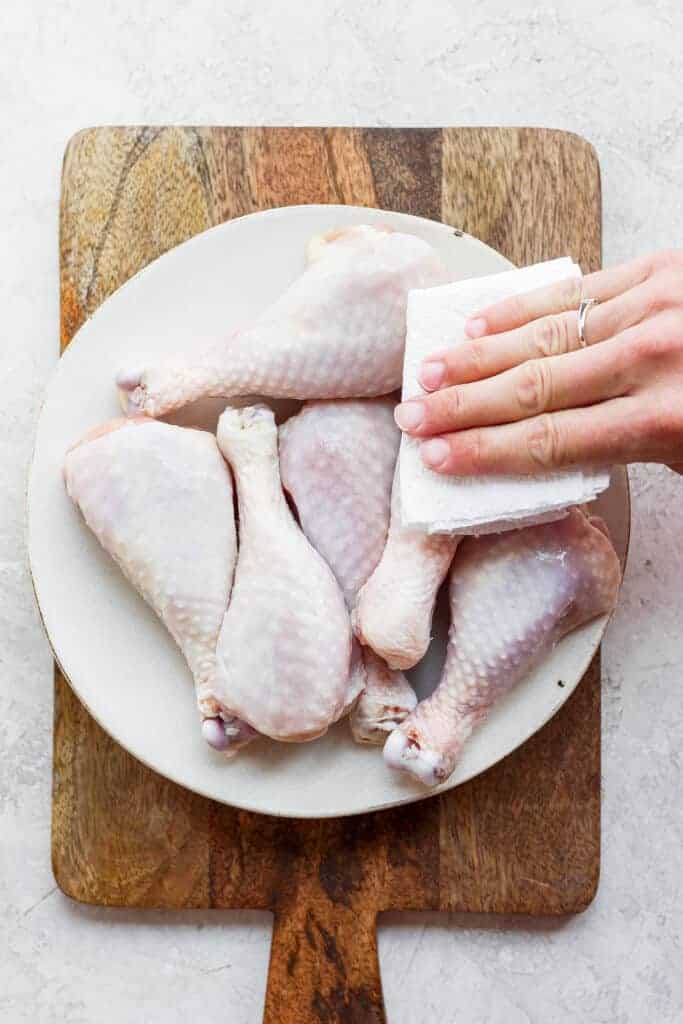 Smoker Essentials
Check out all of our favorite smoker products, including what smoker we use in the Fit Foodie kitchen for testing recipes!
What You Need
Good news for you, in addition to your smoker tools, you only need a few things to get started to smoke chicken legs!
Homemade dry rub: in our smoked chicken legs recipe, we're using a homemade dry rub (see below!). You can also marinate your chicken legs instead.
Chicken legs: chicken legs are the star of the show. You'll need around 2 lbs. chicken legs.
Olive oil: olive oil is used to help the dry rub stick to the chicken legs
Best Smoked Chicken Dry Rub
Every chicken leg deserves a yummy in my tummy dry rub to make it extra crunchy and crispy on the outside and oh-so flavorful. Our smoked chicken dry rub is garlicky, slightly sweet, and a little smokey. Here's what you need:
garlic powder
dark brown sugar
smoked paprika
kosher salt
ground pepper
cayenne
onion powder
chili powder
Want it sweeter? Double the brown sugar.
Want it hotter? Add 1/8 teaspoon more cayenne powder.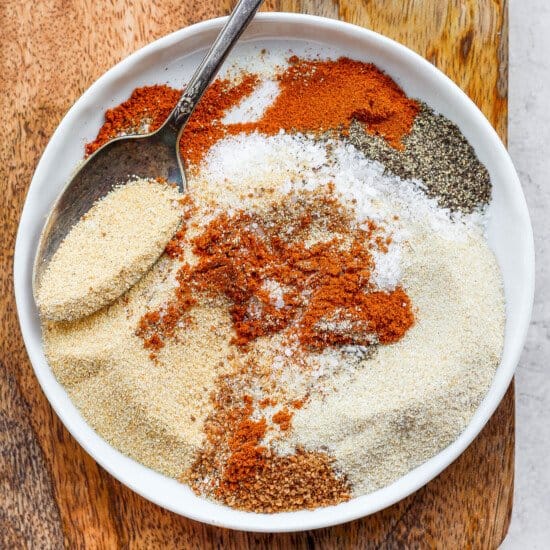 Try it!
Smoked Chicken Dry Rub
Keep a batch of this smoked chicken dry rub on hand at all times for easy access to flavoring your chicken for smoking!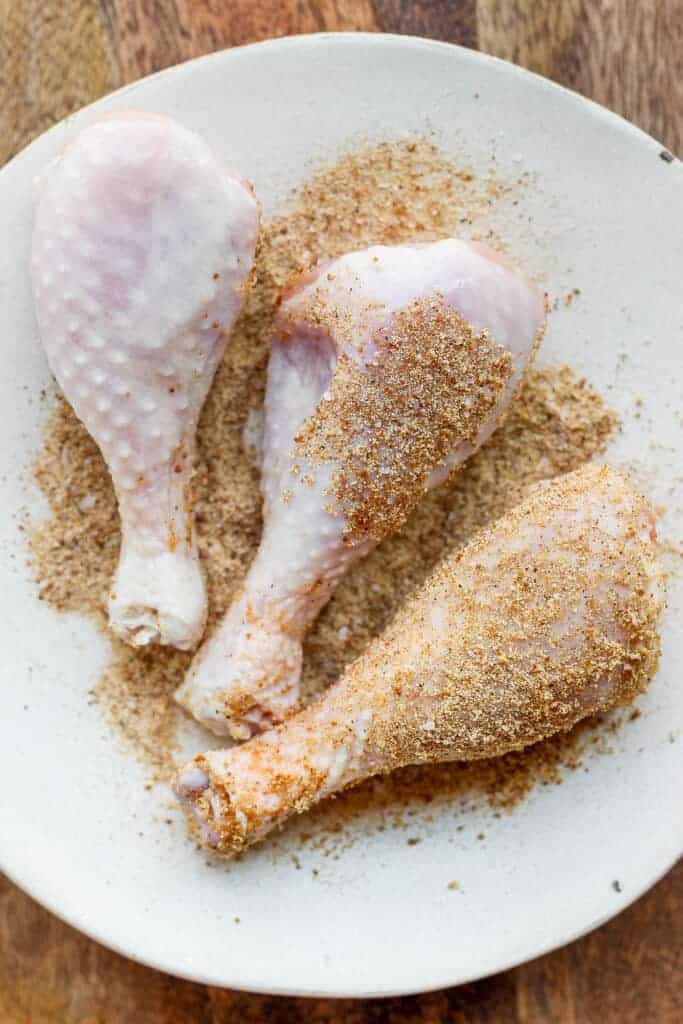 Quick Tips for Smoking Chicken Legs
Cook Low and Slow
The beauty about smoking chicken legs is that they cook low and slow, leaving you extra time to prep the rest of your meal.
What temperature should I smoke chicken legs at? Heat your smoker to 275ºF and cook chicken legs for 2-2.5 hours or until the internal temperature reaches170-175ºF
Flip Half Way
After about 1 hour flip the chicken legs over and continue cooking.
Spray with Coking Spray
We recommend spraying the chicken legs with cooking spray right before smoking and after you flip them over to help crisp up the skin. Don't skip this part!
Cook Until 170ºF-175ºF
Typically when you're grilling or baking meat, the golden temperature is 165ºF. However, with smoking, we're recommending 170ºF-175ºF to further break down the tendons in the chicken leg and make the meat more tender. Just trust us!
How Long to Smoke Chicken Legs?
Smoke chicken legs at 275ºF for 2 to 2.5 hours or until the internal temperature reaches 170ºF – 175ºF.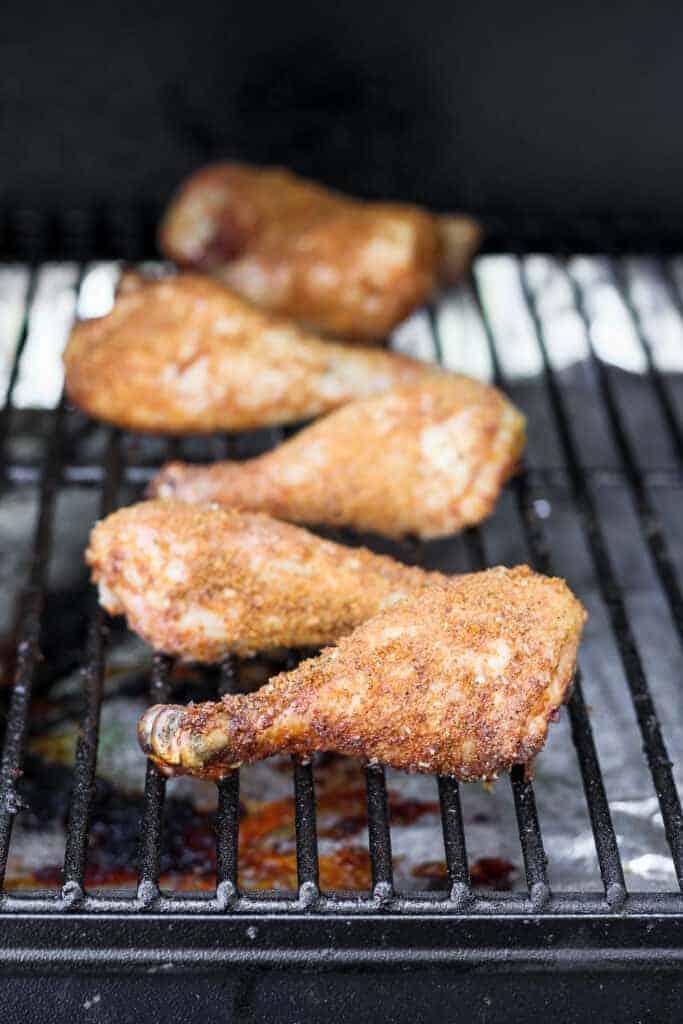 Flavor Variations
Seasonings
While we think our smoked chicken dry rub is epic, you can use a variety of different homemade seasonings, too. Use around 2-3 tablespoons per poud. Here are some other ideas:
Marinades
Want to use a chicken marinade instead? Check out some of our favorite easy chicken marinades below.
Balsamic Chicken Marinade
Lemon Chicken Marinade
Italian Chicken Marinade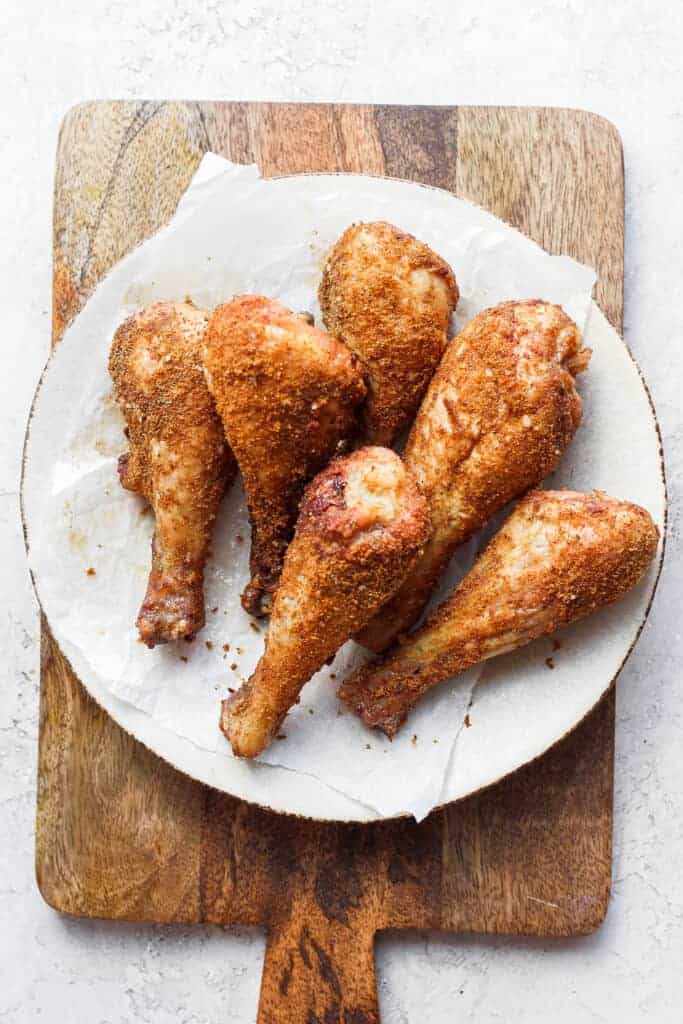 What to Serve with Smoked Chicken Legs
Grilled Corn in Foil: Grilled corn on the cob is a summer staple! Get perfectly cooked corn every time with this easy Grilled Corn in Foil recipe. Enjoy!
Roasted Red Potatoes: Make these crispy roasted red potatoes for breakfast, lunch, or dinner! They are perfectly crispy on the outside and soft on the inside. 
Butter Lettuce Salad: This butter lettuce salad has a combination of vegetables, fruit, nuts, cheese, and is drizzled with a simple lemon vinaigrette. 
Grilled Zucchini: Turn on the grill and throw on some zucchini! Making grilled zucchini is easy and if you do it right you'll end up with grilled zucchini with a little crunch rather than a soggy mess. 
Storage
Store leftover chicken legs in an airtight container in the fridge for up to 5 days.
Got leftovers?
Looking for a recipe to make with your leftover chicken? Try our amazing Smoked Chicken Salad recipe! Simply remove the meat from your chicken legs, shred it, and follow the recipe.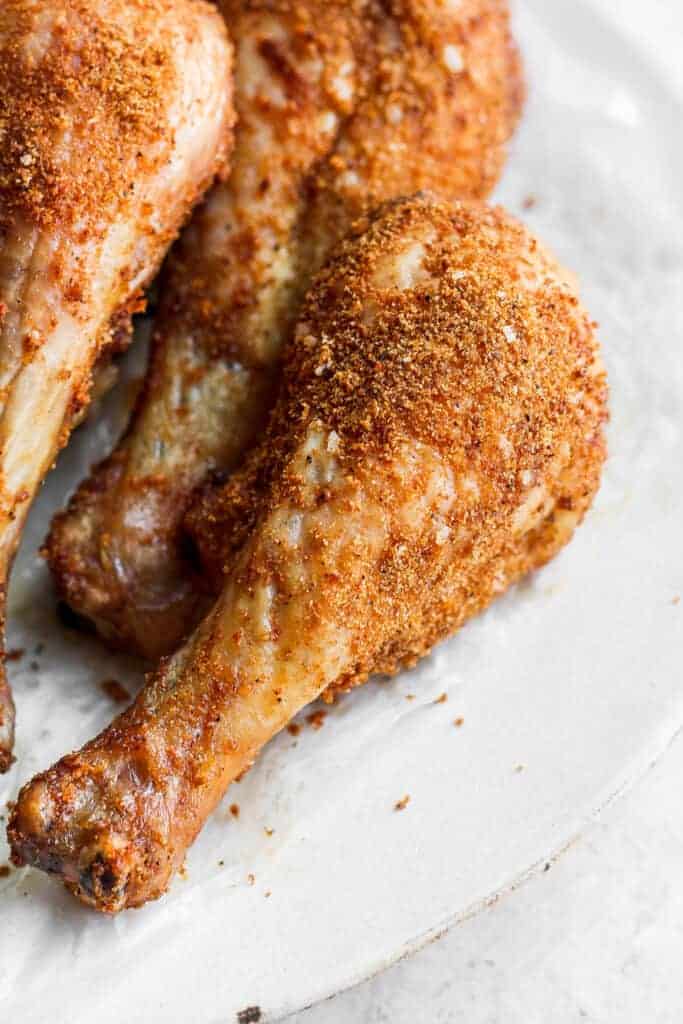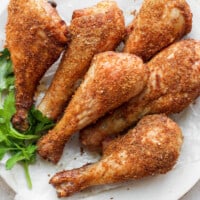 Smoked Chicken Legs
This smoked chicken legs recipe is made with a delicious homemade smoked chicken dry rub making them crispy on the outside and tender on the inside.
Prep: 15 minutesCook: 2.5 hoursTotal: 44 minute
Fat 18 Carbs 4 Protein 45
Yield 4 1x
Ingredients
Smoked Chicken Dry Rub 
2 tablespoon

garlic powder

1 tablespoon

dark brown sugar

1 teaspoon

smoked paprika

1 teaspoon

kosher salt

1/2 teaspoon

ground pepper

1/8 teaspoon

cayenne

1 tablespoon

onion powder

1 teaspoon

chili powder
Other Ingredients 
2

lbs. chicken legs (we used 8 chicken legs)

1 tablespoon

olive oil

3 tablespoons

smoked chicken dry rub (from above)
Instructions
Preheat the smoker to 275ºF.

Mix all of the ingredients for the smoked chicken dry rub in a bowl. Set aside. 

Remove excess moisture from the chicken legs with a paper towel.

Drizzle the chicken legs with olive oil and massage the oil into the chicken legs.

Place 3 tablespoons of dry rub into a bowl (or on a plate) and roll each leg into the dry rub. Make sure each leg is completely covered in dry rub.

Place the chicken legs onto the smoker and spray the chicken legs with cooking spray and cover. 

Smoke the chicken legs for 2-2.5  hours total (depending on how big the chicken legs are) at 275ºF. Check the internal temperature after 1 hour and flip the chicken legs over to the other side. Spray with cooking spray, cover, and continue cooking for 1-1.5 more hours.  

Remove the chicken legs from the smoker once the internal temperature reaches 170-175ºF. 

Let rest for 5 minutes and then enjoy!
Nutrition Facts
Serving Size: 1/4 Calories: 349 Sugar: 2 Fat: 18 Carbohydrates: 4 Fiber: 1 Protein: 45
Author: Linley RichterCategory: ChickenMethod: SmokerCuisine: AmericanDiet: Gluten Free
Keywords: smoked chicken legs
Photography: photos taken in this post are by Erin from The Wooden Skillet.