This smoked whole chicken is rubbed with a flavorful dry rub and smoked for 4 hours for a juicy chicken recipe with crispy skin!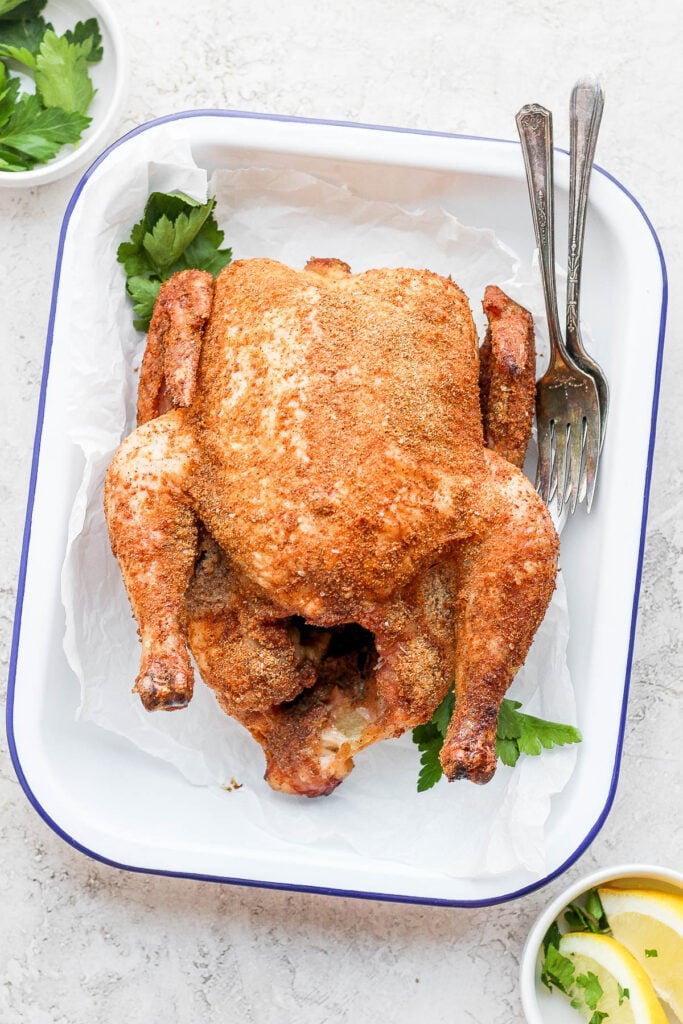 The Tastiest Whole Smoked Chicken
Welcome to another delicious chicken recipe! There is no doubt that chicken recipes are easy to make, are packed with protein, and so approachable. We are finally adding a whole smoked chicken recipe. Get excited!
This whole smoked chicken is finger licking good and once you prepare your chicken you throw it on the grill and smoke it to perfection.
Reasons we love this recipe
You get crispy skin AND juicy meat when you smoke a whole chicken.
This smoked chicken is rubbed (under the skin and on top) with a flavorful smoked chicken dry rub that adds so much flavor to the recipe.
You can make it for a tasty dinner or meal prep smoked chicken salad or shredded chicken for the week.
Facts About Whole Smoked Chicken
What size chicken to buy
Because you will be smoking a chicken for 3-4 hours you want to get a large chicken so you leave the chicken in the smoker long enough to get juicy and smoky.
We suggest buying a 3-4 pound whole chicken.
How long to smoke a whole chicken
This smoked chicken calls for about 3-4 hours of smoke time. The time may vary depending on the size of your chicken or what kind of smoker you are using.
Internal Temperature smoked chicken
Regardless of how long you smoke your chicken the internal temperature of your chicken should be 165ºF.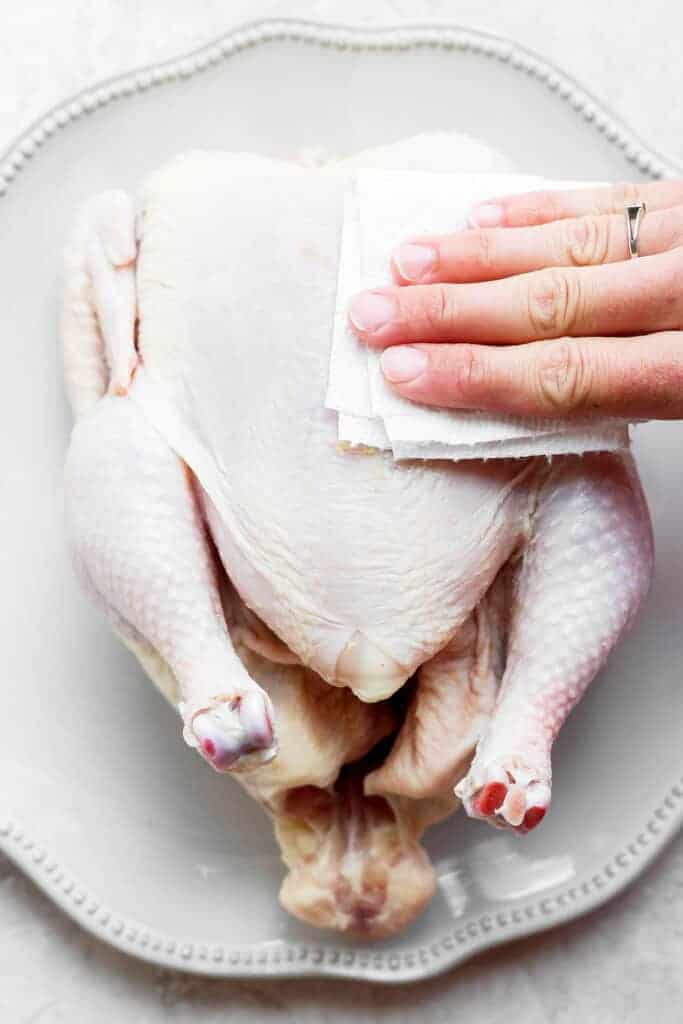 What Kind of Smoker Do I Use?
There is a wide range of smokers out on the market now and we suggest using the smoker that you are the most comfortable with. Any smoker should work as long as it can fit a whole chicken!
We used a the Traeger 575 Pellet Grill. A pellet grill uses wood pellets to heat the chamber. We love our Traeger pellet grill because the grill automatically adds pellets to the smoker to keep the heat at the desired temperature.
Other kinds of smokers you can use are below.
Offset Smoker (we have tested this recipe on an offset smoker, too!)
Drum Smoker
Smoker Oven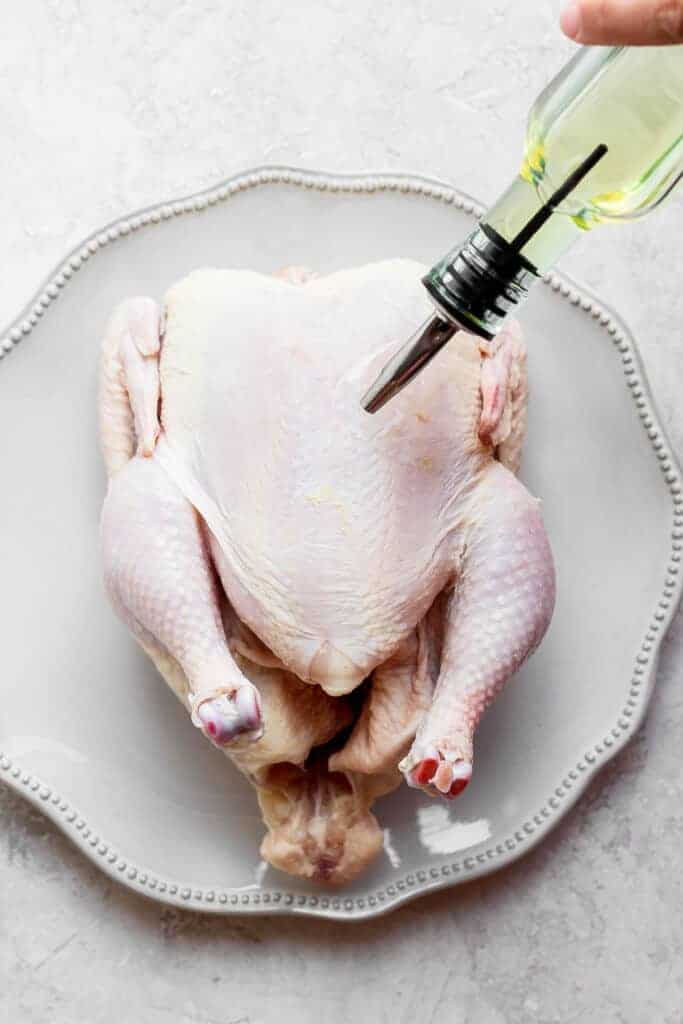 How to Smoke a Whole Chicken
Preheat the smoker. Preheat any smoker that you're using to 275ºF and maintain that heat throughout the hole cook time.
Prepare the chicken. To prepare the chicken remove any innards that came with the chicken. Pat the chicken dry from water and then rub the chicken (under the skin and on top) with olive oil.
Add dry rub. Sprinkle the chicken with smoked chicken dry rub. Be sure to get under the skin and in every nook and cranny.
Smoke the chicken. Place the chicken on the smoker and smoke for 2 hours. Spray the chicken half way with cooking spray and then smoke for another 1-2 hours.
Check temperature. When the internal temperature reaches 165ºF remove the chicken from the smoker. Let the chicken sit for at least 10 minutes before carving.
Enjoy.
here's a temperature tip!
Get yourself a digital meat thermometer so you can place a probe in you chicken to manage the temperature of your meat for the whole cook time.
The Best Smoked Chicken Dry Rub
We chose to rub this chicken down in a delicious dry rub because we wanted crispy and crunchy chicken skin. We used a delicious chicken dry rub of sweet and savory spices.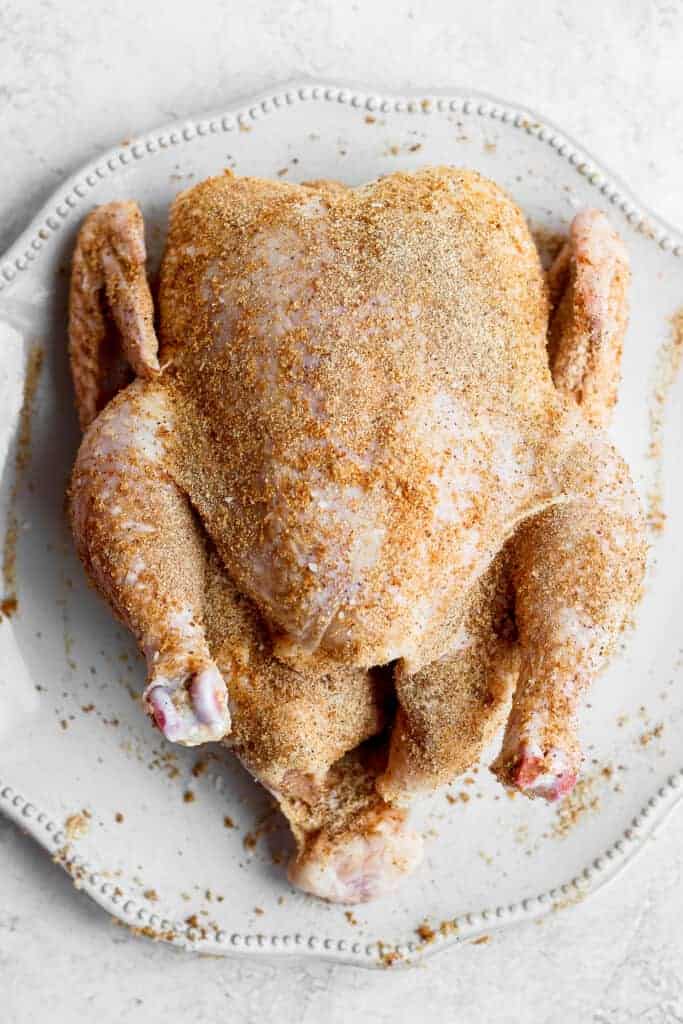 How to Get Super Crispy Skin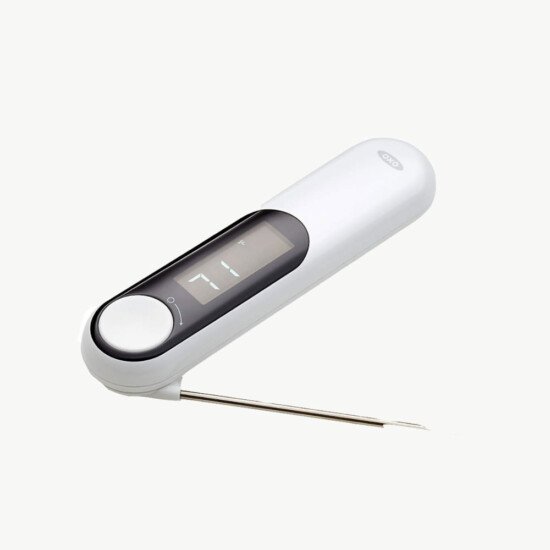 recommendation
Meat Thermometer
Looking for a high-quality meat thermometer? The OXO Thermocouple Thermometer is great for measuring the internal temperature of any meat.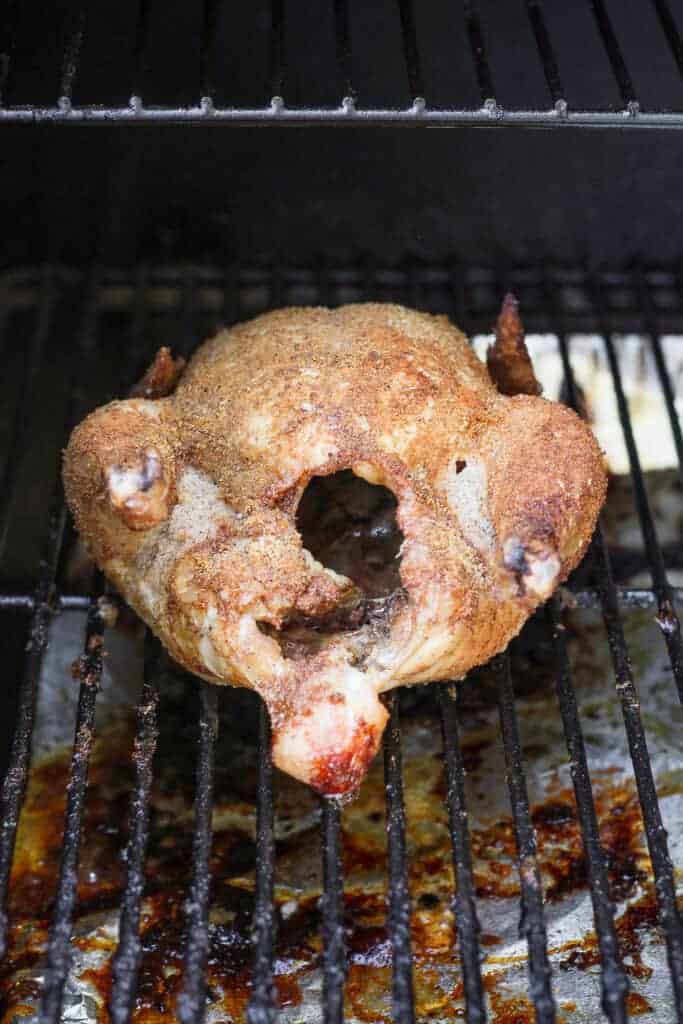 What to Serve with Smoked Chicken
Serve this whole smoked chicken with any of the delicious sides below for a complete meal!
Grilled Brussel Sprouts- This Grilled Brussel Sprouts Recipe is perfect for a quick and easy weeknight dinner side or meal-prep for the week!
Baked Potatoes in Foil- One of our favorites dinner sides is a baked potato in foil. Whether you're hoping to make a grilled baked potato in foil or oven baked potatoes in foil, we'll teach you how to make a perfect baked potato every time!
Greek Salad Recipe- This Greek salad is made with sweet cherry tomatoes, cucumber, red onion, feta, and homemade Greek salad dressing! It is perfect for meal prep, a summer picnic, or just a healthy summer meal!
Broccoli Salad- This recipe for a broccoli salad gets its sweetness from dried fruit and a sugar/vinegar dressing. Plus, it's a good way to trick children into eating their veggies.
Storage Recommendations
We suggest storing this chicken (carved, cubed, or shredded) in an air tight container the the refrigerator for up to 7 days.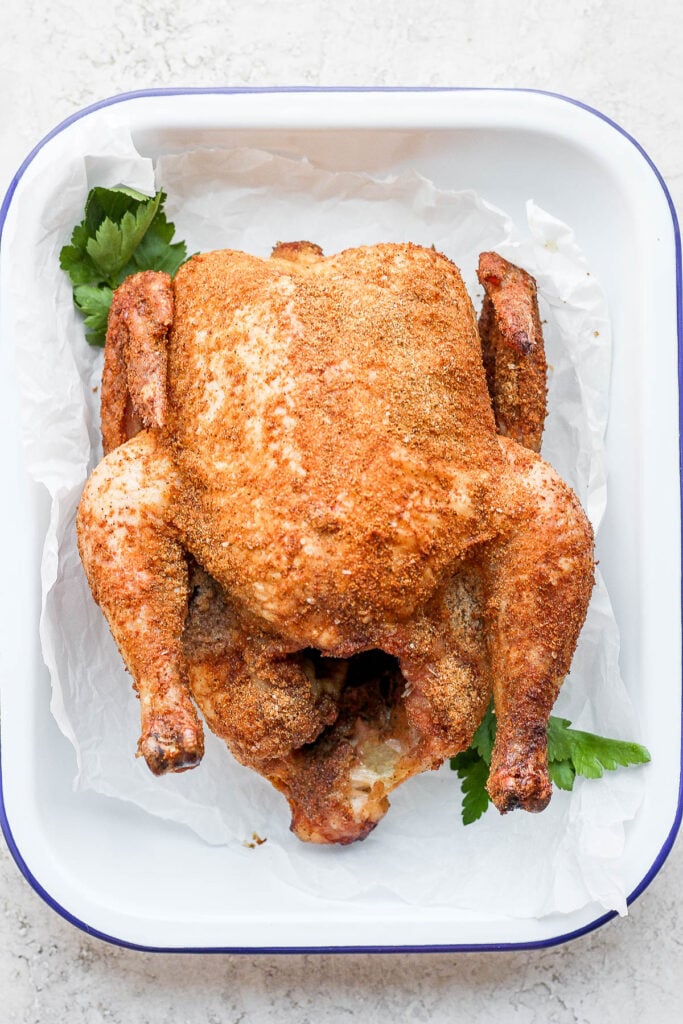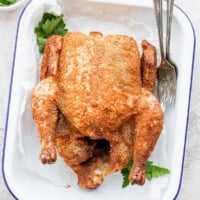 Smoked Whole Chicken
This smoked whole chicken recipe leaves you with a whole chicken with crispy skin and juicy meat every time!
Prep: 20 minutesCook: 4 hoursTotal: 4 hours 20 minutes
Fat 19 Carbs 3 Protein 46
Yield 6–8 1x
Ingredients
1

3-4-lb. Whole chicken 

3 tablespoons

olive oil

4 tablespoons

smoked chicken dry rub (from below)
Dry Rub
2 tablespoon

garlic powder

1 tablespoon

dark brown sugar

1 teaspoon

paprika

1 teaspoon

kosher salt

1/2 teaspoon

ground pepper

1/8 teaspoon

cayenne

1 tablespoon

onion powder

1 teaspoon

chili powder
Instructions
Preheat the smoker to 275ºF. 

Remove any innards inside of the chicken and pat the chicken dry with a paper towel. 

Next drizzle olive oil all over the chicken. Rub the olive oil into the chicken, be sure to rub underneath the skin and every nook and cranny. 

Generously sprinkle the chicken with the dry rub by starting by separating the chicken skin from the chicken meat. Sprinkle about 1 tablespoon of dry rub underneath the skin and massage the dry rub into the breast meat.

Carefully sprinkle the rest of the dry rub over the chicken. Massage the dry rub into the skin. Be sure the whole chicken is covered. 

Place the chicken on the smoker and spray it with non-stick cooking spray. Then cover the smoker and cook for 2 hours.

After 2 hours, spray the chicken again with non-stick cooking spray and smoke for an additional 2 hours or until the internal temperature of the chicken reaches 165ºF.

Remove the chicken from the smoker and let the chicken rest for 15 minutes. 

Carve the chicken and enjoy.
Nutrition Facts
Serving Size: 1/8 Calories: 375 Sugar: 2 Sodium: 298 Fat: 19 Carbohydrates: 3 Fiber: 0 Protein: 46 Cholesterol: 180
Author: Lee FunkeCategory: ChickenMethod: SmokerCuisine: American
Keywords: Smoked Whole Chicken
Photography: photos taken in this post are by Erin from The Wooden Skillet.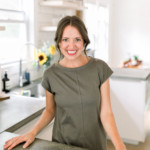 Linley is a 5′ nothing spitball of positive energy who joined Team Fit Foodie in the Spring of 2014. Linley has worked on the digital side of small businesses and nonprofits since 2011, where she specialized in social media community management. Lin has a passion for food and an incredible palate. She is FFF's chief recipe developer, so you can thank her for these incredible recipes!