Crockpot shredded chicken is the easiest method for making shredded chicken. It's a set it and forget it kind of shredded chicken that's hands-off and straightforward.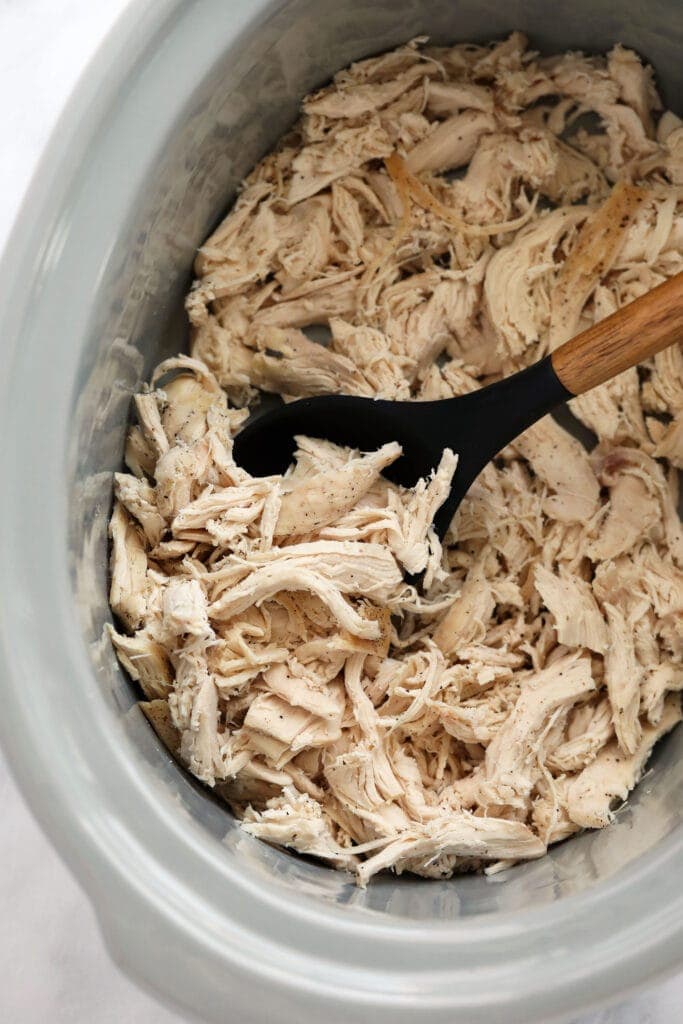 Crockpot shredded chicken is perfect for tacos, nachos, soups, chili, and everything in between. In this post, we'll give you the rundown of how to make slow cooker shredded chicken and share our top tips for perfectly juicy chicken every time.
What you need for Crockpot Shredded Chicken
Basic crockpot shredded chicken is so easy to make that you only need 2 simple ingredients:
chicken breast
chicken broth (or water)
optional: seasonings or sauces ( we used salt and pepper)
Do I need liquid in a slow cooker for chicken?
Technically you do not need to use water or broth when making crockpot shredded chicken. However, we much prefer the end result when liquid is used. Your chicken will be juicer and less dry.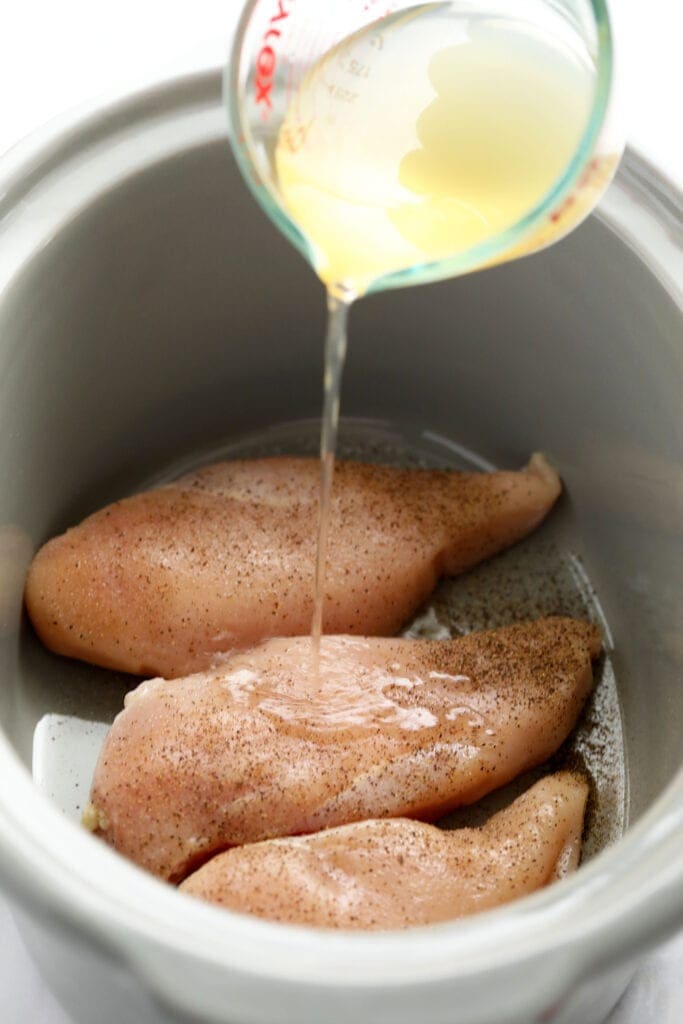 Top 3 Tips for Perfect Slow Cooker Shredded Chicken
Breast size matters: the smaller your chicken breasts are the faster they will cook. For this crockpot shredded chicken, you can use any size chicken breast, just make sure they are all relatively the same size so that they cook evenly. Smaller chicken breasts will take closer to 6 hours on low and larger chicken breasts will take closer to 8 hours on low.
Cook low & slow: when using the slow cooker we almost ALWAYS recommend cooking things low and slow. The same goes for this recipe. We recommend cooking your chicken breast on low for 6-8 hours.
165ºF: ultimately you want your chicken breast to be at least 165ºF internally before shredding so that it's safe to eat. So, use a handy dandy meat thermometer to make sure it's at a high enough temperature to eat.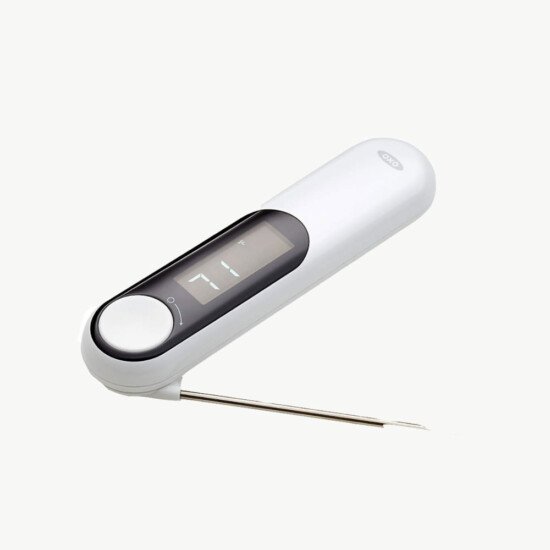 recommendation
Meat Thermometer
Looking for a high-quality meat thermometer? The OXO Thermocouple Thermometer is great for measuring the internal temperature of any meat.
FAQ's
How long to cook chicken in crockpot you may ask? If you're using boneless, skinless chicken breast, we suggest 6-8 hours on low or 2-3 hours on high.
What slow cooker do you have? We have a 6-quart Hamilton Beach Programmable Slow Cooker and LOVE it.
How do I keep chicken from drying out in the crockpot? Make sure you use some kind of liquid, whether it's broth or water. This will help infuse moisture into your chicken breast while it's cooking.
How long does it take to cook 2 lbs. chicken in the crockpot? Cook on high for 2-3 hours or on low for 6-8 hours.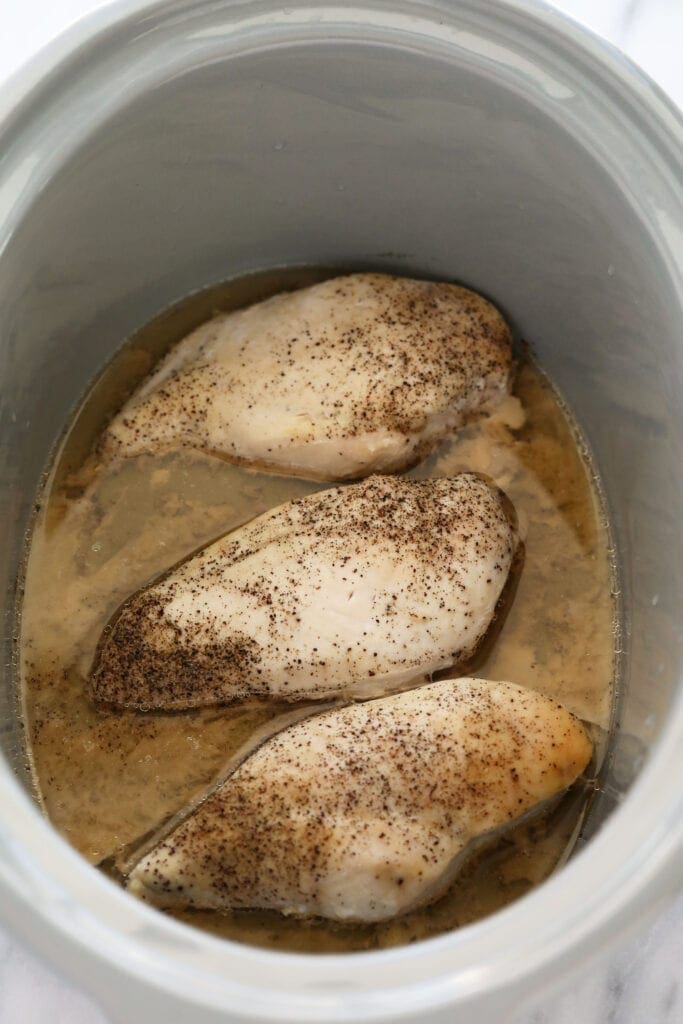 Storage Information
Let shredded chicken cool completely. Then, transfer to an airtight container and refrigerate for 3-5 days.
Can you freeze shredded chicken?
Freezing shredded chicken is super simple. Let your chicken cool completely and then transfer into a large, gallon-size bag. Freeze for up to 3 months.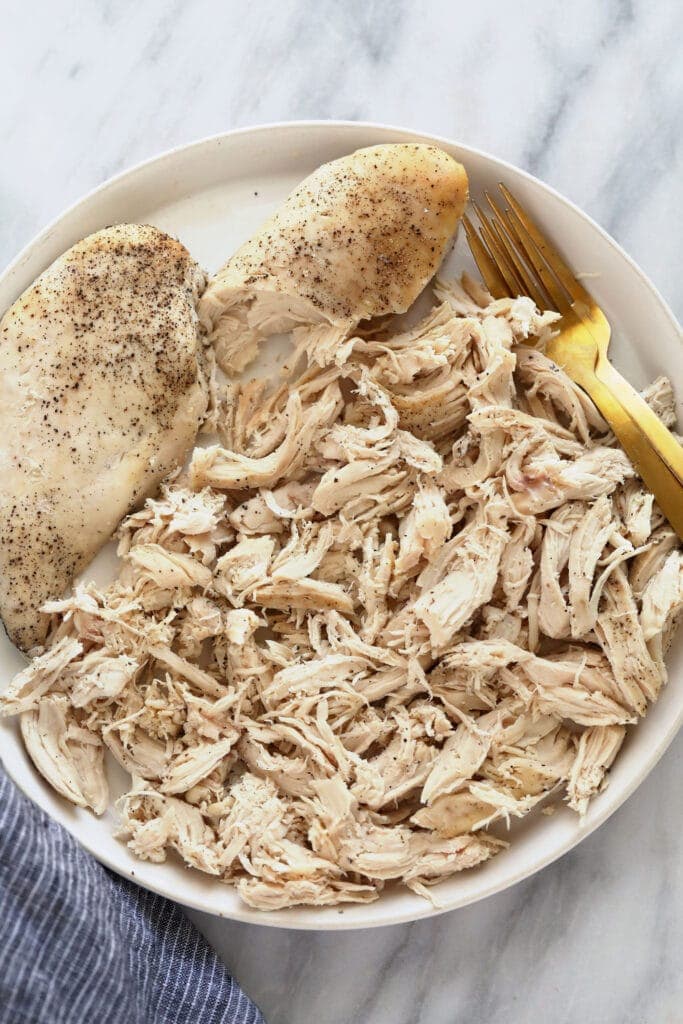 Flavor Variations
Because sometimes you want shredded chicken that has a little more sass! Here are some of our favorite Crockpot Shredded Chicken recipes.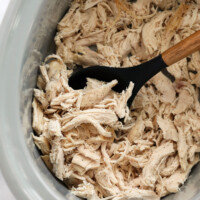 Easy Crockpot Shredded Chicken
Save time and cook healthy simultaneously with this easy video tutorial on how to make slow cooker shredded chicken. Plus, we're sharing 4 of the best ways to spice up your crockpot shredded chicken.
Prep: 5 minutesCook: 6 hoursTotal: 6 hours 5 minutes
Fat 15 Carbs 0 Protein 25
Yield 4–6 1x
Ingredients
1.5

lbs. boneless, skinless chicken breast (feel free to use up to

3

lbs.)

1/2 cup

chicken broth (or water)
salt and pepper, to taste
Instructions
Place chicken breast inside of slow cooker and then add chicken broth.
Cover slow cooker and cook on:

low for 6-8 hours (this is what we recommend)
high for 2-3 hours

Remove from slow cooker, check the internal temperature of the chicken breast and make sure it's at least 165ºF. If it's not, continue cooking.
Once the chicken is fully cooked, use 2 forks to shred the chicken breast.
Tips & Notes
This recipe was updated on January 26, 2021. For the original recipe CLICK HERE.
Nutrition Facts
Serving Size: 1/4 Calories: 230 Sugar: 0 Fat: 15 Carbohydrates: 0 Fiber: 0 Protein: 25
Author: Lee HershCategory: DinnerMethod: Slow CookerCuisine: AmericanDiet: Gluten Free
Keywords: crockpot shredded chicken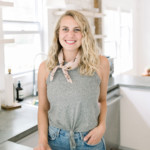 Lee is the founder of Fit Foodie Finds and based in Minneapolis, MN. She started this website in 2010 as a way to share her love for real food and wellness.