This grilled chicken recipe comes out so juicy and tender on the inside and has gorgeous, charred grill marks on the outside.
In this post, we'll teach you everything you need to know about grilled chicken like what cut of meat to use, how to flavor it, and how to grill chicken. Plus, we're sharing all of our favorite grilled chicken recipes!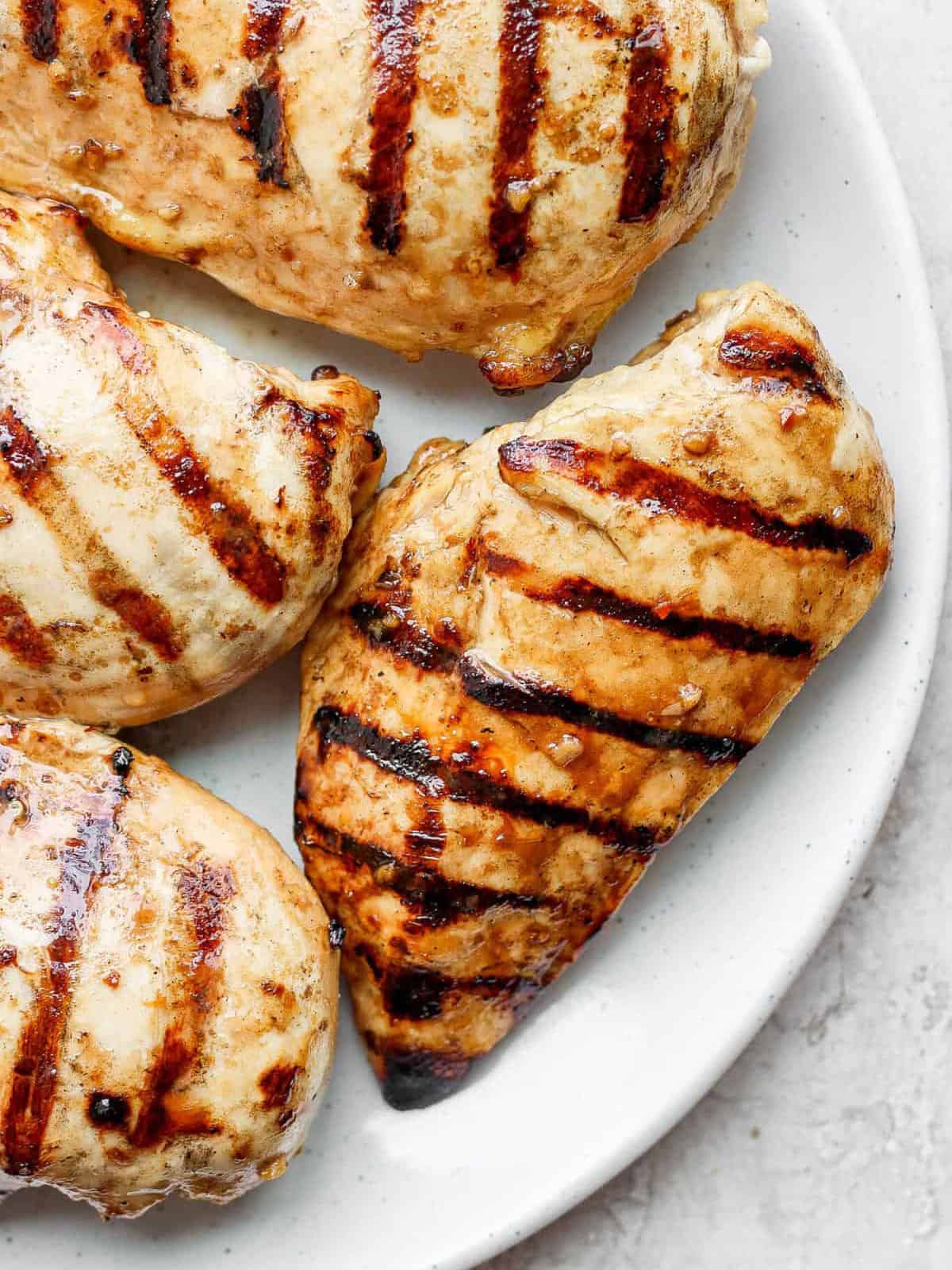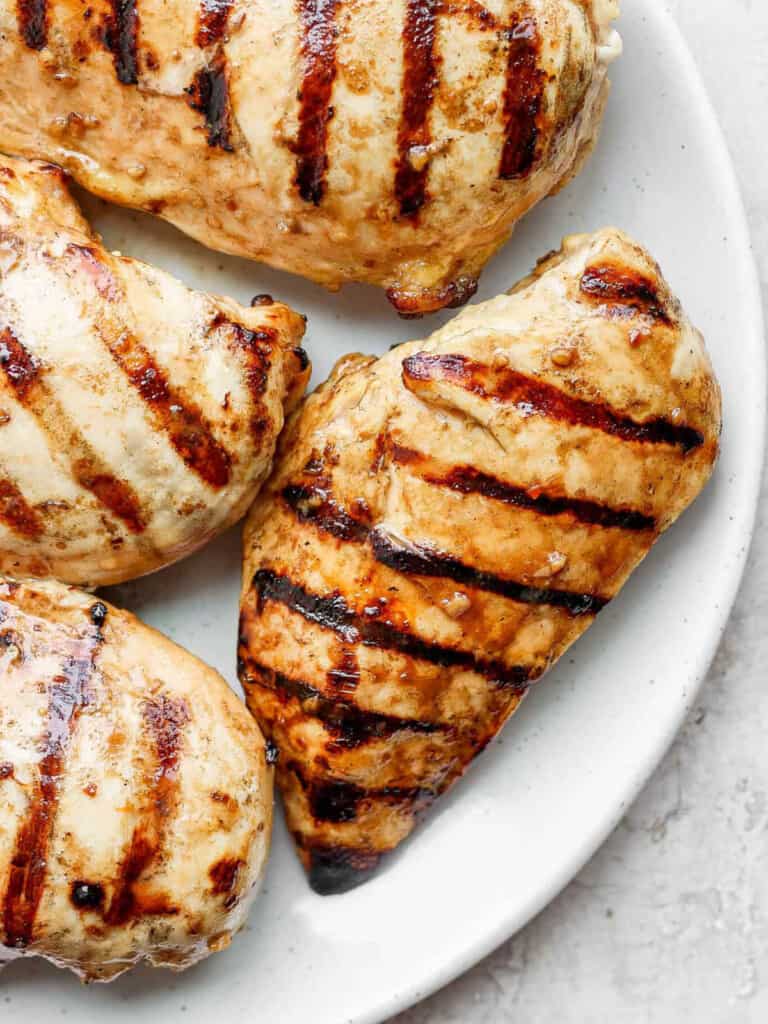 Super Juicy Grilled Chicken Recipe
Grilled chicken is a summer staple in our house. Heck, even in the dead of winter when it's snowing, we're making grilled chicken breast! In this post, we're going back to the basics to teach you everything you need to know about grilled chicken.
Why make chicken on the grill?
Grilling chicken might look intimidating, especially if you aren't a seasoned griller. We're here to tell you that it's actually easier than you might think to make grilled chicken! Plus, we know you'll love the outcome.
Easier cleanup: There is no splattering involved like pan seared chicken, and pretty much no clean-up at all.
Juicy and Tender: by grilling your chicken breasts at high heat, they come out super juicy and tender.
Amazing flavor: a little bit of jar (and grill marks) will do your chicken breasts some good!
Super customizable: whether you are using a chicken marinade or a chicken dry rub, flavor combinations are endless.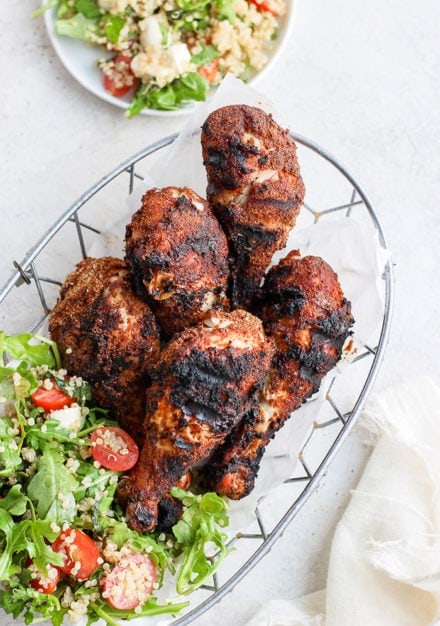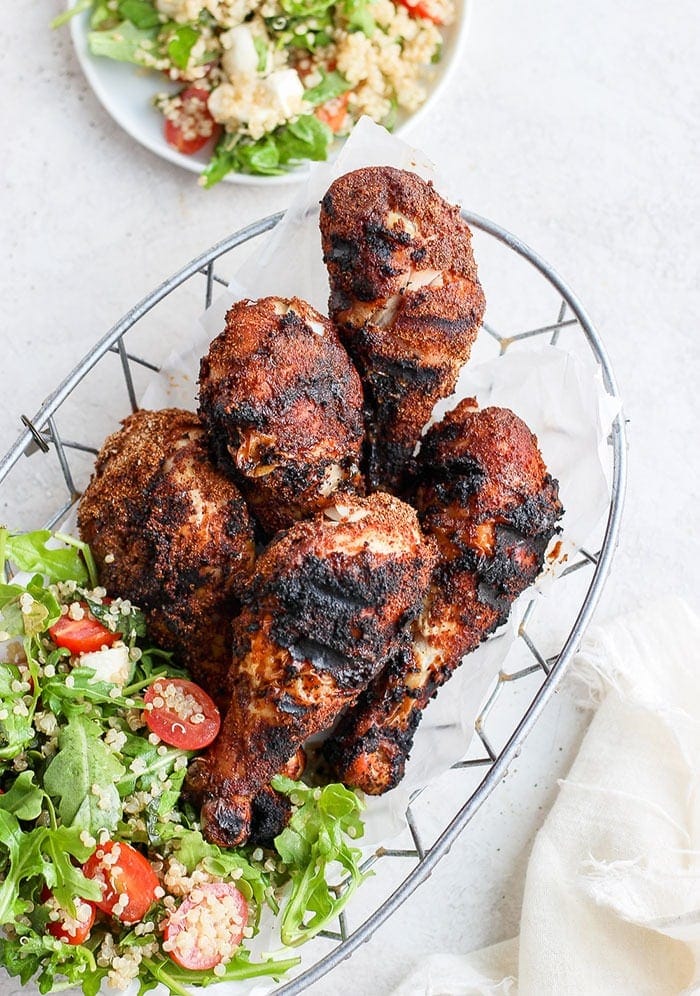 Cuts of Chicken for Grilling
In our kitchen, we're not only grilling chicken breast, but we're throwing all cuts of chicken on the grill. 
Breast: it doesn't get much better than a perfectly grilled chicken breast! Chicken breast is lean and perfect for topping salads with.
Legs: having a party? Go chicken legs! Why? They're super flavorful, inexpensive, and easy to grill! Try our famous Grilled Chicken Legs recipe.
Thighs: my personal favorite cut of chicken to grill is chicken thighs. You can get the skin nice and crispy while keeping the meat juicy and delish. Try our amazing bbq grilled chicken thighs recipe.
Wings: game day? Try grilling your chicken wings for easy clean-up! You can use our dry rub or buffalo chicken wing recipes, but grill them instead!
Whole chicken: a whole chicken?! That's right! You can grill an entire chicken and it's easier than you think. Try our grilled beer butt chicken for starters!
Ways to Flavor Grilled Chicken
There are two primary ways to flavor grilled chicken – rubs/seasonings and marinades. Both offer great flavor and are relatively easy!
Dry Rubs
Dry rubs AKA spice blends are my personal favorite way to season grilled chicken. They infuse so much flavor and also provide a nice texture once heated on the grill. Here are some of our favorite homemade dry rubs for chicken to try:
pro tip
Don't be afraid to season your chicken AKA be generous with your dry rub. Just make sure that your drub rub isn't too salty.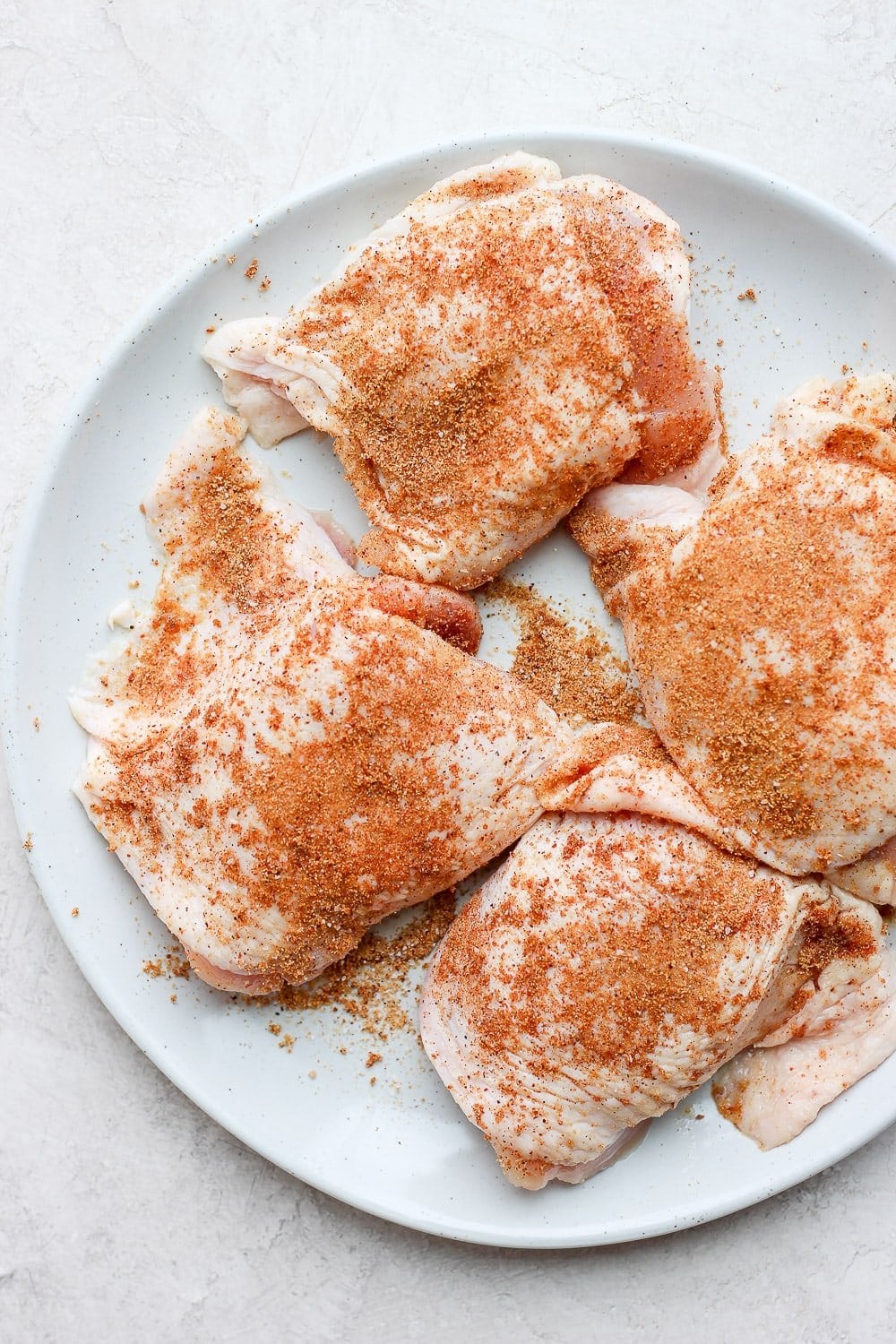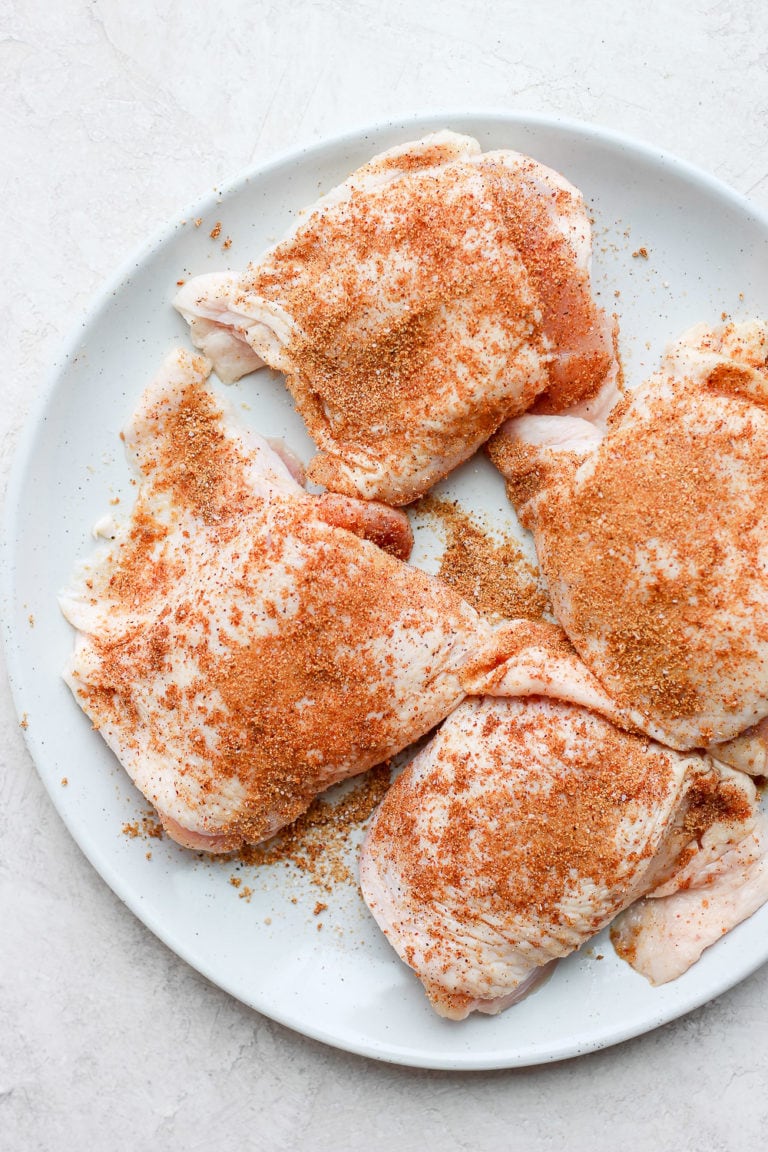 Marinades
Chicken marinades are a great way to get extra juicy grilled chicken with a ton of flavor. Did you know that you can use most salad dressings as marinades? So easy, right?! Here are some of our favorite chicken marinades: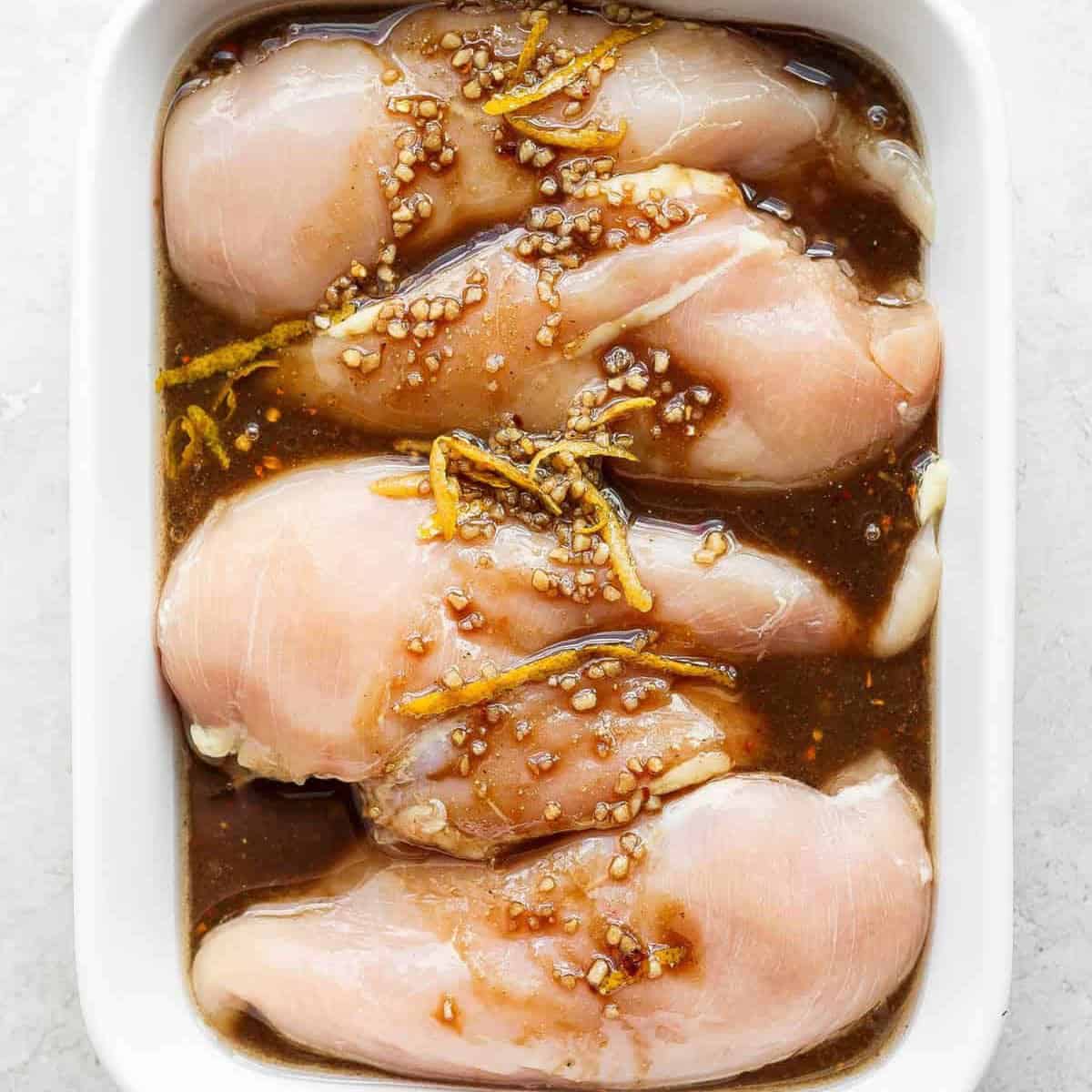 Made with lemon juice, Worcestershire sauce, garlic, and a little balsamic vinegar, this grilled chicken marinade is perfect for all cuts of chicken.
pro tip
The longer you let your chicken sit in a marinade the better. You can let it sit overnight AND you can even freeze your chicken right in the marinade for an easy flavorful chicken later on.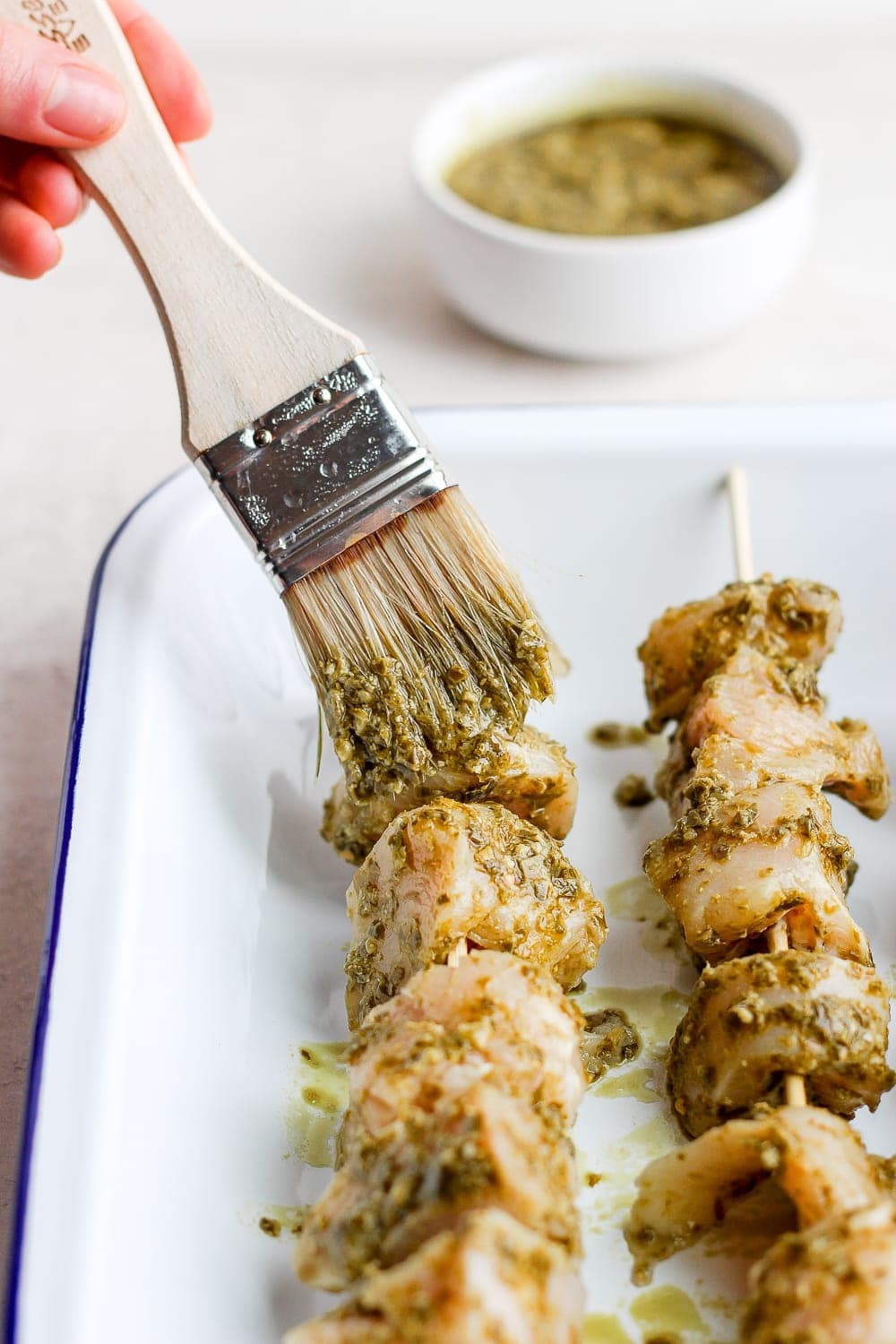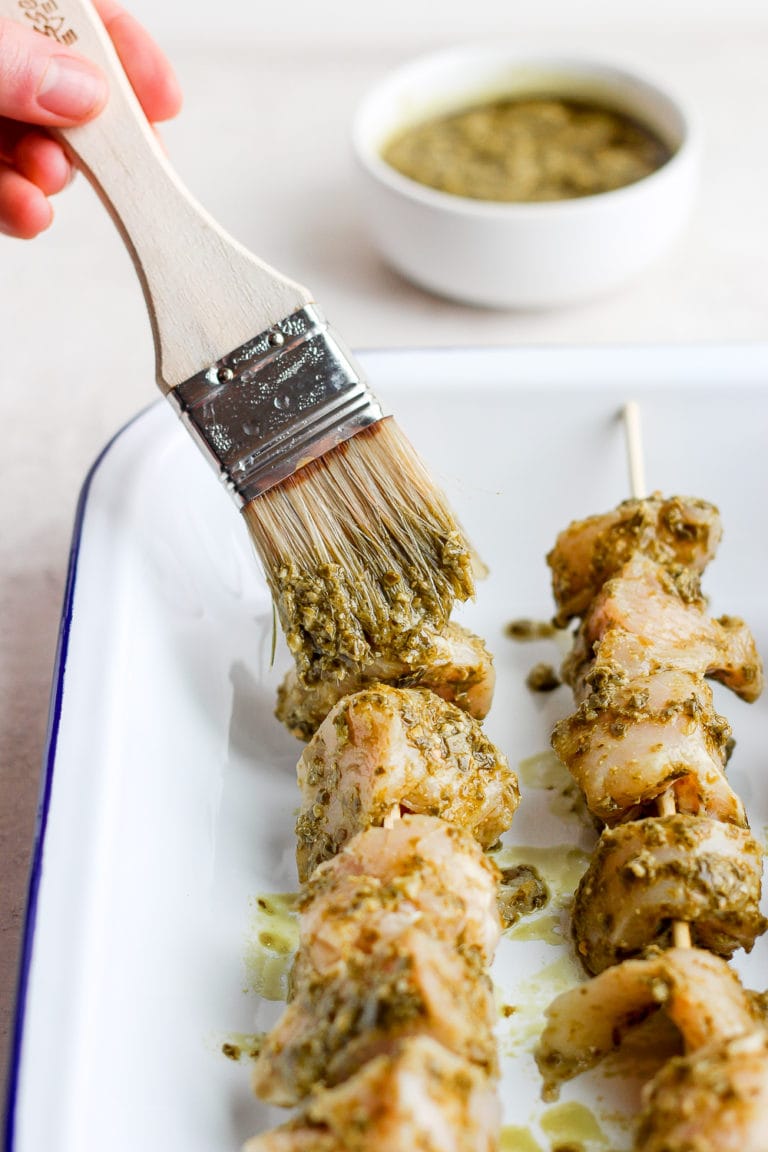 Recommended Kitchen Tools
We love our Weber gas grill for making grilled chicken. Here are a few other kitchen tools we use when grilling!
How to Grill Chicken Breast
If you've made it this far in this grilled chicken tutorial, yahoo! It's time to grill your chicken. This easy tutorial is specifically for grilled chicken breast.
Remove Moisture: First things first, remove your chicken from the package and then use a paper towel to blot as much moisture out of it as you can.
Flavor: Next, flavor your chicken with either a dry rub or marinade. If you scroll up, we give some great options!
Grill: Preheat your grill (gas or charcoal) to around 400ºF. We know that grill temps fluctuate, so don't freak out if it isn't exact! We've found that 400ºF is the perfect temp for grilled chicken. Hot enough to get you gorgeous grill marks, but not too hot to dry out your chicken. Grill your chicken for around 7-8 minutes over direct heat, flip, and grill for 8-10 more minutes. PS: this is for a 6 oz. chicken breast!
Internal Temp: You know your chicken is completely cooked once it reaches an internal temperature of 165ºF. We use an instant read thermometer for this, that way you don't take any risks in eating raw chicken. You can learn more about cooking here from this great article by the USDA.
Let Rest: What is rest time? After you remove the chicken from the grill and it sits, it will continue to cook to the final temperature. We recommend letting your chicken rest for at least 5 minutes so that you can ensure it reaches at least 165ºF to destroy any bacteria.
Top tips for perfect grilled chicken breast
Remove moisture before cooking
Grill at 400ºF for around 15-20 minutes
Cook until chicken reaches 160ºF – 165ºF
Let rest for 10 minutes after grilling
Grilled Chicken Q&A
What goes good with grilled chicken?
Serve your grilled chicken brast with a baked potato, grilled asparagus, or a yummy broccoli salad recipe!
How do I grill the perfect chicken breast?
In order to make the best grilled chicken breast, we suggest heating your grill to 400ºF. Grill chicken for 5-7 per side and continue cooking until the internal temperature reaches 165ºF.
Should I pound my chicken before grilling?
The option is yours. We don't personally pound our chicken before grilling because we love when a few edge pieces get nice and charred, but option to use a meat tenderizer to pound your chicken so that the entire thing is the same thickness.
How long to grill chicken breast?
Grill your chicken breast for around 15-20 minutes, flipping after 7-8 minutes. Grill until the internal temperature reaches 165ºF.
How to prevent your chicken from sticking to the grill?
We recommend spraying your grill grates with nonstick cooking spray right before before cooking. Alternatively, you can use a piece of tin foil with nonstick cooking spray.
Is it okay for chicken to be slightly pink?
As long as your chicken has an internal temperature of 165ºF, it is safe to eat even if it's a little pinkish.
Should you let chicken rest after grilling?
Yes! By allowing your chicken to rest you not only 1. let it cool so you can eat it, but 2. the chicken continues to cook a little bit and becomes extra juicy and moist.
How long does grilled chicken last in the fridge?
Your grilled chicken breasts will last up to 3-5 days in the fridge.
Should I use a gas grill or charcoal grill for chicken?
Feel free to use either a gas or charcoal grill when grilling chicken. Just make sure to grill at around 400ºF until the internal temperature is 165ºF.
Can I use a grill pan to grill chicken?
Yes! Heat your grill pan on your stovetop over medium-high heat and sear for around 5-8 minutes per side, depending on the thickness of your chicken.
Do I have to brine chicken before grilling?
You're more than welcome to brine your chicken, but there is no need to.
Storage
Our biggest tip when storing grilled chicken breast is to let it cool completely before refrigerating.
So, let it cool, transfer the leftovers into an airtight container and store it in the fridge for up to 3-5 days.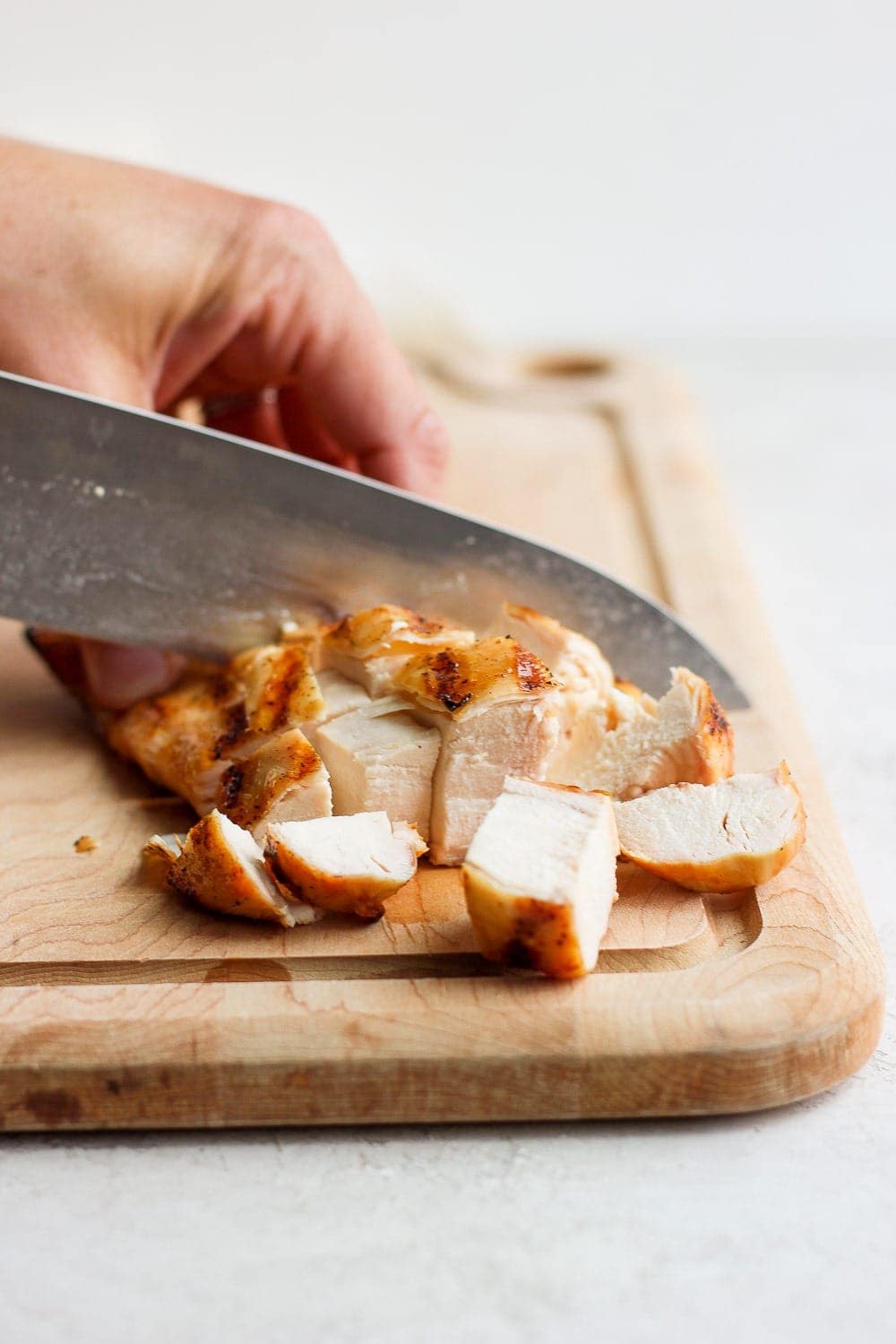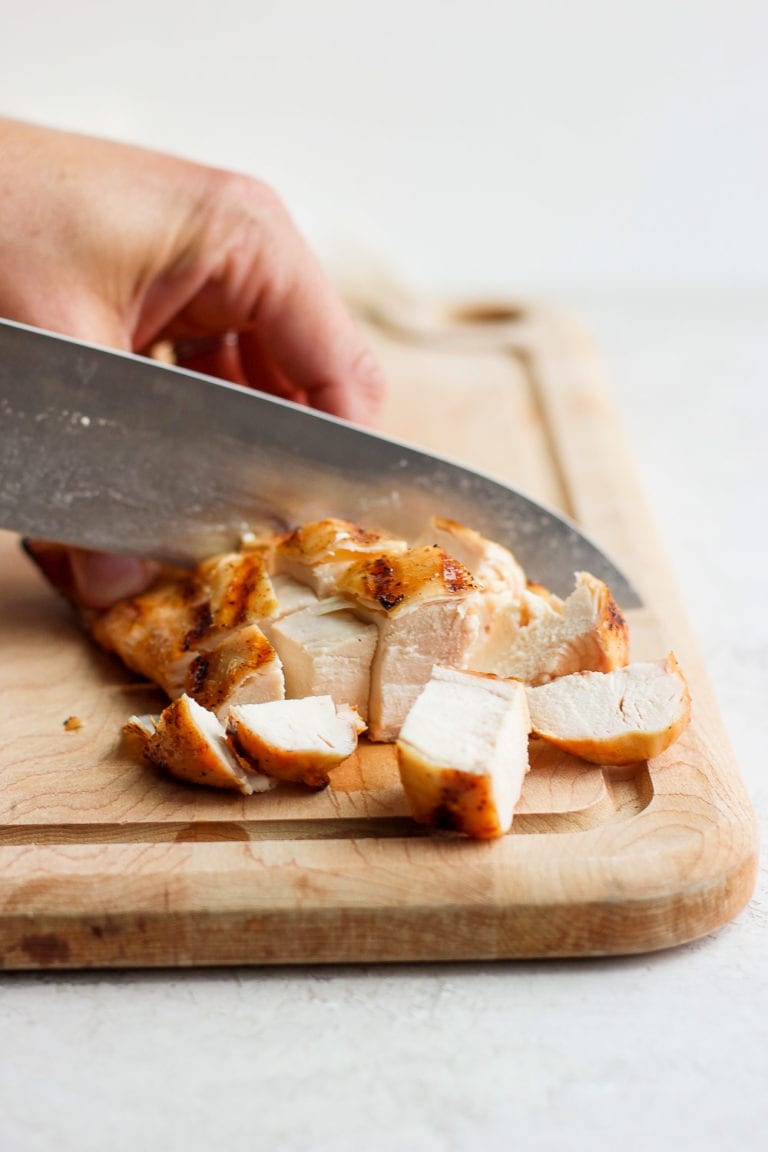 Serving Suggestions
Looking for meal inspiration to pair with your grilled chicken recipe? Check out some of our favorite grilled sides that you can pair with your chicken breasts!
Grilled Asparagus in Foil: Jump into asparagus season with the easiest and yummiest way to eat it. Make Grilled Asparagus in foil for a 20-minute side perfect for all types of eaters!
Baked Potatoes in Foil: One of our favorites dinner sides is a baked potato in foil. Whether you're hoping to make a grilled baked potato in foil or oven baked potatoes in foil, we'll teach you how to make a perfect baked potato every time!
Grilled Zucchini: Turn on the grill and throw on some zucchini! Making grilled zucchini is easy and if you do it right you'll end up with grilled zucchini with a little crunch rather than a soggy mess. Grab the zucchini from your garden or the grocery store and get grilling!
Grilled Carrots: These grilled carrots are sweet and savory, perfectly cooked, and full of amazing flavor! Throw these grilled carrots on the grill and serve them along side any of your favorite BBQ dishes.
Foil-Pack Grilled Red Potatoes: These foil pack grilled red potatoes are an easy side to add to any bbq. All you need to do to make these grilled potatoes in foil is toss them in olive oil, spices, and create foil pack!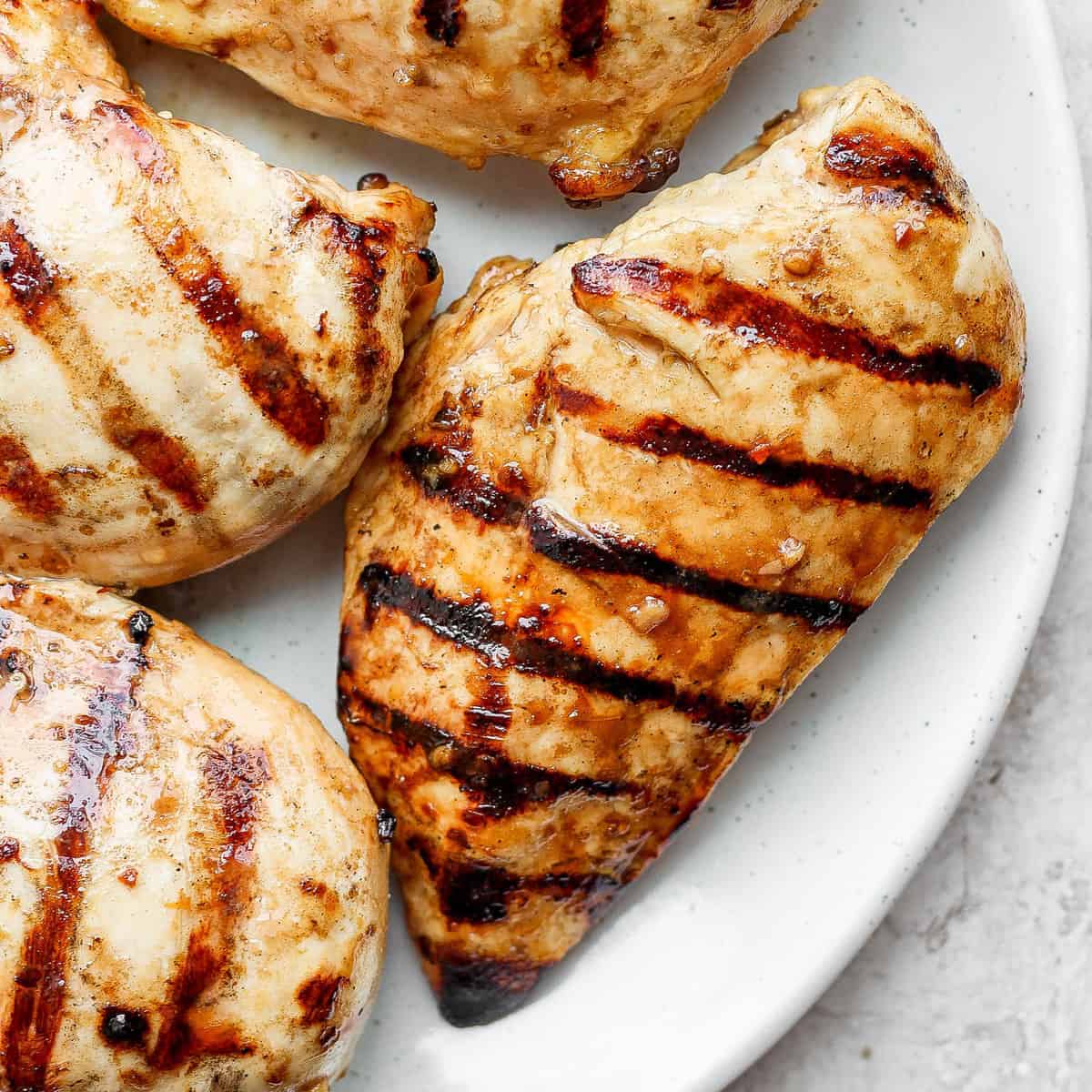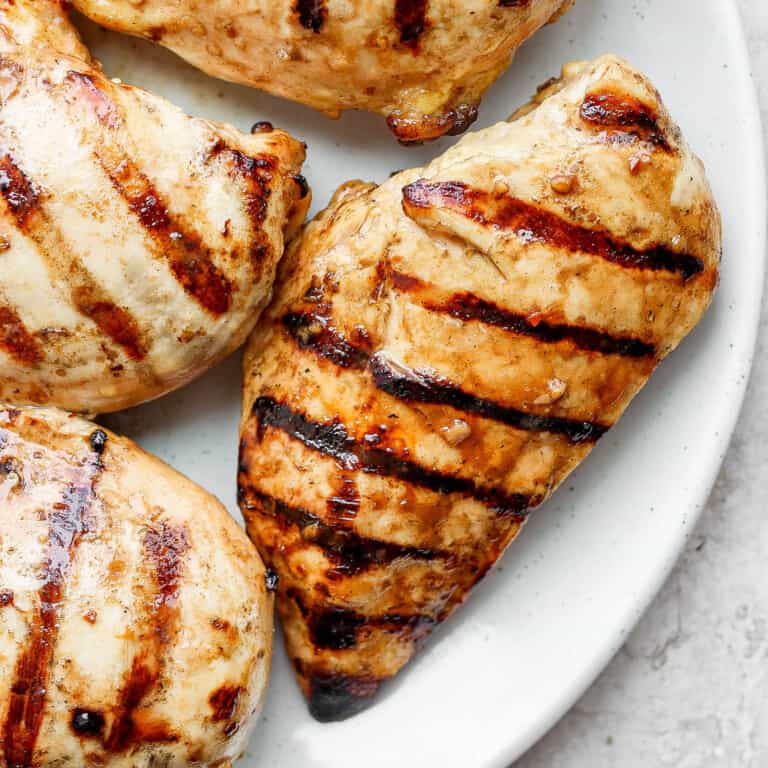 Juicy Grilled Chicken Recipe
Looking for an easy grilled chicken recipe? Get perfect grilled chicken every time with this easy How to Grill Chicken Breast tutorial! 
Prep: 30 minutesCook: 15 minutesTotal: 45 minutes
Fat 2 Carbs 2 Protein 25
Yield 2-4 1x
Ingredients
1

–

1.5

lbs. boneless skinless chicken breasts (

3

–

4

medium-sized chicken breasts)

2

–

3

 teaspoons garlic powder

1/4 teaspoon

 salt

⅛ teaspoon

 ground pepper
Instructions
First, season chicken breasts with garlic powder, salt, and pepper. Option here to sub out 1-2 tablespoons of your favorite dry rub. Set aside for at least 15 minutes. The longer the chicken sits, the more flavorful it will be.
Next, preheat the grill to 400ºF and spray grates with cooking spray
Grill chicken breasts over direct heat at 400ºF for around 7-8 minutes. Then, flip chicken breasts and continue cooking for 8-10 more minutes. You know the chicken breast is done cooking when the internal temperature reaches 160ºF – 165ºF.
Remove from the grill and let rest* for at least 5-10 minutes before serving. The chicken breasts will continue to rise in temperature around 5ºF.
Tips & Notes
Cook time will vary depending on the size of your chicken breast. Thicker chicken breasts will take longer, just make sure to cook until the internal temperature has reached 165ºF.
Your chicken will continue to cook once you remove it from the grill and the internal temperature will continue to rise. 
Nutrition Facts
Serving Size: 1/4 Calories: 135 Sugar: 0 Fat: 2 Carbohydrates: 2 Fiber: 0 Protein: 25
Author: Lee FunkeCategory: ChickenMethod: GrillCuisine: AmericanDiet: Gluten Free
Keywords: grilled chicken breast, grilled chicken recipes, grilled chicken
More Grilled Chicken Recipes
We have so many amazing grilled chicken recipes on Fit Foodie Finds and we thought we'd highlight the most popular below. Enjoy!
Grilled Chicken Salad
There's nothing better than a crunchy, topping-packed grilled chicken salad on a hot summer night.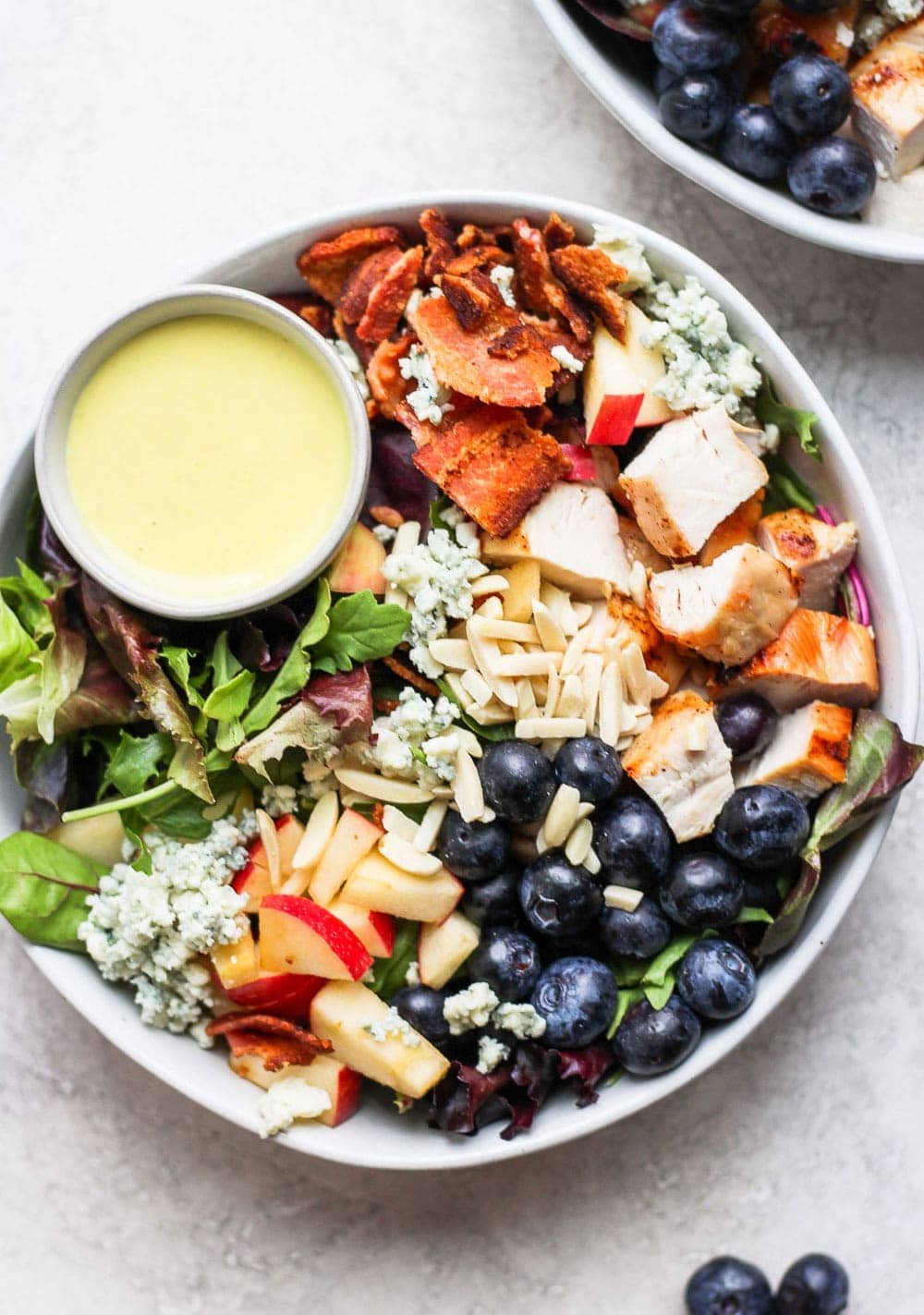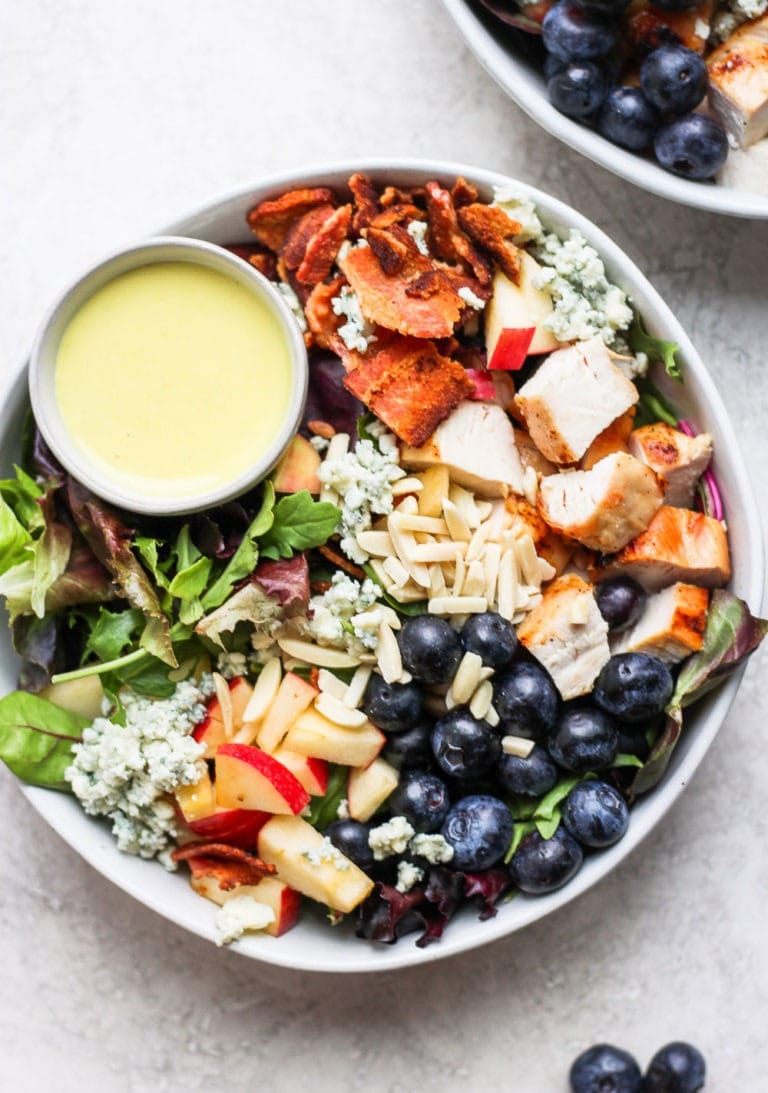 Grilled Chicken Legs
Ever wonder how to grill chicken legs? Look no further because these are the BEST grilled chicken legs in all the land. We'll teach you how to make the most amazing chicken dry rub and give you a step by step tutorial for the best grilled chicken legs recipe ever.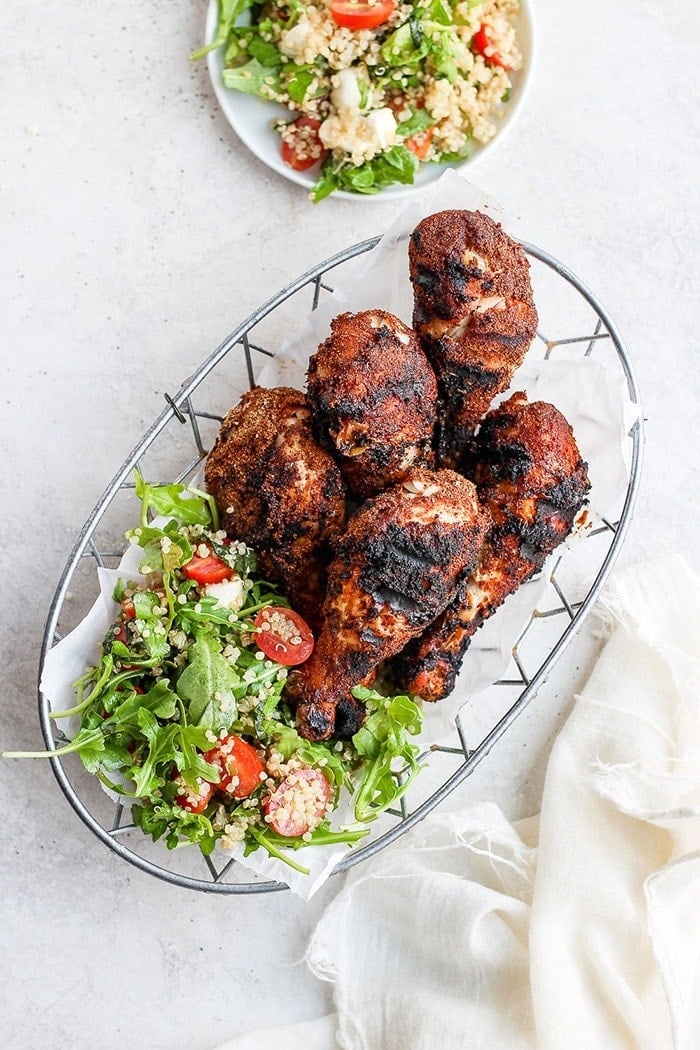 Easy Grilled Chicken Thighs
These are the best grilled chicken thighs because the skin gets nice and crispy on the outside while the inside is tender and juicy.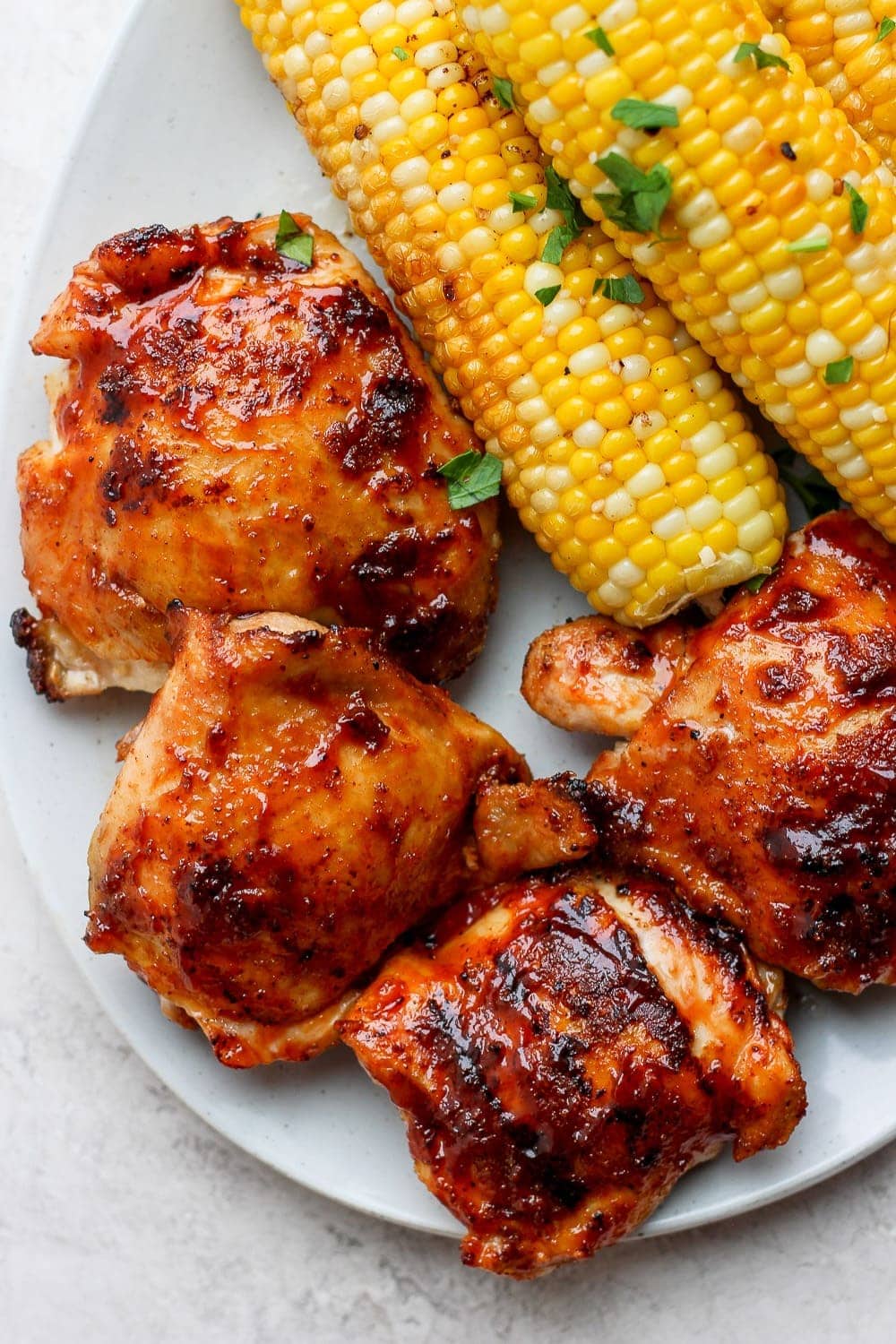 More Grilled Chicken Recipes