Get tender, juicy, perfectly grilled steak with this "how to grill steak" post. We'll give you the best tips and tricks for grilling steak like a professional.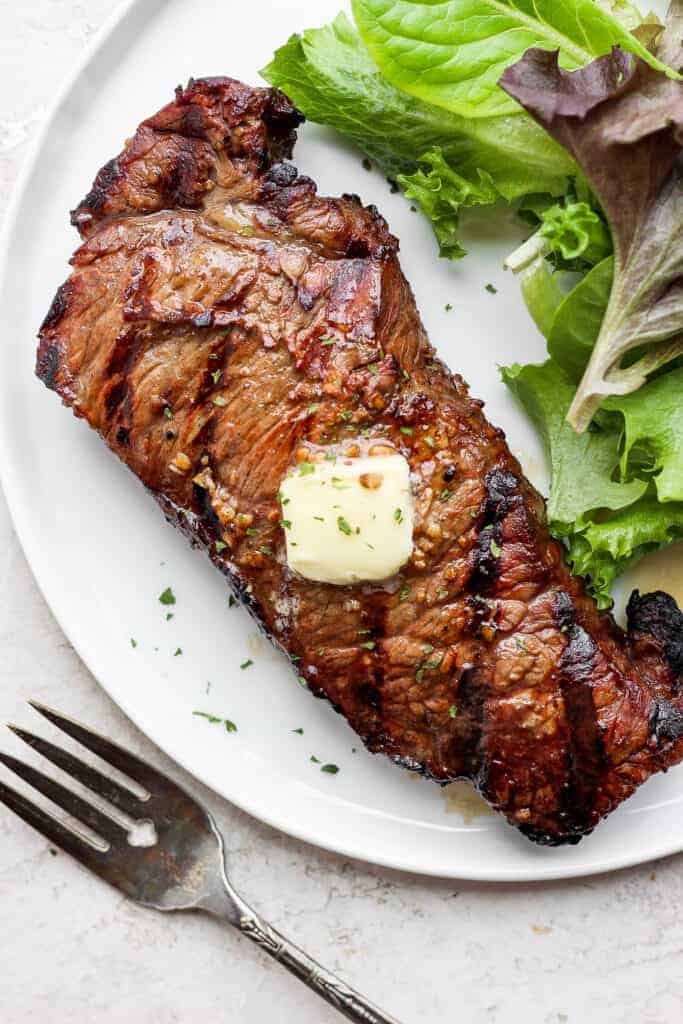 Grilling Steak – Why You Need to Do It!
Steaks on the grill really is the bee's knees. They're juicy, tender, and that charred flavor on the outside; you just can't beat it! Our sous vide steak is one of my favorite things to grill, but I realize that not everyone has a sous vide, so we thought we'd come up with a much simpler, marinated grilled steak recipe.
Why make this steak recipe?
So juicy: this marinated grilled steak is seriously so juicy and flavorful.
Ready in less than an hour: from start to finish, your grilled steaks will be ready in less than an hour.
Perfectly cooked every time: we'll teach you how to grill steak perfectly every time without over or undercooking it!
Best Steak for Grilling
Looking for the best steak cuts for grilling? Here are a few of our tried and true favorites. PS: in this grilled steak post, we're using New York strip steak because we love the fat content and how thick and juicy they end up when grilled.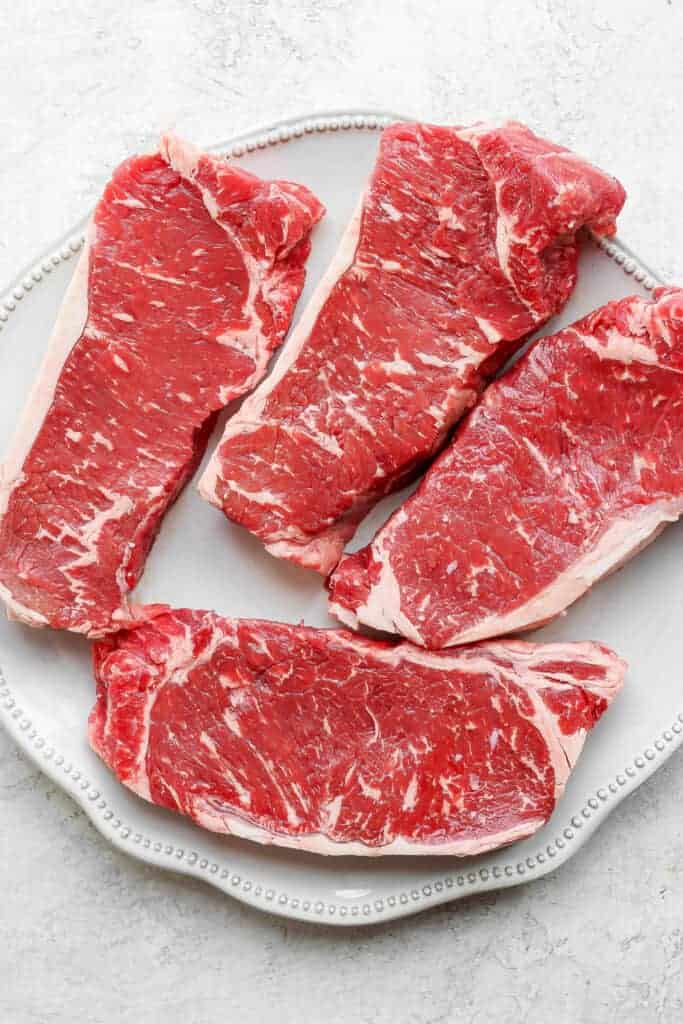 Kitchen Tools for Grilling Steak
Ways to Flavor Grilled Steak
There are so many different variations out there to flavor your grilled steak. However, sometimes less is more. You can't go wrong with salt, pepper, and butter.
In this section, we're chatting all things steak seasonings and steak marinades. They both have their pros (and really no cons because we're obsessed with both options).
Seasonings
Dry rubs and seasonings are an excellent way to add flavor to steak. You can keep it simple with salt and pepper or get fancy with steak seasonings of any kind.
Marinades
We love marinating steaks before grilling because they come out so juicy, tender, and full of flavor. You can use store-bought marinades or make your own from scratch. Check out our go-to grilled steak marinade below.
Best steak marinade for grilling
In this particular grilled steak recipe, we're using our favorite grilled steak marinade. It's made with some of our favorite ingredients. Here's what you need:
garlic: minced garlic is such an amazing flavor for pretty much any marinade.
Worcestershire sauce: Worcestershire sauce is tangy with a punch of vinegar and it's so necessary.
balsamic vinegar: balsamic adds a hint of sweetness with too much sweet.
lemon juice: a little citrus goes a long way and really brightens up this steak marinade.
olive oil: olive oil will help keep things nice and juicy.
lemon pepper: I love that you get the traditional pepper flavor, but also a lemon zest punch with lemon pepper.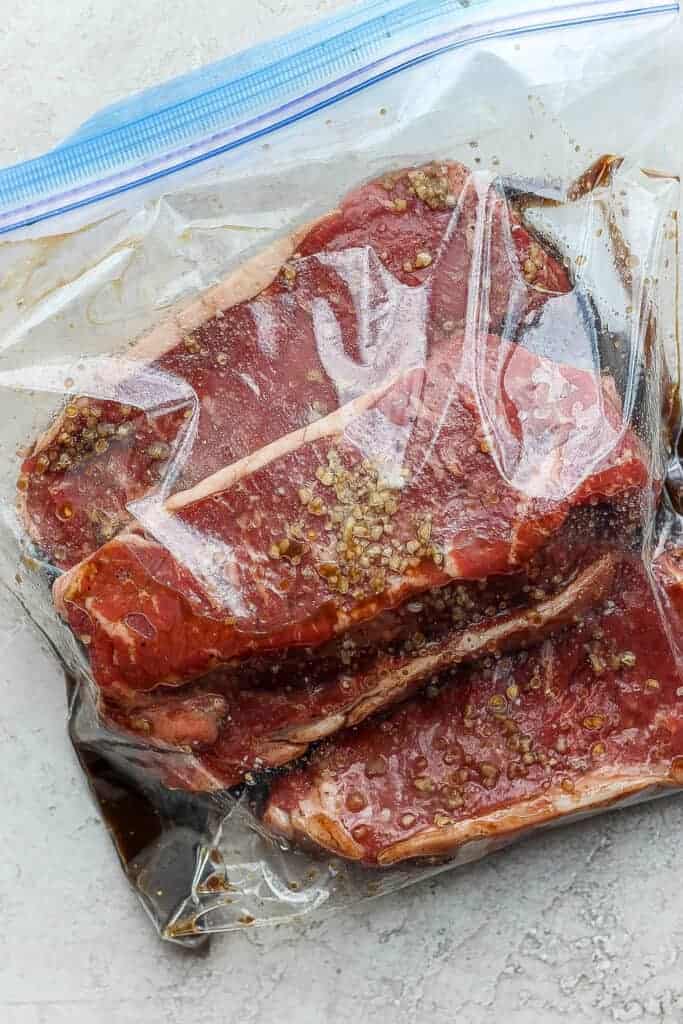 How to Cook Steak on Grill
Prepare marinade: combine the marinade by mixing together Worcestershire sauce, balsamic vinegar, garlic, olive oil, lemon pepper, and lemon juice.
Marinate steaks: transfer steaks to a gallon-size bag or baking dish and pour in the marinade. Make sure that the steaks are covered and seal (or cover). Let marinate for 30 minutes. Feel free to do this on the counter so that the steaks are room temperature before cooking.
Preheat grill: Preheat grill to 500ºF and rub your grill grates with olive oil.
Grill: Sear steaks at 500ºF over direct heat for 2 minutes on each side. Then, turn the grill down to 400ºF and continue grilling for 10-15 minutes flipping halfway. For a medium-rare steak, let cook until the internal temperature reaches 140ºF.
Let Rest: let the steaks rest of a plate for 5 minutes so that their internal temperature can continue to rise by 5ºF.
Grilled Steak Internal Temperature
The best way to know if your steak is done is by measuring the internal temperature. Everyone likes to eat their steak slightly differently. Some like it well-done and some like it medium rare. So, below you will find internal temperatures corresponding to doneness.
135ºF – rare
140ºF – medium rare
150ºF – medium
165ºF – well-done
Remember to always let your steak rest for at least 5 minutes after they finish cooking so they can continue to rise in temperature by 5ºF.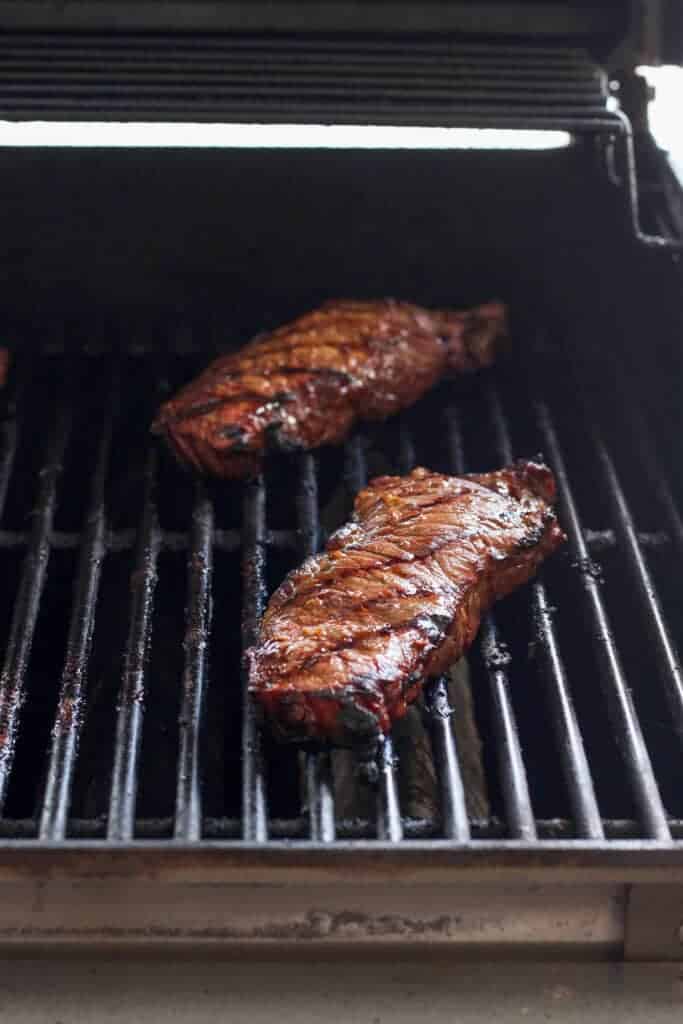 Grilling Steak Tips + Q&A
Best Grill Temp for Steak: we recommend searing your steak at high heat such as 500ºF for a few minutes on each side to sear the steak and then lower it to 400ºF to finish cooking.
How Long to Grill Steak: depending on the thickness of your steak and how done you want it, grill steak at around 400ºF for
Should I use a gas or charcoal grill? Either a gas grill or a charcoal grill works for grilling steak. It's all about preference. We personally used a gas grill because you can manage temperature better.
How do I know my grilled steak is done? The most precise way to know if your steak is fully cooked is to check the temperature. Use a meat thermometer and stick it in the thickest part of the steak. It should read at least 135ºF before taking it off the grill to safely consume it.
Top 3 Grilling Steak Tips
Sear + Cook: Love grill marks and perfect steak all in one? Follow our sear + cook method by first searing your steak at high heat and then cooking it at a lower temperature. You'll get the grill marks without burning your steak.
Don't Over Cook: when in doubt, keep an eye on the internal temperature of your steak. We like to keep a meat thermometer on hand at all times while grilling steak tp make sure we can grill it to the perfect temp.
Let Rest: always let your steak rest once you're done grilling so that it can continue cooking 5ºF more. Letting your meat rest also helps make your steak super juicy.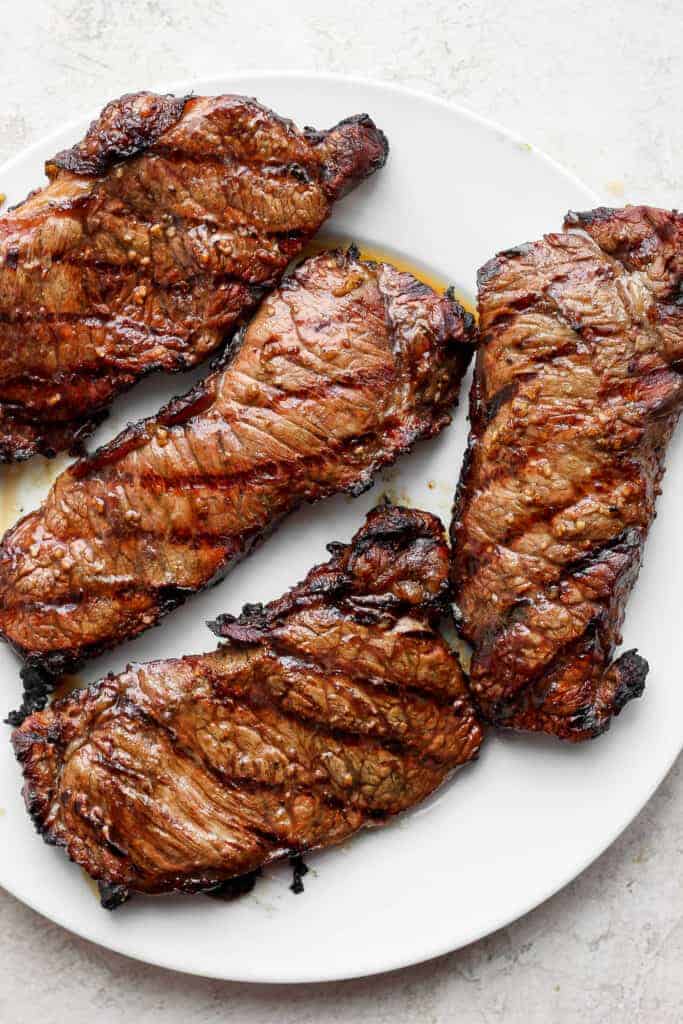 What to Serve with Grilled Steak
Baked Potato in Foil: there is nothing better than steak and potatoes! Try our baked potato in foil recipe. Cook it on the grill or in the oven. The choice is yours.
Foil Pack Potatoes: These foil pack grilled red potatoes are an easy side to add to any bbq. All you need to do to make these grilled potatoes in foil is toss them in olive oil, spices, and create foil pack!
Grilled Asparagus In Foil: Jump into asparagus season with the easiest and yummiest way to eat it. Make Grilled Asparagus in foil for a 20-minute side perfect for all types of eaters!
Butter Lettuce Salad: This butter lettuce salad has a combination of vegetables, fruit, nuts, cheese, and is drizzled with a simple lemon vinaigrette. Everything on a bed of tender butter lettuce makes a perfect and delicious salad.
Foil Pack Peach Crumble: It's made with juicy peaches tossed in maple syrup and a yummy crumble topping, making it a gluten-free fruit crumble and a healthy dessert recipe for the summertime!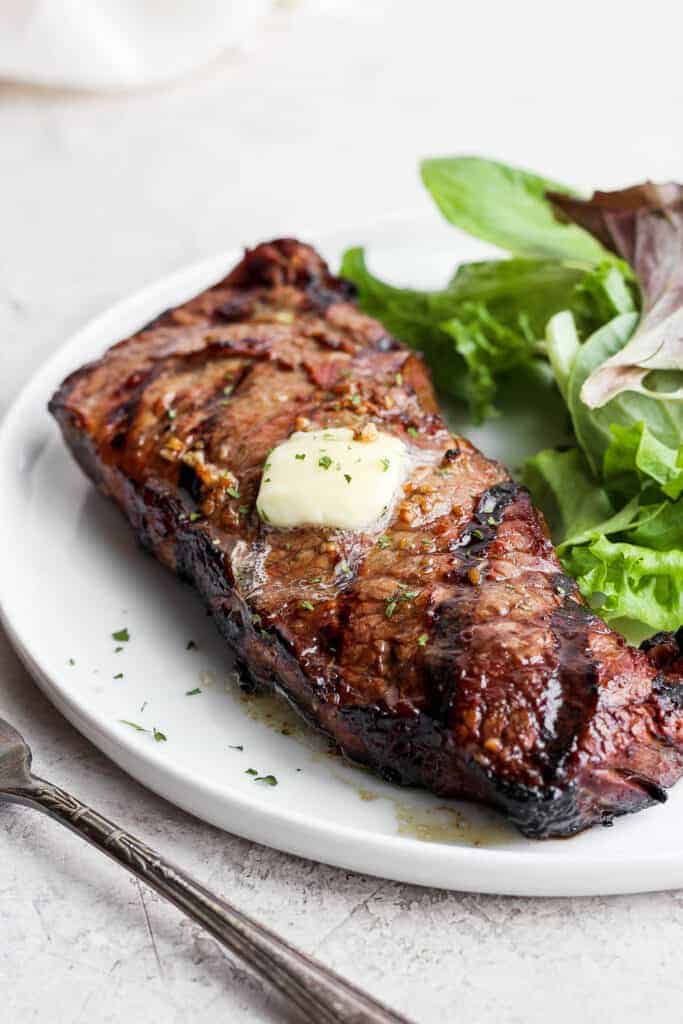 What to Do with Leftover Steak
Got leftover steak? Don't waste it! Here are a few ideas to repurpose it:
Salad: make our Butter Lettuce Salad and top it with sliced grilled steak. Or, make our Steak Salad Recipe with tons of veggie and an herby vinaigrette.
Nachos: make a big sheet pan of nachos and instead of using ground beef, use sliced steak instead.
Bowls: Make our beef taco bowls, but use diced steak instead of ground beef.
Mac and Steak: Make a box of mac and cheese and serve it with sliced grilled steak.
Storage
Let cooked steak cool completely. Then, transfer it into an airtight container and refrigerate for up to 3-5 days.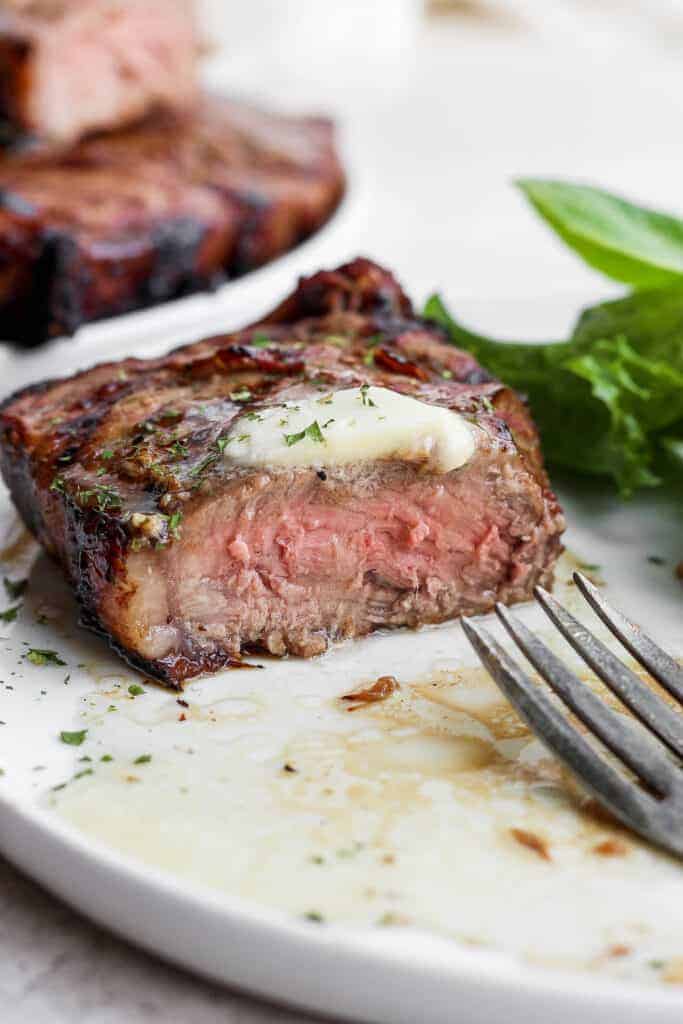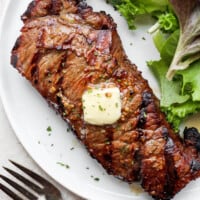 How to Grill Steak (Incredible Grilled Steak Recipe)
Grilling steak may seem intimidating, but in this post, we'll teach you how to grill steak and make it perfectly juicy on the inside with a beautifully charred crust on the outside every time.
Prep: 30 minutesCook: 15 minutesTotal: 45 minutes
Fat 36 Carbs 5 Protein 41
Yield 4–6 1x
Ingredients
(4) ⅔-lb. New York strip steaks (~1-inch thick cut steaks)

1/4 cup

Worcestershire sauce

2 tablespoons

balsamic vinegar

1 tablespoon

minced garlic

2 tablespoons

olive oil

2 tablespoons

fresh lemon juice (~half juicy lemon)

1/2 teaspoon

lemon pepper
Butter, for serving
Instructions
First, remove the 4 steaks from their packaging and place them into a gallon-size bag or glass container and set aside.
Next, prepare the steak marinade. Combine the rest of the ingredients together in a small bowl or Pyrex and whisk to combine.
Then, pour the marinade on top of the steaks, remove as much air as possible and seal the bag. Squish the marinade around making sure it coats the steaks.
Place steaks in the fridge and let marinate for at least 30 minutes, or up to 2 hours.
When you're ready to cook the steaks remove them from the fridge and bring them to room temperature. Rub your grill grates with olive oil and preheat it to 500ºF.
Remove the steaks from the marinade and transfer them to the grill. Sear the steaks over direct heat for 2 minutes on each side to get those gorgeous grill marks. Then, turn the heat down to medium/high (~400ºF) and continue grilling for around 10-15 minutes*, flipping halfway through.
For a medium* steak, cook until the internal temperature reaches 140ºF*. Then, remove from the heat and let rest for 5 minutes.
Serve with butter and enjoy.
Tips & Notes
Cook time: cook time will vary depending on how thick cut your steaks are and how done you want the middle. Our steaks were around 1-inch thick and we cooked ours to medium.
Steak doneness: 135ºF – rare, 140ºF – medium/rare, 150ºF – medium, 165ºF – well-done.
Nutrition Facts
Serving Size: 1/6 Calories: 519 Sugar: 2 Fat: 36 Carbohydrates: 5 Fiber: 0 Protein: 41
Author: Lee FunkeCategory: SteakMethod: GrillCuisine: American
Keywords: grilling steak
Photography: photos taken in this post are by Erin from The Wooden Skillet.