You'll never use another chicken kabob marinade! This one will leave your chicken and veggies so tender and juicy.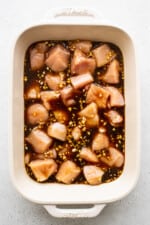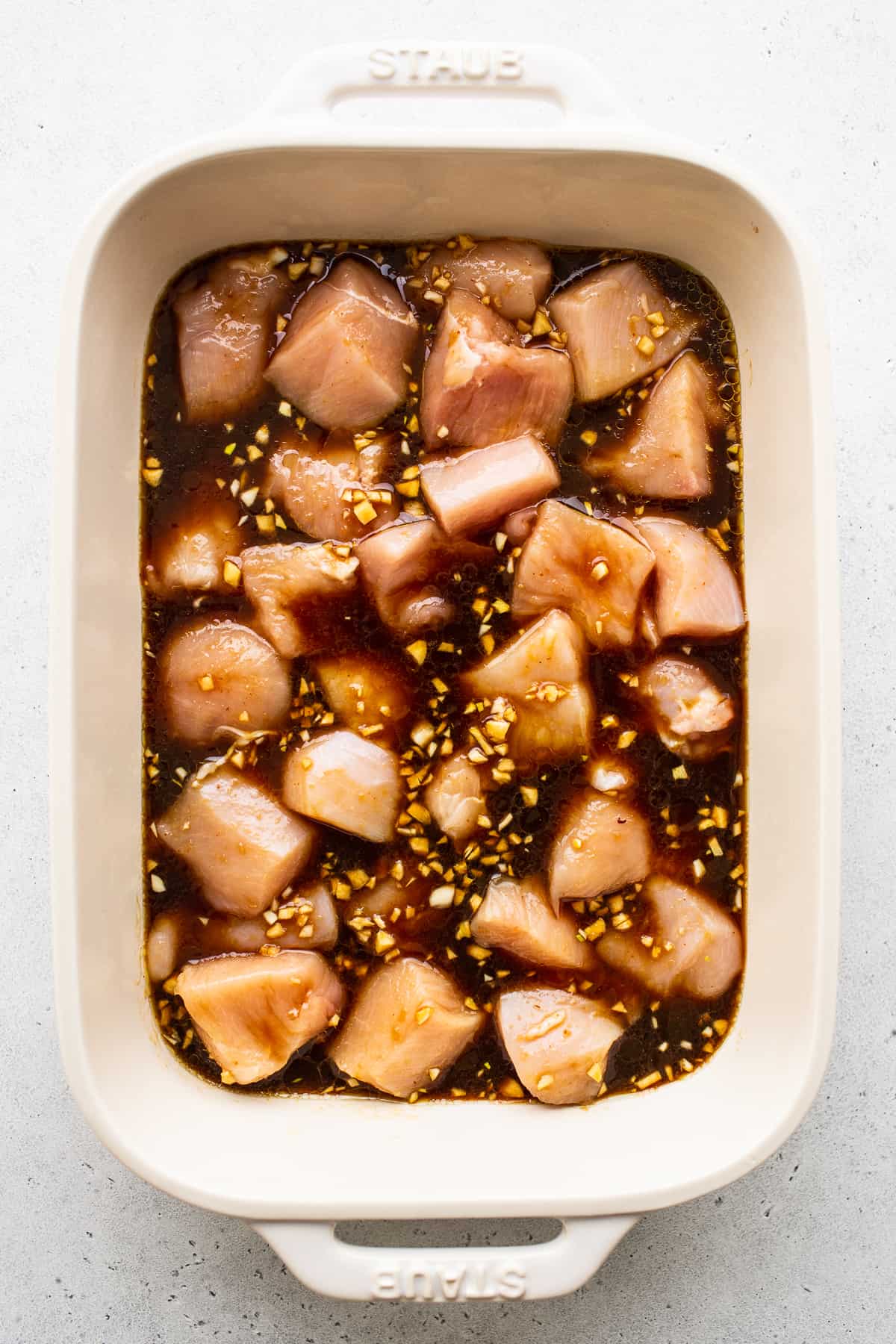 Best Marinade for Chicken Kabobs
Is there anything better than a juicy chicken kabob straight off the grill? One thing that makes our chicken kabobs so special is their juicy marinade.
Let your chicken and veggies sit for just a bit and then they're ready to be grilled to char perfection!
In this post, we're talking all things chicken kabob marinade. We'll share our signature recipe and answer all of your q's!
Why should I marinate my chicken kababs?
A marinade is going to infuse your chicken and veggies with so much flavor. Think of it as a flavor bath.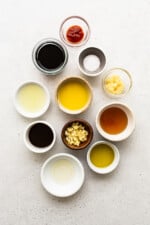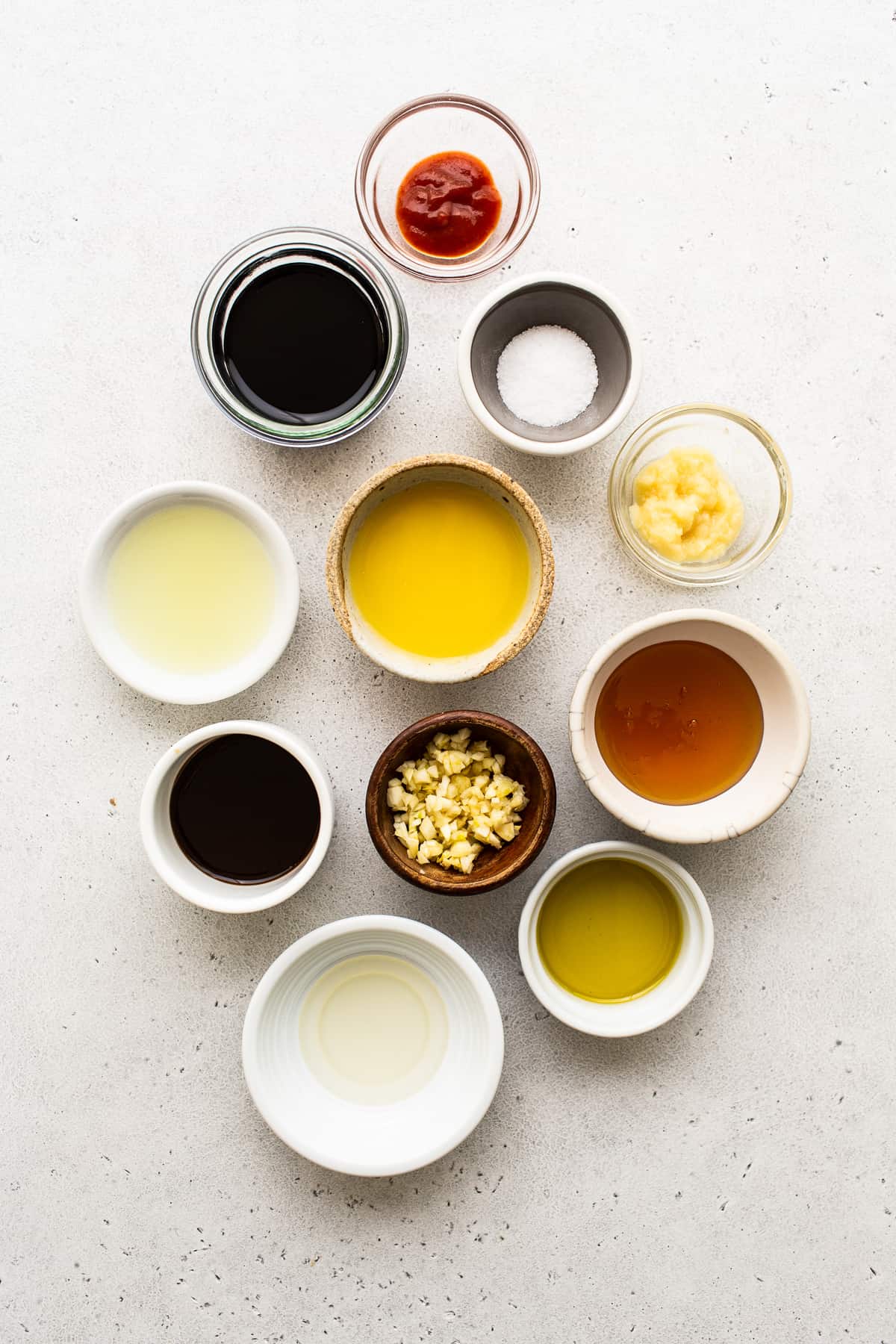 What You Need
We decided to make 2 different marinades to really give every bite a unique flavor.
Chicken
soy sauce
Worcestershire sauce 
1 lime juice
orange juice
honey 
minced garlic 
grated ginger 
salt 
olive oil
rice vinegar
sriracha (optional)
How much chicken should I use? This recipe calls for 1 lb. of boneless, skinless chicken breast.
Veggies
olive oil 
sesame oil
lime juice
minced garlic
grated ginger
salt
rice vinegar
fresh chopped cilantro
honey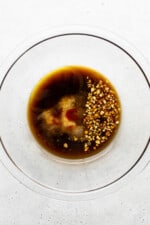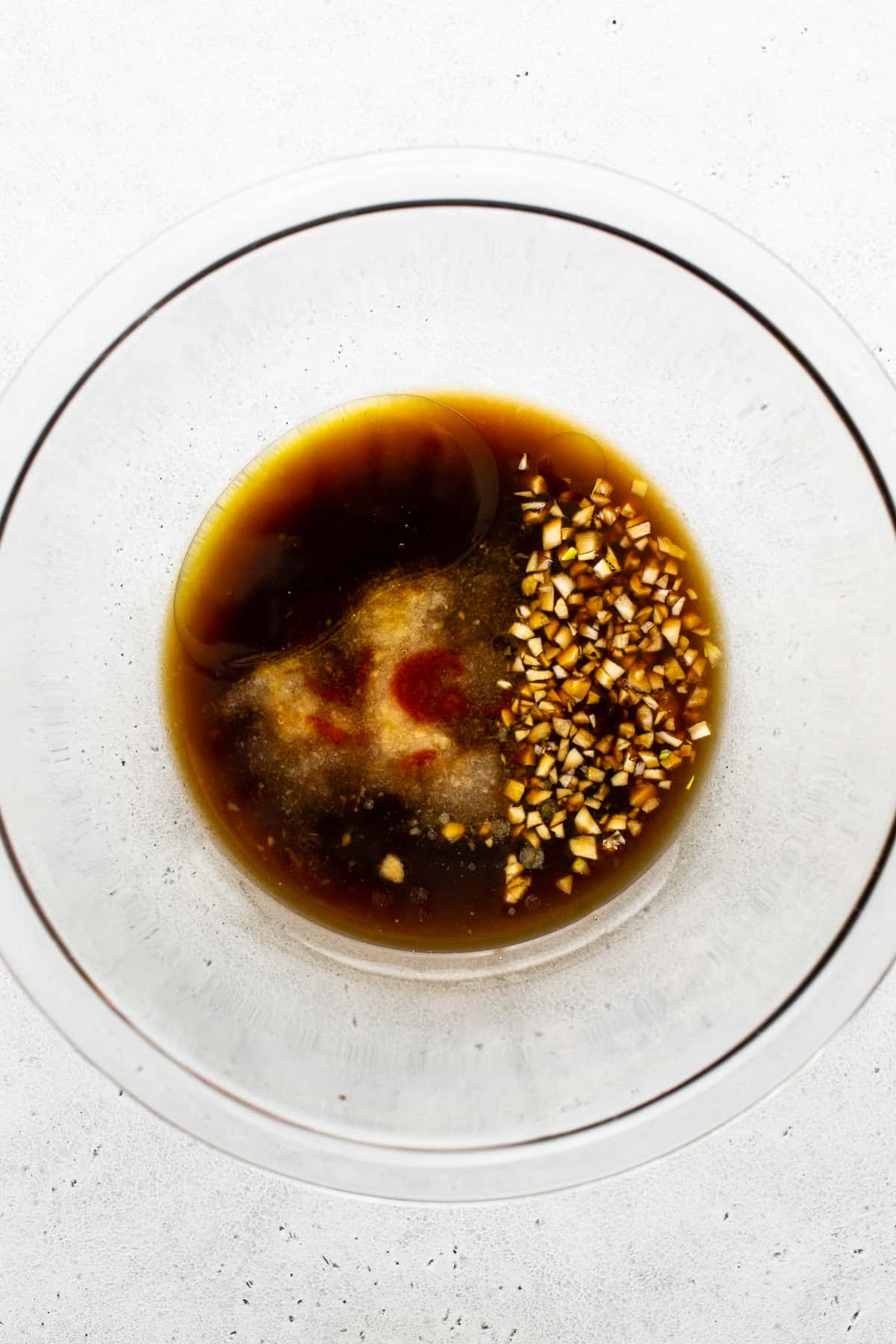 How long should I marinate chicken?
We recommend marinating chicken for at least 30 minutes or up to 2 hours. Check out our guide to chicken marinades post.
Do kabobs have to be marinated?
While you do not HAVE to marinate your kabobs, we recommend it. Since you're cutting the chicken and veggies into small pieces before grilling, a marinade is going to help keep them nice and juicy and not dry out over the direct heat.
What cut the chicken for kabobs?
We recommend using either chicken breast or boneless, skinless chicken thighs for kebabs.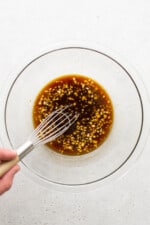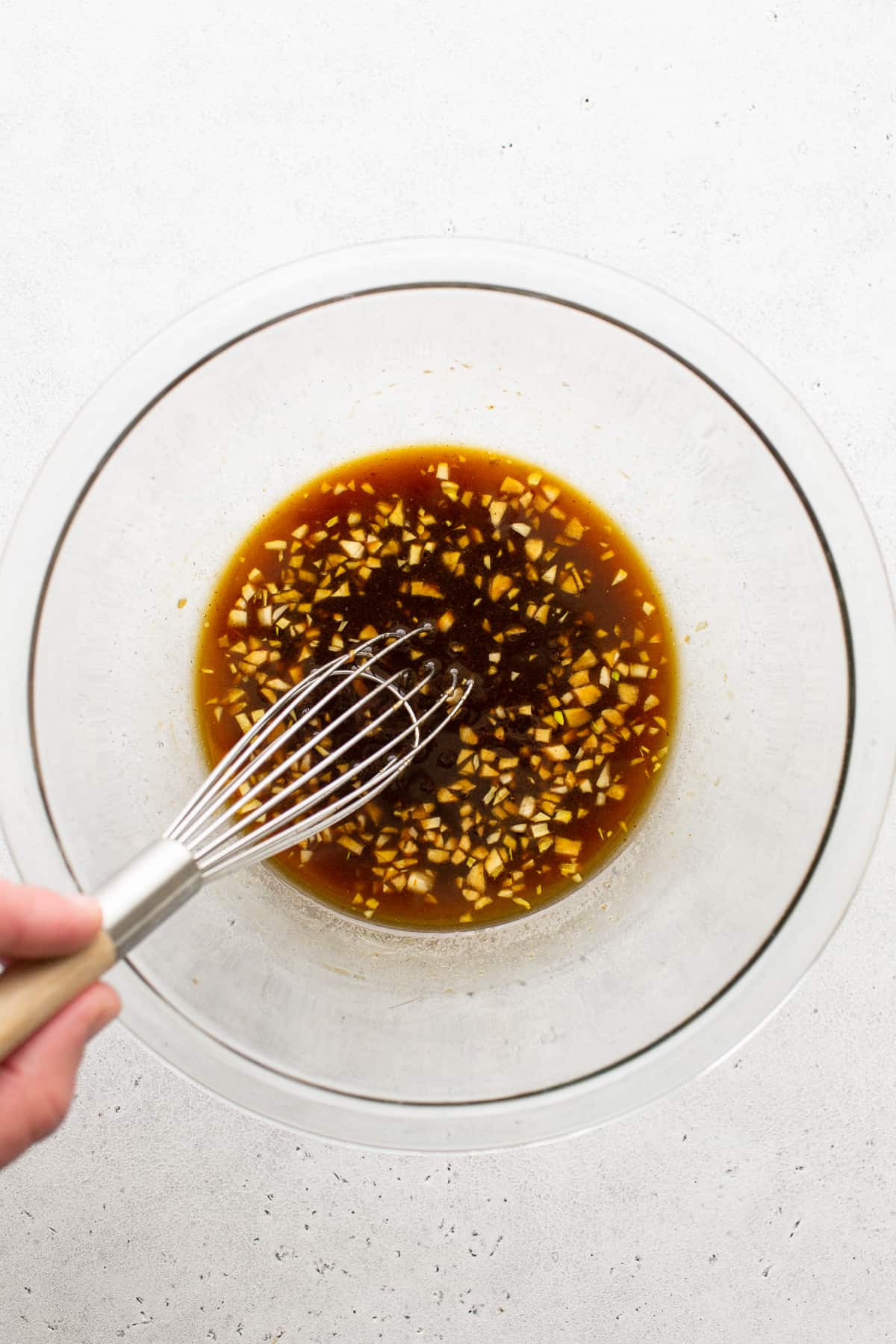 What goes best with chicken kabobs?
Chicken kebabs are great on their own, but also so delicious served next to any of the following:
Storage
If you have leftover chicken kebab marinade, you can store that in the fridge for up to 5-7 days as long as it hasn't touched any raw chicken!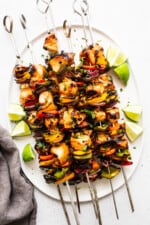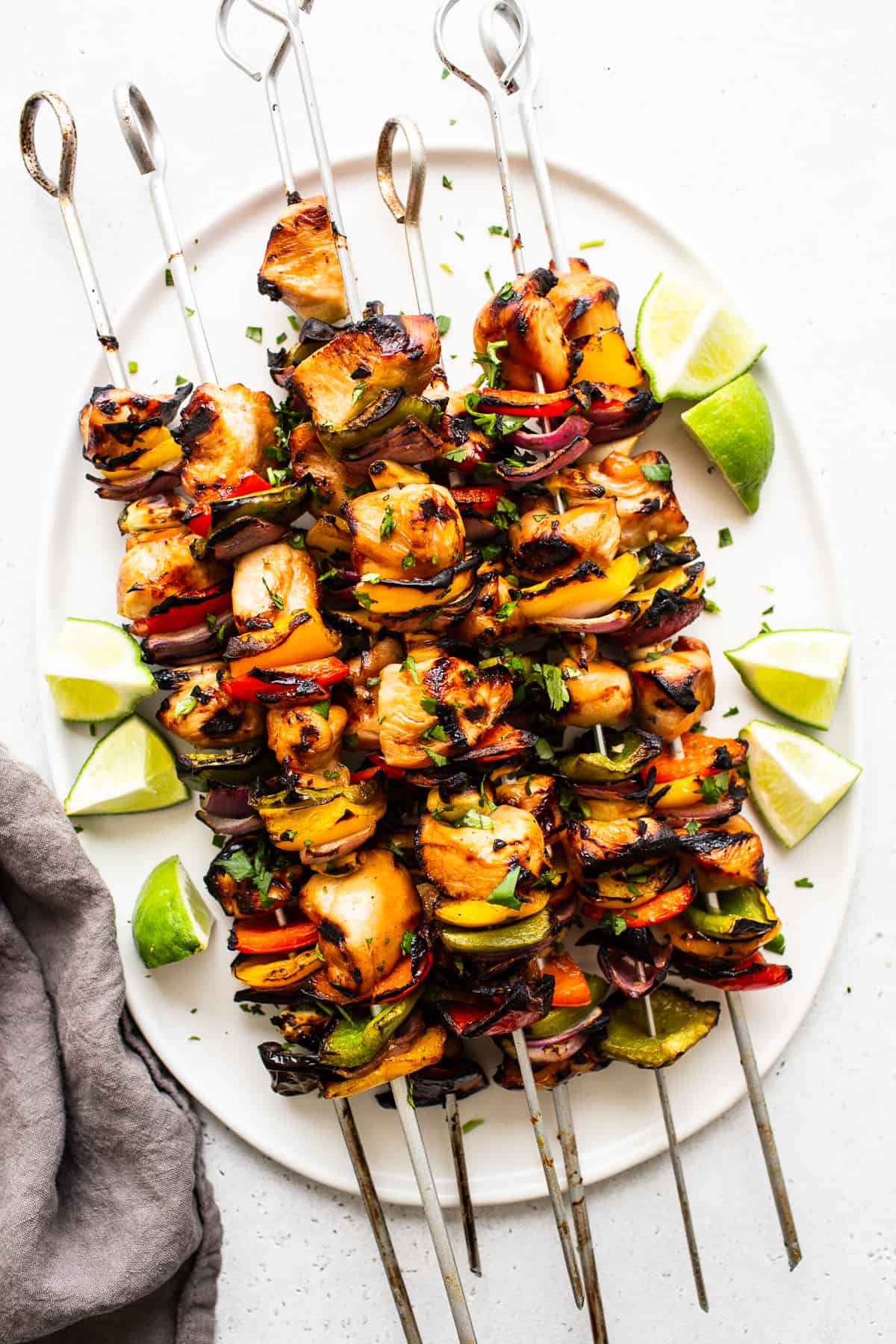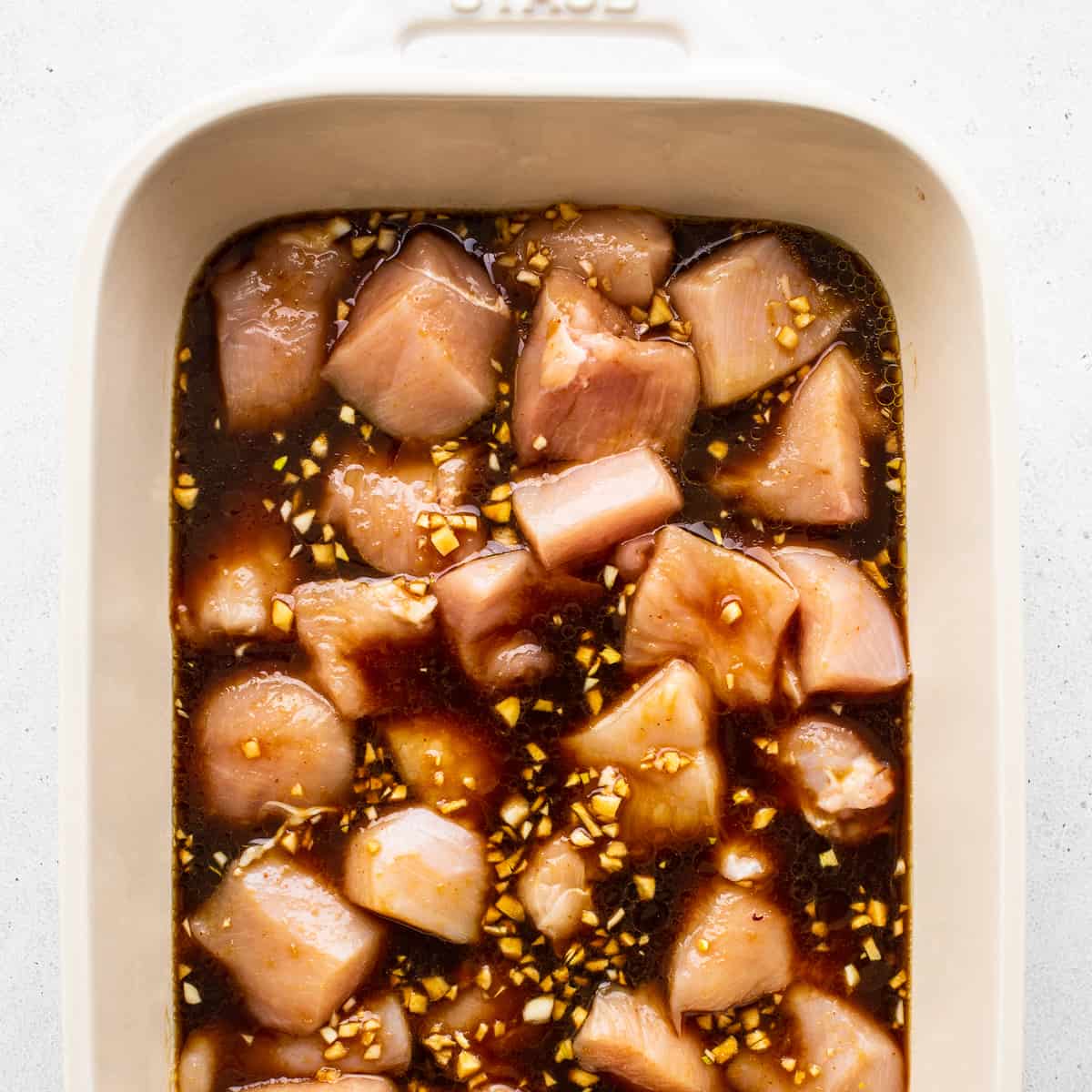 Chicken Kabob Marinade
This chicken kabab marinade is made with soy sauce, Worcestershire sauce, orange juice, and fresh garlic. It will make your chicken so juicy!
Prep:1 hour
Cook:30 minutes
Total:1 hour 30 minutes
Ingredients
Chicken Marinade
1.5

lbs.

boneless skinless chicken breasts

¼

cup

soy sauce

2

teaspoons

worcestershire sauce

1

tablespoon

fresh lime juice

2

tablespoons

orange juice

2

tablespoons

honey

1

tablespoon

minced garlic

2

teaspoons

fresh grated ginger

1.5

teaspoons

salt

1

tablespoon

olive oil

1

teaspoon

rice vinegar

1

teaspoon

sriracha

optional
Veggie Marinade
3

large bell peppers

cut into 1-inch squares (we used 3 different colors)

1

medium purple onion

cut into 1-inch squares

1

head of garlic

peeled

1

tablespoon

olive oil

2

teaspoons

sesame oil

1

tablespoon

fresh lime juice

2

teaspoons

minced garlic

1

teaspoon

fresh grated ginger

1

teaspoon

salt

separated

2

teaspoons

rice vinegar

1

tablespoon

fresh chopped cilantro

1

teaspoon

honey

For serving

Freshly squeezed lime juice

Fresh minced cilantro
Instructions 
First, marinate the chicken. Begin by slicing the chicken breasts into 1.5-inch to 2-inch cubes and place them into a large gallon size bag or a deep dish with sides. Set them aside.

Now ake the chicken marinade. Add the soy sauce, worcestershire sauce, lime juice, orange juice, honey, garlic, ginger, salt, olive oil, rice vinegar, and sriracha (if using). Whisk all the ingredients together until the honey dissolves.

Pour the chicken marinade over the chunks of chicken and mix the chicken with the marinade. Seal the bag and place the chicken in the refrigerator for at least 30 minutes to for up to 2 hours.

Next, prepare the veggies. Place the chopped peppers, purple onion, and garlic cloves into a large bowl. Set aside.

Make the veggie marinade and add the olive oil, sesame oil, lime juice, garlic, ginger, salt, rice vinegar, cilantro, and honey to a mason jar. Cover the jar and shake until combined.

Pour the marinade over the veggies and toss until coated. Set aside for later.

Preheat the grill to 400ºF.

Assemble the chicken kebabs. To assemble the kebabs use water soaked wooden skewers or metal skewers. Thread a piece of chicken onto the skewer, then a bell pepper, onion, and garlic clove. Repeat until you have 3 or 4 pieces of chicken on the skewer. Set the kebab aside and repeat until all the ingredients have been placed on kebabs.

Place the kebabs on the grill and turn them every 5-7 minutes for 25-30 minutes or until the chicken has an internal temperature of 165ºF.

Remove from the grill and let the chicken rest for 5 minutes. Serve with freshly squeezed lime juice and fresh cilantro.
Nutrition facts
Calories: 355kcal Carbohydrates: 23g Protein: 37g Fat: 14g Fiber: 2g Sugar: 16g
Photography: photos taken in this post are by Ashley McGlaughlin from The Edible Perspective.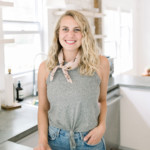 Lee is the founder of Fit Foodie Finds and based in Minneapolis, MN. She started this website in 2010 as a way to share her love for real food and wellness.