This delicious peanut butter protein bar recipe packs in protein, fiber, and flavor. They're made with real ingredients, but taste like dessert! The kids will love these homemade protein bars!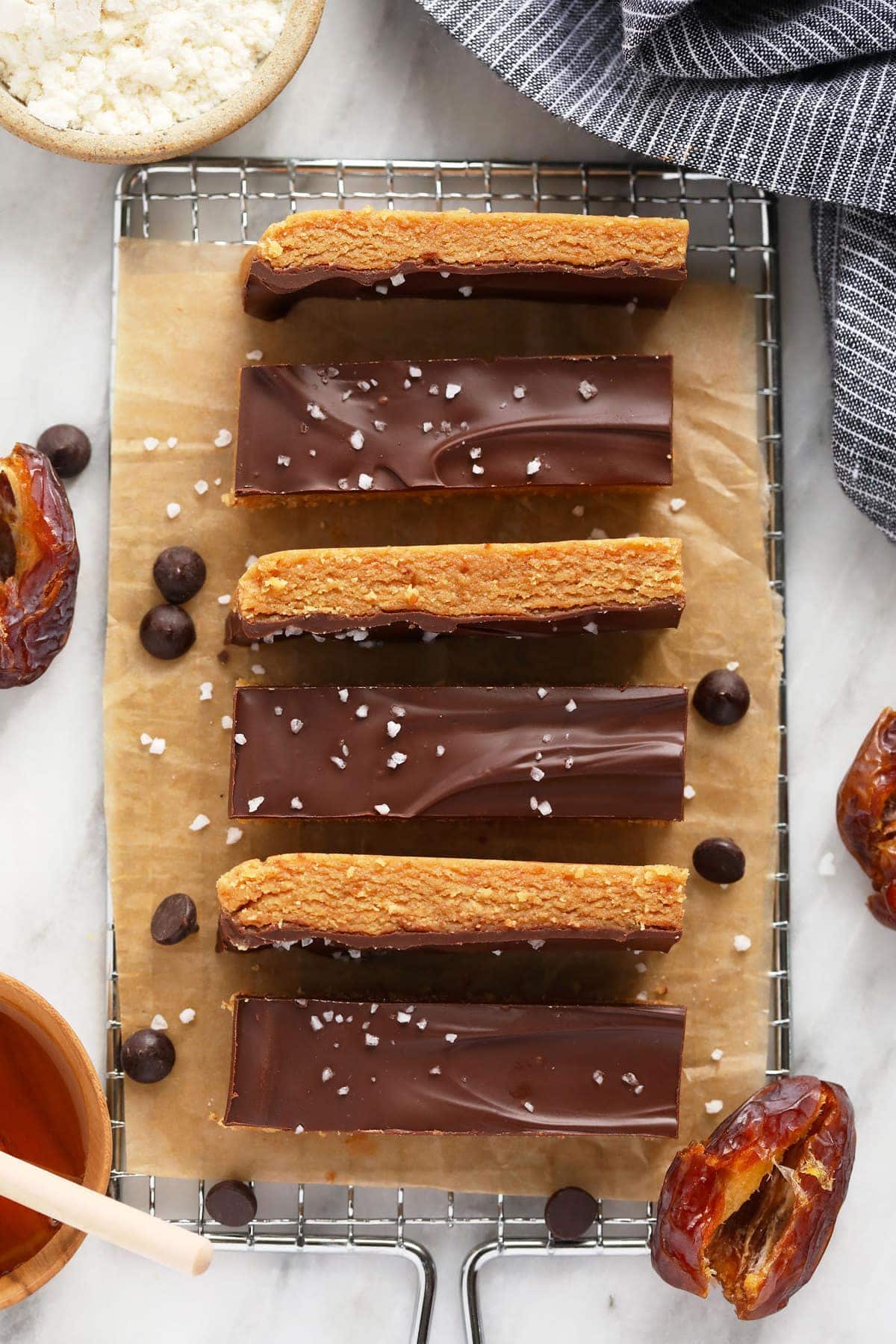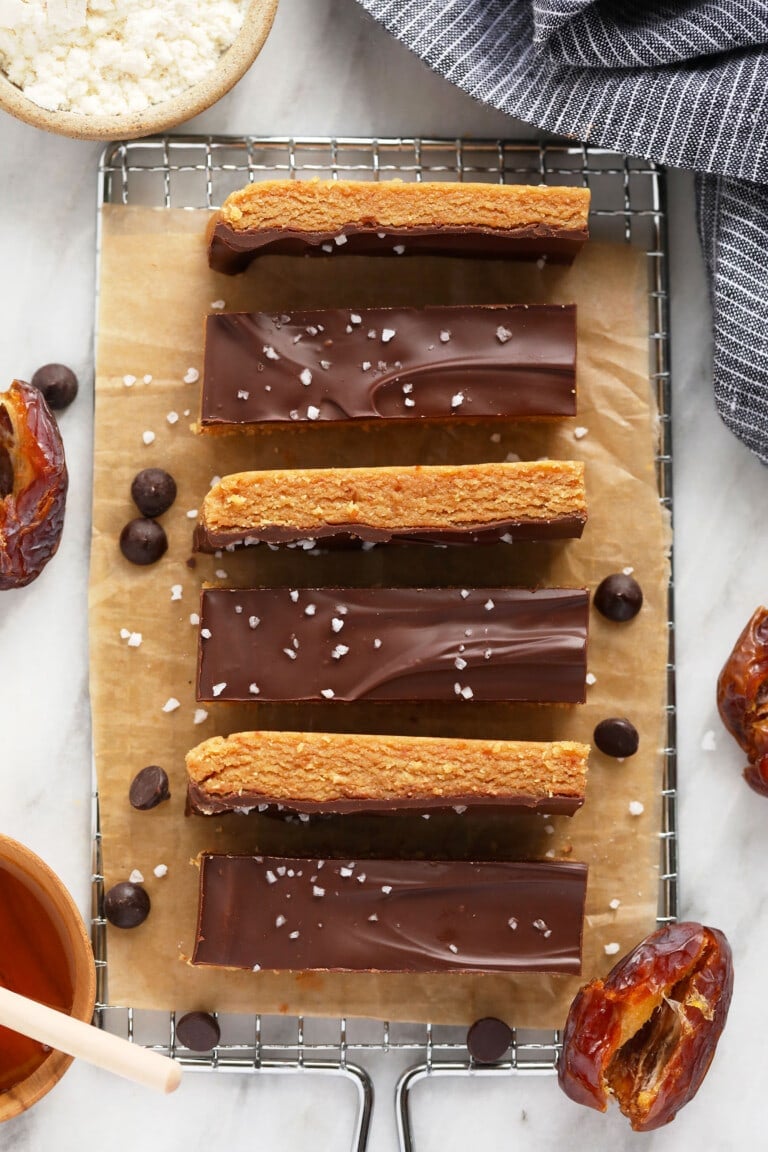 If you love our peanut butter protein balls, you're sure to absolutely adore this peanut butter protein bar recipe!
Best Homemade Protein Bars
We get it, buying store-bought protein bars is convenient, easy, and delicious. However, we are totally biased toward homemade protein bars! Here are some highlights of why these are the best homemade protein bars:
7 basic ingredients
naturally sweetened
Ingredients you can pronounce!
high protein (6g/bar!)
gluten-free
great for meal-prep
easy on-the-go snack
cheaper than store-bought
Our favorite store-bought protein bar is Perfect Bars and that is the flavor and texture we went for in this recipe!
Is it cheaper to make your own homemade protein bars?
Homemade protein bars are much more cost-effective than buying protein bars at the store. A single protein bar can range from $.99 to $3.99. This entire recipe (for 16 bars) will cost you less than $5 and you likely already have these ingredients on hand!
Is it OK to eat a protein bar every day?
Homemade protein bars are okay to eat every day because they're made with whole grains and are naturally sweetened.
But, as always, everything in moderation is our motto!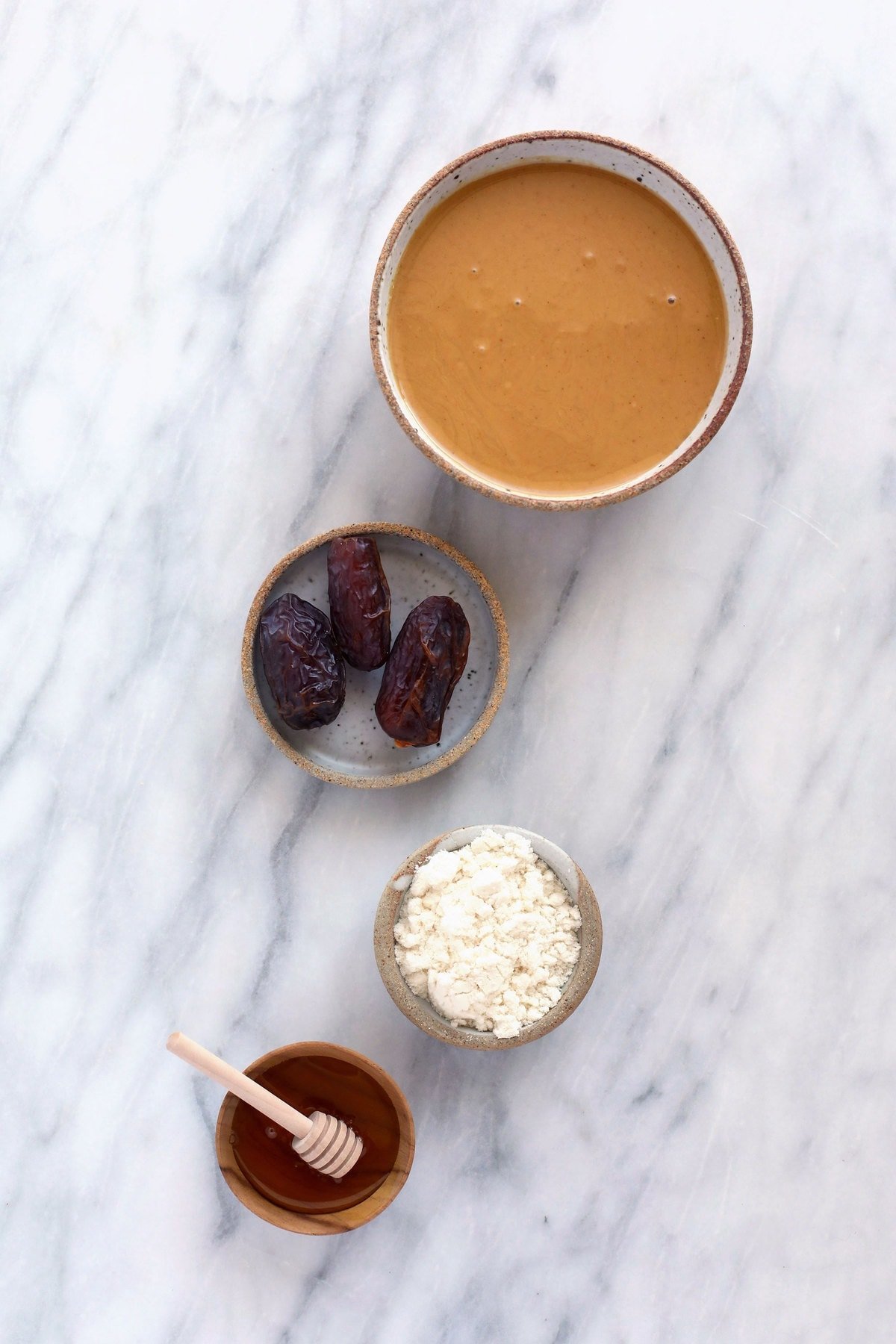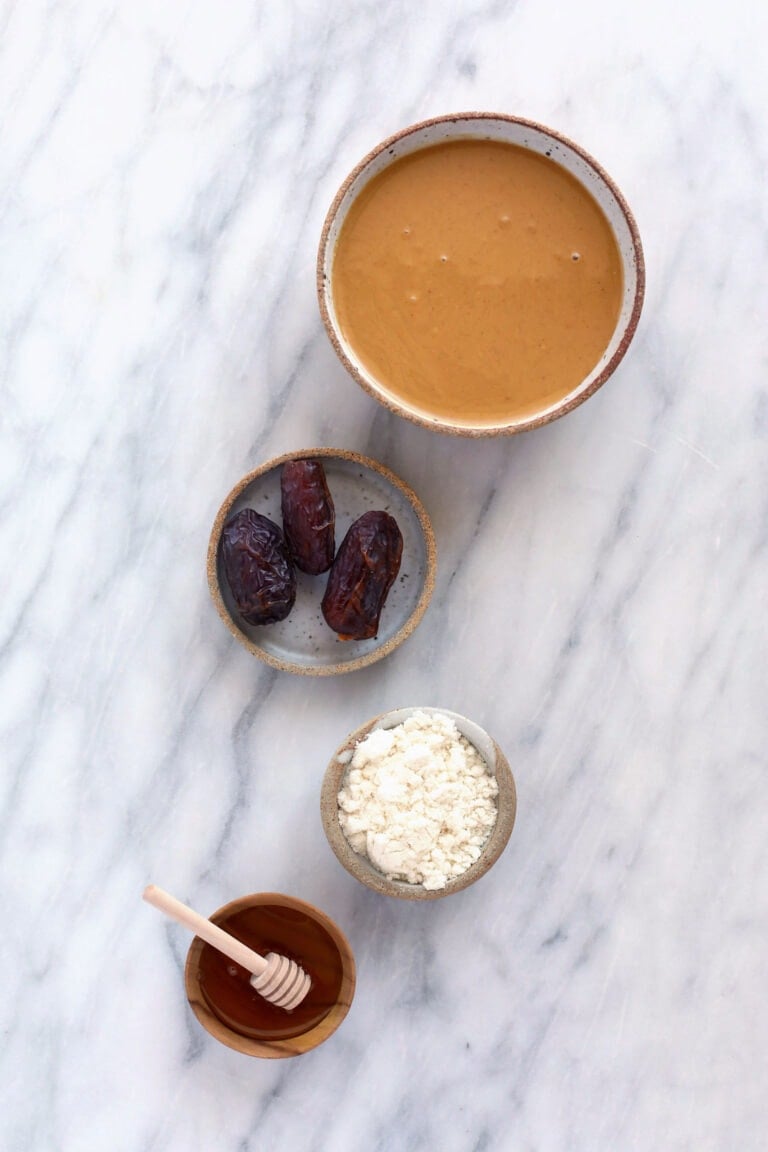 What You Need for Homemade Protein Bars
To make this peanut butter protein bar recipe, you'll need the following ingredients:
Medjool dates– always make sure your dates are soft. If they are hard or stale, you can soak them in warm water for a few minutes to soften.
all-natural peanut butter – use a drippy, all-natural peanut butter such as Smucker's or Trader Joe's brand.
honey – honey is important because it not only adds sweetness but helps with stickiness. Unfortunately, we don't recommend swapping for maple syrup or agave because honey is so sticky. 
vanilla protein powder – we used whey protein, but you can use any kind. Protein powder obviously adds protein, but also sweetness.
ground oat flour – ground oat flour is a whole grain and can easily be made by pulverizing oats in a food processor until flour-like.
vanilla extract – adds great flavor!
Can't do peanut butter?
Feel free to use a different nut butter such as cashew butter or almond butter if you can't do peanuts!
guide to protein powder
Looking for the best protein powder to buy? Check out our Guide to Protein Powder where we share our top plant-based and whey protein powders.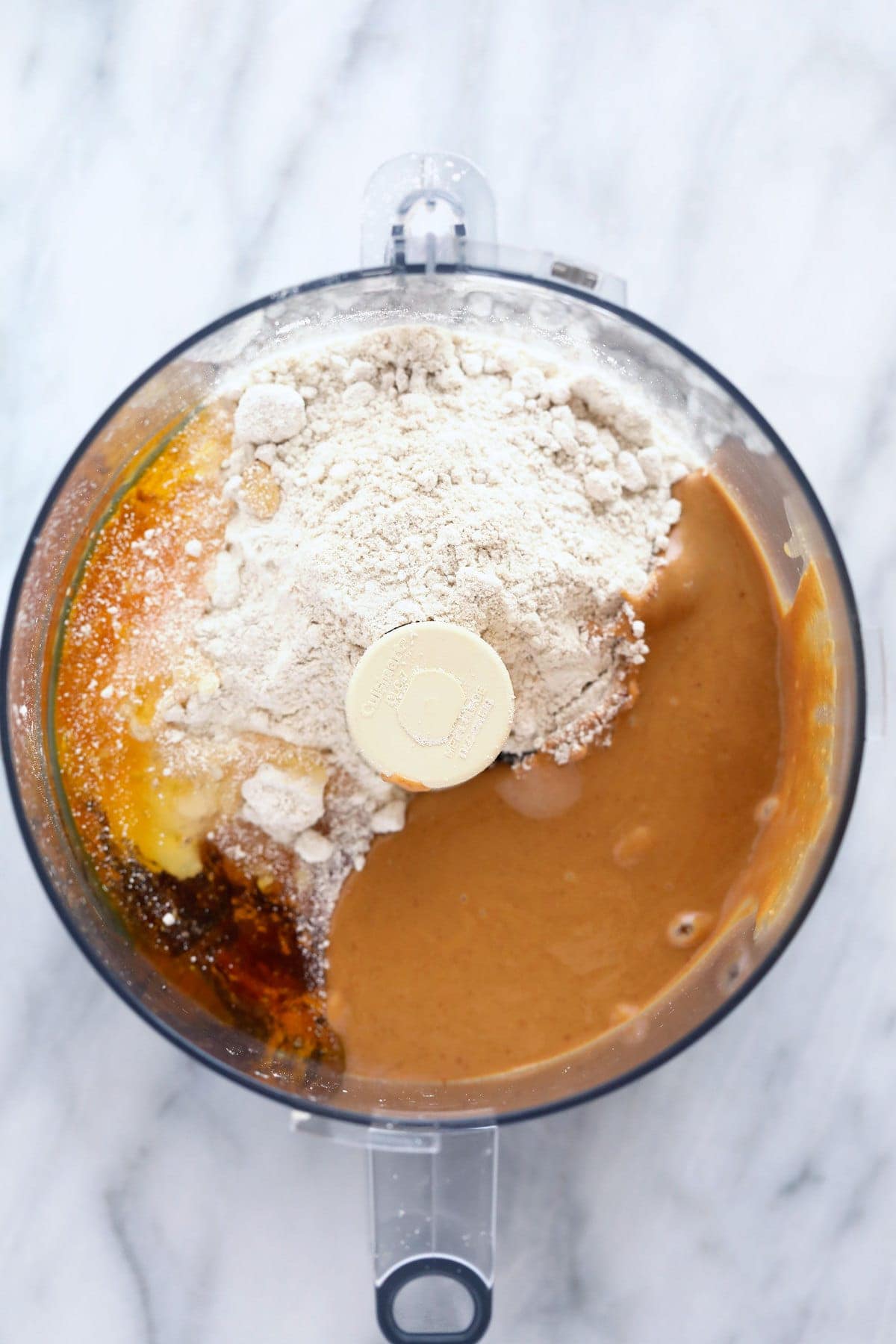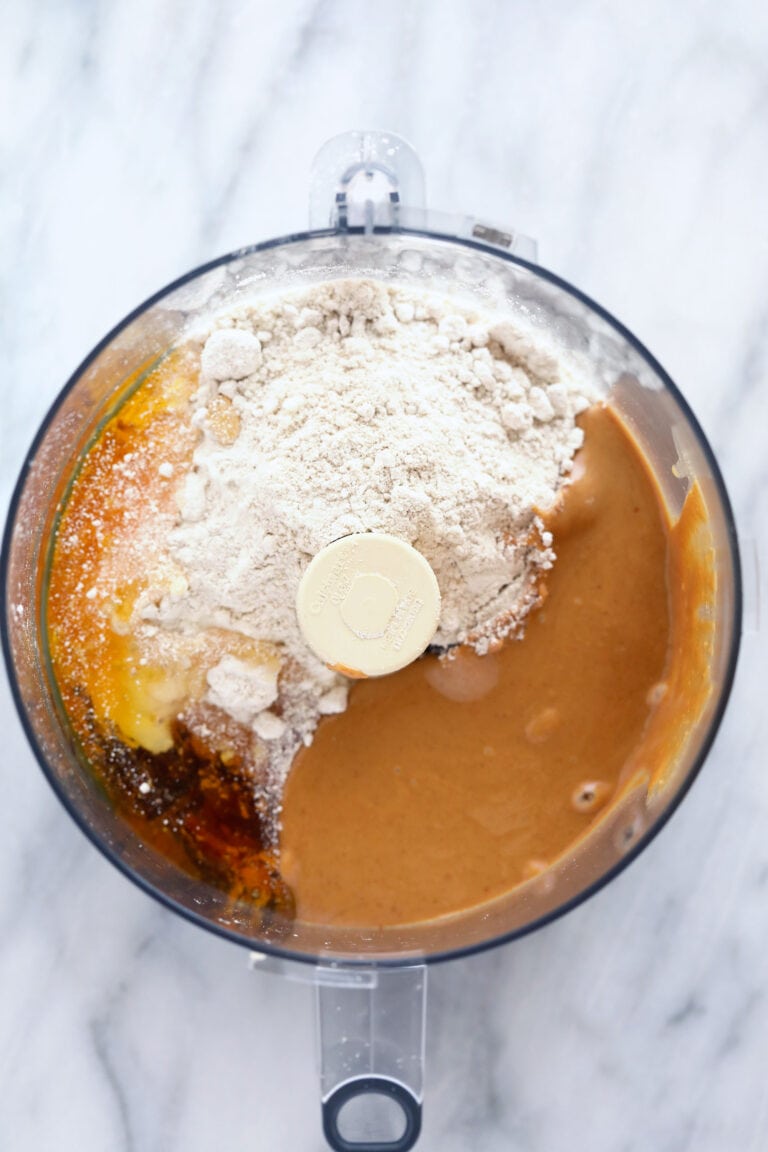 How to Make Protein Bars
Combine: To make these peanut butter protein bars, simply place all ingredients (minus the water) into a high-speed food processor and blend on high until smooth.
Add Water: Add water as needed to thin out the dough to make it feel like cookie dough.
Transfer Dough: Transfer peanut butter protein bars dough into a 9×13-inch pan and use your hands or a spatula to press dough into the pan until evenly spread out.
Optional Chocolate Topping: Pour on optional chocolate topping and use a spatula to spread it out.
Freeze: Freeze bars for around 30 minutes to set the bars and chocolate.
Slice: Slice bars using a sharp knife. We cut our into 16, but you can cut yours smaller or bigger.
Top Tips for Homemade Protein Bars
Use a good food processor – this has to be our #1 tip. A high-speed food processor is so important for not only pulverizing your dates but combining all of your ingredients into a smooth consistency.
Consistency is key – all said and done, you're looking to get a cookie dough-like consistency out of your batter. This is why this recipe calls for drippy peanut butter and honey. They will help your ingredients stick!
too dry: add more water
too wet: add more oat flour
Any size pan works – don't have a 9×13-inch pan? No worries! Since these are no-bake protein bars, you can use any size pan. Use a square pan or even 2 loaf pans. You can cut your bars smaller, longer, thicker, etc. The world is your oyster.
lazy?
Feeling lazy? You can turn your protein bars into protein balls instead! Simply use a 1 tablespoon cookie scoop to scoop batter into your hands and roll into balls.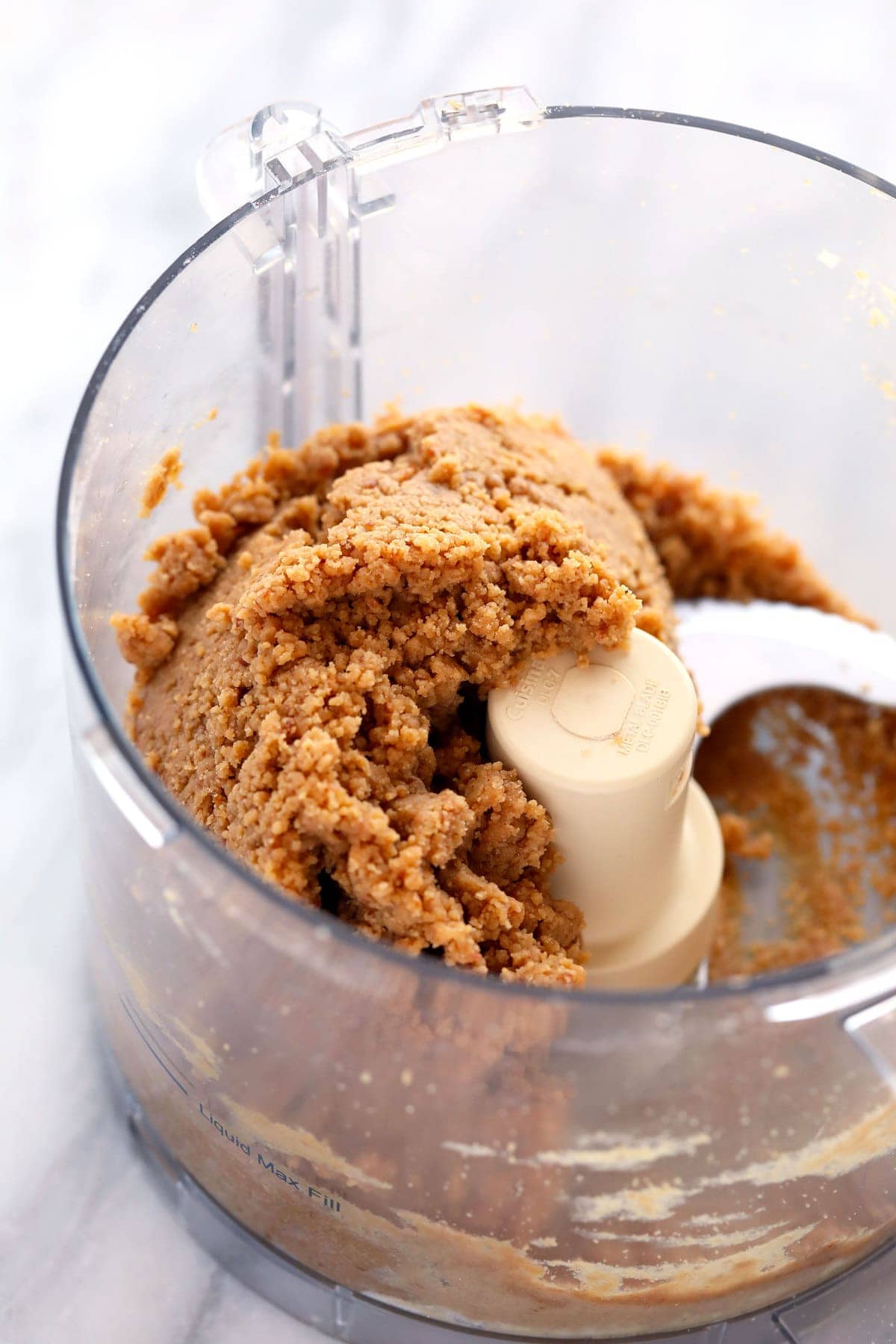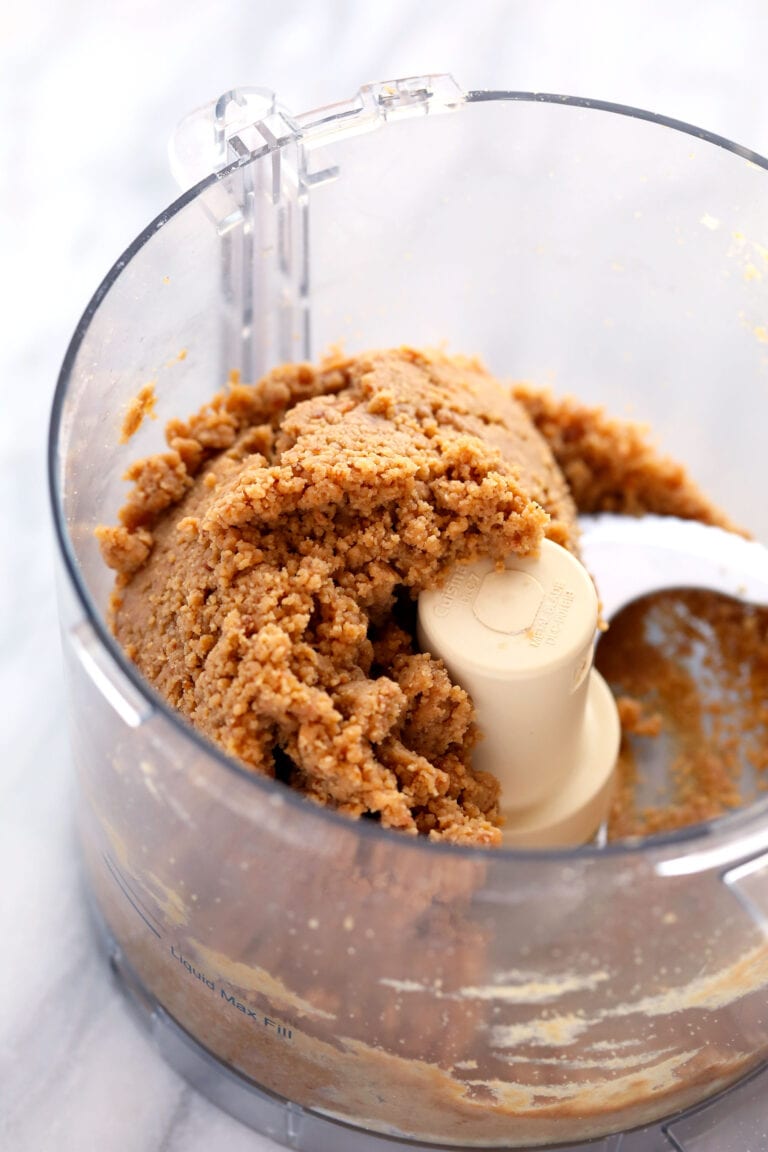 Optional Chocolate Topping
When there is an optional chocolate topping, the answer is always YES! All you need is 2 ingredients: chocolate chips and coconut oil.
Melt the two together and mix until smooth. Then, pour on the top of your bars and use a spatula to spread it out evenly. Then, sprinkle on coarse sea salt.
Let set in the freezer for 30 minutes to harden before slicing into bars!
How long do homemade protein bars last?
Homemade protein bars will last up to 3 days on the counter, 7 days in the fridge, and 3 months in the freezer.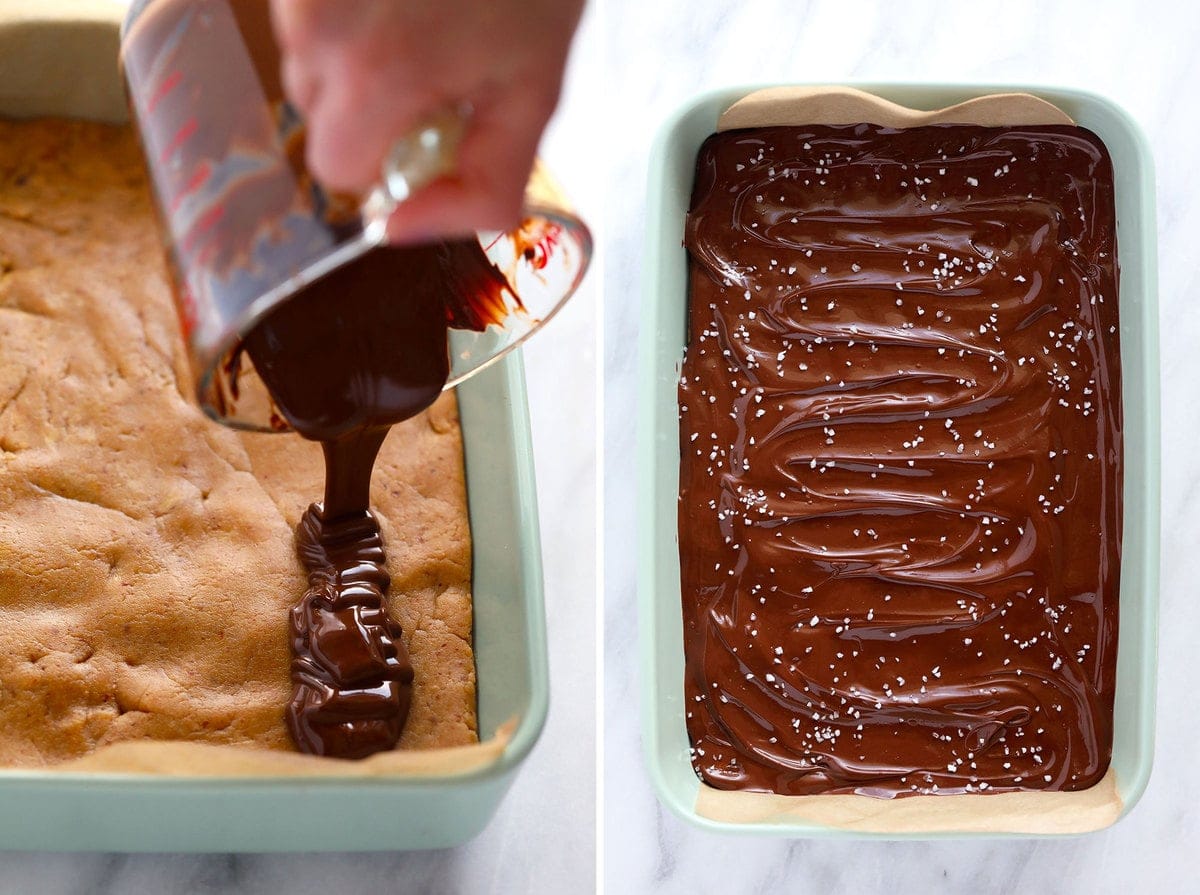 FAQ
Why are protein bars so sweet?
Most protein bars are so sugary because artificial sweeteners are used to mask the flavors of protein powder. If you make homemade protein bars, you can control the sweetness.
Are protein bars good for building muscle?
In order to build muscle in your body, protein is needed to do so making protein bars a good option for fueling after a workout.
Are protein bars a good meal replacement?
If you're in a pinch and can't eat a meal, protein bars are a good option every once in a while.
Can I have two protein bars a day?
There is nothing wrong with eating two protein bars in a day, but our motto is everything in moderation!
Storage
Once your protein bars have been sliced and the chocolate has hardened, transfer into an airtight container or gallon-size plastic bag and store in the fridge for up to 7 days.
Freezer Instructions
We actually prefer to store homemade protein bars in the freezer because they last longer.
Transfer sliced bars into a freezer-safe gallon-size bag and freeze for up to 3 months.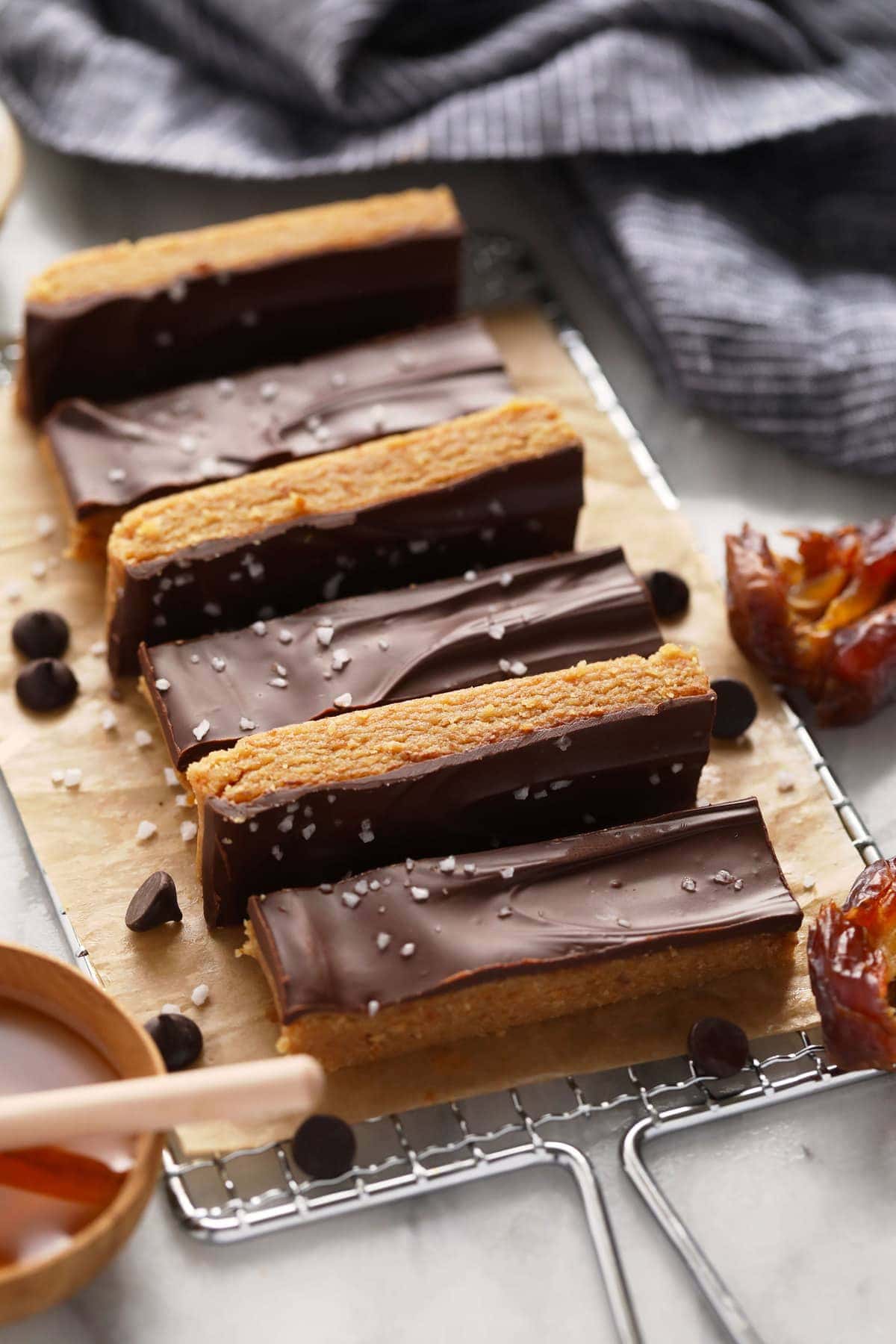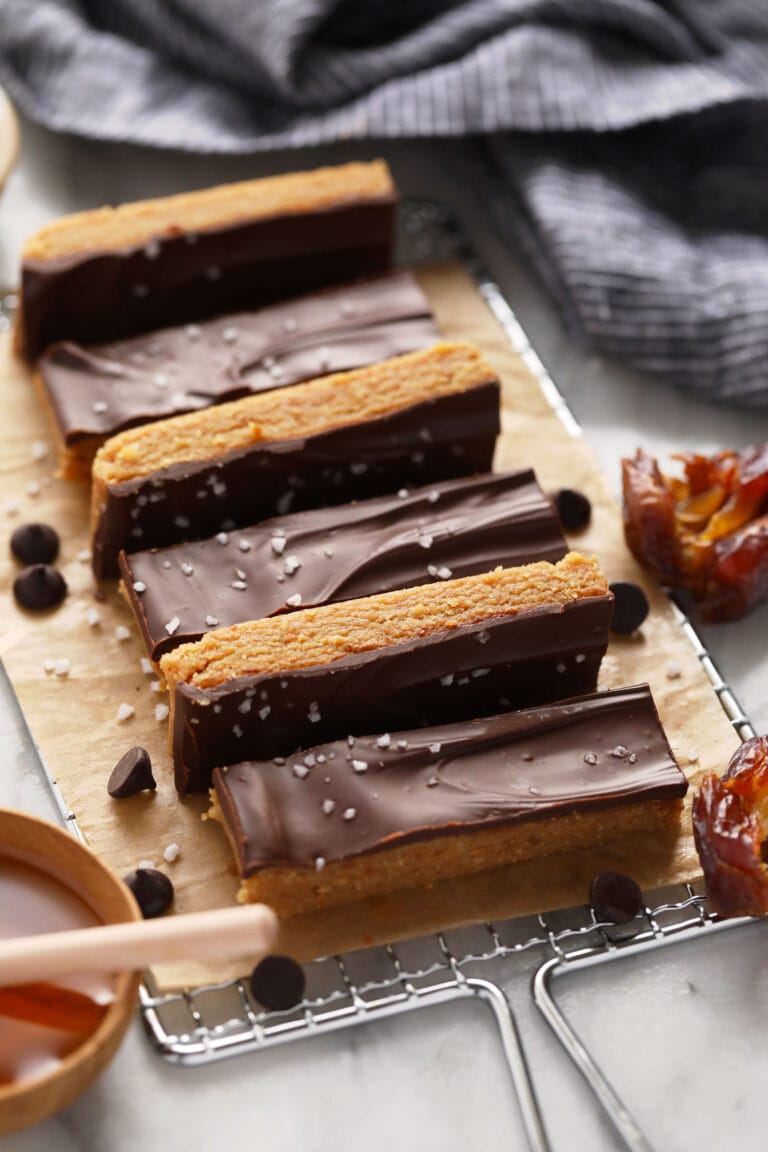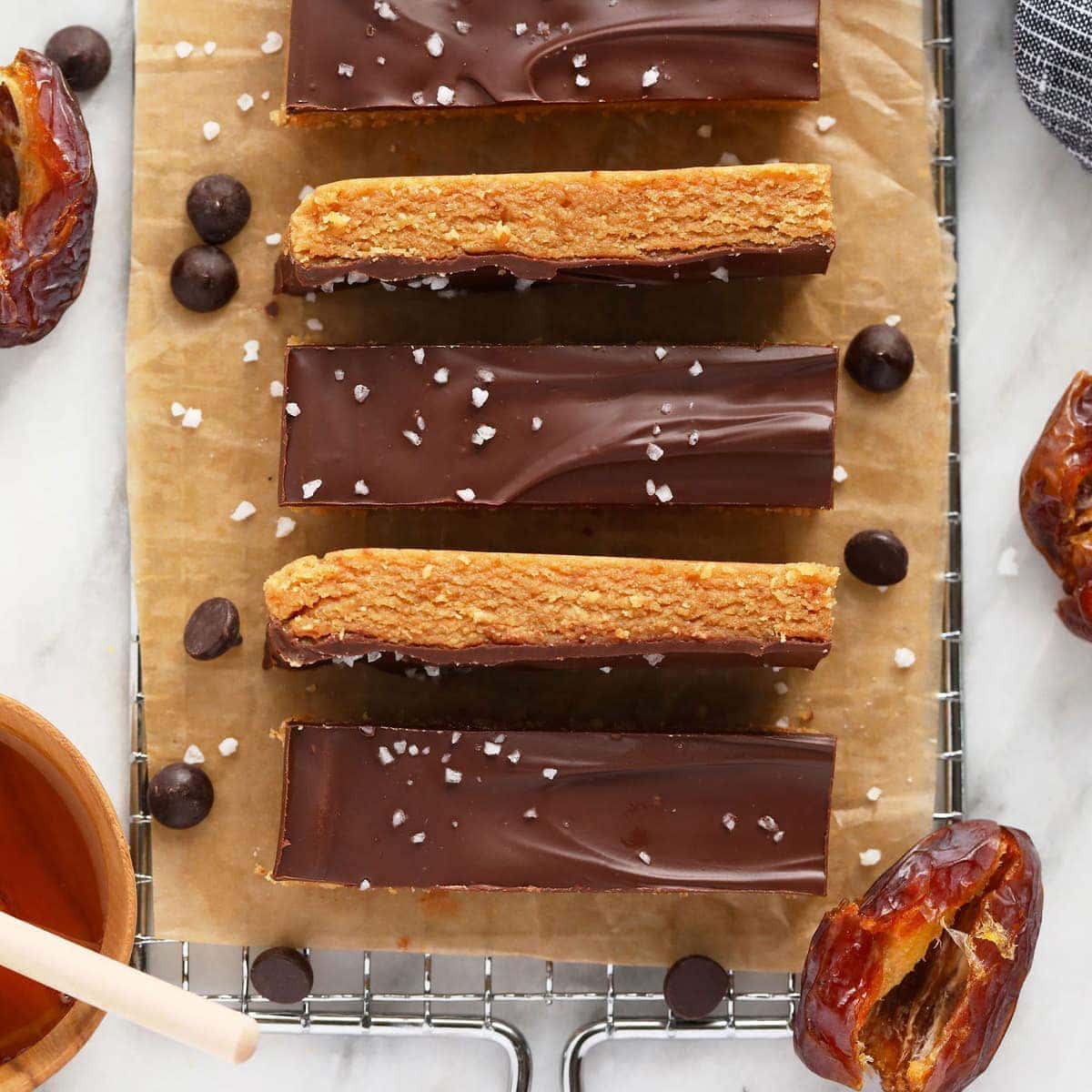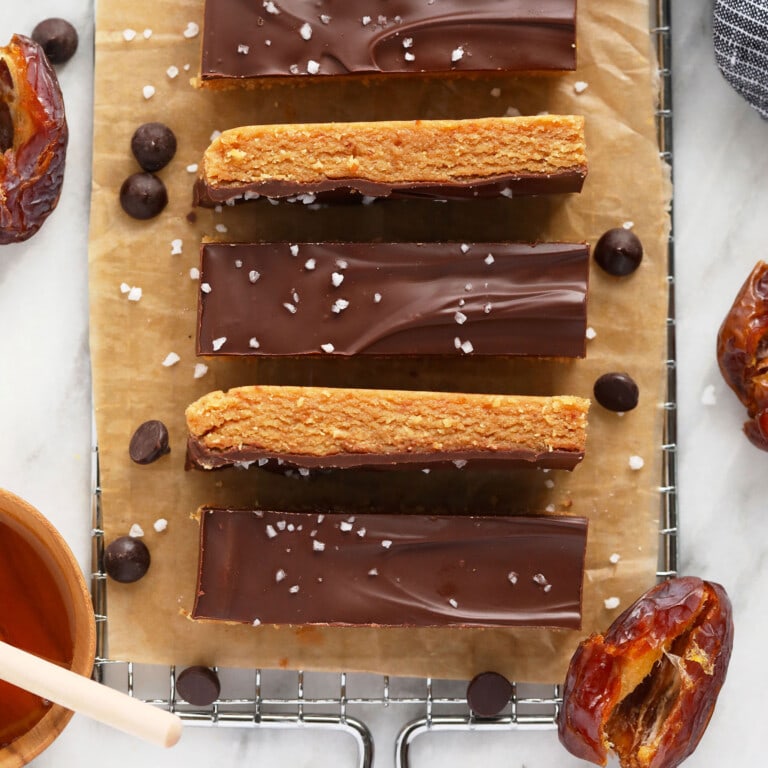 Homemade Protein Bars
These peanut butter protein bars are seriously the best homemade protein bars! Naturally sweetened and made with simple ingredients, this recipe is easy to make and cheaper than store-bought protein bars!
Prep: 1 hourCook: 0 minutesTotal: 1 hour
Fat 8 Carbs 25 Protein 6
Yield 16 1x
Instructions
First, line either a 9×9-inch baking dish or a 9×13-inch baking dish with parchment paper. Really any size will work, but the smaller the dish, the thicker the bars will be.
Next, place Medjool dates, peanut butter, oat flour, honey, vanilla extract, and protein powder into a high-speed food processor.
Process on high for 2-3 minutes, stopping to scrape the sides as needed.
Add water by the tablespoon and continue to process on high until a cookie dough-like batter has formed and the Medjool dates have disappeared into the dough. You want your batter to be able to hold shape and be similar to cookie dough, but not be too runny. This is all dependant on how drippy your peanut butter is. You may need to use less than 1/4 cup or more than 1/4 cup of water. 
Once your dough has formed, transfer it into a parchment-lined 9×9-inch square baking dish (for thicker bars) or a 9×13-inch baking dish (for thinner bars). Either work! Set aside.
Prepare chocolate topping by placing dark chocolate chips and coconut oil into a microwave-safe bowl. Microwave in increments of 15 seconds and stir until melted.
Pour chocolate topping onto protein bars and use a spatula to evenly spread it out. Then, sprinkle on coarse sea salt.
Place bars into the freezer to set for 30 minutes to an hour or until the chocolate has fully hardened.
Slice and store in the fridge for up to 7 days or in the freezer for up to 3 months.
Tips & Notes
This recipe was updated on January 16, 2021. Click HERE for the original recipe. 
Medjool Dates: make sure your Medjool dates are soft or they will not break down. If your dates are hard, you can soak them in hot water to soften them.
Peanut butter: the peanut butter we used was very drippy. We suggest using the following brands: Kirkland, Smucker's All-Natural, or Good and Gather All Natural.
Nutrition information does not include chocolate topping.
Nutrition Facts
Serving Size: 1 Calories: 199 Sugar: 13 Fat: 8 Carbohydrates: 25 Fiber: 2 Protein: 6
Author: Lee FunkeCategory: SnackMethod: No-BakeCuisine: AmericanDiet: Gluten Free
Keywords: homemade protein bars, protein bar recipe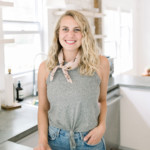 Lee is the founder of Fit Foodie Finds and based in Minneapolis, MN. She started this website in 2010 as a way to share her love for real food and wellness.