These no-bake cookie dough energy bites come together with 7 ingredients (no eggs!) and are actually healthy to eat.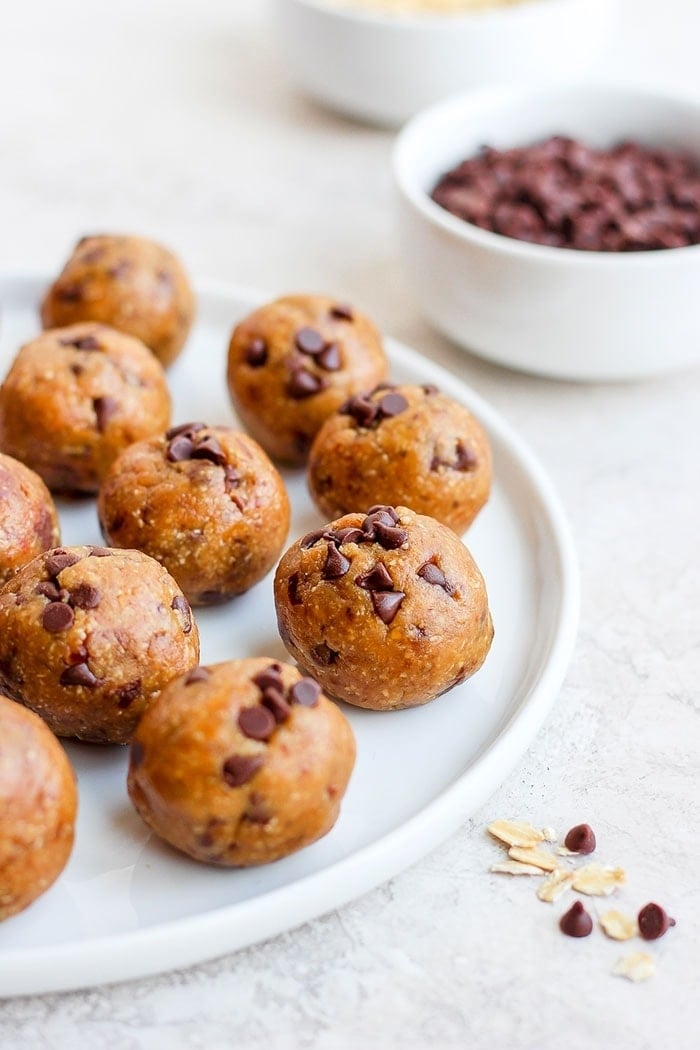 Cookie Dough Energy Bites FTW
There is nothing worse than being hungry mid-day with nothing to eat. This is why we love we love meal prepping healthy snacks so that we have easy, nutritious food to grab during the day.
From baked egg cups to tuna salad to healthy energy balls, we have tons of healthy snacking options on Fit Foodie Finds. Today we are sharing a new energy bites recipe for a flavor that has been requested time and time again — classic cookie dough bites.
What is an energy bite?
An energy bite is another name for an energy ball. They are snack balls made with nutrient-dense ingredients such as oats, nut butter, seeds, etc.
These cookie dough energy bites are…
Gluten-Free: these cookie dough bites are naturally gluten-free and made with ground oat flour.
Egg-Free: raw cookie dough is the best. This recipe is made sans eggs so it's safe to eat!
Vegan: all ingredients used are plant-based.
Kid-Friendly: the kids are going to go crazy for these healthy cookie dough bites.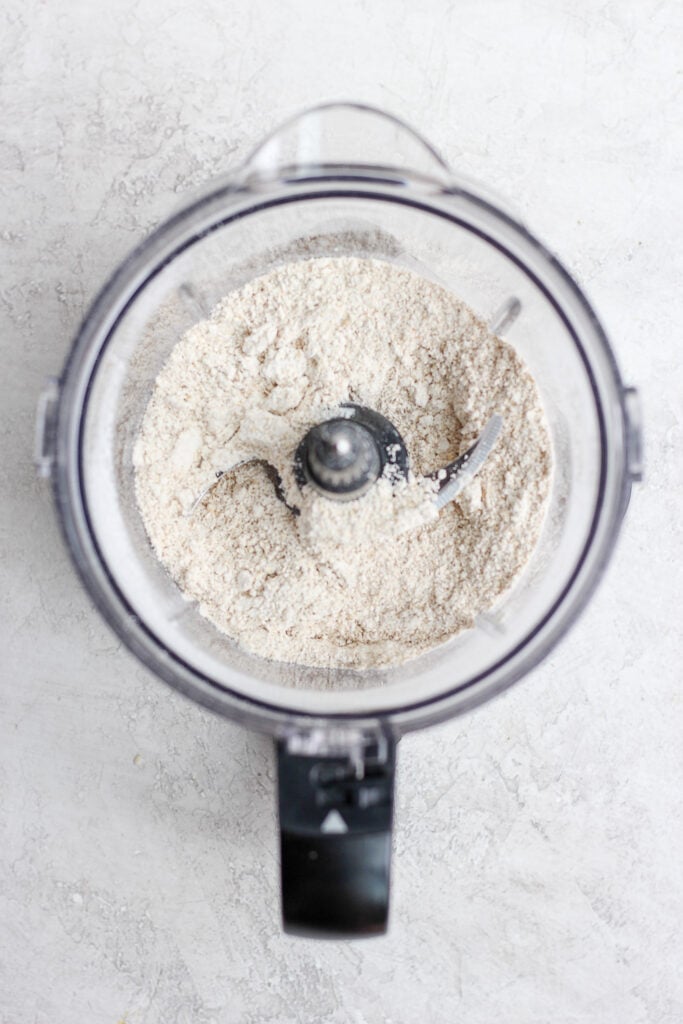 Cookie Dough Bites Ingredients
These cookie dough energy bites require 7 total ingredients. You'll notice that we aren't using any refined sugar or added fat such as butter or oil.
Rolled oats: rolled oats get turned into oat flour, which is the base of your cookie dough bites.
Medjool dates: dates not only add sweetness to this recipe, but also help the dough stick together.
Cashew butter: cashew butter is the goldmine of flavors. It adds a buttery taste without adding actual butter.
Maple syrup: maple is a warm sweetener and it's plant-based.
Vanilla extract: vanilla is another flavor that helps make these taste like cookie dough.
Sea salt: salt brings all of these flavors together.
Mini chocolate chips: cookie dough isn't cookie dough without the chocolate.
very important note!
Whatever you do, do not sub the rolled oats (oat flour) for any other kind of flour. Oats are safe to eat raw, where other flours like all-purpose leave you with the risk of salmonella.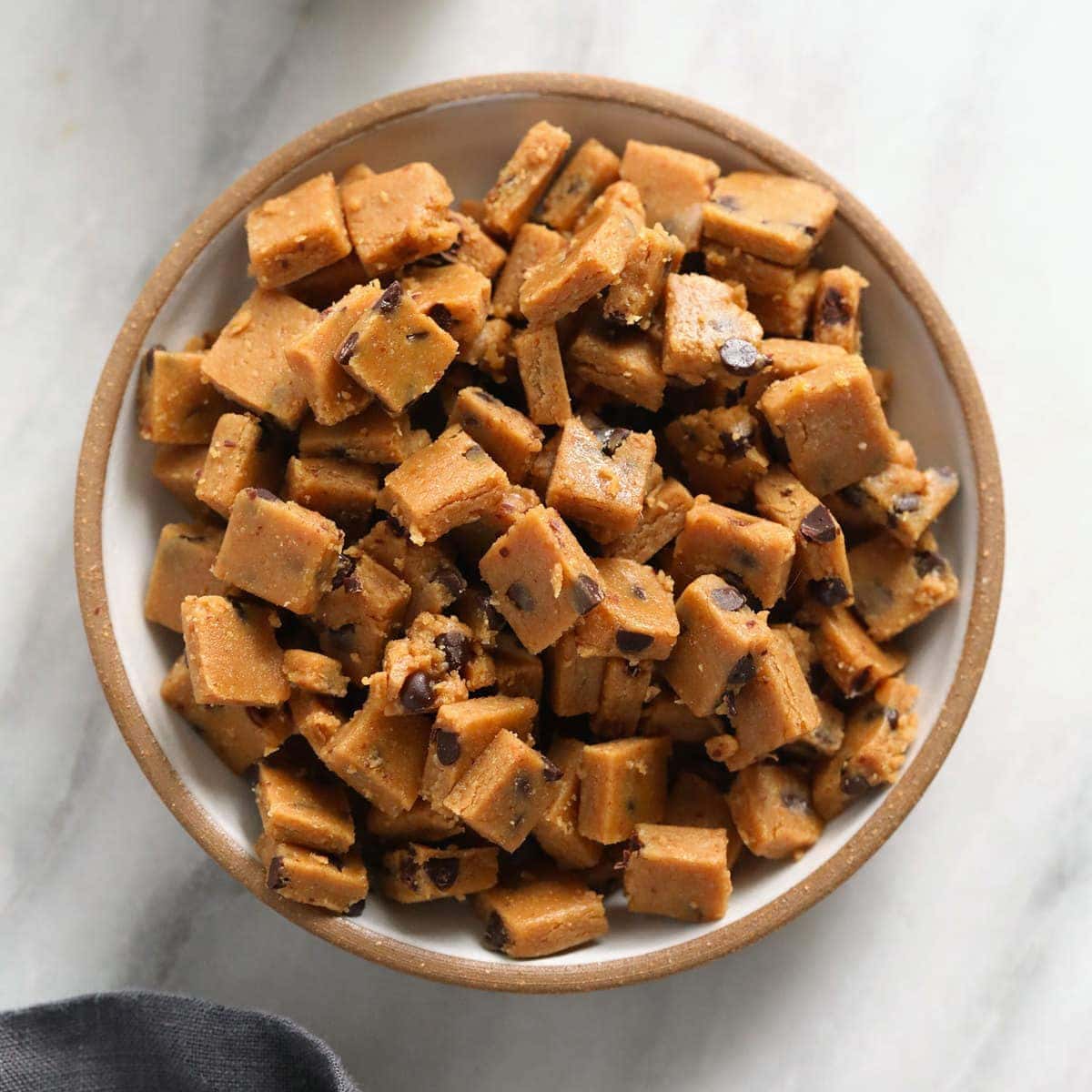 Try it!
Vegan Cookie Dough Bites
You're going to love these vegan cookie dough bites. They are made without eggs and 100% safe to eat! BONUS- they're refined sugar-free and made with whole ingredients.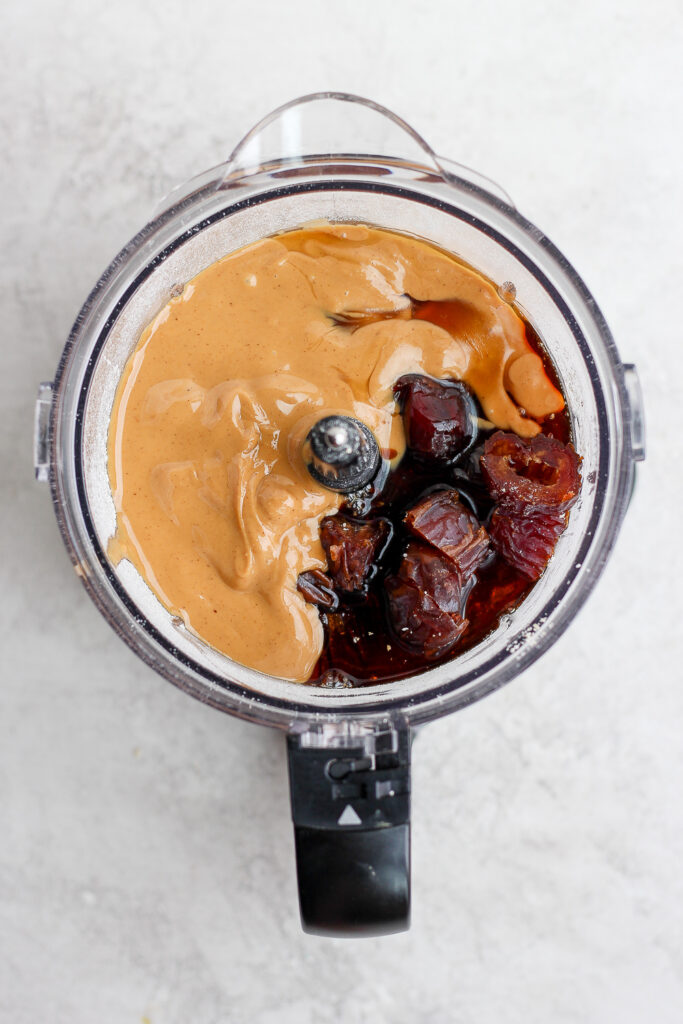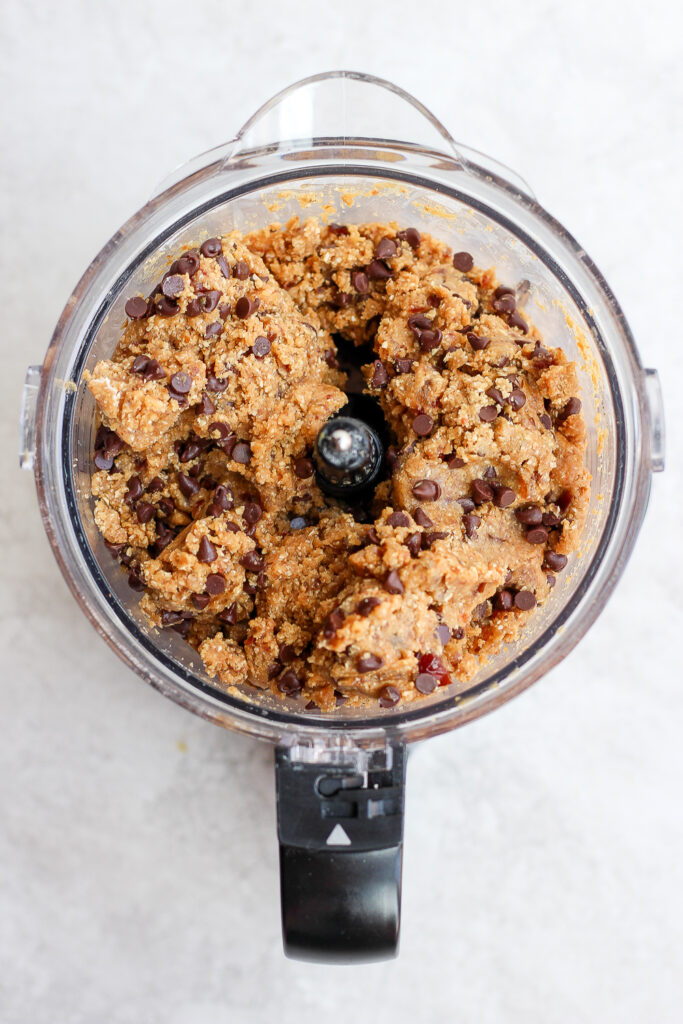 Food Processors Matter
Making energy bites is rather simple and requires one important piece of equipment…a food processor! Make sure you are using a high-powered food processor that has sharp blades, sharp enough to pulverize dates and turn rolled oats into oat flour! Below are a few food processor suggestions in different prices ranges.
Can I use a blender instead?
While you technically can use a blender, we recommend using a food processor instead because the blade is longer.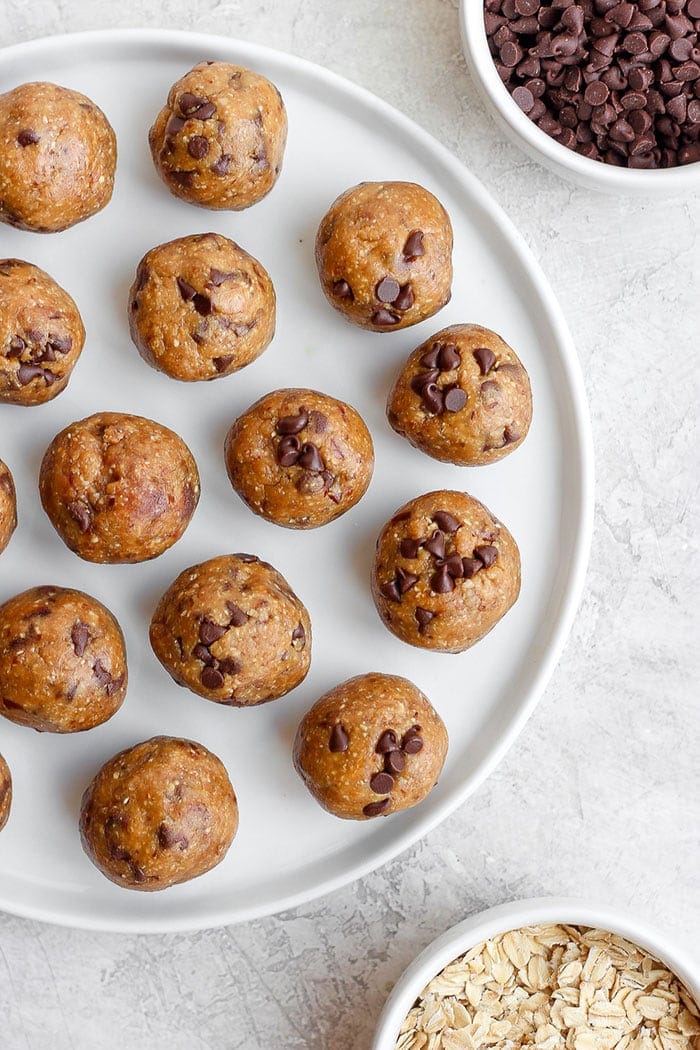 How to Store Energy Bites
Store energy bites in an airtight container in the fridge for up to 1 week.
Freezer Directions
Place energy bites on a baking sheet and freeze for 1 hour.
Then, transfer balls into a gallon-size freezer-safe bag (or Stasher bag!) and remove as much air as possible.
Last, place in the freezer for up to 3 months.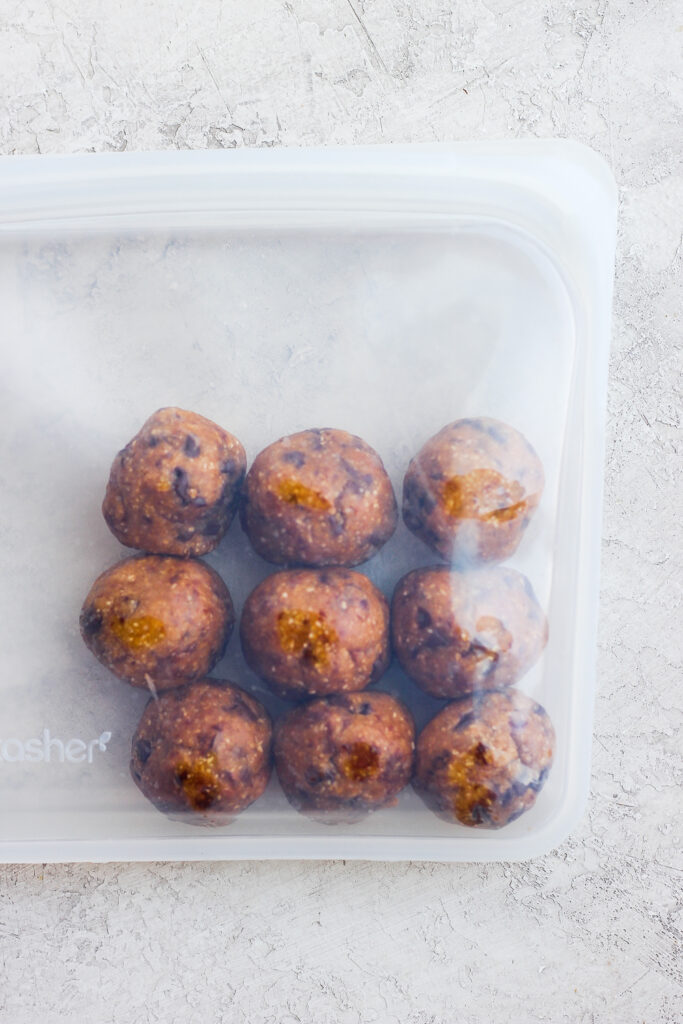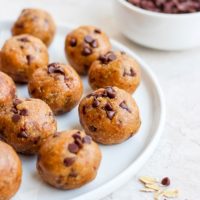 Cookie Dough Energy Bites
Energy bites are such an excellent healthy snack made with whole grains and all-natural sugars. These Cookie Dough Energy Bites taste just like cookie dough but are actually healthy.
Prep: 20 minutesCook: 0 minutesTotal: 20 minutes
Fat 6 Carbs 17 Protein 2
Yield 30 1x
Ingredients
2 cups

rolled oats, gluten-free if desired

1 cup

pitted Medjool dates (~15)*

1 cup

all-natural drippy cashew butter

½ cup

maple syrup

2 teaspoons

vanilla extract

⅛ teaspoon

coarse sea salt

½ cup

mini chocolate chips, dairy-free if desired
Instructions
Place rolled oats in a high speed food processor and process on high for about a minute until you've formed oat flour.
Then, add dates, cashew butter, maple syrup, vanilla, and sea salt to your food processor and process on high for 1 to 2 minutes, stopping to scrape the sides until your dough is formed. It should look and feel like cookie dough.
Add in mini chocolate chips and pulse to combine.
Using a 1 tablespoon cookie scoop, scoop out dough and then roll between your palms to form balls.
Finally, sprinkle with sea salt.
Tips & Notes
*Make sure that your dates are soft. If you have old dates in your fridge, you may want to soak them for a few minutes.
Storage: Store in an air-tight container in the fridge for up to 2 weeks.
Freeze for later: place balls on a cookie sheet. Freeze for 1 hour and then transfer balls to an air-tight container or stasher bag and freeze for up to 3 months.
This recipe works well with pretty much any kind of nut butter. So, feel free to swap the cashew butter out.
Nutrition Facts
Serving Size: 1 Calories: 120 Sugar: 6 Fat: 6 Carbohydrates: 17 Fiber: 1 Protein: 2
Author: Lee HershCategory: SnackMethod: Food ProcessorCuisine: AmericanDiet: Vegan
Keywords: Cookie Dough Energy Bites
Photography: photos taken in this post are by Erin from The Wooden Skillet.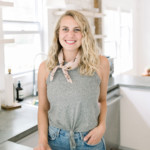 Lee is the founder of Fit Foodie Finds and based in Minneapolis, MN. She started this website in 2010 as a way to share her love for real food and wellness.