This butter lettuce salad has a combination of vegetables, fruit, nuts, cheese, and is drizzled with a simple lemon vinaigrette. Everything on a bed of tender butter lettuce makes a perfect and delicious salad.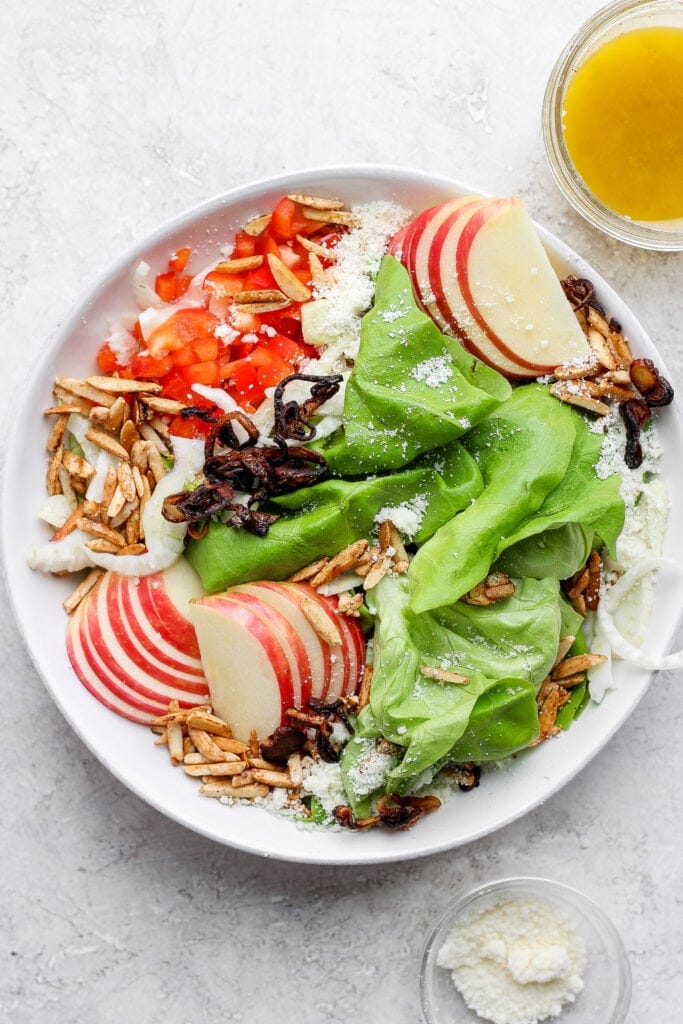 The Best Butter Lettuce Salad
This butter lettuce salad is flavorful, bright, and part of a balanced salad that is perfect as a side salad or as a full meal for lunch.
What is butter lettuce salad good for?
Butter lettuce (also known as bibb lettuce) is a tender, soft, and flavorful lettuce that usually comes as a large head of lettuce with its roots still attached.
Butter lettuce is a bit more fragile than other lettuce like iceberg and romaine, so keeping the roots on keeps the butter lettuce from wilting!
Butter lettuce is good for so many different recipes. It is perfect for a light salad, but also is great on sandwiches, in wraps, and butter lettuce is even great as the actual wrap instead of using a tortilla. The options are endless.
Butter Lettuce Salad Ingredients
This salad is the perfect balance of sweet, salty, crunchy, and light. There is the perfect combination of veggies, fruit, nuts, and a tasty dressing.
Butter lettuce
Olive oil 
Lemon juice
White wine vinaigrette
Maple syrup 
Dijon mustard 
Minced garlic 
Shallots
Slivered almonds 
Maple syrup 
Fennel
Honey crisp apple
Red bell pepper
Parmesan cheese
How to Make Butter Lettuce Salad
There are only a few easy steps to take before you assemble this butter lettuce salad. There are layers of sweet, salty, and crunchy.
Prep that dressing
This butter lettuce salad is dressed with our classic lemon vinaigrette. All you have to do add of the ingredients for the dressing in a jar, cover, and shake the dressing until all the ingredients are combined.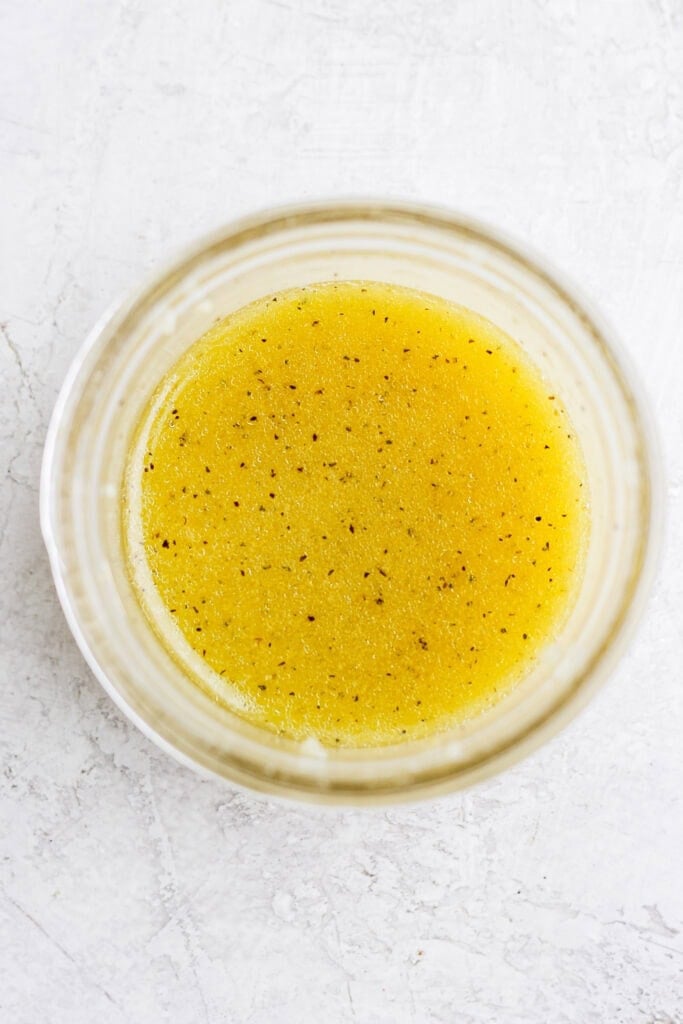 Fry the shallots
The tastiest part of this salad is the salty fried shallots that you prepare before you assemble the salad. The idea is to fry them and then let the sit to crisp up. They will act as a crunchy topping for the butter lettuce salad.
You want to line a plate with a paper towel first so that when you are done frying the shallots, you have somewhere to let them crisp up.
Then, heat a large skillet over medium/low heat. Add ¼ cup olive oil. When olive oil is fragrant add the shallots. 
Cook the shallots for 15-20 minutes stirring occasionally until the shallots turn a golden brown color. 
When the shallots turn brown, quickly place the shallots on the lined plate to crisp up.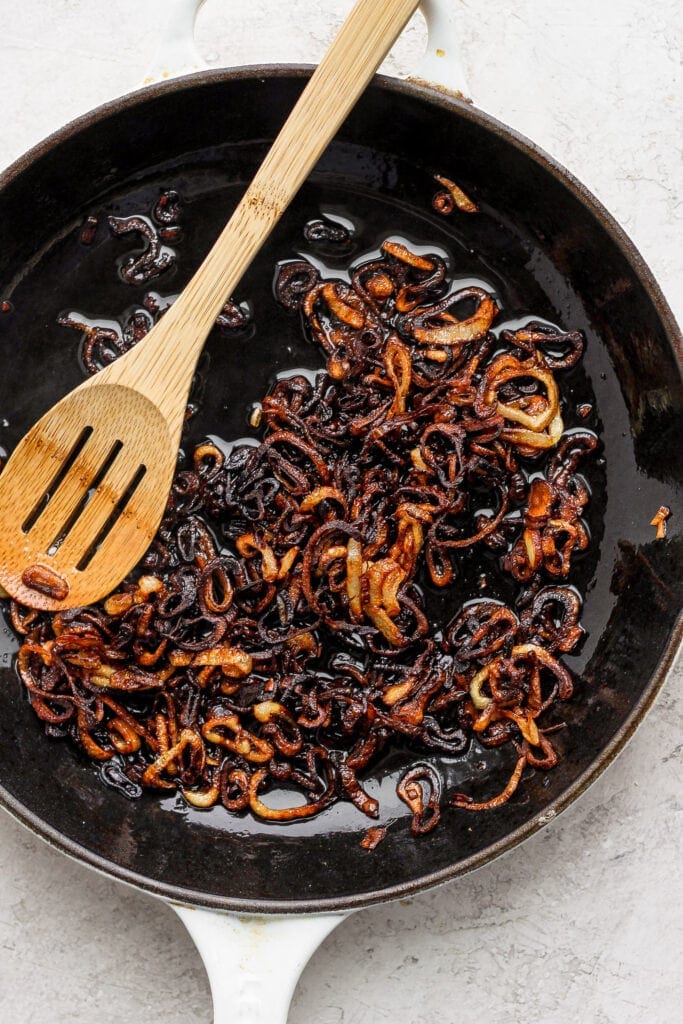 Toast the almonds
The sweetness of the salad comes from the these tasty candied almonds. We did a quick candy for these almonds (very similar to these candied walnut recipe).
Toss the almonds and maple syrup in a small skillet pan and let the almonds simmer in maple syrup. Remove them from heat, place them on a plate, and let them cool and turn crunchy,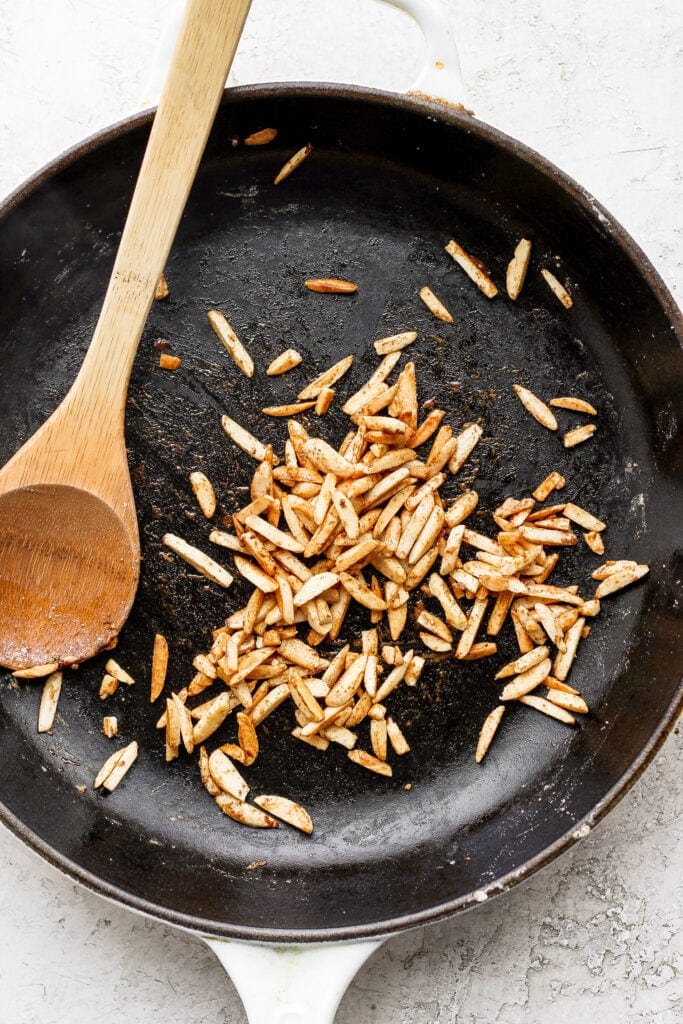 Assemble your salad
After you prepare the almonds and shallot you place all of the ingredients for the salad in a bowl and drizzle the salad with the lemon vinaigrette.
How do you cut lettuce for butter lettuce salad?
You can tear the butter lettuce with your hands into pieces or you can roughly chop the butter lettuce with a knife.
You generally want to keep butter lettuce in large pieces because it is a more fragile lettuce. The bigger the pieces of butter lettuce the less soggy the butter lettuce will be.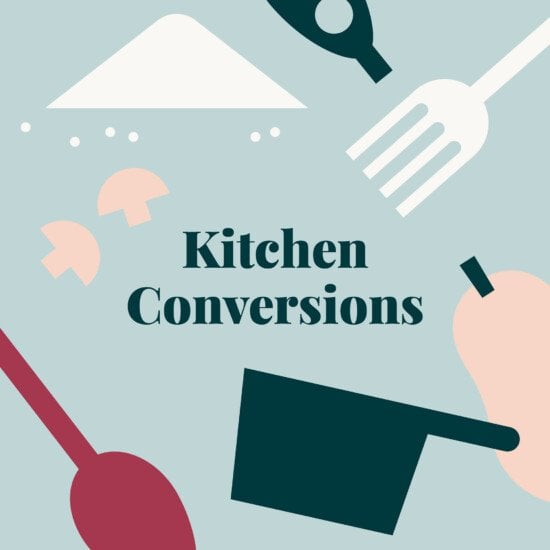 make it easy
Print Your Own
Keep common kitchen conversions like tablespoons to teaspoons and Fahrenheit to Celsius on hand at all times with our printable kitchen conversions chart.
Tips + Tricks for Butter Lettuce Salad
Ingredient Add-ins + Substitutions
This salad is perfect the way it is, but if you are out of any of the ingredients or want to substitute any ingredients in this salad, go for it! Maybe you're looking to add grilled chicken to the salad for a little protein, we've got you covered there, too.
Below are some ingredient add-ins or substitutions we recommend.
Add-ins
Dried fruit (crasins, apricots, raisins, cherries)
Substitutions
Apples—> plums
Fried shallots–> diced red onion
Slivered almonds—> chopped pistachio or toasted pine nuts
Fennel–> chopped celery
Red pepper–> any bell pepper
Use a different dressing
We use our favorite lemon vinaigrette for the salad, but if that dressing isn't your thing, we have so many delicious salad dressings that you can use instead. Here are some of our favorites.
Serving suggestions
If you are making this salad a full meal, we highly suggest adding protein.
This butter lettuce salad makes a great side salad for any of the dishes below!
Grilled Pork Tenderloin– Here is our best grilled pork tenderloin recipe; it's dry-rubbed in smokey spices, marinated in a sweet bbq soy sauce, and grilled to juicy perfection. It's a simple pork tenderloin recipe, but it turns out so tender and flavorful.
Baked Chicken Parmesan– Baked Chicken Parmesan is an easy chicken recipe to make. This oven baked chicken parmesan is first pan-fried and then finished off in the oven.
Parmesan Crusted Chicken– Parmesan crusted chicken is such a fantastic and flavorful chicken recipe. Chicken breasts are dredged in a parmesan cheese and bread crumb mixture and then pan-fried until golden brown perfection.
Grilled Salmon– Get perfectly grilled salmon every single time with this easy and fool-proof step-by-step tutorial on How to Grill Salmon!
Turkey Burger Recipe– Say hello to the Best Juicy Turkey Burger you've ever had! These turkey burgers are always delicious, and never dry. Enjoy!
Storage Suggestions
We suggest storing this salad separate from the dressing if you are not serving the salad right away. Nobody likes a soggy salad!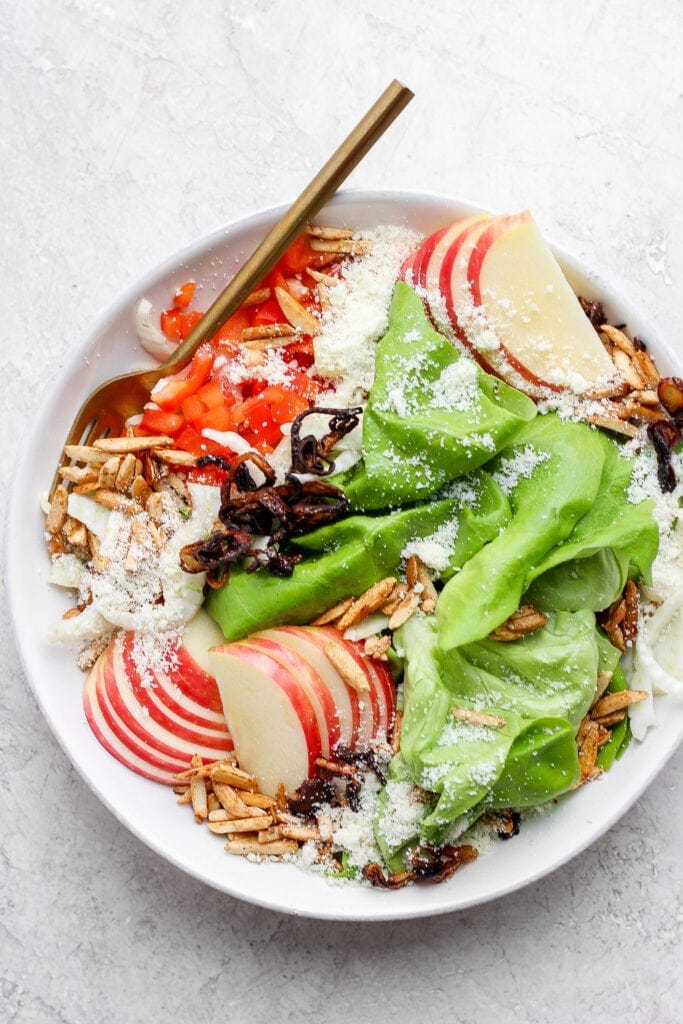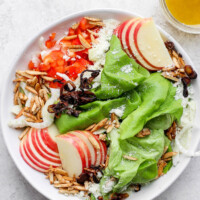 Butter Lettuce Salad
Make this butter lettuce salad recipe is easy to throw together and a delicious option for any meal. 
Prep: 10 minutesCook: 20 minutesTotal: 30 minutes
Fat 27 Carbs 28 Protein 5
Yield 4–6 1x
Ingredients
Lemon Vinaigrette 
2 tablespoons

olive oil 

2 tablespoons

fresh lemon juice

½ teaspoon

white wine vinaigrette

1 teaspoon

maple syrup 

¼ teaspoon

dijon mustard 

½ teaspoon

minced garlic 

Pinch salt 

Pinch pepper 
Salad
3

medium shallots, thinly sliced 

¼ cup

olive oil 

⅓ cup

slivered almonds 

½ tablespoon

maple syrup 

1

head butter lettuce, torn into large pieces

1 cup

thinly sliced fennel

1

small honey crisp apple, thinly sliced

1

small red bell pepper, minced 

2 tablespoons

grated parmesan cheese
Instructions
First, prepare vinaigrette.

Add olive oil, lemon juice, vinegar, maple syrup, mustard, garlic, salt, and pepper to a mason jar. Cover and shake. Set aside. 

Prepare fried shallots.

Line a plate with a paper towel. Set aside. 

Heat a large skillet over medium/low heat. Add ¼ cup olive oil. 

When olive oil is fragrant add the shallots. 

Cook the shallots for 15-20 minutes stirring occasionally until the shallots turn a golden brown color. 

Meanwhile, prepare the candied almonds.

Heat a separate small skillet over medium/low heat. Add almonds and maple syrup to the skillet and toss so all the almonds are covered with maple syrup. 

Let the almonds cook for 10-12 minutes or until they start to brown. Remove from heat and transfer them in a separate plate (they will harden as they cool). Set aside. 

Use a slotted spoon to remove the browned shallots from the pan and place the shallot on top of the paper towel-lined plate. Set aside. 

Assemble the salad.

Place the butter lettuce in a large salad bowl. Spread the fennel, sliced apple, bell pepper, and almonds over the lettuce. 

Drizzle the vinaigrette over the ingredients and toss. 

Lastly, sprinkle the salad with fried shallots and parmesan cheese.
Nutrition Facts
Serving Size: 1/4 Calories: 363 Sugar: 12 Sodium: 173 Fat: 27 Carbohydrates: 28 Fiber: 5 Protein: 5 Cholesterol: 2
Author: Lee FunkeCategory: SaladMethod: Stove TopCuisine: American
Keywords: Butter Lettuce Salad
Photography: photos taken in this post are by Erin from The Wooden Skillet.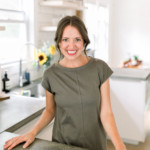 Linley is a 5′ nothing spitball of positive energy who joined Team Fit Foodie in the Spring of 2014. Linley has worked on the digital side of small businesses and nonprofits since 2011, where she specialized in social media community management. Lin has a passion for food and an incredible palate. She is FFF's chief recipe developer, so you can thank her for these incredible recipes!