Get perfectly sautéed shrimp every single time with this easy and fool-proof step-by-step tutorial on how to cook shrimp on the stove!
This sautéed shrimp recipe comes with the most delicious marinade and toasted spices. It's a quick and healthy seafood option to make on the stove.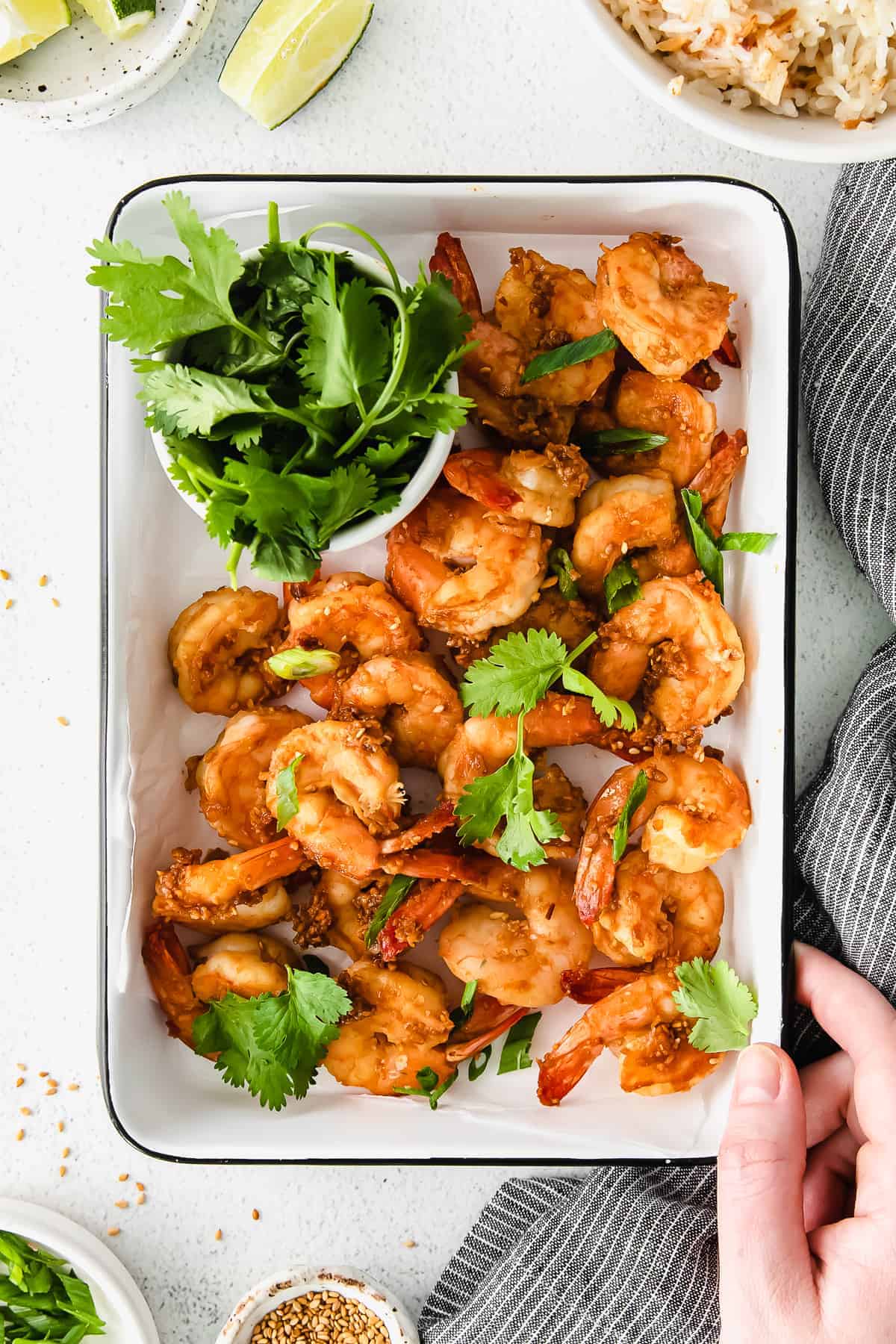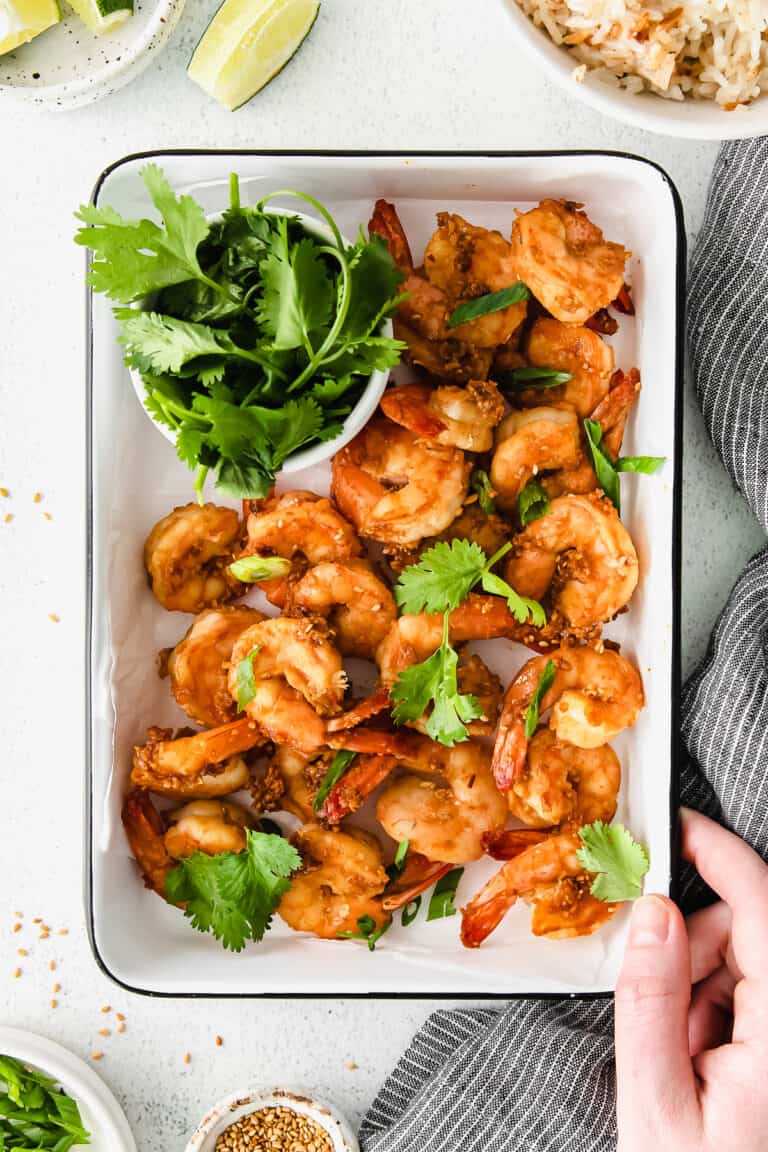 The Best Way to Sauté Shrimp
This sautéd shrimp recipe is our go-to shrimp recipe. We have literally made this recipe 2-3 times a month but with different flavors and ingredients. One thing that never changes is the method.
The method for this shrimp recipe was inspired by a cooks illustrated recipe that pan sears shrimp after it has been marinated. You sear the shrimp starting in a cold pan and then toss the shrimp in toasted spices. You can't beat it.
For this specific sautéd shrimp recipe, we use dried spices like ginger and garlic and a little bit of delicious garlic paste in the marinade.
why we love this sautéed shrimp recipe
This recipe leaves you with perfectly cooked shrimp every time.
We love the flavors of this recipe paired with fresh herbs and a bite of sesame seeds.
This sautéd shrimp is ready in less than 30 minutes.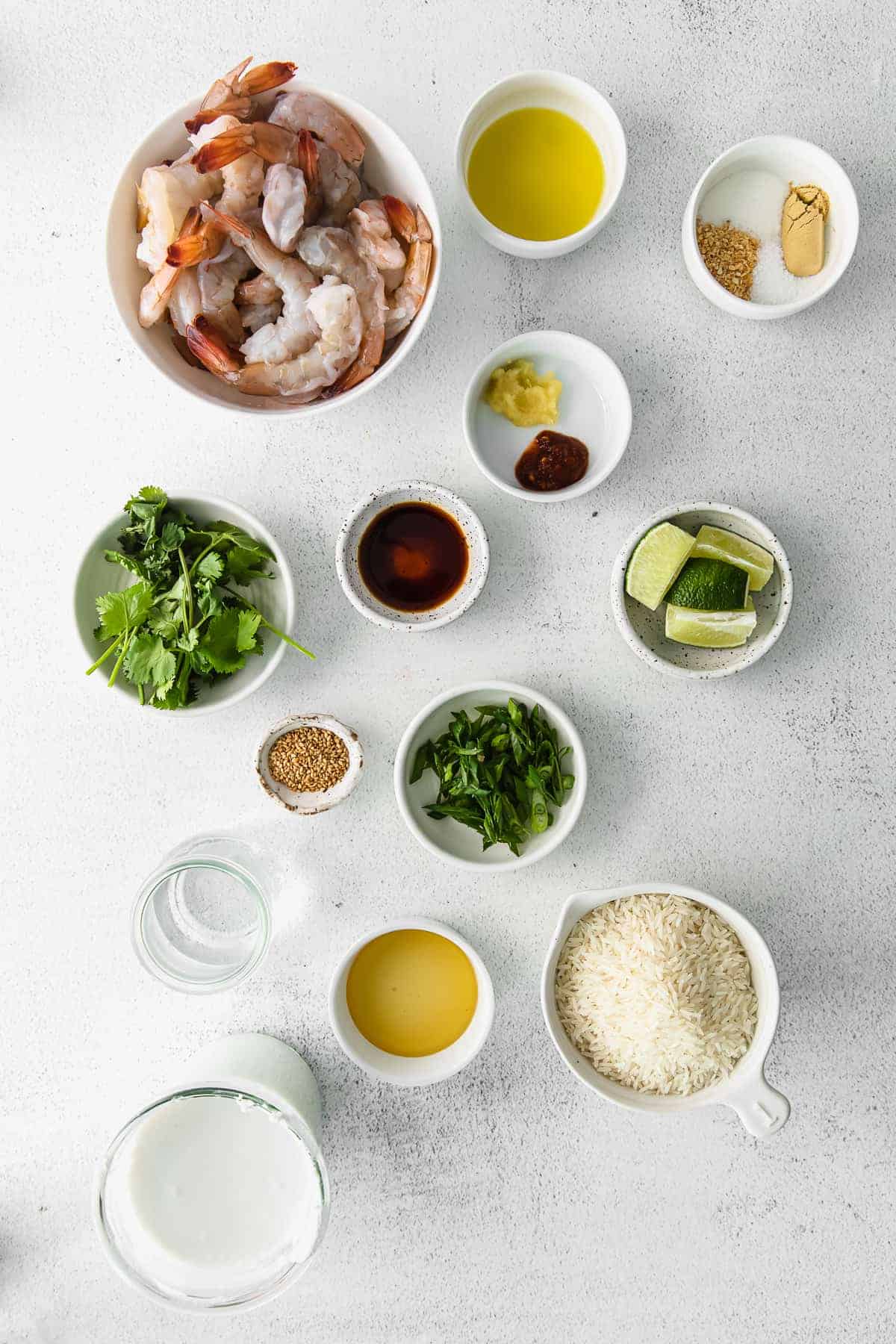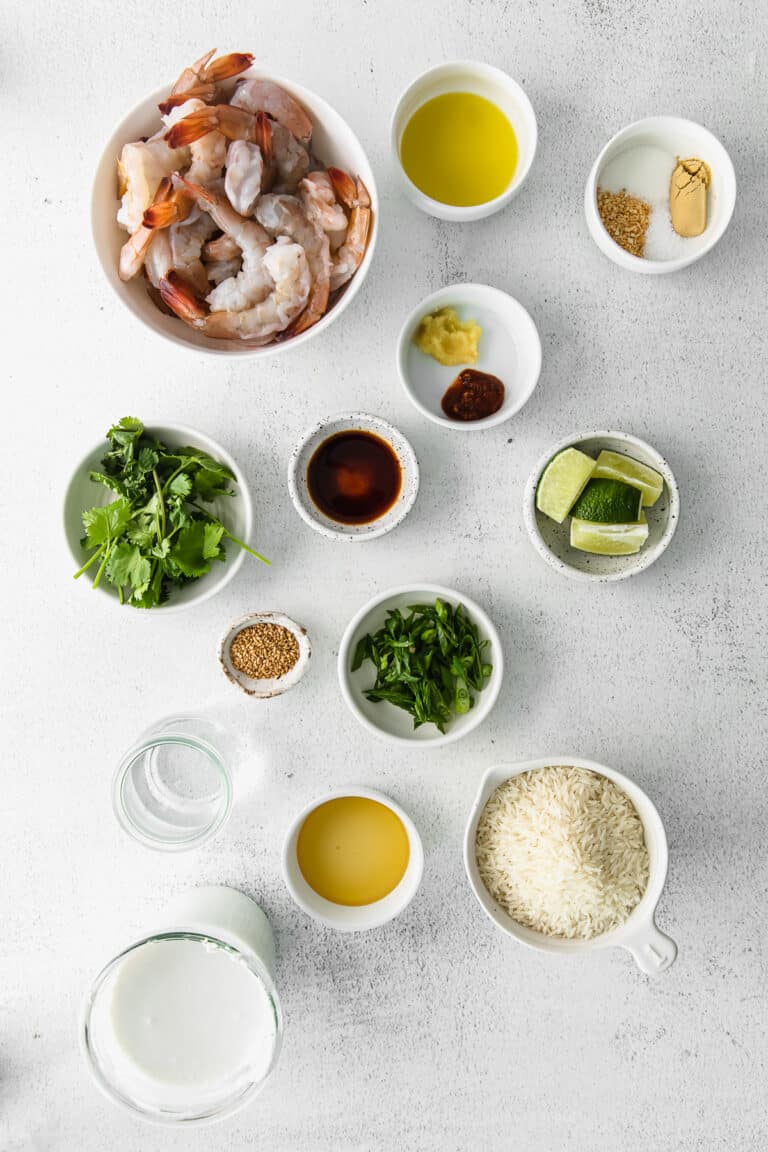 Ingredients You Need
Shrimp: we highly suggest buying quality jumbo shrimp. Usually that means you will find shrimp that haven't been peeled in the deli or the frozen section. Target actually has our favorite jumbo shrimp right now. You can find them in the freezer section.
Olive oil: you marinate the shrimp in a bit of oil, sugar, and garlic.
Granulated sugar: The sugar will help to brown the shrimp when it is sautéd in the pan.
Garlic: fresh garlic adds a bunch of delicious flavor the the shrimp.
Spices (granulated garlic, ground ginger, kosher salt): this combination of flavors both crusts the shrimp and adds that list bit of amazing flavor to the pan.
Garlic chili sauce + Soy sauce: you finish the recipe off with a little chili sauce and soy sauce to add some heat.
Fresh and Easy Garnish
One of the best parts of this recipe is the fresh herbs that you add to the cooked shrimp. It really elevates the recipe. All of the ingredients below are the perfect garnish for this shrimp recipe.
Cilantro
Green onion
Sesame seeds
Lime juice (fresh lemon juice works too)
Other Fun Ingredient Combinations
There are so many flavor combinations that you can use for this type of sautéd shrimp. This recipe is a combination of Asian flavors but the sky is the limit. Below are other fun flavor combinations you can use.
Garlic powder + dried thyme and then tossed with feta crumbles, fresh parsley, and pistachios.
Italian Seasoning + salt and then tossed with fresh mozzarella and basil
chili powder + paprika + salt and then tossed with cheddar cheese and green onions
cumin, paprika + salt and then tossed with sliced cherry tomatoes and chopped fresh spinach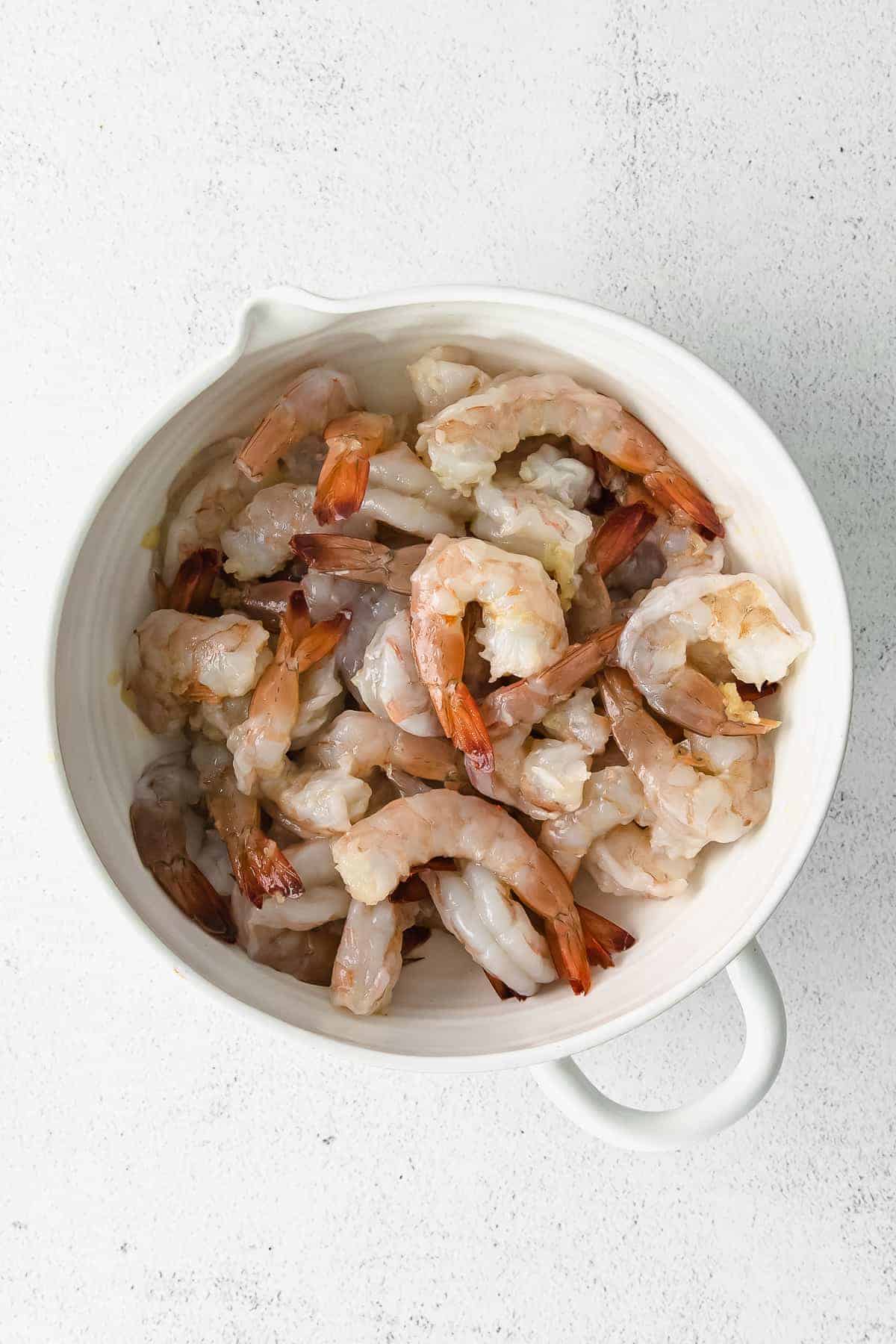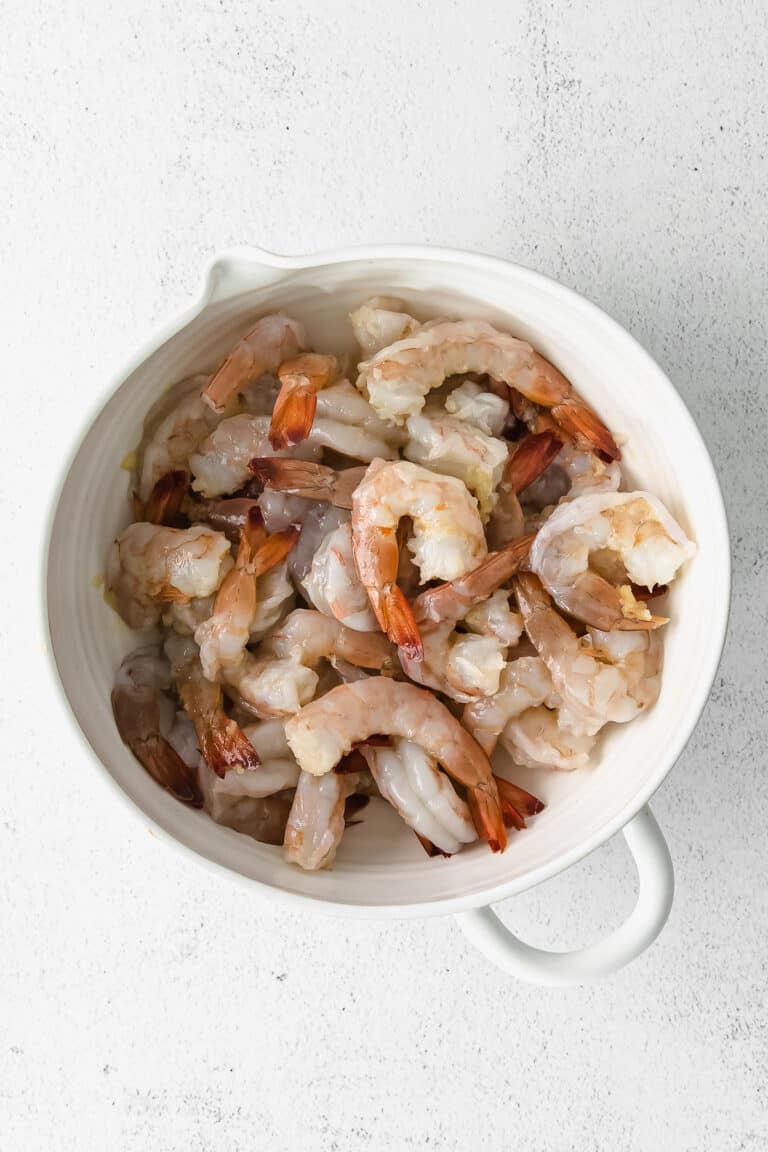 How to Sauté Shrimp
Measure out ingredients: this recipe moves very fast. Be sure you shrimp are deveined and peeled, spices are measured out, and your herbs are shopped. It is also crucial that you pat the shrimp dry to remove any excess water from the shrimp.
Marinate shrimp: Add the shrimp to a bowl and toss with the oil, sugar, and garlic powder. Let them sit for 15 minutes.
Sauté shrimp: This is the most important part! Start off with a cold large skillet pan. Place the shrimp in the pan. Turn the heat to medium high heat and let the shrimp sauté for 4 minutes and 4 minutes only.
Remove the sauté pan from the heat and then quickly flip the shrimp over and let the shrimp sit in the pan for 2-3 minutes or until the shrimp are fully cooked. Remove the shrimp from the pan and set aside.
Toast spices: Add the ginger, garlic, and salt to the pan and toast the spices until fragrant over medium heat. Remove the pan from the skillet and then add the shrimp to the pan. Toss the shrimp with the spices. Add the soy sauce and garlic sauce to the shrimp and toss.
Toss with fresh ingredients: Finally, add the cilantro, green onion, and sesame seeds to the pan and toss ingredients together.
Enjoy: Enjoy the shrimp over rice or on their own.
Add some more spice by adding red pepper flakes,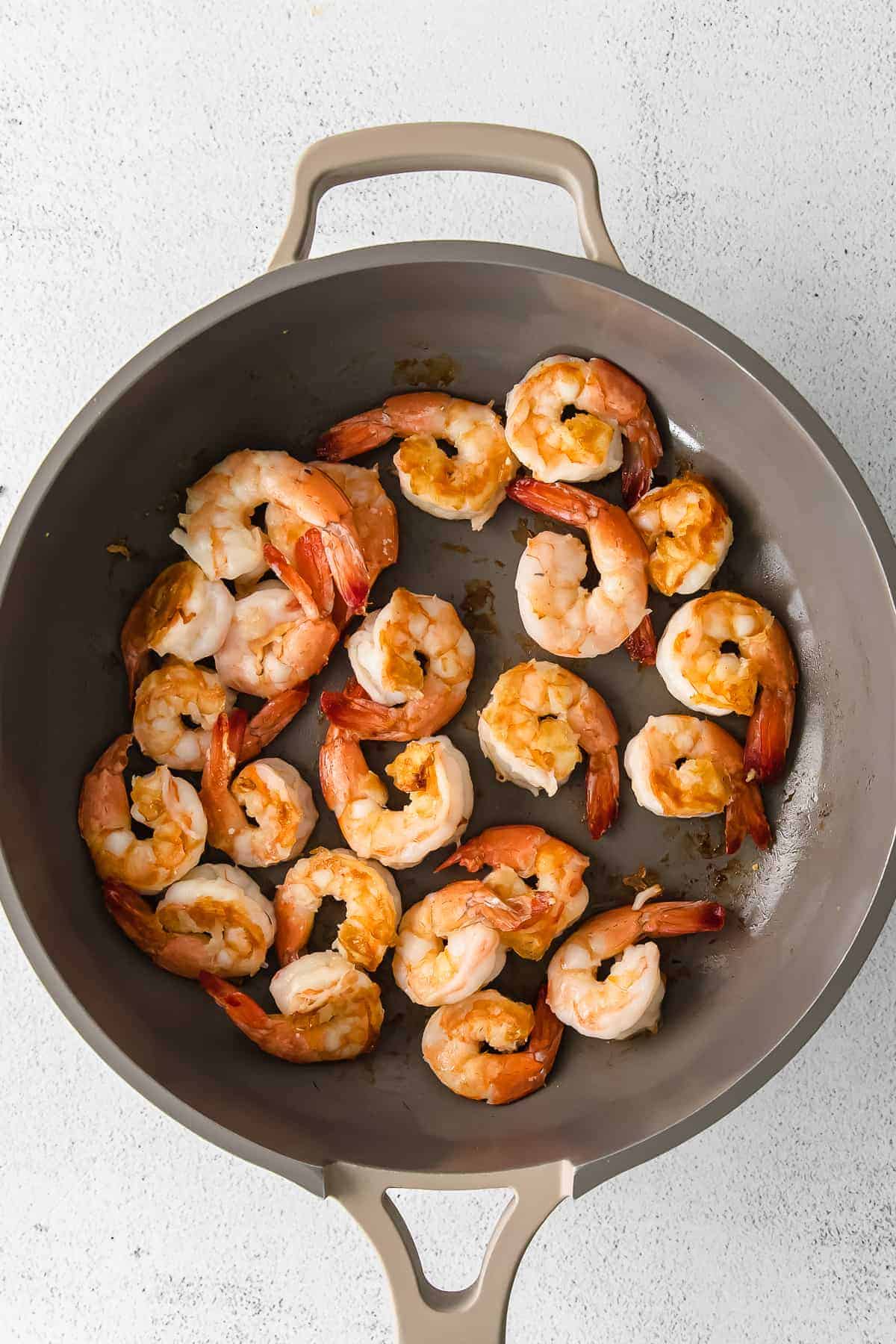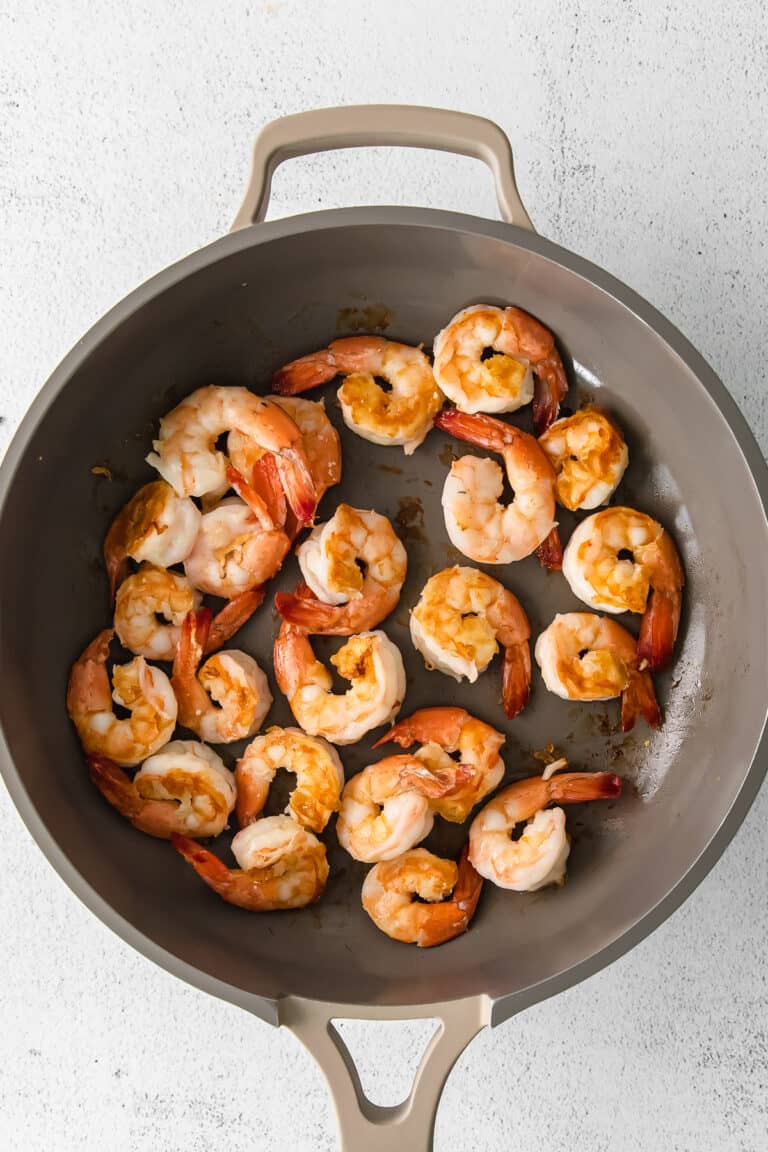 What to Serve with Sautéed Shrimp
There are so many different side dishes you can prepare to eat along side this shrimp. Below are some great side dish options.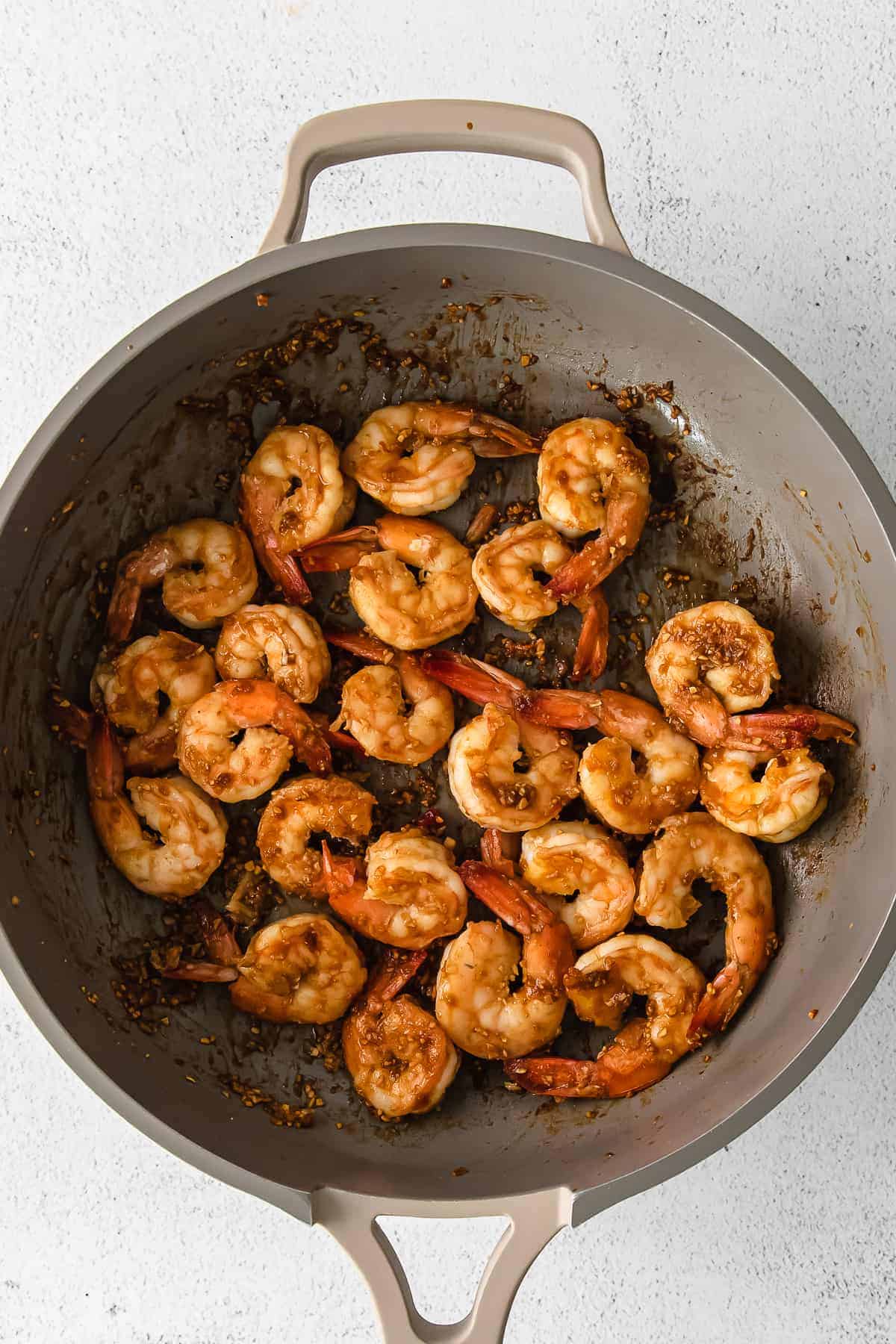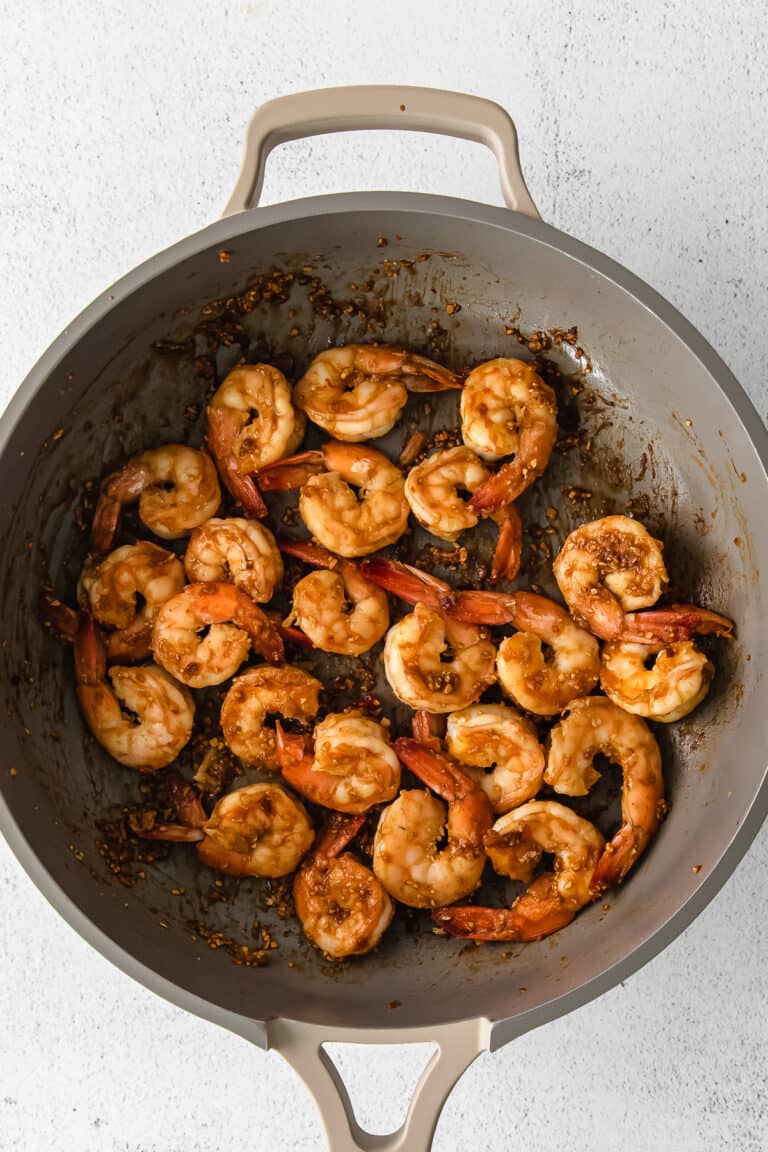 Other Ways to Cook Shrimp
We love this cooked shrimp recipe, but if you are looking for more ways to cook shrimp we've got you covered there, too.
Grilled Shrimp– Get perfectly grilled shrimp every single time with this easy and fool-proof step-by-step tutorial on how to grill shrimp!
Shrimp Salad- Eat the rainbow with this Healthy Shrimp Salad that's packed with fresh ingredients, perfectly sautéed shrimp and a creamy dressing (no mayo!). Enjoy!
Shrimp Pasta- How to make shrimp scampi you ask? It's easy! This Asparagus Shrimp Scampi recipe will absolutely blow your mind because it's made with tons of veggies, fresh shrimp, and a delicious olive oil butter sauce with a splash of lemon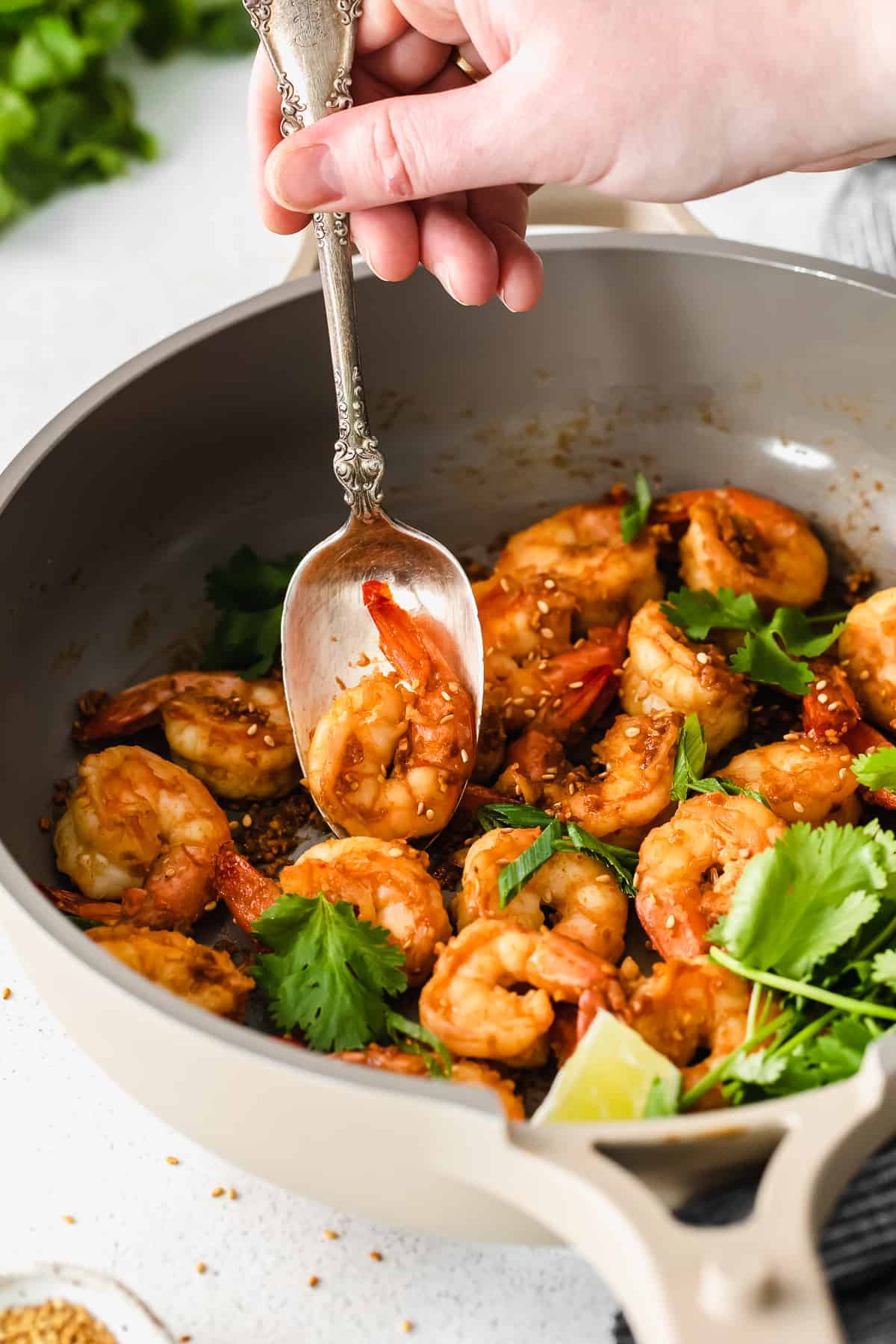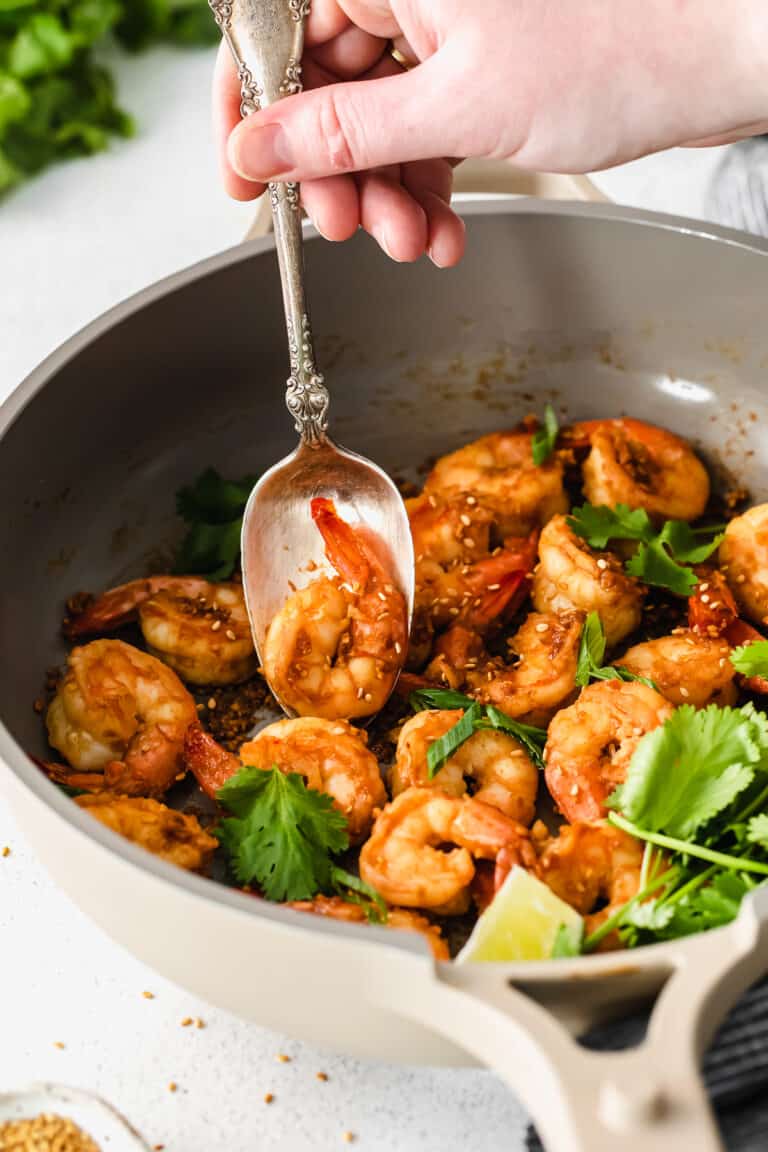 Common Shrimp Questions
What seasonings work best with shrimp?
There are so many ways to season shrimp for this recipe or other recipes. Try our easy shrimp marinade for a flavorful marinade. If you are looking for other tasty recipes we love using our cajun seasoning for our cajun shrimp recipe. It is so good.
Should you marinate shrimp before serving?
We highly recommend marinating shrimp before serving.
Is it better to boil or sauté shrimp?
It all depends on how you are eating shrimp. We suggest boiling shrimp for a shrimp cocktail. If you are eating shrimp in pasta or over gritz we recommend sautéing the shrimp.
What sauce goes good with shrimp?
Again, it all depends on how you are preparing your shrimp. We love pairing shrimp with lemon and garlic sauce for pasta. If we are boiling shrimp, we love a simple cocktail sauce. The sky is the limit.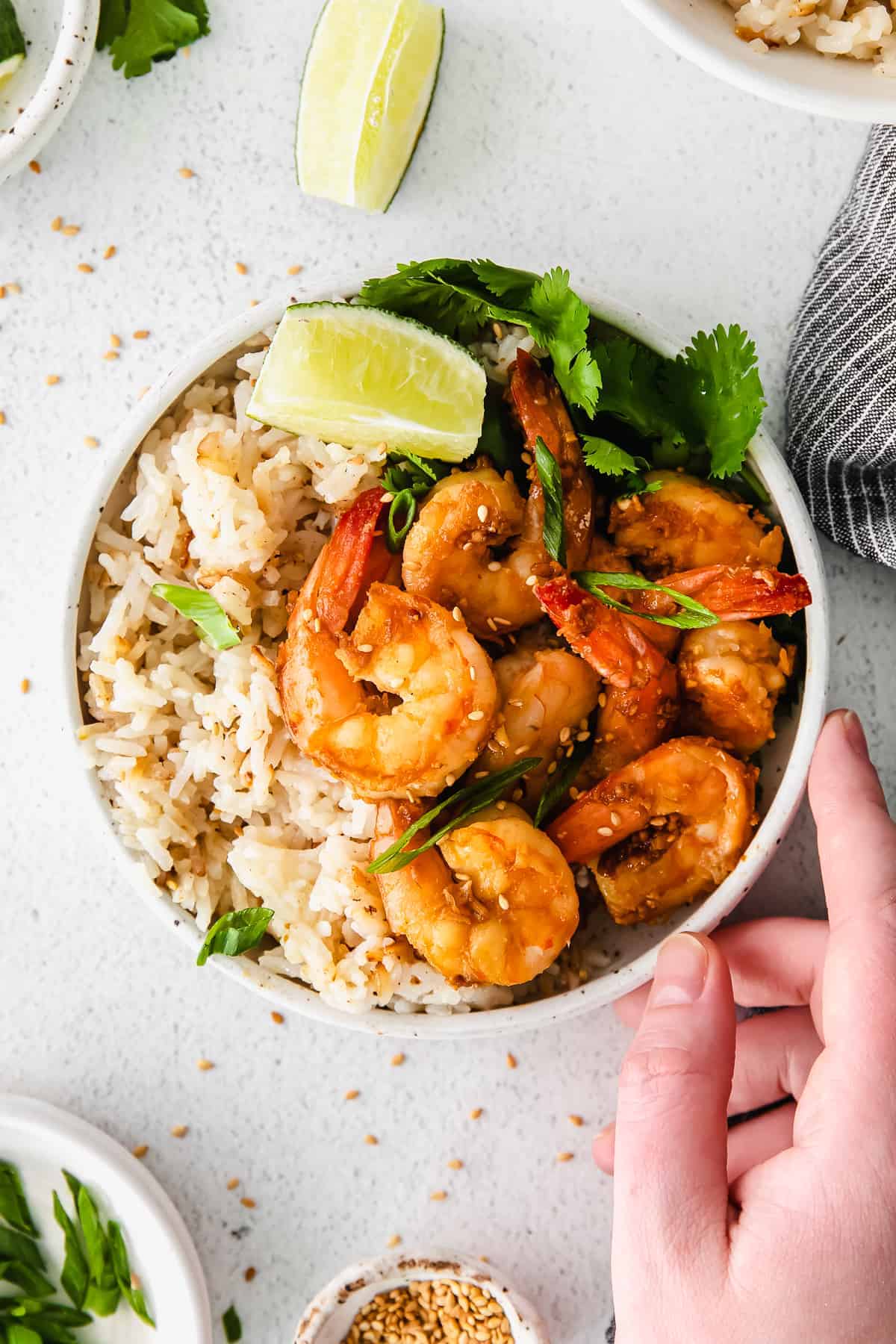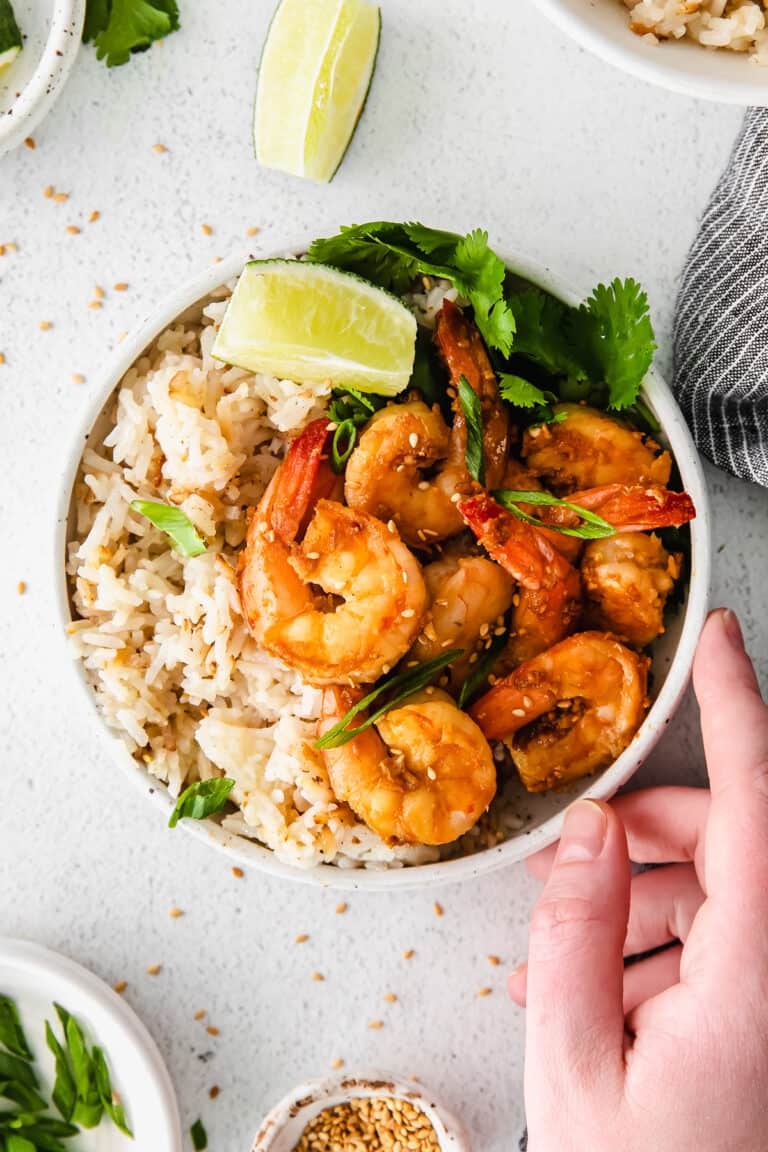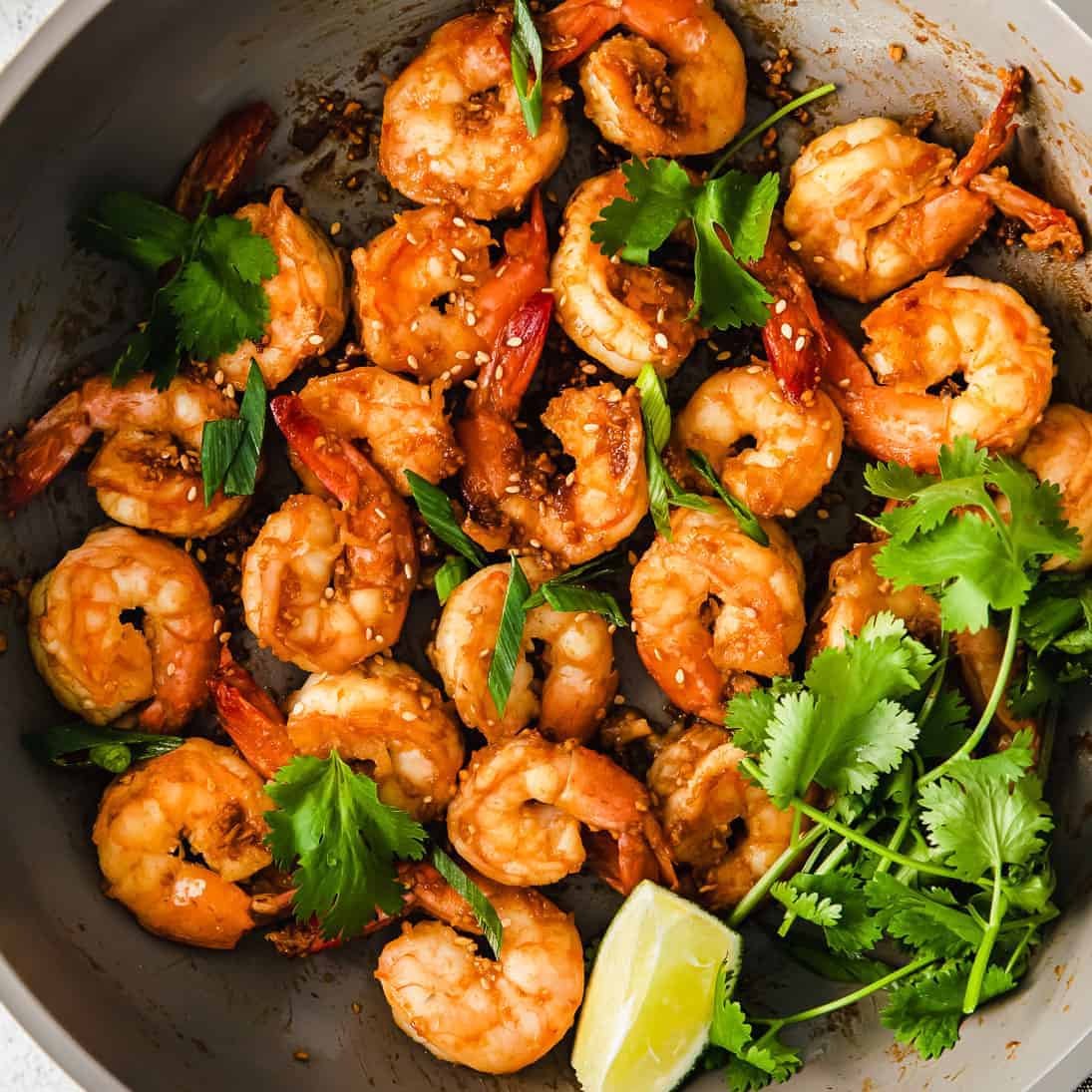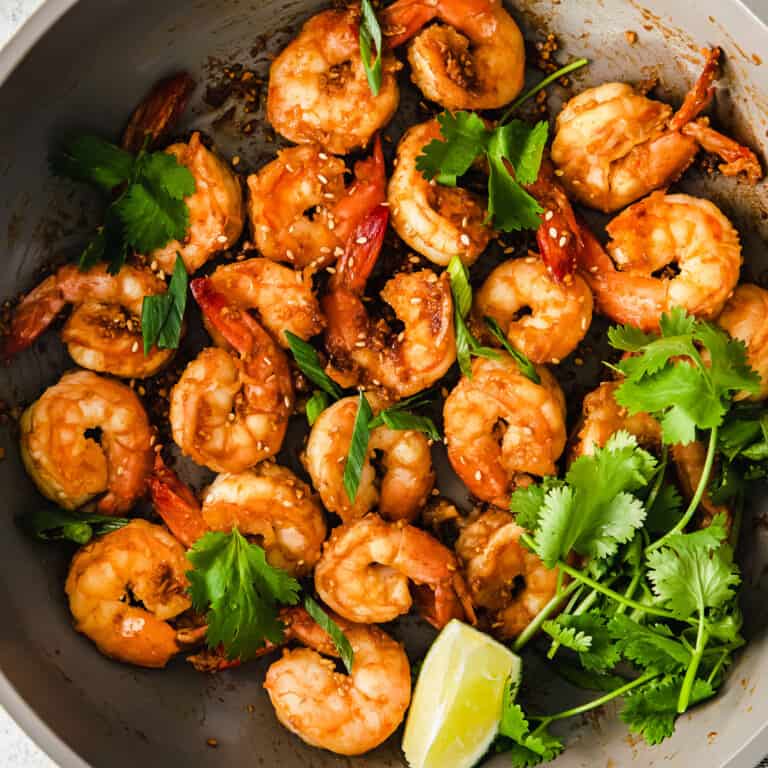 How to Cook Shrimp on the Stove
This shrimp recipe is an easy weeknight meal. We marinate shrimp in a simple oil and chili sauce and then pan fry the shrimp from a cold pan. Toss the shrimp with toasted spices and enjoy.
Prep: 15 minutesCook: 6 minutesTotal: 21 minutes
Fat 4 Carbs 4 Protein 37
Yield 4 1x
Ingredients
1.5

-lbs. XL/Jumbo uncooked shrimp, peeled and deveined  

1 tablespoon

olive oil 

1 teaspoon

granulated sugar 

2

cloves garlic, minced and pressed through a garlic press

2 teaspoon

granulated garlic 

1 teaspoon

ground ginger 

½ teaspoon

kosher salt 

1 teaspoon

garlic chili sauce 

1 teaspoon

soy sauce 
For Serving
1 tablespoon

chopped fresh cilantro

2 tablespoons

fresh green onion, sliced diagonally into short, thin strips 

1 tablespoon

toasted sesame seeds

Squeeze of fresh lime juice
Instructions
Place the peeled shrimp into a bowl and drizzle shrimp with oil and sprinkle with sugar and fresh garlic. Toss all the ingredients together so the shrimp is coated. Set aside to rest for 10 minutes. 

Place the shrimp in a large cold skillet. Place the skillet on the stove and turn the heat to high heat. Cook the shrimp for 4 minutes. 

Remove the pan from the heat, flip the shrimp over, and let them cook in the hot skillet for an additional 2 minutes. 

Remove the shrimp from the skillet once they are fully cooked (they will have a pink hugh and should be a bit charred on one side).

Add the granulated garlic, ginger, and kosher salt to the same skillet. Place the skillet back onto the stove and heat the spices over medium heat until they become fragrant (about 2 minutes). 

Remove the skillet from the heat and place the shrimp back into the skillet. Toss the shrimp with the toasted spices. 

Add the chili sauce and soy sauce to the shrimp and toss.
For Serving
Place the shrimp onto a serving platter and top them with the cilantro, green onions, and sesame seeds. 

Add a fresh squeeze of lime to the shrimp.
Tips & Notes
You can use large shrimp or jumbo shrimp for this recipe. If you use shrimp that is any smaller you will have to decrease the cook time. 

It is very important that you start this recipe with a cold skillet pan, it is part of the cooking method.
Nutrition Facts
Serving Size: 1/4 Calories: 214 Sugar: 1 Sodium: 733 Fat: 4 Carbohydrates: 4 Fiber: 0 Protein: 37 Cholesterol: 338
Author: Lee FunkeCategory: FishMethod: Stove TopCuisine: American Fusion
Keywords: Sauteed Shrimp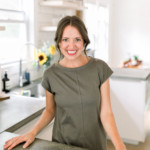 Linley is a 5′ nothing spitball of positive energy who joined Team Fit Foodie in the Spring of 2014. Linley has worked on the digital side of small businesses and nonprofits since 2011, where she specialized in social media community management. Lin has a passion for food and an incredible palate. She is FFF's chief recipe developer, so you can thank her for these incredible recipes!