Anything wrapped in bacon is truly better! Make this bacon wrapped chicken breast for a flavorful meal idea.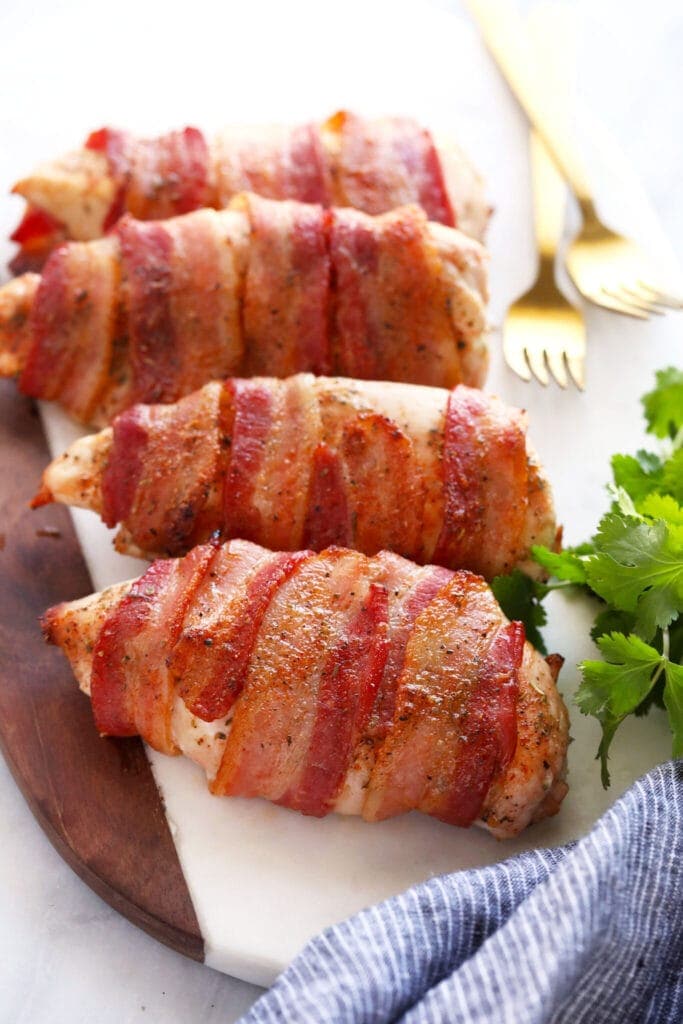 Why Make Bacon Wrapped Chicken?
This bacon wrapped chicken recipe is such a fun and scrumptious main meal. Eat it on its own next to grilled potatoes or top your favorite salad with it.
High-Protein: this bacon wrapped chicken packs in 45g protein per serving.
Low-Carb: per serving, there are only 3g carbs.
Gluten-Free: both bacon and chicken are naturally gluten-free.
Ready in less than an hour: Dinner in less than an hour. Heck yes!
Kitchen Tools
Check out all of the recommended kitchen tools for this recipe below!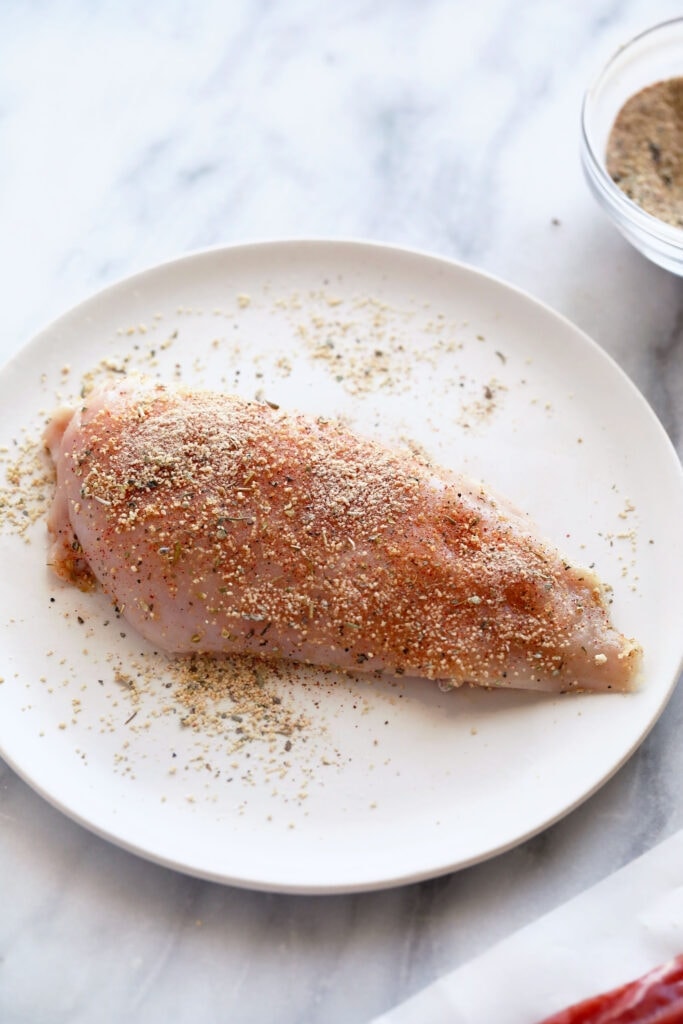 What You Need
I love chicken recipes that call for minimal ingredients that you probably already have on hand. This recipe calls for 3 basic things.
Chicken breast: you need around 2-lbs. of boneless, skinless chicken breast. Just make sure you get around 4 medium breasts (around 6-oz. each).
Bacon: when shopping for the bacon, look for regular-cut bacon and avoid thick-cut. Read more about why below.
Seasoning: a homemade spice blend is going to add great flavor to this bacon wrapped chicken.
chicken seasoning
If you have our homemade chicken seasoning on hand, you're more than welcome to use that. Otherwise, here's the blend we used in this recipe:
Garlic powder
Brown sugar
Italian seasoning
Paprika
Salt
Pepper
All About the Bacon
You may love that thick oven-baked bacon, but it is important that you use regular-cut bacon for this recipe.
Why?
Thicker bacon will take longer to fully cook and crisp up in the oven and we found that regular-cut bacon cooks the best alongside the chicken breast.
So, just make sure you avoid thick-cut bacon and all will be well with your bacon wrapped chicken!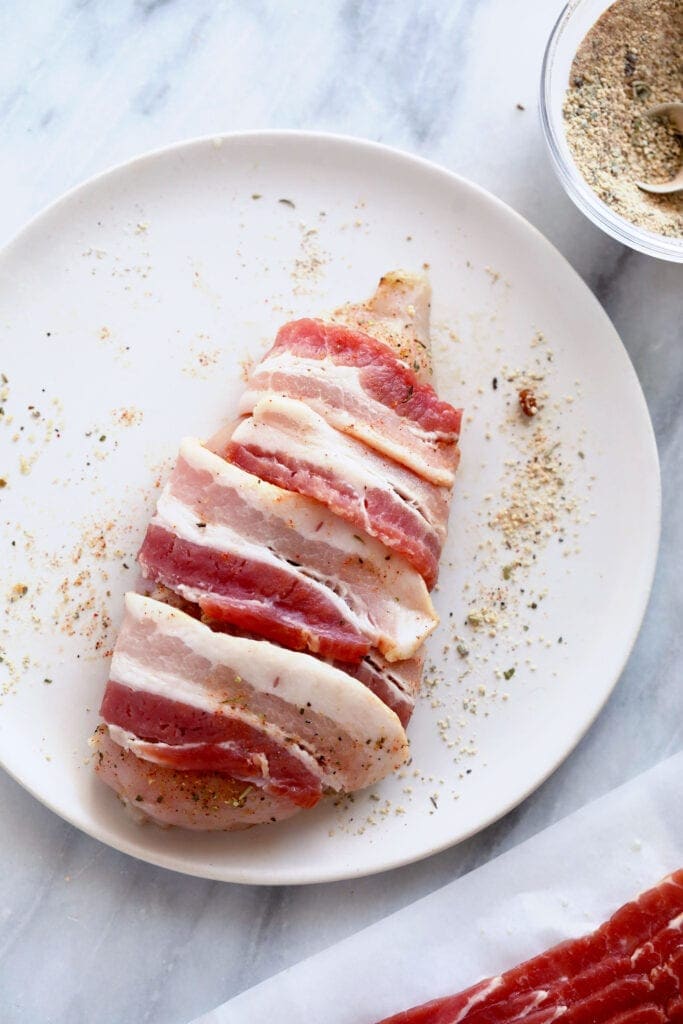 How to Make Bacon Wrapped Chicken (3-steps!)
Season Chicken: season chicken breast on both sides with homemade chicken seasoning.
Wrap Chicken: wrap each chicken breast with 2-3 pieces of bacon. Start on one end and wrap the bacon towards the other.
Place on rack: line a baking sheet with tin foil and then place a metal baking rack on top. Transfer bacaon wrapped chicken ton top of the rack.
Bake: bake at 400ºF for around 25 minutes. Then, turn the heat up to 450ºF and bake for another 5-10 minutes to crisp up the bacon. The internal temperature of the chicken should be at least 165ºF.
Our #1 Tip
So, how do you get crispy bacon on the outside, but super tender chicken on the inside? Our #1 tip is a metal baking rack!
By placing the chicken breast on top of a rack, you allow for the bacon grease to drip off the chicken and onto the bottom of the baking sheet. If the chicken was sitting in the grease, the bacon would have a hard time crisping up.
So, make sure to first line your baking sheet with tin foil (for easy clean up) and then place a metal baking rack on top.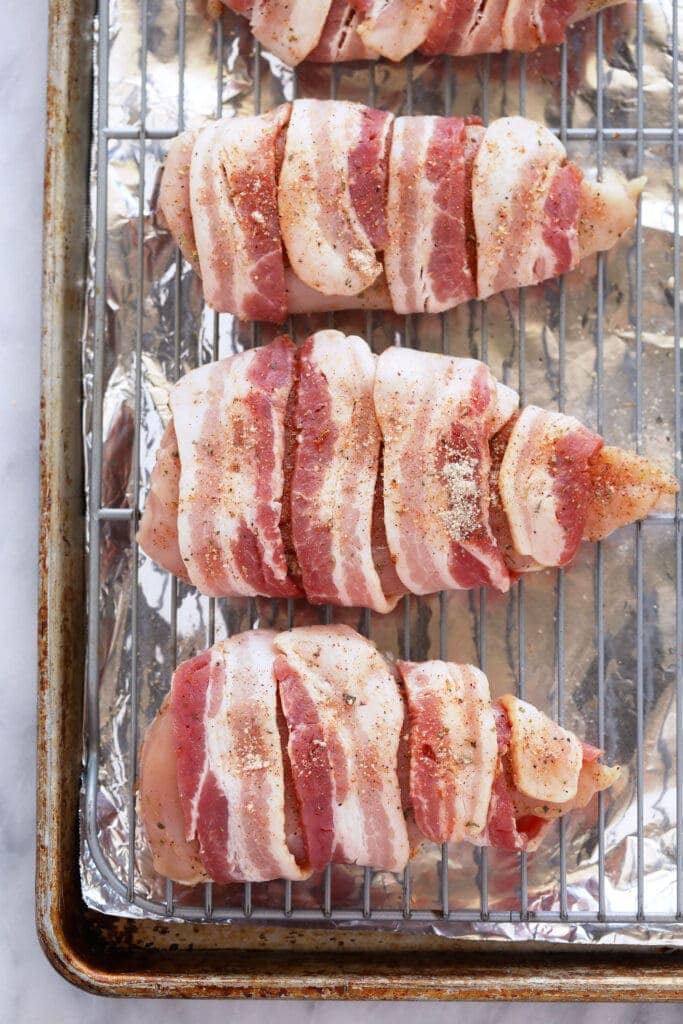 Meal Ideas
Looking for a few sides to complete your back wrapped chicken breast meal? Here ares some yummy ideas for you!
Baked Potato in Foil: Whether you're hoping to make a grilled baked potato in foil or oven baked potatoes in foil, we'll teach you how to make a perfect baked potato every time!
Instant Pot Baked Beans: Looking for a baked beans recipe that doesn't take the whole day to make? These Instant Pot baked beans are flavorful, easy to make, and are ready in under an hour! 
Strawberry Quinoa Salad: This is the most delicious Strawberry Quinoa Salad made with massaged kale, fresh strawberries, quinoa, cucumber, feta cheese, and a delicious creamy balsamic dressing.
Roasted Brussels Sprouts: A roasted Brussels sprouts recipe that will get you crispy, caramelized Brussels sprouts every time!
Superfood Detox Salad: The superfood salad of all superfood salads is here! Packed with shaved Brussels sprouts, kale, blueberries, and nuts and seeds with a ginger turmeric dressing, this Superfood Detox Salad will please a crowd. Make this Superfood Detox Salad today!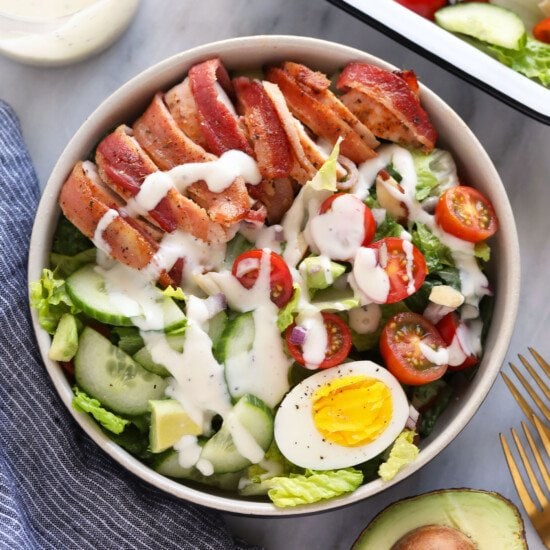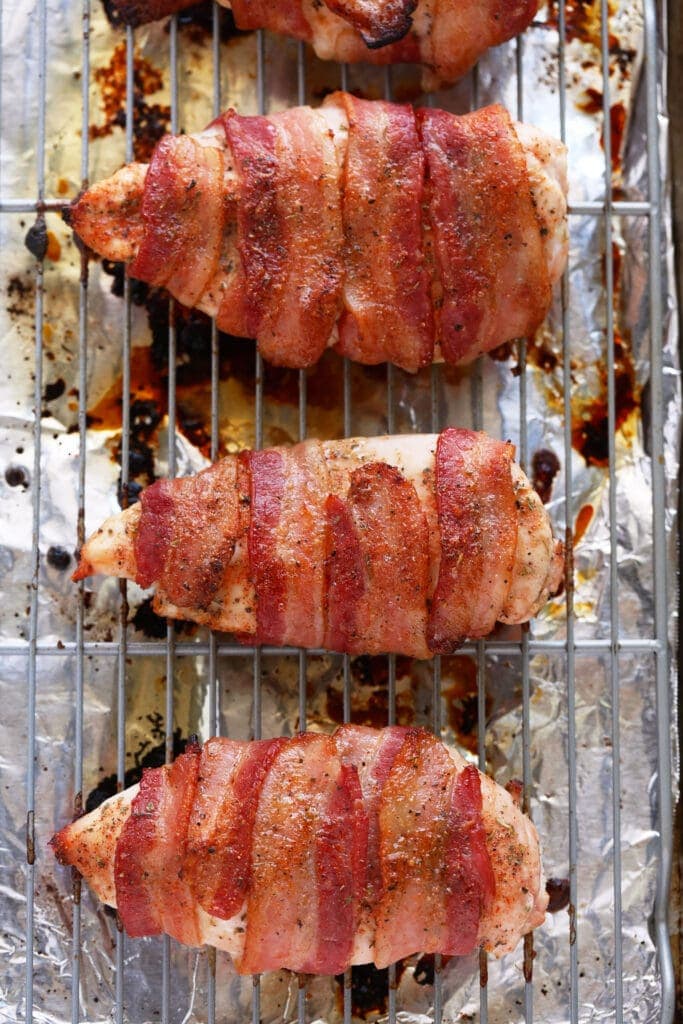 Storage
Let bacon wrapped chicken breasts cool completely. Then, transfer into an airtight container and seal. Store in the refrigerator for up to 3-5 days.
To reheat: you can either reheat the chicken in the microwave on high for 90 seconds. Or, to get crispier bacon, we suggest reheating in a nonstick skillet or cast iron over medium heat.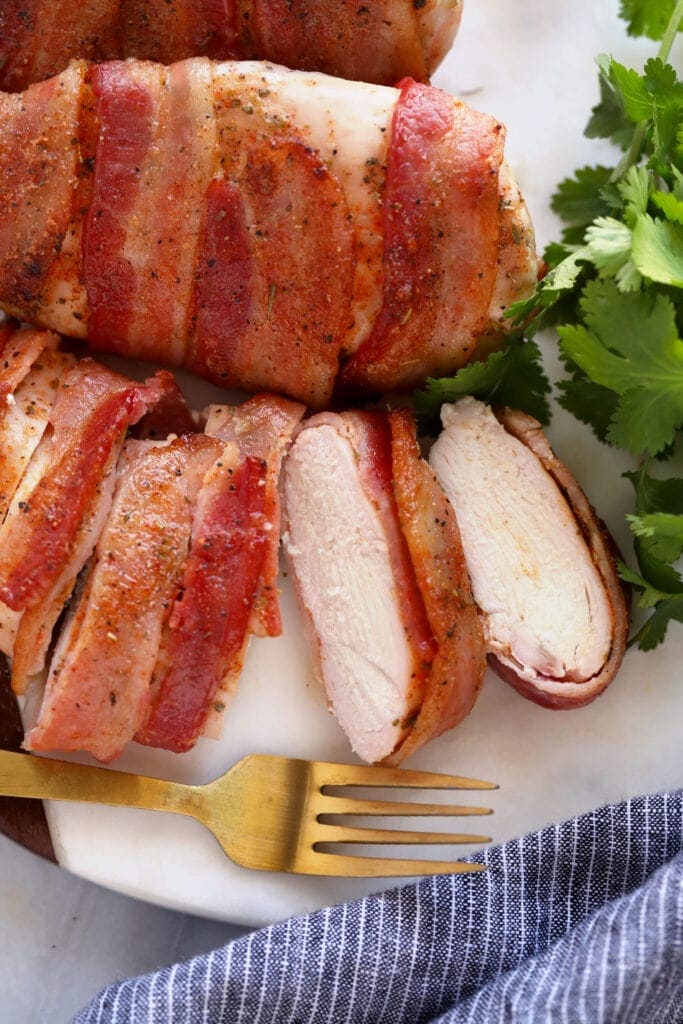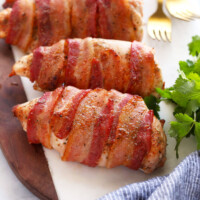 Bacon Wrapped Chicken Breast
Bacon wrapped chicken is seasoned chicken breasts wrapped in bacon and then baked at high heat for crispy bacon on the outside and tender chicken breast on the inside.
Prep: 15 minutesCook: 30 minutesTotal: 45 minutes
Fat 21 Carbs 3 Protein 35
Yield 4 1x
Ingredients
4

6-oz. boneless, skinless chicken breasts

2 teaspoon

garlic powder

2 teaspoon

brown sugar (or coconut sugar)

1 teaspoon

Italian seasoning

1/4 teaspoon

paprika

1/4 teaspoon

salt

1/4 teaspoon

ground pepper

8

–

12

pieces bacon (medium cut)*
Instructions
First, preheat the oven to 400ºF and line a baking sheet with tin foil. Place a wire rack on top and set it aside.
Combine all of the spices into a small bowl and mix.
Then, season each chicken breast with 1 teaspoon of chicken seasoning, making sure to get both sides. Save the remaining spices for later.
Next, wrap each chicken breast with 2 to 3 pieces of bacon depending on how big they are. Start at one end and move to the other. Transfer each bacon wrapped chicken breast to the wire rack.
Sprinkle the tops of the chicken breasts with the remaining seasoning.
Bake chicken breasts at 400ºF for 25 minutes. Then, turn the heat up to 450ºF and bake for 5-10 more until the bacon is crispy. The internal temperature of the chicken should be at least 165ºF and the bacon should be fully cooked.
Tips & Notes
Bacon: make sure NOT to use thick-cut bacon or it will not crisp up like it you want it to.
Sweet and Savory: for a sweet and savory flavor, sprinkle a little brown sugar on top of each chicken breast before baking.
Nutrition Facts
Serving Size: 1 Calories: 322 Sugar: 2 Fat: 21 Carbohydrates: 3 Fiber: 0 Protein: 35
Author: Lee FunkeCategory: Main MealMethod: OvenCuisine: AmericanDiet: Gluten Free
Keywords: bacon wrapped chicken, bacon wrapped chicken breast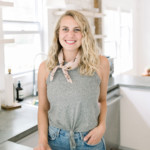 Lee is the founder of Fit Foodie Finds and based in Minneapolis, MN. She started this website in 2010 as a way to share her love for real food and wellness.