Daily Harvest is a healthy meal delivery service with a focus on easy-to-prep, plant-based foods. As registered dietitians, we've used Daily Harvest smoothies and meals in our own homes for the past 3 years.
As busy moms and registered dietitians, we love being able to reach into the freezer and have a tasty meal in a matter of minutes that doesn't compromise on nutrients. The three of us came together to share this honest review of Daily Harvest freezer-to-table frozen meals and smoothies, in terms of taste, nutrition, and our overall experience.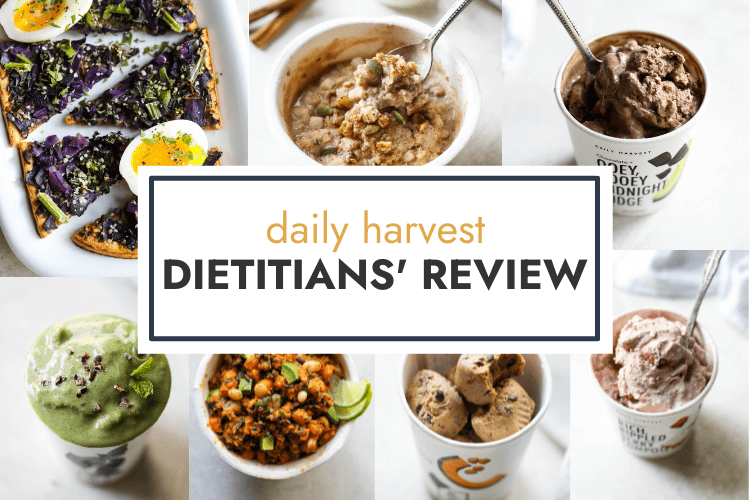 How We Researched & Tested This Service
Our entire team at The Real Food Dietitians was familiar with the smoothies that launched Daily Harvest. As their menu has expanded, we've been able to try the other menu items, too. We were all happy to see the success of this women-founded business growing its plant-based, fruit- and veggie-loaded offerings.
All Daily Harvest foods are suitable options for vegan meals, as well as the base of meals you can add to. They're 100% plant-based, gluten-free, and dairy-free. If you're not following a strict plant-based diet, follow our lead and add cooked, sliced chicken, crumbled ground beef or pork, cooked shrimp, or a cooked egg to many of their options when you need more protein.
To start our reviews, we each placed an order and stocked our freezers with Daily Harvest boxes. As we tried them, we made mindful notes on the preparation and flavors of the harvest bowls, soups, harvest bakes, smoothies, and flatbreads.
Our Honest Daily Harvest Review
Overall, we'd give Daily Harvest 5/5 stars. As we mentioned, we've each been using Daily Harvest on and off for 3 years. Their meals were Stacie's go-to on her maternity leaves, Jessica filled her freezer with them while recovering from surgery, and Jessie regularly keeps her freezer stocked with DH smoothies, lattes, and grains for quick options to feed herself and her kids.
Knowing we've got a nutrient-dense option that can be ready in minutes provides peace of mind when lunchtime sneaks up on us or we need to get everyone fed and out the door in the morning.
Pros of Daily Harvest
We all agreed that the DH meal service had a bunch of pros. They include:
Ingredients — 95% of the Daily Harvest ingredients are organic, fresh, and full of vitamins and minerals. 
Convenience — The meals are always on hand for a healthy freezer-to-table option and are ready to enjoy in minutes. 
Easy to prepare — Just blend, soak, or heat according to the instructions of each item.
Tasty — Unlike many other frozen meals, DH meals are full of flavor thanks to the plentiful combinations of ingredients that always include plenty of fruits and veggies. 
Sustainable packaging — 100% of Daily Harvest items are either recyclable or compostable; here's a guide that explains how to compost or recycle each component of the packaging
Cons of Daily Harvest
There's certainly a lot to love about DH, but there are a few things to consider before you sign up.
Some equipment is necessary — You will need a blender for the smoothies. And we have found that a high-powered blender is really necessary for getting the best smoothie consistency and getting every small piece blended nicely. 
Not suitable for all dietary needs — The emphasis on fruits and vegetables makes DH accessible to many people, however, it may not be the best fit for someone following a very strict low-carb, or high-protein diet, such as keto or Paleo. If you're a meat-eater or have increased protein needs, it would be necessary to enhance your Daily Harvest meals with extra protein to make them work for you (which makes them just a tad less convenient).
Subscription required — to get these products, you'll need a subscription for Daily Harvest, as the only way to get them is direct to your door
Can be pricey — Each item is made from high-quality, sustainably sourced ingredients that support growers and farmers, so we feel good about the value we're getting and supporting. The items are priced individually and the smallest size box order has to contain 9 items and can be as large as 26 items. Prices range from $5.99 for lattes to $11.99 for harvest bakes. This cost is reasonable for the high-quality meals you get, but it may feel high for families on a strict food budget since you buy them by a box full at a time, meaning the upfront cost can feel high.
Did the food taste good?
One thing that set Daily Harvest so far apart from other frozen meals was the delicious flavors they capture. While we all had our favorites, nothing we tried was subpar and we've always been impressed with the seasonings and combinations. 
The ingredients come from more than 185 different crops worldwide. We love all the vitamins and minerals in each serving. Everything in the meal kits is harvested at peak ripeness and frozen right away (usually within 24 hours). You can seriously taste the freshness (and no, they didn't ask us to say that!).
They work with in-house chefs too, so the recipes are innovative and unique. Recipes include yummy flavor combinations like Cold Brew + Roasted Espresso Bean Chip scoops to Dragonfruit + Lychee smoothies and savory Roasted Eggplant + Red Pepper Caponata harvest bowls. We're getting hungry just talking about it. 
How was the quality of the food?
Daily Harvest works directly with its farmers to grow the best produce harvested at peak ripeness and frozen right at the source to lock in flavor and nutrients. 
Here are some examples of how that makes a difference:
Cauliflower – since it is frozen the day it is harvested, it locks in 50% more antioxidants than cauliflower does at three days post-harvest
Blueberries – those frozen on the day of harvest have 200% more vitamin C than blueberries do at three days after harvest
Strawberries – picked and frozen the same day of harvest, the DH strawberries contain 35% more beta carotene than those eaten or frozen only three days after harvest
Figs – DH works with a 3rd generation farmers to create a one-of-a-kind fig with a richer flavor and more nutrients 
Our Daily Harvest meals all looked and tasted as high-quality as they were promoted to be. We thought that was pretty impressive!
Here's How Easy Daily Harvest Meals Were To Prepare
The meals from Daily Harvest are unbelievably easy to prepare. Most of the time, you can just pop them in the microwave if you don't have time to cook them on the stove.
They're also easy to store. As soon as they get delivered, you just stick them in the freezer.
How long do Daily Harvest meals last in the freezer? Your Daily Harvest meals should last for about 3 months in the freezer, but we doubt they'll be around that long.
Let's look at how our experience prepping our Daily Harvest meals. 
Daily Harvest Smoothie
The Daily Harvest smoothie is what started it all. With just a blender and the fresh real foods, you have a quick, balanced pick-me-up ready to consume. Stacie especially enjoyed these as quick and convenient energy while breastfeeding.
The ingredients in Daily Harvest smoothies are meticulously sourced and never include gums, preservatives, or anything artificial. The Mint + Cacao Smoothie (a team favorite, shown here) is made from banana, spinach, cacao, cashew, chlorella, and peppermint. 
These ingredients combine for an incredibly delicious smoothie packed with vitamins, healthy fats, and antioxidants, plus no added sugars. Feel free to add a scoop of your favorite protein powder to have a substantial smoothie meal.
Click here for our dietitian-recommended whey protein powders. Looking for a plant-based protein powder? Check out this article for our top plant-based protein powder recommendations.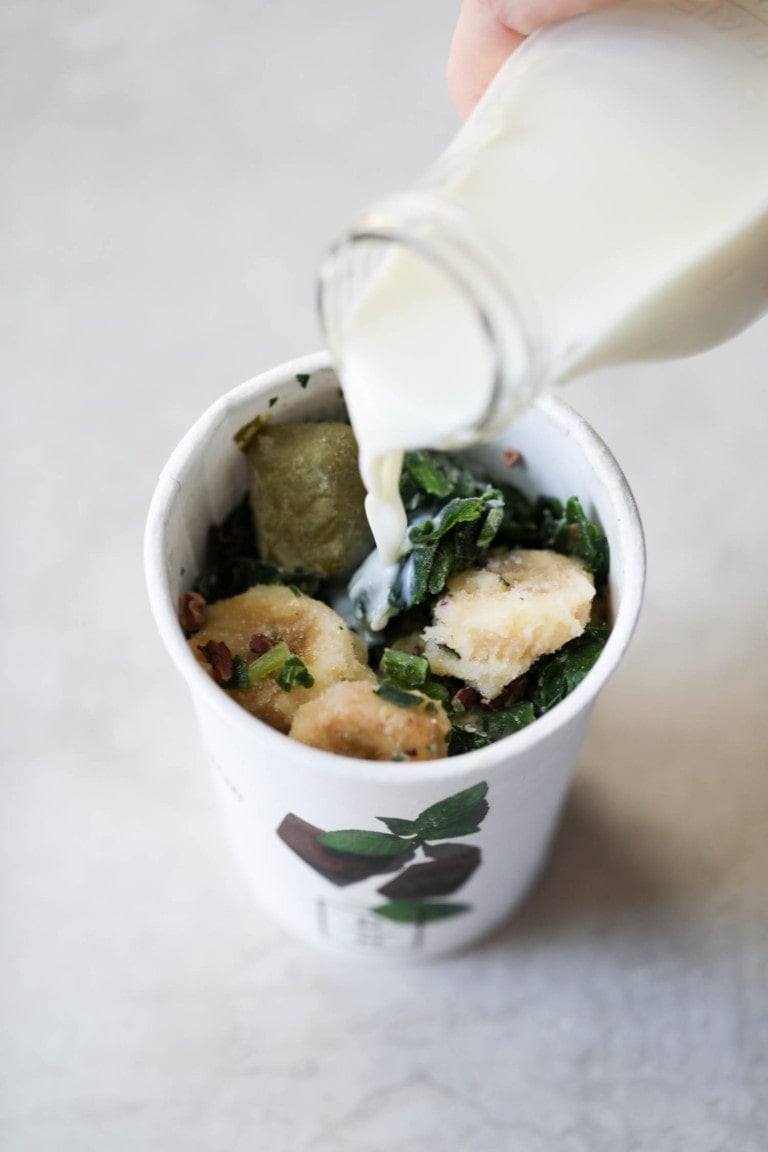 Forager Bowls
The oat bowls (one type of the now "forager bowls") are some of our favorite offerings from Daily Harvest. We all found them to be filling and delicious with great texture right out of the microwave. 
To make an oat bowl, simply add ½ up of dairy or non-dairy milk or water directly to the frozen ingredients. Microwave directly in the 100% compostable container for 90 seconds, stir, then microwave for 90 seconds more.
You can also make their oat bowls cold as overnight oats! The ingredients in the Apple + Cinnamon Oat Bowl (shown here, perfect for a cozy morning) are oats, apples, cauliflower, walnuts, pumpkin seeds, and cinnamon.
Harvest Bowls
Harvest Bowls are such a fast and convenient way to eat a veggie-filled, plant-based meal. They save you from having to source and prep a lot of different food. 
To make one, add the contents of the bowl to a skillet with 1 to 2 tablespoons of water; heat and stir for 4-5 minutes. You can cook it directly in its compostable container in a microwave (no liquid needed) for a one-bowl meal ready in 5 minutes.
The bowls are 100% microwavable and compostable so no clean-up is needed! The Sweet Potato + Wild Rice Hash Harvest Bowl (one of Stacie's favorites, shown here) is made from tomato, wild rice, sweet potato, Great Northern beans, avocado, and maitake mushrooms.
Round it out
All Daily Harvest foods are 100% plant-based, gluten-free, and dairy-free. We like to add sliced and cooked chicken, crumbled ground beef or pork, cooked shrimp, or a cooked egg when we need more protein.
Flatbread
The gluten-free flatbreads are an addition to the Daily Harvest collection that we're so excited about. They have all veggie toppings, including the sauce, and broccoli, cauliflower, or sweet potato crusts. The flatbreads bake up tender at the center and crunchy at the edge. 
To make one, toast the flatbread in a 450-degree oven or toaster oven for 20 to 25 minutes. Here we show the Kale + Sweet Potato Flatbread that features sweet potato, red cabbage, kale, cauliflower, spinach, and coriander.
An eggcellent Topper
We've gotten into the habit of topping the Daily Harvest flatbreads with a hard-boiled, soft-boiled, or fried egg. The flavor pairs well with each of the flatbreads and ups the protein. We've been known to enjoy this combo for breakfast, lunch, and dinner.
Daily Harvest Bites
The Daily Harvest Bites are ready-to-enjoy snacks made from superfoods that you can eat right out of the freezer. They are similar to our nutrient-dense energy bites and bars, always made with 100% real-food ingredients, only they're already made for you. 
One of Jessica's favorites is the Cacao Nib + Vanilla Bites shown here. We love that they're made from real and whole foods, including chickpea, coconut, cacao, kabocha squash, maca, and vanilla bean.
daily harvest scoops
Think of ice cream, but made entirely from plant-based ingredients. The Daily Harvest Scoops collection is a non-dairy treat that tastes so good directly from the freezer. Let it thaw at room temp a few minutes before scooping it into a bowl (or spooning right from the container).
We love the that ingredients in the Scoops are shown right on the front of the container. The two flavors shown here are the Strawberry + Rich, Rippled Berry Compote (featuring coconut, strawberry, dragon fruit, raspberry, vanilla bean, and a probiotic). And Chocolate + Ooey, Gooey Midnight Fudge (made from coconut, maple, cacao, avocado, pine pollen, and vanilla).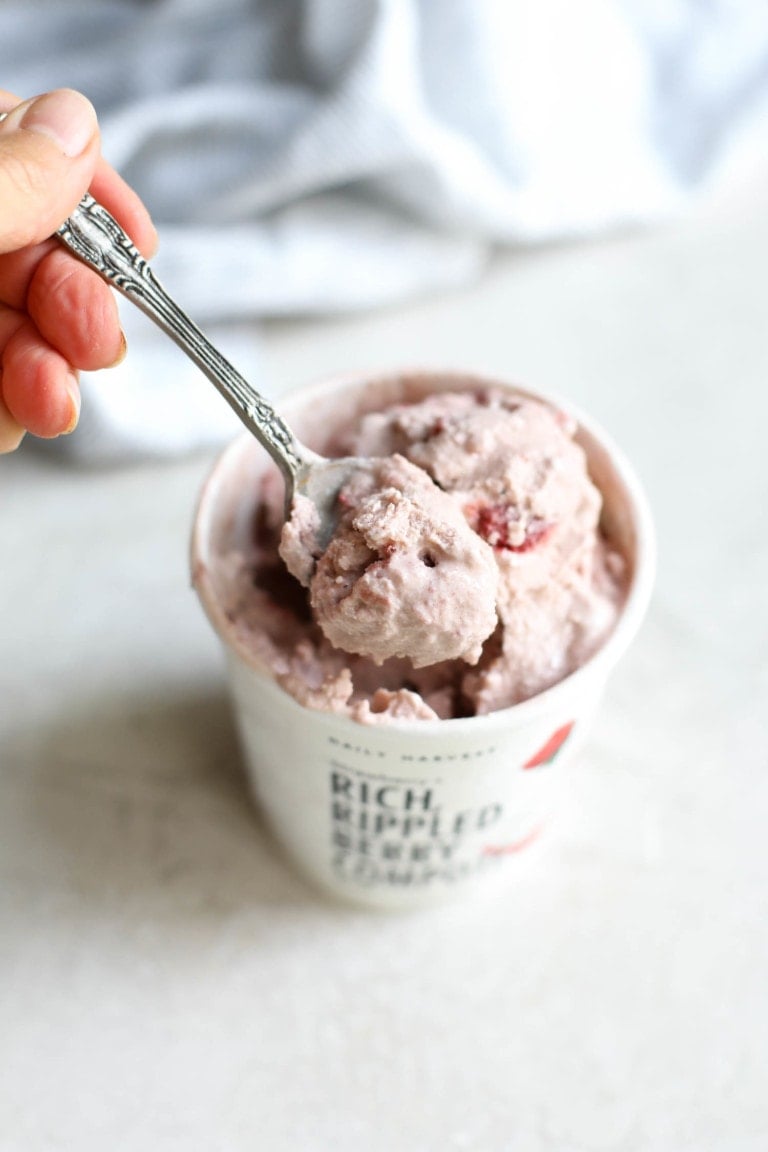 How expensive is Daily Harvest?
Daily Harvest costs range from $5.99 to $11.99 per item. You can choose to select how many items are delivered per box. Boxes are delivered weekly or monthly, and you can pause your plan or skip a week at any time (without being charged during the pause).
Is Daily Harvest worth it? The three of us think the Daily Harvest nutrition and ease were well worth the price. When you order more items, you'll save more. While it can feel like a large cost up front, the ease of the preparation, sustainable sourcing, quality ingredients, eco-friendly packaging, and tasty meals make it worth it for us.
The DH ingredient list combines fruits and veggies to provide diverse nutrients. We wholeheartedly give these products our dietitians' thumbs up. 
The Signup Process
To sign up for Daily Harvest, just click here, then submit your zip code and email. 
Choose your plan:
Small — 9 items
Medium — 14 items
Large — 24 items 
Then just start filling your box with healthy food options. 
Oh, and did we mention that you can use coupon code EATREALFOOD for up to $40 off your first box?
How hard is it to cancel Daily Harvest? Daily Harvest is simple to cancel online and can be stopped, skipped, or paused at any time. 
Delivery & Packaging
You have to make your selections by Sunday night to get your deliveries for the week, but don't worry — you can get text reminders to place your order or skip that week. Once you make your choices, you'll get a scheduled delivery date with tracking information.
When we got our Daily Harvest boxes, we weren't expecting them to be as big are they were! We were delighted to find out that almost all of the packaging was recyclable or compostable.
Tip!
Be Prepared for Dry Ice
DH uses dry ice in plastic bags instead of ice packs to ship, so be aware that you'll need to let that sit out on the counter for a few hours to evaporate. Dry ice should NOT be touched or placed directly on tiled or solid surfaces.
Let's Talk About the Daily Harvest Mission
Daily Harvest makes eating fruits and vegetables easier for everyone. This female-founded company strives to be sustainable and support better food systems. They advocate for regenerative farming and empower biodiverse crops and organic farmers.
While we love their food on its own, knowing what they're about made us all the more eager to give them a try.
Is Daily Harvest organic? Almost all the food Daily Harvest provides is organic. Individual product labels will list organic items (i.e. "organic Brussels sprouts" vs just "Brussels sprouts"). The company started a partnership with American Farmland Trust and California Certified Organic Farmers that helps underserved farmers transition to organic and regenerative farming.
Voluntary Daily Harvest Recall
Daily Harvest made an effort to reach out to customers that purchased their French Lentil and Leek Crumbles in 2022 when reports of severe illness began to pour in. They voluntarily recalled their products until the culprit ingredient was pinpointed, offering compensation to those who'd purchased that item. 
Both the FDA and Daily Harvest conducted investigations. They separately tested products for several bacteria, yeasts and molds, allergens, and aflatoxin. All tests came back negative. 
The FDA investigated individual ingredients and found that the tara flour used contained toxic metals. At the end of the investigations, the FDA suggested the tara powder was the cause of the illnesses, but to quote the report, "a definitive source or single point of contamination was not identified."
During the process, founder and CEO Rachel Drori kept customers updated on the ongoing investigation on the Daily Harvest website. (We love the transparency displayed here.)
Who should try Daily Harvest?
We think anyone who needs more healthful and convenient meal solutions should give Daily Harvest a try.
Daily Harvest is a great way to increase your plant-based food intake. It's also a great way to explore new foods and flavors, because their menu uses over 185 unique crops.
Thinking about trying No-Meat November? Daily Harvest is a great way to dive right into ditching meat.
Is Daily Harvest a good way to lose weight? If your personal goals are to lose weight, Daily Harvest meals could be a good option for convenient and nutritious meals. Many of the meals are about 400 calories or less per serving. Depending on your unique needs and goals, we recommend checking the nutrition information for each food when making your selections.
We know some people have dietary preferences, restrictions, and requirements that may prevent them from being able to enjoy the meals from Daily Harvest. People who enjoy meat and dairy products can enjoy these meals, but they may want to supplement some of the options with more protein.
DH is committed to freezing its ingredients at peak ripeness, meaning its recipes and offerings will change with the seasons. While this is a huge bonus for us, if you aren't a fan of changing up your meals every season, this may not be the right fit for you. 
Daily Harvest Alternatives
There are plenty of meal services available these days, but not many that are as yummy, nutritious, and plant-based as Daily Harvest. Alternatives to Daily Harvest that are also plant-centric include:
Splendid Spoon
Mosaic Foods
Purple Carrot
As more people are eating vegan and vegetarian diets, many familiar meal delivery services are adding options and menus for meatless eaters. We have not used these other services consistently, and therefore cannot provide an opinion on the quality of those options.
When you order more, you save more. We think this is a great deal for such high-quality, nutritious, done-for-you foods you can enjoy within minutes! And you can get up to $40 off your first box with our code REALFOOD40.
All photos and content are copyright protected. Please do not use our photos without prior written permission.  Thank you!