These are the best breakfast potatoes you will ever eat. Perfectly cooked on the inside and crunchy on the outside. Make a big batch of breakfast potatoes and enjoy!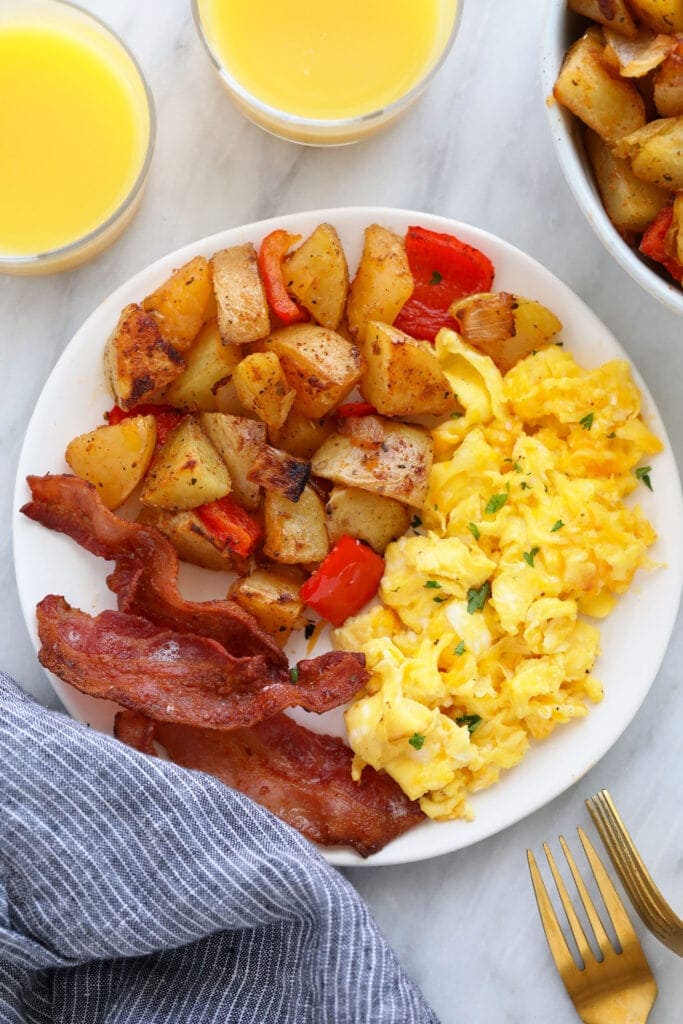 Red potatoes, Idaho potatoes, sweet potatoes, russet potatoes, the options are endless when it comes to TATERS. There are so many different types of potatoes and so many ways to prepare them. Here on FFF we have potatoes prepared almost every single way:
As you can see, we big believers that you can serve potatoes with every single meal. But today, we're here to share our go to breakfast tater recipe. Let's get into it, shall we?!
Our Go-To Breakfast Potatoes
Honestly, if I could eat breakfast potatoes for every meal of the day, I totally would! They are great with an egg on top, mixed with vegetables, and you can season them any way that you would like!
You'll absolutely love this breakfast potatoes recipe — it truly is our go-to!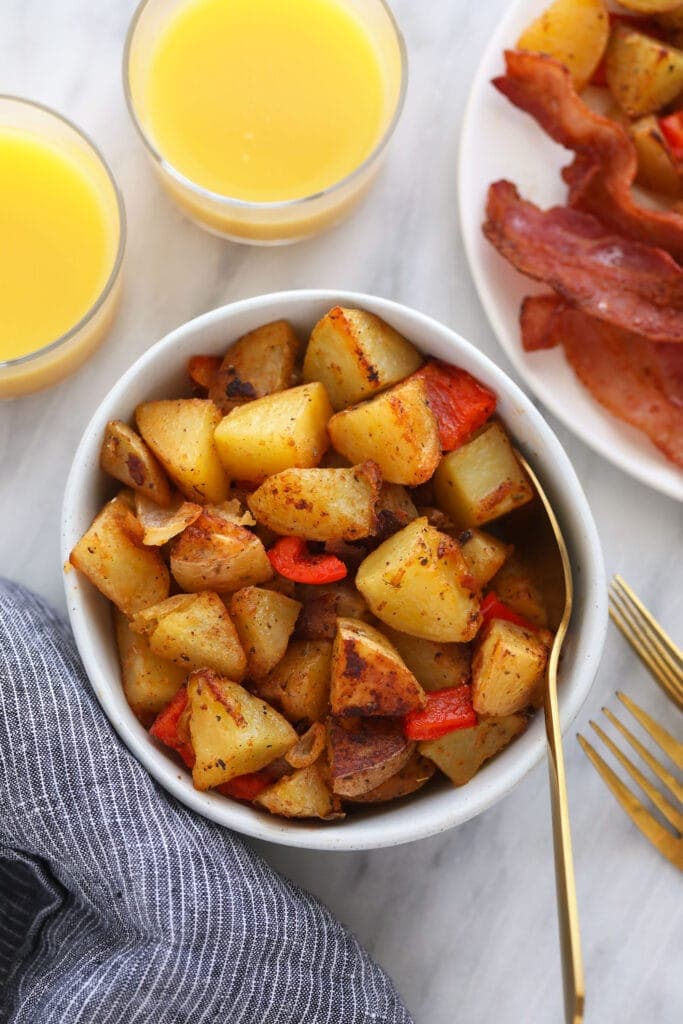 The Key to the Best Breakfast Potatoes
The key to getting potatoes that are crispy on the outside and perfectly cooked on the inside is baking them at a higher temperature, flipping them part way through, and finishing them off with a broil. My mouth is salivating just typing this.
Breakfast Potato Ingredients
Though breakfast potatoes are pretty simple to make, having the right ingredients on hand and understanding how to use those ingredients is so important to get the perfect crispy breakfast potato. You'll need:
The Potato: We used Idaho potatoes because they are a bit softer in the middle and we absolutely love them. Feel free to use red potatoes, sweet potatoes, or fingerling potatoes — any tater you have on hand will taste great.
The key (no matter which potato variety you use), is to cut them small enough that they will cook all the way through!
+ bell pepper & onion: We also sliced up a red bell pepper and white onion to pair with these breakfast potatoes. This flavor combo can't be beat!
The Seasoning: The last thing you want is a bland batch of breakfast potatoes. We used a combination of Italian seasoning + garlic powder + paprika + salt and pepper, but, feel free to use whatever spice mix you would like. We like to make sure that breakfast potatoes are fully coated with spices, not only for flavor but for crunch too!
The Oil: Don't be scared of the amount of oil you use! Making sure each potato is coated with whatever oil you use is crucial to a golden brown crispy breakfast potato. We love using olive oil for our breakfast potatoes, however, feel free to use your favorite oil!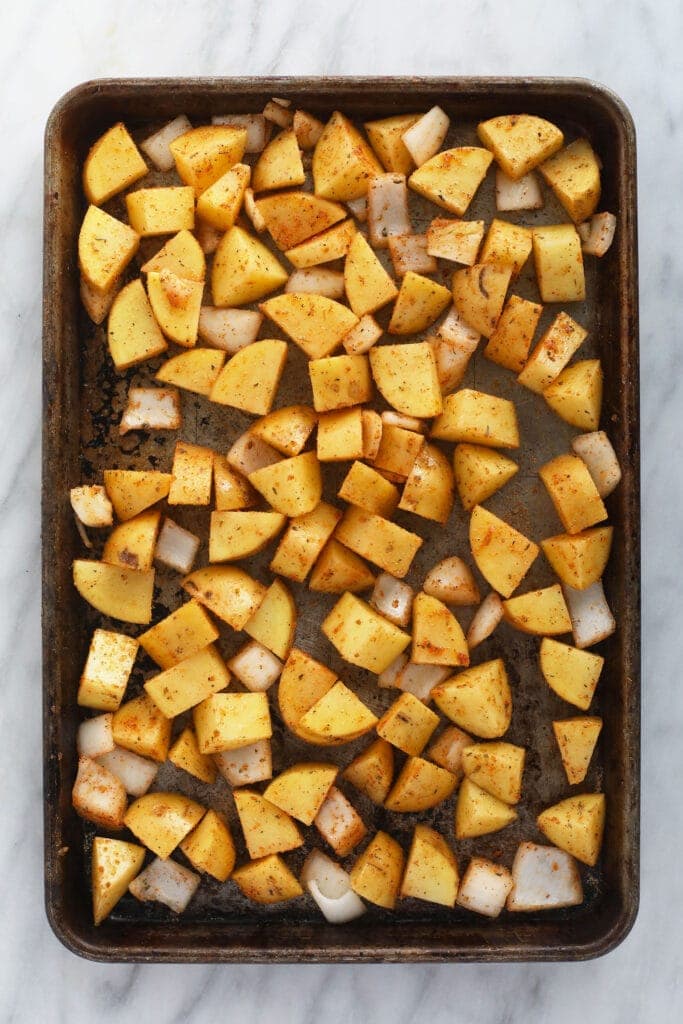 How to Serve Breakfast Potatoes
Serve these breakfast potatoes with any of the following breakfast recipes we have on Fit Foodie Finds:
Storage Instructions
Store these breakfast potatoes in an air-tight container in the fridge for 5-7 days. Because they can last up to a week in the fridge, this tater recipe is GREAT for meal prep. Double or triple your batch of breakfast potatoes to enjoy throughout the week.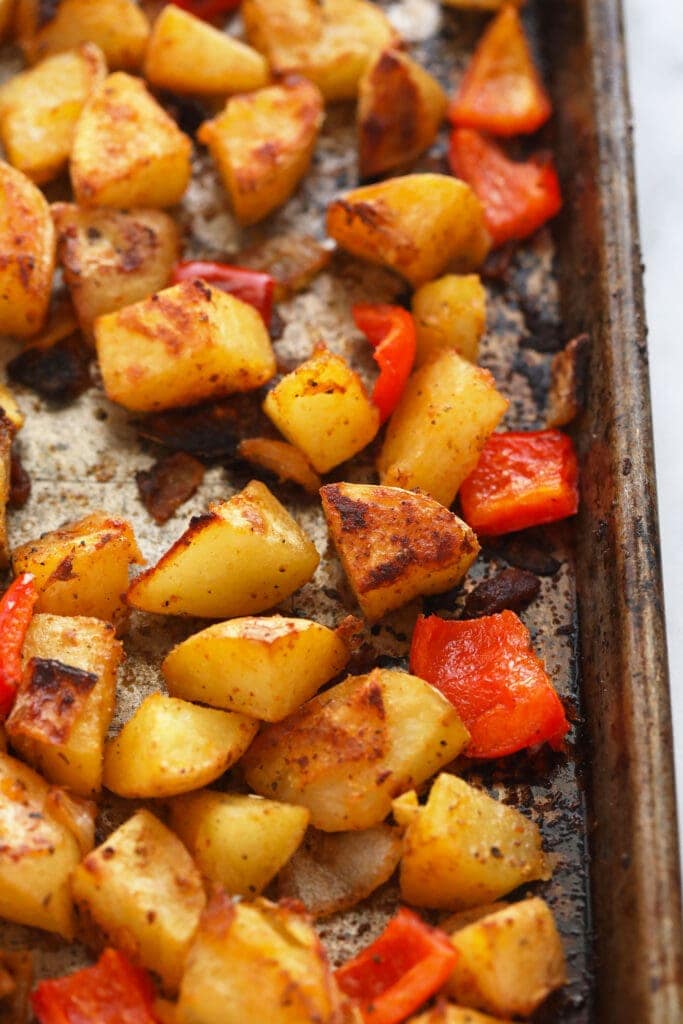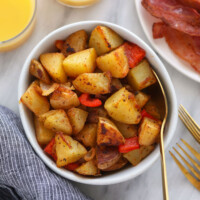 The Best Breakfast Potatoes
These are the best breakfast potatoes you will ever eat. Perfectly cooked on the inside and crunchy on the outside. Make a big batch of breakfast potatoes and enjoy!
Prep: 5 minsCook: 25 minsTotal: 30 minutes
Fat 5 Carbs 21 Protein 3
Yield 4–6 1x
Ingredients
Breakfast Potatoes
4

medium/large Idaho potatoes, diced into

1

-inch chunks

1/2

large white onion, diced

1

large red pepper, diced

2 tablespoons

olive oil
Seasoning
1/2 tablespoon

garlic powder

1/4 teaspoon

paprika

1/4 teaspoon

salt

1/4 teaspoon

ground pepper

1/2 teaspoon

Italian seasoning
Instructions
First, preheat the oven to 400ºF.
Next, prepare veggies by dicing potatoes into 1-inch chunks and dicing the white onion and red pepper into 1/2-inch chunks. Transfer potatoes and onion onto a baking sheet and set red pepper aside.
Generously drizzle potatoes with olive oil and toss, making sure the veggies are coated.
Next, mix together the potato seasoning in a small bowl. Evenly sprinkle seasoning over the potatoes and onion and toss to coat.
Roast at 400ºF for 20 minutes. Remove from the oven and add the red pepper and toss everything together.
Place back into the oven and roast for 15 more minutes. Remove from the oven and pierce your potatoes with a fork. They should be almost done. If they're still hard, put them back in for 5-10 more minutes. If they're almost fully cooked, broil breakfast potatoes for around 2-5 minutes (depending on your broiler) to get them extra crispy.
Nutrition Facts
Serving Size: 1/6 Calories: 131 Sugar: 2 Sodium: 99 Fat: 5 Carbohydrates: 21 Fiber: 2 Protein: 3 Cholesterol: 0
Author: Lee HershCategory: BreakfastMethod: OvenCuisine: AmericanDiet: Gluten Free
Keywords: breakfast potatoes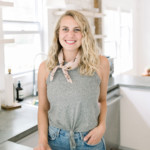 Lee is the founder of Fit Foodie Finds and based in Minneapolis, MN. She started this website in 2010 as a way to share her love for real food and wellness.