The most flavorful Coconut Curry Chicken made with Thai green curry, full-fat coconut milk, and fresh lime juice!
If you love chicken in the crockpot, you'll love our crockpot chicken chili, crockpot salsa chicken, and crockpot honey garlic chicken, too!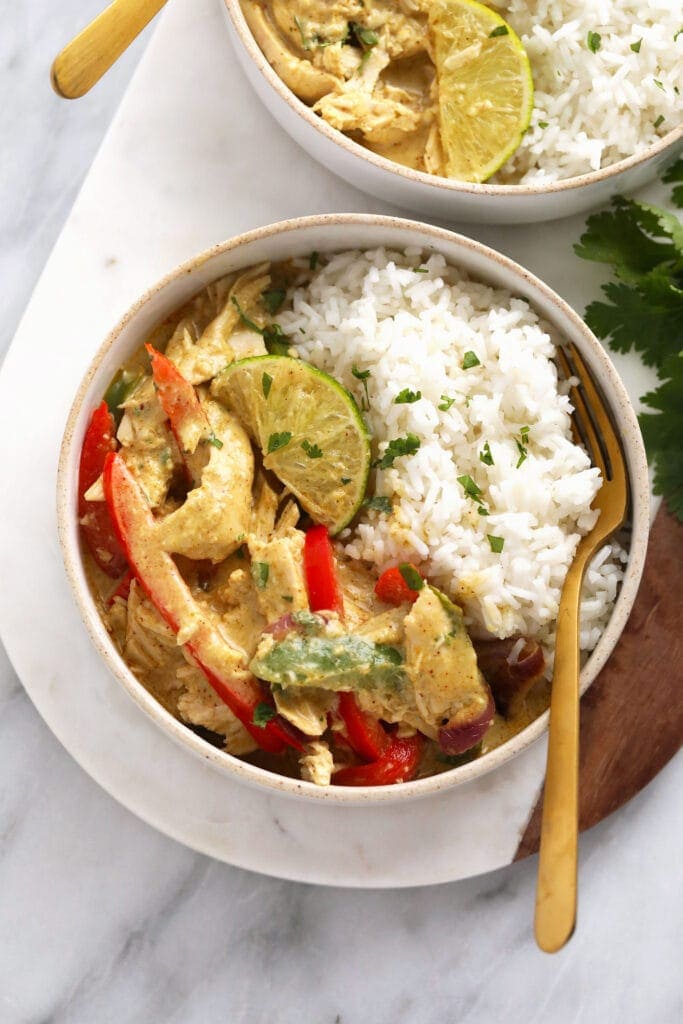 Best Coconut Curry Chicken!
This recipe is made in the slow cooker because that's what us Minnesota girls do with green curry paste and full-fat coconut milk.
Literally, all you have to do is mix a delicious coconut curry sauce into the slow cooker, throw in your chicken, and then shred it for a delicious and easy meal!
We are all about shredded chicken recipes that make life easy. Our shredded chicken tacos are a go-to recipe for so many people! We love shredded chicken in the Instant Pot, in the oven, or in a slow cooker just like this coconut curry chicken recipe.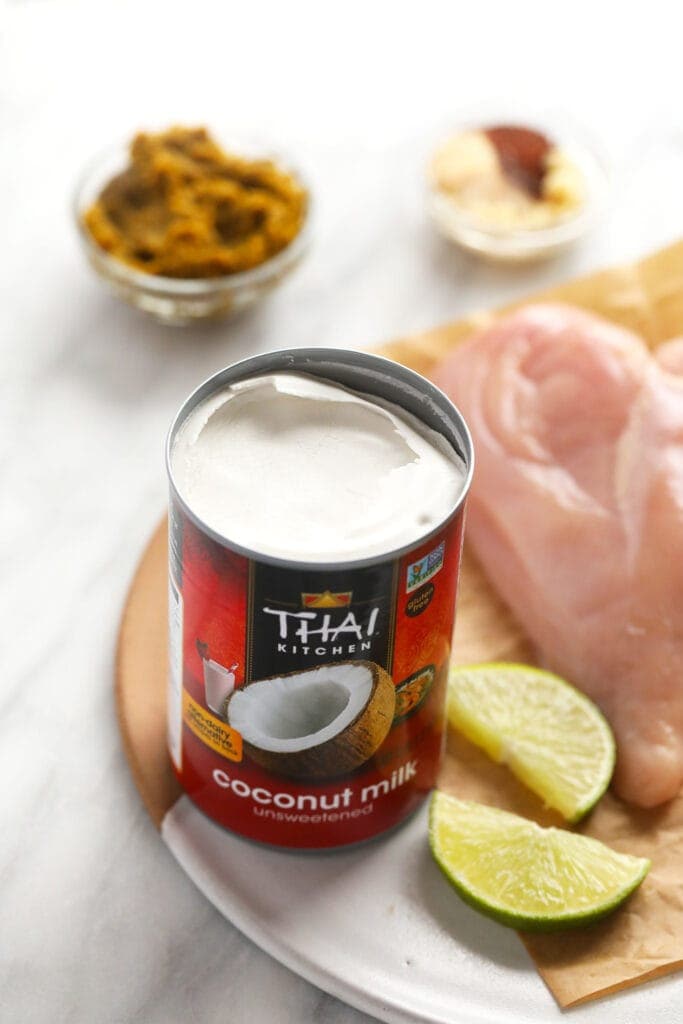 Key Ingredients
I highlighted green curry paste and full-fat coconut milk above and wanted to mention that I use the brand Thai Kitchen because it's the easiest to find and what I love most!
As for the coconut milk, If you follow one thing in this recipe, please use full-fat coconut milk. The flavor is so much better than that lite stuff and I highly recommend it.
Other Ingredients You Need
Chicken breast– we suggest using boneless, skinless chicken breasts in this recipe!
Thai Green curry paste – you can find curry paste in the global cuisine isle in the grocery store. We love the green curry paste in this recipe, but if you only have red curry past that will work, too!
Minced garlic– use fresh minced garlic or pre-minced garlic to add depth to your curry sauce.
Garlic powder– we use both fresh garlic and garlic powder in this recipe!
Salt– don't you skip the salt, it enhances all the flavors in this recipe.
Chili powder– a little chili powder in this recipe compliments the curry chili paste and all of it's wonderful flavors.
Thai basil or cilantro– serving this recipe with fresh Thai basil or cilantro is the way to go!
Fresh lime juice– adding fresh lime juice to the chili sauce adds so much brightness to this recipe.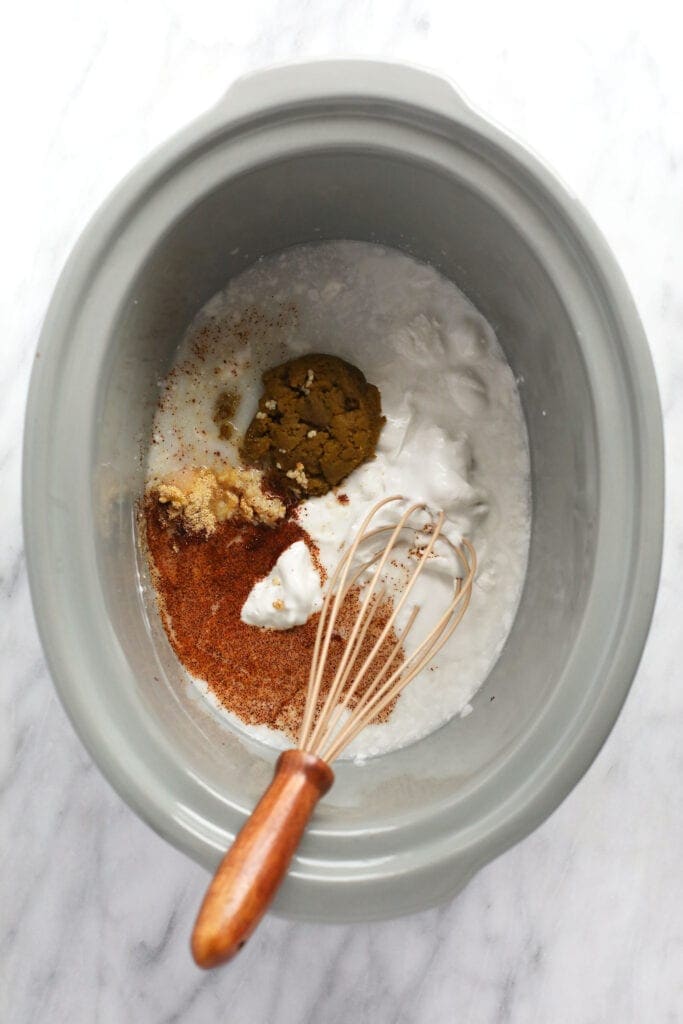 How to Make Coconut Curry Chicken in the Slow Cooker
When we say this coconut curry chicken is easy, we mean easy! Here are the few steps that it takes to make the slow cooker coconut curry chicken and then a few steps on how to prepare some veggies to serve with it.
Mix the sauce: add the coconut milk, curry paste, garlic, garlic powder, chili powder, and salt to the slow cooker and mix everything together until the sauce is smooth.
Add the chicken: Once the sauce is combined add the chicken breasts to the slow cooker and make sure the chicken is submerged in the sauce.
Cook everything together: Cook everything together on high for 2-4 hours or on low for 6-8 hours.
Prep the veggies: While the chicken is cooking sauté the onion and peppers together in coconut oil for 5 minutes.
Shred the chicken: When the chicken reaches an internal temperature of 165ºF, remove the chicken from the slow cooker and shred the chicken with two forks.
Mix everything together: Add the shredded chicken and pepper mixture back into the slow cooker and mix everything together until the chicken and peppers are coated in coconut curry sauce.
another option
Feel free to keep the peppers and onions separate from the chicken and just serve them next to your coconut curry chicken.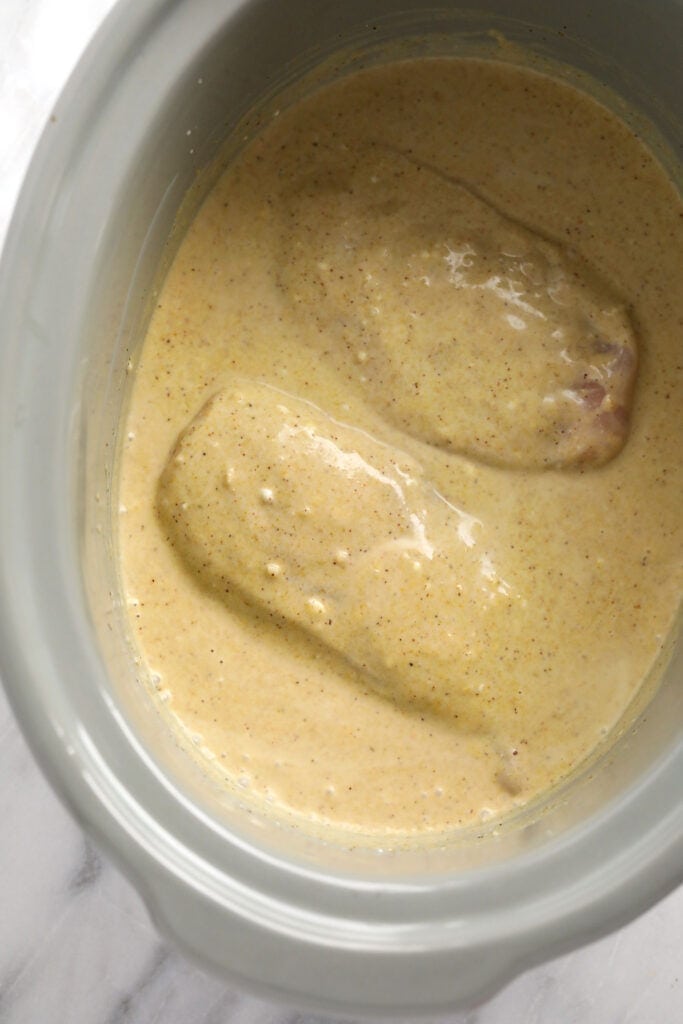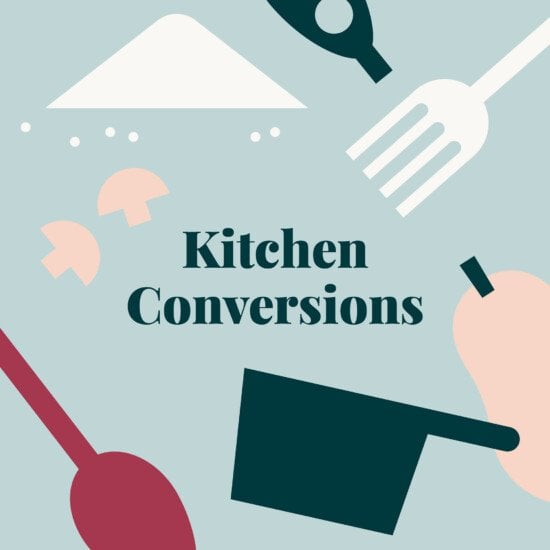 make it easy
Print Your Own
Keep common kitchen conversions like tablespoons to teaspoons and Fahrenheit to Celsius on hand at all times with our printable kitchen conversions chart.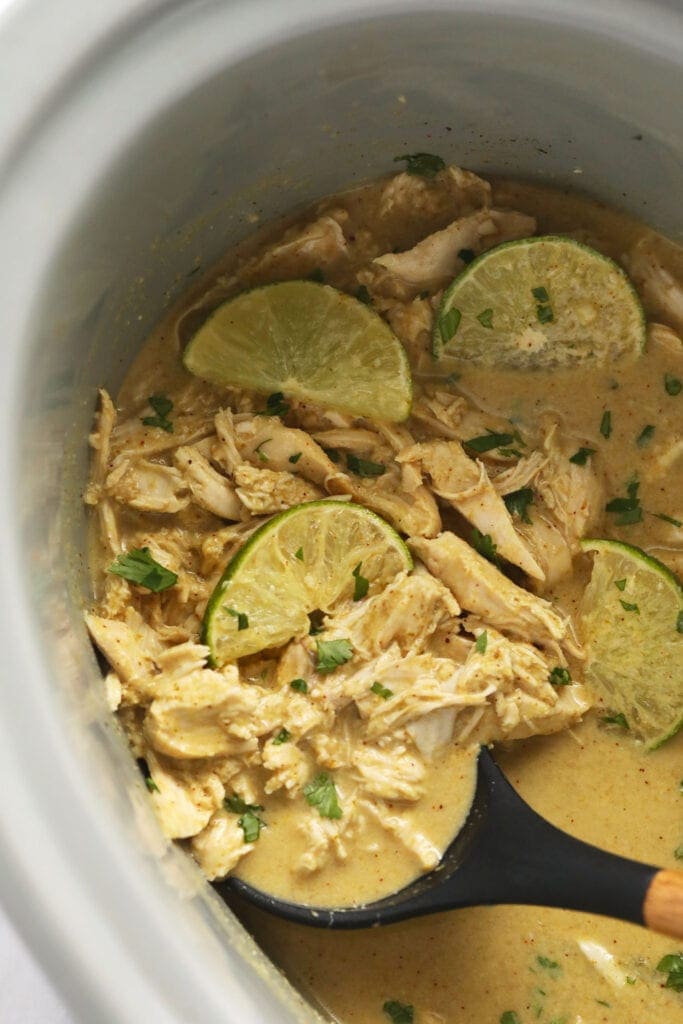 Serving Suggestions
In addition to the slow cooker coconut curry chicken, we also cooked up some lightly sautéed onions and peppers and a side of brown rice.
Don't forget to give a lime wedge a big squeeze at the end because it really makes the flavor of this recipe.
You'll notice that we opted to serve this deliciousness with brown rice, but if you're looking to make this a full-on keto chicken recipe or paleo meal, I suggest serving this coconut chicken curry next to…
Cauliflower rice
Mixed greens
Riced broccoli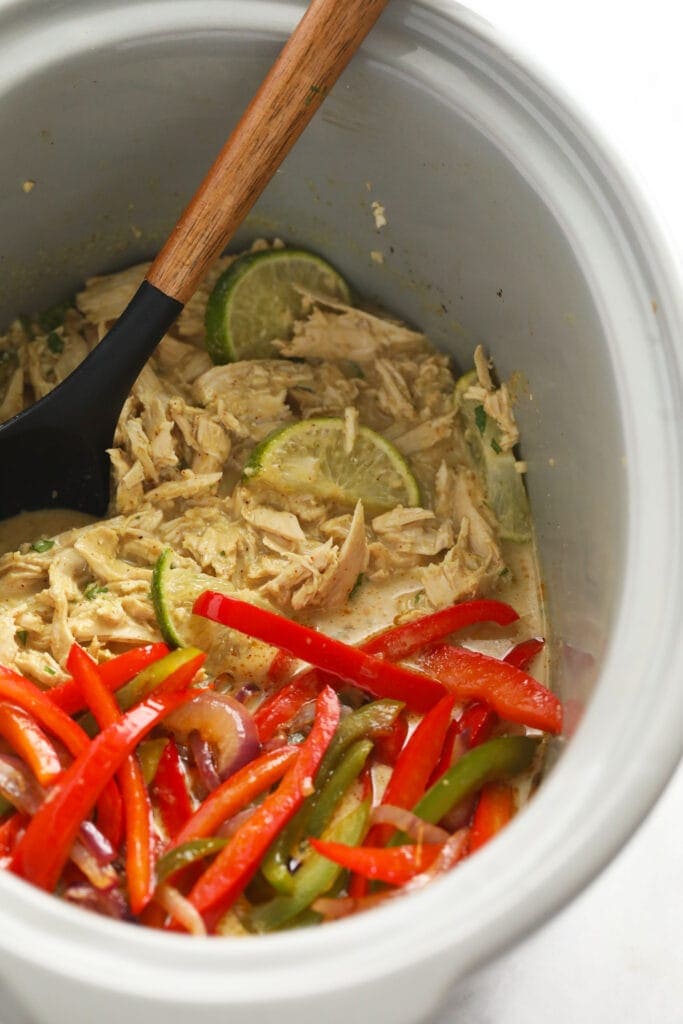 Coconut Curry Chicken Q&A
Can you make coconut curry chicken in the Instant Pot?
Yes! Follow our Instant Pot Shredded Chicken and then turn on the sauté feature of your Instant Pot and add the rest of the ingredients to the instant pot, mix everything together, and sauté all the ingredients together until everything is heated!
What do you eat with curry chicken?
Typically curry chicken is eaten with basmati rice and some kind of stir-fried vegetable.
Is coconut curry good for you?
Coconut curry is high in protein and healthy fats, so the short answer is yes!
Can I use coconut cream instead of coconut milk?
You can use either coconut cream or full-fat coconut milk to make this coconut curry chicken. We do not recommend low fat coconut milk.
Can you put raw chicken in a slow cooker or should you brown the chicken before putting in slow cooker?
You can put raw chicken in the slow cooker so there is no need to brown it. Just make sure your chicken is fully thawed.
Will coconut milk split in a slow cooker?
Since the slow cooker heats the coconut milk, it will not split once turned on. It will actually melt into a liquid.
Can you use curry powder instead of paste?
We do not recommend using curry powder in this recipe because it calls for green curry paste which is a Thai-inspired product.
Storage
Let the coconut curry chicken cool completely and then place it in an air tight container for up to 5 days.
Can you freeze coconut curry chicken?
To freeze coconut curry chicken, let it cool completely. Then, transfer it into a freezer-safe gallon-size bag and remove as much air as possible. Seal and freeze for up to 3 months.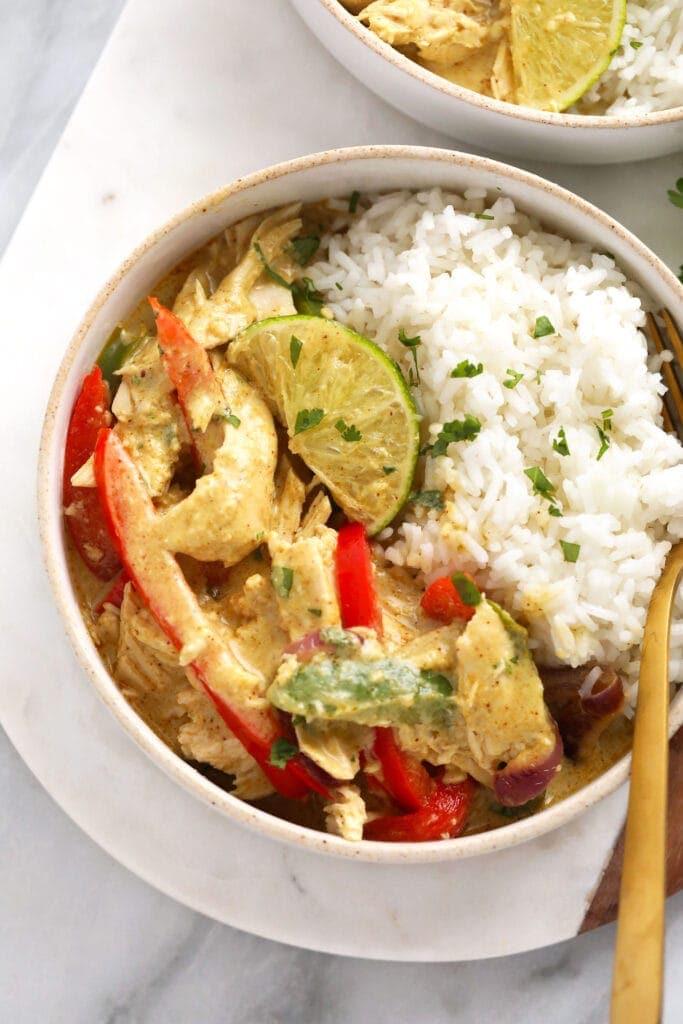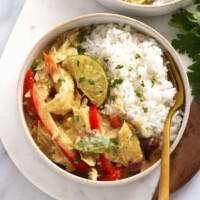 Coconut Curry Chicken (Slow Cooker)
Prep your lunch or dinner for an entire week with our amazing crockpot curry chicken! This slow cooker coconut curry chicken is made with chicken breast, full-fat coconut milk, green curry paste, and a squeeze of lime. 
Prep: 25 minutesCook: 6 hoursTotal: 6 hours 25 minutes
Fat 26 Carbs 8 Protein 43
Yield 4 1x
Ingredients
Crockpot Curry Chicken
Peppers and Onions
1

large green pepper, sliced

1

large red pepper, sliced

1/2

medium red onion, sliced

1 tablespoon

coconut oil

1/8 teaspoon

salt

1/8 teaspoon

ground pepper
Instructions
Place the minced garlic, coconut milk, curry paste, garlic powder, salt, and chili powder into the slow cooker and whisk everything together until combined.
Submerge the chicken breast in the sauce, making sure that both sides get coated.
Cover the slow cooker and cook on

low for 6-8 hours (recommended)
high for 2-4 hours

When there are about 20 minutes left of cook time for the chicken, prepare the peppers and onions.
Heat coconut oil in a large skillet over medium/high heat.
Then, add the sliced veggies and sauté for about 5 minutes, just enough to flash fry them so they aren't soggy. Season with salt and pepper. Remove from heat.
Once the chicken has cooked all the way through and has an internal temperature of 165ºF, remove and shred chicken with 2 forks.
Place the shredded chicken back into slow cooker with the sauce and mix. Add the cooked peppers and onions and fresh lime juice to the slow cooker and toss everything together.
Serve with Thai basil or cilantro with your favorite grain.
Tips & Notes
The slower and lower you cook your chicken, the more tender it will be.
Nutrition does not include the rice.
The method of this recipe was updated on March 16, 2021. The chicken used to be cooked by itself in the slow cooker, but we have updated it to cook in the sauce so that it's much more tender and flavorful. New photos were also added. 
Nutrition Facts
Serving Size: 1/4 Calories: 455 Sugar: 4 Fat: 26 Carbohydrates: 8 Fiber: 2 Protein: 43
Author: Lee FunkeCategory: ChickenMethod: Slow CookerCuisine: ThaiDiet: Gluten Free
Keywords: coconut curry chicken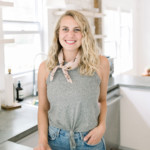 Lee is the founder of Fit Foodie Finds and based in Minneapolis, MN. She started this website in 2010 as a way to share her love for real food and wellness.