These stuffed avocado boats are packed with salmon salad that is made with canned salmon, fresh herbs, lemon juice, and other fresh ingredients. It's a perfect high protein snack or lunch!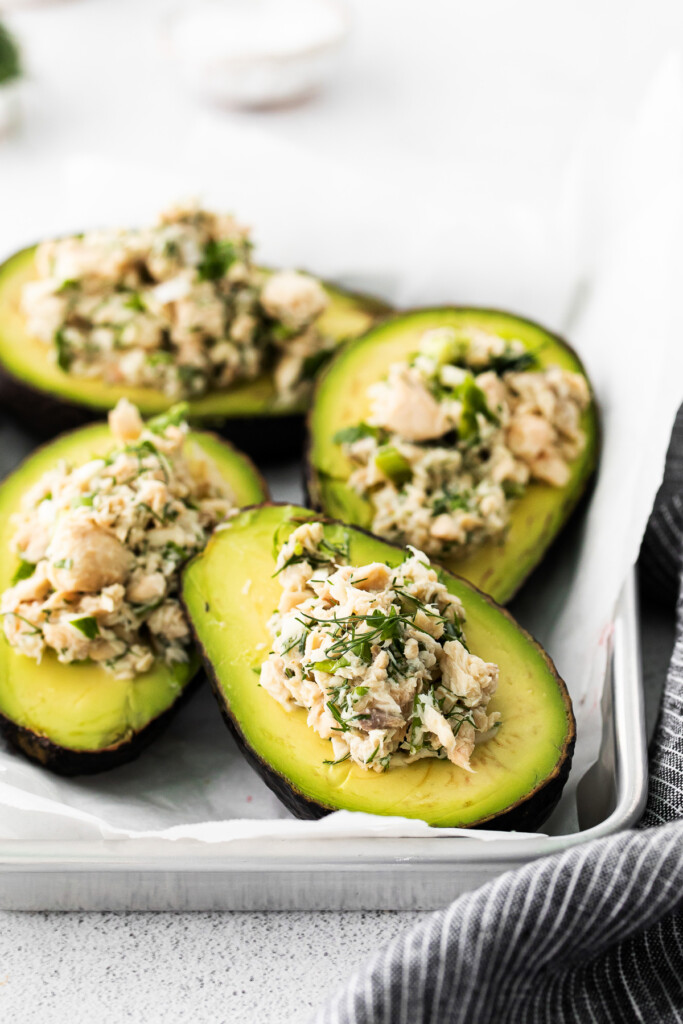 Stuffed Avocados
One of our go-to simple lunch and snack recipes are these stuffed avocado! These bad boys are ready in 10 minutes and make the perfect quick, protein packed snack.
reasons we love this recipe
It is a great make ahead recipe! You can make the salmon salad and serve it with a fresh avocado all week.
This recipe packs 18 grams of protein per serving.
It is unbelievably fresh!
These stuffed avocados are stuffed with a flavorful salmon salad that you just can't beat!
Ingredients You Need
Avocados- find yourself ripe avocados that will be easy to cut!
Canned Salmon- we use a lower sodium canned salmon so that we can have control over how much salt we add to our salmon salad. Feel free to use whatever canned salmon that you'd like.
Fresh herbs (parsley, dill, and green onions)- to add the fresh and delicious flavor to the salmon salad we added fresh herbs! Don't skip this ingredient.
Garlic– garlic makes everything better!
Lemon juice– this is another ingredient that freshens up these stuffed avocados and adds the perfect amount of brightness.
Olive oil– the olive oil binds everything together. Feel free to substitute with any oil of you choice.
Apple cider vinegar– a little vinegar goes a long way and compliments fish recipes!
Salt– the salt in this recipe enhances all of the delicious flavors in these stuffed avocados.
Cayenne Pepper– the cayenne pepper is an optional ingredient for those of you who like to spice things up.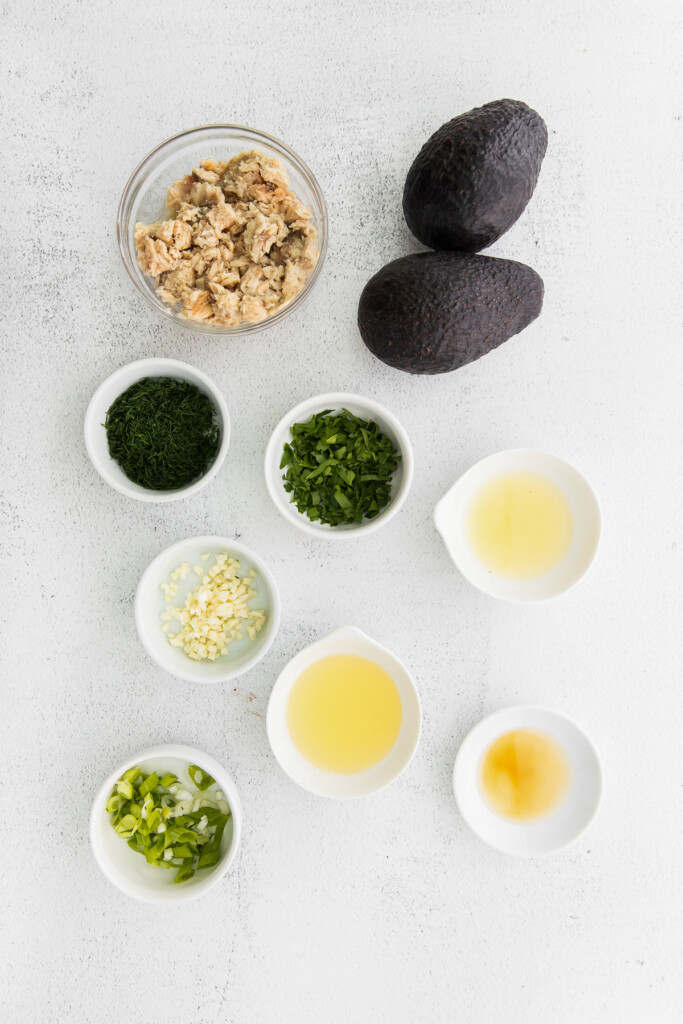 How to Cut an Avocado
The most time consuming part of making these stuffed avocados is cutting the avocado. Here are a few tips on how to cut an avocado the easiest and safest way.
Make sure you have a very sharp knife. A dull knife can be dangerous. If the knife gets stuck in the avocado it may cause you to have to yank the knife from the avocado and lose control.
Add a layer between your hand and the knife. Place a kitchen towel in your hands before cutting the avocado so the avocado doesn't slip and to add an extra safety layer between your hand and the knife.
Here's how you cut an avocado
Place a towel in your hand and then hold the avocado with the dish towel.
Next, cut the avocado in half lengthwise slowly turning the avoado in your hand so the knife cuts around the whole avocado.
Set down the knife and twist the two halves of the avocado apart.
To remove the pit from the avocado, place the dish towel and an avocado half into your hand and firmly cut the pit. Once the knife is stuck in the pit, twist and the avocado pit should easily come out.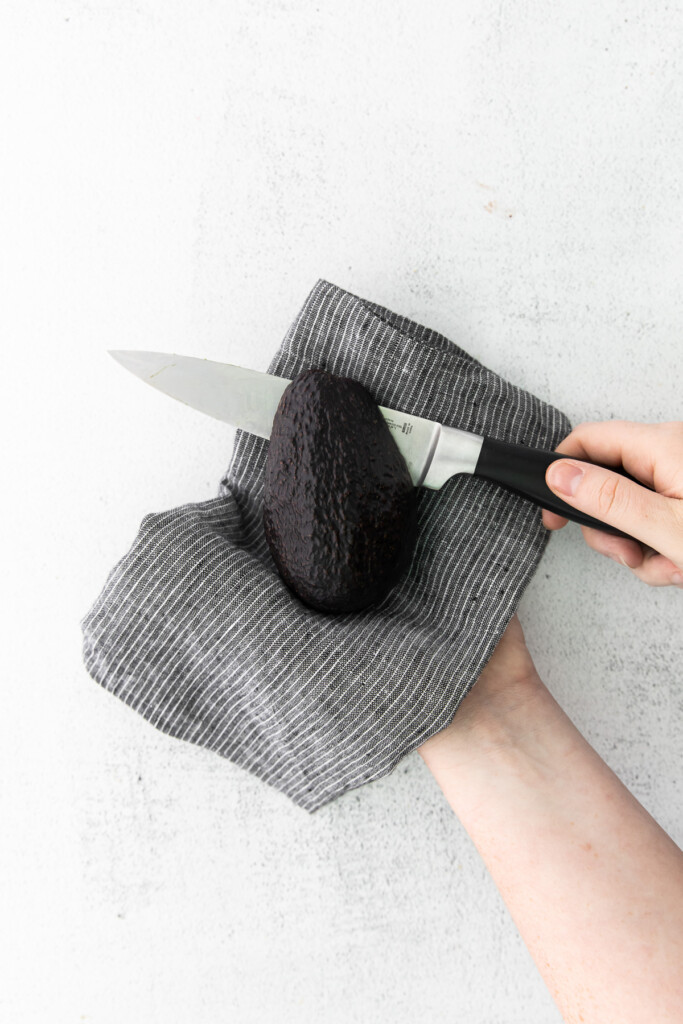 How to Make Stuffed Avocados
Prepare the avocados. Cut the avocados in half lengthwise and remove the pit. If your avocado had a smaller pit go ahead and make the avocado hole a little bigger so that your salmon salad will fit into the middle.
Mix salmon salad ingredients together. Place the salmon salad ingredients into a bowl and mix them together. If you have any excess avocado add it to the salad mixture.
Stuff the avocados. Using a 1/4 cup scoop, scoop the salmon salmon into the middle of each avocado and enjoy.
Make it creamy!
If you want the salmon salad stuffing to be creamier, add 1-2 tablespoons of Greek yogurt to the salmon salad mixture for a creamier stuffing.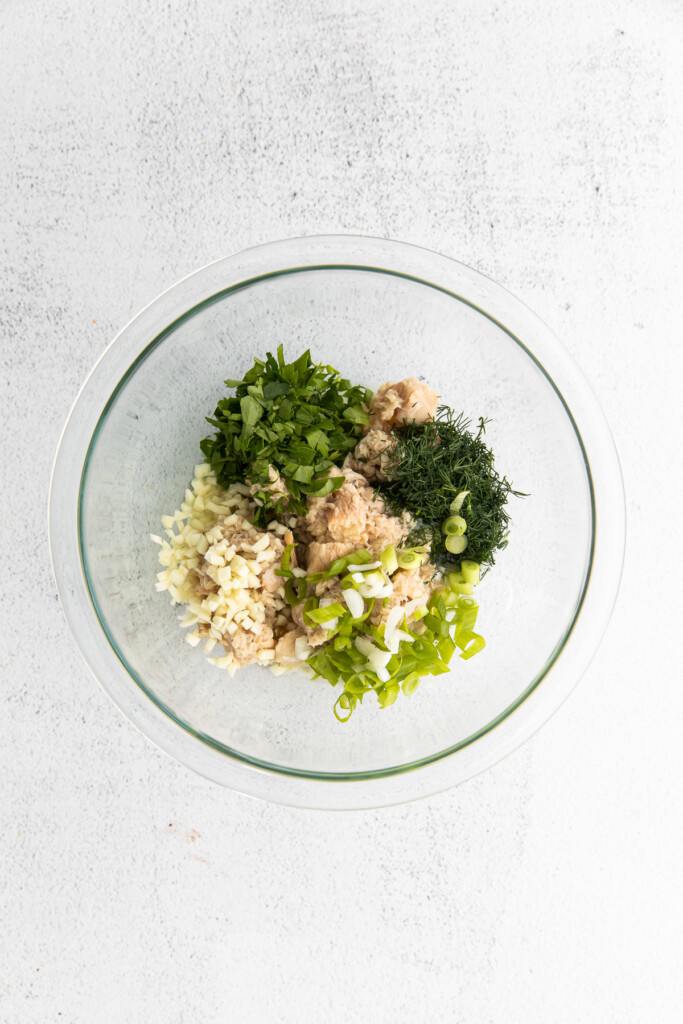 Tips + Tricks
Switch up the meat.
Feel free to swap caned salmon for canned tuna or canned chicken! Both would be delicious in this recipe.
Ingredient Substitutions.
Another wonderful thing about this recipe is that it is very easy to substitute ingredients or add ingredients that you love. Below are some ingredient substitutions.
Parsley, Green Onions, Dill —> Mint, Cilantro, Red Onion
Lemon Juice –> Lime Juice
Olive Oil —> Avocado Oil
Apple Cider Vinegar —> Any vinegar
What can I stuff instead of an avocado?
If you can't find ripe avocados you can stuff other vegetables with this delicious canned salmon salad.
Bell peppers
Zucchinis
Make a canned salmon taco
Stuff Avocados with these Salads
Mix things up and make stuffed avocados with a different salad. Below are some great options!
5 Minute Healthy Tuna Salad- Are you looking for a tuna salad made without mayo? You hit the jackpot! This quick, 4-ingredient healthy tuna salad recipe only takes 5 minutes to make, and is packed with 34 grams of protein per serving.
Healthy Chicken Salads- We're cooking up 4 delicious healthy chicken salad recipes, which are all made from a yogurt base and are excellent for meal prep.
Smoked Chicken Salad- Got leftover smoked chicken? Make this super simple smoked chicken salad recipe for an easy way to re-purpose your leftovers!
Mexican Street Corn Salad- Our Mexican Street Corn Salad is made with grilled corn, tomato, onion, and the most delicious cotija yogurt sauce with lime juice.
Storage Suggestions
We suggest storing the salmon salad separate from the avocados so that the avocados don't brown. Store the salmon salad in an airtight container in the refrigerator for up to 5 days.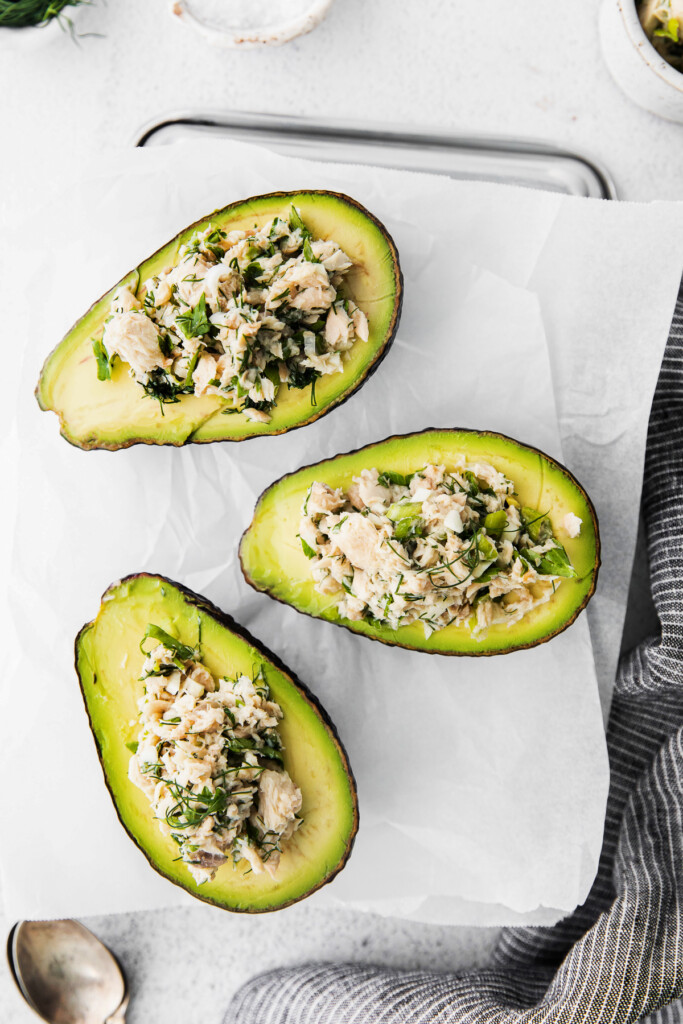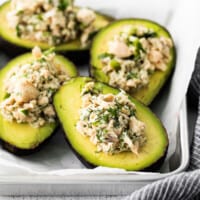 Stuffed Avocados
Make this fresh and delicious stuffed avocado recipe for a healthy lunch that is packed with 18 grams of protein.
Prep: 5 minutesCook: 0 minutesTotal: 5 minutes
Fat 19 Carbs 9 Protein 18
Yield 4 1x
Ingredients
2

large ripe avocados, halved

2

5-oz. cans canned salmon

2 tablespoon

fresh green onions, minced

2 tablespoon

fresh dill, minced

2 tablespoon

fresh parsley, minced

1 tablespoon

minced garlic

2 tablespoon

lemon juice

2 tablespoon

olive oil

1 teaspoon

apple cider vinegar

1/8 teaspoon

salt (or to taste)
pinch of cayenne pepper
Instructions
First, slice open 2 avocados and remove the pits. Set aside.*
Then, mix together the rest of the ingredients in a medium-size bowl.
Fill each avocado half with 1/4 of the salmon salad. Top with sriracha and a squeeze of lemon.
Tips & Notes
*If the avocado hold is small, feel free to make the whole bigger with a spoon.
*If you are only eating 1 serving at a time, make sure you keep the pit of the avocado inside the second half of the avocado. Place in a plastic bag and into the fridge for later!
Nutrition Facts
Serving Size: 1/4 Calories: 264 Sugar: 1 Fat: 19 Carbohydrates: 9 Fiber: 6 Protein: 18
Author: Lee HershCategory: SalmonMethod: No BakeCuisine: American