This Mexican casserole packs in ground beef, rice, peppers, onions, pinto beans, and Mexican flavors for an easy one-pan meal.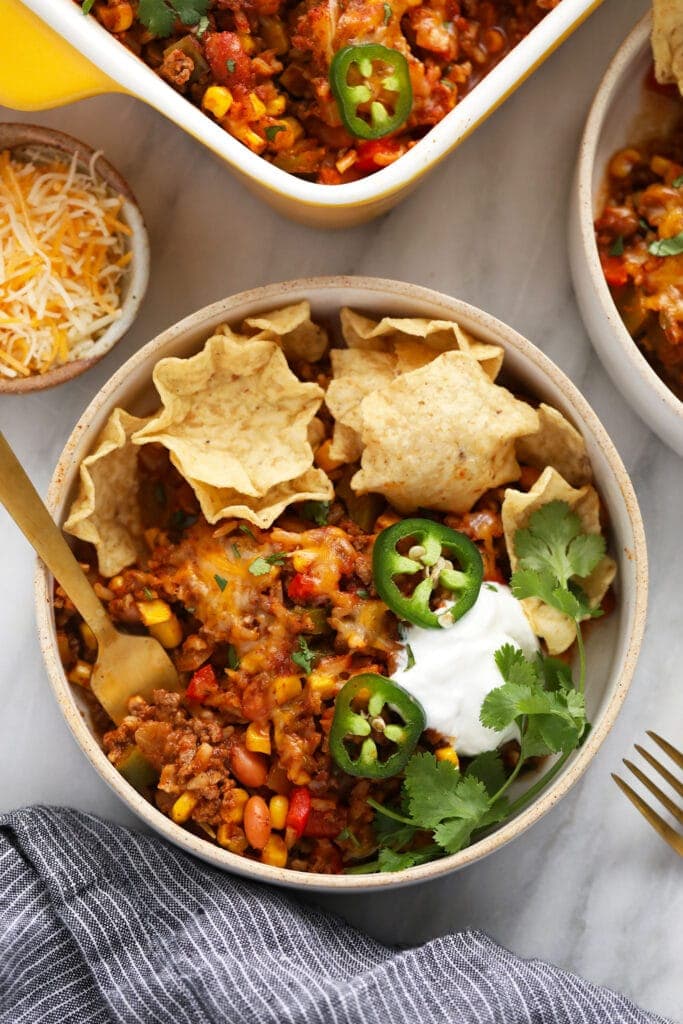 The Easiest Mexican Casserole
Start your week off right and make this super easy Mexican casserole for dinner! We are all about ground beef recipes. There are so many different meals that you can whip up in a hurry with ground beef.
Some of our favorites are these ground beef nachos, this yummy Mexican skillet recipe, these easy ground beef tacos, and our favorite beef chili recipe. You just can't go wrong.
We love this easy Mexican casserole for so many reasons!
You only need to dirty one dish! You can throw everything into a casserole dish, mix, and bake.
It is a great weeknight meal that packs a ton of flavor.
This Mexican casserole is a great meal prep meal for the week. It lasts in the refrigerator and there are many different ways to serve it!
Ingredients You'll Need
The ingredient list for this casserole is full of all-star ingredients that are pantry staples! Check out everything you're going to need.
Ground beef- We used 93/7% fat content for our ground beef, but you can use whatever ground beef you'd like.
Minced garlic– Whether you use garlic cloves or pre-minced garlic, don't skip it!
Bell peppers– The bell peppers in this Mexican beef skillet add both vegetables and great crunch. We used red and green peppers, but use whatever color you'd like!
White onion– Onion adds a great base and onion flavor.
Instant rice– Yes, Instant rice! You can use white or brown instant rice. We use instant rice instead of regular rice to keep the cook time down! We do not recommend using regular rice in this recipe.
Beef broth– You need a bit of liquid to help cook the rice. We love using beef broth because it has amazing flavor
Tomato sauce– We love saucy ground beef tacos and the tomato sauce in the Mexican casserole adds that traditional taco flavor you love.
Green chiles– These chiles add a little extra kick to your beef casserole!
Pinto beans– Add a little protein to this Mexican beef casserole with some pinto beans!
Sweet corn– Another great veggie add.
Spices– We basically use the same spices in this Mexican casserole that we use in our DIY taco seasoning. Chili powder, garlic powder, cumin, and salt!
Shredded cheddar cheese– You sprinkle a little cheddar cheese towards the end of this casserole bake time for a delicious cheesy topping.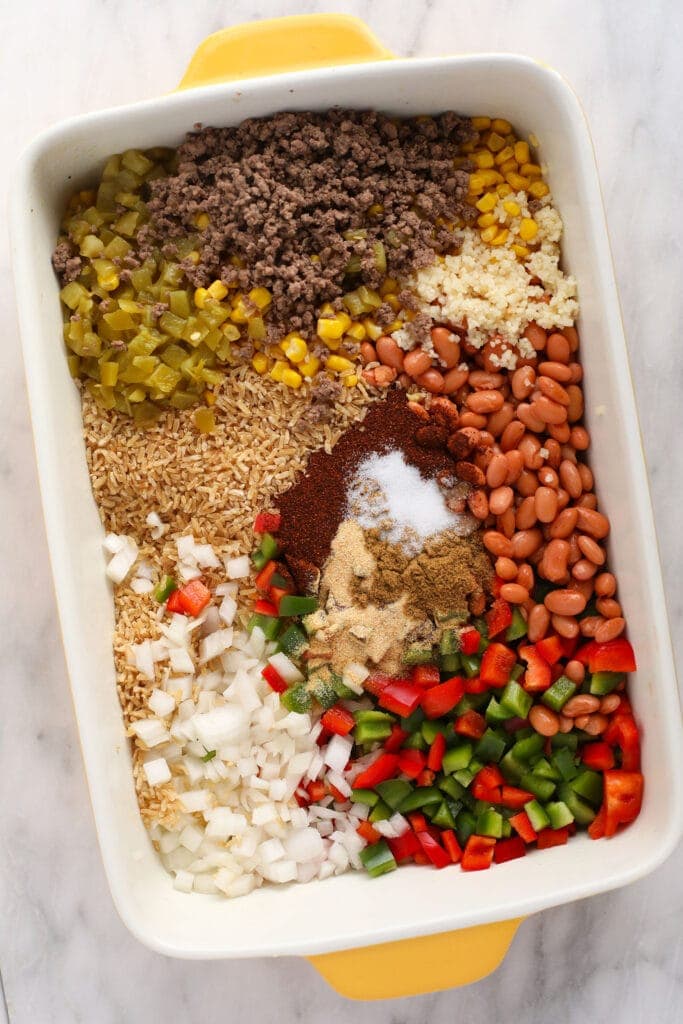 Ingredients Swaps
Don't have everything on the ingredient list for this Mexican casserole? Have no fear, here are some great ingredient swaps!
Ground beef —> try ground turkey or ground chicken!
Bell peppers—> you can use any color of bell pepper! If you like things spicy, try adding in jalapeños or poblano peppers!
White onion—> any color onion will work for this recipe.
Pinto beans—> not a pinto person? Try black beans!
Canned corn—> hominy would also be a great addition or substitute for corn in this casserole recipe.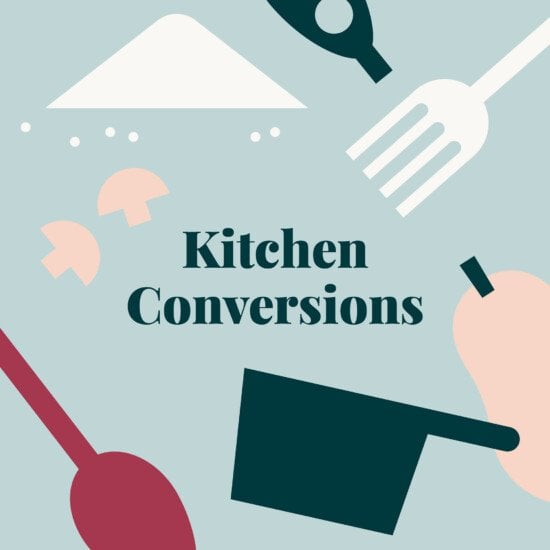 make it easy
Print Your Own
Keep common kitchen conversions like tablespoons to teaspoons and Fahrenheit to Celsius on hand at all times with our printable kitchen conversions chart.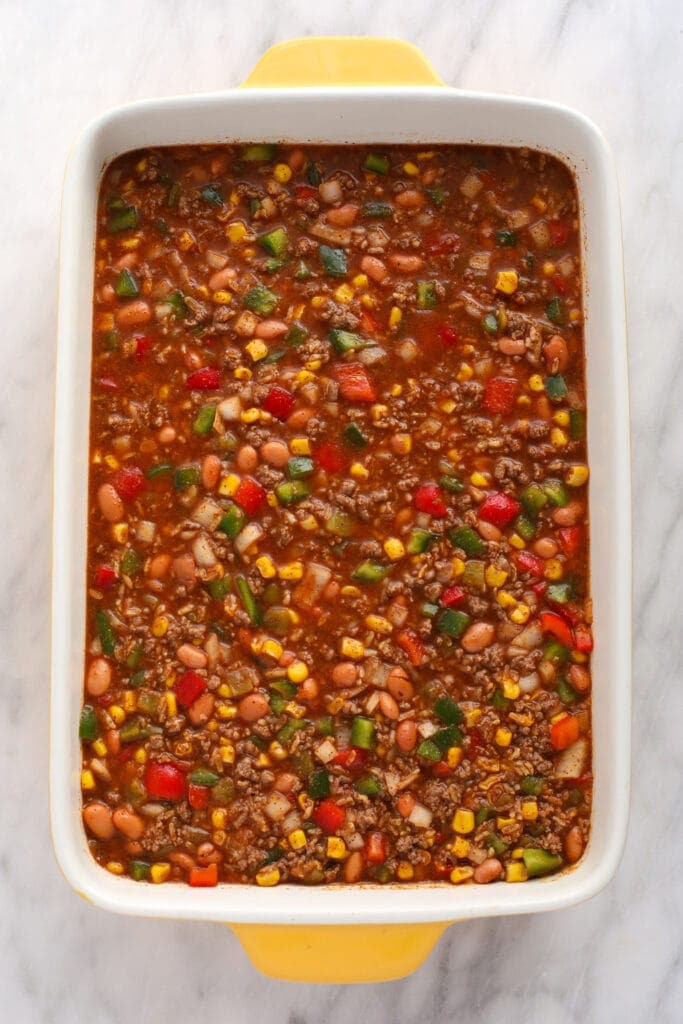 How to Make this Mexican Beef Casserole
This Mexican casserole really is so easy to make. Here's how you do it!
Spray a 9×13-inch casserole dish with non-stick cooking spray.
Fully cook the ground beef before adding it to the greased casserole dish.
Add the rest of the ingredients (except for the cheese) to the casserole dish and mix.
Bake the casserole for 45 minutes at 375ºF and add cheese. Bake for 5 more minutes.
different ways to serve this Mexican casserole
Looking for other ways to use this Mexican casserole? You can eat this casserole all by itself and scoop it up with some chips, but here are a few more fun ways to eat this casserole if you are meal prepping it for the week!
Make a burrito! Add 1/2 cup to 1 cup of this casserole to a large tortilla along with some salsa, guacamole, cheese, and Greek yogurt.
Try a Taco salad. Throw some spinach or massaged kale in a bowl and top it with some of this Mexican casserole.
Make a burrito bowl. Make an at home burrito bowl and add this casserole to a bowl with greens, a coleslaw, guacamole, and salsa!
Storage
You can store this Mexican casserole in an air tight container for up to 5 days! Just be sure the casserole is cooled completely before placing it in the fridge.
Can I freeze this?
Yes! You can freeze this recipe. Let the casserole cool completely before placing it in a gallon sized bag, remove the air, and place it in the freezer for up to 3 months.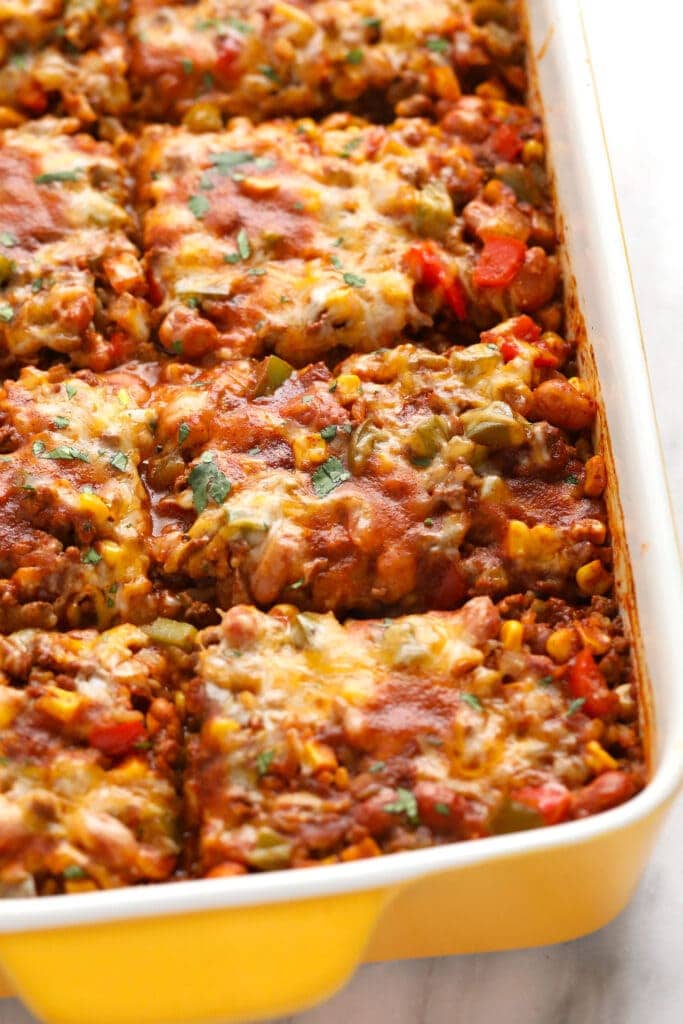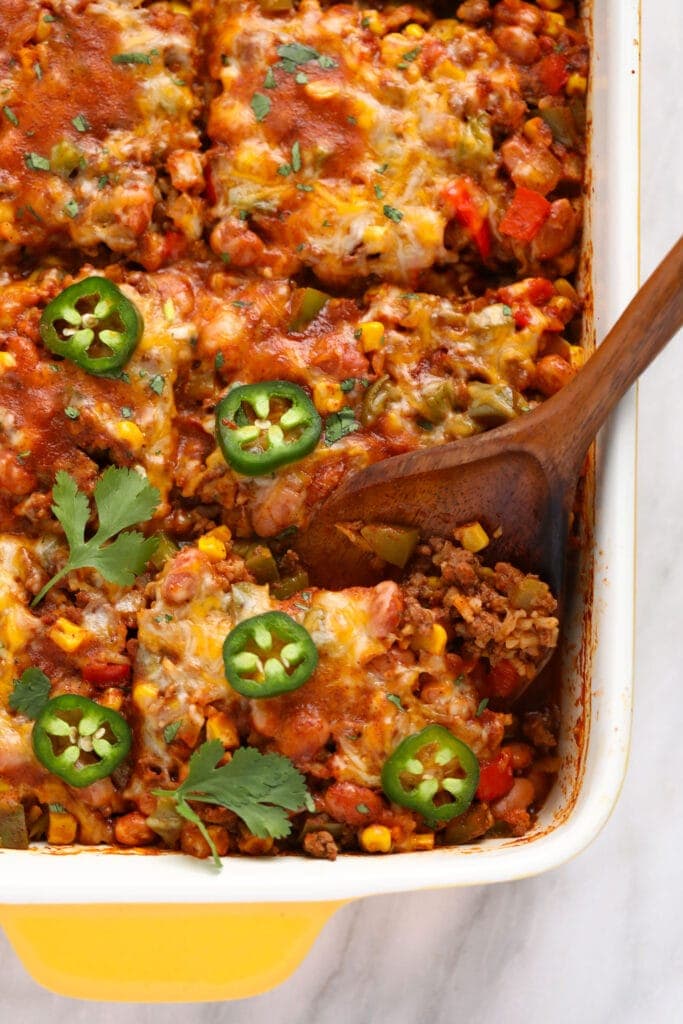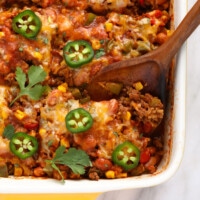 Mexican Casserole
This Mexican casserole packs in ground beef, rice, peppers, onions, pinto beans, and Mexican flavors for an easy one-pan meal.
Prep: 15 minutesCook: 45 minutesTotal: 1 hour
Fat 13 Carbs 41 Protein 22
Yield 6–8 1x
Ingredients
1

lb. ground beef (we used 93/7% fat)

1 tablespoon

minced garlic

1

large green pepper, diced

1

large red pepper, diced

1/2

large white onion, diced

1.5 cups

instant white/brown rice (either work)

2.5 cups

beef broth (chicken broth works too)

1

15-oz. can tomato sauce

1

4-oz. can green chiles

1

15-oz. can pinto beans, drained and rinsed

1

15-oz. can sweet corn, drained and rinsed

2 tablespoons

chili powder

2 teaspoons

garlic powder

1/2 tablespoon

ground cumin

1/2 teaspoon

salt

1 cup

shredded Mexican cheddar cheese
Instructions
Prep: First, preheat the oven to 375ºF and spray a 9×13-inch casserole dish with nonstick cooking spray.
Brown Ground Beef: Place ground beef in a frying pan and cook over medium/high heat until fully cooked. It will take around 7-10 minutes. If you used a fattier beef, drain the excess fat from the beef.
Mix: Transfer cooked meat into the casserole dish and add the rest of the ingredients (minus the cheese) into the casserole dish and mix to combine.
Bake: Cover casserole dish with tin foil and bake at 375ºF for 45 minutes. Remove from oven, mix, and sprinkle on cheese and bake for an additional 5 minutes, uncovered.
Nutrition Facts
Serving Size: 1/6 Calories: 349 Sugar: 3 Fat: 13 Carbohydrates: 41 Fiber: 5 Protein: 22
Author: Lee FunkeCategory: CasseroleMethod: OvenCuisine: Mexican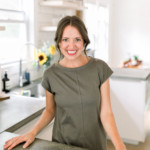 Linley is a 5′ nothing spitball of positive energy who joined Team Fit Foodie in the Spring of 2014. Linley has worked on the digital side of small businesses and nonprofits since 2011, where she specialized in social media community management. Lin has a passion for food and an incredible palate. She is FFF's chief recipe developer, so you can thank her for these incredible recipes!