This Orange Chicken Casserole combines a classic takeout meal with easy at-home prep, made with just one dish!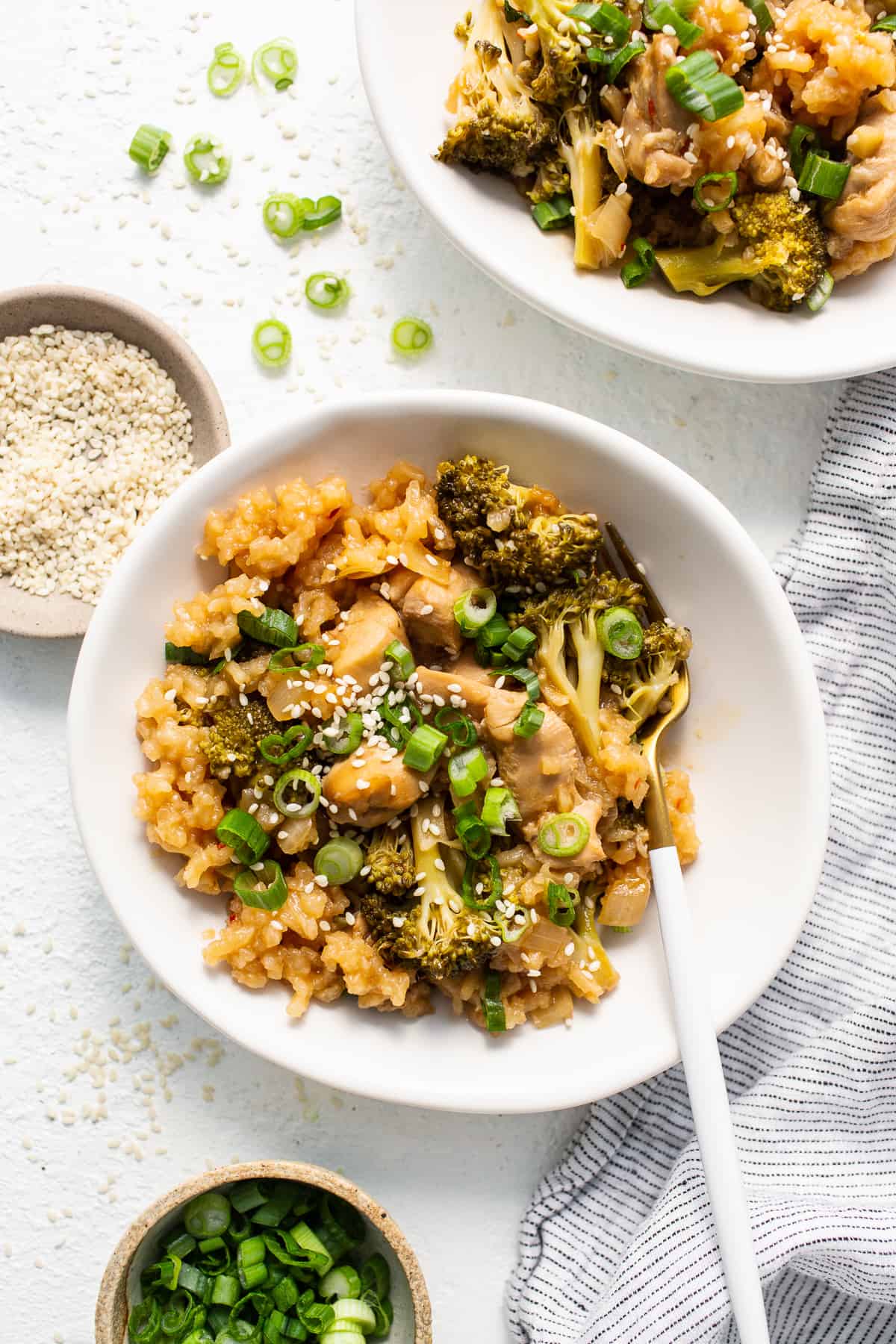 This orange chicken casserole is a Fit Foodie favorite! It was recently updated on 2/4/2023, to be made with a more accessible rice (jasmine rice). If you love the old recipe, you can find it HERE.
Hello, takeout meets meal prep! This orange chicken casserole is bursting with flavor and uses nutritious ingredients to make an easy meal with just one pot.
It features long-gran white rice, chicken breast, broccoli, and an easy orange chicken sauce for a colorful meal that feeds a crowd.
The best part is that this chicken casserole is made with a homemade orange chicken sauce created with better-for-you ingredients such as orange juice, chicken broth, honey, and sriracha.
PS: try our healthy orange chicken and Instant Pot orange chicken recipes!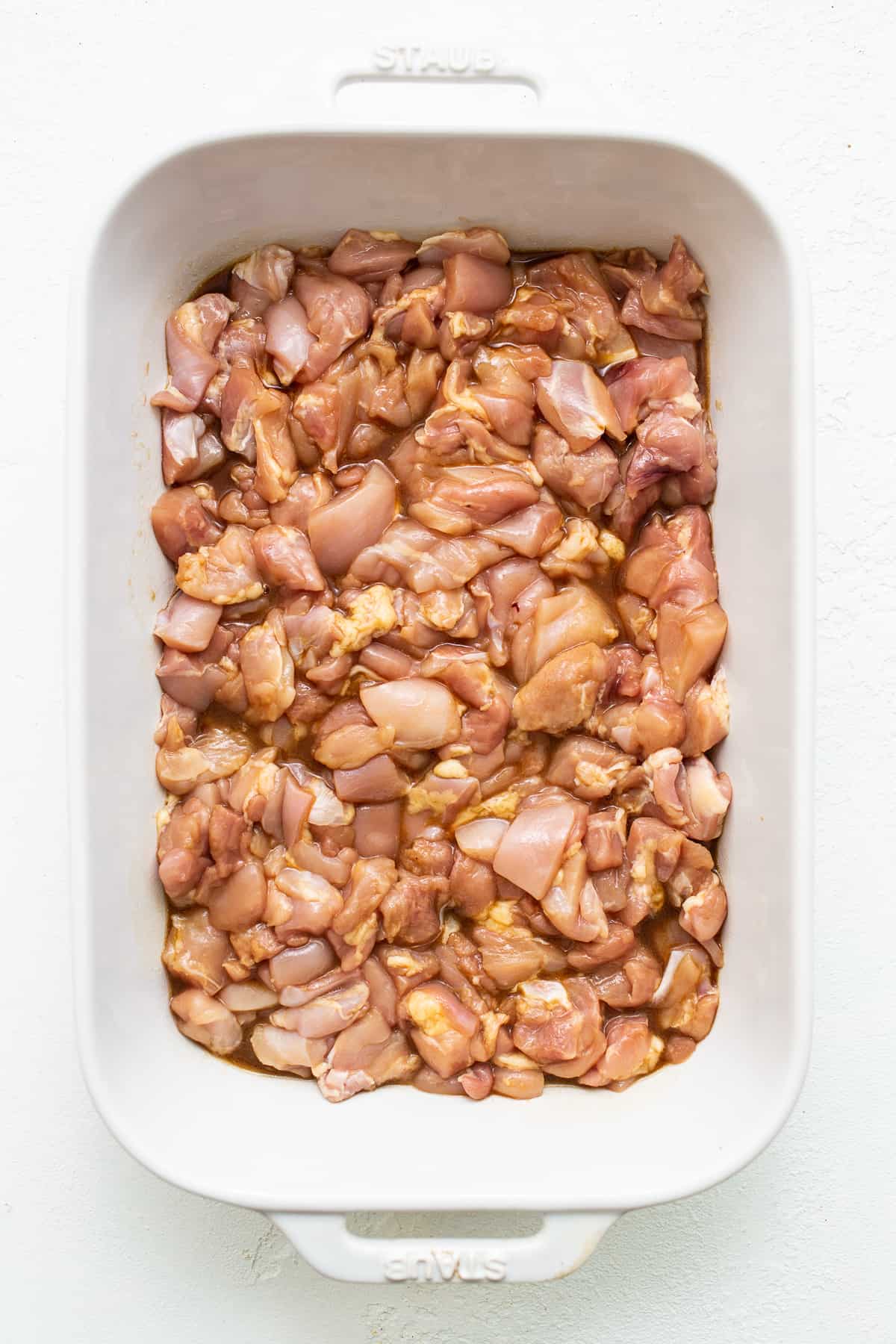 Featured Ingredients
This takeout-inspired dish is made with fresh ingredients and the most delicious homemade orange chicken sauce you've ever tasted. Here are the mean ingredients:
chicken breast (thighs work, too)
onion
broccoli florets
Jasmine rice
homemade orange chicken sauce
The sauce is rather simple to make. It's made up of orange juice, chicken broth, honey, soy sauce, rice vinegar, and fresh ginger.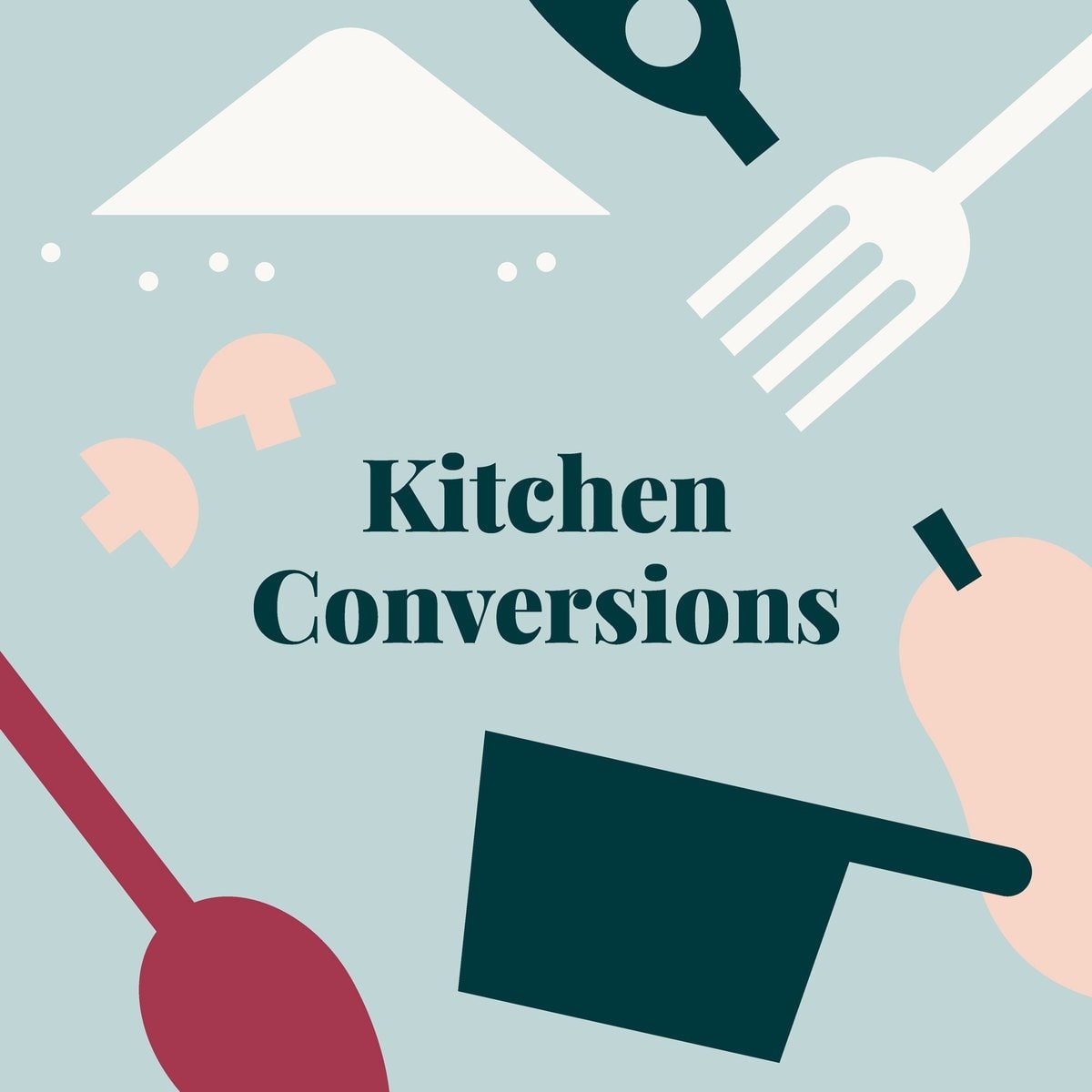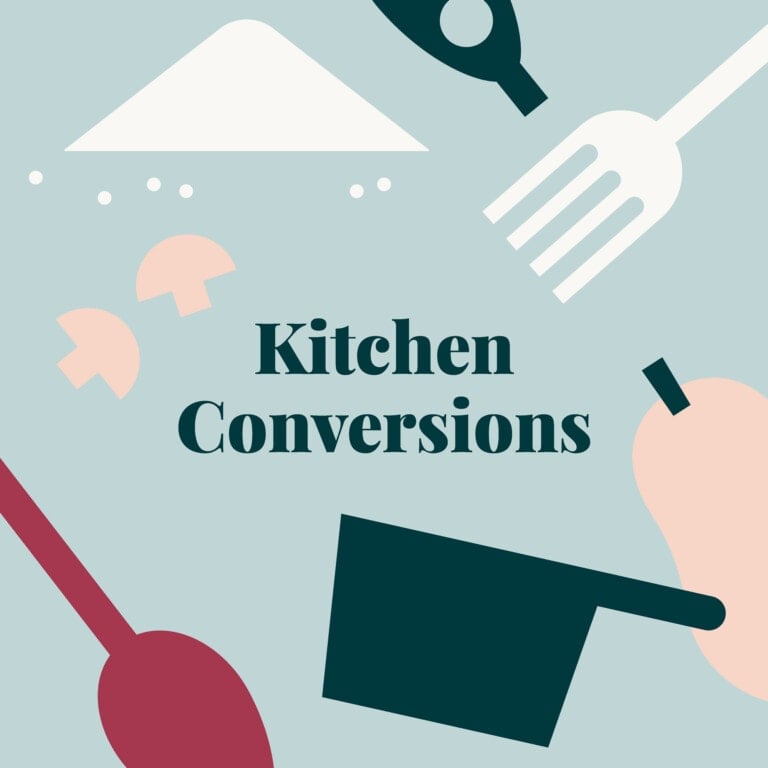 make it easy
Print Your Own
Keep common kitchen conversions like tablespoons to teaspoons and Fahrenheit to Celsius on hand at all times with our printable kitchen conversions chart.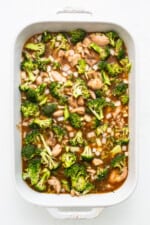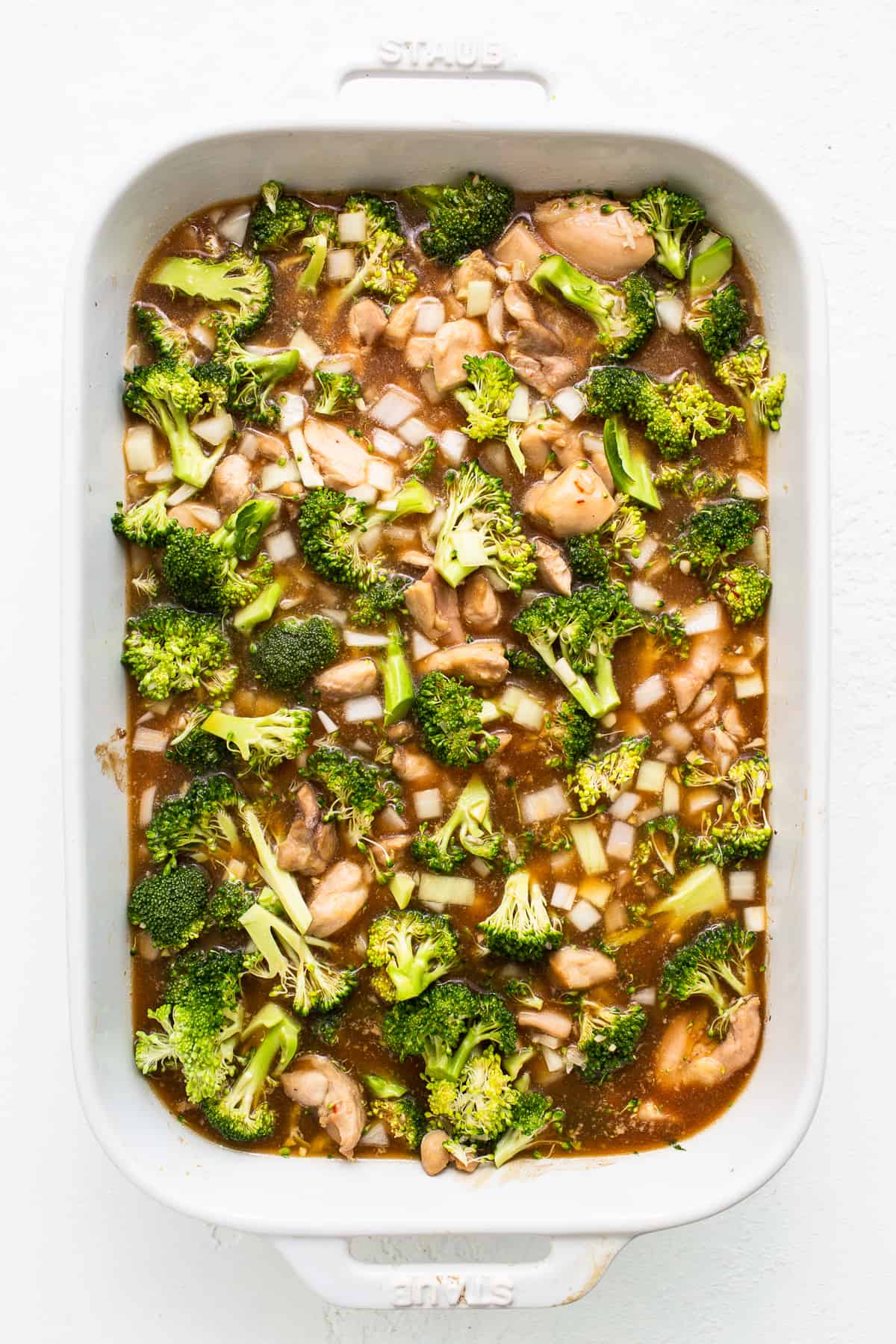 While we used jasmine rice, any kind of long-grain white rice works.
The key to making sure the rice and sauciness of the casserole turn out just right is letting the casserole sit covered for 15 minutes after removing it from the oven.
This is important because it allows the rice to soak up the remaining liquid!
Veggie Add-In Ideas
Make this casserole your own with more veggies! Here are some ideas:
Bell pepper
Cauliflower
Mushrooms
Pea pods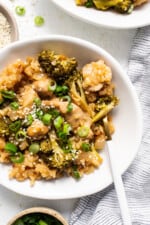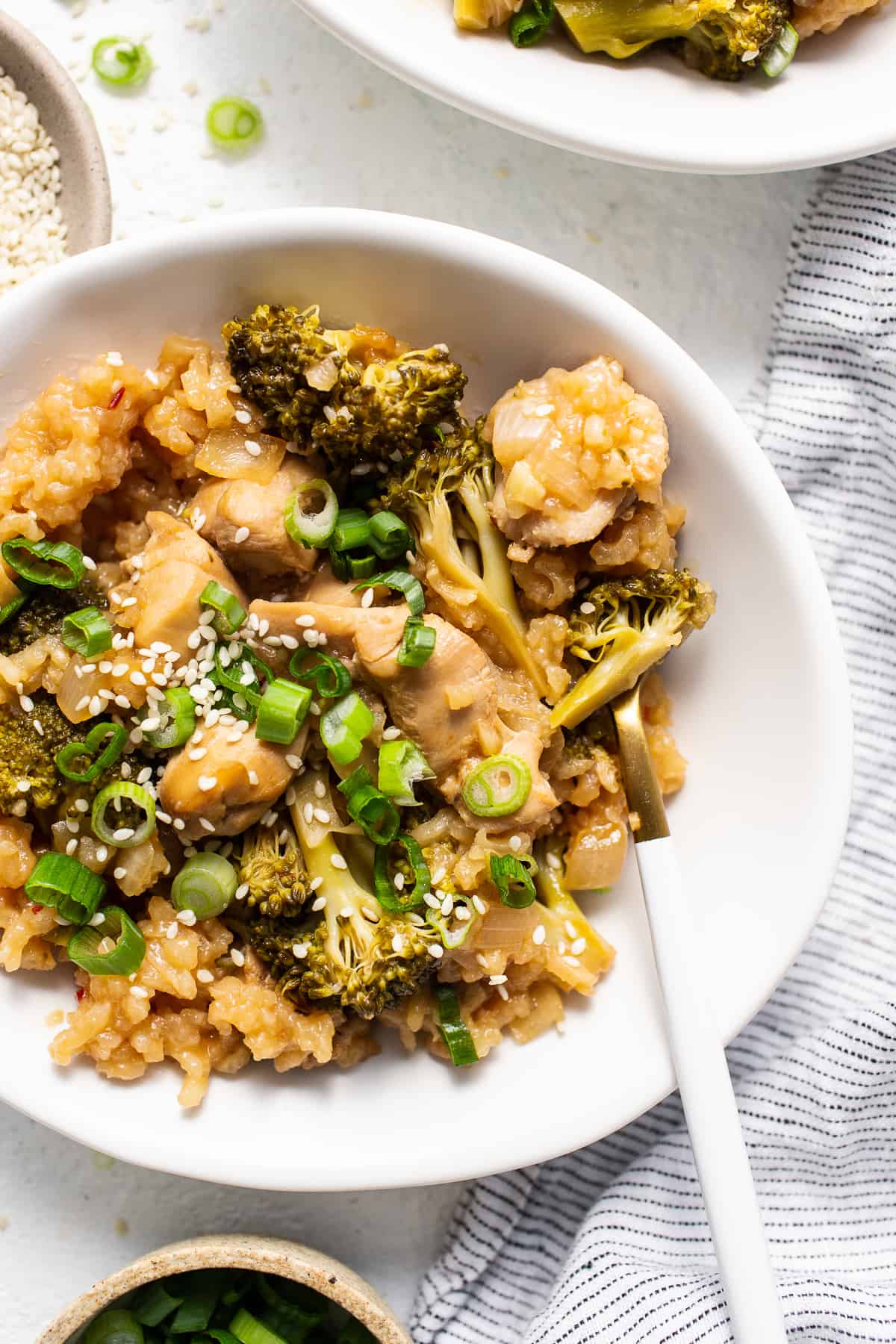 Healthy casseroles are great for meal prep throughout the week! Make this orange chicken casserole on a Sunday and throw it in the refrigerator or freezer for easy meals to warm up for your busiest weeks.
Refrigerator: Store in an airtight container glass container, for up to 5 days in the refrigerator.
To Reheat: reheat your casserole in the microwave on high for 60-90 seconds.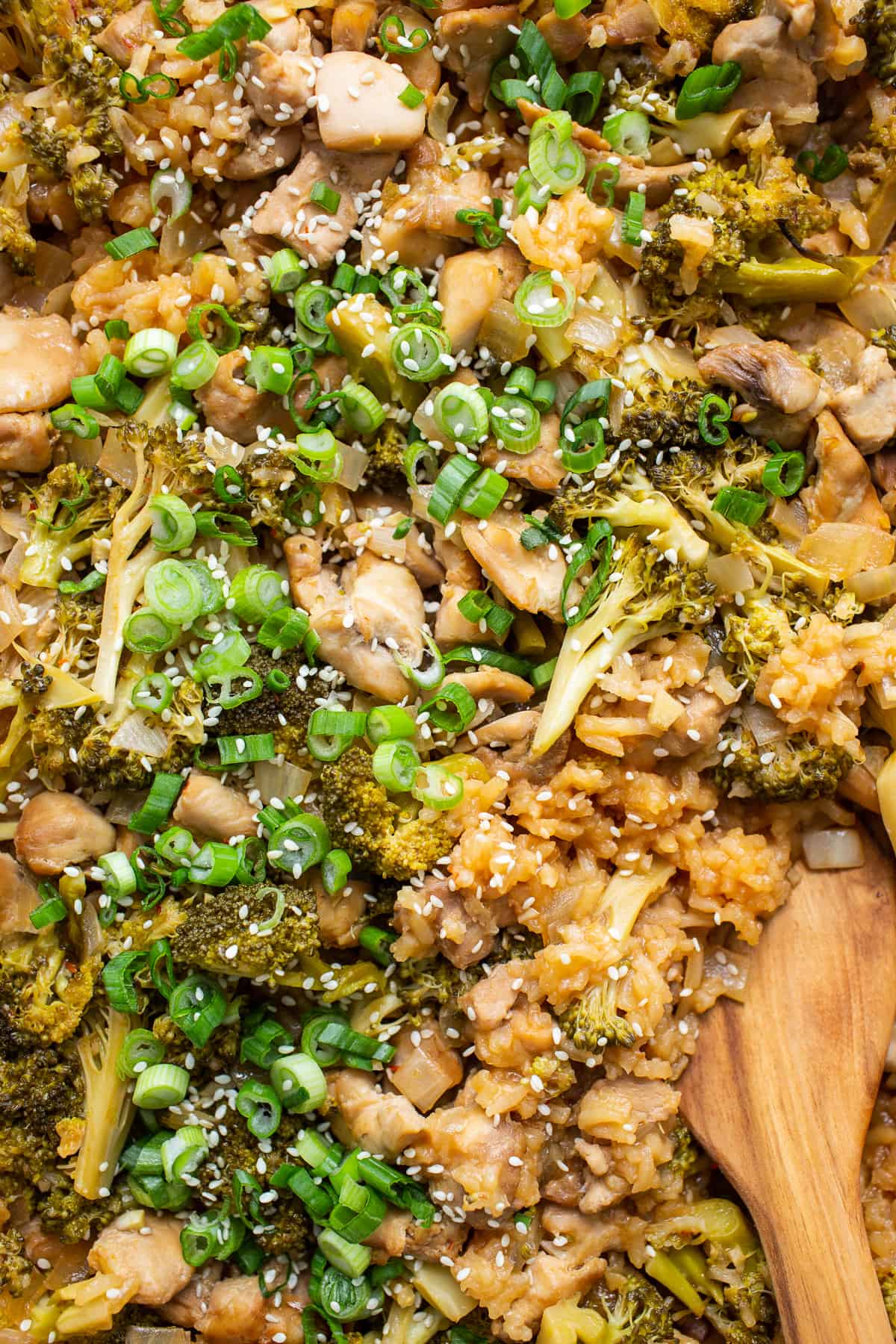 For the Casserole
1.5

lbs.

boneless, skinless chicken thighs

cut into ~½ inch chunks

2

tablespoons

soy sauce

2

tablespoons

orange juice

1

teaspoon

garlic powder

2

teaspoons

sesame oil

1

cup

jasmine rice

uncooked

1/2

medium yellow onion

diced

4

cups

chopped broccoli
Preheat the oven to broil and then add the chicken to a 9×13-inch ceramic casserole dish. Add 2 tablespoons soy sauce, 2 tablespoons orange juice, garlic powder, and sesame oil to the chicken and toss to coat. Let the chicken marinate for 10 minutes.

Place the casserole dish into the oven under the broiler and broil the chicken for 2 minutes, toss, and add additional 2 minutes to brown the chicken.

Remove the casserole dish from the oven and add the jasmine rice, onion, and broccoli. Toss to combine.

Next, mix up the sauce. Add the orange juice and honey to a bowl and whisk until there are no clumps of honey at the bottom of the bowl. Add the rest of the sauce ingredients to the orange juice and whisk to combine.

Pour the sauce over the chicken mixture in the casserole and toss to combine. Be sure the rice is submerged in liquid.

Turn the oven heat down to 375ºF and cover the casserole dish with tin foil. Bake the casserole for 30 minutes.

Stir the casserole after 30 minutes (it will still have a lot of liquid in it). Bake the casserole, covered, for an additional 15-30 minutes, or until the rice is fully cooked.

Remove the casserole from the oven and let it rest for 10 minutes without removing the cover.

Top with sesame seeds and green onions.
You can use any other long-grain rice for this recipe. Do not use germinated rice of any kind.
You can add more vegetables to this dish if you'd like.
This is a saucier casserole. Let the dish sit longer if you'd like the rice to absorb more liquid.
Calories: 381kcal Carbohydrates: 51g Protein: 29g Fat: 7g Fiber: 3g Sugar: 20g
Photography: photos taken in this post are by Ashley McGlaughlin from The Edible Perspective.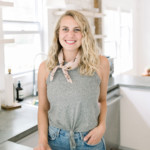 Lee is the founder of Fit Foodie Finds and based in Minneapolis, MN. She started this website in 2010 as a way to share her love for real food and wellness.