Are you ready for the easiest and most delicious grilled pesto chicken skewers? All you need are 2 simple ingredients to make this recipe for pesto chicken on the grill.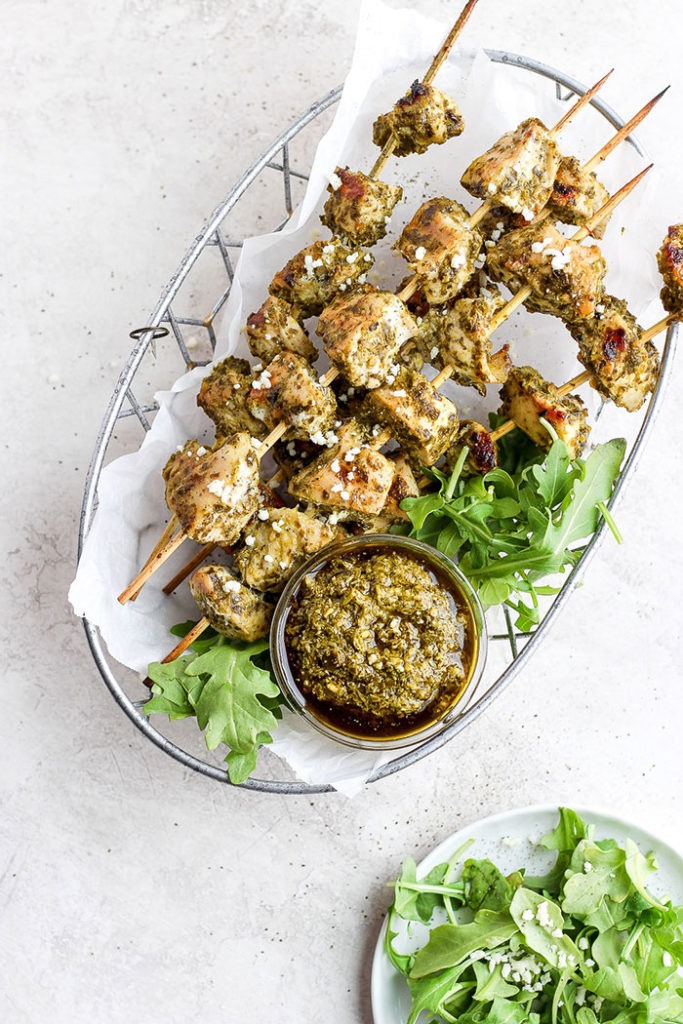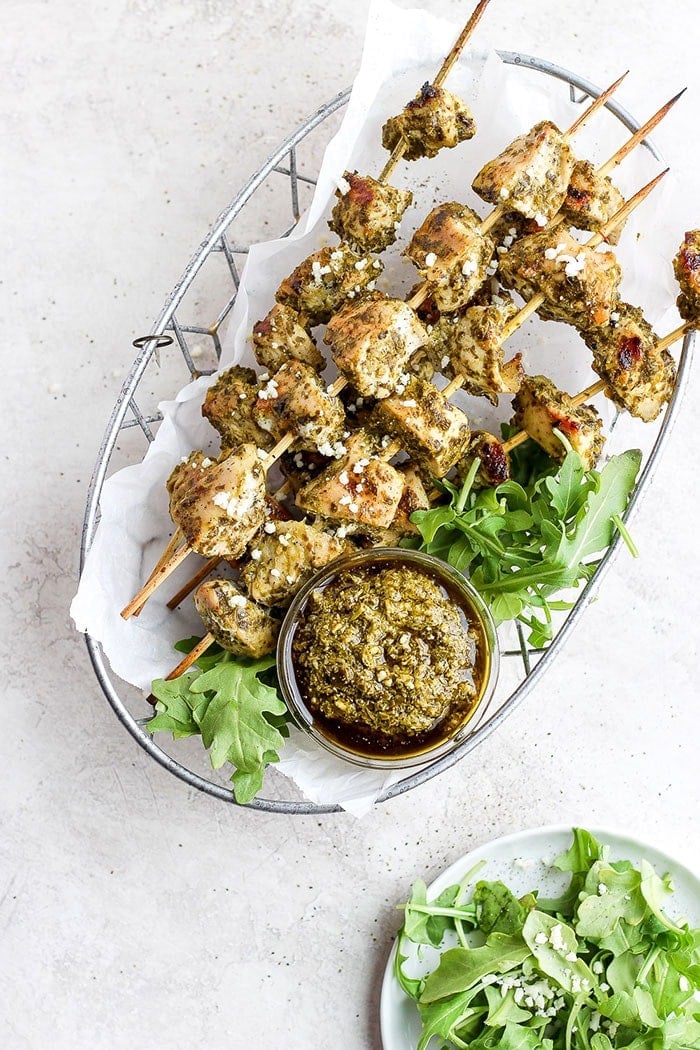 Pesto Chicken on the Grill
We are pesto chicken fanatics. One of our favorite dinners is our pesto chicken pasta and we love making homemade pesto with fresh basil from the garden.
This grilled chicken recipe is able to blow your mind because all you need is 2 simple ingredients — chicken breast and pesto! Now, you can use store-bought pesto or homemade, the choice is yours!
Plus, to make things more festive, we're skewering the chicken for cute little kebabs that make for the perfect main or appetizer.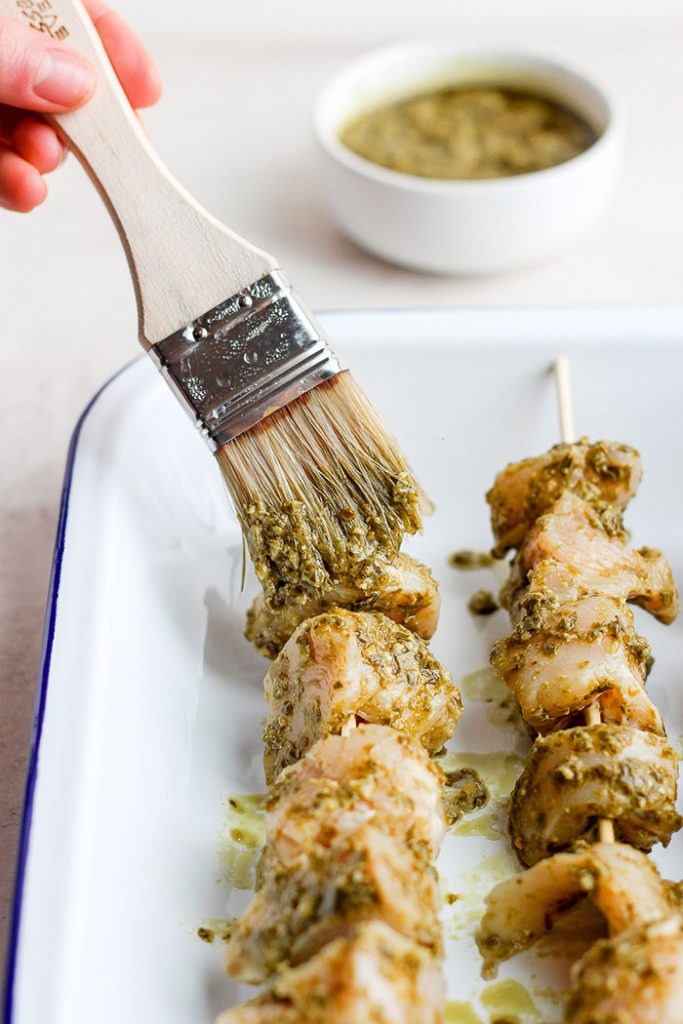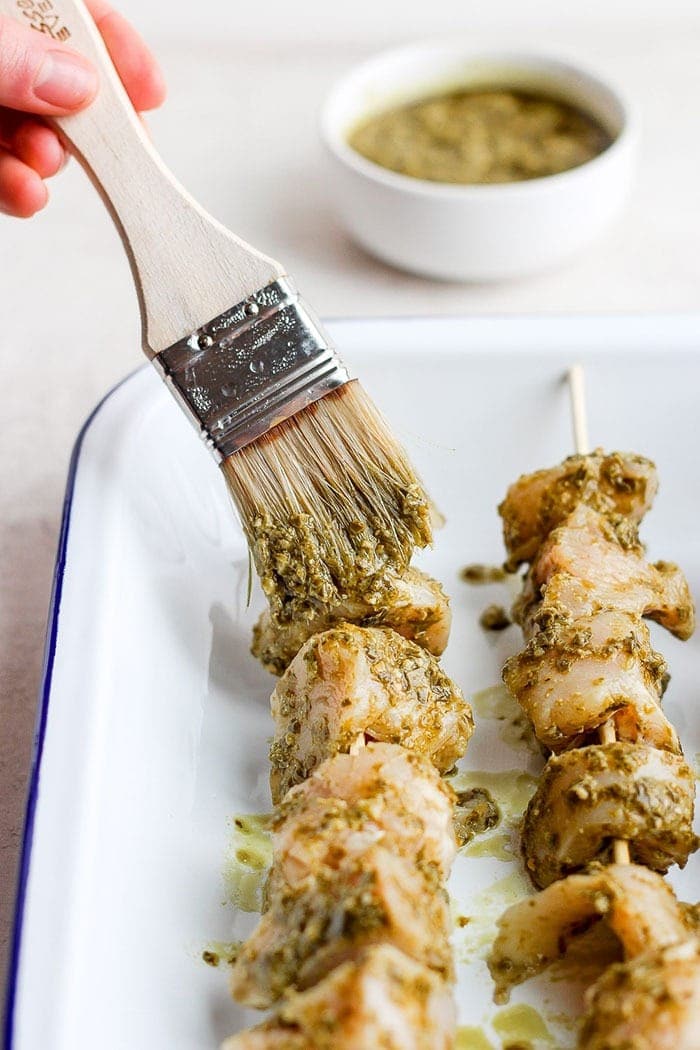 What You Need
Like we mentioned, you can't get more basic than pesto chicken on the grill! 2 ingredients is all you need.
Chicken breast: we recommend using boneless, skinless chicken breast, but boneless thighs will work too.
Pesto: we've got 2 delicious homemade pesto recipes for you to try – basil pesto and kale pesto. Or, if you're in a rush, you can use store-bought jarred pesto, too.
You have a couple of options when it comes to the pesto! We have an amazing 5-minute pesto recipe and also a vegan pesto recipe that you can whip up. Either will work with these chicken skewers 😀
Latest Grilled Chicken Recipes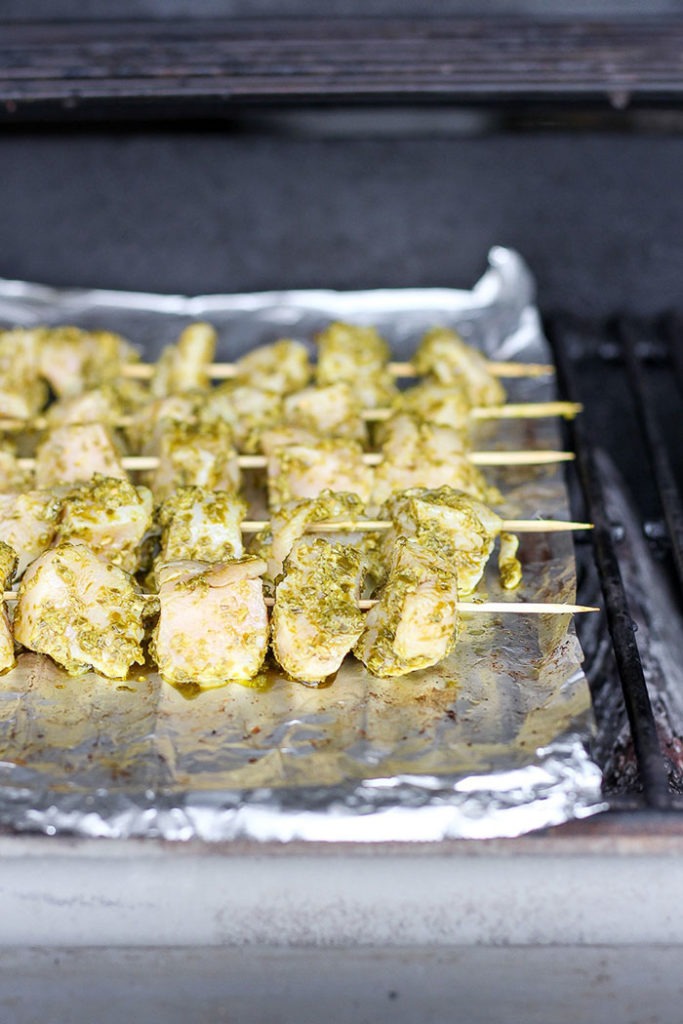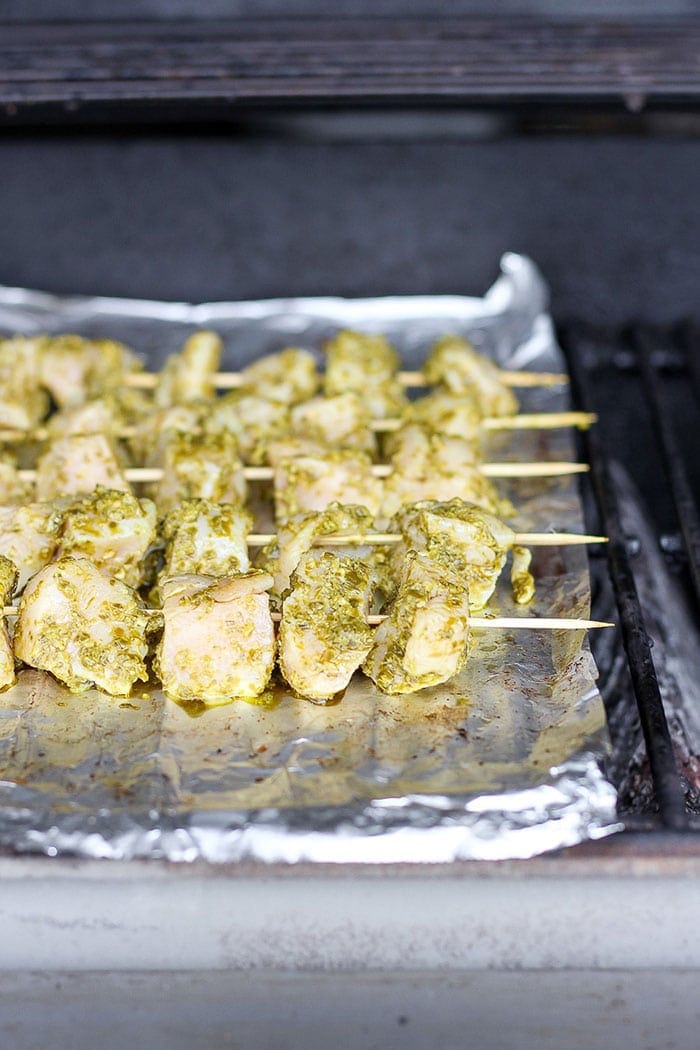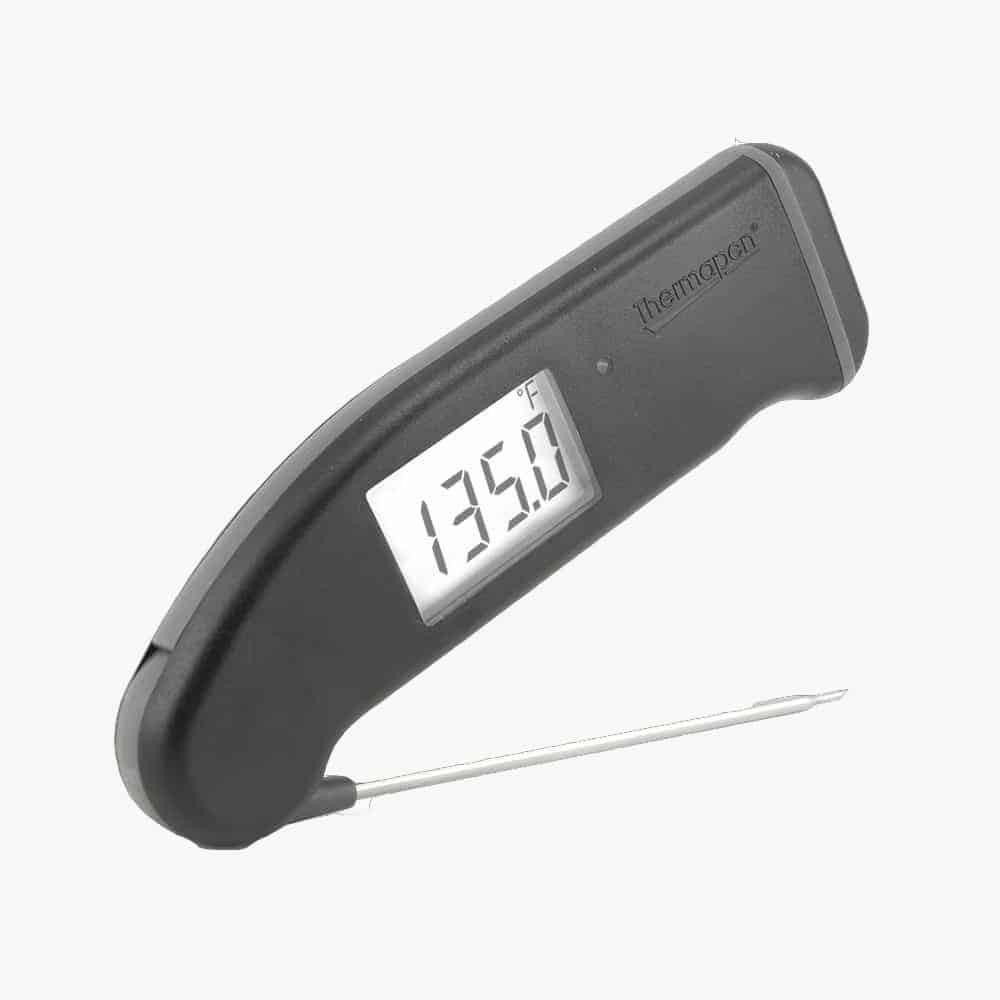 How to Make Grilled Pesto Chicken Skewers
For the full recipe, scroll down to the recipe card for a list of ingredients and instructions.
According to the USDA, the safe cooking temperature for poultry is 165ºF.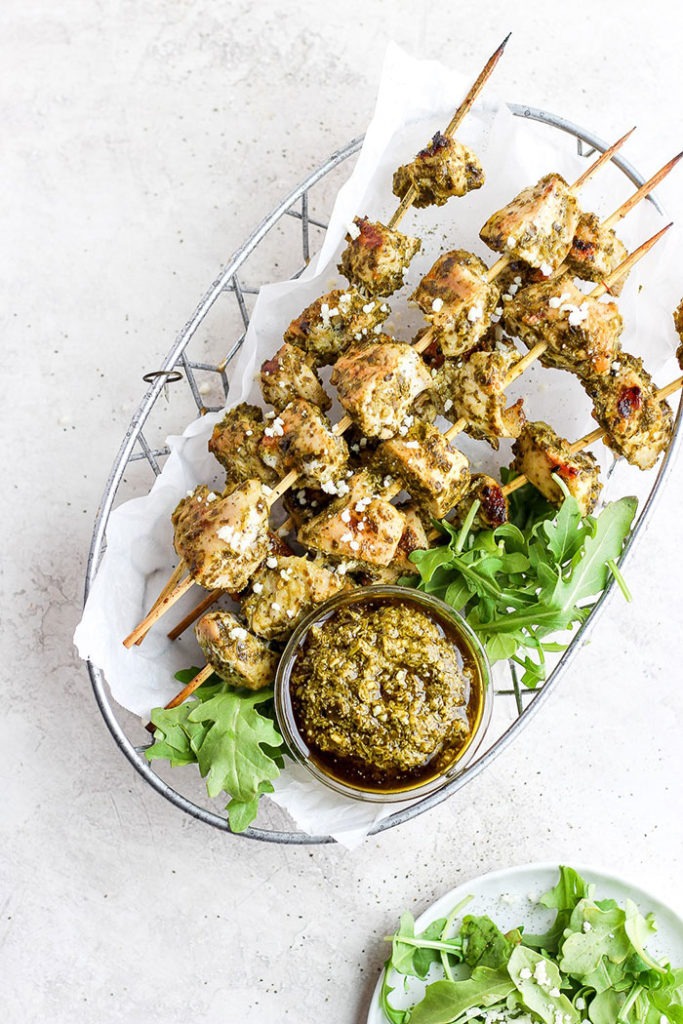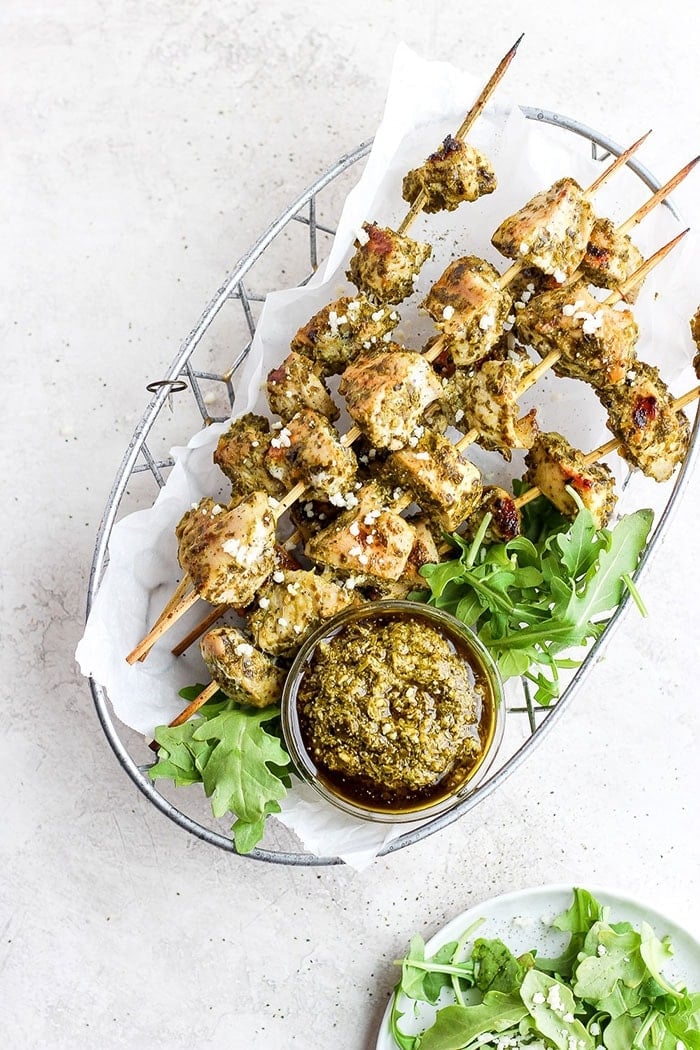 1

lb.

boneless, skinless chicken breast

½

cup

of homemade pesto

or any kind of pesto
Preheat the grill to medium/high heat — around 375ºF.

Next, prep chicken by slicing it into 1 to 1.5 inch chunks. Transfer diced chicken into a large bowl.

Pour pesto into the bowl and toss the chicken until coated. Transfer the bowl into the fridge and let marinate for 30 minutes to 2 hours.

Slide the chicken pieces onto skewers. You'll be able to make 5-6 skewers.

Place a piece of tin foil onto the grill grates and spray with cooking spray. Grill at 375ºF for about 15-20 minutes flipping the skewers every 5-8 minutes. Cook until the internal temperature is 160ºF to 165ºF.
Baking instructions: bake at 375ºF for 15-20 minutes.
Calories: 275kcal Protein: 37g Fat: 15g Fiber: 0g Sugar: 0g
Photography: photos taken in this post are by Erin from The Wooden Skillet.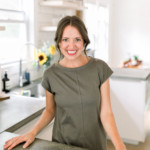 Linley is a 5′ nothing spitball of positive energy who joined Team Fit Foodie in the Spring of 2014. Linley has worked on the digital side of small businesses and nonprofits since 2011, where she specialized in social media community management. Lin has a passion for food and an incredible palate. She is FFF's chief recipe developer, so you can thank her for these incredible recipes!