Say hello to the most perfect farro salad recipe. This farro salad is made with blanched asparagus, white beans, and goat cheese. It is an excellent vegetarian option for lunch or dinner.
Looking for other amazing salad recipes? Check out all of our favorite healthy salads and make them for meal prep over the next few weeks!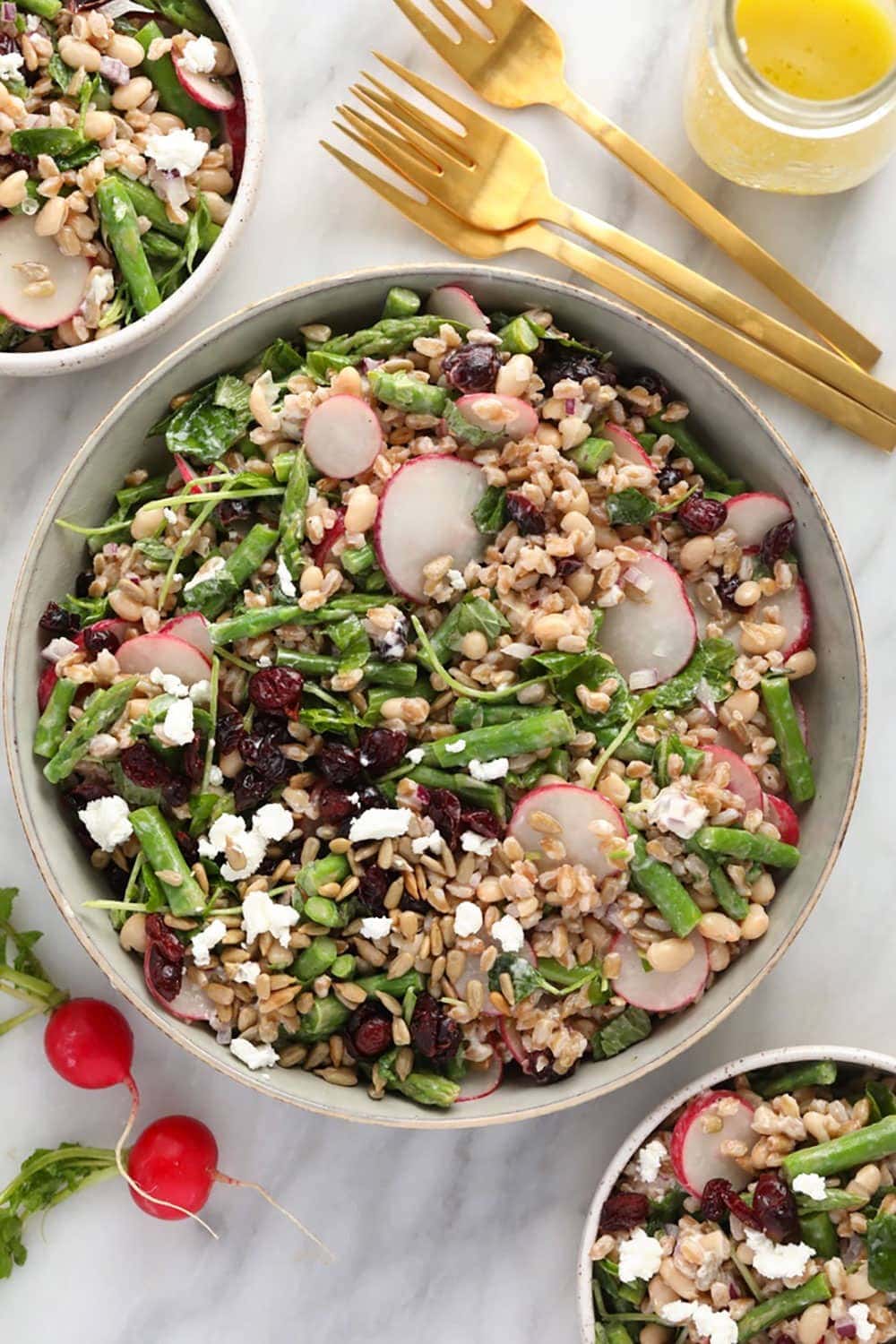 When it comes to salad making, there are so many different directions you can go. We have salads on Fit Foodie Finds that don't even have any lettuce like these chicken salad recipes. We have broccoli salad recipes, egg salad recipes, and all of these delicious kale recipes!
We're excited about this farro salad because it packs so much nutrition into one recipe and is made with a favorite grain of ours –> FARRO!
What is farro?
Farro is a coarse whole grain that is part of the wheat family. It is popular in Italian cuisine and has a nutty flavor and texture similar to barley.
What does farro taste like? Farro has more of a bite to it than rice as it is typically cooked al dente. It has a nutty flavor and is most comparable to barley.
farro nutrition
Farro is a whole-grain rich in fiber, protein, and antioxidants. Below is the nutrition per 1/4 cup uncooked:
160 calories
1g fat
33g carbs
3g fiber
0g sugar
6g protein
What is farro salad made of?
Farro salad is made up of a base of cooked farro. In addition there are bright, fresh flavors involved including raw veggies such as raddish and microgreens , blanched asparagus, and a delicous lemon vinaigrette.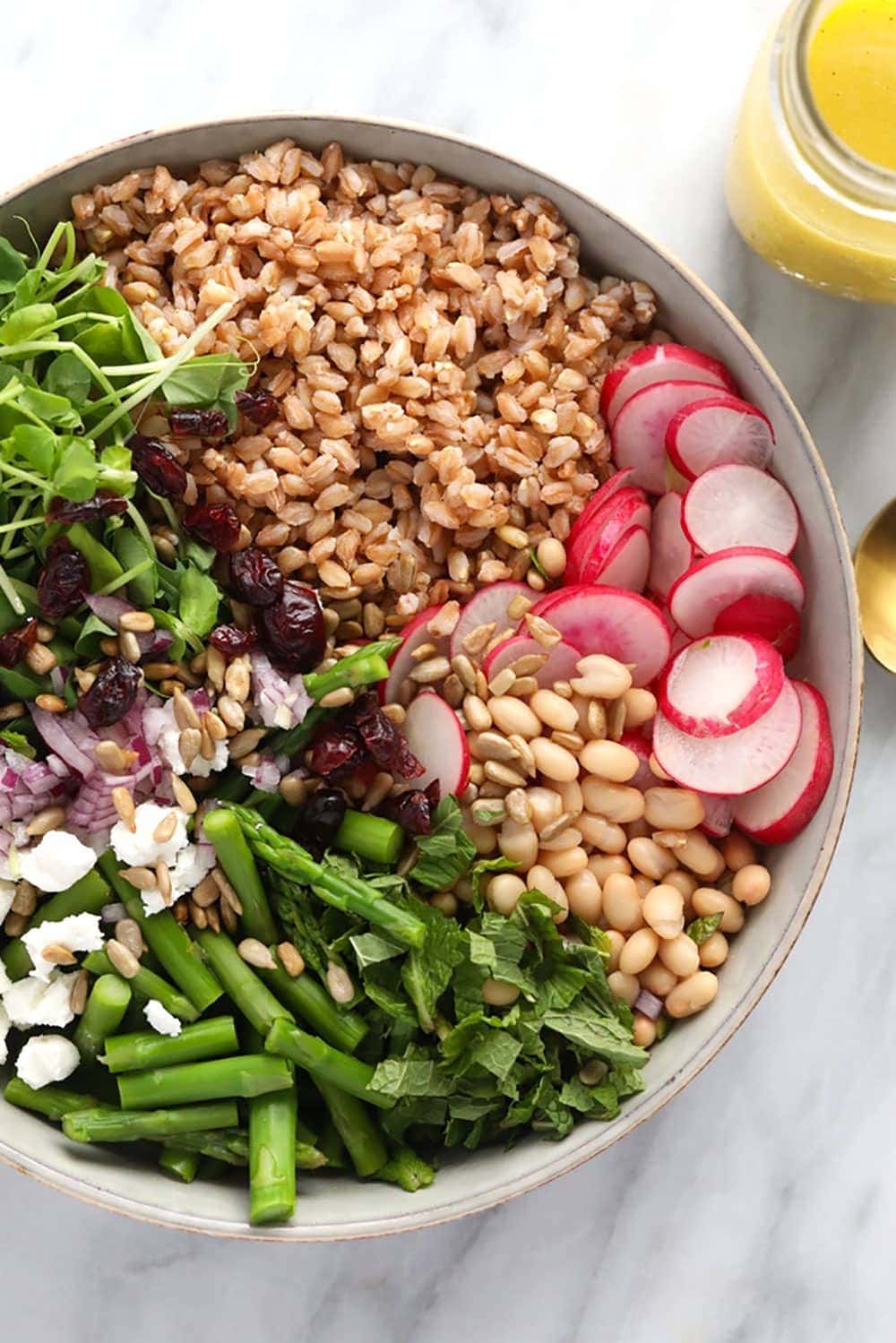 Now that you know all about farro, it's time to dig into this farro salad (literally). Below you'll find the ingredients needed + tips and tricks for making this salad!
Farro Salad Ingredients + Swaps
We crafted this salad so that there was a little bit of every ingredient in every bite! Let's break down all of the ingredients!
Farro
The star of this recipe is the farro! Farro is packed with fiber, protein, and other nutrients! It is a great addition to any salad because it also has an amazing texture.
Farro does take a little bit of time to cook, so be sure to start the farro first, before preparing the rest of this salad!
If you don't have farro, don't worry. You can substitute the farro with wheat berries, quinoa, barley, or even short grain brown rice!
Microgreens
Microgreens are delicious greens that are packed with a lot of flavor. We used radish microgreens so they have a bite to them. Feel free to use whatever microgreens are your favorite.
A great substitution for microgreens are ANY green! Arugula, spinach, or even massaged kale would work!
Asparagus
The asparagus in this recipe adds an amazing crunch and flavor to the salad! We use blanched asparagus so it is cold, crunchy, and delicious.
Scroll down to learn how to blanch asparagus. PS: you can also use our roasted asparagus recipe instead of blanching.
Radishes
If you want to add peppery flavor and crunch to any salad, radishes are a great option. They are packed with nutrients and give your salad amazing color.
Red Onion
One of the healthiest vegetables on the market is a red onion. Red onions are packed with nutrients and give salads amazing flavor.
Don't like raw onion? Feel free to use green onion or caramelize onions before adding them to the salad!
Sunflower Seeds
Every salad needs a seed or a nut! Sunflower seeds seemed like the perfectly bite sized crunch for this salad.
If you don't have sunflower seeds you could use sesame seeds, slivered almonds, or any nut.
Dried Cranberries
The sweetness of the dried cranberries gives this salad a balanced palette. Don't forget them! Are your dried cranberries a little dried out? Soak them in water for about 15 minutes and watch them plump right up.
Any dried fruit will work in this salad! Raisins, dried apricot, or even dried cherries would also be delicious.
Goat Cheese
Goat cheese is a tangy and magnificent soft cheese that is perfect when it is crumbled in salad! It's also lovely when a little bit of the goat cheese melts and gives this salad a creamy texture!
Not a fan of goat cheese? Feta or shaved parmesan would also be delicious in this salad!
White Beans
This recipe is vegetarian, but we wanted to add even more protein by adding in white beans! Just be sure to rinse the beans if you buy canned beans!
Lemon Vinaigrette
We used our bright lemon vinaigrette in this recipe. It brightens up this salad so much. And? It is a healthy dressing that takes only minutes to prepare!
lemon dressing ingredients
Here is a quick run down of what you need for this delicious, fresh dressing:
Olive oil
Balsamic vinegar
White wine vinegar
Dijon mustard
Maple syrup
Tahini
Salt
Pepper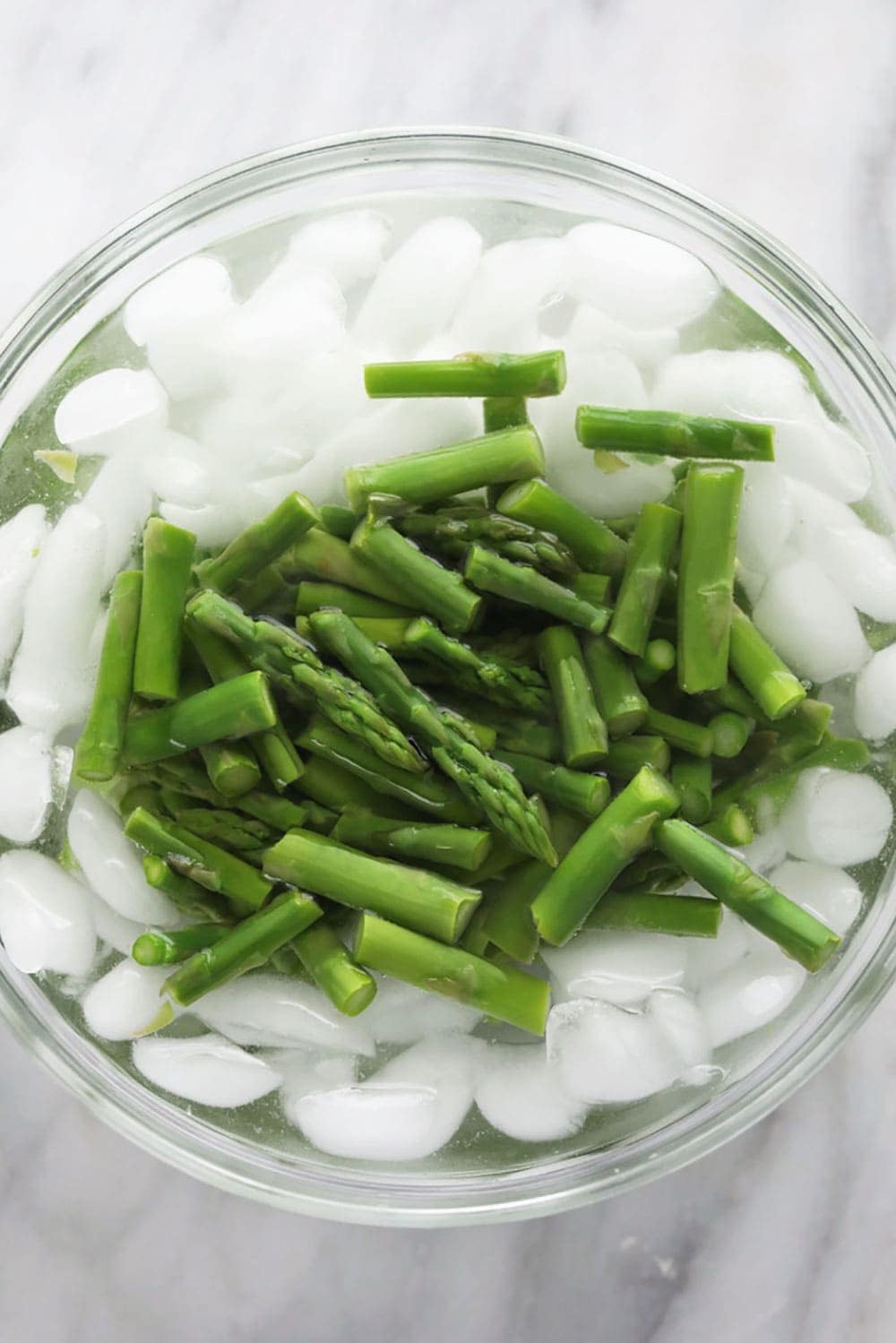 Quick Instructions
Cook farro: cook farro at a 2:1 ratio of water to farro. Bring 3 cups of water and farro to a boil over high heat. Cover and turn the heat to low. Let simmer for 20-30 minutes or until farro is al dente. Strain excess water.
Blanch asparagus: blanching asparagus is such a great way to quickly cook asparagus while keeping it crunchy and green. Keep scrolling for a quick tutorial on how to blanch asparagus.
Prep veggies and beans: while the farro is cooking and asparagus is blanching, prep veggies and beans. Chop fresh mint and slice radishes. Rinse and drain white beans.
Make the lemon vinaigrette: follow our easy tutorial to make this simple lemon vinaigrette dressing.
Toss salad: finally, toss all ingredients together and top with crumbled goat cheese and dried cranberries.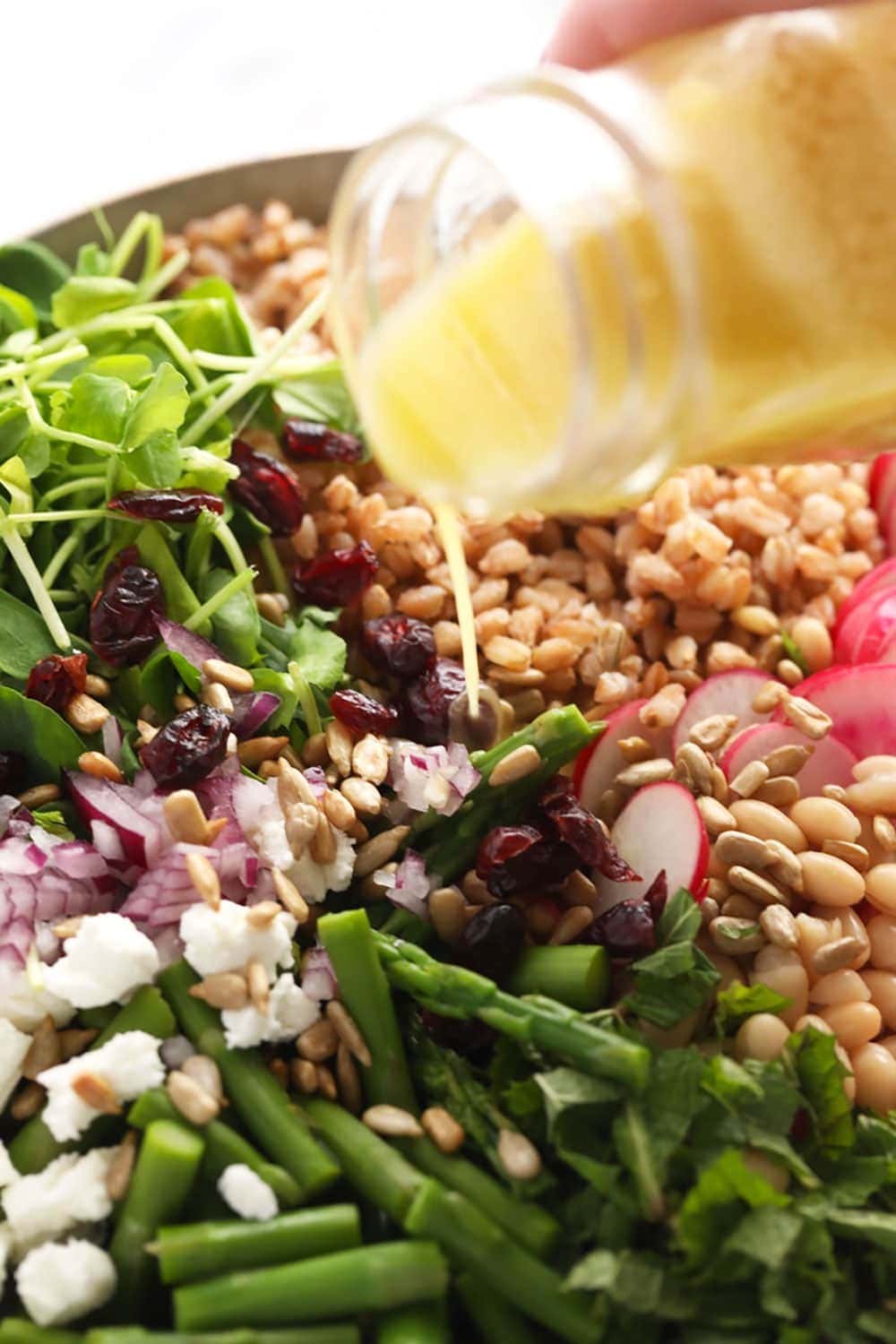 How to Blanch Asparagus
Why blanch asparagus? It helps the asparagus keep its crunch for longer and it brings out the flavor of the asparagus. Trust me, you won't regret blanching!
Prepare your ice water bath FIRST. This is important, you will need the ice bath ready immediately after boiling.
Bring a large pot of salt water to a rolling boil.
Chop your asparagus into bite-sized pieces while you are waiting for the water to boil.
Once the water is boiling, carefully add the asparagus to the boiling water. Let the asparagus cook for no more than two minutes. 
Using a slotted spoon, scoop the asparagus from the pot, let the hot water drain off the asparagus, and then place the asparagus in the ice water bath.
Let the asparagus sit in the ice water bath for around 10 minutes, strain the asparagus from the water, and then add it to the salad!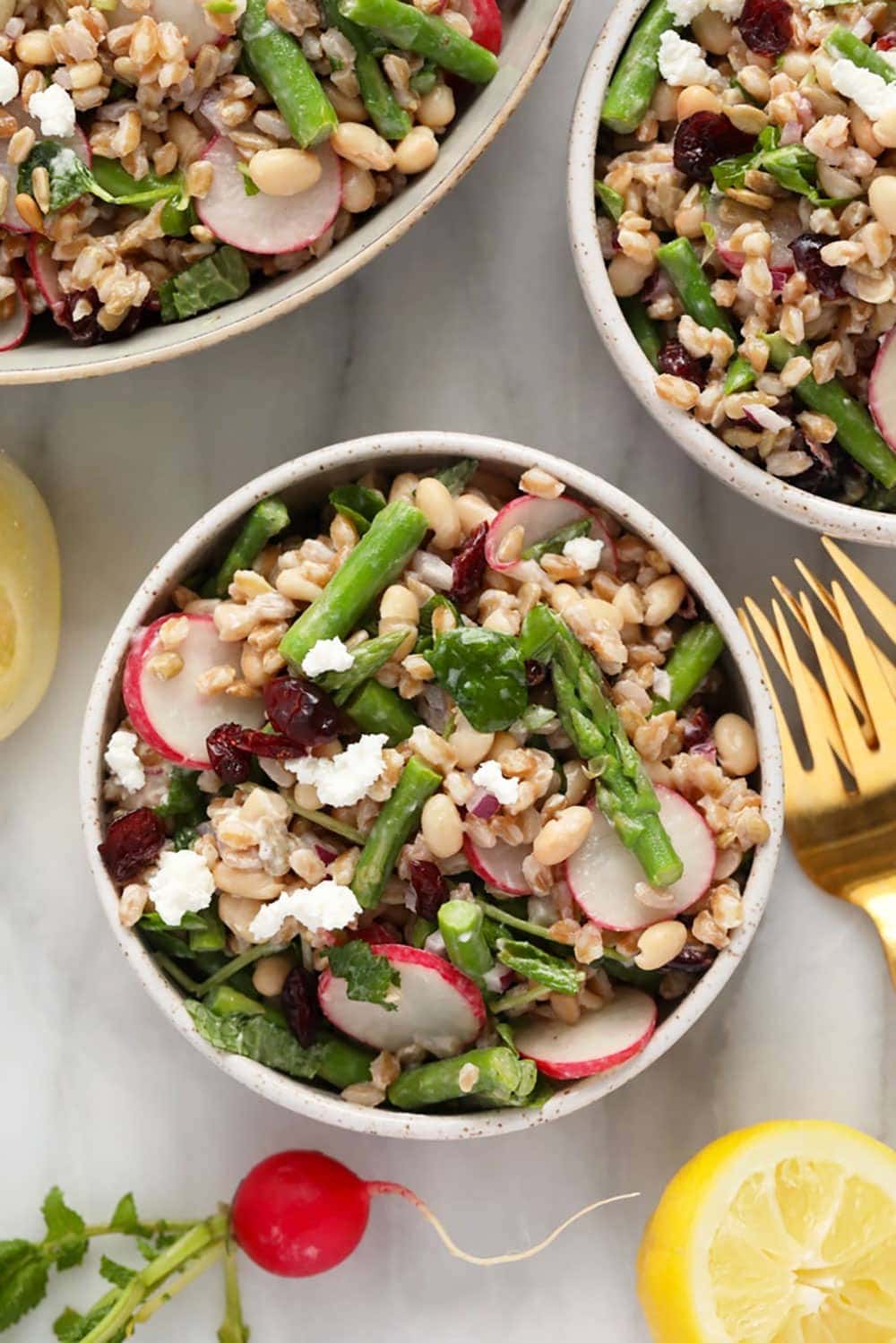 Serving Suggestions
To be quite honest, we love eating this farro salad with asparagus by itself. It's not only veggie-packed, but protein packed too. If you're hoping to serve this next to a meat protein, here are some options below: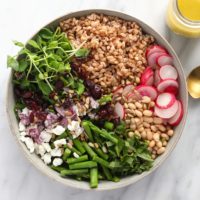 Farro Salad
A light and fresh farro salad made with al dente farro, blanched asparagus, radishes, microgreens, and goat cheese.
Prep: 20 minutesCook: 30 minutesTotal: 50 minutes
Fat 15 Carbs 63 Protein 17
Yield 6 1x
Ingredients
1.5 cups

uncooked farro

3 cups

water

1

lb. asparagus, chopped

4 cups

microgreens

1/2 cup

fresh mint, chopped

2 cups

sliced radishes

1/2 cup

sunflower seeds

1

15-oz. can white beans, drained and rinsed

4

-oz. goat cheese, crumbled

1/2 cup

dried cranberries

1/2 cup

lemon vinaigrette
Instructions
Begin by adding the farro and water to a medium sized sauce pan and bring to a boil over medium/high heat. Then, cover and turn heat to low and simmer for 20-30 minutes until farro is al dente.
When farro is al dente remove from heat and strain water and let farro cool.
Prepare the asparagus by first making an ice bath in a large bowl. Add about two cups of ice to the bowl and cover in water. Set aside.
Next, bring a large pot of water to a boil and add chopped asparagus to the pot and let the asparagus cook for two minutes (no longer than two minutes!).
Remove the asparagus with a slotted spoon and immediately place the asparagus into the ice bath. This will keep the asparagus perfectly crispy for the salad.
Next, add the cooked farro, asparagus, and the rest of the salad ingredients to the bowl and mix well. Toss with lemon vinaigrette dressing. Serve immediately!*
Tips & Notes
If you are making this salad ahead of time, do not add the microgreens to the salad. Add them right before serving so they do not get mushy.
Nutrition Facts
Serving Size: 1/6 Calories: 451 Sugar: 12 Fat: 15 Carbohydrates: 63 Fiber: 11 Protein: 17
Author: Linley RichterCategory: SaladMethod: Stove topCuisine: American
Keywords: Farro salad