Saucy and perfectly seasoned tacos right from your slow cooker are one way to make any day a great one! These Slow Cooker Chicken Tacos – and the toppings that go with them – are always a good idea. Not only does this recipe for Crockpot Chicken Tacos provide a great dinner the first time, but the leftovers can be enjoyed in many different ways. Enjoy the deliciously spiced and shredded chicken as tacos, bowls, salads, nachos, and more. And if you want tacos even faster, use our directions in the recipe card notes for Instant Pot Chicken Tacos.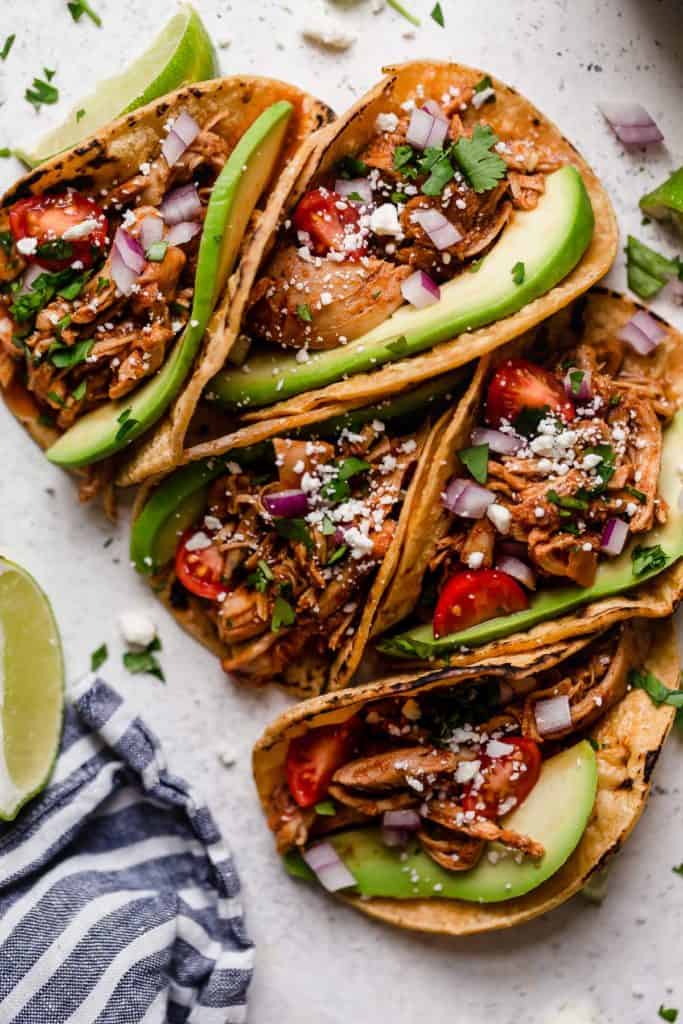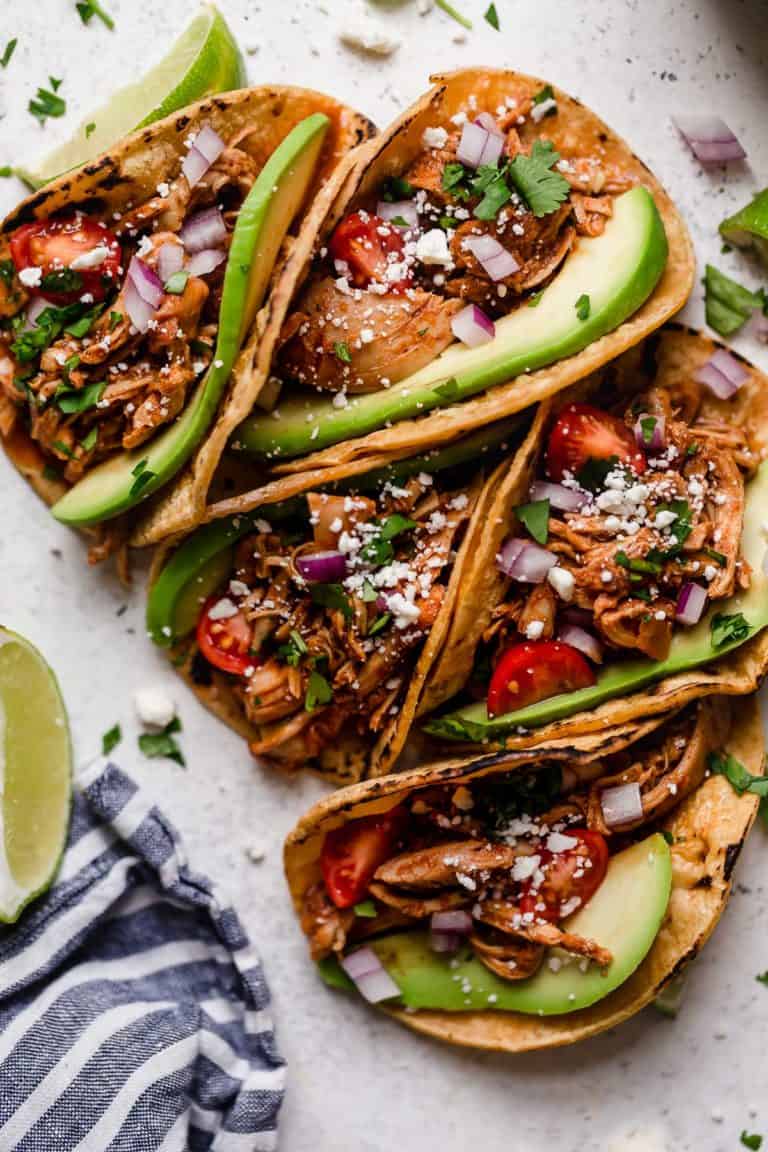 This post was originally published Oct 11, 2020; Updated Oct 4, 2022
Crockpot Chicken Tacos are a weeknight staple
We think it's safe to say that everyone wins when tacos are on the menu, whether it's Taco Tuesday or any other day of the week. And regardless of whether they're the standard ground beef taco with minimal toppings (cheese, lettuce, and tomato) or kicked your taco night up a notch with fish, roasted veggies, or shredded chicken and a side of guacamole, there's always room for everyone to make tacos their own.
These Crockpot Chicken Tacos are made with only 8 ingredients (and even less than that if you use a premade taco seasoning mix), that are all thrown in a slow cooker, making this a super easy dinner option. We've given this tender chicken a classic taco flavor – with our Real Foods Dietitians twist of course – that doesn't interfere with your creative license when it comes to toppings.
Bonus: If you're short on time, these Crock Pot Chicken Tacos can also be made as Instant Pot Chicken Tacos! Scroll down for the Instant Pot directions.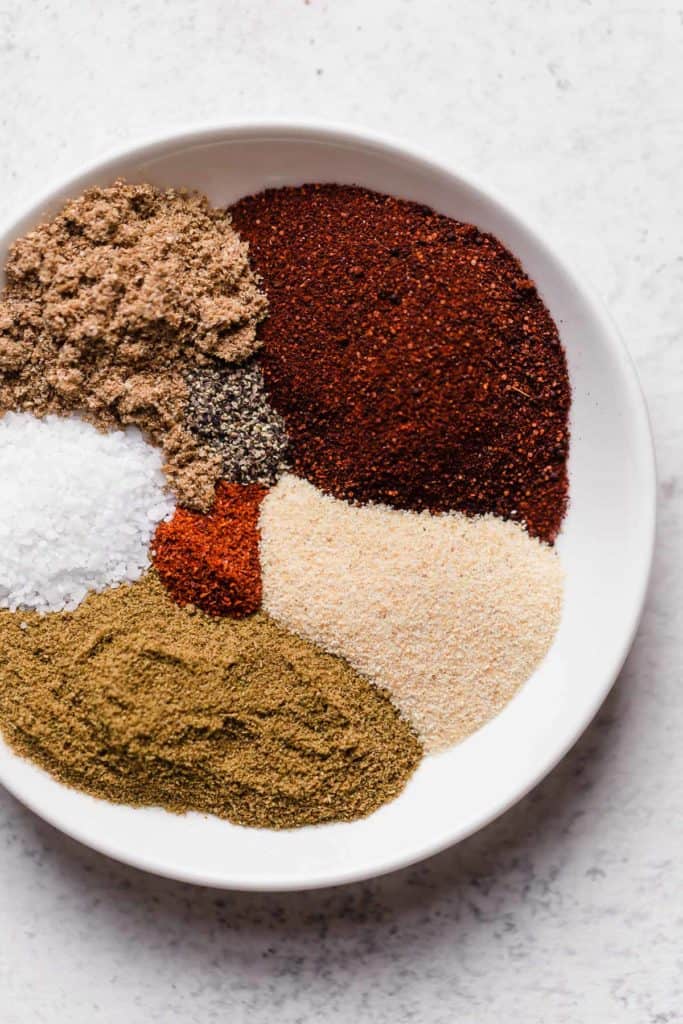 Ingredients to make crockpot Chicken Tacos
Here's what you need to gather to get these slow cooker chicken tacos cooking:
Chicken breast or chicken thighs – we recommend you use one pound of each. We source our high-quality, free-range chicken breast and chicken thighs (delivered right to our doors) from ButcherBox
Salsa – you can use any salsa or choice, homemade or store-bought
Spices* – you'll need ground cumin, chili powder, garlic powder, ground coriander (optional but really adds delicious and authentic flavor in this recipe), cayenne pepper (for more heat add a pinch or two extra, for less heat omit the cayenne pepper), salt, and black pepper
Salad greens or Butter leaf lettuce – for serving this crockpot shredded chicken in a lettuce wrap or salad; or you can serve them in tortillas or taco shells (we like to use an organic corn tortilla or a grain-free tortilla)
Toppings of choice – gather some fresh chopped veggies of choice, fresh cilantro, olives, sliced avocado, hot sauce, fresh salsa, lime wedges, shredded cheese, and sour cream
*Note: Instead of making your own seasoning, as directed in the recipe, you may substitute our Homemade Taco Seasoning or use a pre-made taco seasoning of your choice.
Tip!
Save Big On Quality Ingredients
Our whole team here at The Real Food Dietitians loves to restock our pantries each quarter with baking and cooking essentials from Thrive Market. We find that Thrive Market offers the best prices on natural, organic, and specialty foods, including pantry staples, spices, and baking ingredients. You'll get $60 in free groceries when you create a new membership today! 
Keep reading and scrolling for tips for success, as well as the complete recipe. The ingredient list with exact measurements can be found in the recipe card below.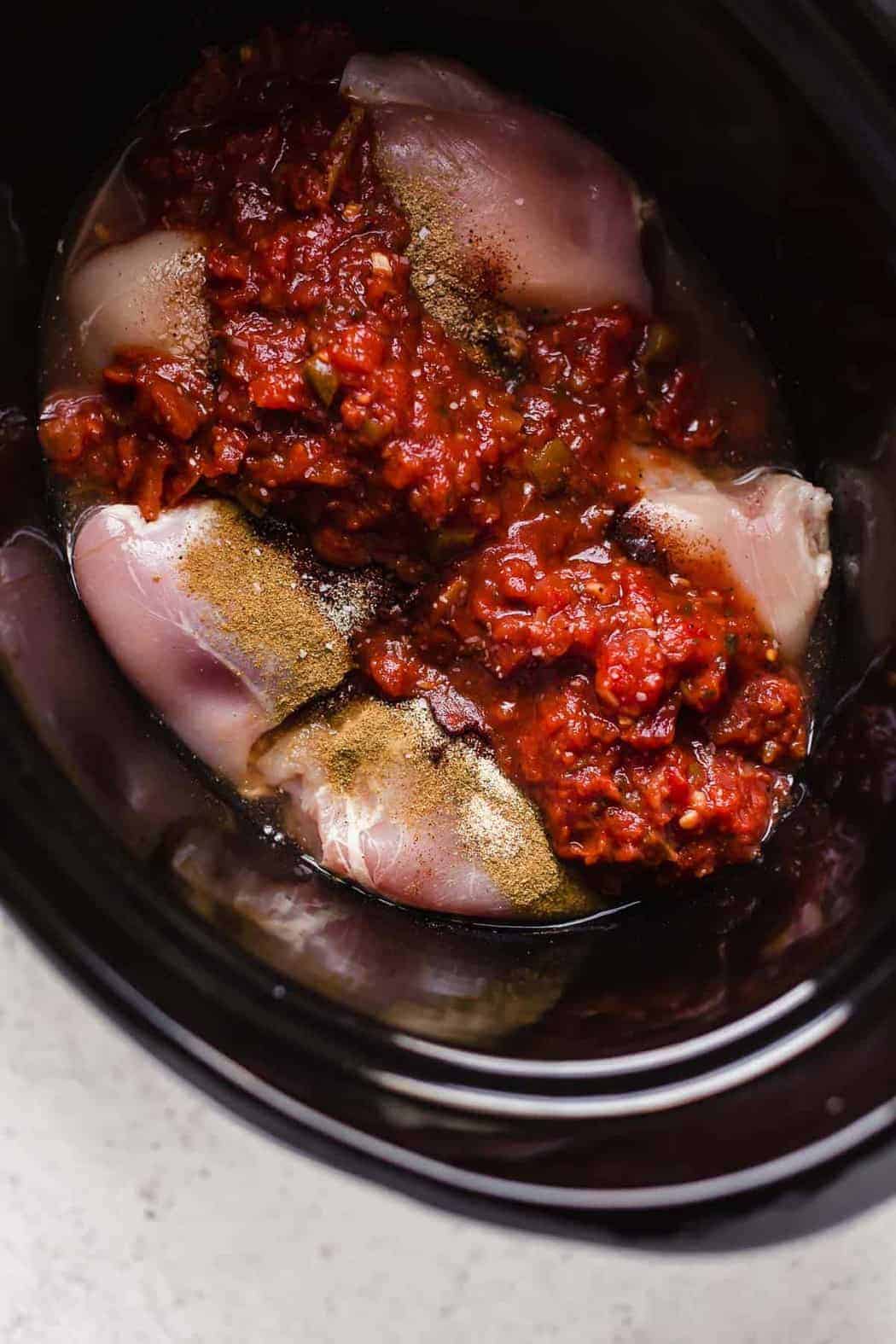 How to make Crockpot Chicken Tacos
Here are the three quick steps (seriously, it's SO easy!) to make these chicken tacos today! Don't you just love a "dump it all in" slow cooker taco recipe?
Directions to Make Slow Cooker Chicken Tacos
Add it all right to the Crockpot: Place all of the ingredients in a slow cooker and cook on high for 4-5 hours.
Shred the chicken: Remove the chicken from the slow cooker and place on a baking sheet or large plate (keeping the liquid in the slow cooker). Using two forks, shred the chicken. Return the shredded chicken to the slow cooker and cook on the low setting for an additional 30 minutes.
Serve delicious chicken tacos: Serve the chicken taco meat in lettuce wraps, tortillas, or over a bed of greens; top with desired taco toppings.
Tip!
Confused about labels on chicken packages?
Free range, farm raised, antibiotic free, organic, natural, humanely raised … there are so many words on chicken labels, that it can be confusing to know what to buy. But worry, not. We wrote a whole blog post on this very topic to help you select the best chicken at the grocery store.
Tacos are a great choice for dietary restrictions
If you're serving friends or family members who have dietary restrictions or follow special diets, we think that serving this recipe for shredded crockpot chicken tacos is an excellent choice. By allowing people to build their own meal, this recipe works for just about anyone.
gluten-free: this recipe is naturally gluten-free. If you are serving them to someone with celiac disease, offer gluten-free corn tortillas, over rice or cauliflower rice, or serve in lettuce wraps
grain-free: serve the crockpot chicken tacos in lettuce wraps or in these favorite grain-free taco shells
dairy-free: to make these completely dairy-free tacos, simply opt out of any dairy-containing toppings, such as cheese and sour cream, Or, serve our Vegan Queso or Vegan Nacho Cheese as dairy-free cheesy toppings to drizzle
Paleo: this recipe for taco seasoned chicken doesn't contain any added dairy, grains, sugars, or refined oils. So, it is a great option for your friends and guests who may be looking for a Paleo-friendly option
Whole30: this crockpot chicken tacos recipe makes a great Whole30 meal. Instead of wrapping the chicken in a tortilla, serve it as a lettuce wrap or "bowl style" over cauliflower rice or lettuce greens. You'll want to hold the cheese and sour cream and instead top your tacos with guacamole, fresh salsa, and cilantro
6 Ideas for how to serve Slow Cooker Chicken Tacos
Taco 'bout the possibilities! This easy recipe for crockpot shredded chicken tacos has so many serving options. We love setting up a taco bar for fun weeknight meals, entertaining, and game days. And, since it only takes 5 minutes to prep this recipe, you can then focus on the fun toppings. Here are some delicious ways to serve this chicken taco meat:
Wrapped in soft or hard tortillas
As lettuce wraps
Over rice for "bowl style"
As a taco salad over lettuce
Nacho style
Over baked sweet potatoes (like we do with our Slow Cooker Buffalo Chicken)
Slow Cooker Chicken Tacos are always a good idea!
This recipe is budget-friendly, freezer-friendly, and a guaranteed crowd-pleaser. We highly recommend doubling this recipe for Crock Pot Chicken Tacos so you can be prepared for just about anything. Consider it your E.T.M. (Emergency Taco Meal). Hey, everyone needs one of those!
Whether your afternoon meetings run late, surprise visitors show up, or you just don't feel like cooking, you'll never regret having a batch of these saucy shredded slow cooker chicken tacos ready to go.
How to Freeze Crockpot Shredded Chicken
Prepare these Crockpot Chicken Tacos as described in the recipe card below. Allow the shredded chicken to completely cool, and then transfer it to a glass airtight container or freezer-safe bags. Store in the refrigerator for up to 3 days, or freeze for longer storage of up to 3 months.
You can also freeze individual portions of shredded chicken in smaller freezer-safe bags or containers. Then, easily pull out exactly the amount you need for a quick and packable lunch or easy dinner for one or two.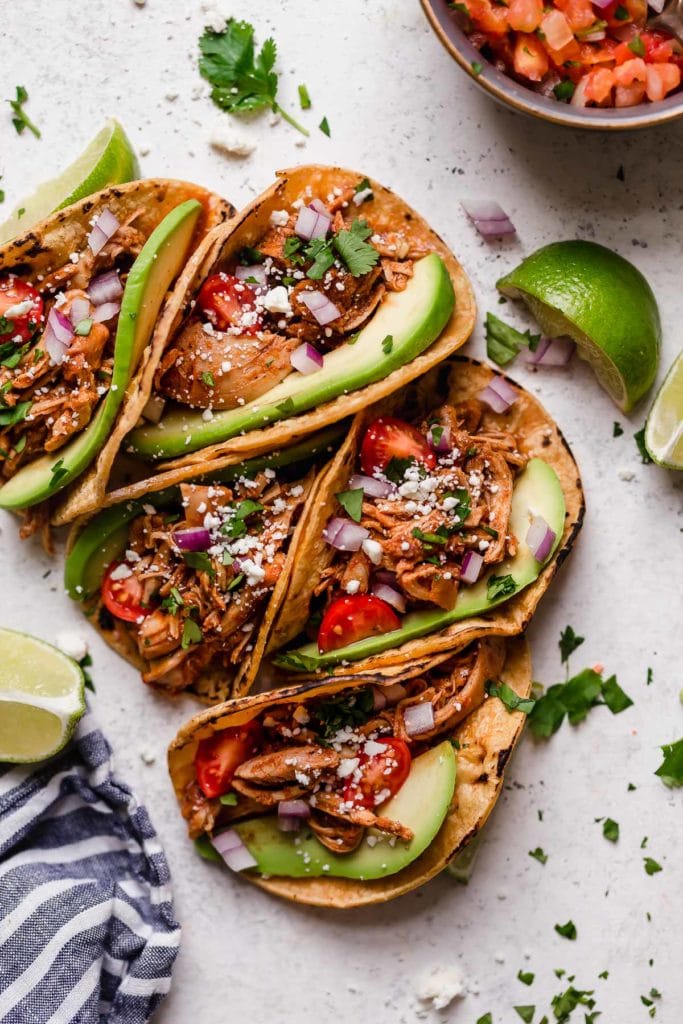 Tip!
3 Ways to Reheat Frozen Shredded Chicken
Another great feature of this crockpot chicken tacos recipe is that it reheats really nicely (from refrigerated or frozen) for future meals. Here are a few ways to make frozen shredded chicken all warm and saucy again.
To thaw or not to thaw? If you remember ahead of time, you can pull the chicken out of the freezer to thaw overnight in the refrigerator before using it. But honestly, this is real life, and we aren't always going to remember! Here are some ways you can reheat the chicken from thawed or frozen:
Reheat on the stove: Transfer the thawed or frozen chicken to a large Dutch oven or saute pan. Heat it over medium heat, breaking it apart with a wooden spoon, until it is saucy and hot.
Reheat in a slow cooker (from frozen): Place the frozen shredded chicken in a Crockpot. Reheat on "high" until hot, 1-3 hours.
Reheat in an Instant Pot (from frozen): Place the shredded chicken block in an Instant Pot. Using the Sauté setting, break the chicken apart as it thaws, which will take about 5 minutes. Then, secure the lid on the Instant Pot and switch the valve to the "Sealing" position. Select the "Pressure Cook" function and set the time for 5 minutes. Once the time is up, release the pressure and check to see if it's heated through. If not you can either add more time or use the Sauté function again to finish heating the chicken all the way through.
Recipe
Crockpot Chicken Tacos
These Slow Cooker Chicken Tacos can be served in many different ways and only take 5 minutes of prep time! Serve the saucy spiced chicken in taco shells or tortillas, as lettuce wrap, over baked potatoes, or on top of salad greens with a variety of toppings. Includes instructions for the Instant Pot, too. 
Prep: 10 minsCook: 4 hoursTotal: 4 hours, 10 mins
Ingredients
For the Chicken:
*Instead of these spices, you could use our Homemade Taco Seasoning or a purchased pre-made one of your choice.
For Serving:
Taco shells for tacos, rice or cauliflower rice for taco bowls, lettuce for taco salads, or Bibb lettuce leaves for lettuce wraps
Any favorite taco toppings, such as chopped tomatoes, onions, jalapeno, fresh cilantro, olives, avocado, hot sauce, fresh salsa, lime wedge, cheese, and sour cream
Instructions
Slow Cooker Directions
Place the chicken, salsa, water, and spices in a slow cooker. Cook on the high setting for 4-5 hours.

Remove chicken and shred with 2 forks. Return to slow cooker and cook on low for an additional 30 minutes.

Serve the shredded chicken taco meat in your desired way (as tacos, taco bowls, taco salads, or lettuce wraps. Top with your desired taco toppings.

Instant Pot Directions
Place all ingredients into an Instant Pot. Lock the lid in place and flip the vent valve to the "Sealing" position.
Select the "Poultry" or "High Pressure" setting, then use the +/- buttons to adjust the cooking time to 14-16 minutes (depending on how thick your chicken breasts are).
When cooking time is up, allow the pressure to release naturally for 10-15 minutes before releasing any residual steam.
Carefully remove the lid after all steam has been released. Shred the chicken with two forks directly in the pot. If the chicken seems too watery, select the "Saute" setting and cook until liquid is reduced to your desired level, 5-8 minutes.

Serve the shredded chicken taco meat in your desired way (as tacos, taco bowls, taco salads, or lettuce wraps. Top with your desired taco toppings.
Last Step! Please leave a review and rating letting us know how you liked this recipe! This helps our business thrive so we can continue providing free recipes and high-quality content for you.
Notes
Store leftovers in a covered container in the refrigerator for up to 3 days. Freeze in freezer-safe bags or containers for up to 3 months. 
This is our team's favorite slow cooker for making all kinds of slow cooker meals, from these chicken tacos to soups, stews, roasts, and more. 
Nutrition Information
Serving Size:

4 ounces shredded chicken

Calories:

140

Fat:

3 g

(Sat Fat:

1 g

)
Sodium:

300 mg

Carbohydrate:

4 g

(Fiber:

0 g

Sugar:

1 g

)
Protein:

26 g
Dietary
© The Real Food Dietitians
Pin It Now To Make It Later!
Photo Credit: The photos in this blog post were taken by Jess of Plays Well with Butter. 
For ultimate success, we highly recommend reading the tips in the full blog post above. All photos and content are copyright protected. Please do not use our photos without prior written permission. If you wish to republish this recipe, please rewrite the recipe in your own unique words. Link back to the source recipe here on The Real Food Dietitians. Thank you!
---