Meal prep the easiest crock pot teriyaki chicken recipe with stir-fried veggies and white rice for a balanced healthy meal all week long.
We love chicken meal prep recipes and can't wait for you to try this super simple slow cooker teriyaki chicken with our homemade teriyaki sauce.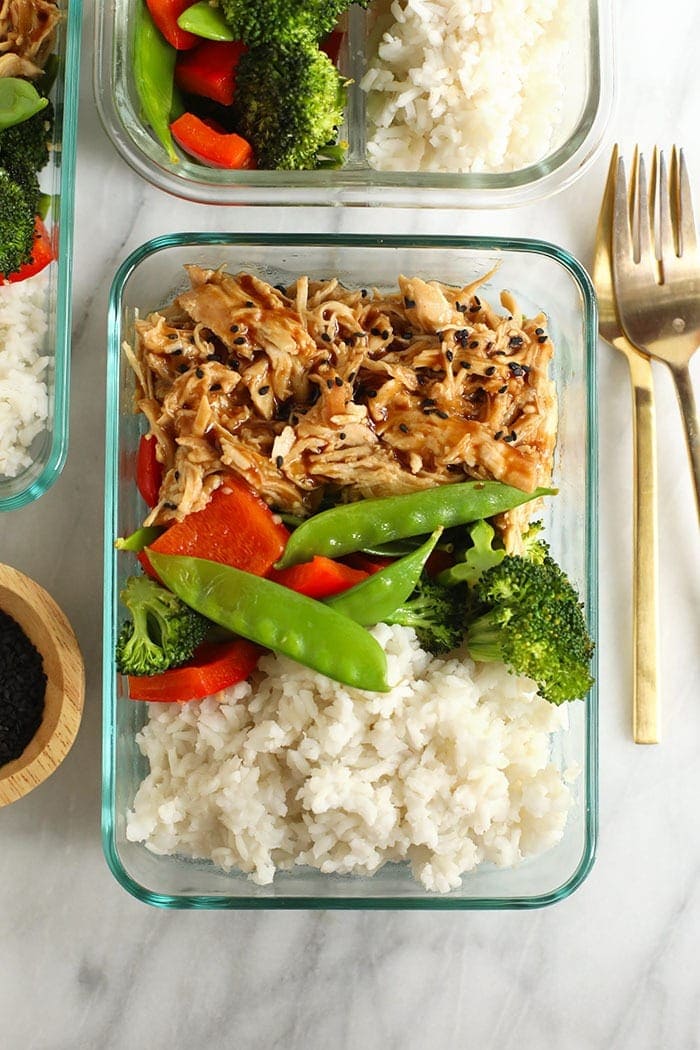 Chicken Meal Prep
We're so excited to be sharing a yummy chicken meal prep recipe made with our favorite homemade teriyaki sauce — and you're going to absolutely love the flavors of this dish. We love using chicken for meal prep because it's super versatile and high protein.
This easy teriyaki chicken is made with boneless skinless chicken breast in the slow cooker and will last you an entire week of lunches or dinners. The best part? You pretty much just place your chicken and sauce into the crock pot and let her cook until it's time to thicken the sauce and shred the chicken!
Can you put frozen chicken in a crock pot?
The short answer here is no, we do not recommend putting frozen chicken in a crock pot. We say this only because we don't want you to get sick with foodborne illness and sometimes this can happen if your chicken sits partially frozen for too long.
So, if you're going to make this recipe, make sure you thaw your chicken first before placing in yoru slow cooker!
What is teriyaki sauce made of?
Good news for you, we came up with our very own chicken teriyaki sauce on Fit Foodie Finds that's refined sugar-free and easily made gluten-free! It has just the perfect amount of sweetness. Here are the ingredients you'll need:
maple syrup (brown sugar is an easy substitution if you prefer that!)
fresh ginger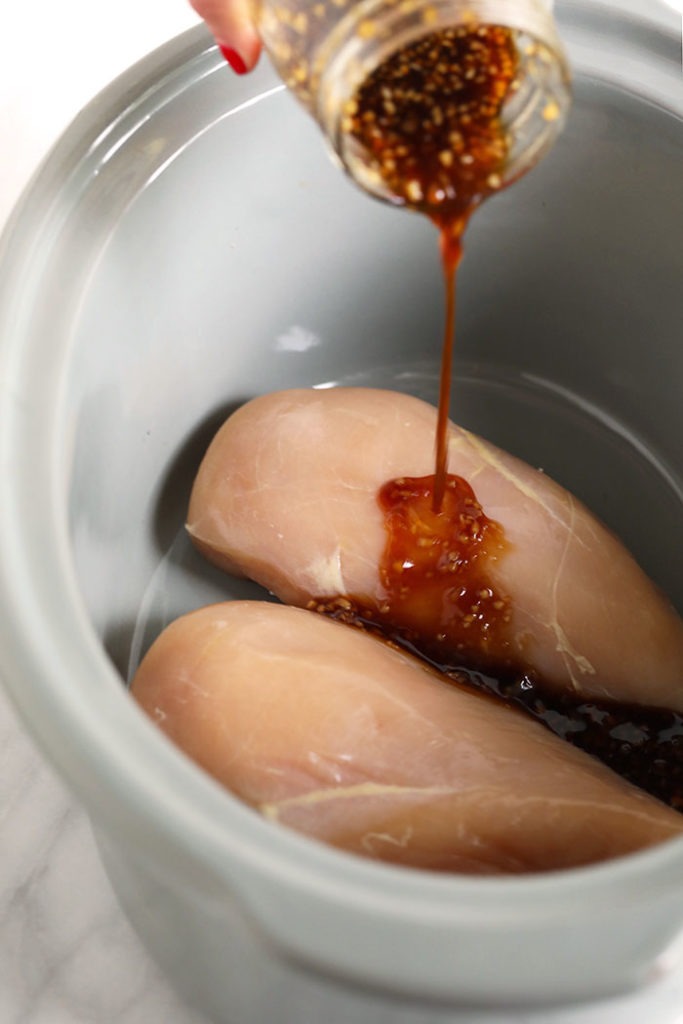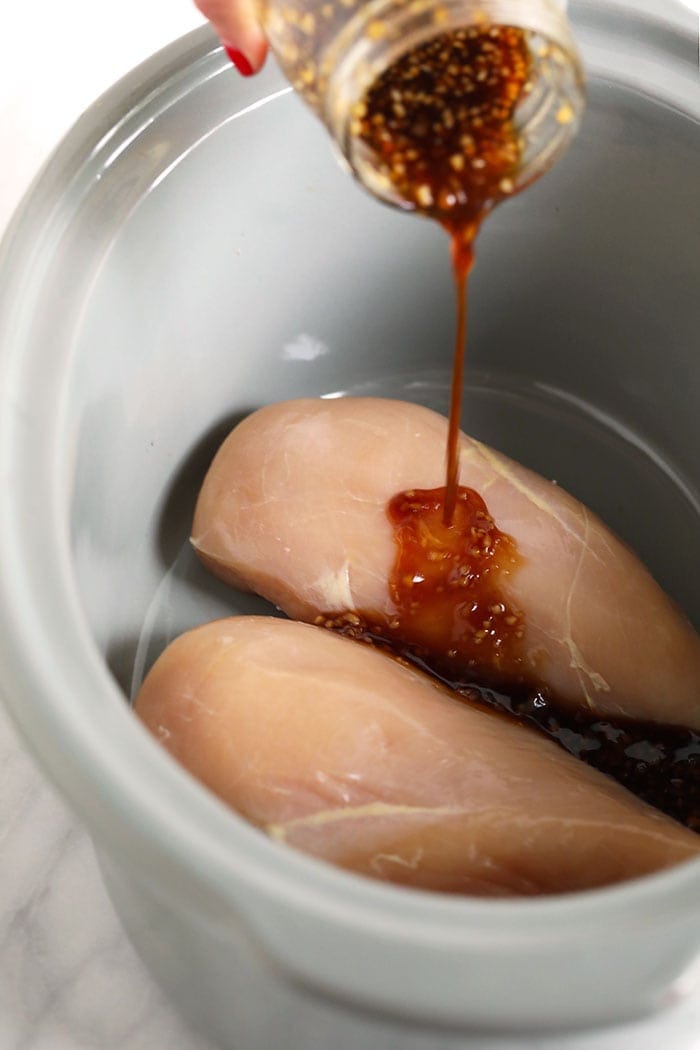 How can I thicken my teriyaki sauce?
There are a few ways to thicken your teriyaki sauce –> slow cooker and stove-top. To do this, you will need either cornstarch or tapioca starch.
Slow cooker: Remove everything but the sauce from your slow cooker and turn to high. Add 1-2 tablespoons of cornstarch and whisk until dissolved. Cover the slow cooker and let sit for around 15-20 minutes until thickened.
Stove-top: Bring your sauce to a boil over high heat and add 1-2 tablespoons of cornstarch. Whisk to dissolve and then turn the heat down to low. Let simmer for around 3-5 minutes until thickened.
How can I make this lower in calorie?
You'll notice that we used 2 full batches (or 1 cup) of our teriyaki sauce for this slow cooker teriyaki chicken. This creates really nice and saucy chicken, but if you want to cut some cals, you can cut the teriyaki sauce in half! This will cut out almost 60 calories per serving!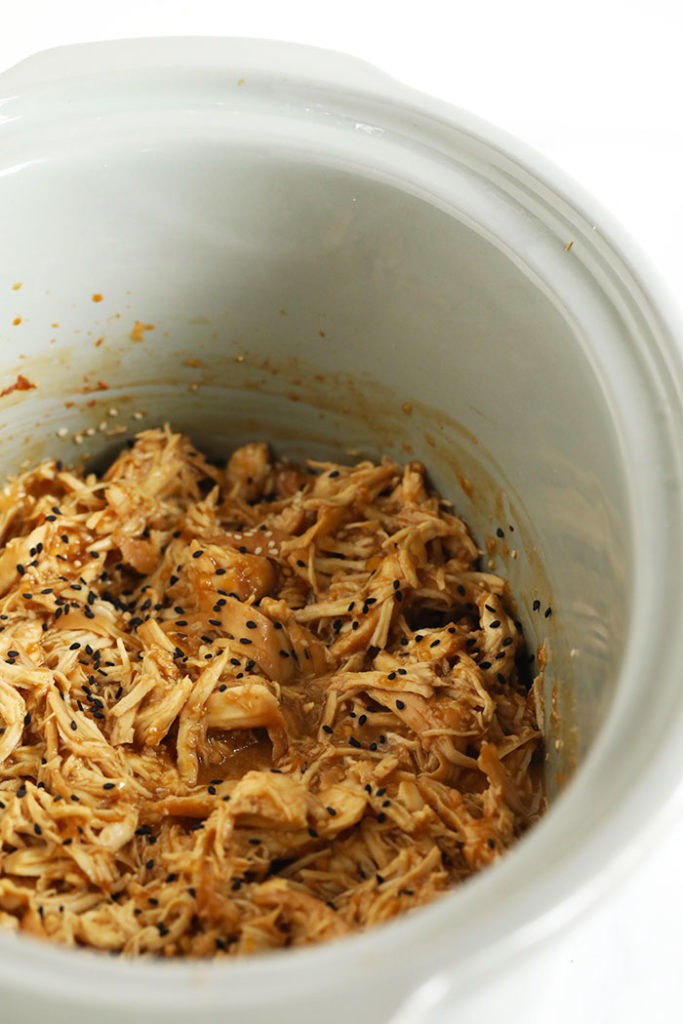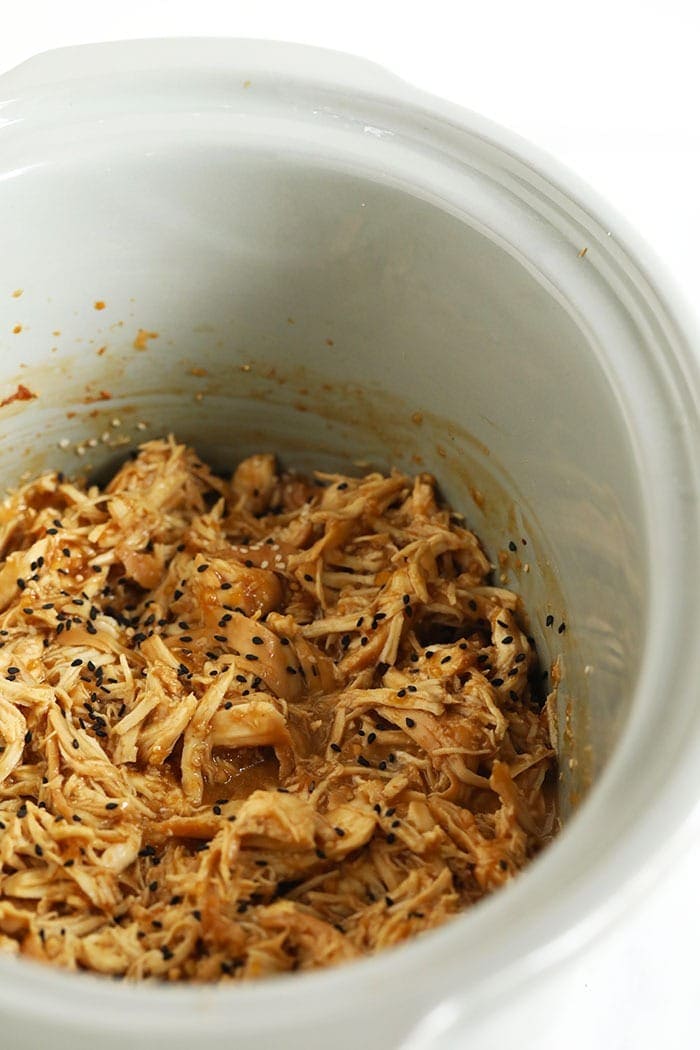 What goes with teriyaki?
Teriyaki is such a versatile sauce that pretty much anything and everything goes with teriyaki. In addition to white rice and stir-fried veggies, here are some fun combos to try!
brown rice + broccoli
quinoa + green beans
cauliflower rice + Brussels sprouts
Get your Meal Prep On!
One of the main reasons why we love making slow cooker shredded chicken is because it makes for super easy meal prep and amazing leftovers. Meal prep will save you money in the long run and the headache of being hungry with nothing to eat!
Favorite meal prep containers
How long will this teriyaki chicken last?
This teriyaki chicken bowl will last around 5 days in the refrigerator. Just make sure to store it in an airtight container!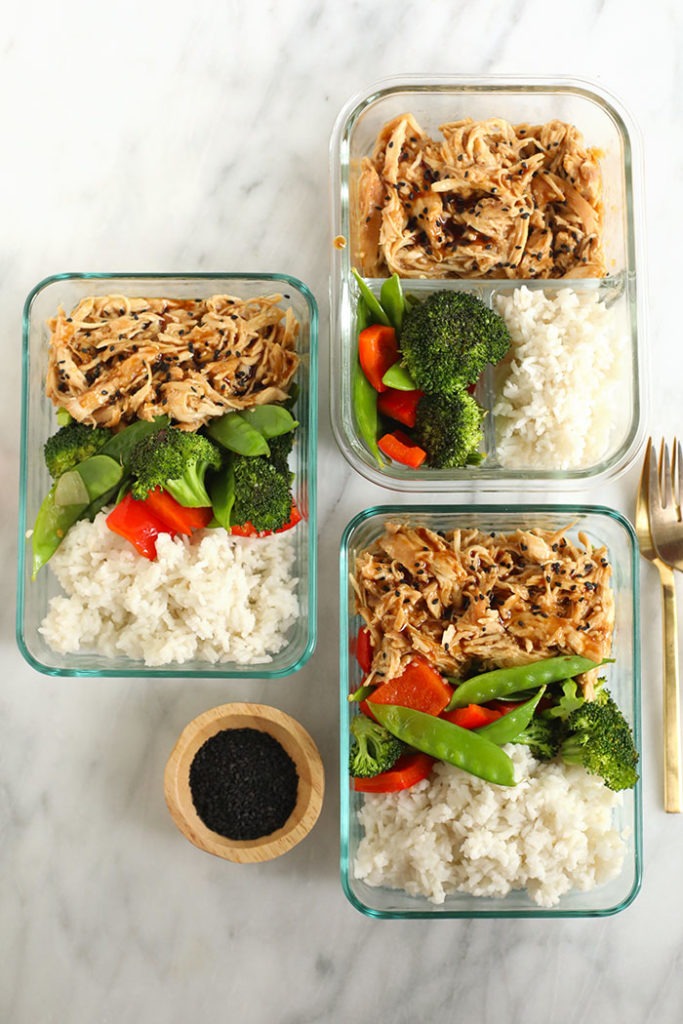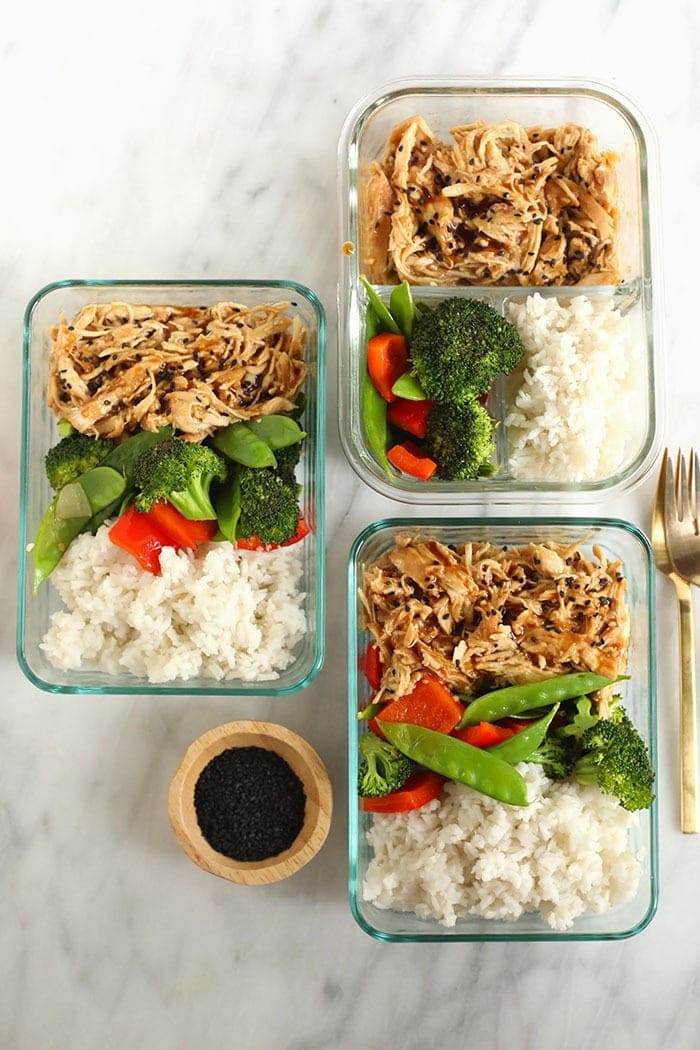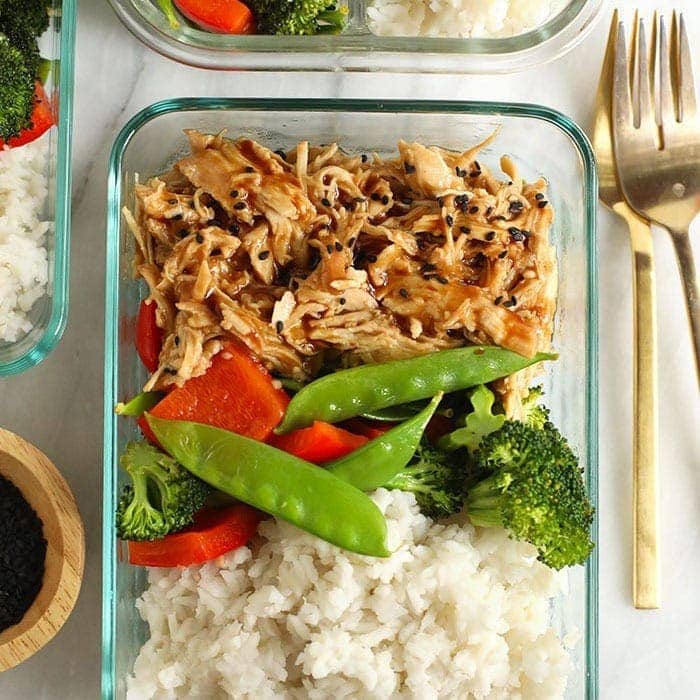 Crock Pot Teriyaki Chicken
This easy crock pot teriyaki chicken with stir-fried veggies and white rice makes for a balanced healthy meal all week long. Meal prep this today!
Prep: 20 minutesCook: 2 hoursTotal: 2 hours 20 minutes
Fat 14 Carbs 63 Protein 43
Yield 4 1x
Ingredients
Crock Pot Teriyaki Chicken
Vegetables
1

large red bell pepper, chopped

2 cups

snow peas

3 cups

broccoli, chopped

1/2

small white onion

2 teaspoons

minced garlic

2 tablespoons

olive oil

2 teaspoons

sesame seed oil
salt and pepper, to taste
White Rice
1 cup

long grain white rice

1 1/2 cups

water
Instructions
Crock Pot Teriyaki Chicken
Place chicken breasts into a slow cooker and add homemade teriyaki sauce on top (hold off on the corn starch).
Cover slow cooker and cook on high for about 2-3 hours or on low or 4-6 hours.
Once the chicken is fully cooked, remove chicken from the slow cooker (leaving the liquid in the slow cooker) and place onto a plate. Shred chicken with two forks and set aside
Turn your slow cooker to high and then sprinkle the corn starch into the sauce and whisk the sauce until the corn starch has dissolved.
Cover the slow cooker and let the sauce simmer on high in the slow cooker for about 10 minutes or until it thickens.*
Add shredded chicken back into the slow cooker and mix until everything is coated.
Vegetables
While chicken is cooking prepare vegetables by preheating the oven to 375ºF.
Place all vegetables onto a baking sheet and drizzle with olive oil and sesame seed oil and toss. Then, season with salt and pepper.
Next, place the baking sheet in the oven and bake for 10-15 minutes.
White Rice
Add water and rice to a medium-sized saucepan and bring to a boil over high heat.
Turn heat to low, cover, and let simmer until all the water has evaporated and rice is light and fluffy (about 15-20 minutes).
Remove from heat.
Chicken Teriyaki Bowl
Evenly distribute chicken, vegetables, and rice into 4-6 bowls and serve immediately or into meal prep containers for the week.
Tips & Notes
*Be sure that the sauce in the slow cooker is hot before adding the cornstarch to the sauce. You need the sauce to be hot for the cornstarch to do its job. If the sauce is not hot, pour the sauce into a small saucepan, bring to a boil and add the cornstarch. Slowly whisk cornstarch into the sauce and let thicken. Pour sauce back into the slow cooker.
Nutrition Facts
Serving Size: 1/4 Calories: 534 Sugar: 22 Fat: 14 Carbohydrates: 63 Fiber: 4 Protein: 43
Author: Lee FunkeCategory: ChickenMethod: Slow CookerCuisine: Asian
Keywords: crock pot teriyaki chicken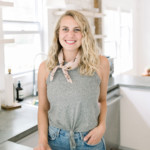 Lee is the founder of Fit Foodie Finds and based in Minneapolis, MN. She started this website in 2010 as a way to share her love for real food and wellness.