Looking for a quick and easy air fryer bacon tutorial? In this post, we'll teach you how to cook bacon in the air fryer in just a few steps!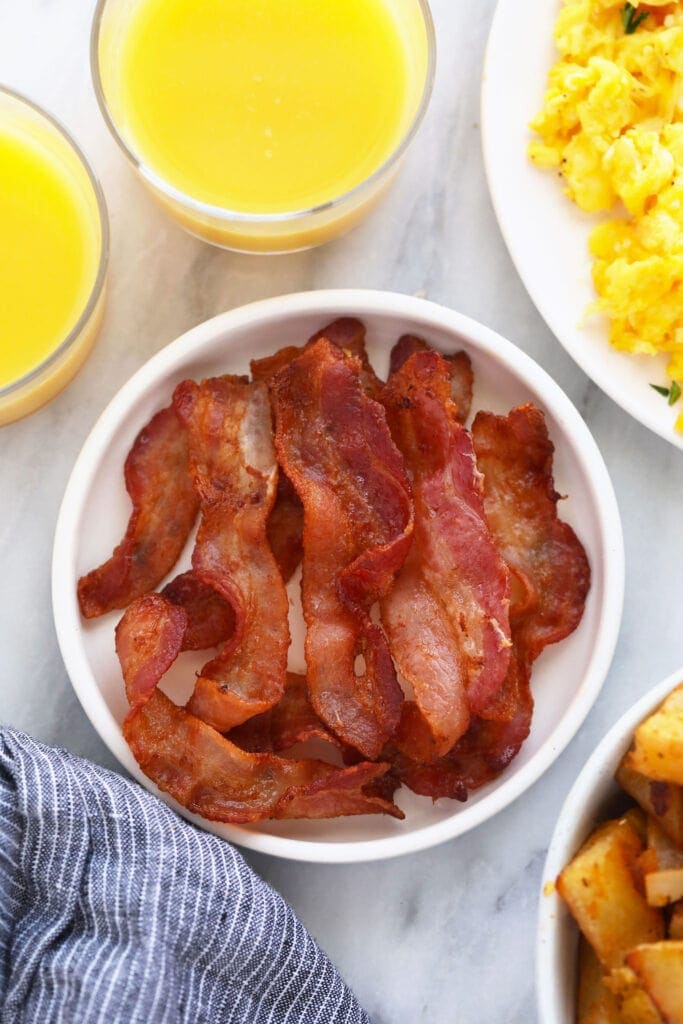 If you're anything like us, you love bacon! Whether you only have 10 minutes and prefer to cook your bacon in the microwave, or if you're cooking bacon for the masses and enjoy oven-baked bacon.
Today we're chatting all things –> AIR FRYER BACON!
Why Air Fryer Bacon?
Are you wondering, can you cook bacon in an air fryer? The answer is YES.
No space in the oven: Whipping up our baked eggs or an overnight French toast bake and don't have room to bake bacon? Use your air fryer to do so!
No smokey mess on the stove: There is nothing worse than smoking your whole kitchen from cooking bacon on the stovetop. Air Fryer Bacon will prevent this!
Bacon for 1 or 2: Only need bacon for 1 or 2? Cooking bacon in air fryer is seriously so perfect for small-batch bacon.
Fast: The cook time for air fryer bacon is fast – anywhere from 7-10 minutes depending on the thickness of your bacon.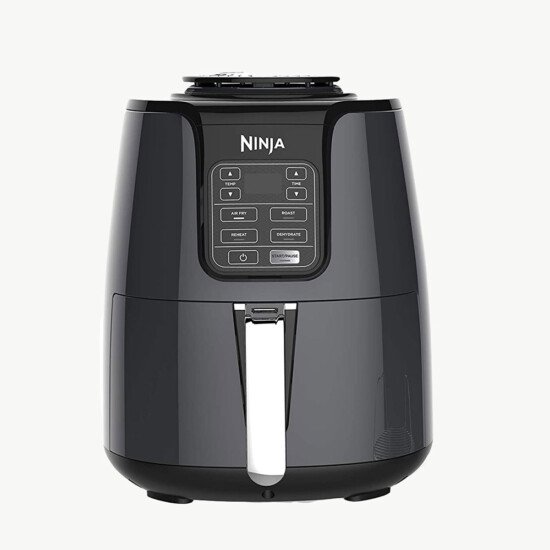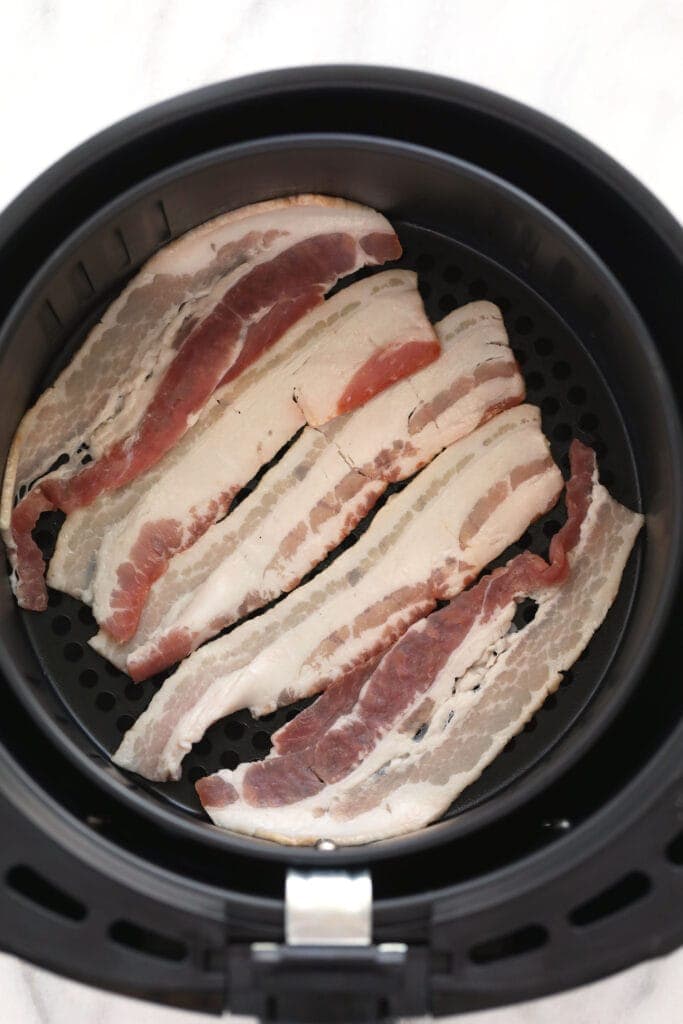 What kind of bacon should I use for air fryer bacon?
Air fryer bacon works with all kinds of bacon, whether it's thick, medium, or thin-cut bacon. So, buy your favorite and you're good to go.
How to Cook Bacon in Air Fryer
Preheat air fryer to 350ºF.
Prep bacon by slicing in half.
Air fry bacon for 6-10 minutes at 350ºF depending on the thickness of your bacon.
how long to cook bacon in air fryer
Cook bacon in the air fryer at 350ºF for around 6-10 minutes, flipping halfway through. Cook time is based on thickness of bacon.
Thin: 6-7 minutes
Medium: 8 minutes
Thick: 9-10 minutes
Do I have to cut my bacon in half?
If the size of your air fryer permits, you can keep your bacon while. You can fold it over itself a little bit, but we don't suggest stacking the bacon.
Is your bacon smoking?
Through many tests of this recipe, we've found the main cause of bacon smoking is setting your air fryer too hot. We started with 400ºF and that was much too hot, causing the bacon to smoke.
So, make sure to preheat your air fryer to no hotter than 350ºF to prevent smoking.
A quick tip: always remember to remove the excess grease on the bottom of your air fryer pan after each round of cooking.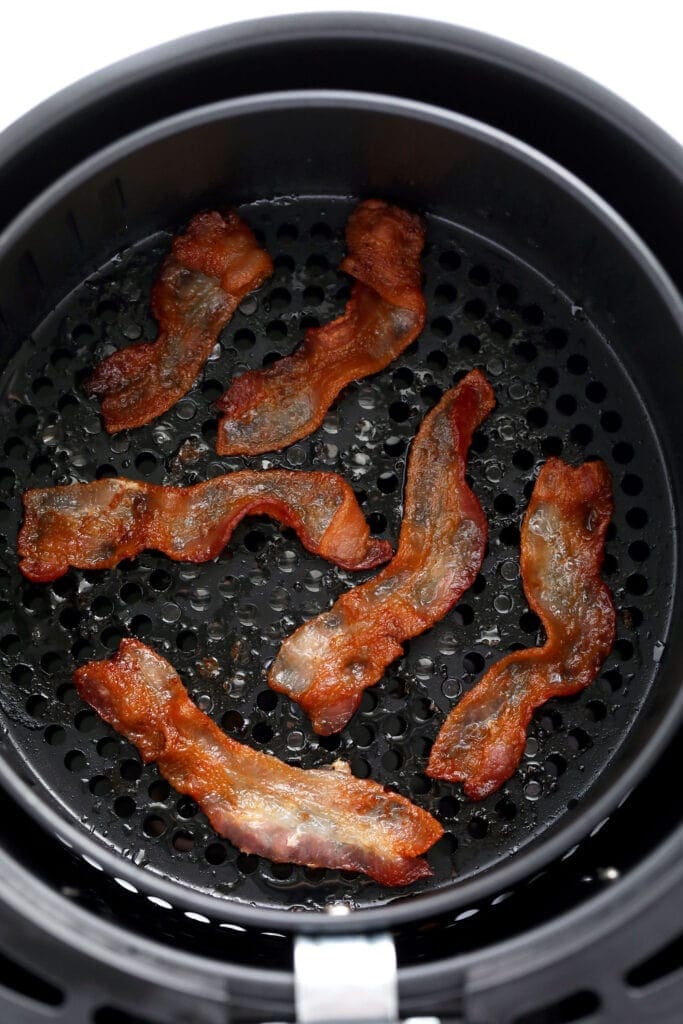 Cooking Bacon in Air Fryer Tips
Thickness matters: This is true for cooking bacon in any method, the thinner the bacon the faster it is going to cook. See below for our cook times at 350ºF.
Thick: 9-10 minutes
Medium: 8 minutes
Thin: 6-7 minutes
Drain excess grease: If you're planning to make more than one batch of bacon, make sure to drain excess grease that will drip onto the bottom of your pan. This will help prevent smoking.
Flip: For even cooking, make sure to flip the bacon around halfway through the the cook tie.
No overlapping: As much as possible, try not to overlap the bacon so that it can cook as evenly as possible. They will shrink as they bake.
Don't walk away: When in doubt, don't walk away! All air fryers are different and so is bacon thickness. Until you've made one batch of air fryer bacon with your specific bacon, we suggest staying close and using your nose in case you do end up over cooking.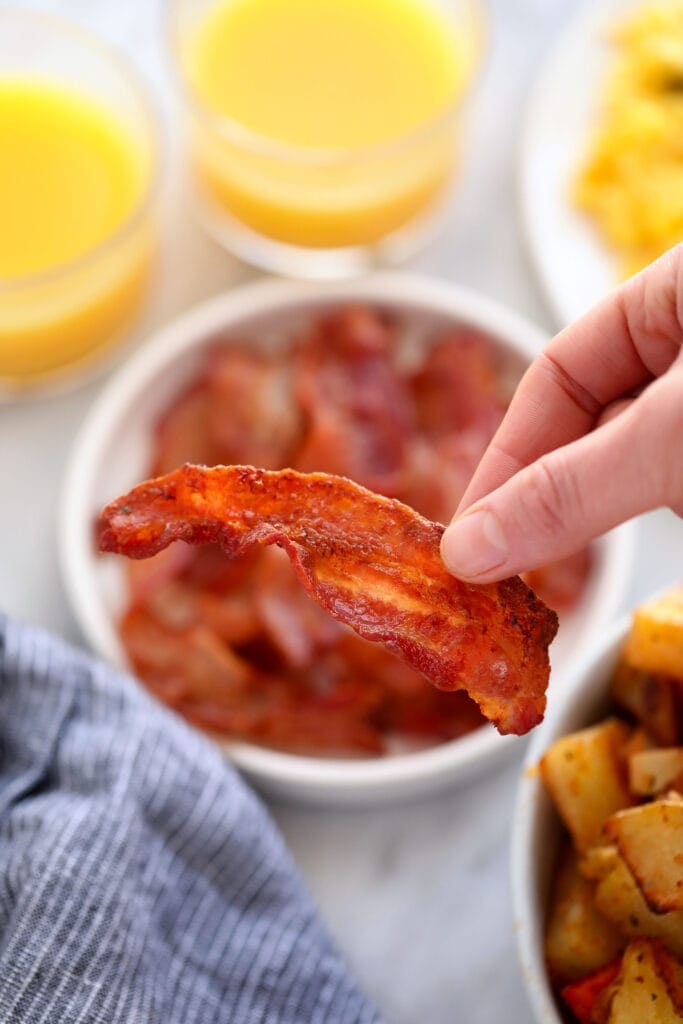 What to Serve Air Fryer Bacon With
This air fryer bacon recipe is a classic breakfast side, check out some of our favorite breakfasts to eat alongside your bacon!
Storage
Store cooked bacon in the fridge for up to 5 days.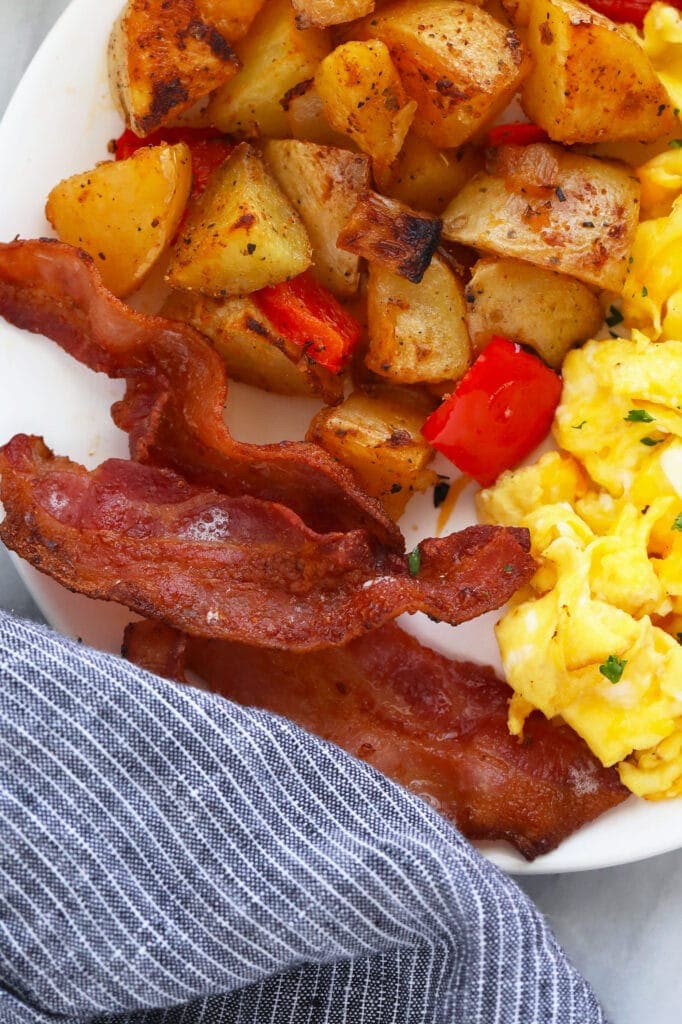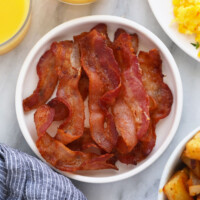 Air Fryer Bacon
Air fryer bacon is ready in 10 minutes with little effort. Learn how to make perfectly crispy bacon in air fryer below!
Prep: 5 minutesCook: 10 minutesTotal: 15 minutes
Fat 11 Carbs 0 Protein 6
Yield 2 1x
Ingredients
3

strips of bacon (any thickness)
Instructions
First, preheat the air fryer to 350ºF.
Next, slice each strip of bacon in half and lay them on your air fryer pan next to each other. They can be overlapping a little bit, but not all the way.
Air fry bacon at 350ºF for:

thin bacon: 6-7 minutes
medium bacon: 8 minutes
thick bacon: 9-10 minutes.

Flip bacon halfway through the bake time. If you like your bacon crispy, continue cooking for an extra 30 seconds to 1.5 minutes depending on the thickness of your bacon.
Tips & Notes
If you are planning to cook multiple rounds of bacon, make sure to discard excess grease that will build up on the bottom of your air fryer pan. This is to prevent smoking.
Make sure to keep an eye on your bacon as it can burn easily. The 350ºF temperature should help prevent smoking, so don't cook your bacon any higher than that. Speaking from experience ? 
Nutrition Facts
Serving Size: 1.5 strips Calories: 120 Sugar: 0 Fat: 11 Carbohydrates: 0 Fiber: 0 Protein: 6
Author: Lee FunkeCategory: BreakfastMethod: Air FryerCuisine: AmericanDiet: Gluten Free
Keywords: air fryer bacon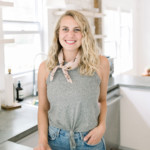 Lee is the founder of Fit Foodie Finds and based in Minneapolis, MN. She started this website in 2010 as a way to share her love for real food and wellness.