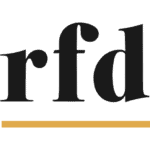 By: The Real Food Dietitians Posted: 10/26/21
You can make creamy, peanutty Thai Peanut Chicken in your slow cooker for a warming, saucy dish the whole family loves to eat. Our healthy take on a favorite comfort dish is easy and nourishing when made from real-food ingredients and an easy homemade peanut sauce. Add it all to a slow cooker, set it, and forget it until dinner time is here.
This recipe was originally posted December 30, 2017; Updated October 26, 2021.
Thai Peanut Chicken: A takeout favorite reinvented
We all have our favorite memories of ordering peanut chicken from our local Thai restaurants. Always made with chicken, peanut butter, coconut milk, and a handful of spices and ginger, this dish is always full of flavor and healthy ingredients. Peanut Chicken is a favorite Thai-inspired dish for many people because, while it has depth of flavor from several spices plus lime and peanut sauce, it isn't particularly spicy. Instead, it's rich, creamy, and always comforting.
Ingredients to make thai-Inspired peanut chicken
Our slow cooker version of Thai Peanut Chicken uses fresh ingredients and many things you may already have in your pantry. Here's what you need to make it:
Boneless skinless chicken breast or thighs 
Yellow onion – may sub a white onion
Red bell pepper – a red bell pepper adds nice color, but you can use any color of bell pepper
Baby spinach – use fresh spinach leaves, which will wilt into the peanut sauce at the very end of cooking
Lime – you'll need the juice of 1 large lime
Canned coconut milk – use light or full-fat
Natural creamy peanut butter
Coconut aminos – you can substitute half the amount of gluten-free tamari, shoyu, or soy sauce
Rice vinegar
Toasted sesame oil
Fish sauce and honey – these ingredients are optional, but they add great flavor and balance to the peanut sauce, so use them if you have them on hand 
Ginger – use grated fresh ginger if you have it, or you can substitute dried ground ginger 
Garlic
Crushed red pepper flakes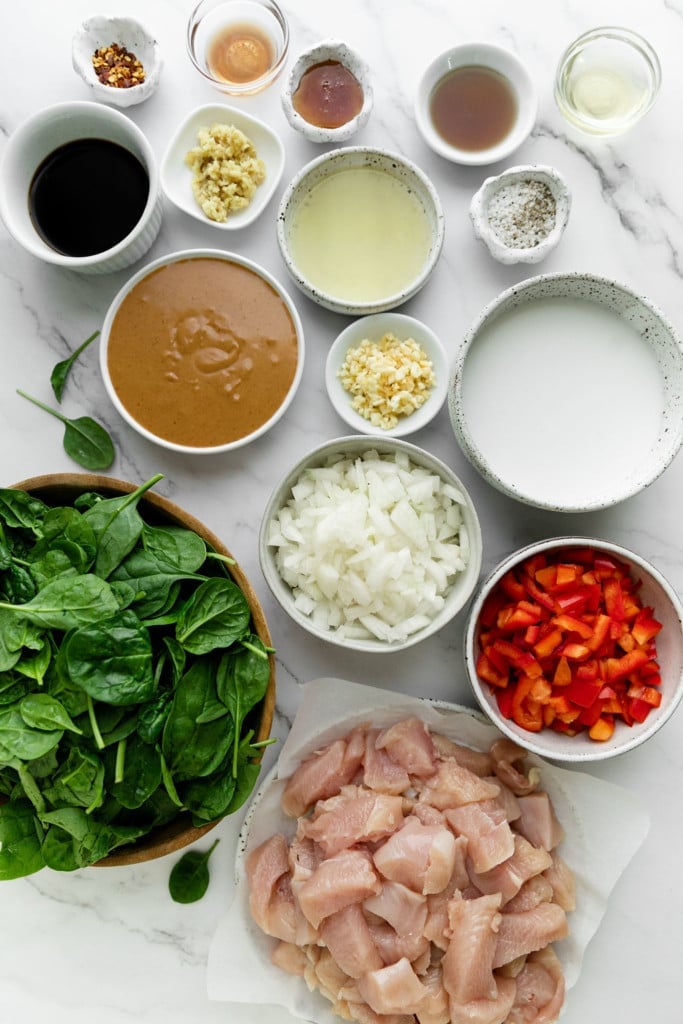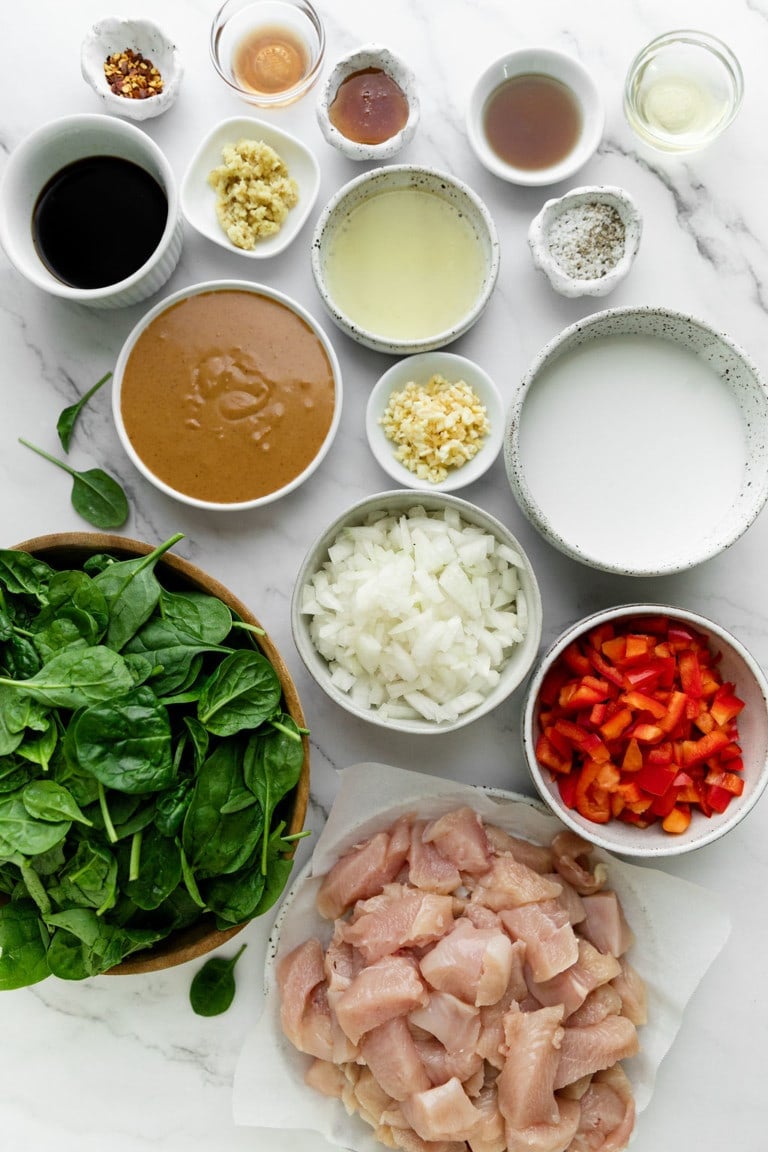 how to make thai peanut chicken in the slow cooker
This dish requires that you make your own quick peanut sauce. The sauce is then poured over chicken and veggies in the slow cooker. It's that simple!
Place the chopped chicken pieces, diced onion, and red bell pepper in the slow cooker.
Make the peanut sauce by whisking together the peanut sauce ingredients. You'll use the peanut butter, coconut milk, garlic, coconut aminos, rice vinegar, honey, sesame oil, fish sauce, ginger, and red pepper flakes.
Pour the sauce over chicken and veggies in slow cooker. Cook on low heat for 4 to 4 ½ hours or until chicken is cooked through.
When the chicken is cooked through, stir in the spinach and lime juice. Stir and heat a few more minutes to allow the spinach to wilt into the sauce.
Serve over rice or noodles, and top servings with desired garnishes.
Is Peanut Chicken a traditional Thai Dish?
Peanuts and peanut sauces aren't traditionally found in Thai cooking. Instead, they originated in Malaysia and Indonesia. But somewhere along the line this was lost in culinary translation. And peanut sauce-based dishes started showing up regularly on Thai restaurant menus in America. Our version of slow cooker Thai Peanut Chicken is inspired by the saucy dishes we love from our many visits to our favorite Thai restaurants.
Adding spinach to thai peanut chicken
We love to up the nutrition and color in this favorite saucy slow cooker Thai dish by adding a generous amount of fresh spinach. Spinach is a good source of vitamin A, magnesium, potassium, and folate (aka nutrients that boost heart health and help tame inflammation). Add a bag of fresh spinach at the very end, after all the other ingredients have cooked. Then, give it a few gently stirs to let the spinach wilt gently into the dish.
How to serve thai peanut chicken
This saucy peanut chicken is good on it's own, but it's extra good when served over rice or noodles. We love to serve it over jasmine rice or basmati rice, pad-Thai noodles (Lotus Foods makes our favorite gluten-free organic pad-thai noodles), or even cauliflower rice for a grain-free, lower-carb option.
Pin It Now to Make it later
---
All photos and content are copyright protected. Please do not use our photos without prior written permission. If you wish to republish this recipe, please rewrite the recipe in your own unique words. Link back to the source recipe here on The Real Food Dietitians. Thank you!
Photo Credit: The photos in this blog post were taken by Rachel Cook of Half Acre House.