Skip half the prep-time with these Rotisserie Chicken Enchiladas! They're packed with shredded chicken, veggies, beans, and topped with a homemade enchilada sauce.
Looking for other leftover rotisserie chicken recipes? We'll share a handful of those, too!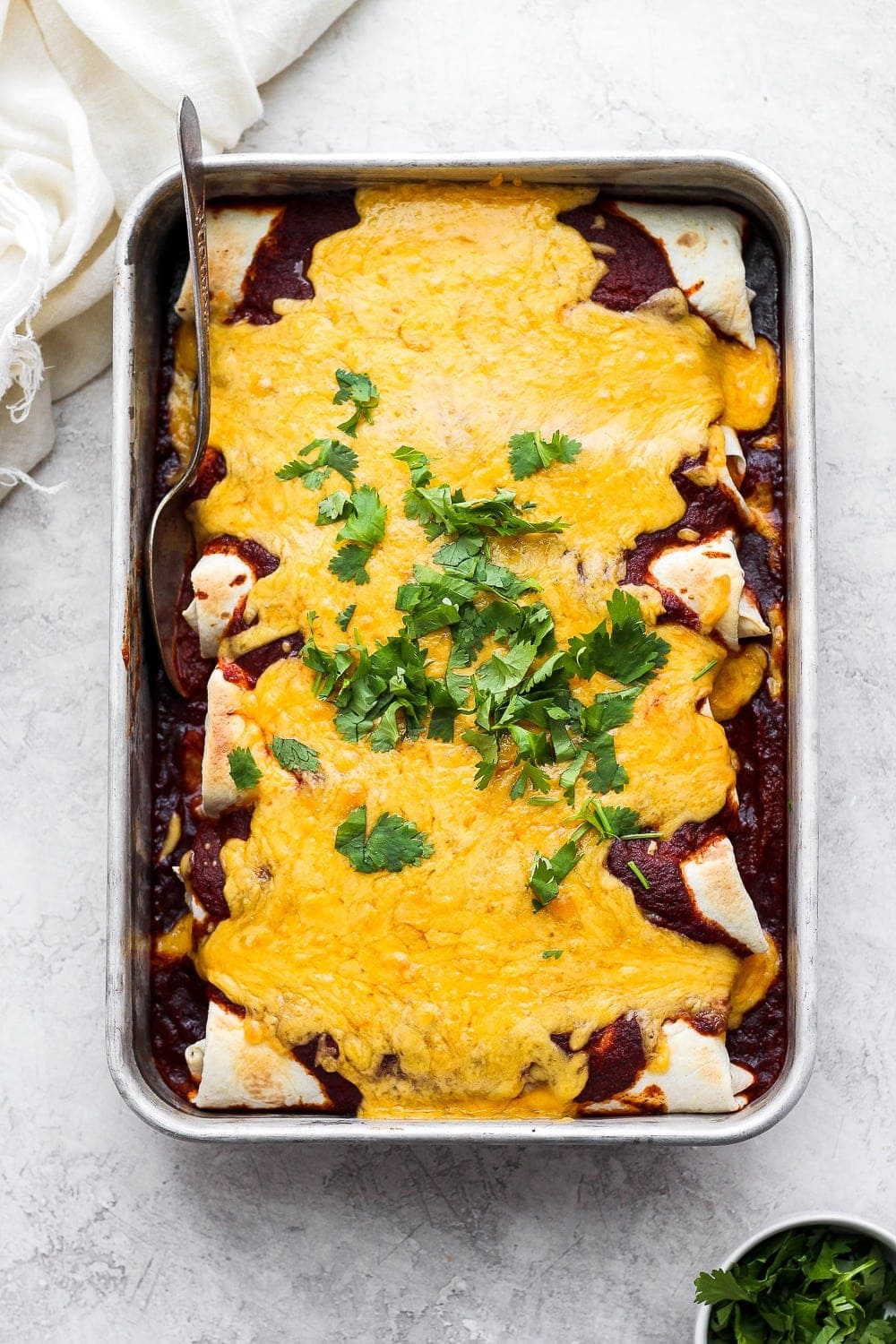 This is one of my favorite leftover rotisserie chicken recipes (or any kind of shredded chicken) because it's such an easy way to use it. Plus, it's saucy, cheesy, and fool-proof.
Leftover Rotisserie Chicken Enchiladas
Whenever I don't know what to make for dinner, I ask my husband the dreaded question: "what should we make for dinner?" Usually, his response is "I don't care" because he typically likes whatever I make, but the other day he said ENCHILADAS.
Enchiladas can seem a little daunting from cooking the perfect chicken, to the sauce, etc., but I had just bought a rotisserie chicken from Whole Foods and had leftovers to use up. Hello beautiful enchiladas.
Main Ingredients
Rotisserie Chicken: rotisserie chicken is the star of the show for these rotisserie chicken enchilada recipe. You'll need a 1.5 – 2 lb. chicken.
Enchilada Sauce: if you make our homemade enchilada sauce you will understand why we recommend it!
Pinto Beans: beans are an easy way to get more protein!
Bell Pepper: we always like to sneak veggies into every meal and bell pepper is a no brainer.
Shredded Cheese: feel free to use any kind of shredded cheddar.
Tortillas: tortillas are important – we recommend flour tortillas.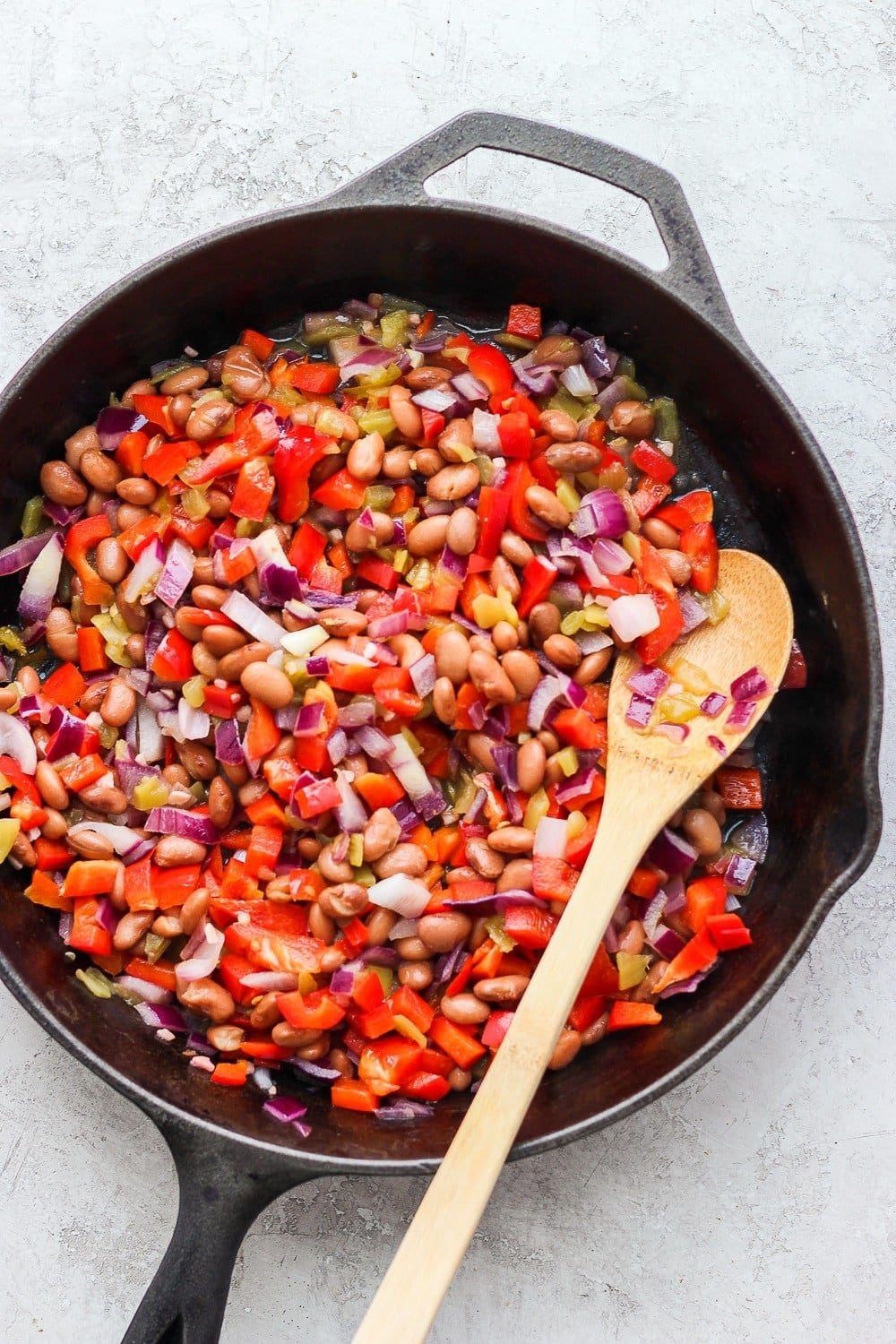 How to Make Rotisserie Chicken Enchiladas
This rotisserie chicken recipe is veggie-packed and only takes 30 minutes! We call that a win-win!
Shred rotisserie chicken
What I love about rotisserie chicken is that you get both white meat and dark meat. While white meat is less fatty, dark meat has #alltheflavor.
Use 2 forks to shred an entire rotisserie chicken. You can remove the skin if you want, but instead of throwing it out, I suggest eating it, it's delicious! Remove any bones and the carcass and you're ready to rock and roll.
Have chicken breast or chicken thighs on hand instead? Bake those bad boys up and shred those instead! Here's a quick tutorial on how to make shredded chicken in the slow cooker.
make easy filling
This enchilada filling is magical. It's got veggies and beans galore in it.
red pepper
purple onion
pinto beans
green chiles
As always, feel free to make this your own and use whatever color bell pepper you wish and same with the onions and beans, as well.
The enchilada filling does take a little bit of elbow grease because you'll need to saute the veggies before scooping the filling into your tortillas. No worries, this whole process will take max 10 minutes.
Roll Enchiladas
Now that your chicken is shredded and your filling is made, it's time to roll up each of your enchiladas. This recipe will make around 6 large enchiladas.
We almost ALWAYS suggest using flour tortillas, especially when making any kind of burrito-like recipe. Flour tortillas hold together best and have the best texture.
Scoop about 1/3 cup of the filling and about 1/3 cup of shredded chicken and place them in the center of a tortilla. Then, roll it on up!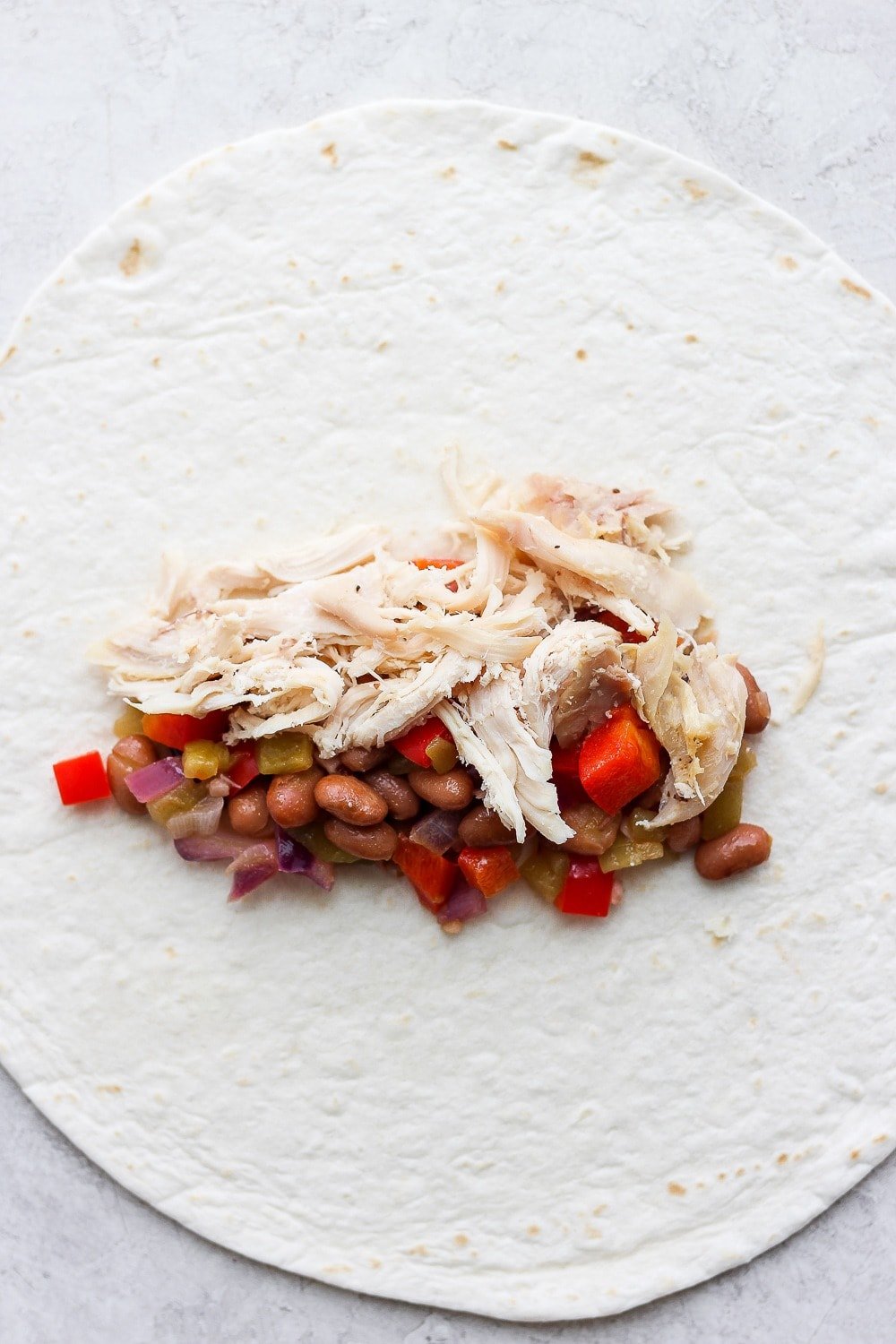 Add Sauce and Cheese
We've got a stellar homemade enchilada sauce on Fit Foodie Finds and that's what we suggest using for this recipe. Why? Because it's SOOOO easy to make. It's really just tomato sauce + spices + water. You'll need a total of about 3 cups.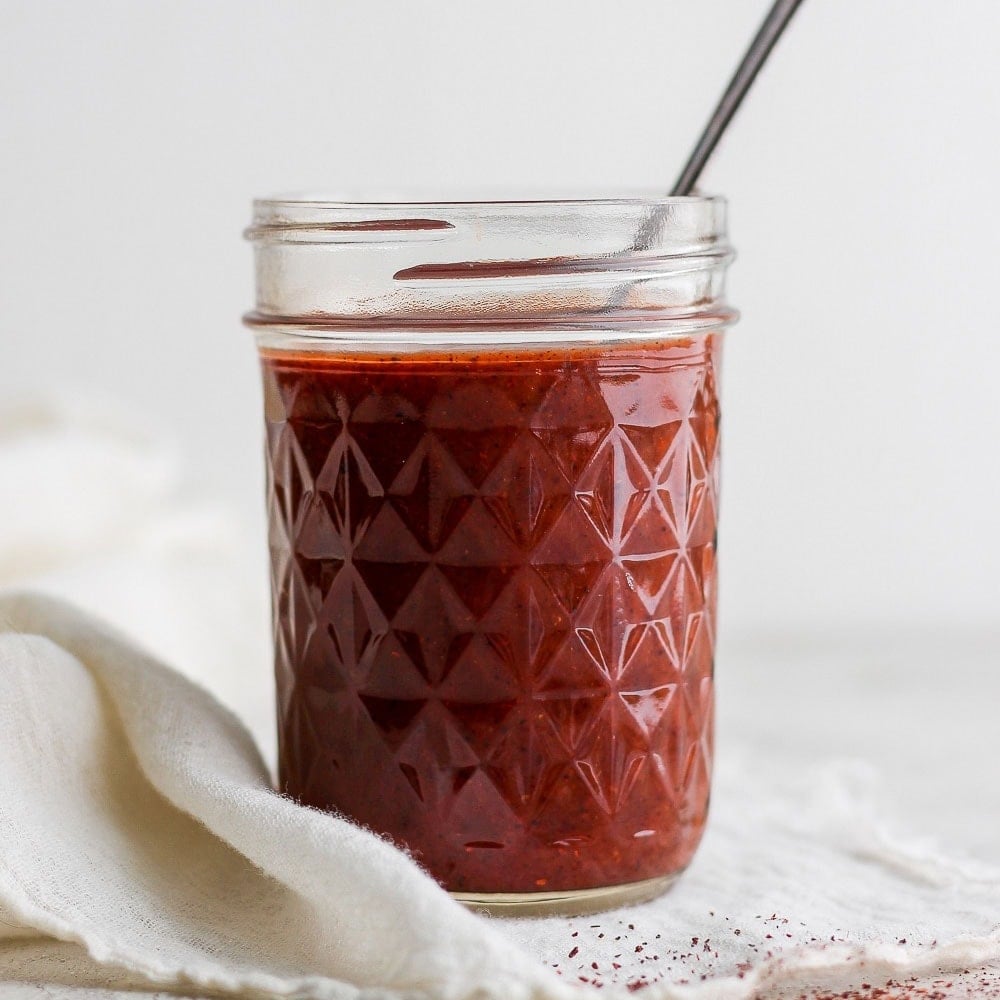 Homemade
Enchilada Sauce
Make a batch of this homemade enchilada sauce or double batch of this delicious sauce and keep it in the refrigerator until you are craving enchiladas during the week!
If you'd rather just buy store-bought enchilada sauce, no problem! Here are our top choices:
Pour half of your enchilada sauce on the bottom of your baking dish and then assemble your enchilada on top. Make sure they are snug together and tightly wrapped. Pour the remaining enchilada sauce on top and spread it out evenly.
Then, top those bad boys with CHEESE! We love freshly shredded cheddar cheese, but you can also use Colby jack or Mexican cheddar as well.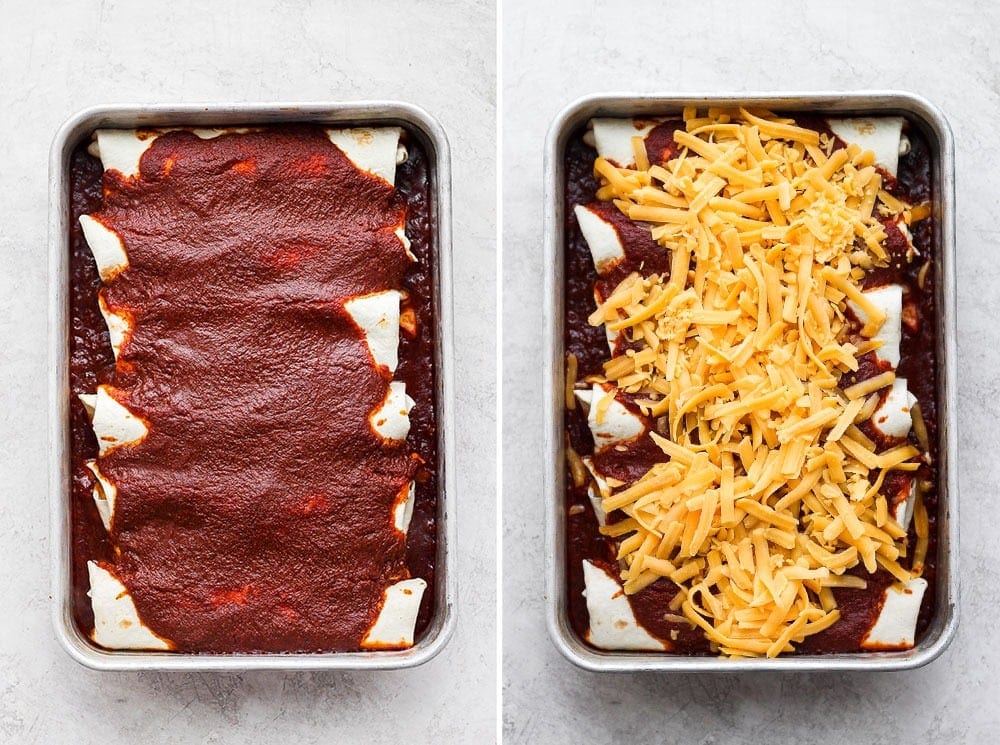 Bake
Bake your enchiladas at 350ºF for around 20 minutes. Since everything is pretty much cooked, the goal here is to just make sure the insides of your enchiladas are hot.
Serve immediately with all of your favorite toppings such as fresh cilantro, Greek yogurt, and hot sauce.
Storage
Store leftover enchiladas in an airtight container in the refrigerator for up to 5 days.
How to Reheat
To reheat, simply microwave enchiladas for around 90 seconds on high OR option to use your oven and reheat at 350º for 15-20 minutes.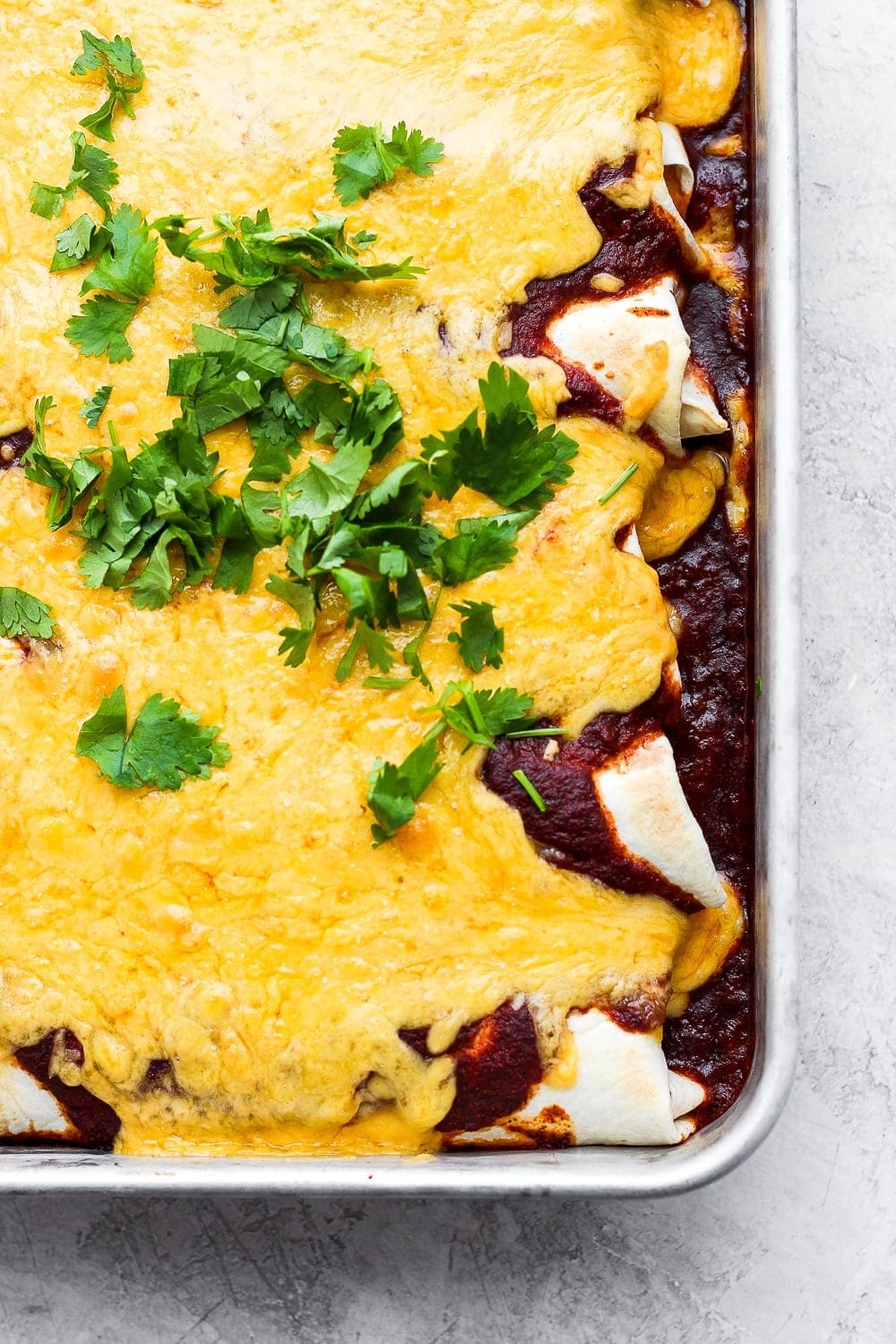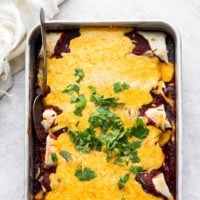 Rotisserie Chicken Enchiladas (+ Leftover Rotisserie Chicken Recipes)
Looking for leftover rotisserie chicken recipes? Make these 30-minute Rotisserie Chicken Enchiladas with a veggie-packed filling and homemade enchilada sauce!
Prep: 10 minutesCook: 20 minutesTotal: 30 minutes
Fat 17 Carbs 73 Protein 48
Yield 6 1x
Ingredients
Enchilada Sauce
2

15-oz. cans tomato sauce

2/3 cup

water

3 tablespoons

chili powder

1 tablespoon

garlic powder

1 tablespoon

ground cumin

2 tablespoons

Franks (or more, to taste)

1/4 teaspoon

salt
Enchilada Filling
1.5

–

2

lb. rotisserie chicken, deboned and shredded (cold or warm, it doesn't matter!)

2 tablespoons

olive oil

2 teaspoons

minced garlic

1

small purple onion, finely diced

1

large red bell pepper, finely diced

1

15-oz. can pinto beans, drained and rinsed

1

4-oz. can of green chiles
Other Ingredients
6

–

8

large flour tortillas

1/2 cup

shredded cheddar cheese (or more)
Optional toppings: lime juice, fresh cilantro, and sliced avocado
Instructions
First, preheat oven to 350ºF and spray a 9×13-inch casserole dish with nonstick cooking spray and set aside.
Next, prepare homemade enchilada sauce.  Add all ingredients for enchilada sauce into a medium pot. Mix well and then bring to a boil over high heat.
Reduce to low heat and let the sauce simmer for 10 minutes. The sauce should slightly thicken and become glossy. Set aside.
While the sauce is simmering, prepare rotisserie chicken by removing as much meat as you can from the bones and shredding. Set aside.
Prepare the enchilada filling by heating a large skillet over medium-high heat. Add olive oil.
When the olive oil is fragrant, add minced garlic and red onion to the skillet and cook for 2-3 minutes. Then add the red pepper, pinto beans, and green chiles and cook for an additional 2-3 minutes. Remove from heat.
Now it's time to assemble the enchiladas. Pour half of the enchilada sauce onto the bottom of a 9×13-inch casserole dish.
Next, make enchiladas by scooping around 1/3 cup of the enchilada filling onto a tortilla. Then add 1/3 cup shredded chicken. Fold the ends of the tortilla and roll the enchilada up tight.
Place in the casserole dish. Repeat until you've made eight enchiladas.
Pour the remainder of enchilada sauce over enchiladas and spread out evenly.
Bake at 350ºF for 20 minutes. Remove and sprinkle on cheese. Bake for an additional 5 more minutes to melt the cheese
Remove from oven, garnish with a squeeze of lime juice, fresh cilantro and sliced avocado and enjoy!
Tips & Notes
Enchilada sauce: option to use 3 cups of store-bought enchilada sauce instead of our homemade variation.
You can likely get 8 enchiladas out of this recipe, but the nutrition information is for 6.
Nutrition Facts
Serving Size: 1/6 Calories: 595 Sugar: 12 Fat: 17 Carbohydrates: 73 Fiber: 8 Protein: 48
Author: Linley RichterCategory: Main MealMethod: OvenCuisine: Mexican
Keywords: rotisserie chicken enchiladas, leftover rotisserie chicken recipes
Photography: photos taken in this post are by Erin from The Wooden Skillet.