These quick pickled onions are a dream! Toss red onion with apple cider vinegar, white vinegar, a little sugar and salt. Throw them in the fridge and 2 hours later you've got pickled onions for dinner and the week ahead!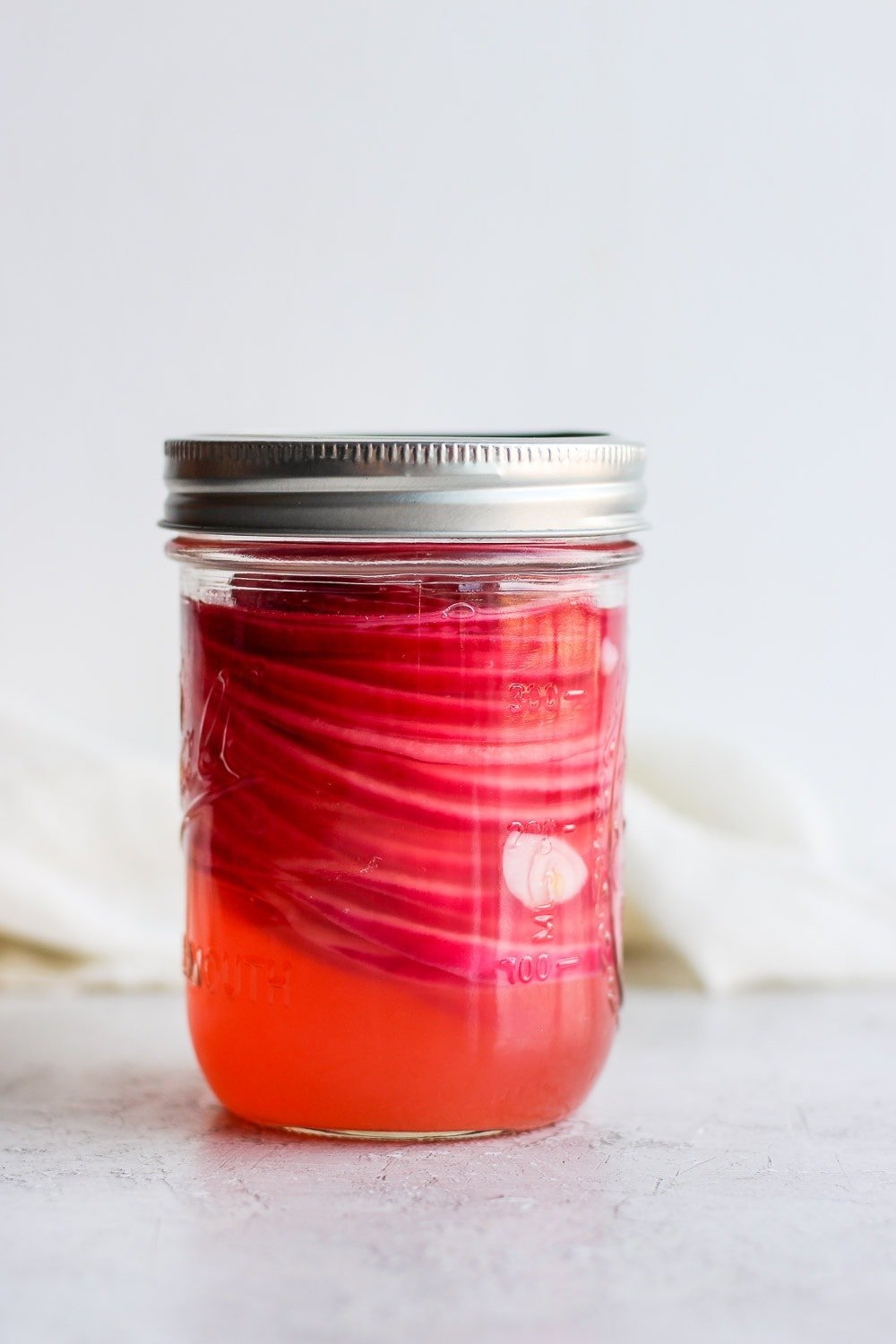 Quick Pickled Onions are the BEST
We are a big pickled vegetable family. We love dill pickles, pickled cauliflower, and pickled onions. We seriously put these quick pickled onions and quick pickled spicy peppers on everything.
I remember pickling with my grandma when I was younger. It is a process to pickle cucumbers, onions, and other vegetables in the traditional way. It takes hours and commitment.
If you have avoided putting pickled onions on your burger or adding them to a salad just because you don't want to take the time to pickle, you're in luck! These quick pickled onions are a short cut to a delicious pickled onion.
When I say short cut, I do not mean that these pickles are "less than" compared to a traditionally picked vegetable. They are just different and OH so delicious.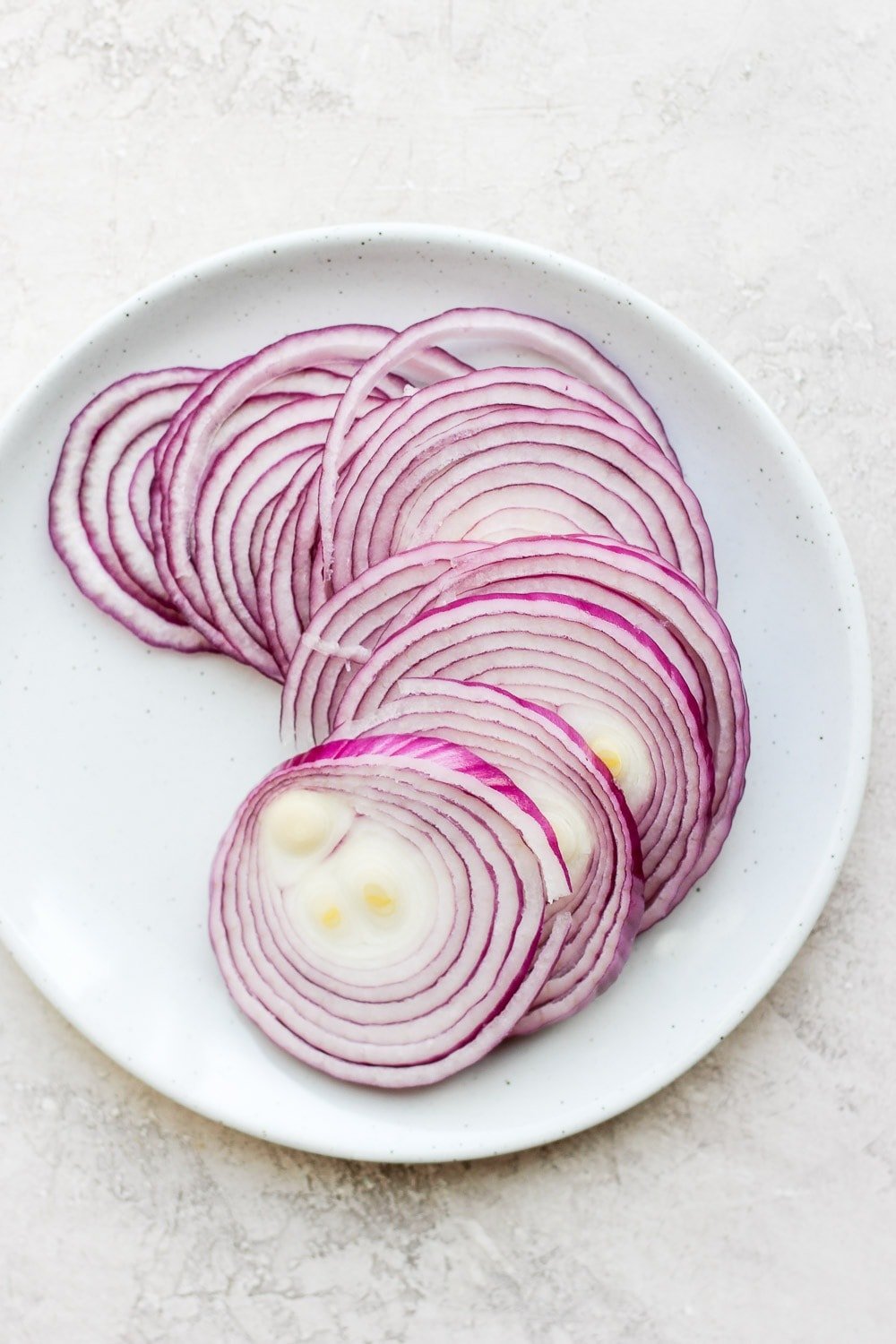 All the Ingredients You Need
You only need 5 ingredients to whip up these quick pickled onions! Here is everything you need.
Red Onion
Apple Cider Vinegar
White Vinegar
Sugar
Salt
what type of onions to use
What type of onion do you use for quick pickled onions? 
We use red onion because they are sweeter and have a flavor that we enjoy with a quick pickled onion. We also love the color that purple onions give our pickled onions!
You CAN use white or yellow onions, too! Use what you have on hand. Other than onions, you only need a few more ingredients to pickle your onions.
How to Quick Pickle Onions
Slice the onion. Slice your onion (any color) in strips or rounds. The thinner you slice them, the quicker they will pickle. Set aside.
Shake up the ingredients. Add the vinegar, sugar, and salt to a mason jar and cover. Shake the ingredients until the sugar and salt have dissolved.
Add onion to the vinegar mixture. Uncover the mason jar and add the onions to the vinegar mixture. Cover and shake the jar again so the onions are covered in vinegar.
Refrigerate. Place the pickled onions in the refrigerator for at least 2 hours or over night for the tastiest pickled peppers!
Enjoy. Add your quick pickled onions to your favorite recipes and enjoy!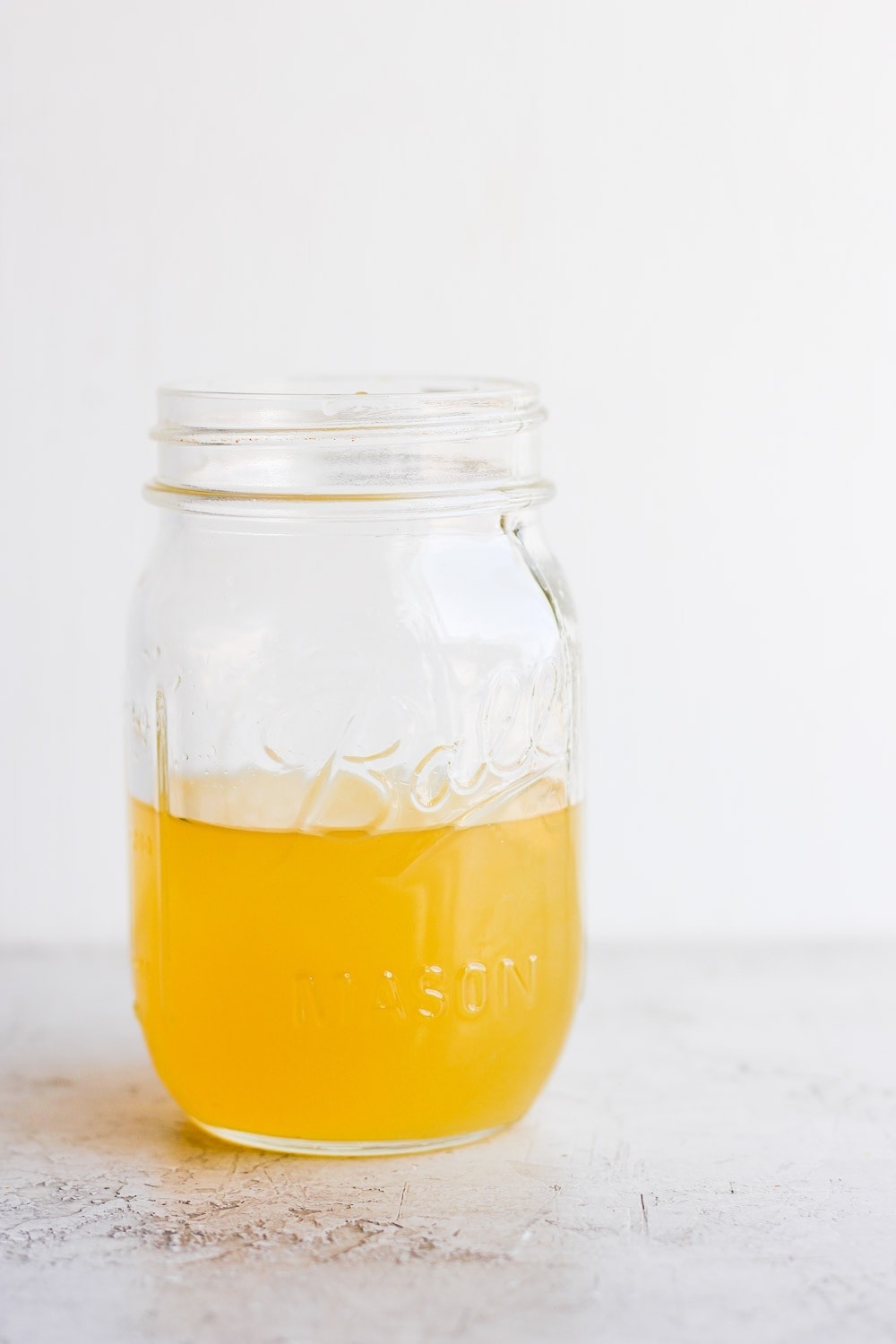 Quick Pickled Onions Tips + Tricks
Ingredient Swaps
White Sugar – you can substitute white sugar with honey or maple syrup for a natural sweetener option!
Vinegar– if you don't have both of the vinegars for this recipe go ahead and just substitute either vinegar with the other!
Salt– don't skip the salt in this recipe! You REALLY need it for pickling!
How do I cut onions for quick pickled onions?
We like to cut our onions into rounds, but you can also slice onions and pickle them as well. The thinner you cut your onions, the quicker they will pickle!
How long does it take for onions to pickle?
It takes about 30 minutes for onions to being to pickle. However, let your onions pickle for about 2 hours before eating them. If you have the time, let the pickles sit overnight for optimal flavor!
Change up the flavor
How long do quick pickled onions last?
If quick pickles are stored in an air tight container, they can last up to 2 weeks in the refrigerator.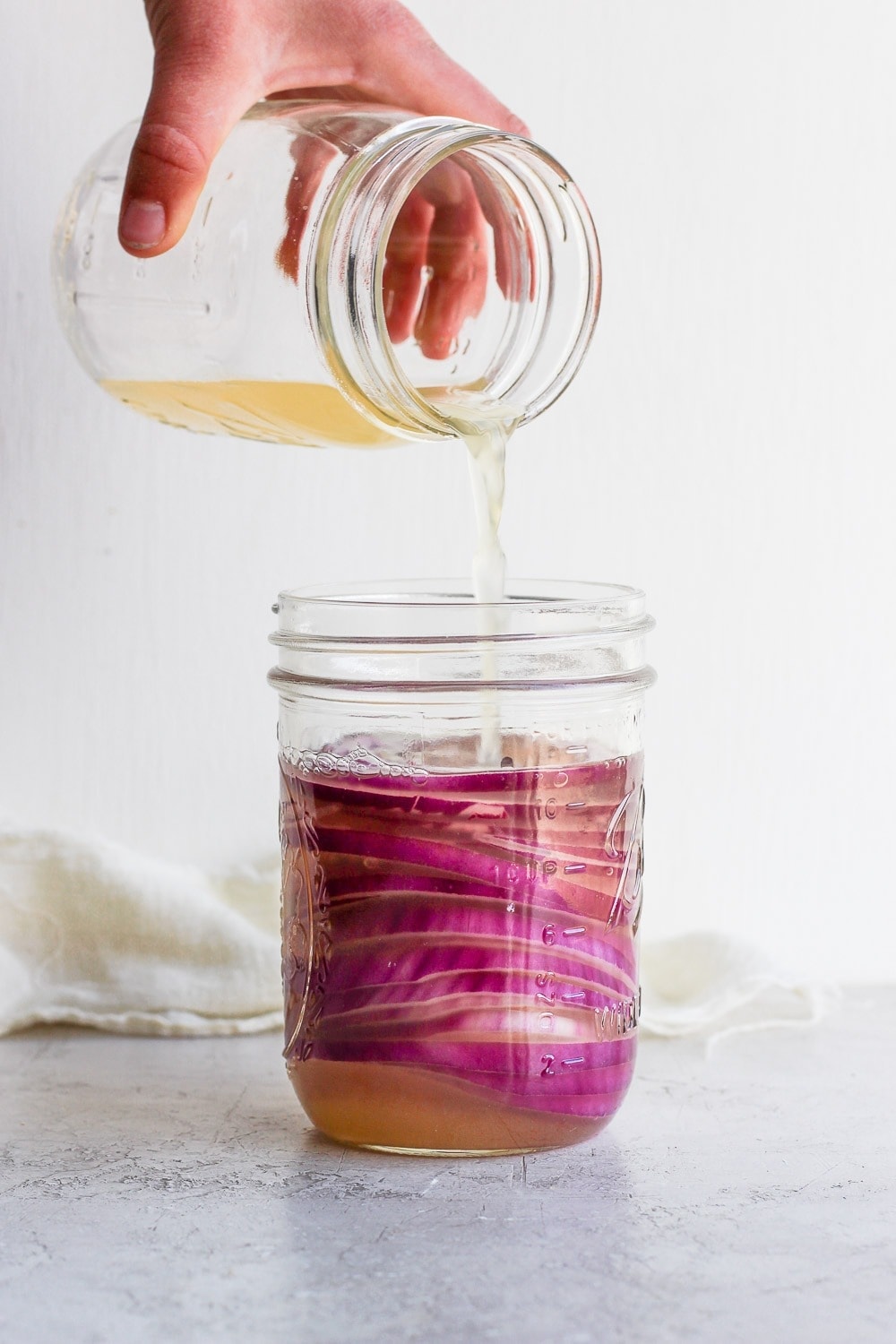 What do you store pickled onions in?
You want to store pickled onions in an airtight container like a mason jar or a glass meal prep containers
What do I serve with quick pickled onions?
We love to serve pickled onions on any of our burgers! Try serving them with one of the dishes below.
Black Bean Burger- You are going to love these easy and flavorful black bean burgers. They're made with quick roasted garlic, an entire can of black beans, quinoa, and delicious spices.
Mexican Juicy Lucy– Wow your guests with this beautiful and delicious Mexican Juicy Lucy Recipe! They are made with lean beef and stuffed with cheddar cheese then topped with a homemade fire-roasted corn pico for a healthy, nutritious dinner on the grill.
Smoked Chicken Salad– Got leftover smoked chicken? Make this super simple smoked chicken salad recipe for an easy way to re-purpose your leftovers! Serve these pickled onions right now top!
Pickled onions are great on salads to add a bit of tang and sweetness! Serve them over any of our delicious salad recipes!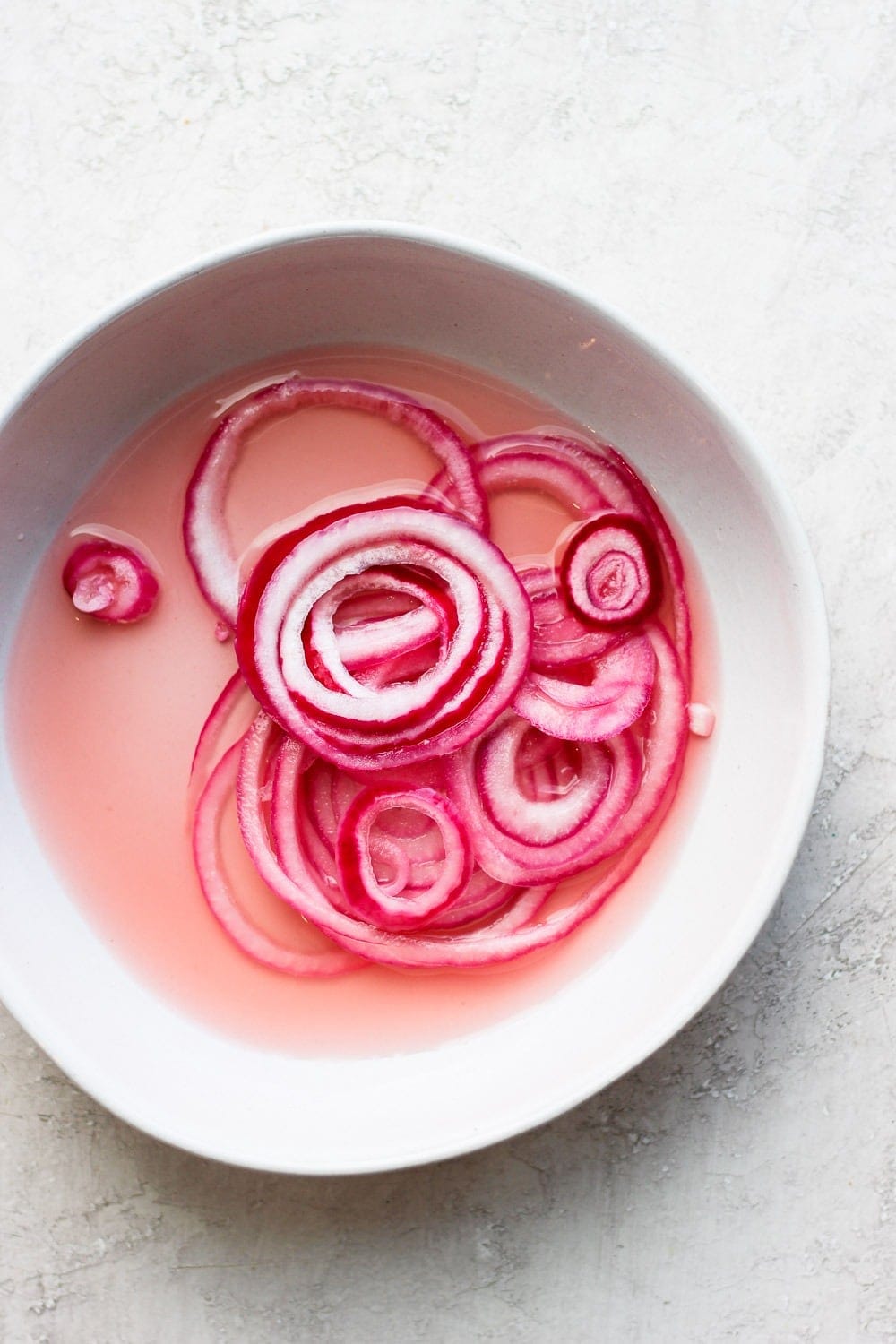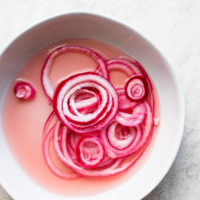 Quick Pickled Onions Recipe
This pickled onion recipe is ready in less than 2 hours and you only need 5 ingredients!
Prep: 10 minutesCook: 0 MinutesTotal: 10 minutes
Fat 0 Carbs 2 Protein 0
Yield 4 servings 1x
Ingredients
1/2 cup

apple cider vinegar

1/2 cup

white vinegar

1 teaspoon

salt

1/4

–

1/2

teaspoon sugar (white, brown, coconut)*

1

large red onion, thinly sliced
Instructions
First, place apple cider vinegar, white vinegar, salt, and sugar into a mason jar. Screw the cover on and shake the jar until the salt and sugar have dissolved.
Then, place the sliced onion into the jar. Be sure that all of the onion is covered in vinegar.
Place the lid back on the jar and give it one more shake.
Finally, place the jar in the refrigerator for at least 2 hours or overnight for the optimal quick pickled onion!
Tips & Notes
*Option to add more sugar if you like sweeter pickled onions.
Nutrition Facts
Serving Size: 1/4 Calories: 13 Sugar: 1 Fat: 0 Carbohydrates: 2 Fiber: 0 Protein: 0
Author: Linley RichterCategory: CondimentMethod: No BakeCuisine: American
Photography: photos taken in this post are by Erin from The Wooden Skillet.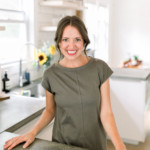 Linley is a 5′ nothing spitball of positive energy who joined Team Fit Foodie in the Spring of 2014. Linley has worked on the digital side of small businesses and nonprofits since 2011, where she specialized in social media community management. Lin has a passion for food and an incredible palate. She is FFF's chief recipe developer, so you can thank her for these incredible recipes!