Make this light and refreshing Mexican quinoa salad made with cooked quinoa, plump cherry tomatoes, black beans, corn, and a limey vinaigrette.
If you are looking for quinoa salad recipes, this flavorful quinoa salad recipe is vegan and gluten-free and the perfect vegetarian meal to add to your rotation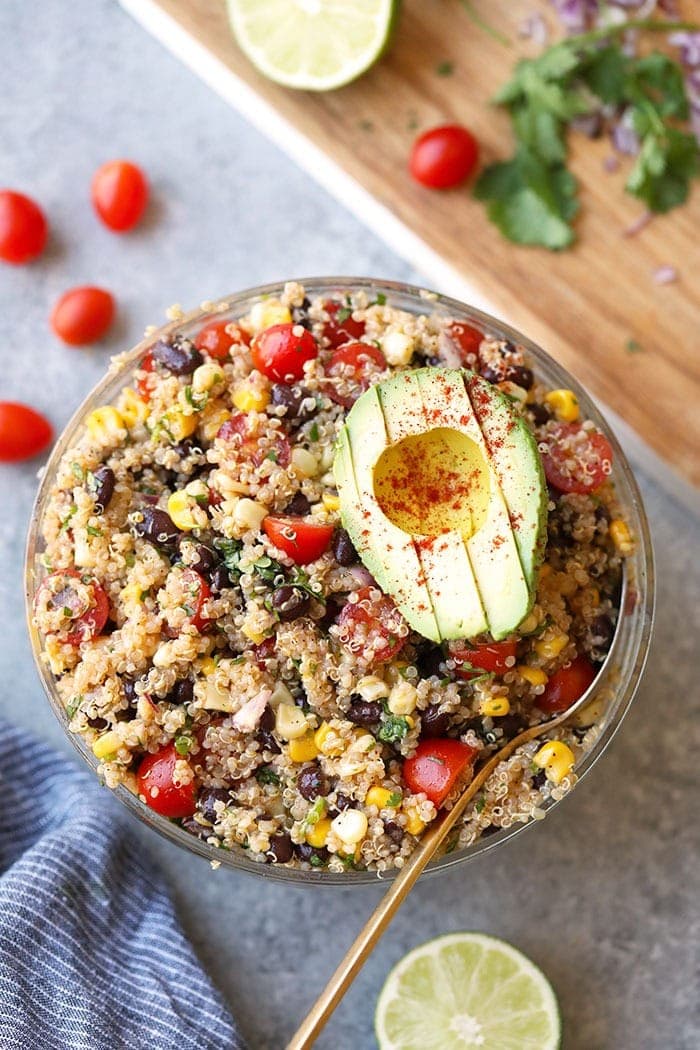 Looking for a healthy mean idea that is high-protein, veggie-packed, and easy to make? Meet –> the quinoa salad!
Favorite Quinoa Salad
Quinoa salad is one of those meals that I have been making for years. They are some of the first recipes we ever published on Fit Foodie Finds way back in the day circa 2010.
This Mexican Quinoa Salad has to be my favorite because it's so fresh, flavorful, and healthy! I how the black beans pair with the sweet corn and the lime vinaigrette dressing is so light and yummy.
What is quinoa salad? Quinoa salad is a cold salad made with a quinoa base and other add-ins such as veggies, beans, and dressing.
Why make this Mexican quinoa salad?
Vegetarian: quinoa is a complete protein, meaning it's perfect for those that don't eat meat! This quinoa recipe is both vegan and vegetarian.
Meal-Prep: make a batch (or two) of this quinoa salad and it will last up to 5 days in the fridge, making it perfect for meal prep.
High-Protein: per serving, this Mexican quinoa salad will get you 9g protein/serving.
Fresh Flavors: if you're a fan of lime and cilantro, you are going to love this recipe!
Is quinoa salad healthy?
Quinoa salad is a healthy meal idea because quinoa is high-protein and naturally gluten-free and vegan.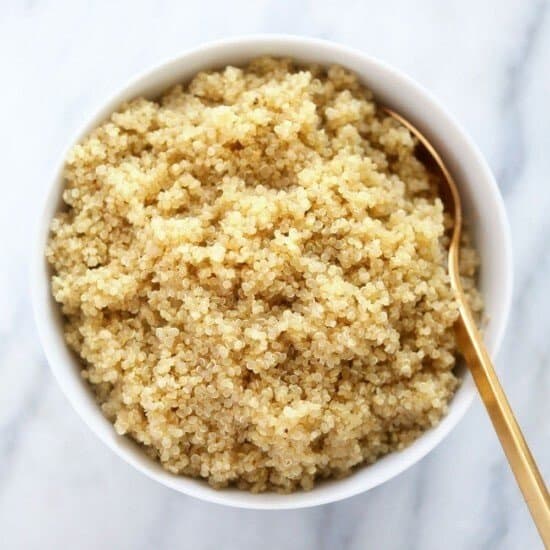 Tutorial
How to Cook Quinoa
Looking for a foolproof method on how to cook quinoa? In this post, we'll teach you all about the superfood called quinoa, the different ways to make it, and how to incorporate it into your meals!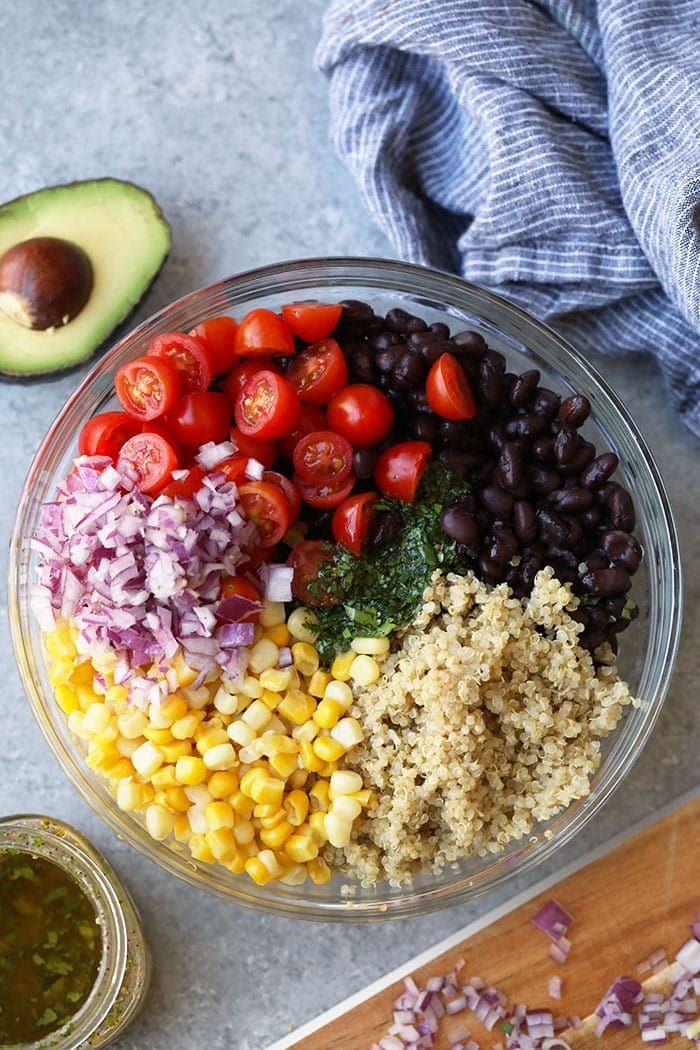 Mexican Quinoa Salad – What You Need
In addition to an easy vinaigrette dressing, you only need 6 ingredients for this recipe! Check it out:
Quinoa – the star of the show is obviously quinoa. Feel free to make stovetop quinoa, Instant Pot quinoa, or quinoa in the microwave.
Black beans – black beans not only add more protein to this quinoa salad but fiber, too.
Sweet corn – sweet corn adds a pop of color and sweetness.
Cherry tomatoes – feel free to use any kind of tomato. Just cut them up into bite-sized pieces.
Red onion – a little onion goes a long way!
Avocados – serve this Mexican quinoa salad with fresh avocado to add healthy fat and some creaminess.
Lime Vinaigrette Dressing – this delicious vinaigrette really pulls all of the quinoa salad ingredients together. Plus, it's what adds the Mexican flare!
Easy Mexican Dressing
Mix up this easy Mexican vinaigrette and toss your quinoa salad in it! Here's what you need:
olive oil
fresh cilantro
apple cider vinegar
lime juice
honey
spices: cumin, chili powder, garlic powder, smoked paprika, and salt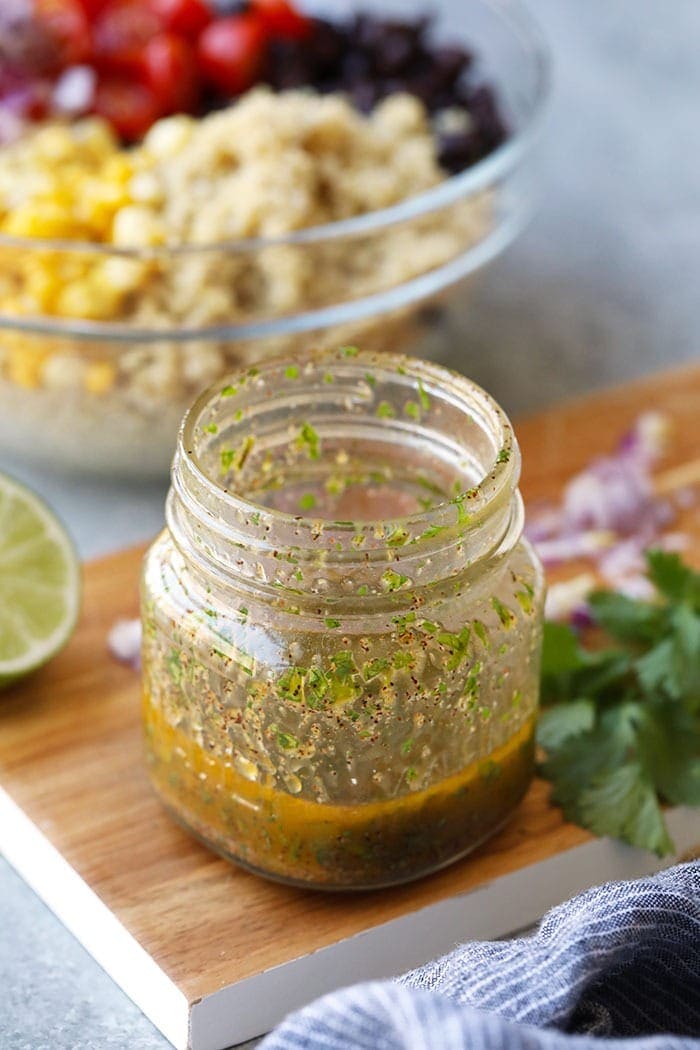 More Quinoa Salad Recipes
Strawberry Quinoa Salad: This is the most delicious Strawberry Quinoa Salad made with massaged kale, fresh strawberries, quinoa, cucumber, feta cheese, and a delicious creamy balsamic dressing.
Fresh Caprese Quinoa Salad: This Fresh Caprese Quinoa Salad is packed with protein, veggies, and all of your favorite summer flavors. All you need are cherry tomatoes, mozzarella, quinoa, and a healthy homemade dressing!
Moroccan Quinoa Salad: This Moroccan quinoa salad with crispy chickpeas is protein packed and full of veggies! Make it today for a healthy meal prep lunch idea for the week!
Golden Cauliflower Quinoa Salad: This Golden Roasted Cauliflower and Quinoa Salad is a healthy, satisfying, and delicious salad that everyone in your family will love. It is great for a quick meal-prep lunch or a light quinoa salad for dinner. 
Mediterranean Quinoa Salad: Looking for quinoa recipes? Look no further than this delicious Mediterranean Quinoa Salad recipe. It's made with white quinoa and all of your favorite Mediterranean veggies plus a homemade hummus dressing!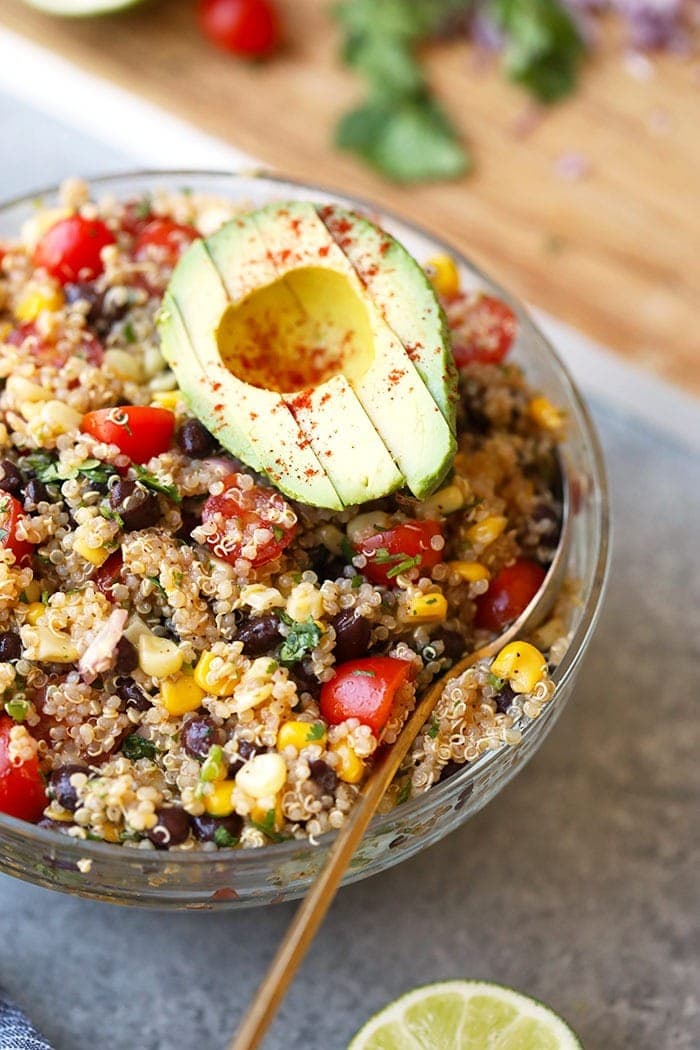 How to Store Quinoa Salad
Transfer your quinoa salad into an airtight container. Store in the fridge for up to 3-5 days.
Mexican Quinoa Salad (+ More Quinoa Salad Recipes)
Make this light and refreshing Mexican quinoa salad made with cooked quinoa, plump cherry tomatoes, black beans, corn, and a limey vinaigrette.
Prep: 15 minutesCook: 20 minutesTotal: 35 minutes
Fat 7 Carbs 35 Protein 9
Yield 6 1x
Ingredients
Ingredients
1 cup

quinoa, uncooked

2 cups

water

1

15-oz. can of black beans, rinsed

1

15-oz can sweet corn

1

-pint cherry tomatoes halved

1/4

large red onion, minced

2

large avocados, sliced (for serving)
Dressing
1/3 cup

olive oil

1/4 cup

chopped cilantro, fresh

1 tablespoon

apple cider vinegar

1

lime, juiced (

1/4 cup

lime juice)

1/2 teaspoon

cumin

1/2 teaspoon

chili powder

1/2 teaspoon

garlic powder

1/2 teaspoon

honey
pinch of smoked paprika

1/8 teaspoon

salt
Instructions
In a medium saucepan, bring 1 cup of quinoa and 2 cups of water to a boil. Reduce heat to low, cover, and let simmer for 20 minutes or until all water is absorbed.
Once quinoa is cooked, place in a large Tupperware and let chill in the refrigerator for 2 hours.
Prepare dressing by placing all ingredients into a mason jar. Put cap on and shake until combined.
Prepare salad, by mixing together cooked quinoa, black beans, sweet corn, cherry tomatoes, and red onion. Mix until combined. Then, pour on dressing and mix again.
Nutrition Facts
Serving Size: 1/6 Calories: 307 Sugar: 4 Fat: 7 Carbohydrates: 35 Fiber: 8 Protein: 9
Author: Lee HershCategory: SaladMethod: Stove-TopCuisine: VeganDiet: Vegan
Keywords: Mexican quinoa salad, quinoa salad, quinoa salad recipes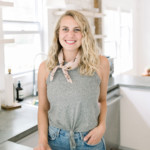 Lee is the founder of Fit Foodie Finds and based in Minneapolis, MN. She started this website in 2010 as a way to share her love for real food and wellness.