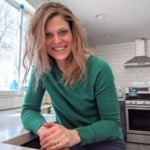 By: Ana Ankeny Posted: 9/20/21
Lasagna lovers meet soup lovers. Two comfort foods converge to create a warm and cozy soup that's easy to make and has big lasagna flavors. Instant Pot Lasagna Soup brings together Italian seasoning, soft gluten-free lasagna noodles, and ground beef in a mix of tomato basil marinara sauce topped with a dollop of ricotta and sprinkle of Parmesan. What you get is a comforting bowl of Lasagna Soup in less than half an hour. Don't have an Instant Pot? No worries, you can also make this recipe easily and quickly on the stovetop.
This post was created in partnership with our friends at Primal Kitchen. 
Big Bold Flavors in this Instant Pot Lasagna Soup
There's nothing as delicious and comforting as a big bowl of piping hot soup, especially when that soup has big bold Italian smells emanating from it! Lasagna is one of those meals that is widely loved by many. And while we ourselves love a good lasagna casserole, we wanted to make a quicker version to help you get dinner on the table faster. Here enters our lasagna soup instant pot style! Thanks to this Instant Pot version, you'll have bowls of lasagna soup on the table ready for serving in under 30 minutes.
Add a few veggies to this Lasagna Soup
As dietitians and mamas, we know both the importance of eating some veggies each day and we know just how tricky it can be to get kiddos to want to eat those veggies. With this Instant Pot Lasagna Soup recipe, we combined a few things from both our Easy Skillet Lasagna and our Easy One-Skillet Zucchini Lasagna to up the veg while keeping true to lasagna flavor. The classic bold lasagna flavors and noodles from the former with the added zucchini from the latter. The best of both worlds! This is one delicious soup you can feel good about serving to the whole family.
Lasagna Soup Made Easy
Creating this lasagna soup with an easy and whole foods-made tomato base, we always reach for Primal Kitchen's Tomato Basil Marinara Sauce made with Avocado Oil. The bold tomato flavors mixed with robust basil give this easy lasagna soup that added flavor that's so loved. We highly recommend using Primal Kitchen's Tomato Basil Marinara Sauce to make the most flavorful and robust lasagna soup!
Ingredients for Instant Pot Lasagna Soup
Here's what you need to make lasagna soup instant pot style tonight!
Ground beef – look for 90-93% lean ground beef. You can also use ground turkey or chicken for this recipe
Onion – use a yellow onion, diced finely
Zucchini – use a fresh zucchini, diced to 1/4-inch pieces (roughly 1 1/2 cups total). We left the peel on our zucchini
Garlic – minced garlic cloves or pre-minced garlic in a jar can be used
Marinara sauce – Primal Kitchen Tomato Basil Marinara Sauce with Avocado Oil is our top choice for this homemade lasagna soup
Broth – choose a low-sodium broth, either veggie, chicken, or beef
Italian seasoning
Salt
Pepper
Lasagna noodles – break lasagna noodles into roughly 2-inch pieces. Use either gluten-free lasagna noodles or regular lasagna noodles. For gluten-free lasagna noodles, we like Jovial, Barilla, or DeLallo lasagna noodle brands
Ricotta cheese – use a whole milk ricotta cheese or choose a dairy-free ricotta cheese (typically cashew based) for a dairy-free Instant Pot Lasagna Soup recipe. Can omit the ricotta for a dairy-free recipe
How to make Instant Pot Lasagna Soup
Select the 'Saute' button on the Instant Pot. Add the ground beef and diced onion. Use a spatula to break up the meat and cook for 6-7 minutes or until beef is almost cooked through, stirring occasionally. Add the garlic and continue to cook until beef is no longer pink, stirring occasionally.
Add the zucchini, marinara sauce, broth, Italian seasoning, salt, pepper, and broken lasagna noodles. Stir to combine.
Place the lid on the Instant Pot, turn the valve to the 'sealing' position. Cook for 3 minutes at high pressure. Allow for 5 minutes of natural pressure release before flipping the vent valve to 'venting' to release any remaining pressure.
Stir, ladle into bowls, and top with 2 tablespoons of ricotta cheese. Garnish with shredded parmesan or mozzarella cheese and chopped basil, if desired.
How to top Homemade Lasagna Soup
A little extra topping goes a long way in terms of adding flavor to this soup. For that sought-after cheesy taste, choose one or more of these toppings for your bowl:
Ricotta cheese – a dollop of ricotta cheese on top of each bowl adds a creaminess that can't be beat!
Parmesan cheese – shredded parmesan cheese or finely shaved fresh parmesan cheese adds a great cheesy taste reminiscent of a classic lasagna casserole
Mozzarella cheese – a more popular and widely stocked cheese in most homes, shredded mozzarella cheese sprinkled on top works great
Fresh basil – finely chopped fresh basil adds a perfect amount of additional flavor to each bowl of lasagna soup
Is Lasagna Soup healthy?
We love creating and sharing recipes that are tasty, have classic flavors, and are on the healthy side. Sticking to real food and adding quality ingredients, this Instant Pot Lasagna Soup recipe gets our Dietitians' approval for well-rounded meals.
Ground Beef – as we highlight in our Easy Beef Taco Bowls, beef is a great healthy addition to add to your diet. A 3-ounce serving of beef—about the size of an iPhone—provides more than 10 essential nutrients including protein, iron, zinc, and vitamins B12 and B6 and it's a great source of protein. 
Zucchini – adding additional vegetables to each meal gets our thumbs up every time. Tossing in some of this summer squash will add an array of vitamins and minerals, notably vitamin A and antioxidants, as well as both soluble and insoluble fiber benefiting your digestive health.
Broth – whether you make your own broth using our Instant Pot Bone Broth or use a store-bought version, broth has a plethora of benefits. The main nutrients in broth are a protein called collagen (supports gut health and digestion) along with minerals (calcium, potassium, and iron), and essential fatty acids. With an average of 20 grams of protein per 2 cups of broth, it's a great healthy addition to this soup.
How to store this lasagna soup
You're sure to have some leftovers from this family-friendly soup. Let the soup cool completely, then transfer to a container with a lid, and keep in the fridge for up to 4 days. To warm the soup, place desired amount in a bowl, cover with a paper towel (we don't want a tomato-based mess in the microwave!), then warm on high in the microwave for 30 seconds at a time until heated through.
For stovetop warming, place desired amount in a saucepan and heat on medium-high until soup is warmed through.
Pin now to make later!
Photo Credit: The photos in this blog post were taken by Jess of Plays Well with Butter. 
This post was made possible by our friends at Primal Kitchen. Although we received compensation for this post, the opinions expressed here are – as always – 100% our own. Thank you for supporting the great companies we work with thereby allowing us to continue creating great recipes and content for you.
All photos and content are copyright protected. Please do not use our photos without prior written permission. If you wish to republish this recipe, please rewrite the recipe in your own unique words and link back to the source recipe here on The Real Food Dietitians. Thank you!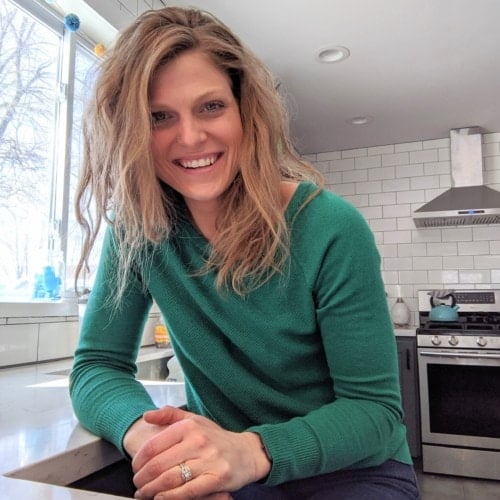 Ana Ankeny
Ana is a recipe developer, fellow food blogger, and Pinterest manager. She lived in Blue Earth, MN with her husband and four boys. She's on a mission to turn highly-processed meals into real-food meals…one dish at a time! She loves spending time with her family, powerlifting, traveling, and being in the kitchen.
Reader Interactions