Homemade granola never tasted so good. Try this fall-inspired Apple Cinnamon Granola for a healthy homemade granola recipe that's vegan and gluten-free.
Homemade Apple Granola
If you've ever made our homemade granola recipe, you know we've got it down! Or even our peanut butter cup granola — delish! Today we are sharing a sweet and spicy apple cinnamon granola that is perfect for fall!
Why you will love this recipe
This granola is made with dried apples, cinnamon, and pepitas. It is the perfect fall granola.
You can make this granola and give it away as a fun fall gift.
It's an easy recipe to make your own by adding other fun spices and ingredients.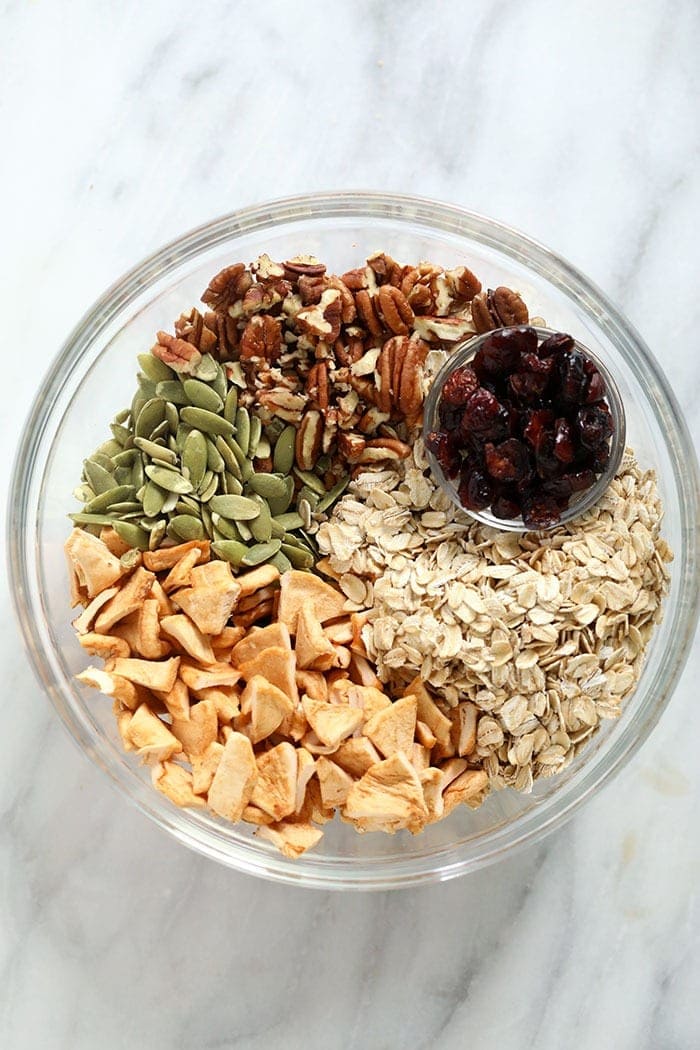 Featured Ingredients
We're calling this the best fall granola because it packs in the best of fall flavors and ingredients. Yes, it's an apple cinnamon granola, but it's got a lot of hearty add-ins to make it epically flavorful.
walnuts
pepitas
maple syrup
cinnamon
nutmeg
ginger
dried apples
dried cranberries or cherries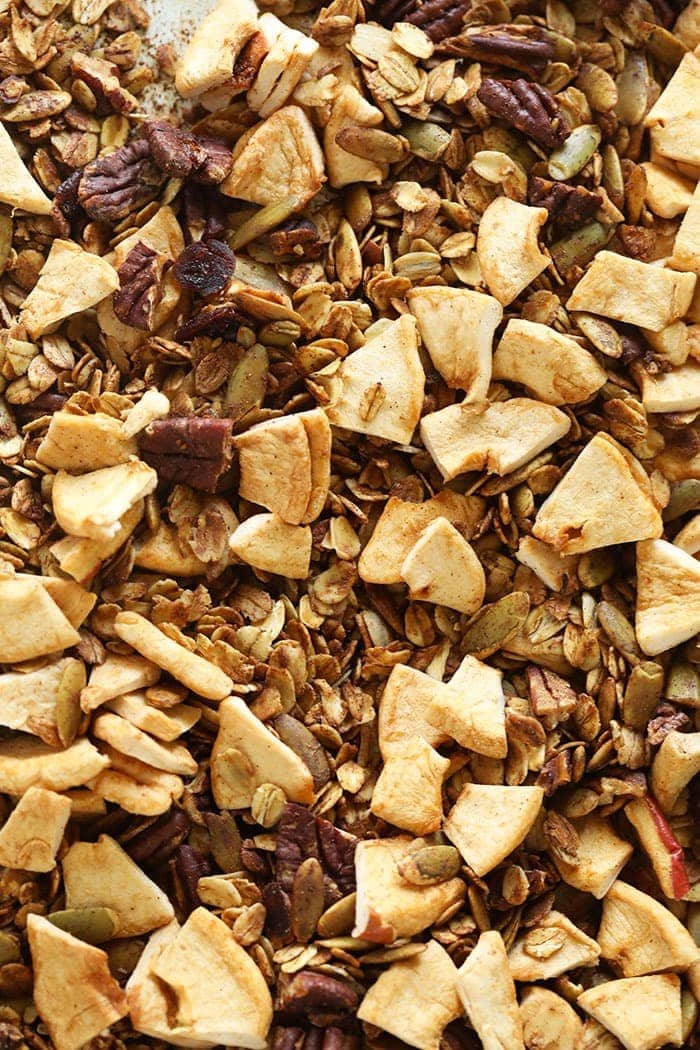 How to Make Apple Cinnamon Granola
To make this homemade apple cinnamon granola, it only takes a few steps. My biggest piece of advice is: make sure that you thoroughly read the directions of this recipe because not everything gets toasted at once. The reason we do this is not to burn the dried fruit!
MIX, SWEETEN, & OIL
Preheat your oven to 350ºF and make sure to throurouly spray a baking sheet with cooking spray. Next, place rolled oats, pepitas, and chopped walnuts onto your baking sheet and mix.
Then, drizzle on both melted coconut oil and maple syrup and toss all ingredients together. Make sure the dry ingredients get fully coated, this is how your granola will become sweet and crunchy!
SEASON
Season your apple cinnamon granola with ground cinnamon, nutmeg, ginger, and salt. Give it one more toss!
BAKE
Now, it's time to bake the granola at 350ºF. Bake for around 10 minutes and then remove so you can toss. Put back in the oven and bake for 10-15 more minutes, making sure not to burn!
ADD dried fruit & TOSS
Once your granola is done the cooking, remove it from the oven and let it sit for around 5 minutes too cool. Then, add in dried apples and cranberries and toss again.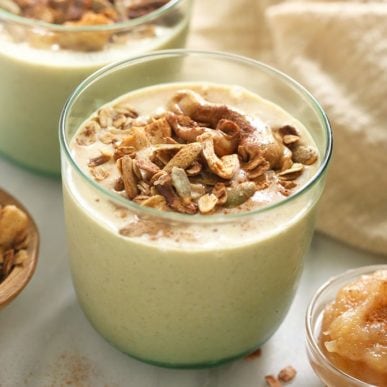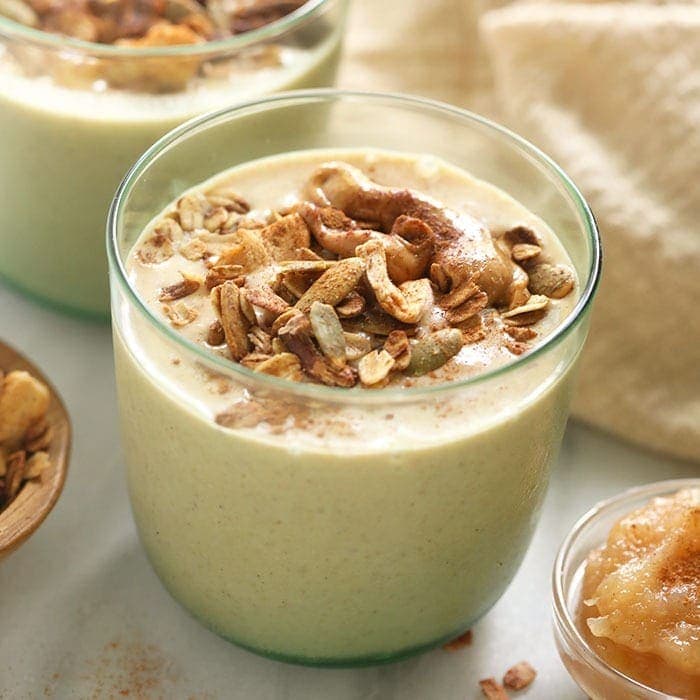 Easy
Apple Smoothie
Serve this homemade apple cinnamon granola on top of this apple smoothie. It doesn't get much better.
Storage
Store your granola in an air-tight, glass container in a cool, dark place in your kitchen. Granola should last up to 2 weeks.
Serving Suggestions
You can always just eat your apple cinnamon granola with some almond milk, but if you're hoping to make this more of a meal, here are some serving suggestions: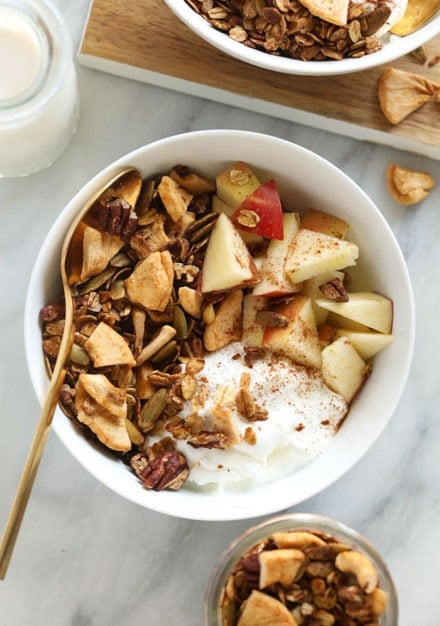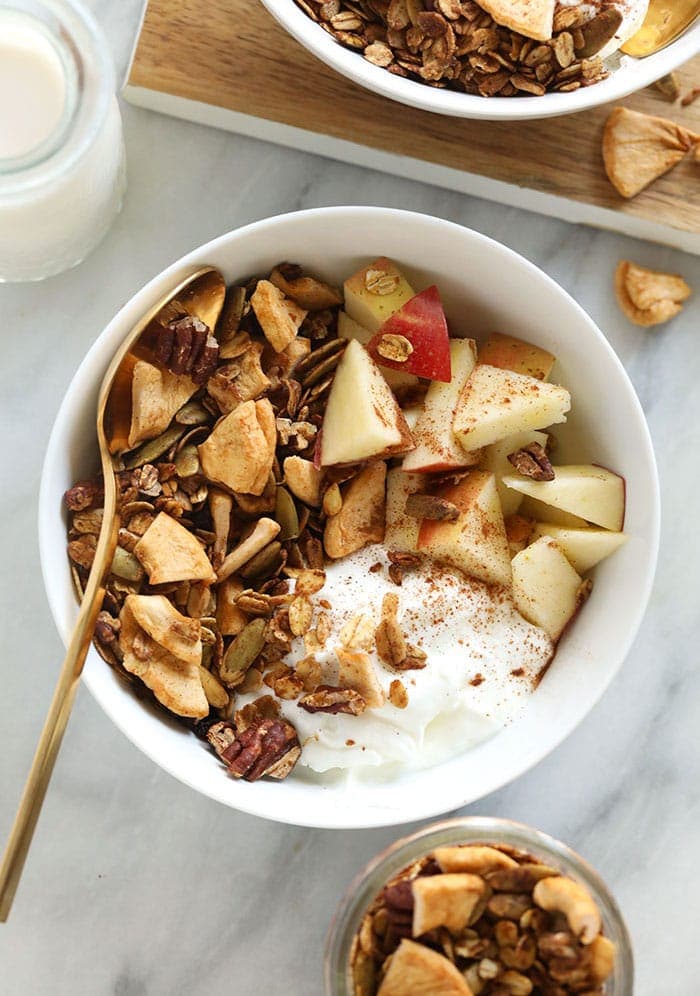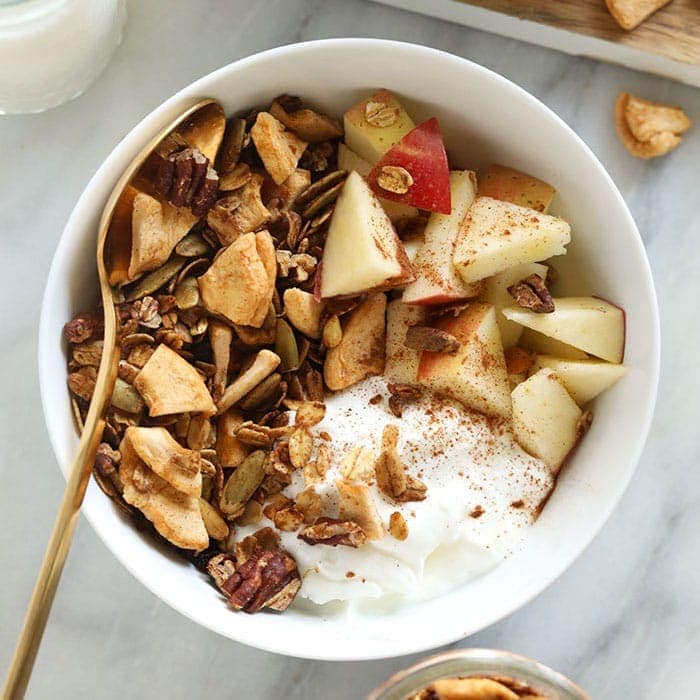 Homemade Apple Cinnamon Granola
This homemade apple cinnamon granola is make with dried apple, warm spices, and more. It is crunchy and the perfect topping for smoothies.
Prep:15 minutes
Cook:20 minutes
Total:35 minutes
Instructions 
Preheat oven to 350ºF and spray a baking sheet with coconut oil cooking spray or lay a piece of parchment paper down over the baking sheet.

Place rolled oats, walnuts, and pepitas onto the baking sheet and toss with your hands or a wooden spoon.

Then, drizzle on maple syrup and melted coconut oil and toss again with a wooden spoon.

Finally, season granola with cinnamon, nutmeg, ginger, and salt and toss one more time.

Place in the oven at 350ºF for 10 minutes. Remove and toss. Place back in for another 10-15 minutes.

Remove granola from the oven and let cool for 5 minutes. Add dried apples and cranberries and toss.
Nutrition facts
Calories: 294kcal Carbohydrates: 34g Protein: 6g Fat: 16g Fiber: 6g Sugar: 14g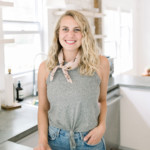 Lee is the founder of Fit Foodie Finds and based in Minneapolis, MN. She started this website in 2010 as a way to share her love for real food and wellness.