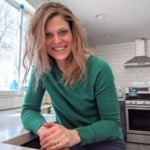 By: Ana Ankeny Posted: 8/25/21
Chewy oats, plump raisins, crunchy walnuts, and a pinch of cinnamon. Those are the star ingredients that bring these awesome and always-favorite Gluten-Free Oatmeal Raisin Cookies to the table. Grab a bowl and make a batch of homemade oatmeal raisin cookies that are perfectly soft and chewy every time.
Soft and Chewy Gluten-Free Oatmeal Raisin Cookies
Say hello to your new favorite cookie recipe! We're not exaggerating when we say these oatmeal raisin cookies have it ALL! Chewy oats, plump raisins, crunchy walnuts, and just enough cinnamon to make the house smell like fall while they're baking to golden perfection. These cookies are big on texture and flavor (soft, chewy, tender, yum) while remaining sans gluten. Made with a base of oats and gluten-free flour, these cookies are an allergy-friendly option that are gluten-free (with a dairy-free and vegan option, too).
Building the perfect oatmeal raisin cookies
The main ingredients in these oatmeal raisin cookies are (you guessed it) … oats and raisins! From there we added in heart-healthy walnuts, pure vanilla extract, warm cinnamon, a little gluten-free flour blend, a whole egg, and some soft butter (more on butter options below).
What are we missing? Sugar. Cookies need to be sweet, there's no getting around that. But in our dessert recipes we always like to reign in sugar so you're still getting a sweet treat without a glutton of sugar. For these beautiful cookies, we chose a combination of cane sugar and brown sugar (just like we used in our awesome Peanut Butter Chocolate Chip Pretzel Cookies). We use these two types of sugar to create the perfect texture and browning effect, but we've cut back so that you use less than a cup of sugar total to make the whole batch.
Ingredients to make healthy oatmeal raisin cookies
Egg – for choosing good quality eggs, check out this post
Butter – we have tested this recipe with both unsalted butter and vegan butter. Both created great, tender cookies
Cane sugar – we like this organic cane sugar from Thrive Market
Brown sugar – use a light brown sugar, such as this one from Thrive Market
Vanilla – we prefer pure vanilla extract with no added sugars, such as this one
Gluten-free quick-cooking oats – by using quick-cook oats, you get a softer and chewier cookie. If you only have old-fashioned oats on hand, they will work just fine. We recommend whirling old-fashioned oats quickly in a food processor to break the oats into smaller pieces
Gluten-free flour blend – we like Bob's Red Mill One-to-One Gluten-Free Baking Flour or King Arthur Measure-for-Measure Gluten-Free Flour. You can also use regular all-purpose flour if you don't need or want cookies that are gluten free
Baking soda
Fine salt
Ground cinnamon
Raisins
Walnuts – chopped walnuts or walnut pieces work best for this recipe
For all your baking essentials, shop Thrive Market to get the best prices on natural, organic, and specialty foods. PLUS get a free gift valued at $24 when you sign-up! We love to shop Thrive Market for all of our baking essentials! 
How to Make this Oatmeal Raisin Cookie Recipe
Preheat oven to 350 degrees. Line a baking sheet with parchment paper.
In a mixing bowl, cream together the egg, butter, cane sugar, brown sugar, and vanilla. 
Add the quick-cooking oats, gluten-free flour, cinnamon baking soda, and salt; mix well. Fold in the raisins and walnuts.
Using a cookie scoop, scoop dough out into 18-20 balls and place on the prepared baking sheet. Bake for 12-14 minutes or until lightly golden brown and cookies are set in the center. Remove from the oven, let cool slightly on the baking sheet before transferring to a wire rack to finish cooling.
How to store these oatmeal raisin cookies
Once the cookies have completely cooled on a wire rack, place them in a container with a lid and store them at room temperature for up to one week.
Are oatmeal Raisin Cookies freezer-friendly?
YES! This oatmeal raisin cookie recipe is a great recipe to double and freeze half for later. Once the cookies are completely cooled, place them in a freezer-friendly container and freeze for up to 3 months.
Gluten-free Oatmeal Raisin Cookie Options
We make these oatmeal raisin cookies gluten-free by using gluten-free flour blend. Here are some other substitutions we have tested and can work for you, if needed:
Gluten-free – these cookies have been tested with a few types of gluten-free flour blend (we like Bob's Red Mill One-to-One Gluten-Free Baking Flour or King Arthur Measure-for-Measure Gluten-Free Flour), as well as regular all-purpose flour. All created great and tender cookies. If you don't need cookies that are gluten free, you can use the same measure (3/4 cup by measure or 111 grams by weight) of regular unbleached all-purpose flour.
Dairy-free – to make these cookies dairy-free, we recommend replacing the unsalted butter with a stick of vegan butter. We recommend stick vegan butter, such as Miyoko's Cultured Vegan Butter, instead of tub butter which contains more water and will flatten out the cookies and make them less tender.
Egg-free – for an egg-free option, replace the egg with a flax 'egg'. To make a flax egg, mix 2 tablespoons of ground flax meal with 4 tablespoons of water. Set it aside to set for 5-10 minutes until it has thickened to the consistency of egg whites before stirring into the batter.
Nut-free – to be a nut-free oatmeal raisin recipe, you can omit the walnuts. If you desire that additional crunch the walnuts give, you can sub in sunflower seeds or pepitas (pumpkin seeds) for a nut-free option.
Other gluten-free cookies to try
Pin Now, Make Later
All photos and content are copyright protected. Please do not use our photos without prior written permission. If you wish to republish this recipe, please rewrite the recipe in your own unique words and link back to the source recipe here on The Real Food Dietitians. Thank you!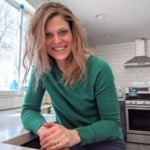 Ana Ankeny
Ana is a recipe developer, fellow food blogger, and Pinterest manager. She lived in Blue Earth, MN with her husband and four boys. She's on a mission to turn highly-processed meals into real-food meals…one dish at a time! She loves spending time with her family, powerlifting, traveling, and being in the kitchen.
Reader Interactions