Make homemade caesar salad dressing with no eggs! This caesar dressing is savory and made with Greek yogurt, lemon juice, a little mayo, and anchovy paste. It is quick, easy, and perfect for chicken caesar salad or any many other delicious meals.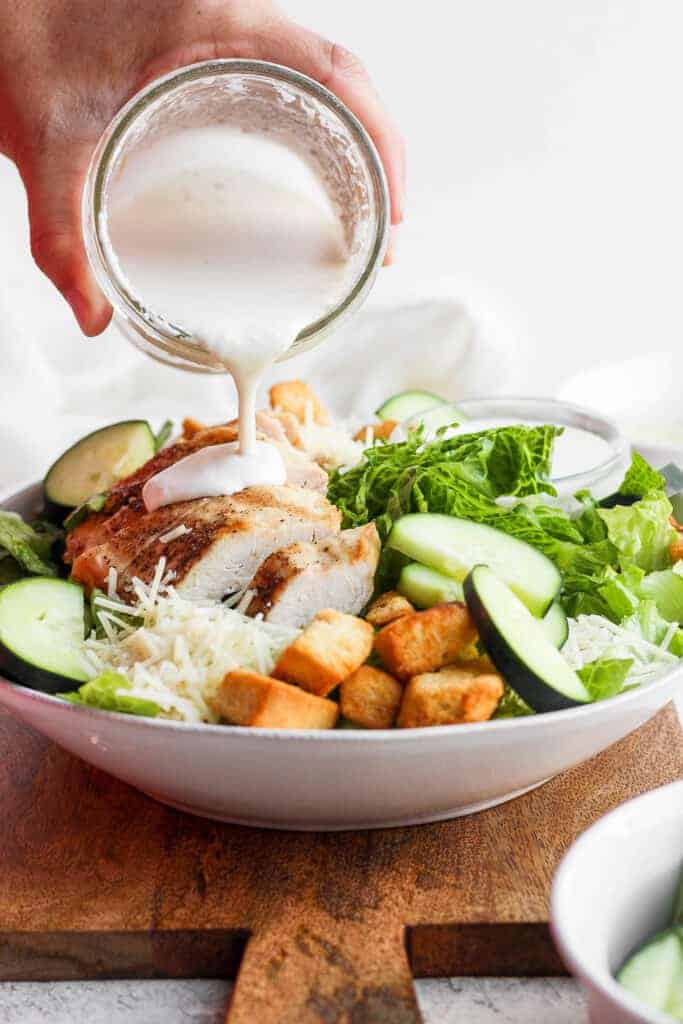 The BEST Caesar Salad Dressing
There is nothing better than a classic caesar salad dressing. The umami flavor of a creamy caesar dressing is hard to beat.
You can whip this caesar dressing up in 5 minutes to serve immediately or keep your caesar dressing in the fridge for later.
Reasons we love this caesar dressing
This dressing is so easy to make.
It is lightened up and uses Greek yogurt to add creaminess and tartness.
There are NO eggs needed in this caesar salad dressing.
You can add this caesar dressing to salads, wraps, and anything in between.
Ingredients You Need
This is a spin off a classic caesar dressing recipe, which means we took a classic caesar salad dressing and made it more accessible.
Classic caesar salad dressing has raw egg yolks and anchovies in it and we replaced those two ingredients. Check out the ingredients you need below.
Greek yogurt- caesar dressing is traditionally creamy from egg yolks and parmesan cheese. We got rid of the eggs and added Greek yogurt. You can use any plain Greek yogurt that you would like!
Mayonnaise- adding a little mayo to this Greek yogurt gives it that creamy and eggy flavor and texture.
Grated parmesan- don't skip the parmesan cheese in this recipe. Finely grated parmesan cheese makes this dressing. We're talking the finely grated, almost powder parmesan cheese. It adds saltiness and thickens up the dressing.
Anchovy paste– no need to go and buy a tin of anchovies that you will only use one time. We love buying a tube of anchovy paste. It is heaven sent. You can order anchovy paste online or find it near the tomato paste or olives in your grocery store.
Lemon juice- fresh lemon juice both brightens up the dressing and creates the salad dressing consistency that you're looking for.
Lemon zest- don't skip the zest!
Olive oil- the oil that we whisk into this caesar salad dressing is olive oil! It has the best rich and luxurious flavor.
Salt+ pepper- both salt and pepper bring out all the different flavors in this dressing.
Ingredient Swaps
Not into some of the ingredients in this salad dressing? We get it. Here are a few easy ingredient swaps you can make.
olive oil —> grape seed oil or avocado oil
anchovy paste–> fish sauce
Greek yogurt–> more mayonnaise
Mayonaise–> egg yolks (if you are feeling the classic caesar dressing)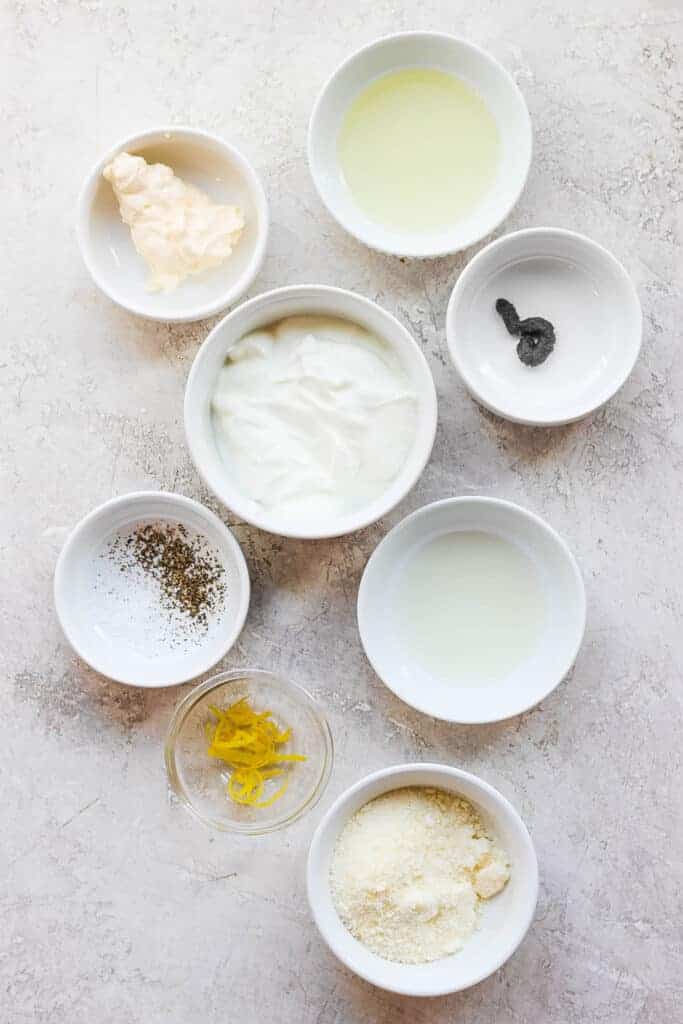 Tools You Need
There are a few ways you mix up this caesar dressing in a mason jar, a blender, or a food processor.
We kept this simple and used a mason jar with a top, but you do you. Here are a few more tools that you may need to make this caesar dressing.
How to Make Caesar Salad Dressing
Prep ingredients. To make this caesar salad dressing even easier to make, be sure to prepare all your ingredient ahead of time. Grate your zest, grate your parmesan cheese, and measure everything you need out so you keep it easy breezy.
Place ingredients in a jar. If you are using a mason jar to mix everything up, add all of your ingredients to a jar and place a cover tightly on the jar.
Shake until combined. Give that jar a shake until all of the ingredients are combined together.
Serve or Store.
here's a tip
If the caesar dressing is too thick for your liking, go ahead and add 1 teaspoon of water to the dressing until it reaches your desired consistency.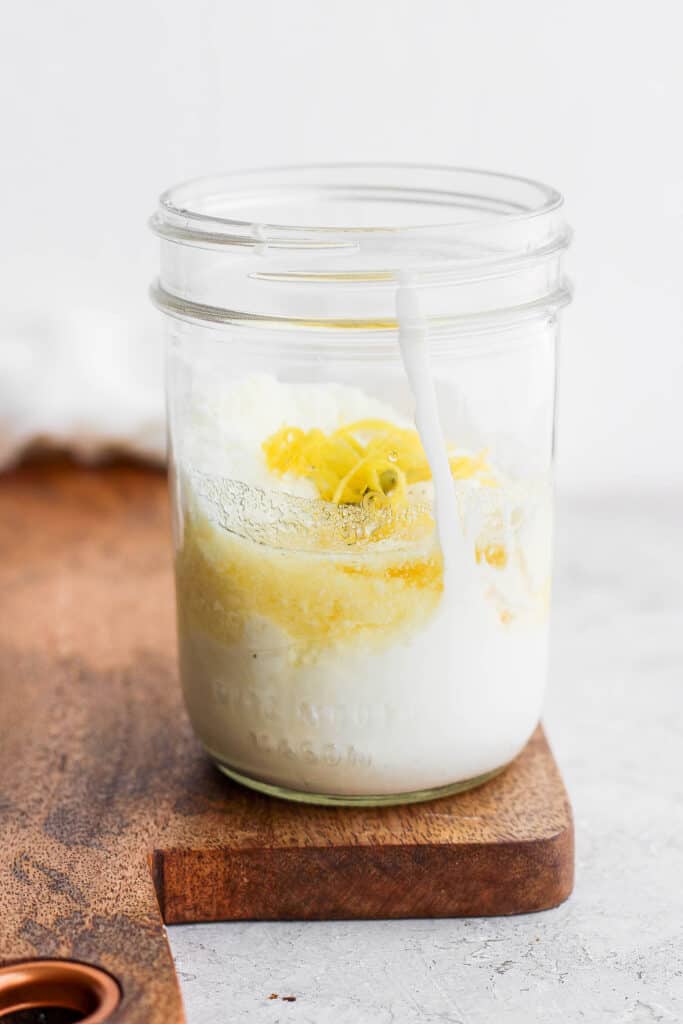 Caesar Salad Dressing Facts
What lettuce to serve with caesar salad dressing.
Classic caesar salad is made with romaine lettuce with caesar salad. But you can use whatever lettuce you would like.
Is this caesar dressing healthy?
Yes, this caesar dressing is a healthier version of caesar dressing, especially compared to a store bought caesar dressing.
Using Greek dressing lightens up the dressing and adds a bit of protein to dressing recipe.
Can I make homemade anchovy paste?
Yes, if you can't find anchovy paste feel free to make your own.
To make anchovy paste, place anchovies into a small food processor and blend until it turns into a paste.
What else can I add to this caesar dressing?
To change up the flavors in this caesar salad dressing you can add a teaspoon of dijon mustard or Worcestershire.
Add a little kick. To make this caesar salad dressing spicy add 1 teaspoon of red pepper flakes or 1/4 teaspoon of cayenne pepper.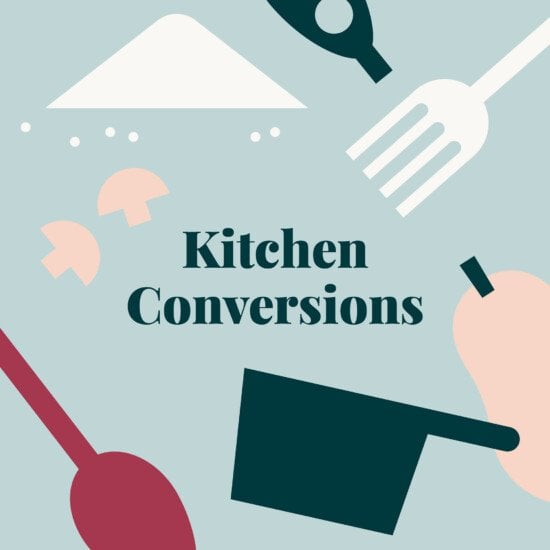 make it easy
Print Your Own
Keep common kitchen conversions like tablespoons to teaspoons and Fahrenheit to Celsius on hand at all times with our printable kitchen conversions chart.
Serving Options
Add it to a salad.
You can make yourself a big ole crunchy caesar salad with romaine lettuce, crunchy tomatoes, cucumbers, and croutons with a few tablespoons of this caesar dressing.
Make a Caesar salad wrap.
Add a little bit caesar dressing to a tortilla and use it as dressing for any delicious wrap.
Use it as a dip!
Chop up some vegetables and serve this caesar dressing a bit thicker and as a delicious appetizer.
Toss it with shredded chicken.
Make yourself some shredded chicken (check out preparation options below) and toss it with caesar dressing for limitless recipe options.
Storage
Store this caesar dressing in an air tight container and store it in the fridge for up to 7 days.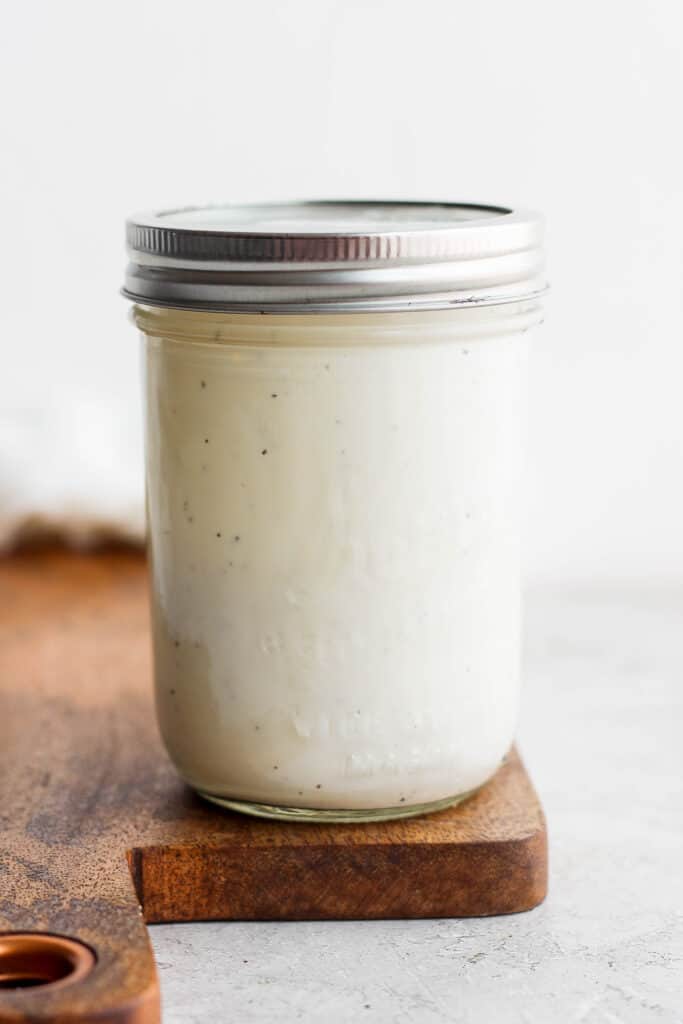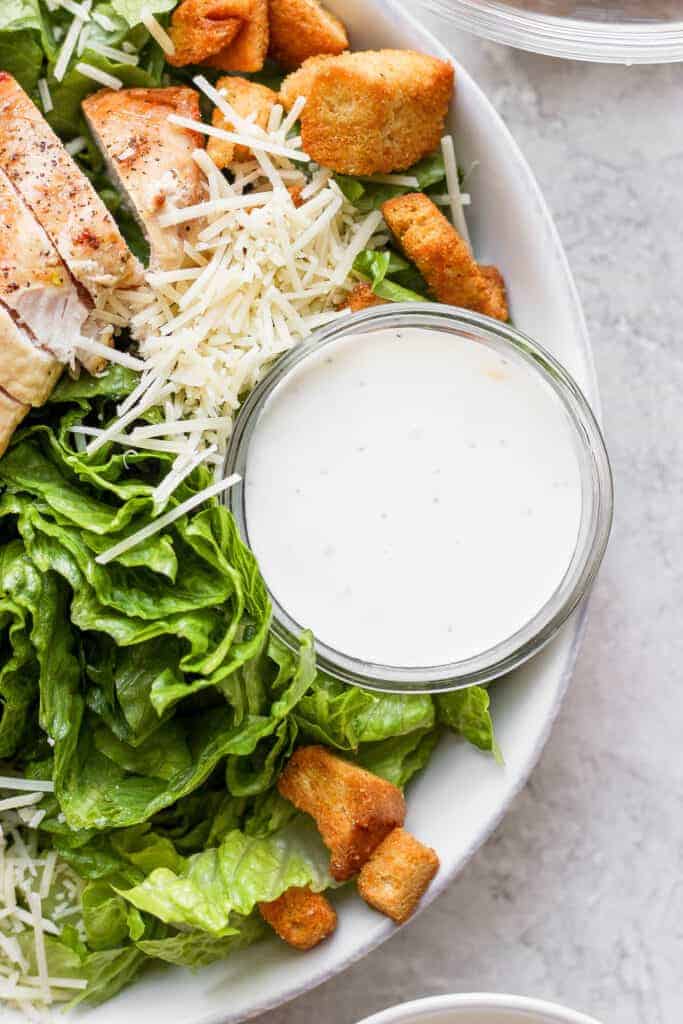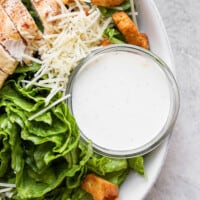 Easy Caesar Dressing Recipe
Forget store bought caesar dressing and make this homemade caesar dressing recipe for a tart and flavorful dressing for salad, wraps, and more! 
Prep: 5 minutesCook: 0 minutesTotal: 5 minutes
Fat 10 Carbs 2 Protein 2
Yield 8 1x
Ingredients
1/2 cup

Greek yogurt

1/4 cup

mayo

1/3 cup

finely grated parmesan

1.5 teaspoons

anchovy paste

2 tablespoons

lemon juice

1 teaspoon

lemon zest

2 tablespoons

olive oil

1/4 teaspoon

salt

1/4 teaspoon

pepper
Instructions
Place all ingredients for the cesar dressing into a mason jar. 

Cover the mason jar and shake until all the ingredients are combined and the dressing is smooth. If the dressing is too thick add 1 teaspoon of water at a time until the dressing reaches desired consistency.

Serve over salad. 
Nutrition Facts
Serving Size: 1/8 Calories: 99 Sugar: 0 Sodium: 189 Fat: 10 Carbohydrates: 2 Fiber: 0 Protein: 2 Cholesterol: 4
Author: Linley RichterCategory: DressingMethod: No BakeCuisine: Italian
Keywords: Caesar Dressing
Photography: photos taken in this post are by Erin from The Wooden Skillet.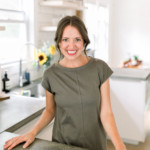 Linley is a 5′ nothing spitball of positive energy who joined Team Fit Foodie in the Spring of 2014. Linley has worked on the digital side of small businesses and nonprofits since 2011, where she specialized in social media community management. Lin has a passion for food and an incredible palate. She is FFF's chief recipe developer, so you can thank her for these incredible recipes!