This basil pesto is made with simple ingredients of fresh basil, parmesan cheese, garlic, lemon juice, and olive oil. This pesto recipe is perfect for bread dipping and delicious tossed with pasta.
Wonderful Basil Pesto
Pesto is one of my favorite sauces as it has such an intense flavor of garlic and parmesan, but is also very fresh from the basil.
I love making homemade basil pesto because I can use up all of my fresh basil from the garden. Dinner can be ready in no time by tossing al dente noodles in pesto or even using it as a delicious dip for an appetizer.
What is pesto?
Pesto is a green sauce that originated in Italy. It's typically made from basil, garlic, pine nuts, and olive oil.
What is pesto made from? Classic pesto is made from fresh basil, pine nuts, parmesan cheese, and olive oil.
There are many variations of pesto including kale pesto, walnuts pesto, pesto using other herbs, vegan pesto, etc.
How do you serve pesto? Pesto is often served as a sauce on pasta. It can also be used as a dip or a marinade (check out our Pesto Chicken Skewers!).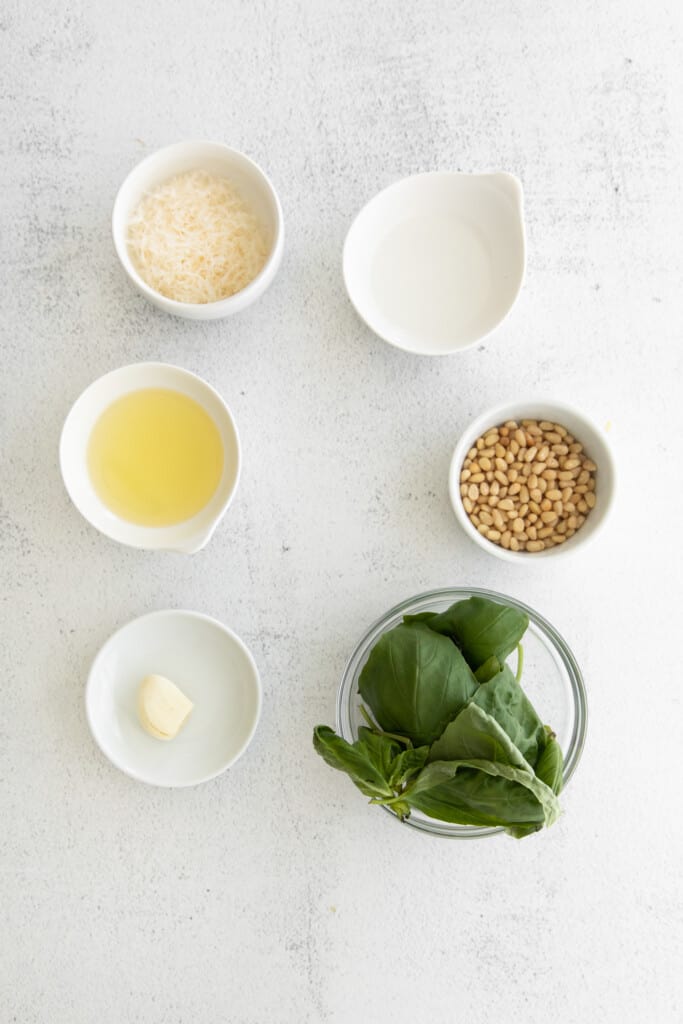 Ingredients for Pesto
Fresh Basil Leaves: have basil in the garden? Basil pesto is the perfect recipe to make sure none of it goes to waste! Make sure to use fresh basil for this recipe.
Olive Oil: we love the flavor of extra virgin olive oil and this is the main fat in this sauce. Not only does it make it super buttery, but it also helps thin it out and turn it into a sauce.
Parmesan Cheese: parmesan cheese adds such a yummy, salty, savory flavor to this pesto sauce.
Pine Nuts: pine nuts are traditionally used in pesto sauce. We use ours raw, but you can toast them for a bigger flavor.
Garlic Cloves: garlic lovers unite! you'll need 1 clove of garlic in this recipe. However, you can totally double it if that's your jam.
Lemon Juice: lemon juice adds just the right amount of acidity to this sauce. Don't skip it.
Salt: a little kosher salt brings all of these ingredients together into one incredible sauce. Make sure to start with a little and go from there.
Ingredient Swaps
Basil: don't have basil? Try using spinach or kale instead. 
Pine Nuts: pine nuts too expensive? I get it! Try using cashews, pecans, or almonds instead.
Parmesan Cheese: hoping to keep this recipe dairy-free? Nutritional yeast is a great sub for parmesan cheese.
Olive Oil: instead of olive oil use grape-seed oil.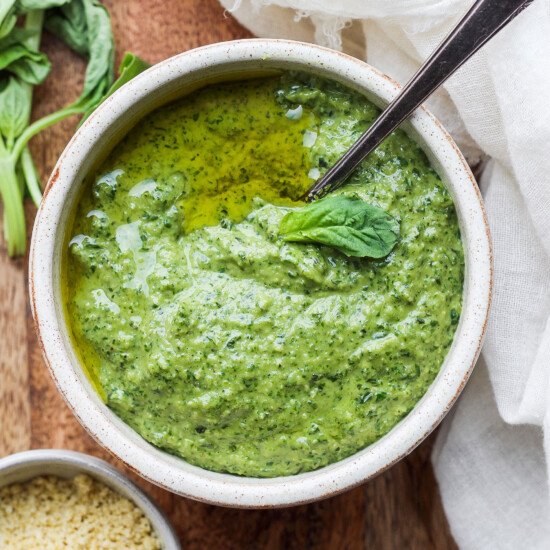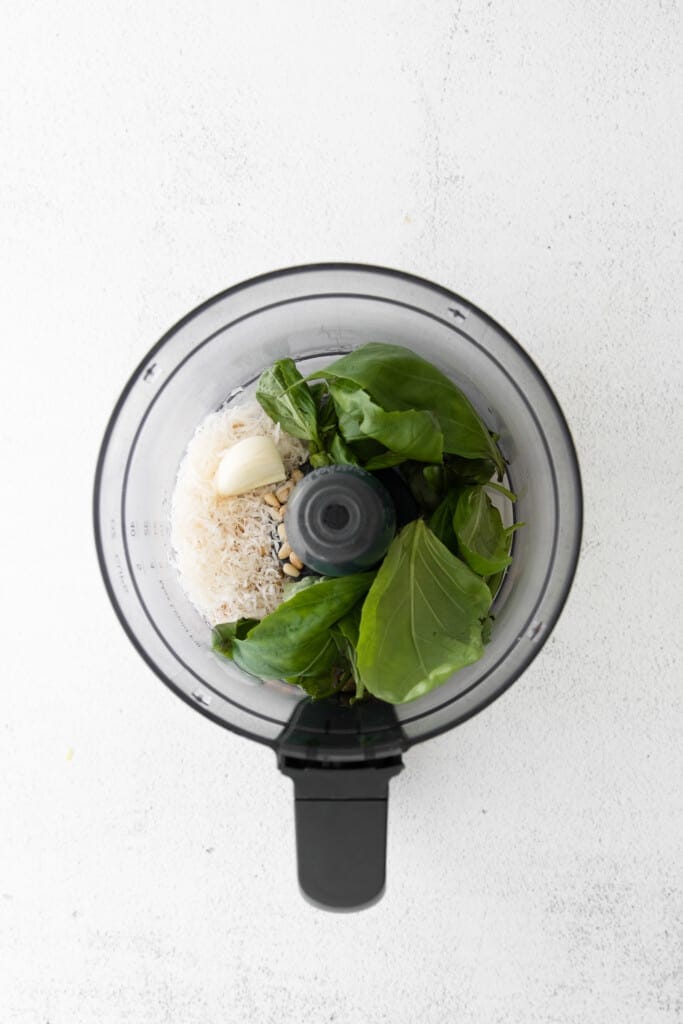 Recommended Kitchen Tools
How to Make Pesto
This homemade pesto recipe comes together in just 5 minutes! Combine all of the ingredients for basil pesto in a small food processor and process until smooth.
Place all of the ingredients into the bowl of a food processor.
Pulse on high for about 60 seconds so that the basil gets pureed.
Add more olive oil as needed to thin things out.
Serve immediately.
Quick tip!
make sure not to overprocess your pesto as you can risk it getting a bit slimey. Plus, a little texture is so great for this recipe.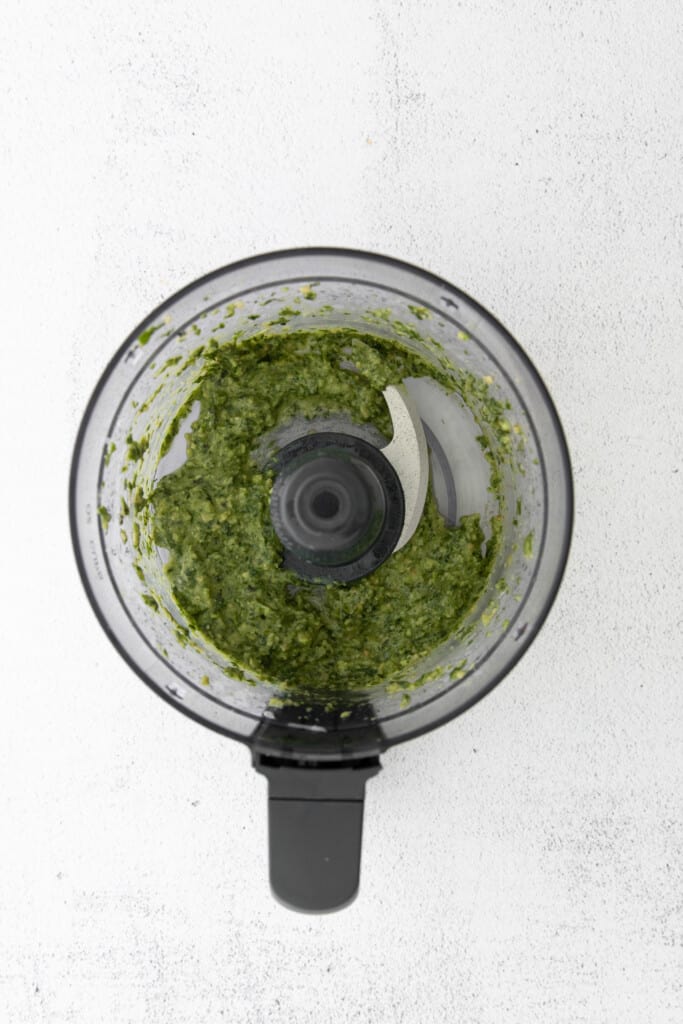 Pesto Q&A
Do I need to toast my pine nuts? It is not necessary to toast your pine nuts, but you are more than welcome to do so in order to get a more intense flavor.
Can I use dried basil? Unfortunately, we do not recommend using dried basil for homemade pesto.
Can I use a blender instead? you can absolutely use a blender instead of a food processor.
Is pesto healthy? Pesto is made with fresh ingredients and olive oil, making it a healthy sauce option.
How to Serve Pesto Sauce
There is no one-size-fits-all with our pesto sauce recipe. One of my favorite things about it is that it's so versatile in how you can use it!
Marinade: Pesto makes for a great marinade. Try our Pesto Chicken Skewers.
Salad Dressing: Pesto is a great base for salad dressing! Add more olive oil to make it a milder dressing or just drizzle it right onto your salad as is!
Sauce: Need a sauce to top your veggies or protein. This homemade pesto is your ticket! Try our Pesto Chicken Meal Prep or Mediterranean Salmon.
Dip: Keep it simple and use your pesto as a dip for bread, veggies, or crackers!
Pasta: Toss al dente pasta with pesto and serve as is. You can also check out our Chicken Pesto Pasta recipe for a heartier meal.
Spread: Use it as a spread on sandwiches or pita bread. Check out our Roasted Red Pepper and Pesto Turkey Sandwich.
Pesto Storage
Transfer your pesto into an airtight container and store pesto in the fridge for up to 3-5 days.
How to Freeze Pesto
Freezing pesto is so easy and a great way to use up all your fresh basil! Here's how to do it.
Transfer pesto into an ice cube tray. Add 1 to 2 tablespoons of pesto into each ice cub so that it's filled 3/4 of the way full.
Place in the freezer for at least 2 hours or until fully frozen.
Pop the pesto ice cubes out of the tray and then transfer the frozen cubes into an airtight container or gallon-size bag.
Freeze for up to 3 months.
To thaw: simply let the frozen pesto sit out on the counter for 1 hour or transfer them into a nonstick skillet and defrost on the stovetop over medium heat.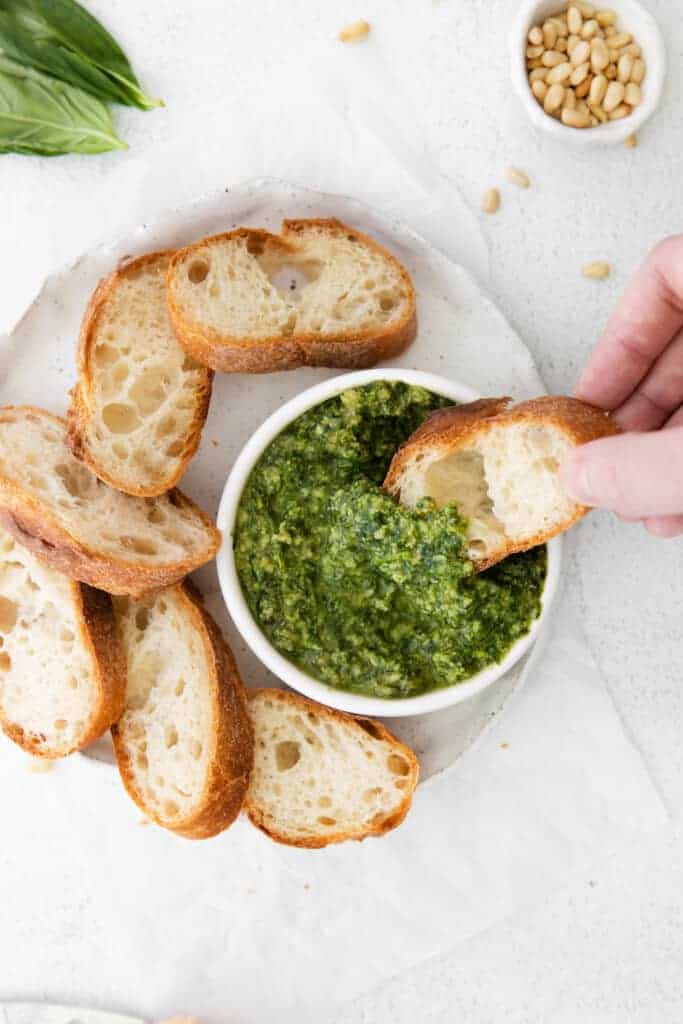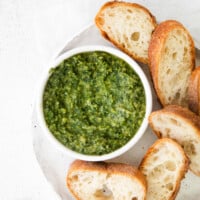 Easy Basil Pesto
This homemade pesto recipe comes together in just 5 minutes! Combine all of the ingredients for basil pesto in a small food processor and process until smooth.
Prep: 5 minutesCook: 0 minutesTotal: 5 minutes
Fat 15 Carbs 2 Protein 3
Yield 1/3 cup 1x
Ingredients
1 cup

packed basil leaves, fresh (~

20

–

22

fresh basil leaves)

1/4 cup

grated parmesan

1 tablespoon

fresh lemon juice

1

medium clove garlic

2 tablespoons

pine nuts

3 tablespoons

olive oil
Instructions
Place all ingredients into a high-speed food processor. 
Proces on high for about 60 seconds. Make sure not to overprocess as some grittiness is great for the texture of pesto.
If your pesto is too thick, add more olive oil by the teaspoon.
Tips & Notes
Makes about 1/3 cup pesto
This recipe was updated on June 17th, 2021.
Nutrition Facts
Serving Size: ~2 tablespoons Calories: 145 Sugar: 0 Fat: 15 Carbohydrates: 2 Fiber: 0 Protein: 3
Author: Lee FunkeCategory: CondimentsMethod: No-BakeCuisine: Italian
Keywords: pesto, pesto recipe