This parmesan baked zucchini is such an easy and delicious recipe. Everyone gets their veggies in with these zucchini coins that are tossed in olive oil, parmesan cheese, salt, pepper, and garlic.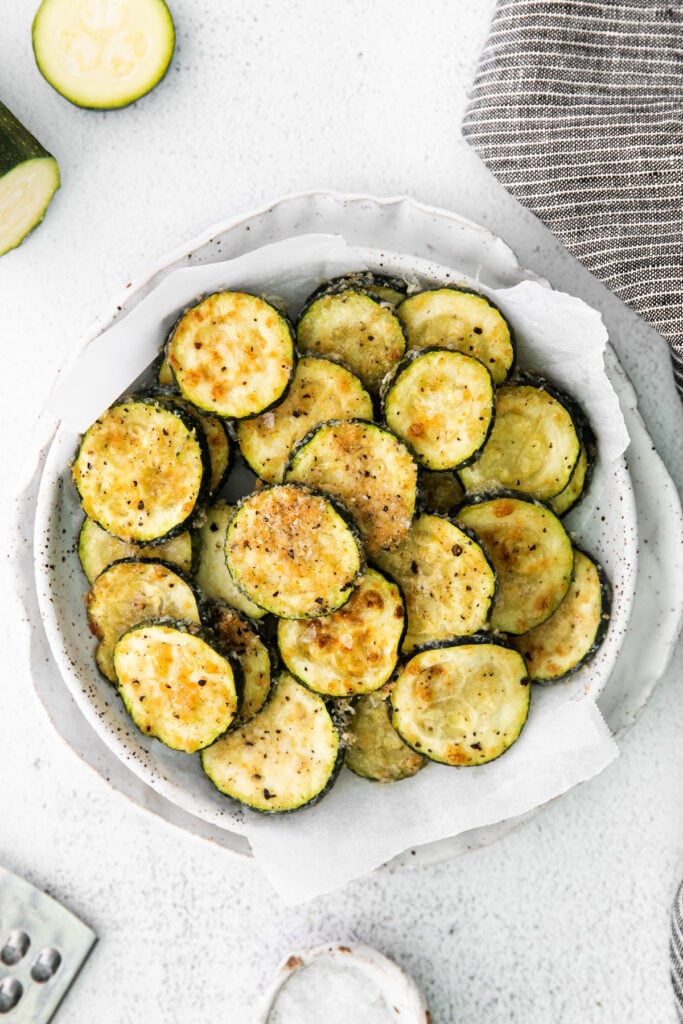 The BEST Baked Zucchini
Is it that time of year where you have so much zucchini that you don't know what to do with all of it? This baked zucchini is the perfect recipe to use up your zucchini and enjoy it at the same time.
here's why we love this recipe
It is a veggie dish that has delicious flavor.
This baked zucchini is ready in less than 30 minutes.
You can make this recipe your own by adding different spices and ingredients.
It is a great recipe to make when you need to use up some zucchini and get your veggies in.
Tools You Need
This recipe is very simple, but it helps to have the right tools to get the job done! Below are a few tools that may help.
Ingredients You Need
Olive oil– you need some kind of binder to allow all of your ingredients to stick to the zucchini. We highly recommend olive oil but you can use any choice of oil that you would like.
Zucchinis– zucchinis come in all shapes and sizes. You are going to need 4 medium sized zucchinis (~6-8 inches).
Parmesan cheese- finely grated parmesan is what you're looking for. We do not recommend using shredded parmesan. It tends not to stay stuck to the zucchini,
Spices– we used a spice blend of garlic, salt, pepper, a pinch of cayenne pepper for heat.
How to Make Baked Zucchini
Get the baking sheet ready. Place an oven safe cooling rack on a large baking sheet. Spray with non-stick cooking spray and set aside for later. We highly suggest using the cooling rack, it allows the zucchini to bake more evenly.
Prep the spices + cheese. Mix the parmesan, salt, pepper, garlic, and cayenne in a bowl.
Slice the zucchini. Get your zucchini prepped by rinsing the zucchini and the slice them into 1/4 inch thick rounds.
Dredge the zucchini. The best way to make sure all the zucchini coins are coated in parmesan is to dredge one zucchini coin at a time. Dip a coin in olive oil, let excess olive oil drip off, and then dip the zucchini in the parmesan mixture being sure that that each zucchini is covered in parmesan. Place each zucchini coin on the cooling rack and repeat.
Bake. Place the zucchini in the oven and bake at 400ºF for 6-7 minutes.
Broil. For the last minute turn the oven to broil so the tops of the zucchini get golden brown.
Enjoy. Remove from the oven and let them cool for 3-5 minutes before removing them from the cooling rack. If you remove them too soon the parmesan cheese will stick to the cooling rack.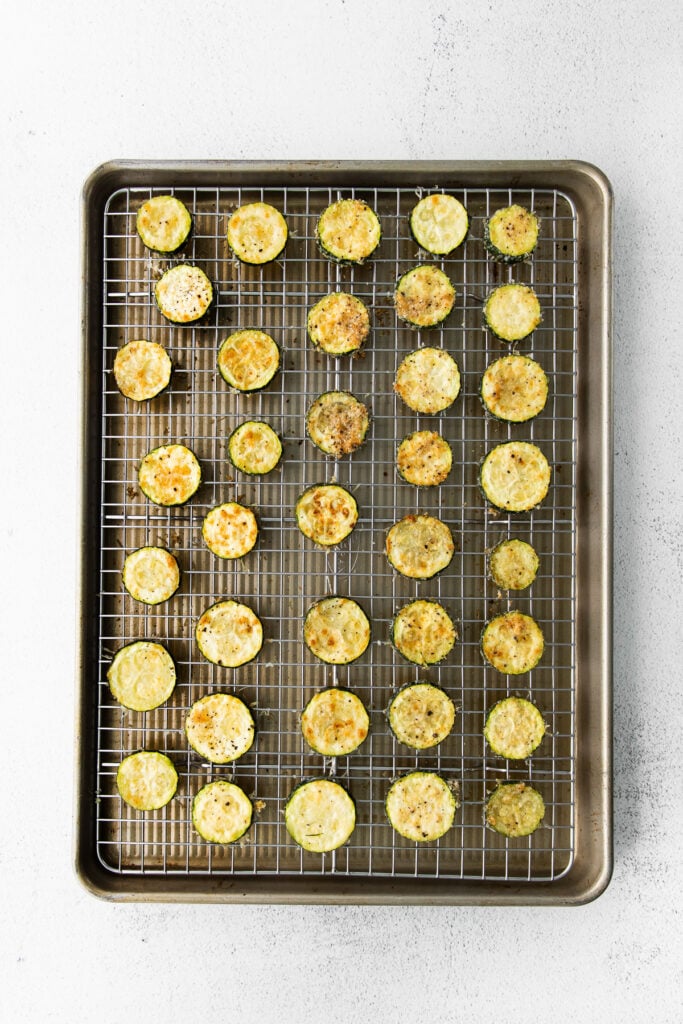 A Few More Things – Baked Zucchini
Add Different Spices
We kept the spice blend for this baked zucchini super simple so that you can taste both the zucchini and the saltiness of the parmesan.
If you want to spice things up, feel free to add a teaspoon or two of any of the spice blends below to your parmesan mixture!
Homemade ranch seasoning- The best homemade ranch seasoning recipe on the internet. You'll want to have a jar of this ranching seasoning over any store-bought packet…trust me!
Everything bagel seasoning- Everything Bagel Seasoning needs to be the new all-purpose seasoning that you put on everything! It's made with just 6 ingredients and very addicting.
Homemade taco seasoning- Make your own Homemade Taco Seasoning with just 9 ingredients you likely already have in your spice cupboard, and you'll be on your way to the most flavorful meat or veggie tacos in no time
Moroccan seasoning- Moroccan spices are the perfect flavor addition for chicken thighs, roasted vegetables, and tomato-based stews!
Get the extra crispy
If you want your baked zucchini to be a bit crispier, try cutting your zucchini coins a bit thinner.
Can I use an air fryer?
Yes, you can use an air fryer! Follow the instructions for this recipe and then place the zucchini coins in the air fryer and cook them at 400ºF for 3-4 minutes or until golden brown.
How to Store Baked Zucchini
We recommend storing the baked zucchini in an air tight container for 3-4 days.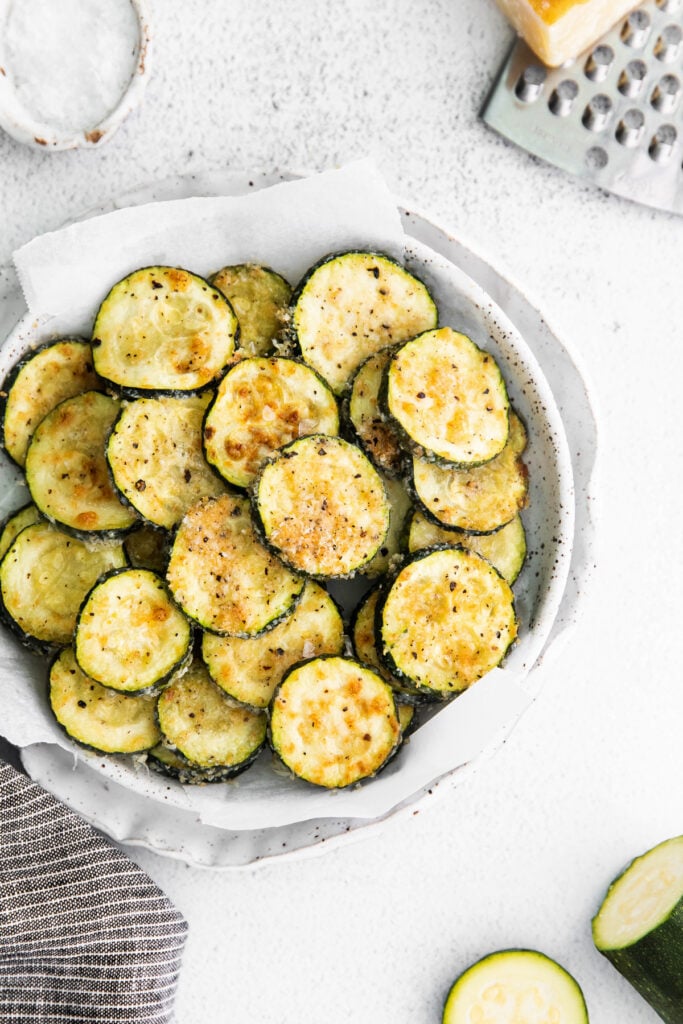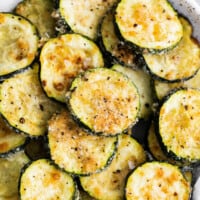 Parmesan Baked Zucchini
Dredge your zucchini coins in olive oil, parmesan, salt, and pepper and then bake them for a delicious healthy snack. This baked zucchini recipe will become a staple in your home! 
Prep: 20 minutesCook: 7 minutesTotal: 27 minutes
Fat 11 Carbs 9 Protein 6
Yield 4–6 1x
Ingredients
2 tablespoons

olive oil

4

medium zucchinis, sliced into

1/4

inch rounds 

1/2 cup

grated parmesan cheese 

1 teaspoon

garlic powder

1/2 teaspoon

pepper
pinch cayenne pepper

1/4 teaspoon

salt
Instructions
Preheat the oven to 400ºF and place a metal rack onto a large baking sheet. Spray the metal rack and baking sheet with nonstick cooking spray. set aside. 
Next, place the sliced zucchini in a bowl and toss with olive oil. Set aside. 
In a separate bowl, add parmesan cheese, garlic powder, pepper, cayenne pepper, and salt to a bowl and mix. 
Dredge each oiled zucchini round through the parmesan mixture. Be sure that the zucchini rounds are completely covered in the parmesan mixture. Place each round on the metal rack on the baking sheet. 
Once all the rounds are on the baking rack, place the zucchini in the oven and bake for 6-7 minutes at 400ºF. 
Lastly, turn the oven to broil and broil the zucchini for 30 seconds to 1 minute or until the zucchini is golden brown. 
Remove from the oven and let cool. 
Serve immediately. 
Nutrition Facts
Serving Size: 1/4 Calories: 149 Sugar: 5 Sodium: 388 Fat: 11 Carbohydrates: 9 Fiber: 2 Protein: 6 Cholesterol: 11
Author: Linley RichterCategory: VegetarianMethod: OvenCuisine: American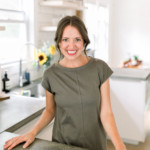 Linley is a 5′ nothing spitball of positive energy who joined Team Fit Foodie in the Spring of 2014. Linley has worked on the digital side of small businesses and nonprofits since 2011, where she specialized in social media community management. Lin has a passion for food and an incredible palate. She is FFF's chief recipe developer, so you can thank her for these incredible recipes!