Make breakfast a breeze with this Strawberry Rhubarb Baked Oatmeal. This strawberry rhubarb recipe is the perfect healthy breakfast that's packed with fiber and protein.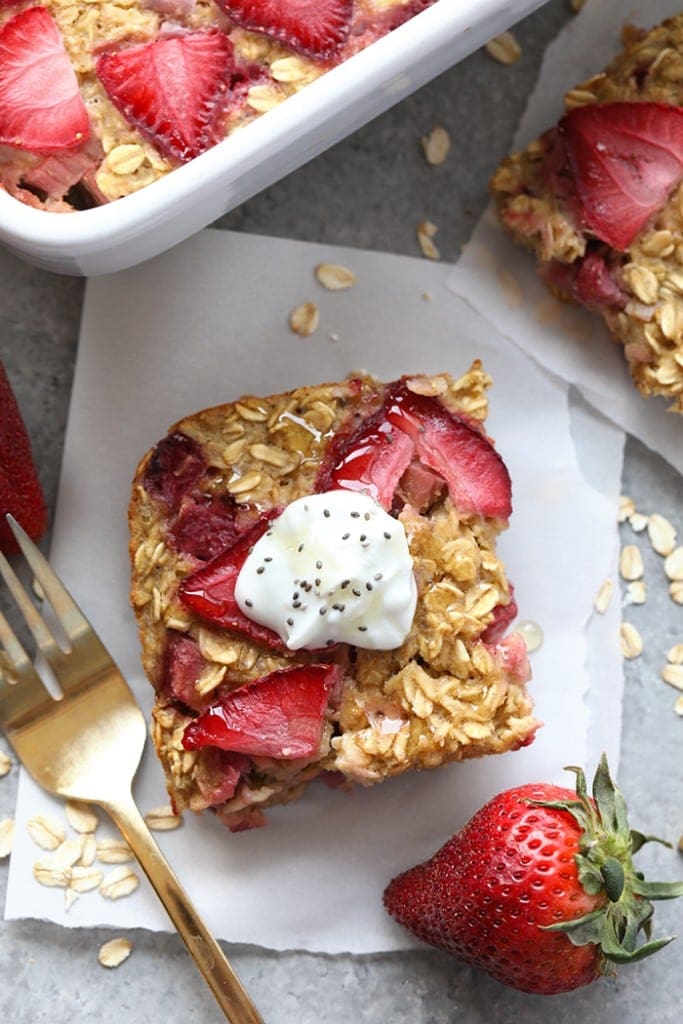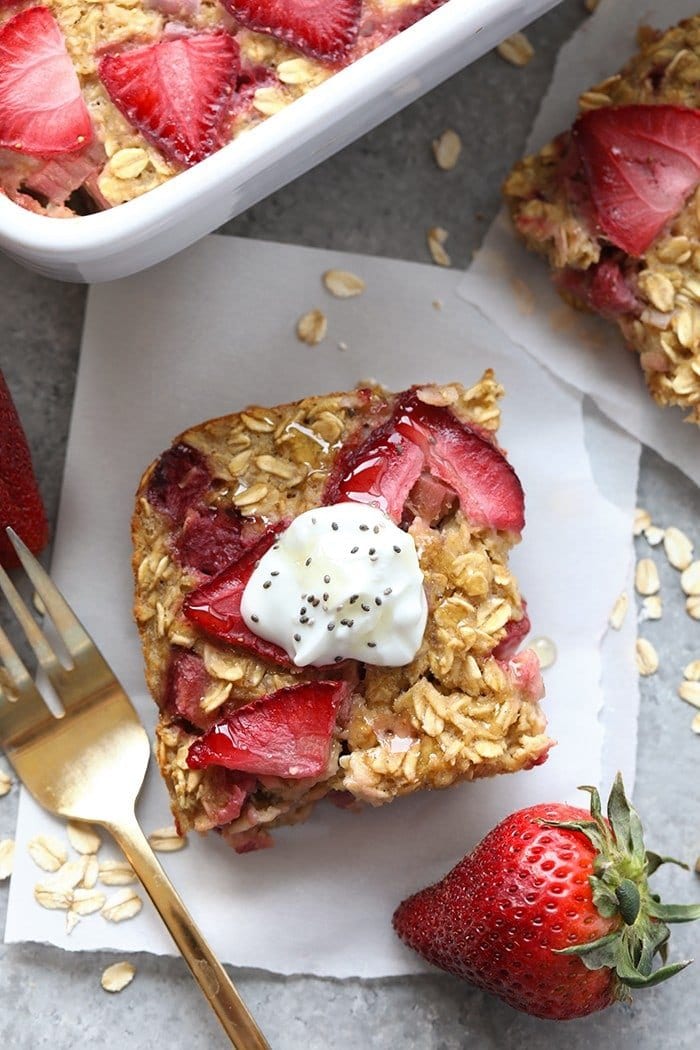 Oh So Delicious Baked Oatmeal
This strawberry rhubarb baked oatmeal is packed with flavor! We wanted a new and fresh baked oatmeal recipe that really screamed SPRING and the strawberry rhubarb combo was a no brainer. And summer isn't summer without strawberries and because we are right in the heart of rhubarb season here in Minnesota.
Why Make Baked Oatmeal?
Baked oatmeal is one of our go-to ways to eat oatmeal because it's almost like eating cake for breakfast. Baked oatmeal is also a great make-ahead breakfast idea that takes no time to reheat when you're ready to eat.
Before we gush any more about this healthy breakfast recipe, can we chat more about rhubarb for a second?
What is rhubarb?
Rhubarb is the fleshy edible stalks of the rhubarb plant. It is one of the first seasonal vegetables (yes, rhubarb is a vegetable, not a fruit) of the season that you can harvest.
What does rhubarb taste like?
Rhubarb is crunchy and tart, but typically needs a sweetener when used in recipes.
What are the nutritional benefits of rhubarb?
Every one cup of chopped rhubarb is only 26 calories. Rhubarb is a great source of vitamin k and antioxidants. It is also packed in fiber and low in fat.
Recommended Kitchen Tools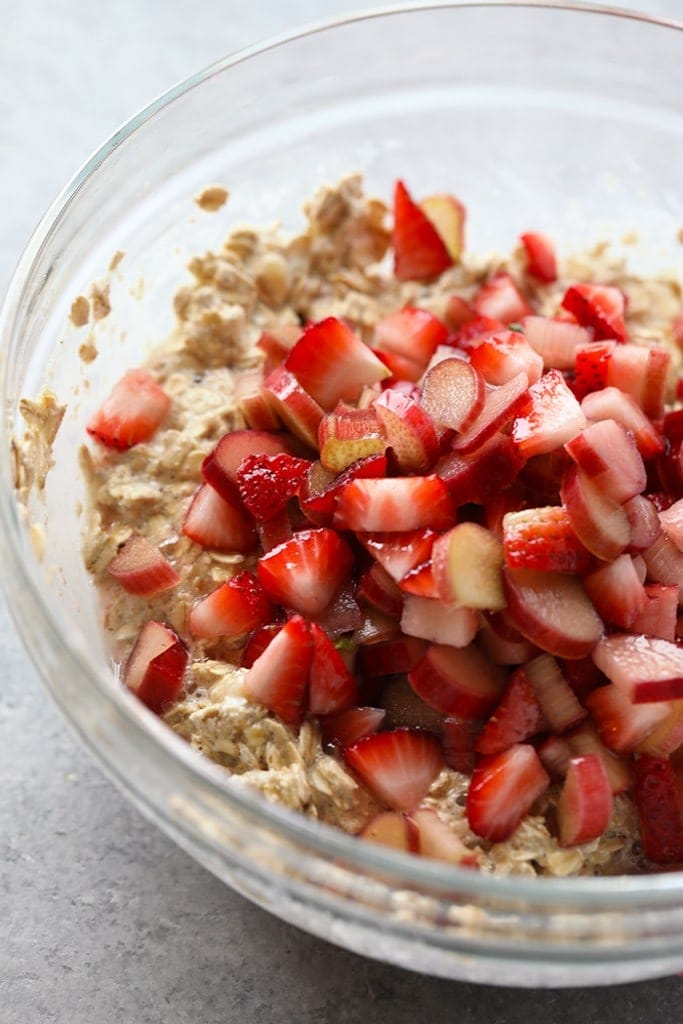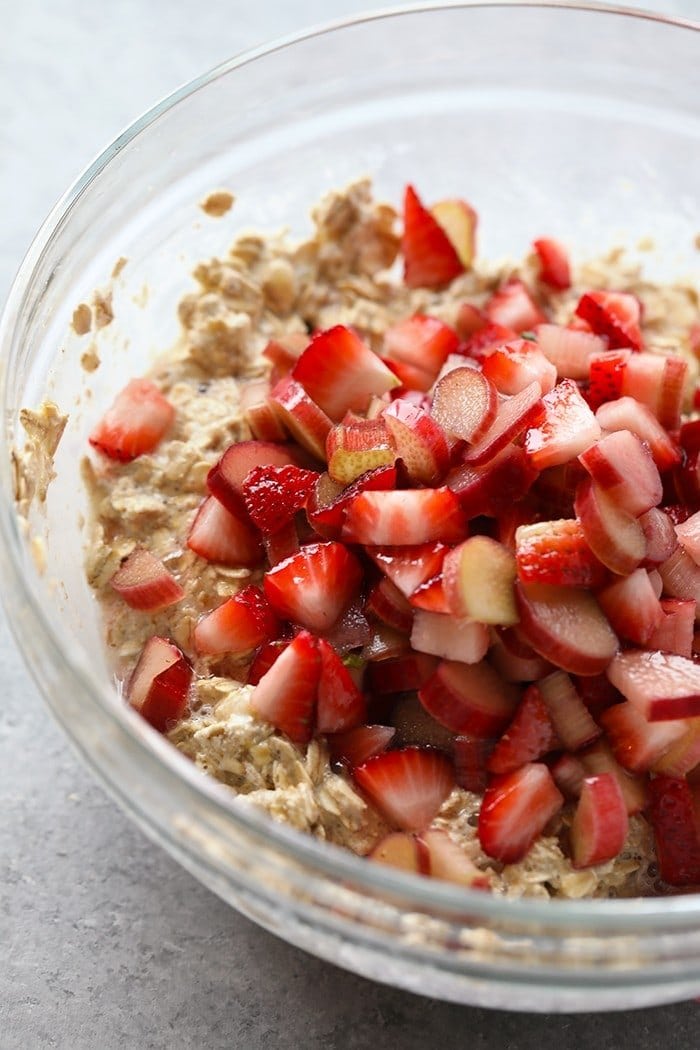 All Things Baked Oatmeal
Baked oatmeal is a method of cooking oatmeal where you combine rolled oats with eggs and milk and any other flavorings and bake it to create a muffin or cake-like breakfast.
The texture is like a hearty bread or muffin and it's so good with toppings like peanut butter, honey or fresh berries. This texture also makes it a great breakfast to take on the go.
Baked Oatmeal Q&A
How long does baked oatmeal keep? If you store your baked oatmeal in the refrigerator in an air-tight container, it should last anywhere from 3-5 days. You can also try freezing your baked oatmeal for later and that will keep for 3 months.
Can you use instant oatmeal for baking? Yes! You can use both rolled oatmeal and quick cooking oatmeal in most baked oatmeal recipes.
Should baked oatmeal be refrigerated? While we suggest always refrigerating your baked oatmeal, it should be okay in the counter overnight. We do want to note that it will last much longer in the fridge than on the counter.
Why is oatmeal a good breakfast? Oatmeal is a great breakfast option because it's packed with fiber and 100% whole grains.
Can you leave cooked oatmeal out overnight? Yes, you can leave your cooked baked oatmeal out overnight. Do note that we suggest refrigerating your baked oatmeal for the best results.
How to Make Baked Oatmeal
For the full recipe, scroll down to the recipe card for a list of ingredients and instructions.
Prepare rhubarb
Chop your rhubarb into bite-sized pieces and then transfer into a medium bowl. Drizzle on some honey and let that sit while you prepare the rest of the recipe. This will help take away some of the natural tartness of the rhubarb!
Mix together all ingredients
Mash your banana in a large bowl and then add the rest of the wet ingredients and stir. Then, slowly add all of the dry ingredients to the same bowl and whisk everything together.
Transfer into casserole dish
Transfer baked oatmeal batter into the prepared baking dish and spread out evenly. Then, decorate the top as you wish. We loved adding a few slices of strawberries because it makes your breakfast a piece of art!
Bake at 350ºF 
Bake at 350ºF for about 35 minutes or until the baked oatmeal has firmed up.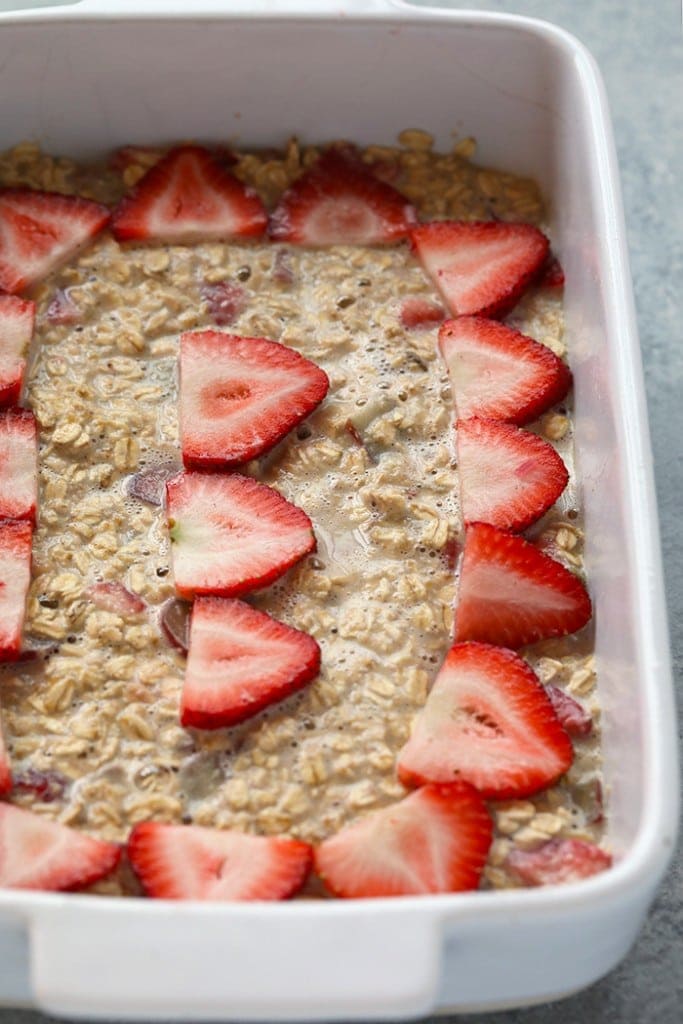 Easy Ingredient Swaps and Add-Ins
Swap Milk –> this baked oatmeal calls for unsweetened almond milk, but feel free to use any milk you have on hand, such as dairy milk, coconut milk, oat milk, soy milk or another dairy-free milk variety.
Add Nuts –> want to add a little crunch to your baked oatmeal? Feel free to top with a 1/2 cup of chopped nuts, such as walnuts, pecans or almonds.
Delicious Toppings –> Top this strawberry rhubarb baked oatmeal with toppings such as a dollop of Greek yogurt, mini chocolate chips, chia seeds or a drizzle of maple syrup.
Storage Recommendations
Once your strawberry rhubarb baked oatmeal has fully cooled, we suggest slicing it into single servings and placing into an airtight container.
Store your baked oatmeal in the refrigerator for up to 5 days. While you can leave your baked oatmeal out overnight, they will last much longer in the fridge.
To Freeze: To freeze this strawberry rhubarb baked oatmeal, let it come to room temperature. Then tightly wrap it with a piece of tin foil and remove as much air as possible. Store in freezer for up to 3 months.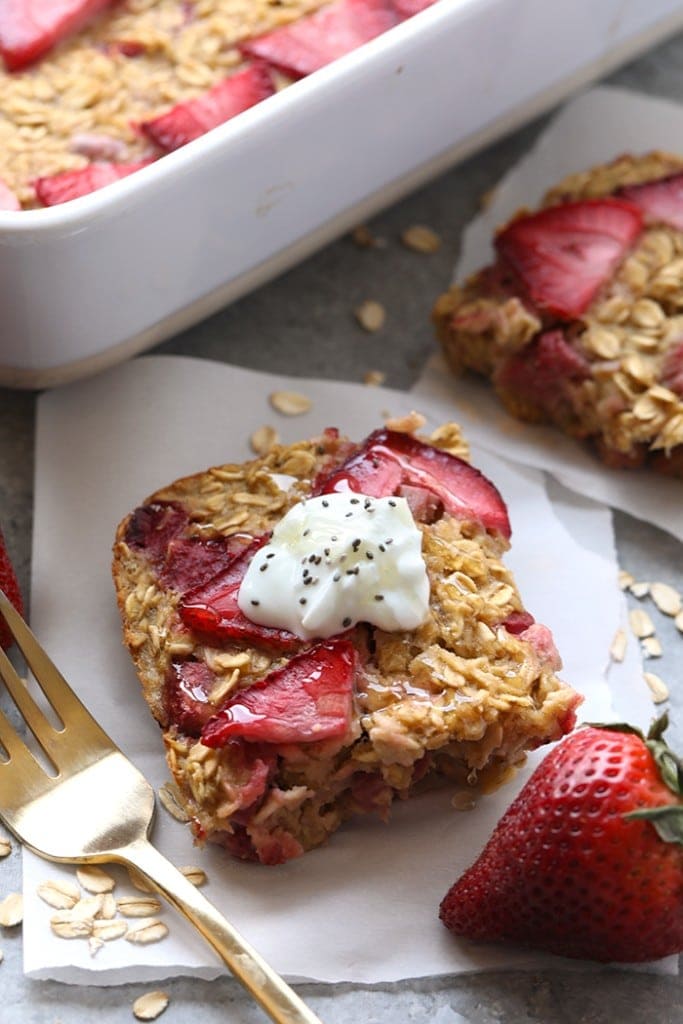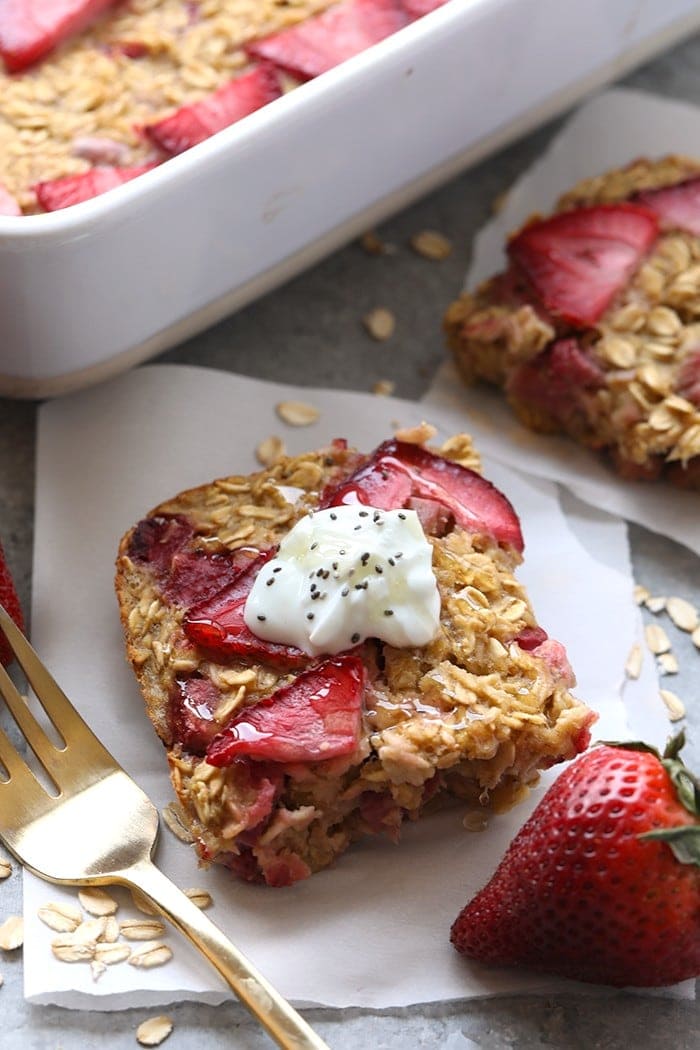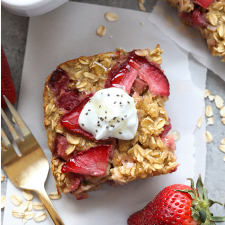 Strawberry Rhubarb Baked Oatmeal Recipe
This strawberry rhubarb baked oatmeal is the perfect healthy breakfast that's packed with fiber, protein, and will satisfy your sweet tooth while keeping you full until lunchtime.
Prep: 10 minutesCook: 35 minutesTotal: 45 minutes
Fat 5 Carbs 46 Protein 8
Yield 6
Ingredients
Wet
1

medium ripe banana

2

large eggs

1 teaspoon

vanilla extract

1/4

 cup honey

3/4

 cup unsweetened almond milk
Dry
2

 cups rolled oats

1/2

 cup oat flour (or any kind of flour)

1 teaspoon

baking powder

1 cup

fresh strawberries, chopped (+ more for topping)

1 cup

rhubarb, chopped
pinch of salt
Instructions
Preheat oven to 350ºF and spray a 10-inch by 7-inch casserole dish with nonstick cooking spray.
Prep rhubarb, by chopping into bite-sized pieces. Place in a medium bowl and then add honey. Mix well and let sit while you prep the rest of the bake.
Place banana in a large bowl and mash with a fork. Then, add the rest of the wet ingredients and mix until combined.
Add rolled oats, oat flour, baking powder, strawberries, and a pinch of salt and mix. Then, add rhubarb/honey mixture and mix one more time.
Transfer batter into casserole dish and use a spatula to spread evenly.
Top with additional strawberry slices.
Bake at 350ºF for 33-37 minutes or until the oatmeal bake has firmed up.
Tips & Notes
Storage: store in an air-tight container in the refrigerator for up to 5 days.
Nutrition Facts
Serving Size: 1/6 Calories: 256 Sugar: 16 Sodium: 64 Fat: 5 Carbohydrates: 46 Fiber: 6 Protein: 8
Author: Lee HershCategory: BreakfastMethod: OvenCuisine: American
Keywords: baked oatmeal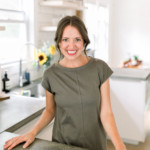 Linley is a 5′ nothing spitball of positive energy who joined Team Fit Foodie in the Spring of 2014. Linley has worked on the digital side of small businesses and nonprofits since 2011, where she specialized in social media community management. Lin has a passion for food and an incredible palate. She is FFF's chief recipe developer, so you can thank her for these incredible recipes!