Fresh off the grill Mexican Street Corn is the absolute best. We've got a super simple Grilled Mexican Street Corn recipe that will make your tastebuds dance and your tummy asking for seconds!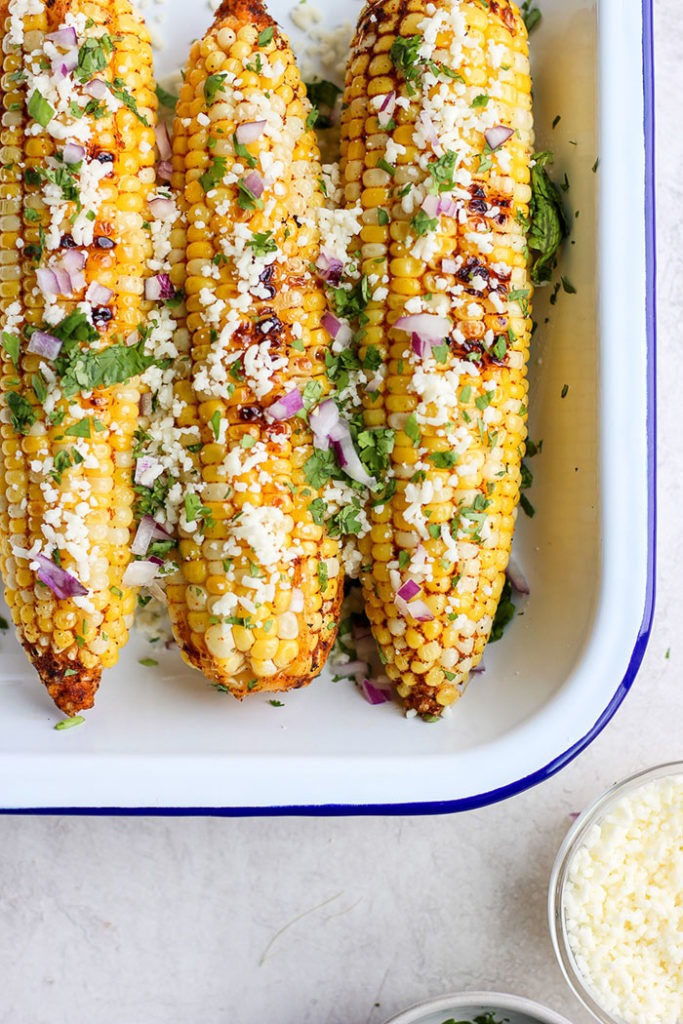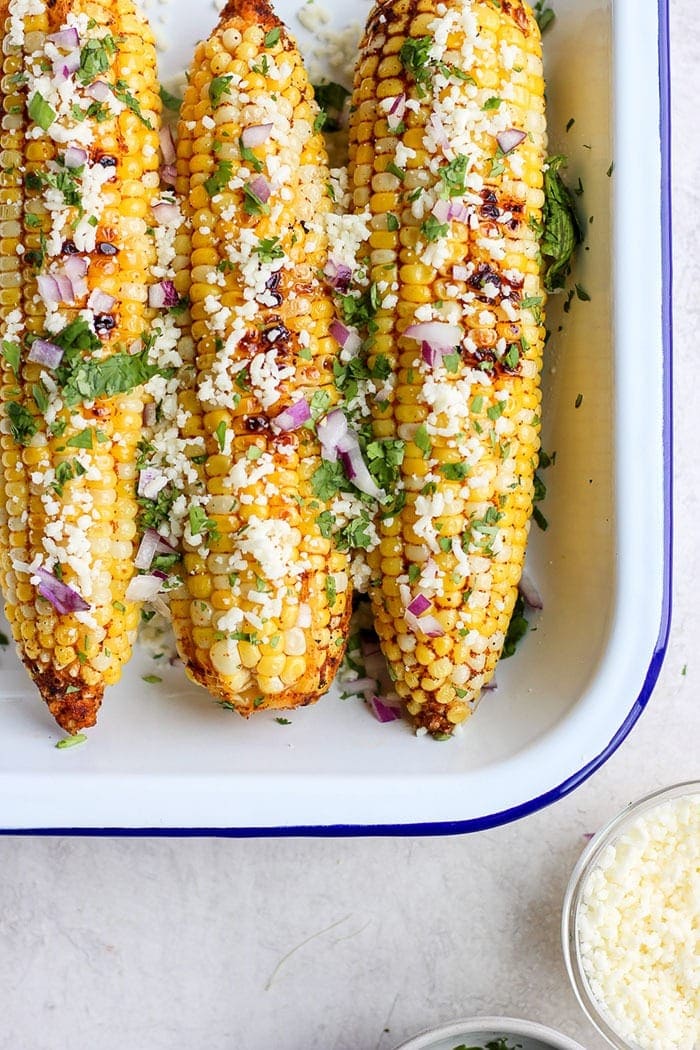 What is Mexican Street Corn?
Traditional Mexican street corn, AKA Elote, is cooked or grilled corn on the cob that is slathered in mayo, sour cream, chili powder, lime juice, and cotija cheese! Sometimes it is served spicy and sometimes it is served mild.
How is ours different? Our grilled Mexican street corn is our take on Elote. It's definitely not authentic by any means, but we were inspired by the flavors of cotija cheese, lime juice, and cilantro.
Check out Isabel Eats for a more authentic Elote recipe.
Ingredients You Need
Here are some of the ingredients you need to make this grilled Mexican street corn recipe along with some fun add-ons that could take this recipe up a notch.
Corn on the cob
Olive oil
Cotija cheese
Fresh cilantro
Lime Juice
Red Onion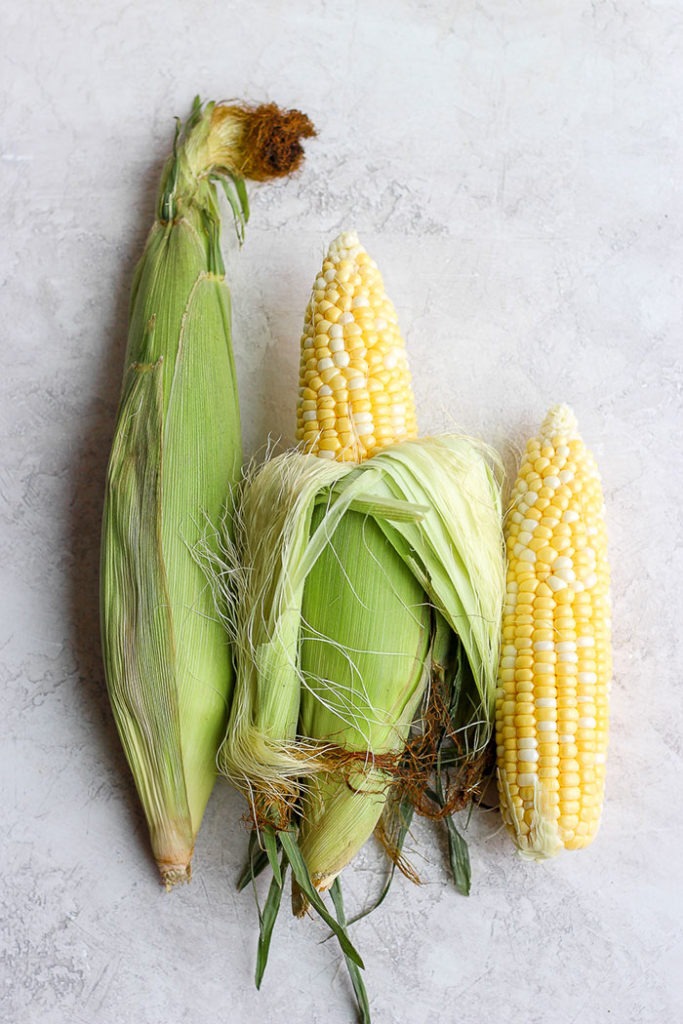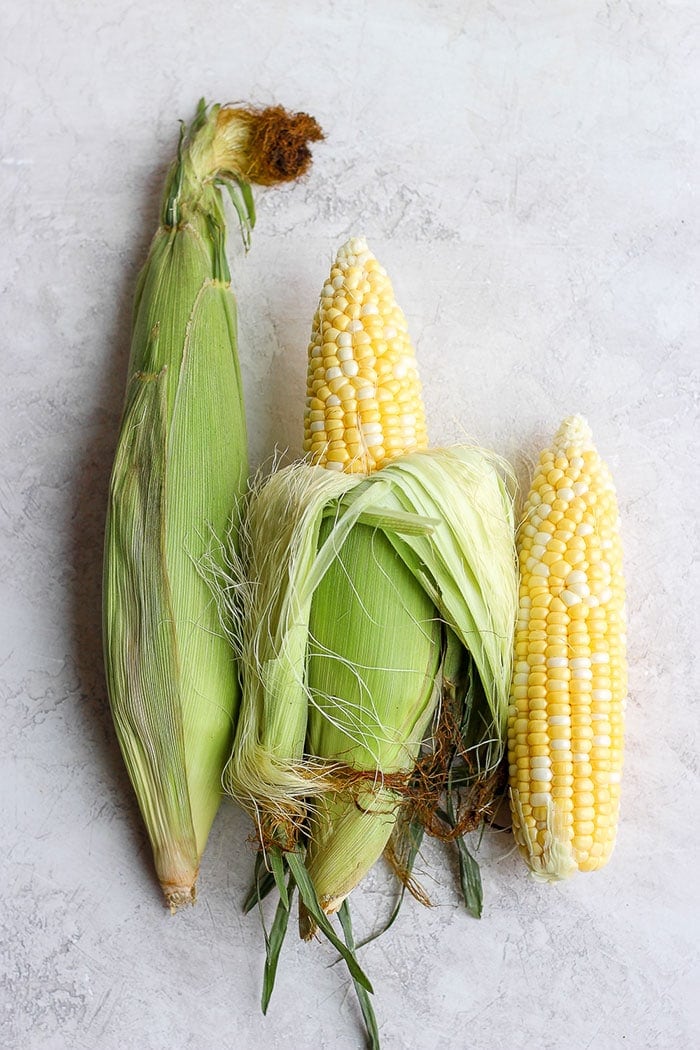 It's All About the Spices
The spices are where the magic happens when it comes to grilled Mexican Street Corn. In this recipe, we used all of our favorite Mexican-inspired spices to flavor those bad boys before you throw them on the grill. Check it out:
chili powder
smoked paprika
garlic powder
salt
like it spicy?
If you are one of those people who likes food spicy, feel free to sprinkle your street corn with cayenne pepper or red pepper flakes for some extra spice!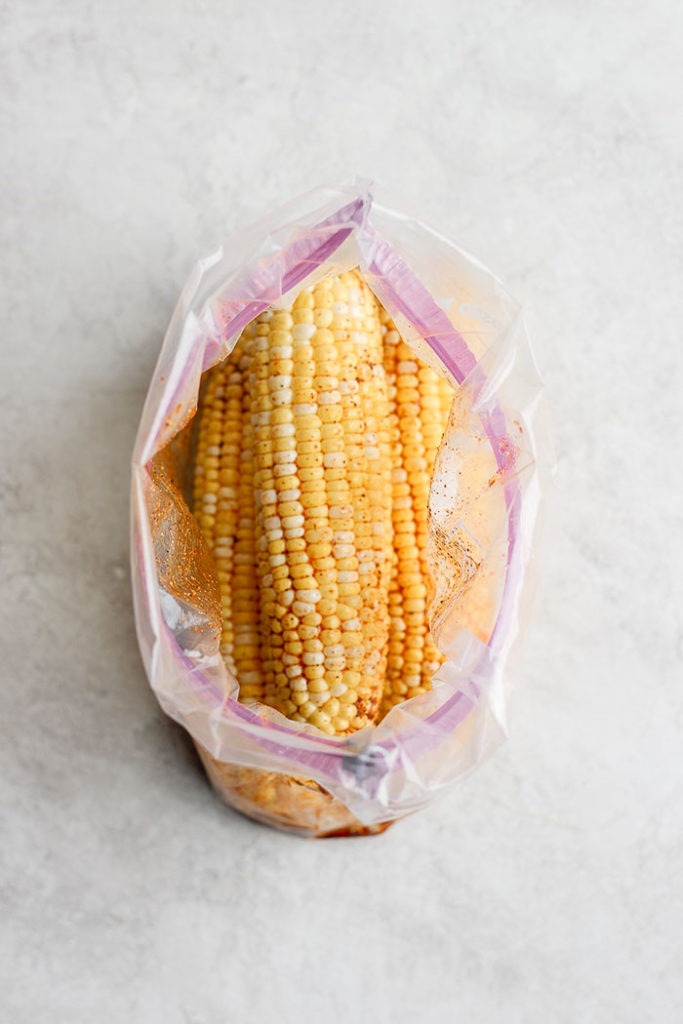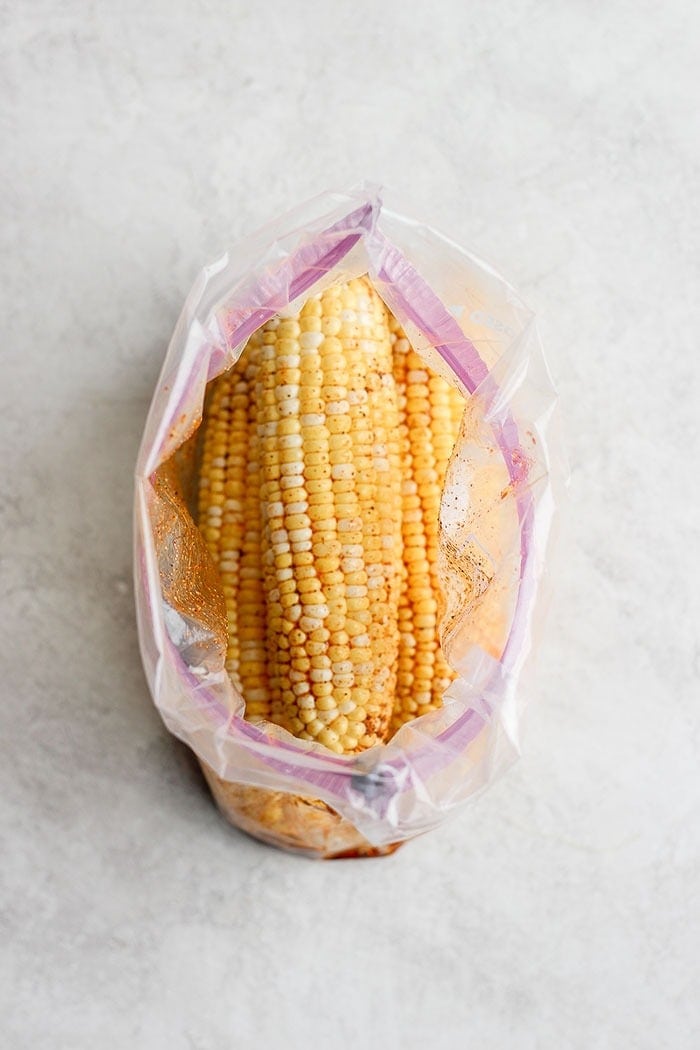 How to Make Grilled Mexican Street Corn
Clean the corn. Shuck your corn and make sure you get as much of the husk off the corn. You want to make as much space for your spices as you can.
Mix up you spices. Add the garlic, chili powder, paprika, and salt to a bowl and mix well.
Shake it up. Drizzle the corn over the olive oil and then add your spices to the corn. Massage all the ingredients into the corn on the cob as possible.
Grill the corn. Make a tin foil boat for the corn and then place each corn cob into the boat. Cover with more tin foil and seal so that air can't escape. Grill the corn for 20-25 minutes over high heat (400ºF) and flipping the corn every 5 minutes. Check out our grilled corn in foil tutorial.
Add toppings. Remove the corn from the grill and open the foil. Top the corn with fresh lime juice, red onion, cilantro, and cheese.
here's a tip
If you don't feel like massaging the corn with your hands, we recommend using a gallon-size bag to cover your corn in spices because we find that it's super simple to do so!
First, massage olive oil into each cob and then place in a large plastic bag. Sprinkle on the spices and then give the cobs a good shake.
Mexican Street Corn Toppings
After you grill, it's time to add all of those delicious toppings to bring your Mexican Street Corn to life! Now, girl to girl, sister to sister, DO NOT SKIMP ON THE TOPPINGS!
The toppings are what make this recipe above and beyond your wildest corn on the cob dreams. Here's what we recommend:
cotija cheese crumbles
fresh cilantro
lime juice
red onion
If you want to skew towards more of a traditional Mexican street corn, feel free to slather a tablespoon or two of mayo or greek yogurt to each corn cob before sprinkling on other toppings.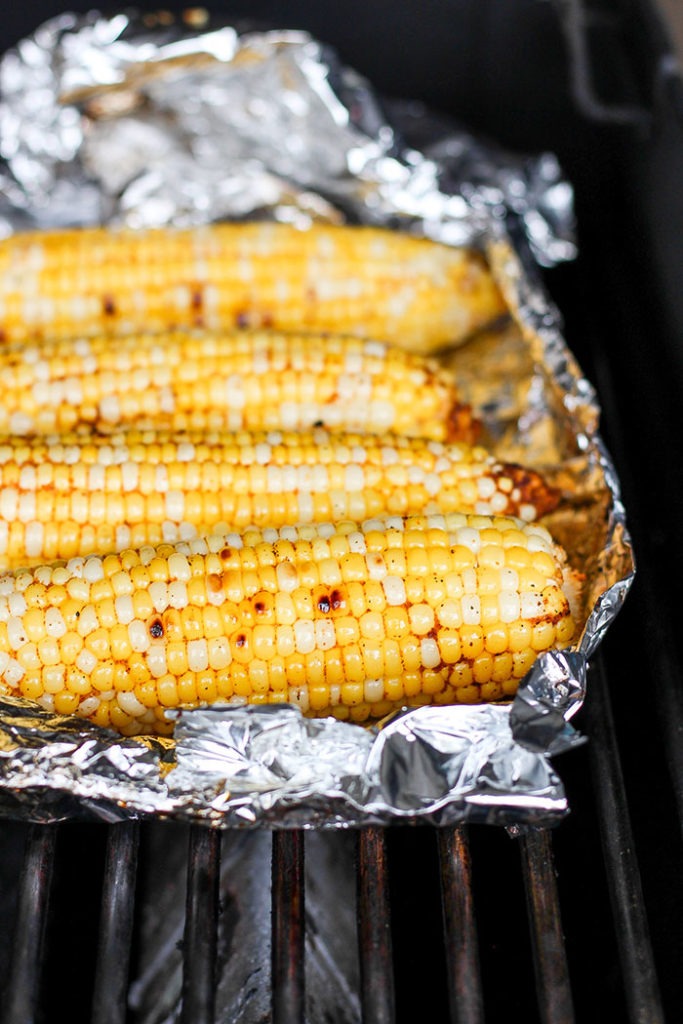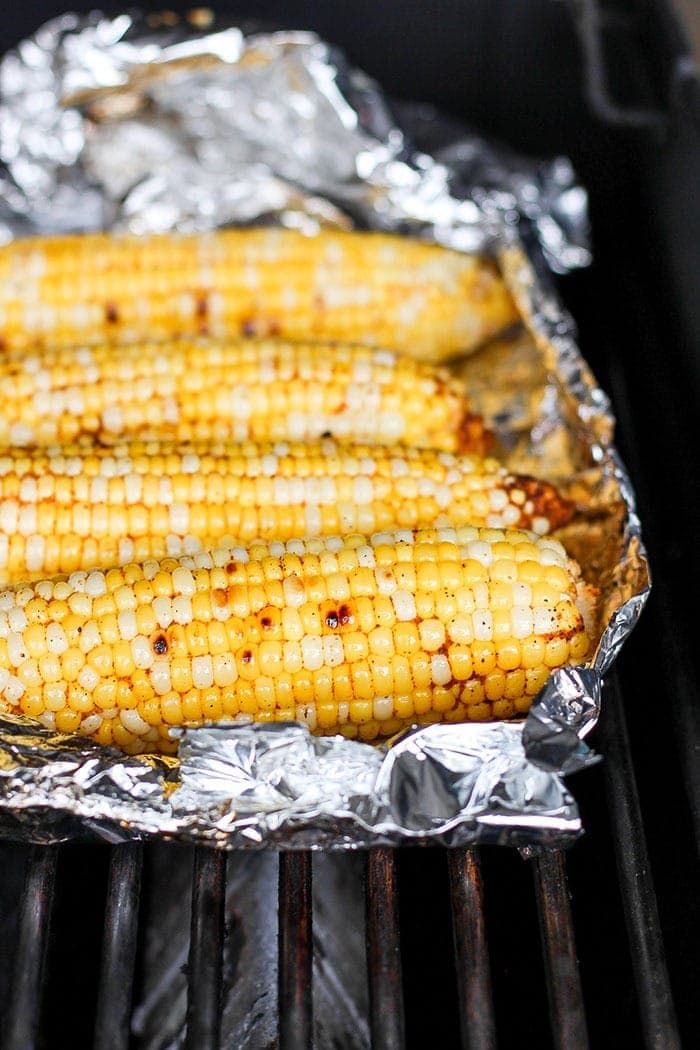 How long to grill corn on the grill
Preheat your grill to 400ºF. Place the foil pack on direct flames and grill for around 20-25 minutes, flipping every 5 minutes.
Add more to the grill!
You can easily add more grilling recipes to your meal with this grilled corn. It is easy to grill more at the same time.
We recommend making your main meal alongside your Mexican Street Corn recipe so that everything finishes around the same time.
Below are some other great grilling recipes you can make with this corn:
P.S. Don't forget a drink! Blend up a batch of these blended margaritas or this delicious skinny margarita.
Can you Cook Mexican Street Corn in the Oven?
Great question! Yes, of course, you can! Essentially you make the Mexican Street Corn on the Cob the exact same way, but instead of placing on your grill, you can place directly on your oven racks.
Instead of flipping every 5 minutes, flip the corn halfway through instead!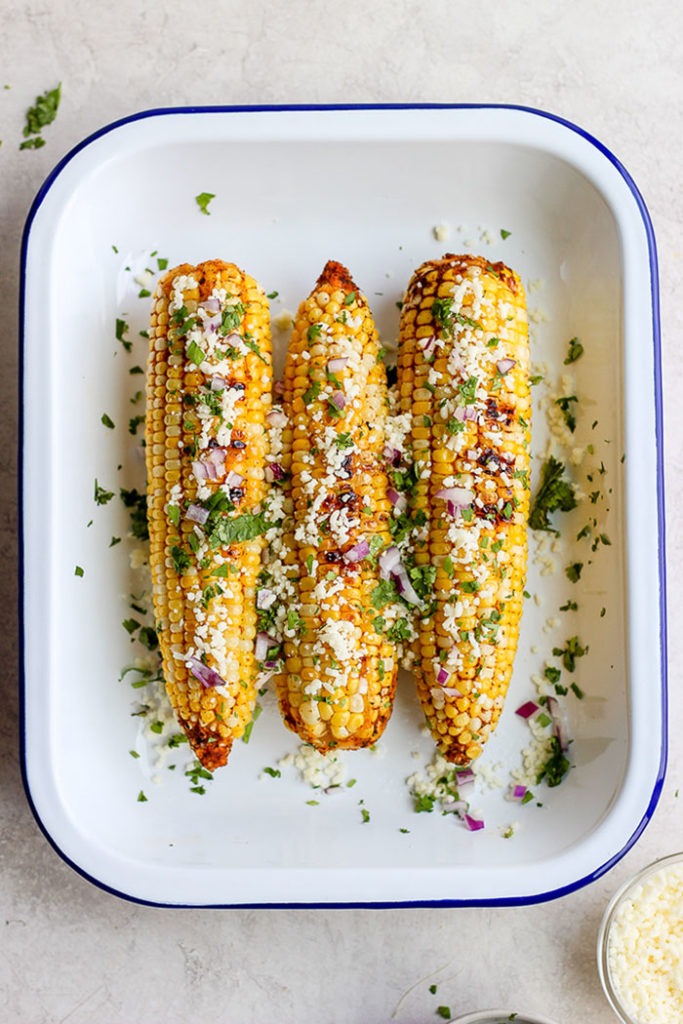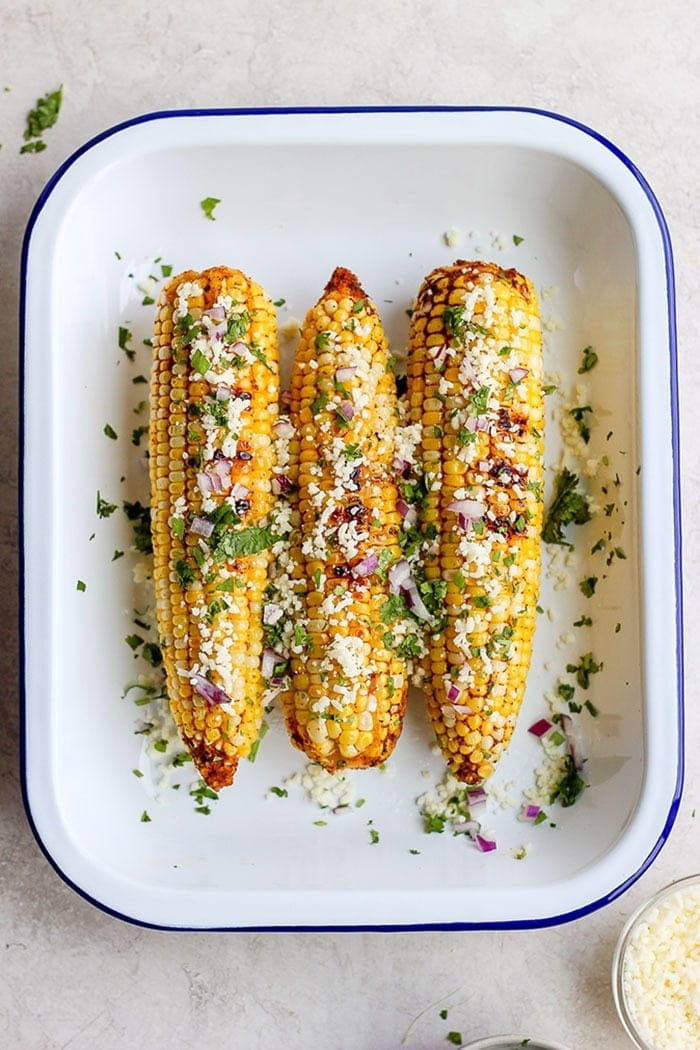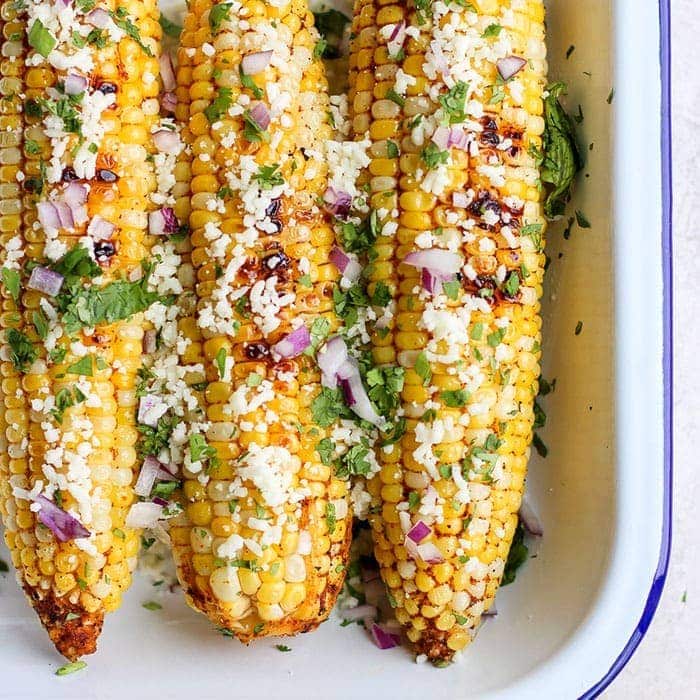 Grilled Mexican Street Corn
Fresh off the grill Mexican Street Corn is the absolute best. We've got a super simple Mexican Street Corn recipe that will make your tastebuds dance and your tummy asking for seconds!
Prep: 15 minutesCook: 20 minutesTotal: 35 minutes
Fat 3 Carbs 18 Protein 4
Yield 4
Ingredients
Mexican Corn
4

ears of corn, shucked and cleaned

2 tablespoons

olive oil

1 teaspoon

chili powder

1/4 teaspoon

smoked paprika

1 teaspoon

garlic powder

1/8 teaspoon

sea salt
Toppings
1/4 cup

cotija cheese
fresh chopped cilantro, to taste
fresh lime juice, to taste

1/4 cup

red onion, finely minced
Instructions
Preheat grill or oven to 400ºF.
Then, prepare corn by shucking. Remove husks and hair and run under warm water to remove any dirt or residue. Pat dry.
Create spice mix by mixing together chili powder, smoked paprika, garlic powder, and sea salt.
Then, drizzle the ears of corn with olive oil and rub into kernels making sure everything is fully coated. Season corn with the spice mix.
Once seasoned, wrap corn in tin foil and seal tightly.
Preheat grill to 400ºF and then place foil pack on direct flames for around 20-25 minutes, flipping every 5 minutes.
Remove from heat, sprinkle with cotija cheese, a squeeze of lime juice, minced red onion, and fresh cilantro.
Nutrition Facts
Serving Size: 1/4 Calories: 105 Sugar: 3 Fat: 3 Carbohydrates: 18 Fiber: 3 Protein: 4
Author: Lee HershCategory: SideMethod: GrillCuisine: Mexican
Keywords: Mexican Street Corn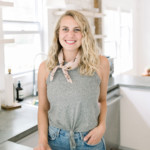 Lee is the founder of Fit Foodie Finds and based in Minneapolis, MN. She started this website in 2010 as a way to share her love for real food and wellness.