Make these Slow Cooker Carnitas Burrito Bowls with tender pork carnitas, street corn salad, cilantro-lime rice, and all your favorite fixings.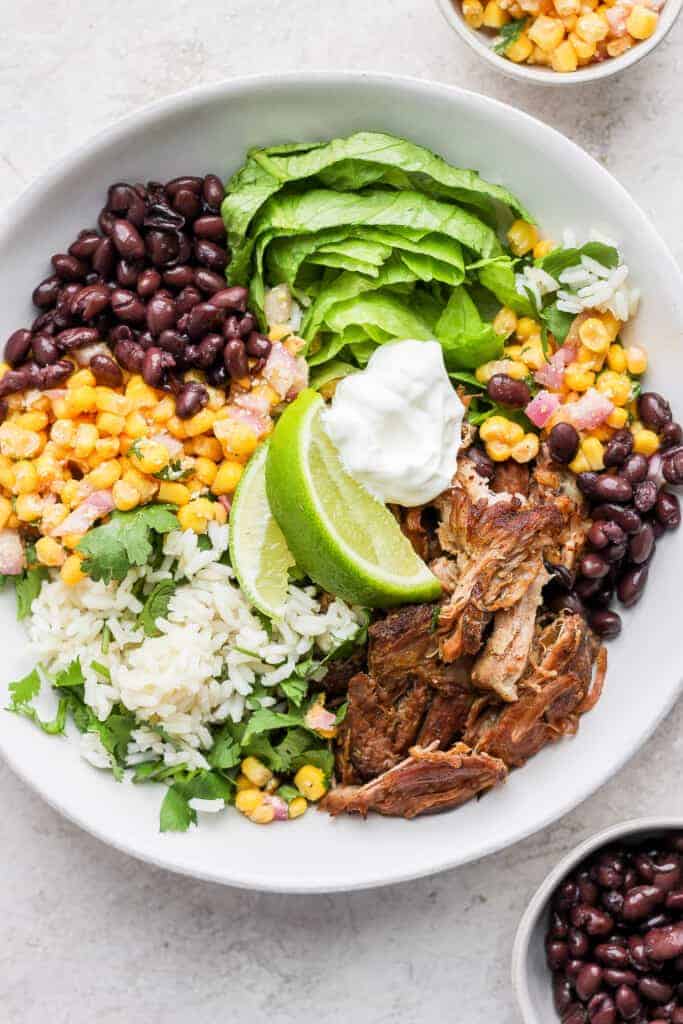 Best Burrito Bowl!
These carnitas burrito bowls are one of Fit Foodie Finds' most popular meal-prep recipes! So many of you have made this recipe and we recently gave it a bit of a makeover to make it even better.
We love bowl recipes because they are composed of many different things all in one! This carnitas bowl recipe is made up of a few of our favorite recipes.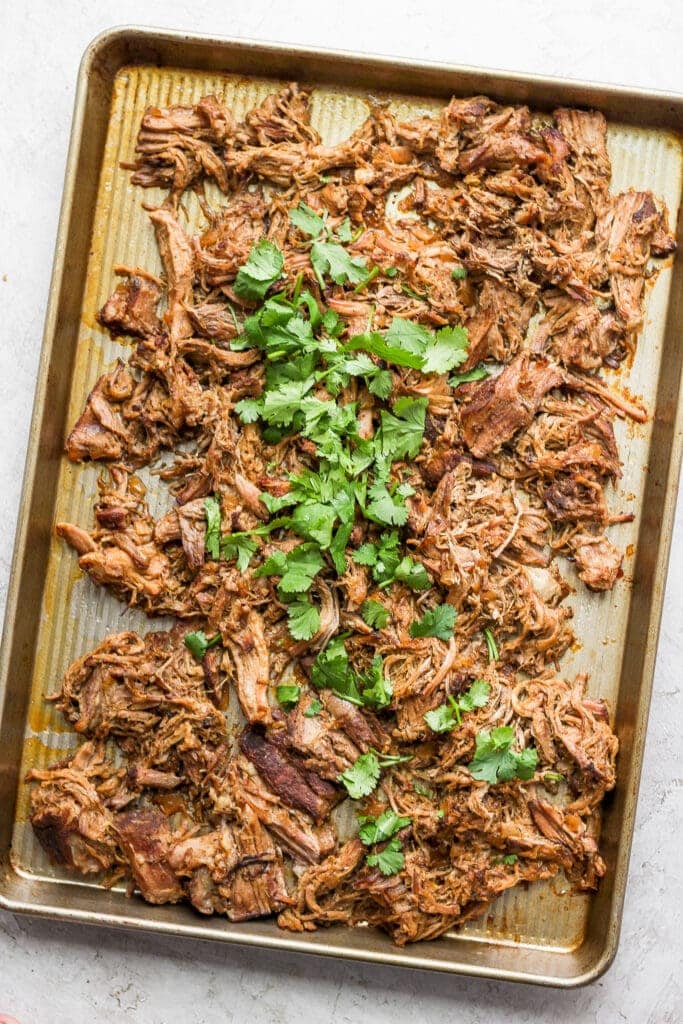 Let's Talk – Carnitas
In order to make perfectly cooked, juicy carnitas, we highly suggest using the slow. Our slow cooker carnitas recipe is incredible tasty, fall-off-the-bone tender, and so easy to make!
Here's what you need:
Pork shoulder: pork shoulder is an excellent cut of meat for carnitas because it's a tougher part of meat so it needs to be cooked longer,
Spices: this pork is all about the spice rub! Star spices include garlic powder, chipotle powder and chili powder.
Olive oil: olive oil is used to sear the meat to get the outside nice and crunchy before slow cooking.
White onion: white onion is slow cooked with the pork to infuse it with flavor.
Garlic: when in doubt, add more garlic.
Broth: broth is used to help tenderize the pork while cooking.
Orange Juice: orange juice? Just trust us! It adds amazing flavor.
How to Cook Carnitas
Once you've got all of your ingredients for the carnitas, cooking it goes like this:
Dry rub the meat
Sear the meat
Slow cook
Shred
Bake
To get the full instructions for this carnitas recipe, check it out HERE or scroll down to the recipe card.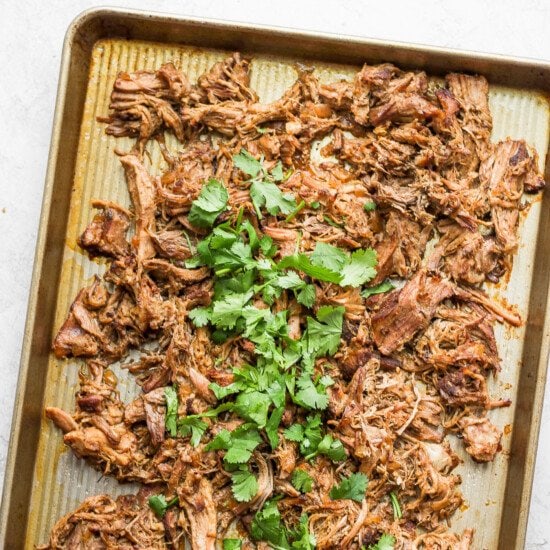 Try it!
Slow Cooker Carnitas
This carnitas recipe is slow-cooked for 8 hours and then broiled so that they are super tender on the inside, but nice and crispy on the outside.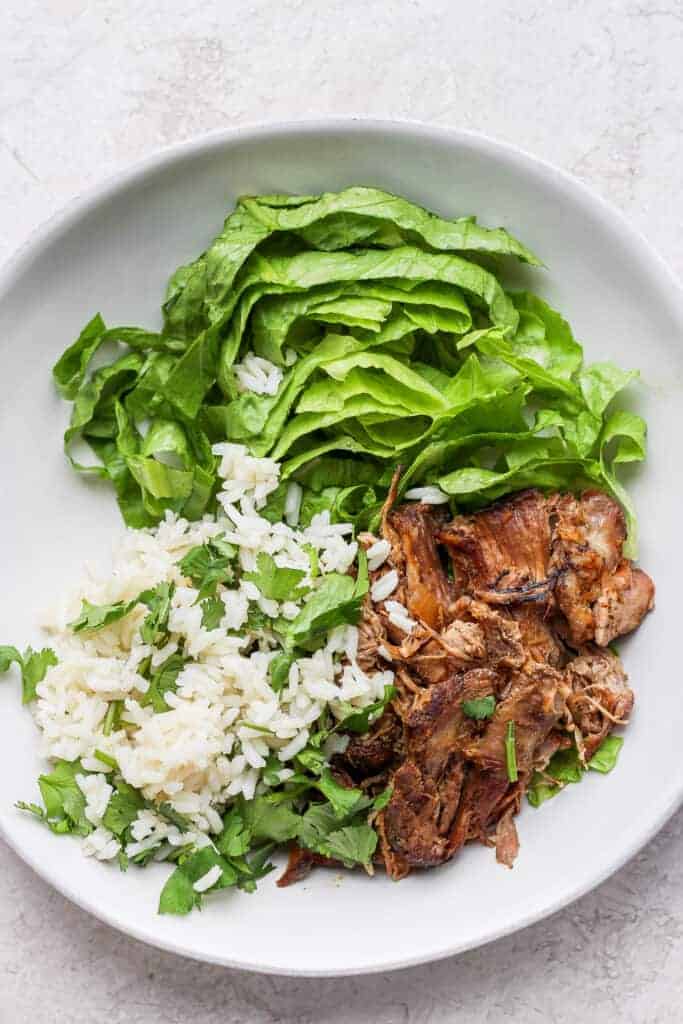 Cilantro Lime Rice
Cilantro lime rice is one of my favorite side recipes on Fit Foodie Finds. It's flavorful, filling, and goes so well with any burrito bowl recipe.
Our cilantro lime rice recipe is super basic, made with just a few ingredients. Here's what you need:
Long-grain brown or white rice
Water
fresh cilantro
Garlic powder
Sea salt
want to make this low-carb?
Get all of the same flavors of cilantro lime rice, but with less carbs and calories. Try swapping the white rice for cauliflower rice!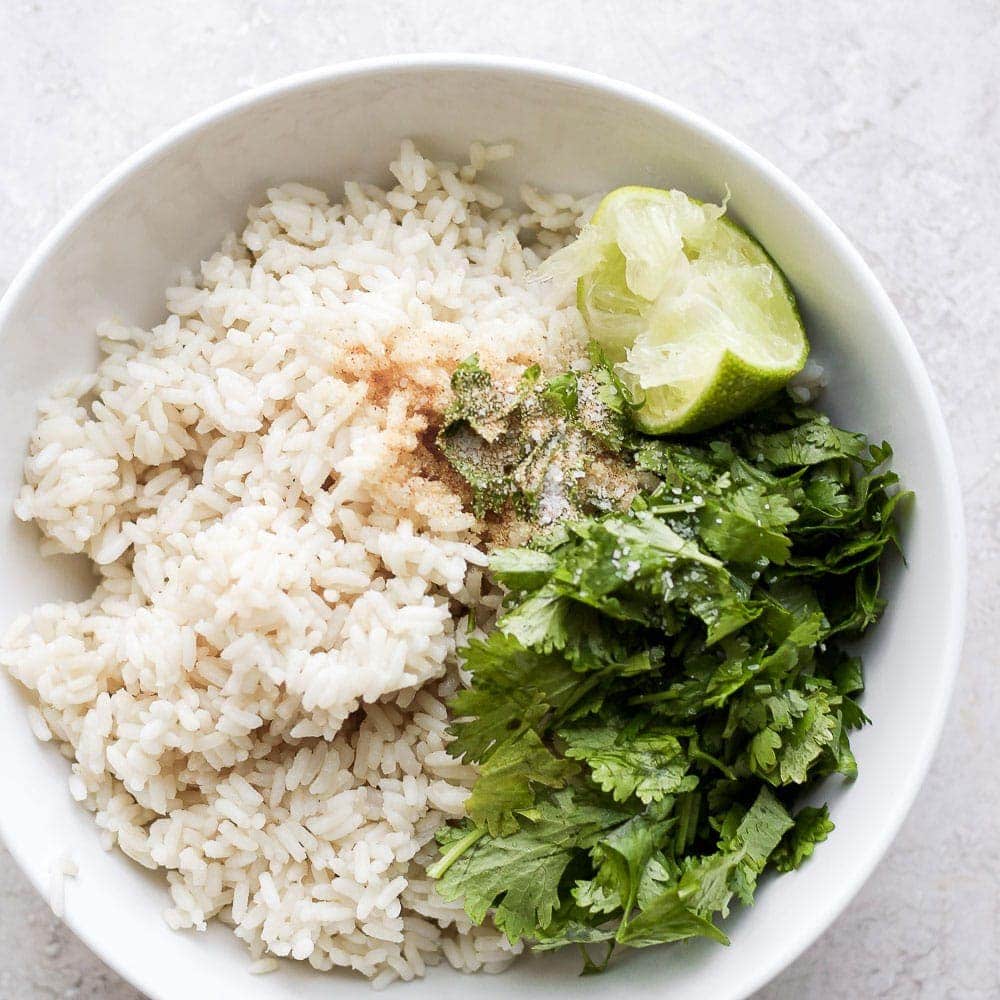 Try it!
Cilantro Lime Rice
Make this cilantro lime rice for an easy and flavorful addition to any of your favorite meals!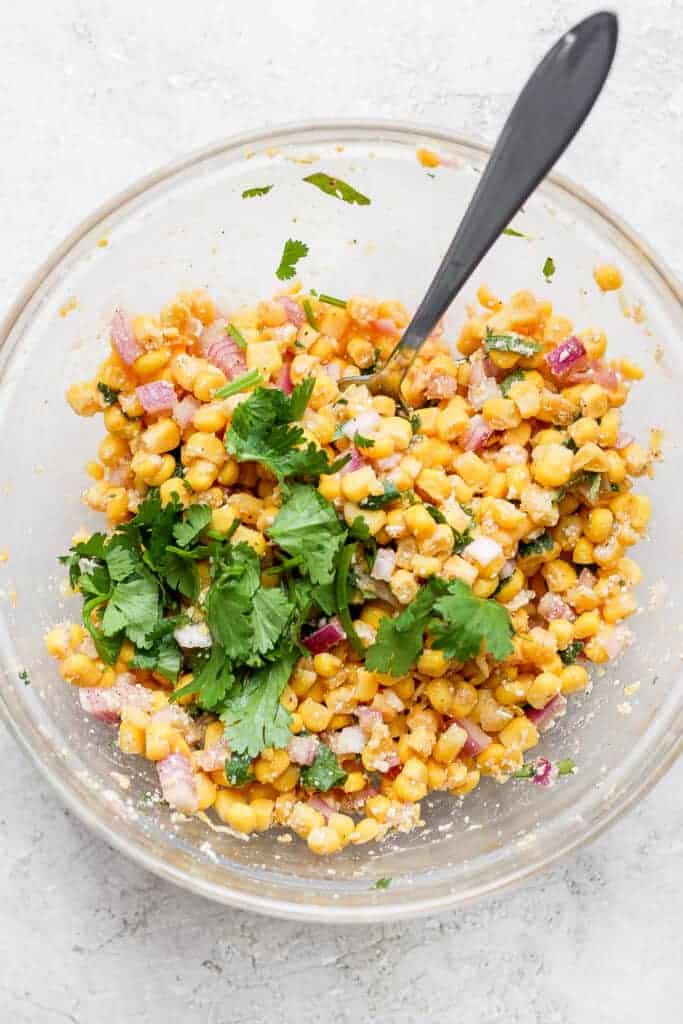 Mexican Street Corn Salad
Mexican street corn salad on its own is a flavor burst of a salad! It's fresh, packed with veggies, and so delicious in this carnitas burrito bowl.
We simplified this corn salad in this recipe a bit so you didn't need as many ingredients as our classic Mexican street corn salad. Here's what you need:
Corn
Lime juice
Apple cider vinegar
Cilantro
Red onion
Cotija cheese
Paprika
Salt and pepper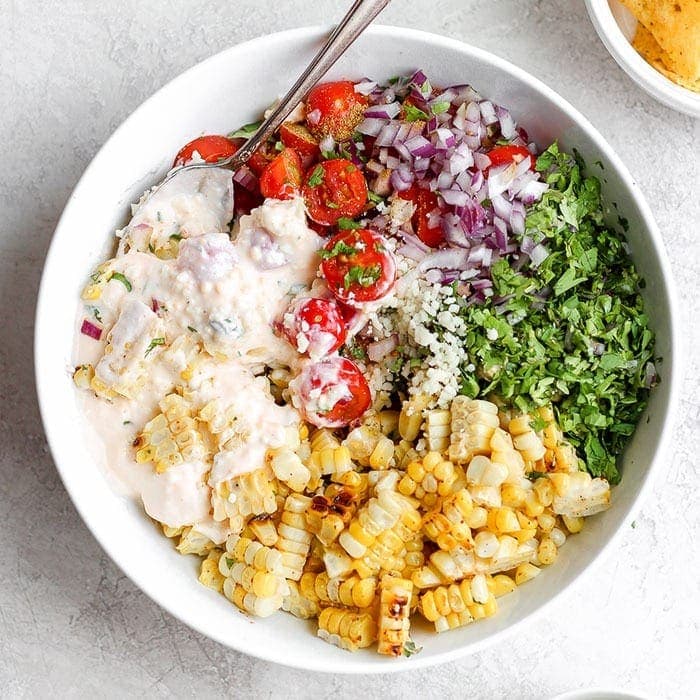 Try it!
Mexican Street Corn Salad
Take dinner up a notch and add this Mexican Street Corn Salad to the menu! This delicious healthy side dish is made with grilled corn, fresh veggies, and the most delicious cotija yogurt sauce.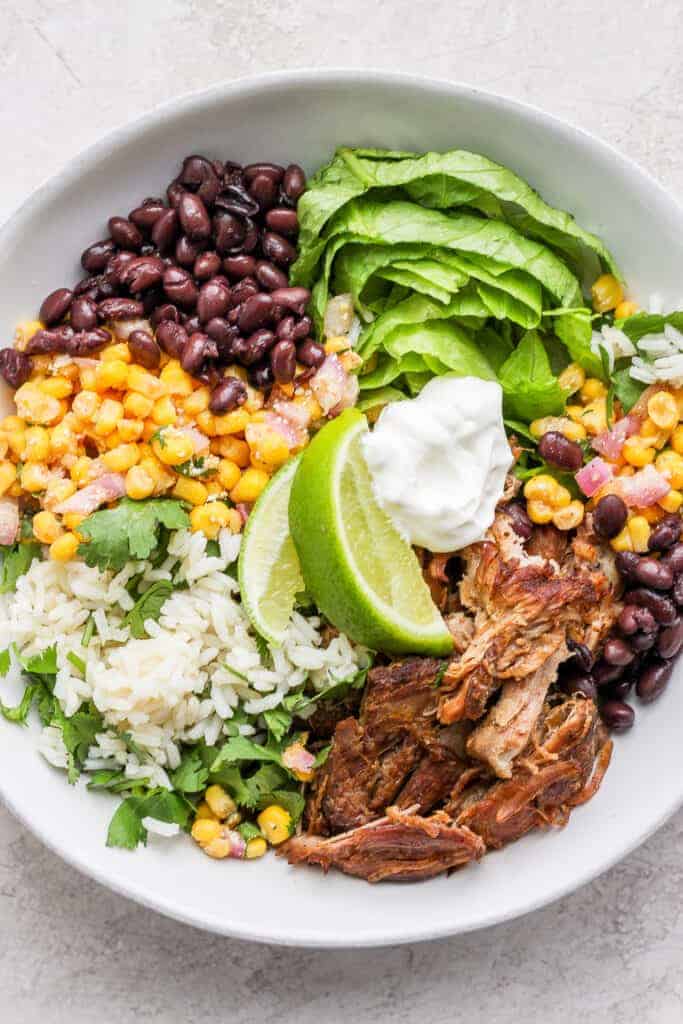 Other Burrito Bowl Ingredients/Toppings
Once you've got the three main components of this burrito bowl ready to go, it's time to assemble your bowls! Now, you have a couple of choices. You can either assemble these right in a bowl or make them in a meal-prep container for later.
Other ingredients you will need include:
Black beans
Romaine lettuce
Cotija cheese
Greek yogurt/sour cream
Storage
We recommend meal-prepping this Carnitas Burrito Bowl recipe into separate glass meal-prep containers so that you can have an easy grab-and-go option.
These burrito bowls will last for up to 5 days in the refrigerator.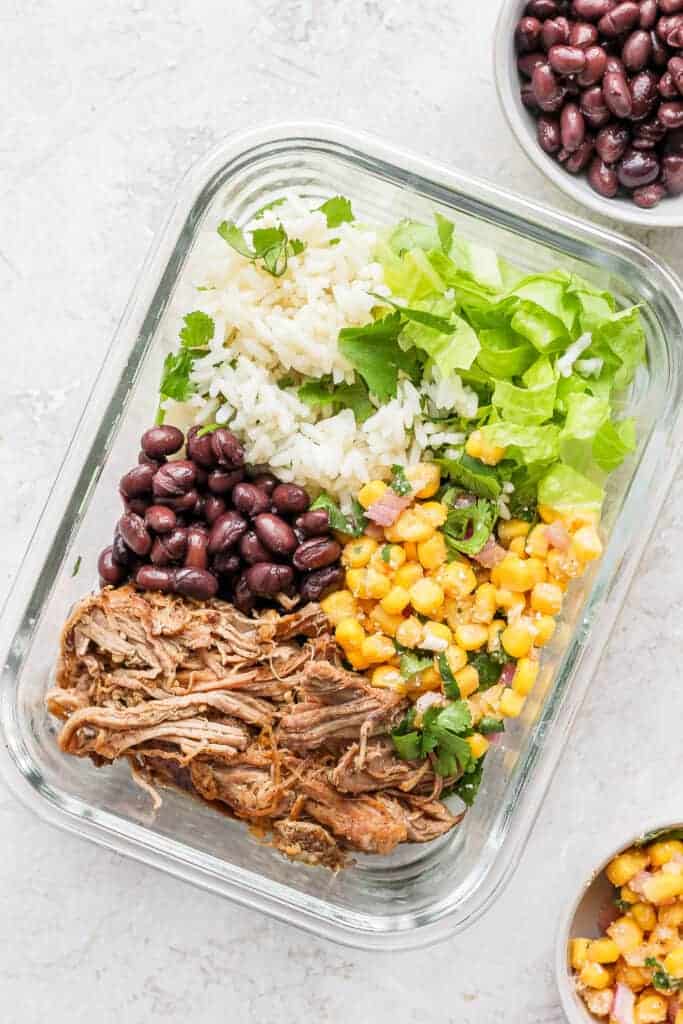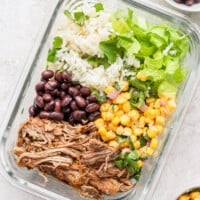 Slow Cooker Carnitas Burrito Bowls
Delicious, healthy Slow Cooker Carnitas Burrito Bowls made with slow-cooked carnitas, Mexican street corn salad, and cilantro lime rice!
Prep: 30 minutesCook: 8 hoursTotal: 8 hours 30 minutes
Fat 31 Carbs 84 Protein 39
Yield 8 1x
Ingredients
Pork Carnitas
1 tablespoon

garlic powder

1.5 teaspoons

chipotle powder

½ tablespoon

brown sugar 

½ tablespoon

chili powder

½ tablespoon

garlic powder

½ teaspoon

ground oregano 

½ teaspoon

paprika powder

½ teaspoon

ground cinnamon 

½ teaspoon

black pepper

1 teaspoon

salt 

2

–

3

pound pork shoulder 

2 tablespoons

olive oil 

1

medium white onion, chopped 

5

cloves garlic, minced 

1/2 cup

broth (any kind) 

¼ cup

orange juice 
fresh lime juice, for serving
cilantro, for serving
Cilantro Lime Rice
2 cups

uncooked long-grain white rice

4 cups

water

½ cup

fresh cilantro, chopped (not packed)

⅓ cup

fresh lime juice

2 teaspoons

garlic powder

1/2 teaspoon

sea salt*
Corn Salad
1

15-oz. can yellow sweet corn, drained and rinsed 

2 tablespoons

fresh lime juice

1/2 tablespoon

apple cider vinegar

2 tablespoons

chopped fresh cilantro

1/3 cup

minced red onion

1/3 cup

crumbled cotija cheese

1/2 teaspoon

paprika

salt and pepper, to taste
Other Bowl Ingredients
1

15-oz. can black beans, drained and rinsed 

8 cups

chopped romaine lettuce

Lime wedges, for serving

Optional: Greek yogurt/sour cream
Instructions
Pork Carnitas
Combine the spices for the dry rub in a small bowl and set aside. 

Season the pork shoulder with the dry rub by massaging the pork with the spices on all sides. Let it sit for at least 10-15 minutes. 

Meanwhile, place the white onion, garlic, and broth into the slow cooker and turn your slow cooker to high.   

Heat a large skillet over medium/high heat. Add olive oil. When olive oil is fragrant, add the pork shoulder to the pan. Brown both sides of the pork shoulder for 3-4 minutes on each side. 

Transfer the browned pork shoulder into the slow cooker and pour the orange juice over the meat and then cover the slow cooker.

Cook the pork shoulder on high for 7-8 hours

or until the pork falls apart. 

Once the pork is done cooking, preheat the oven to 450ºF and spray a baking sheet with non-stick cooking spray.

Uncover the slow cooker and use 2 forks to carefully shred the pork. It should be super tender and easy to shred. Toss the shredded pork with all of the juices in the slow cooker. 

Transfer the shredded pork to the baking sheet and spread it out. Then, bake at 450ºF for around 5-7 minutes to make your carnitas nice and crispy.  

Remove the pork from the oven and squeeze on fresh lime juice. Then, sprinkle on fresh cilantro.

Serve in a taco, in bowls, in a burrito, etc. 
Cilantro Lime Rice
Place 2 cups of rice and 4 cups of water into a medium-sized pot. Then, bring to a rolling boil over medium/high heat.

Reduce heat to low and cover for 35-40 minutes, or until water is absorbed, stirring halfway through.

Transfer the rice into a bowl and let cool in the fridge for about 30 minutes.

Next, chop fresh cilantro and juice limes.

Once the rice has cooled, add in chopped cilantro, lime juice, garlic powder, and sea salt. Stir to combine. Set aside. 
Corn Salad
Place all of the ingredients for the street corn salad in a large mixing bowl and stir until combined. Set aside. 
Bowls
Place about 1 heaping cup of romaine lettuce on the bottom of your bowl. Add around 4-oz. carnitas, about 3/4 cup cooked cilantro lime rice, 1/2 cup street corn salad, and 1/4 cup black beans to the top of the romaine lettuce. Repeat in three other bowls. 

Serve with fresh lime, cilantro, Greek yogurt, and more cotija cheese.
Tips & Notes
Instant Pot: If you'd like to make Instant Pot Carnitas, turn your Instant Pot to the saute function. Add olive oil to the bottom and sear all sides of your pork for 1 minute. Then, turn your Instant Pot off and add garlic and a little more olive oil to your Instant Pot. Close lid, turn the valve to seal and cook on manual high for 60 to 90 minutes. Once the timer has gone off, quick release your Instant Pot to let out the steam. Shred and add the rest of the carnitas ingredients. Option to follow THIS recipe.
This recipe was updated on April 2, 2021. Get the original recipe HERE.
Nutrition Facts
Serving Size: 1/8 Calories: 700 Sugar: 6 Fat: 31 Carbohydrates: 84 Fiber: 11 Protein: 39
Author: Lee FunkeCategory: DinnerMethod: Slow CookerCuisine: MexicanDiet: Gluten Free
Keywords: carnitas bowls, carnitas burrito bowls
Photography: photos taken in this post are by Erin from The Wooden Skillet.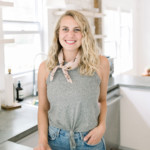 Lee is the founder of Fit Foodie Finds and based in Minneapolis, MN. She started this website in 2010 as a way to share her love for real food and wellness.