Our Mexican Street Corn Salad is made with grilled corn, tomato, onion, and the most delicious cotija yogurt sauce with lime juice.
Drop everything you're doing and make this Mexican Street Corn Salad today!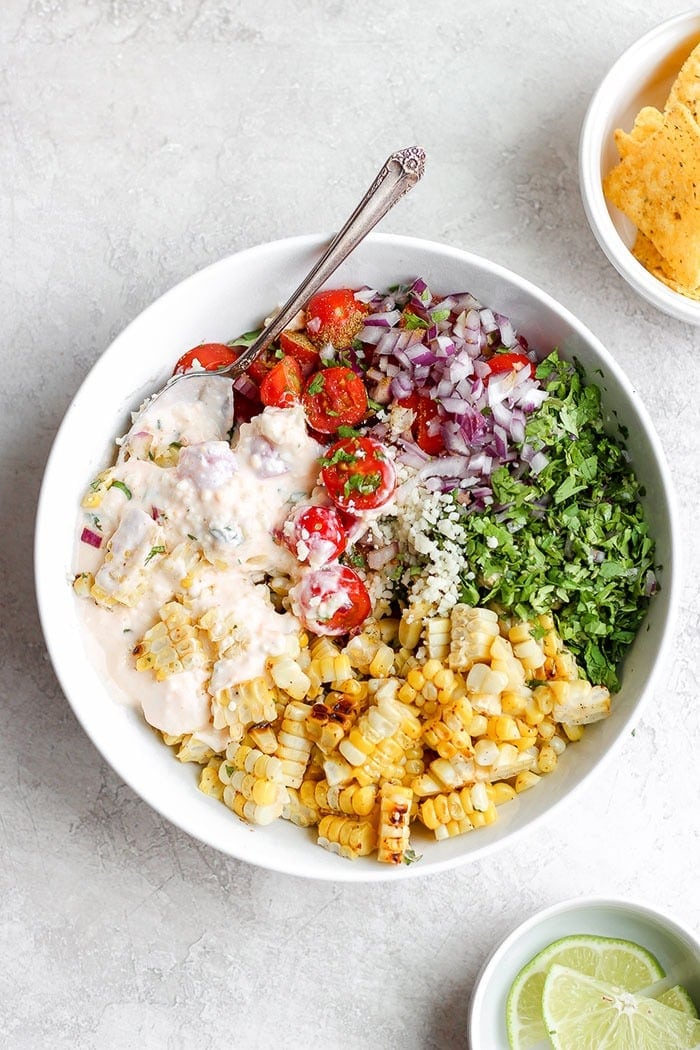 What is Mexican Street Corn Salad?
Our take on Mexican street corn salad is inspired by traditional elote. Elote is Mexican corn that is grilled over an open fire to grilled deliciousness and smothered with mayonnaise, cheese, chili powder, and other spices (sometimes super spicy spices). It is heaven on earth!
We recently made a healthier version of Grilled Mexican Street Corn that is spicy and fresh all at the same time. We took our Grilled Mexican Street Corn and turned it into this insanely delicious street corn salad!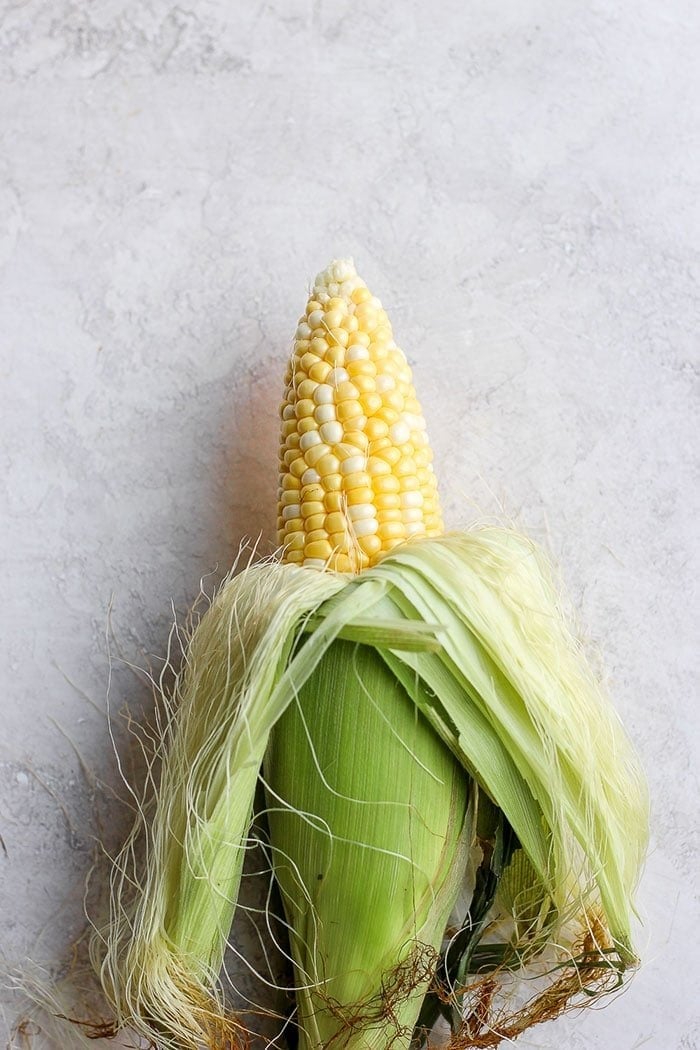 Ingredients You Need
This street corn salad is so fresh and delicious and is made with very basic and delicious ingredients.
Here is how we prepare all the ingredients so they are ready to mixed into the salad!
Corn– We highly recommend using grilled fresh corn, but if you are in a pinch you can use frozen corn. Just be sure that you thaw the frozen corn and remove any excess moisture from the corn before using it.
Spices– we rub the ears of corn with chili powder, cumin, garlic powder, salt, and pepper before throwing it on the grill.
Tomatoes- You can use any tomato that you would like in this corn salad, just make sure that they are cut up into bite size pieces. There is something about having every ingredient about the same size so that you can get a little bit of everything in every bite.
We recommend using cherry tomatoes and halving them, but if you need to use large tomatoes and dice them up, go for it.
Sometimes tomatoes can be pretty watery, so if you are using larger tomatoes, dice them, and salt them in a separate bowl and let them sit for 15 minutes.
Dump out any access water from your tomatoes and then add them to your salad bowl.
Red onion- Red onion can be a bit polarizing. If you love red onion, finely dice the red onion up and add it to your salad bowl!
If you can't stand red onions or raw onions, feel free to saute the onions before putting them in the salad. Or? Try adding green onions to the salad instead!
Cilantro- You can't have a Mexican Street Corn Salad without cilantro. If you're not a cilantro fan, feel free to skip it or fold in some arugula to the corn salad.
I would highly recommend using cilantro and dicing it up super fine! YUM.
The Greek Yogurt Sauce
The sauce for the Mexican Street Corn salad is dreamy and delicious. Traditionally you would use sour cream for this recipe, but we lightened it up with Greek Yogurt.
Ingredients for the sauce
Greek yogurt
Hot sauce
Cotija cheese
Lime juice
Garlic powder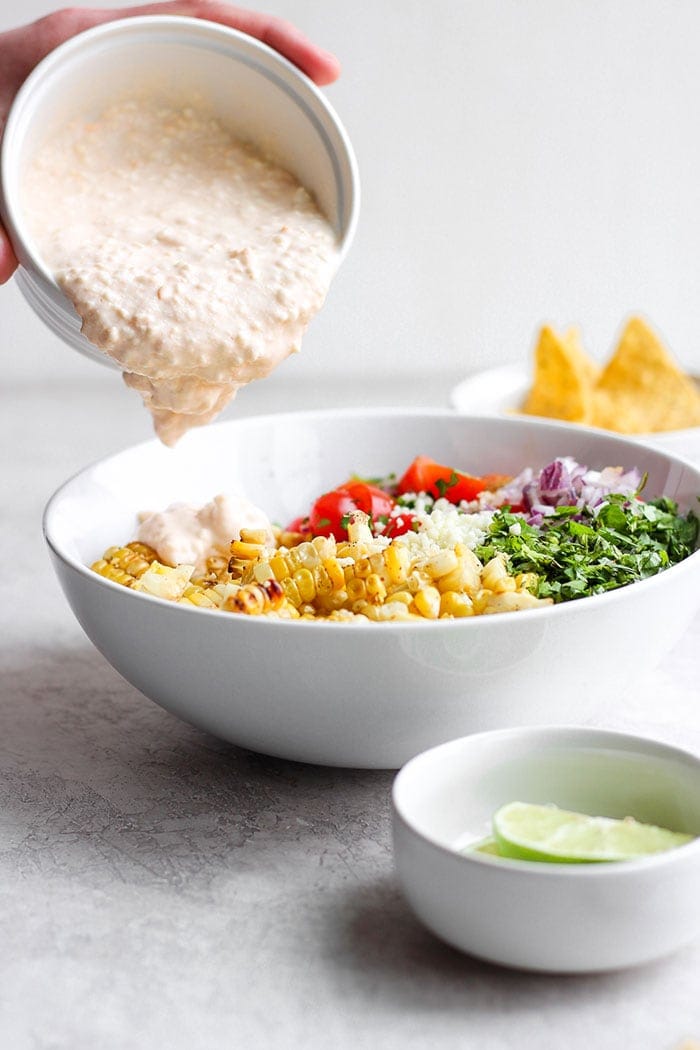 How to Make Mexican Street Corn Salad
You will have yourself a Mexican Street Corn Salad in less than 45 minutes, the preparation is easy and I like to enjoy our favorite frozen margarita recipe while we're preparing this delicious corn salad. Now, let's get down to business.
Prep the Corn
You have two choices (that we've tested) when it comes to preparing the corn for this Mexican Corn Salad.
Personally, we prefer grilling the corn. The grill flavor, the char, and who doesn't love cooking outside? If you're not a grill person or don't have access to a grill, the oven will work just fine, too!
August is sweet corn season in Minnesota so in a perfect world, this Mexican Street Corn Salad would always be made with August sweet corn. ? No matter what corn is used, make sure it is perfectly shucked!
After the corn is shucked and clean cover each ear of corn with olive oil. Be sure to get the olive oil in every crevasse of the corn and then add the chili powder, cumin, salt and pepper to the corn and massage them all into the corn.
Place corn into a tin foil boat and fold then edges so heat cannot escape. Grill corn at 400ºF for 20-25 minutes! Remove the corn from the grill and use an oven mitten to hold each ear of corn while you cut the corn kernels off of the cob.
Feel free to let the corn cool before you cut the kernels off of the cob. You can also use leftover grilled corn from earlier in the week. You have SO many options.
Add corn to a large salad bowl with the rest of the salad ingredients.
Remember, if you don't have time to use fresh corn and grill it, buy a bag of frozen corn or frozen fire roasted corn and thaw it out!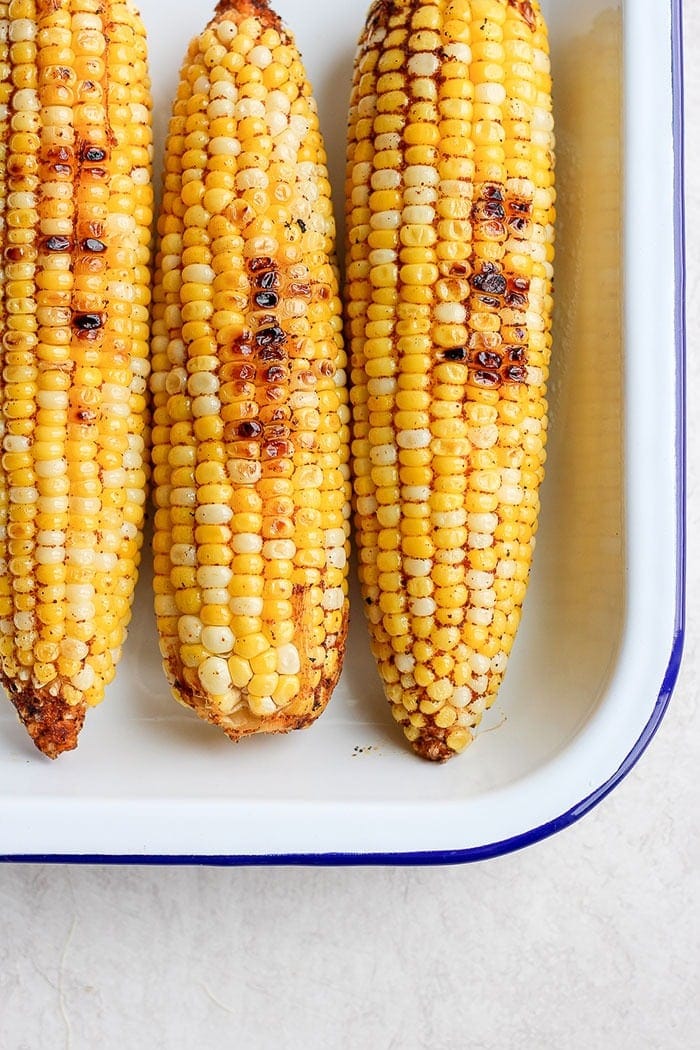 Make the sauce
Add all of the ingredients for this street corn salad to a bowl and mix!
We love the tartness and protein that Greek yogurt adds to the sauce, but if you are feeling a little sour cream or creme, feel free to substitute part of the Greek.
The cotija adds a little saltiness to the sauce, but we have also used homemade queso fresco in this recipe and it is also a great add!
Add the rest of the ingredients
Once the corn is grilled and the sauce is mixed all that's left is adding the rest of the ingredients to the bowl and mixing it all together!
Tips for the BEST Mexican Street Corn Salad
There are so many ways that you can make this Mexican Street Corn salad your own and we want you to feel confident serving this to your family or at your next BBQ.
Here are some tips and tricks we have for serving and storing this Mexican Street Corn Salad.
Mix it up
When we developed this recipe, we used all of our favorite ingredients. We kept it simple and traditional.
If there are ingredients in this recipe that don't excite you, add ingredients that would! Other vegetables and ingredients that would be great in this corn salad would be…
Sweet Peppers
Black Beans
Radishes
White Onion
Matchstick Carrots
Roasted cauliflower
Any of the ingredients above would be delish in this corn salad. Just chop them up and use the same delicious sauce. Have fun and make this salad your own!
Storage
This Mexican Corn Salad can be stored in the refrigerator for up to 5 days if it is stored in an airtight container!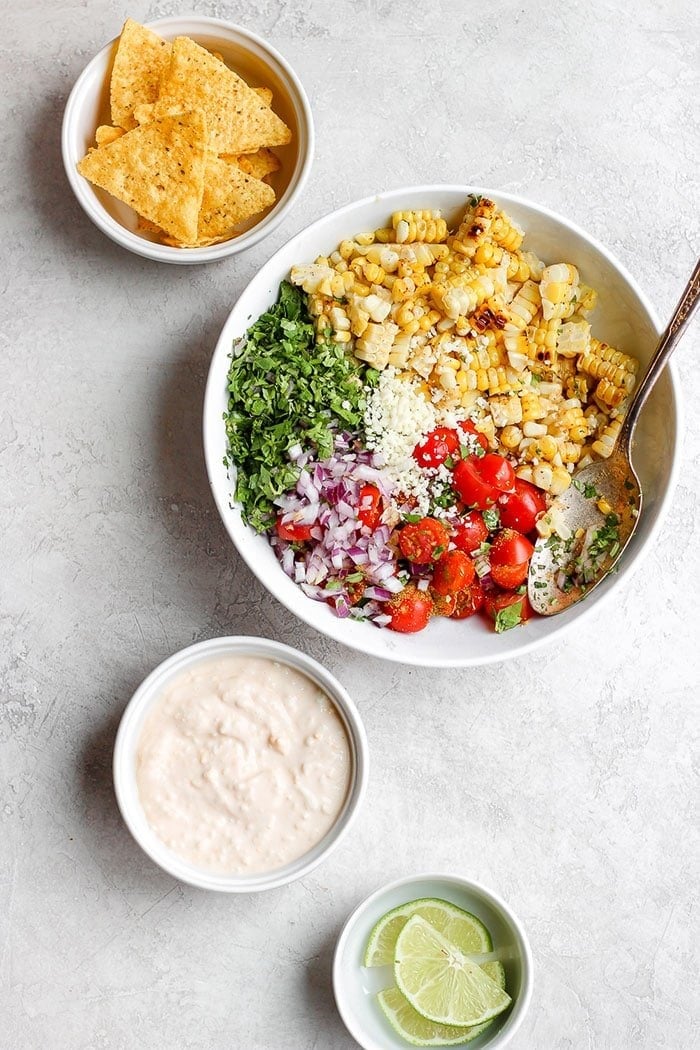 Photo credit: The Wooden Skillet