This delicious leftover turkey salad is the perfect recipe to make after a big turkey dinner. Use up all of your leftovers and make yourself a turkey salad sandwich or wrap.
Do you have even more leftover turkey? Try making this leftover turkey soup, it's perfect for a cozy night in or to freeze for later.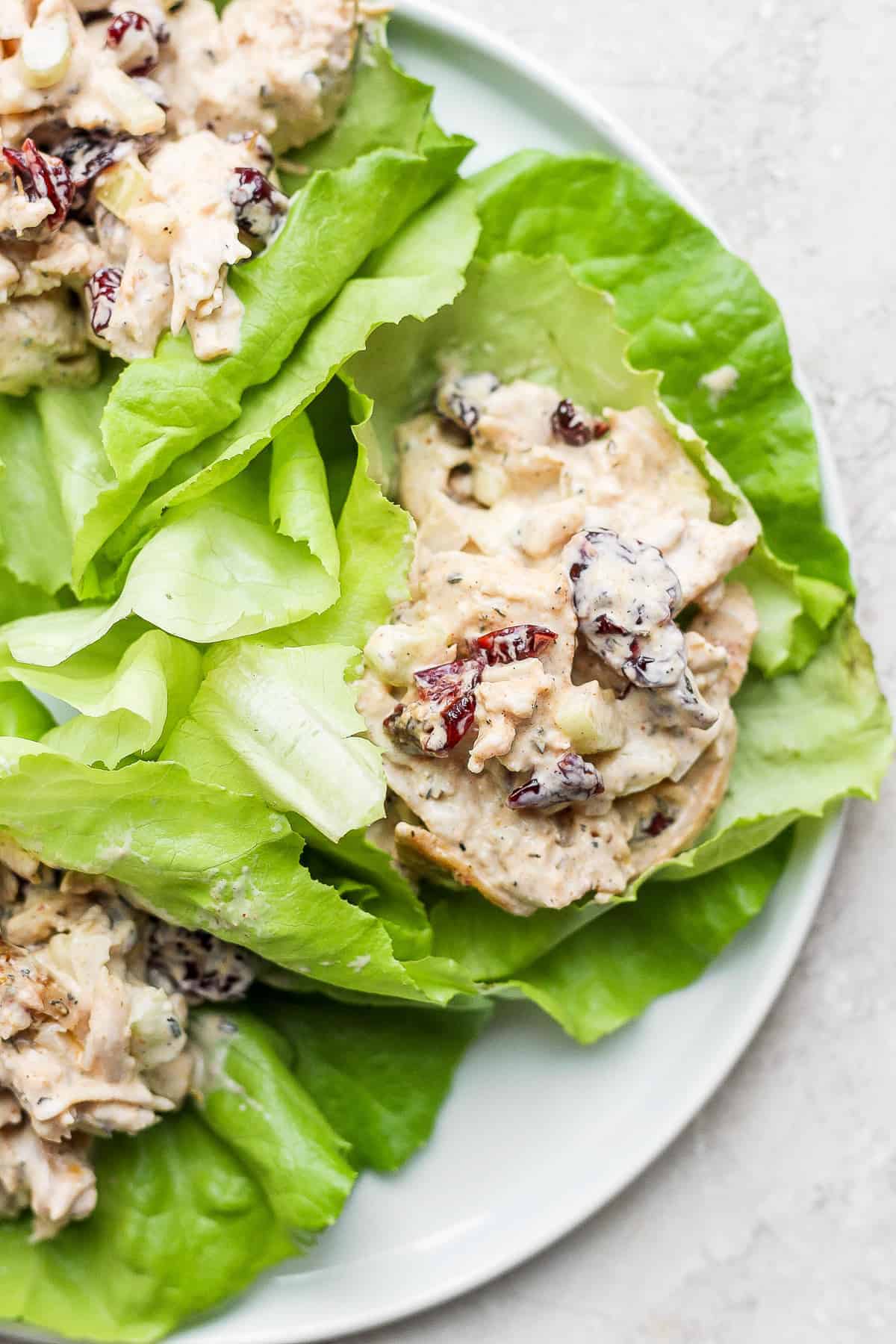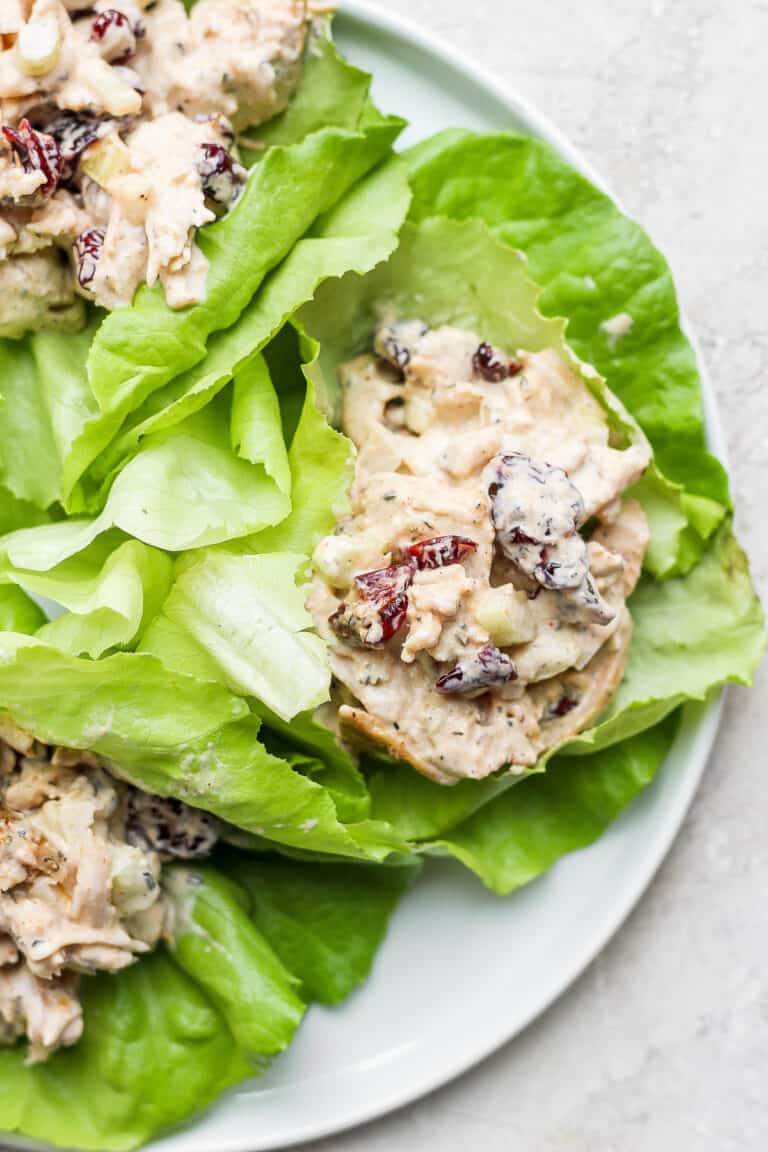 The Easiest Leftover Turkey Salad
Oh man do we love a good leftover turkey salad. We all have leftovers after turkey day and this salad is the easiest and most delicious recipe that you can make for meal prep for the weekend.
If you have other leftovers that you think would taste good in this turkey salad, go ahead and throw. them. in. There are no rules.
KEEP THESE THINGS IN MIND
We used turkey, but chicken works too. This leftover turkey salad is obviously designed to use leftover turkey from the holidays. However, if you're out of turkey or if you're not making this around the holidays chicken works too.
We like to buy rotisserie chicken and shred it for this salad. Chicken breast will work, too.
Keep the crunch strong. Leftover walnuts add a delicious crunch and an earthiness to the salad. You can also use pecans if you have those around, too.
Don't forget to balance with sweet. Dried cranberries seemed like an obvious choice, because we always have leftovers after the holidays but you can also use raisins or any type of dried fruit.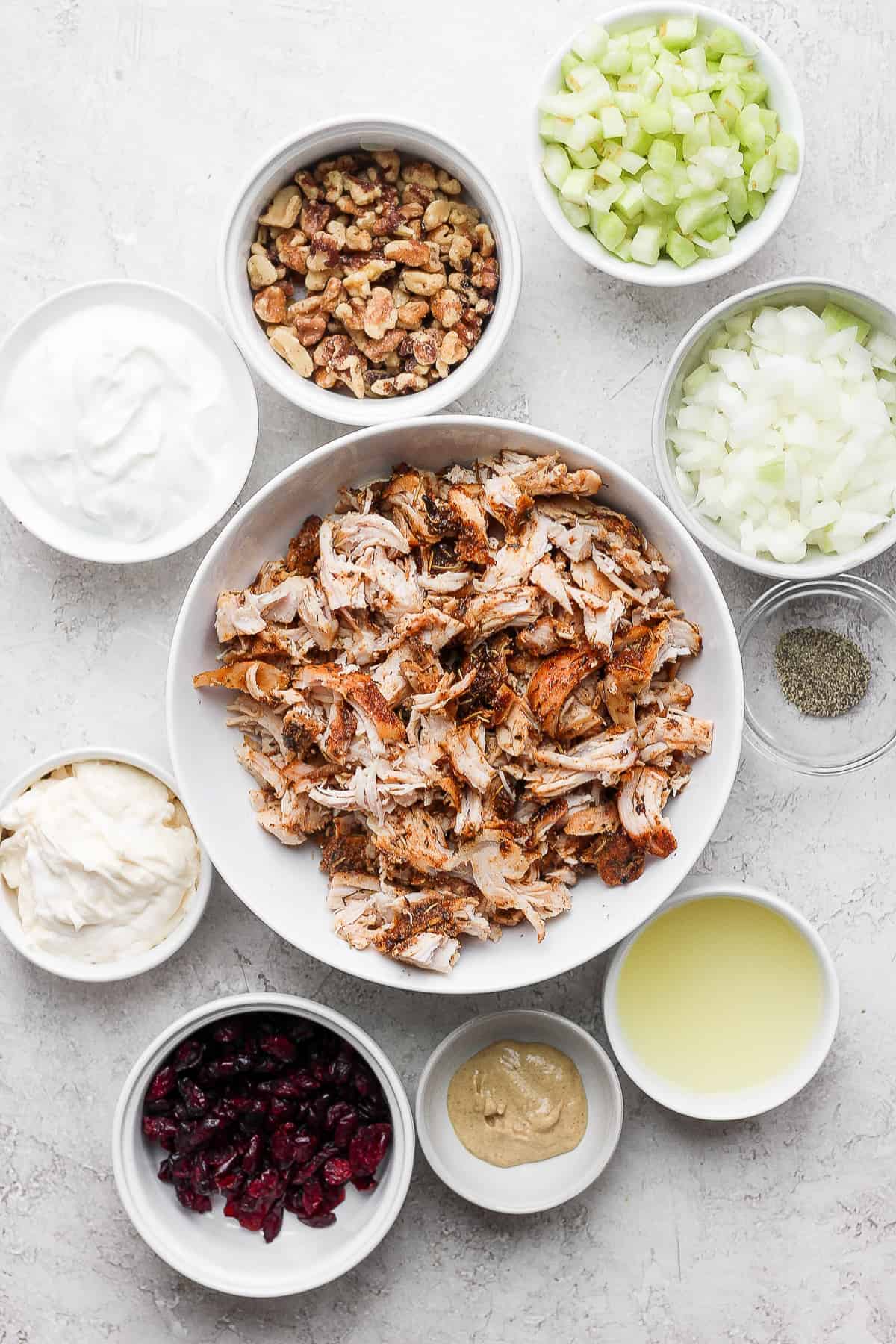 Ingredients You Need
The goal of this salad is to use leftover ingredients from Thanksgiving. Left over cranberries and walnuts from a Thanksgiving salad, left over Greek yogurt from these healthy mashed potatoes, left over celery sticks from stuffing, and so on.
However, you can make this turkey salad just because you want to any time of year, it is delicious!
Shredded turkey- shred all the parts of the turkey that you have for leftovers. Dark, light, all of it.
2% plain Greek yogurt– we like a higher fat content when we make turkey salad or chicken salad.
Mayo- we lightened this turkey salad up with Greek yogurt but you can't have a turkey salad without a little bit of mayo.
Lemon juice– with all the heavier ingredients in this salad, the lemon juice really lightens things up.
Dijon mustard – the mustard is crucial for this recipe. Unless you don't like mustard, ha.
Salt + Pepper– don't skip the salt and pepper.
Yellow onion– a little onion adds flavor and crunch.
Celery stalks– a classic turkey and chicken salad ingredient is our good friend the celery stalk.
Dried cranberries – cranberries add a little sweetness.
Chopped walnuts– add whatever nuts you have around. We used chopped walnuts but almonds or pecans work too.
Turkey seasoning– DO NOT SKIP USING THIS TURKEY SEASONING.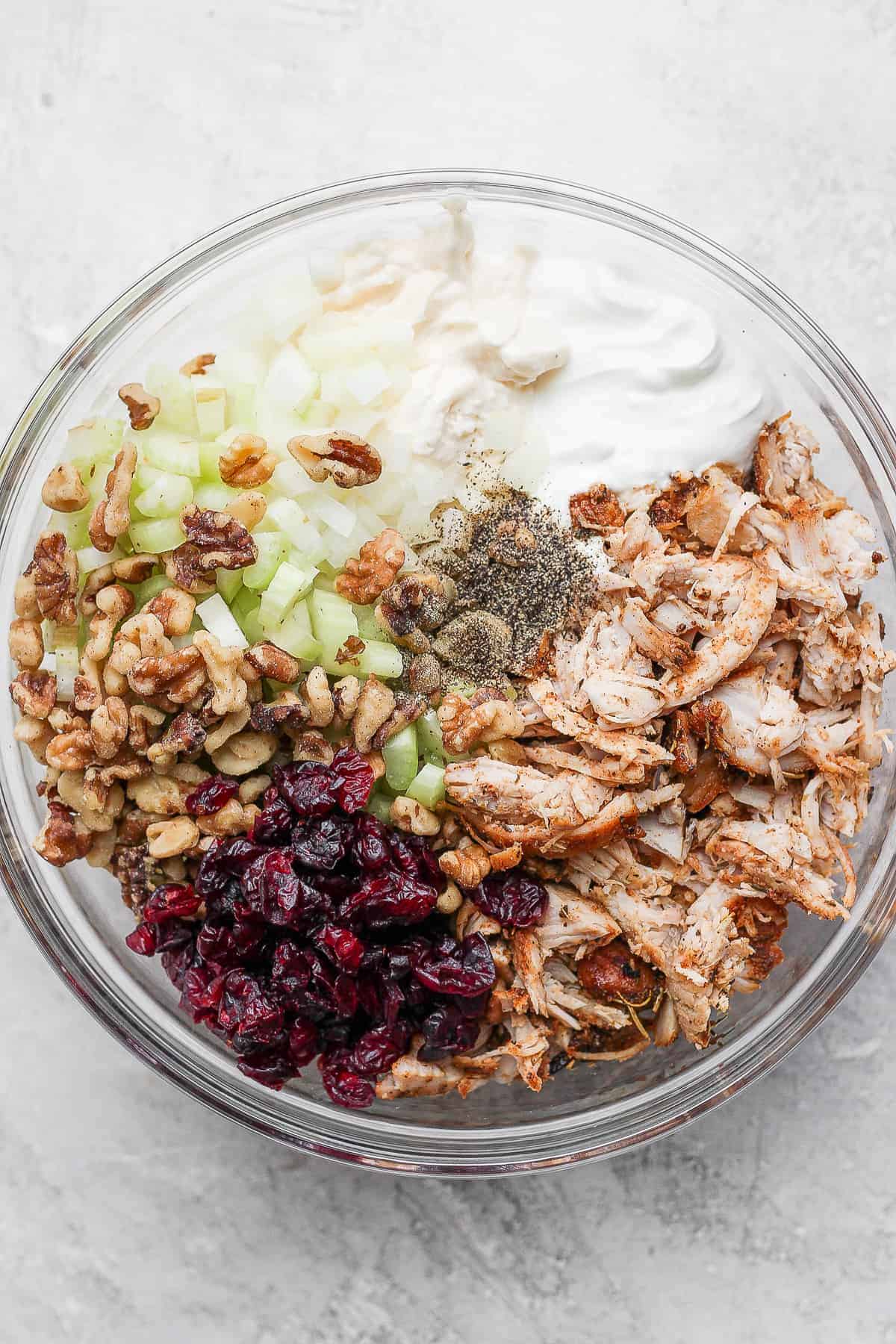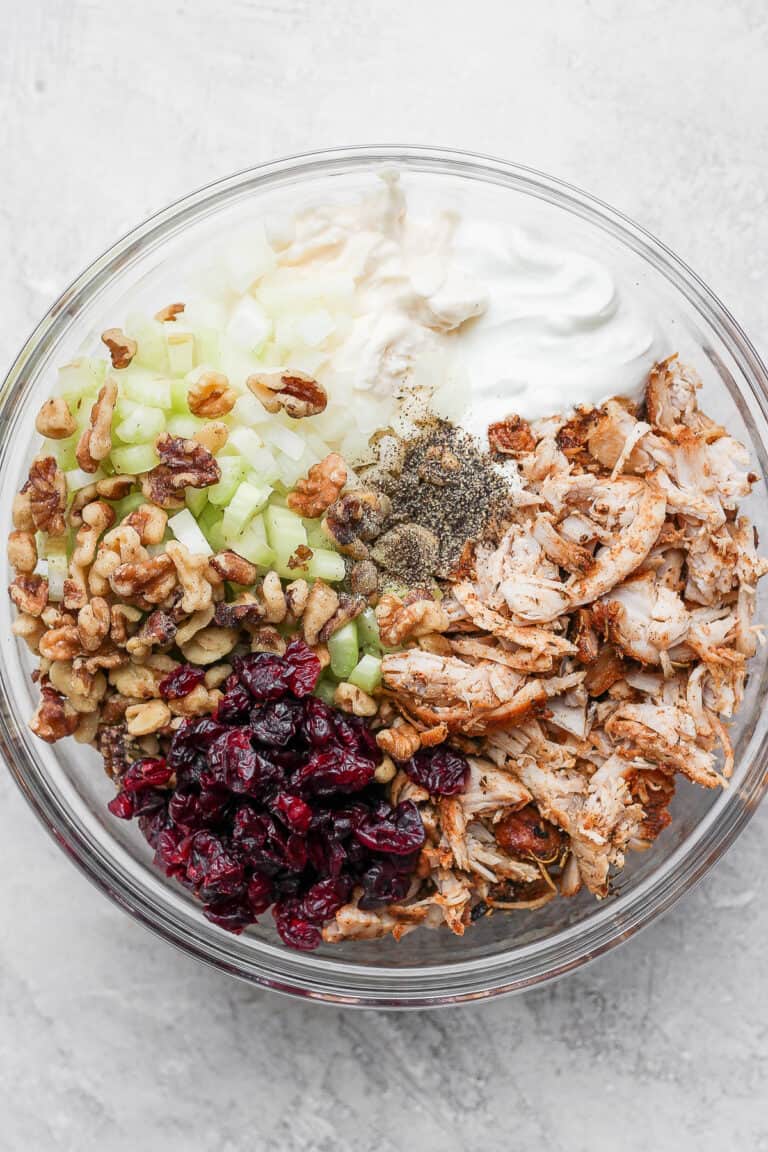 The KEY to this Turkey Salad Recipe
This turkey salad has amazing flavor because we use leftovers from smoked turkey or our baked turkey tenderloin. What do those two recipe have in common? Our HOMEMADE TURKEY SEASONING.
Our homemade turkey seasoning is so flipping delicious that people can't get enough. The smoky flavors mixed with a bit of brown sugar makes one amazing dry rub.
Have no fear, if you aren't using our turkey recipes (cough cough, you should) it's ok. You must add a few teaspoons of our turkey seasoning to this turkey salad. We recommend keeping a jar of our homemade turkey seasoning in your cupboard at all times.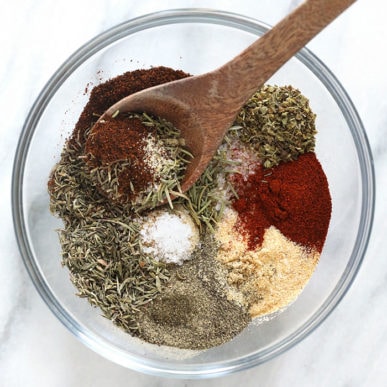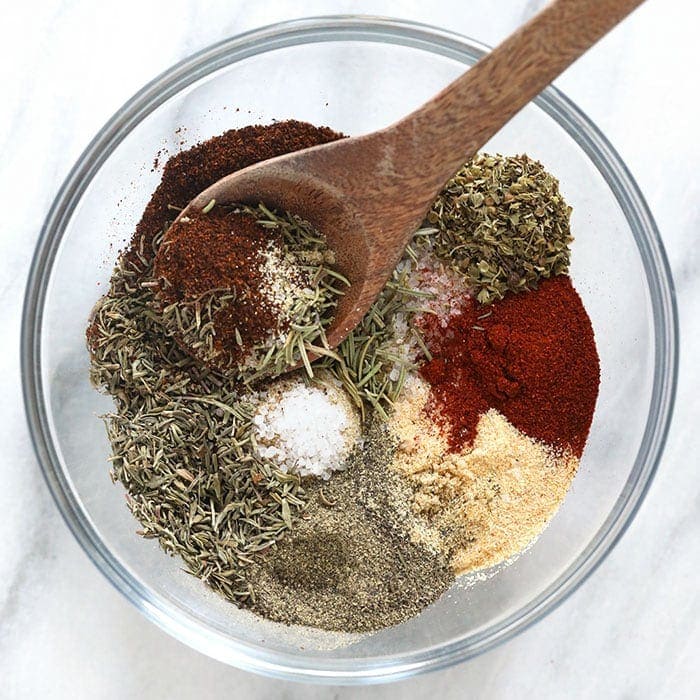 try it!
Turkey Seasoning
Ditch the store-bought turkey seasoning and use the most Flavorful Turkey Seasoning made with 9 ingredients you can actually pronounce. This seasoning is made up of garlic powder, brown sugar, kosher salt, and other simple seasonings.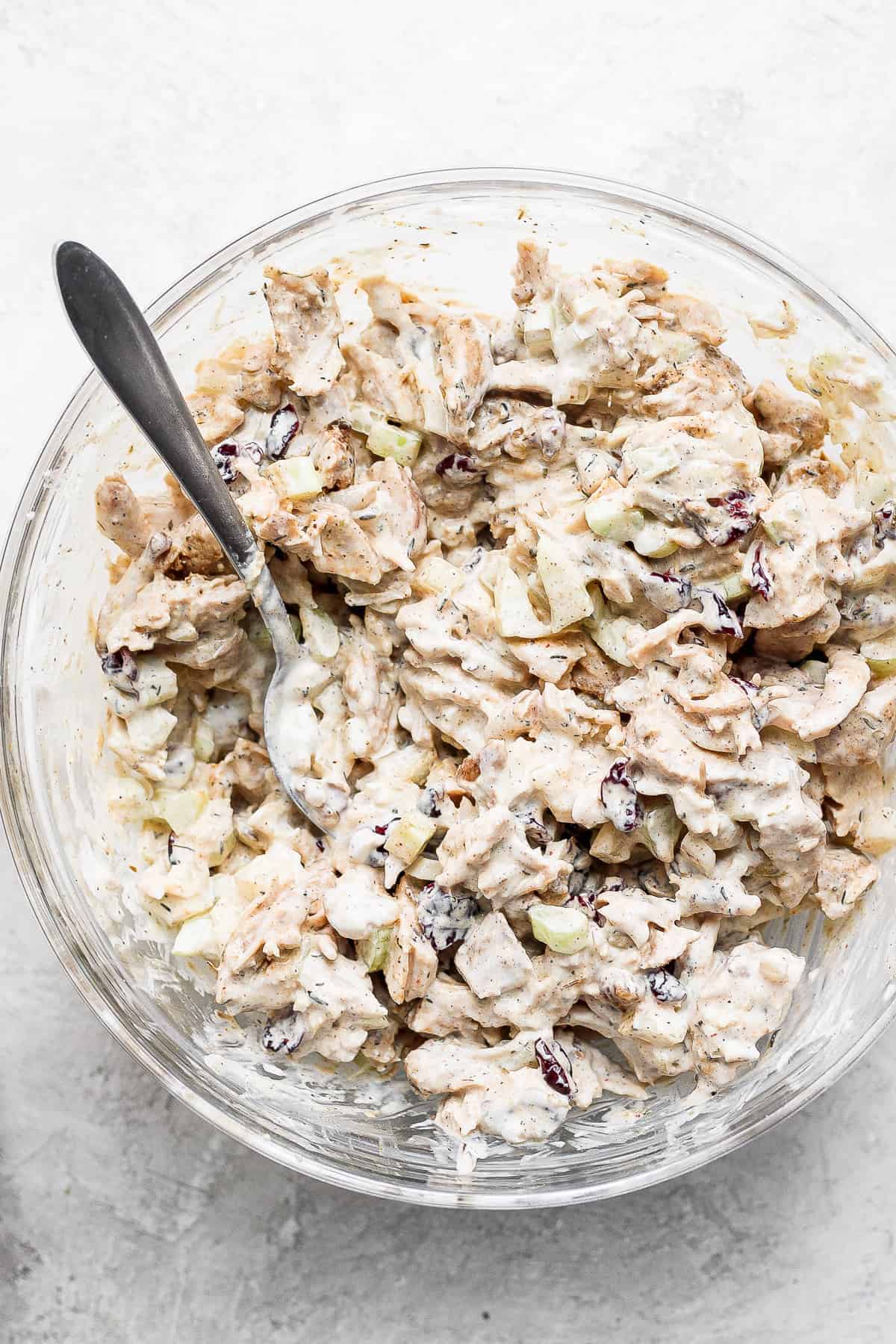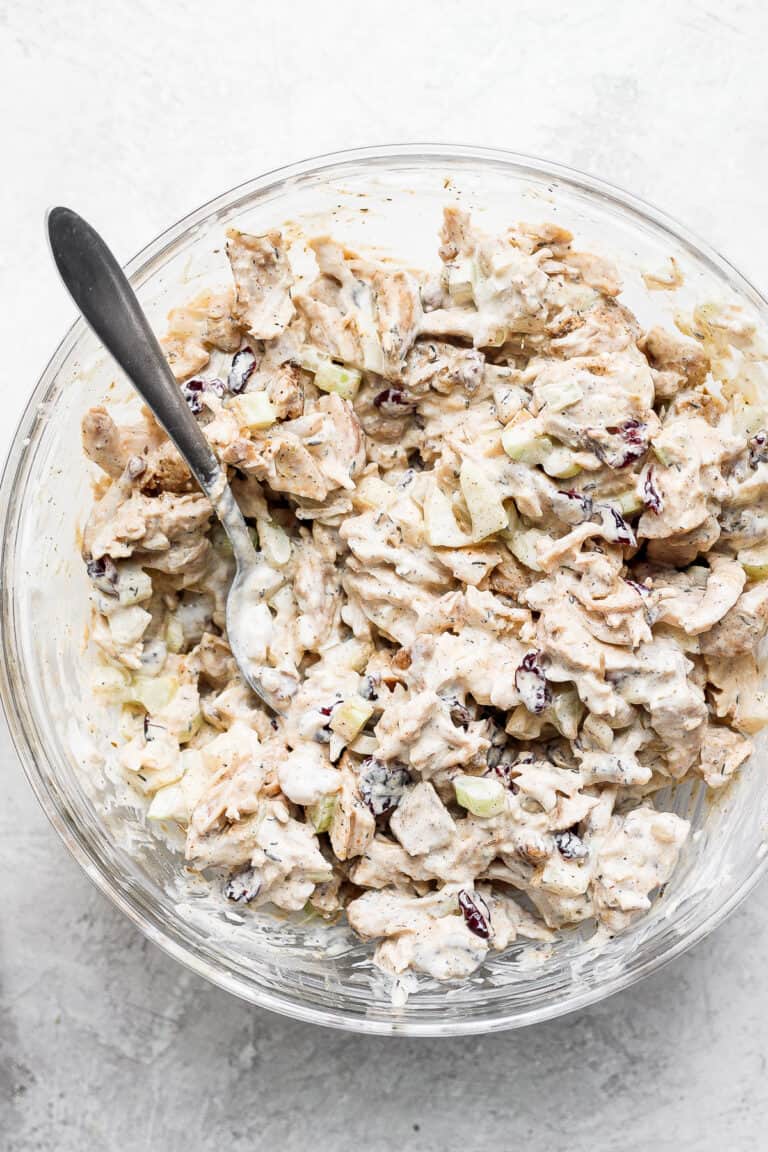 How to Make Leftover Turkey Salad
Place all ingredients in a bowl + mix. Add all the ingredients for this turkey salad to a large bowl and fold everything together until all the ingredients are covered in delicious sauce.
Add turkey seasoning if you need to. If you did not use one of our turkey recipes, add 1-2 teaspoons of turkey seasoning to the bowl.
Chill and serve. This turkey salad is best chilled, so place it in the refrigerator to chill and then enjoy.
How to Serve Leftover Turkey Salad
Sandwich- Scoop 1 cup of this this turkey salad onto a piece of bread with lettuce and onion. Or? Cut a croissant down the middle and have a turkey salad croissant sandwich. YUM.
Salad- Scoop 1 cup of this turkey salad on top of a bed of greens for an easy salad.
Lettuce Wraps– Skip the bread and serve this turkey salad as a lettuce wrap.
Storage
Store this turkey salad in an airtight container for up to 5 days in the refrigerator.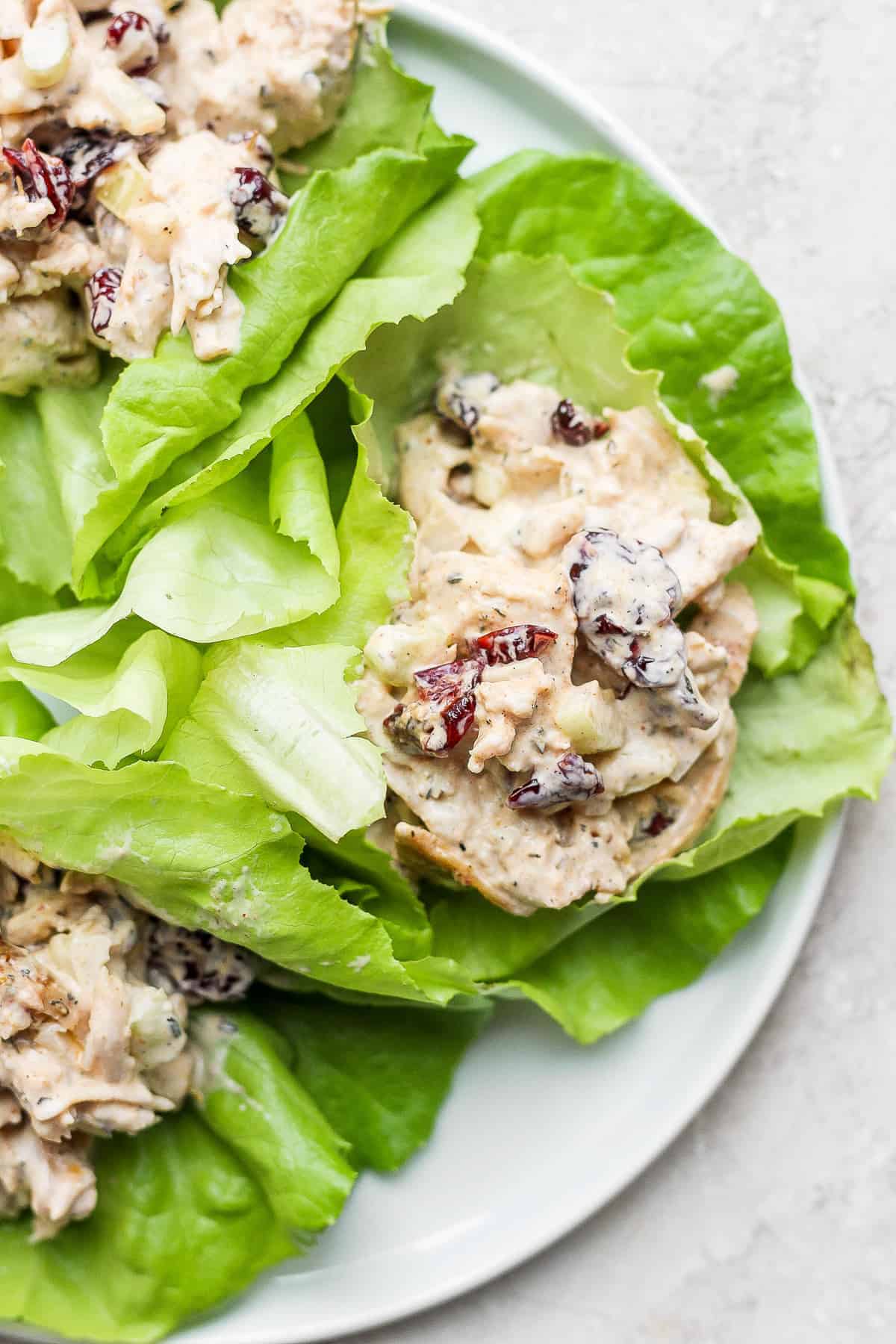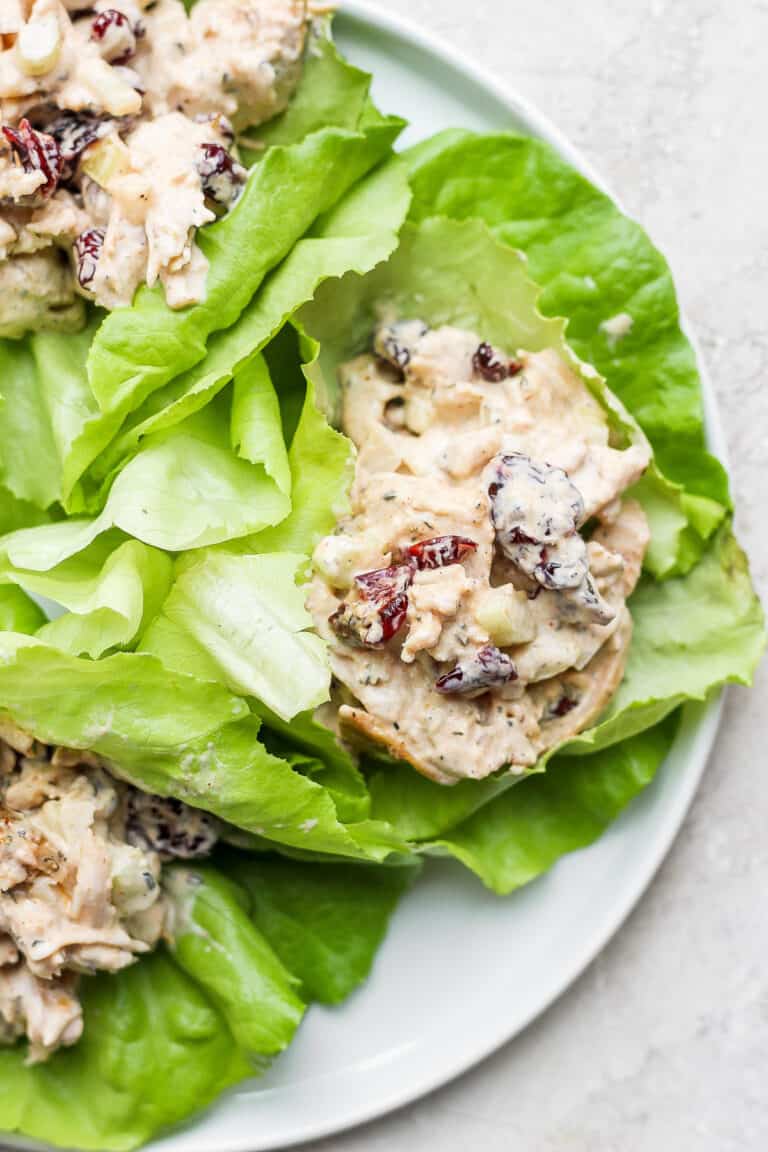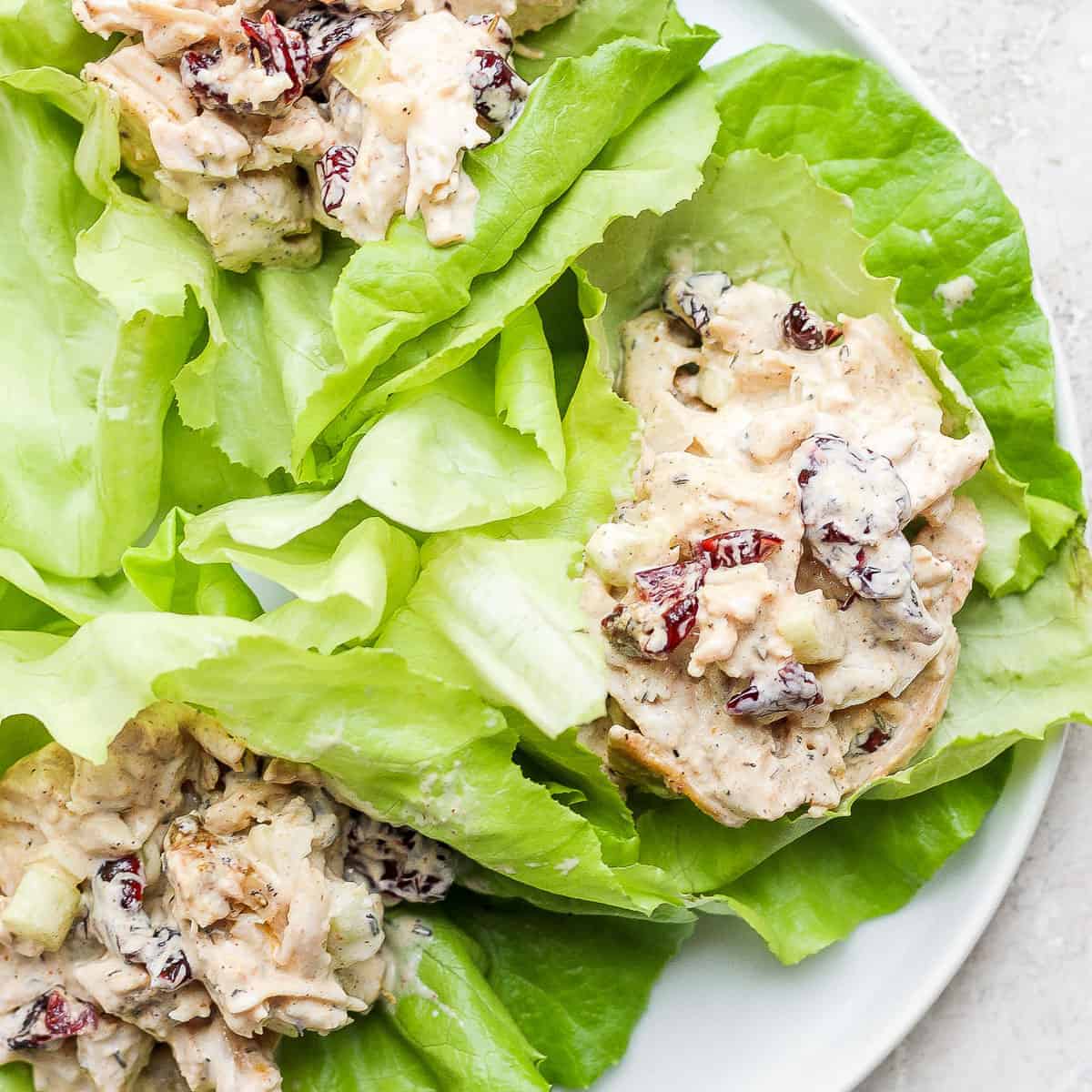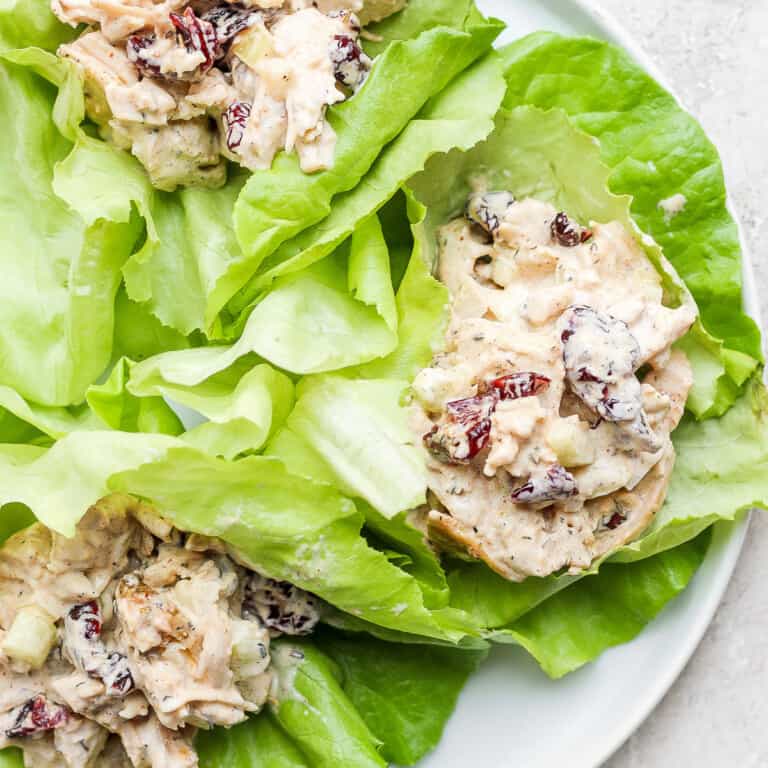 Leftover Turkey Salad
We put leftover turkey to good use in this tasty turkey salad. This healthy recipe is made with celery, cranberries, Greek, mayo, and more. 
Prep: 20 minutesCook: 0 minutesTotal: 20 minutes
Fat 14 Carbs 13 Protein 4
Yield 6–8 1x
Ingredients
6

heaping cups of shredded turkey

¾ cup

2% plain Greek Yogurt

½ cup

mayo 

¼ cup

fresh lemon juice

1 tablespoon

dijon mustard 

¼ teaspoon

pepper

½

medium yellow onion, minced

2

celery stalks, diced 

½ cup

dried cranberries (craisins)

½ cup

chopped walnuts 

½ teaspoon

salt or salt to taste

1

–

2

teaspoons turkey seasoning*
Instructions
Prepare the sauce first and add the Greek yogurt, mayo, lemon juice, mustard, pepper, and onion to a large bowl and mix until well combined. 

Add the shredded turkey to the bowl and fold the ingredients together until all the turkey is covered in sauce. 

Lastly, add the celery, cranberries, and walnuts to the bowl and mix. 

Place the turkey salad in the refrigerator to chill. 

Serve on a salad, in a sandwich, or on its own. 
Tips & Notes
Turkey seasoning: depending on how seasoned your leftover turkey is, we suggest adding some of our homemade turkey seasonings for extra flavor! If you're using our smoked turkey or turkey tenderloin, you do not need to add extra seasoning.
Nutrition Facts
Serving Size: 1/8 Calories: 358 Sugar: 9 Sodium: 365 Fat: 14 Carbohydrates: 13 Fiber: 1 Protein: 4 Cholesterol: 8
Author: Lee FunkeCategory: TurkeyMethod: No BakeCuisine: American
Keywords: Turkey Salad
Photography: photos taken in this post are by Erin from The Wooden Skillet.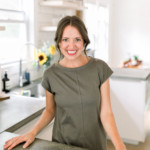 Linley is a 5′ nothing spitball of positive energy who joined Team Fit Foodie in the Spring of 2014. Linley has worked on the digital side of small businesses and nonprofits since 2011, where she specialized in social media community management. Lin has a passion for food and an incredible palate. She is FFF's chief recipe developer, so you can thank her for these incredible recipes!