This Healthy Sweet Potato Casserole is made with a brown sugar pecan topping and it will sweeten up any Thanksgiving table.
It's everything you love about the traditional sweet potato casserole with a healthy twist.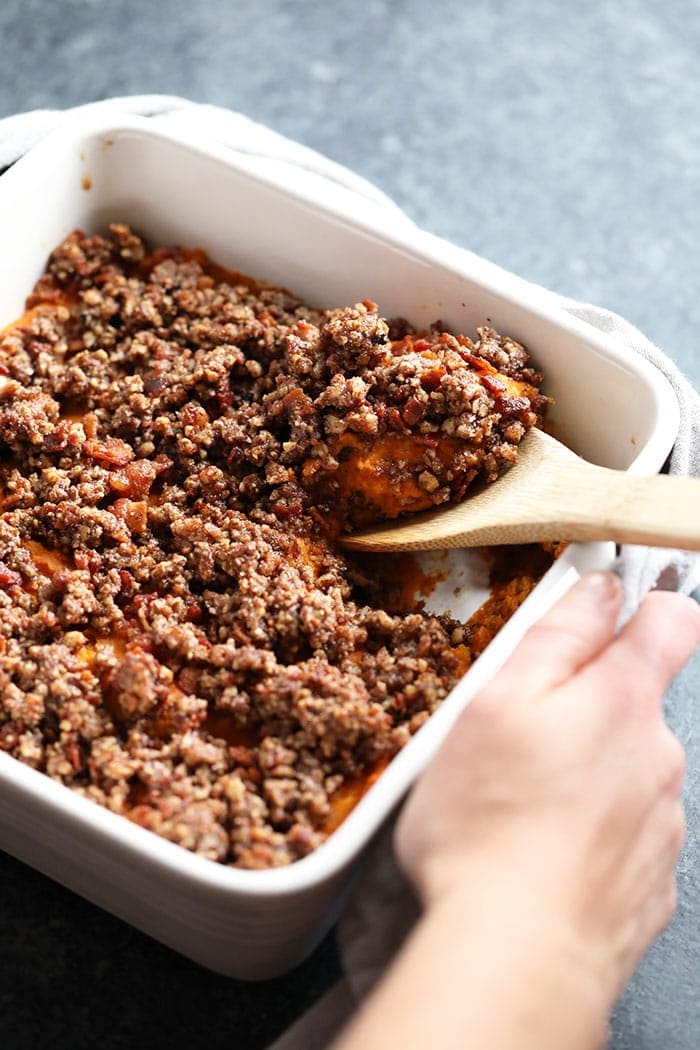 Best Ever Healthy Sweet Potato Casserole
Looking to make a healthy sweet potato casserole recipe for this year's Thanksgiving? You've come to the right place because, in this post, we're teaching you how to make the most delicious sweet potato casserole made with better-for-you ingredients.
How it's Healthier
Before we jump right into the recipe, we thought we'd give you the lowdown of how we made this famous Thanksgiving casserole a bit better for you.
Greek Yogurt + Almond Milk
The combination of Greek yogurt and almond milk with pureed sweet potatoes gives the base of this sweet potato casserole the most delicious, creamy texture without a ton of added fat you typically find in this dish.
Lower in fat
Added protein
Crunchy Pecan Topping
To replace the traditional marshmallow topping, we created the most delicious crunchy pecan topping made with warm spices and a little coconut sugar. This combination results in a more savory bottom with a sweet crumbly topping. YUM. Let's get into the ingredients!
Made with all-natural sugar
Made from scratch!
Healthy Sweet Potato Casserole Ingredients
Our goal with all Fit Foodie Finds recipes is to keep classic flavors while adding extra nutrition where we can. When I say this healthy sweet potato casserole doesn't taste "healthy," you have to believe me!
Here's what you need for the sweet potato base of the casserole:
Sweet potatoes – Sweet potatoes are the star of the show. We'll teach you multiple ways to cook your sweet potato for this casserole.
Greek yogurt – Greek yogurt is an easy sub for sour cream. It still has the same tangy flavor, but adds protein!
Almond milk – Feel free to use any kind of milk you wish.
Olive oil – Healthy fats galore!
Salt – Salt is magic for this recipe because it really balances out the sweetness of the potatoes.
Pecan Streusel Topping Ingredients
This sweet pecan topping is absolutely delicious and so easy to make. We actually prefer an oat + pecan topping for sweet potato casserole as opposed to marshmallows. Once you make this, you'll know why.
The pecan topping gives this casserole dish a little crunch and is the perfect combination of texture and flavor. Here's what you need:
​​​​​Pecans: don't have pecans? Feel free to use walnuts instead.
Spices: We're using Cinnamon, Cloves, Cardamom, and Nutmeg. All of these warm baking spices add the perfect balance to the sweet potatoes.
Coconut sugar or brown sugar: either coconut sugar or brown sugar will work. You can even use maple syrup instead if that's what you have on hand.
Butter or coconut oil: we've used either fat option in this recipe. Butter adds more of a rich flavor whereas coconut tastes lighter.
Flavor tip
One thing that we recommend for this recipe is adding some diced bacon. Cooked bacon adds the perfect amount of salt and savory to this recipe. If you're looking to keep this plant-based, feel free to keep it out.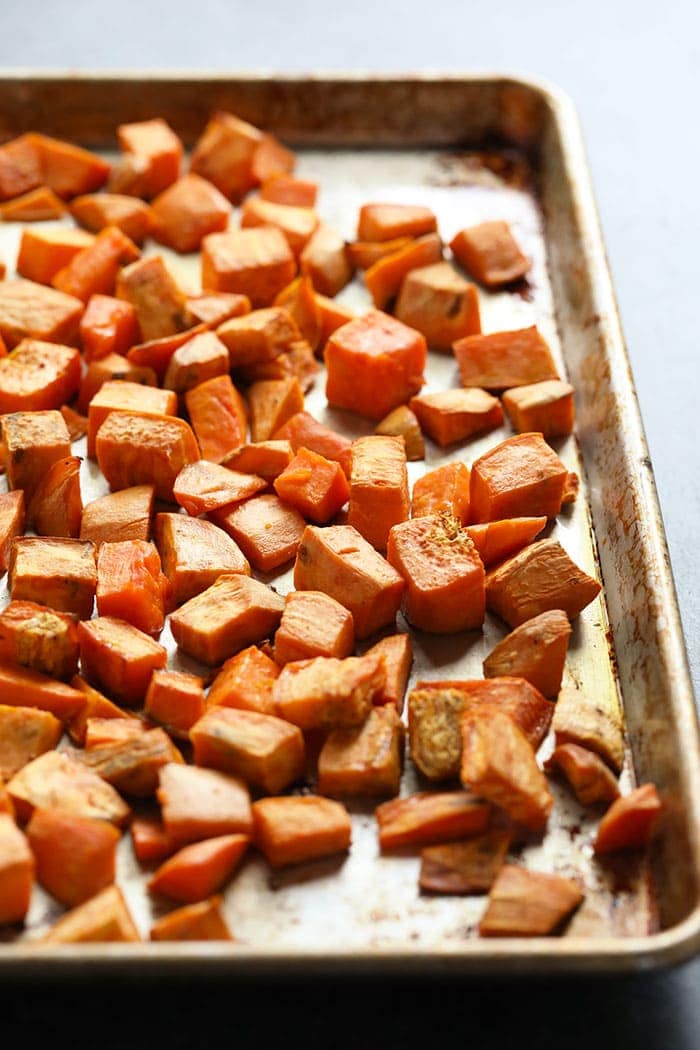 How to Make Healthy Sweet Potato Casserole
Seriously, this has to be my all-time favorite casserole. Healthy sweet potato recipes are just our thing and we can't wait for you to make this one!
Step 1: Roast Sweet Potatoes
The base of sweet potato casserole is a delicious mashed sweet potato mixture made from roasted sweet potatoes! We know lots of people boil their sweet potatoes, but we find that roasting them adds so much flavor. Here's how to do it:
Peel and dice sweet potatoes into 2-inch chunks. You can follow our tutorial on how to roast sweet potatoes here.
Drizzle them with olive oil and season them with salt.
Roast at 400ºF for about 25 minutes.
Once your taters are done roasting, transfer them into a high-speed blender. Alternatively, you can use a potato masher or hand mixer, but a blender is so much easier. Then, add almond milk, Greek yogurt, and salt.
Pulse for about a minute to partially puree the sweet potatoes, leaving some chunks.
Then, transfer the filling into a square baking dish.
Why peel and dice your sweet potatoes? We get that this is definitely an extra step compared to other healthy sweet potato casserole recipes, however, by peeling, dicing, and roasting, you'll get more of that delicious caramelized flavor in every bite!
It also speeds up the roasting time. They roast in about 25 minutes as opposed to 1 hour for a whole sweet potato!
don't want to dice your sweet potatoes?
Save yourself some elbow grease and roast your sweet potatoes whole. You can follow our Baked Sweet Potato recipe to roast your 3 large sweet potatoes without dicing.
Let them cool for 10 minutes before scooping out the flesh and placing it into your food processor. Then, continue with step 6 in the recipe card!
Step 2: Pecan Crumble Topping
While your sweet taters are cooking, you can multitask and make your sweet pecan oat topping!
Place pecans, rolloed oats, butter, spices, and brown sugar into a high-speed food processor.
Pulse on high until you form a crumble.
Optionally add bacon and pulse a few more times.
Sprinkle crumble on top of the filling and then bake at 350ºF for 25 minutes.
Serving Suggestions
Looking to complete your Thanksgiving meal? You're in luck because we have so many Healthy Thanksgiving Recipes on Fit Foodie Finds that we know you are going to LOVE. Here are some of our favorite recipe pairings.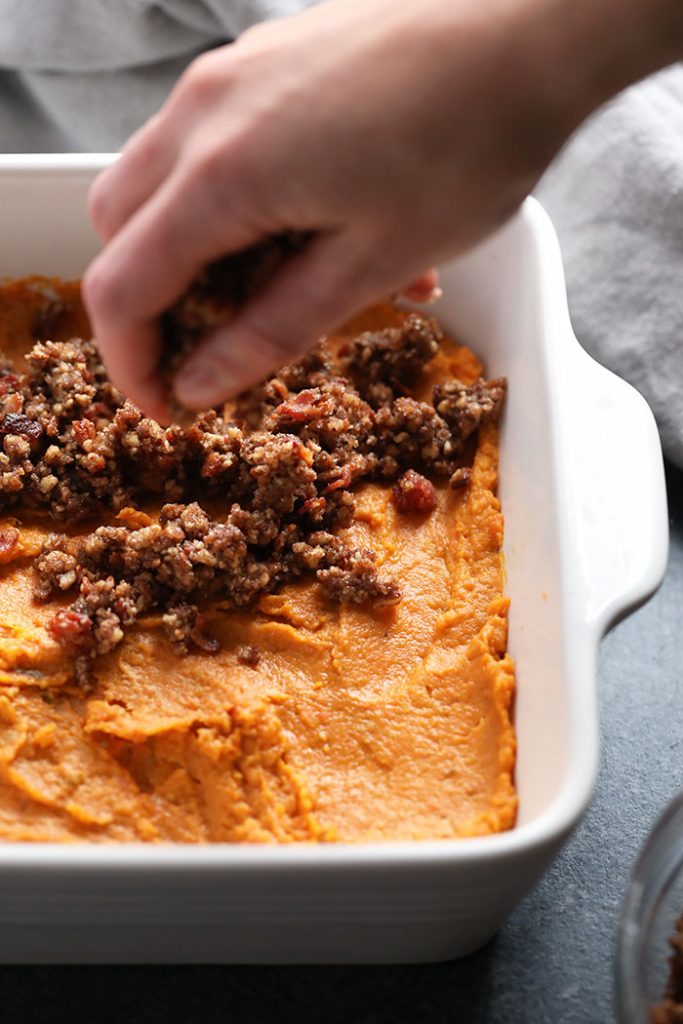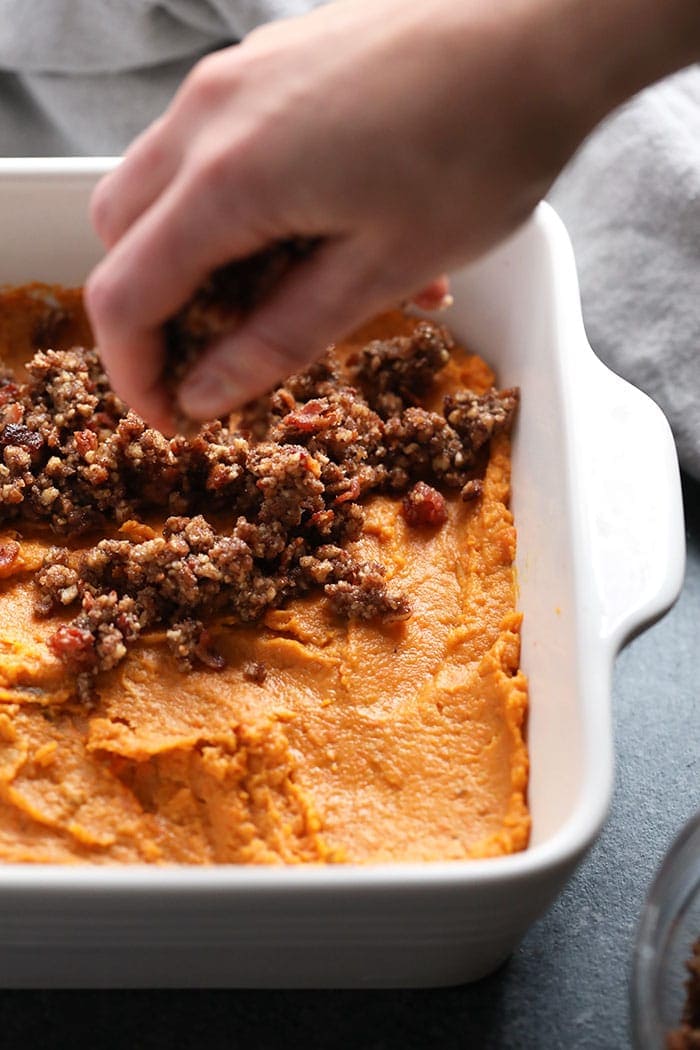 Quick Q&A
Can you make this casserole ahead of time?
You CAN make this healthy sweet potato casserole ahead of time! We recommend making the sweet potato casserole 1 or 2 days before your meal.
Follow the directions as written and let it cool completely.
Then, cover it with plastic wrap or aluminum foil and store in the refrigerator.
When you're ready to reheat it, cover with tin foil and place it in the oven at 325ºF for 15-25 minutes, checking every 10 minutes.
How do you keep sweet potato casserole warm?
After your sweet potato casserole has cooked all the way, remove it from the oven and cover with tin foil. It should stay warm for up to 30 minutes.
If you're not planning to eat for anything over 30 minutes, turn your oven to low (160ºF) and let the casserole keep warm in the oven.
To reheat from chilled: If you need to reheat the sweet potato casserole, place it in the oven at 325ºF for 10-20 minutes and then serve immediately.
What is the difference between sweet potatoes vs. yams?
In American grocery stores, there is no difference between sweet potatoes and yams! REAL yams are harder to find but tend to be more similar to yucca. Real yams will have the skin thicker skin that resembles bark.
If you are at the grocery store and the sweet potatoes and the yams are indistinguishable, either one will work for this recipe!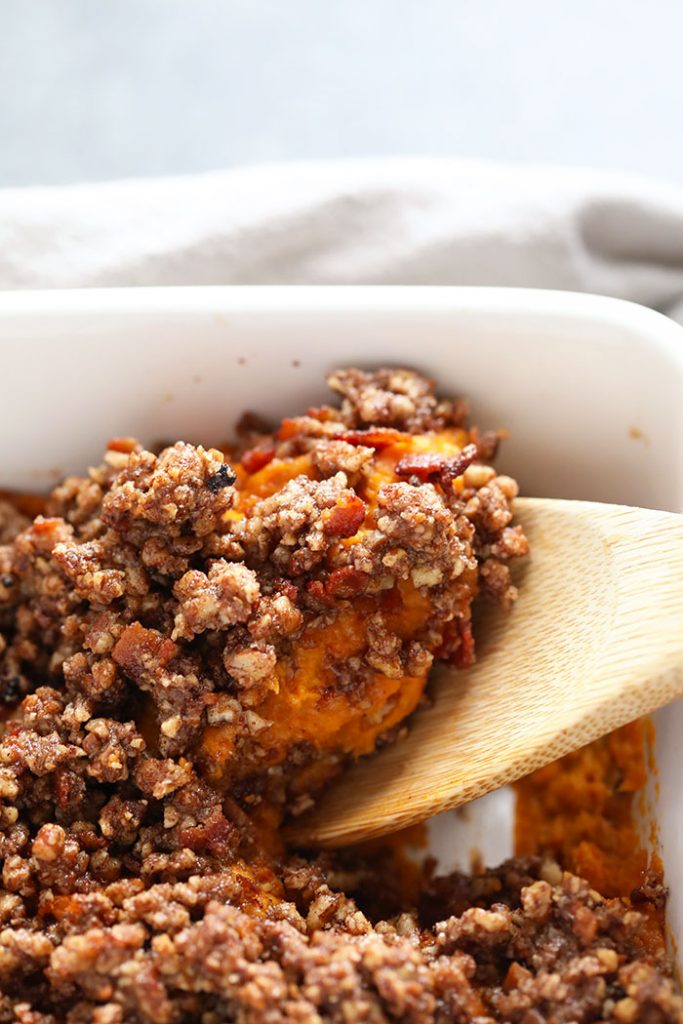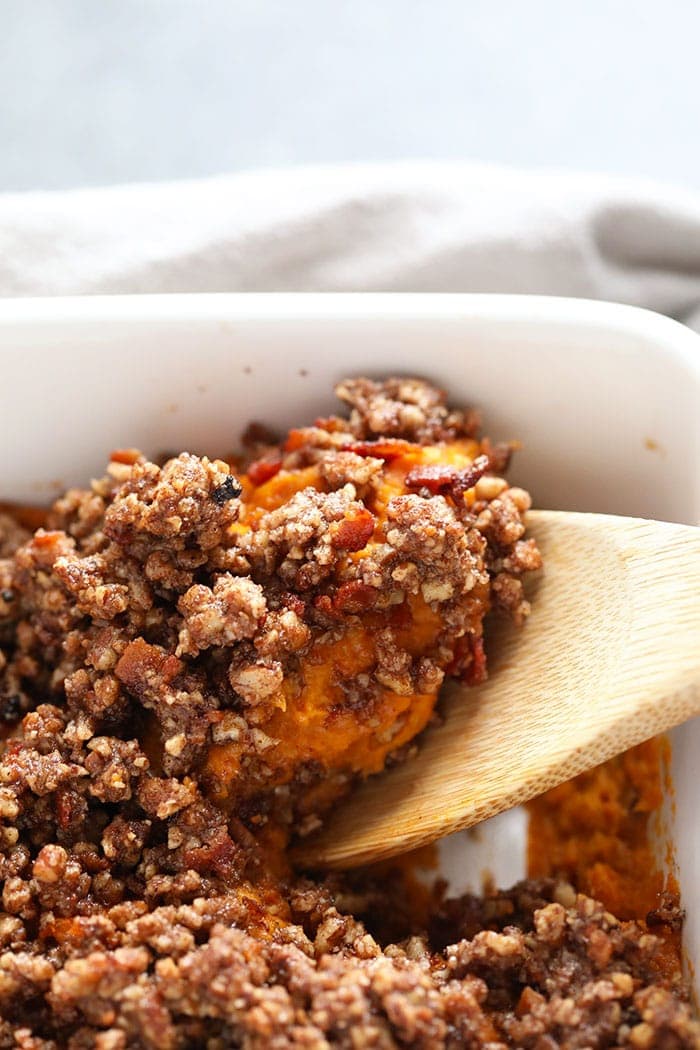 Dietary Swaps
Make it Vegan
Looking to make this healthy sweet potato casserole recipe vegan and/or dairy-free? Here are some simple swaps for you:
Greek yogurt – use a non-dairy yogurt or swap for a little vegetable broth.
Butter – use coconut oil, vegan butter, or olive oil.
Bacon – omit and add a little more salt.
Make it Gluten Free
Good news! This healthy sweet potato casserole is already naturally gluten-free!
Storage
Store sweet potato casserole in an airtight container in the refrigerator for up to 3-5 days.
Can you free sweet potato casserole? For best results, we do NOT recommend freezing this sweet potato casserole.
Can you free sweet potato casserole? For best results, we do NOT recommend freezing this sweet potato casserole.
Healthy Sweet Potato Casserole
You will love this Healthy Sweet Potato Casserole. It's made with a pecan streusel topping and a delicious mashed sweet potato center made with roasted sweet potatoes.
Prep: 30 minutesCook: 50 minutesTotal: 1 hour 20 minutes
Fat 19 Carbs 22 Protein 6
Yield 6–8 1x
Ingredients
Casserole
3

large sweet potatoes (~

3 cups

, mashed)

1 tablespoon

olive oil

1/4 cup

almond milk (or any kind of milk)

1/4 cup

nonfat Greek yogurt

1/8 teaspoon

salt
Topping
1 cup

raw pecans

1/4 cup

rolled oats

6

slices cooked bacon, diced

3 tablespoons

room temperature butter (or coconut oil)

1 teaspoon

ground cinnamon

1/4 teaspoon

ground cloves

1/4 teaspoon

ground cardamom

1/4 teaspoon

ground nutmeg

2 tablespoons

brown sugar or coconut sugar (or maple syrup)
Instructions
First, preheat your oven to 400ºF and spray an 8×8-inch baking dish with cooking spray. Set aside.
Next, peel sweet potatoes and chop them into 2-inch cubes. Place them on a baking sheet and drizzle with olive oil and toss.
Bake sweet potatoes for 25 minutes or until tender. Toss halfway.
While sweet potatoes are baking, place all ingredients for the pecan topping (except for bacon) into a large food processor. Pulse on high until ingredients form a crumble.
Add bacon to the food processor and pulse a couple more times to incorporate the bacon bits into the mixture. Remove crumble mixture from the food processor and place into a separate bowl.
Place roasted sweet potatoes, almond milk, Greek yogurt, and salt into the same food processor you used for the pecan mixture. Use the pulse feature to combine ingredients, but do not totally puree the sweet potato. You want some chunks.
Once mashed, add the sweet potato mixture to the baking dish and use a spatula to spread out evenly. Then, sprinkle pecan mixture over the top.
Bake the casserole at 350ºF for 25 minutes.
For a crispier topping broil the sweet potato casserole for 4-5 minutes. 
Tips & Notes
Storage: store in an air-tight container in the refrigerator for up to 5 days.
To make this vegan, omit the Greek yogurt and butter and swap the butter for vegan butter or coconut oil.
Nutrition Facts
Serving Size: 1/6 Calories: 268 Sugar: 9 Fat: 19 Carbohydrates: 22 Fiber: 4 Protein: 6
Author: Lee FunkeCategory: SideMethod: OvenCuisine: AmericanDiet: Gluten Free
Keywords: healthy sweet potato casserole