Start your morning out right with these Sweet Potato Pancakes! This healthy pancake recipe is made with sweet potato puree and is naturally sweetened. They are packed with vitamin A and fiber so you'll feel energized all day long.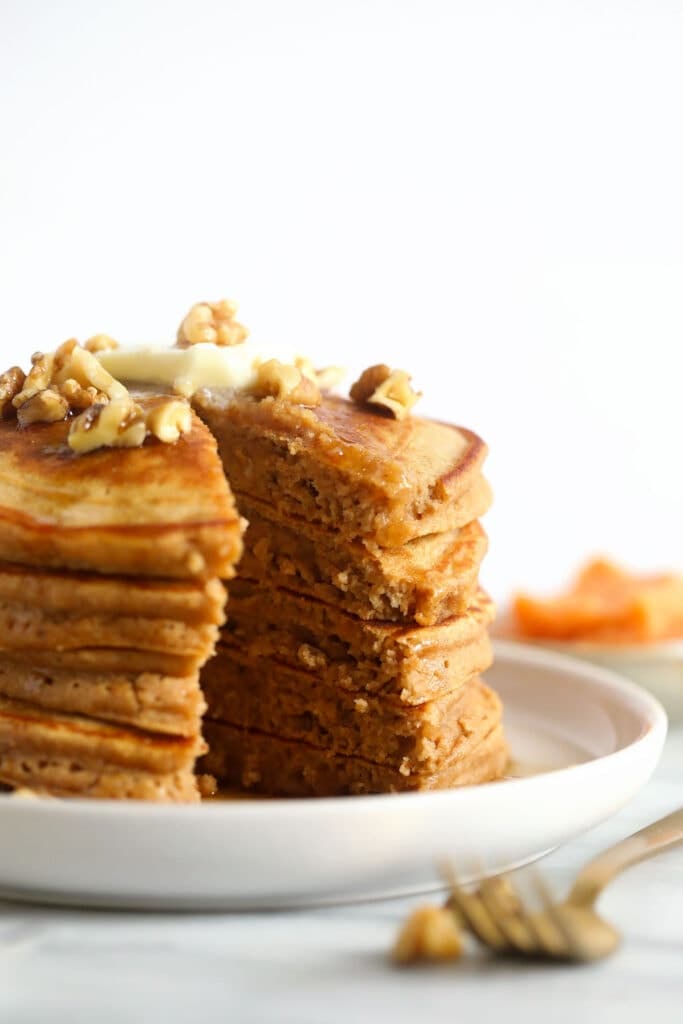 Sweet Potato Recipes
It is no secret that we love sweet potatoes here on Fit Foodie Finds. We have so many delicious sweet potato recipes where sweet potatoes are the main dish and recipes that use sweet potato puree to create delicious flavorful recipes. You just can't go wrong.
Why sweet potatoes? Let us tell you why!
Benefits of Sweet Potatoes
Packed with Vitamin A
1 medium sweet potato provides 4 times the amount of recommended vitamin A. Vitamin A supports vision health, bone development, and immune function.
Lots of Vitamin C
If you're looking to up your vitamin C intake, sweet potatoes are for you. You'll find 35% of your daily recommended amount of vitamin C in a medium sweet potato. Vitamin C is great for absorbing iron, fighting infection, and healing wounds.
So Much Fiber
Sometimes it's hard to find a nutritious vegetable that will keep you fuller, longer. Sweet potatoes are fiber rich so they are sure to keep you satisfied until your next meal.
Packed with Complex Carbs
Sweet potatoes are made up of complex carbs, so no sugar highs and no sugar lows!
These magnificent Sweet Potato Pancakes are just another delicious sweet potato recipe. SO MUCH SWEET POTATO LOVE.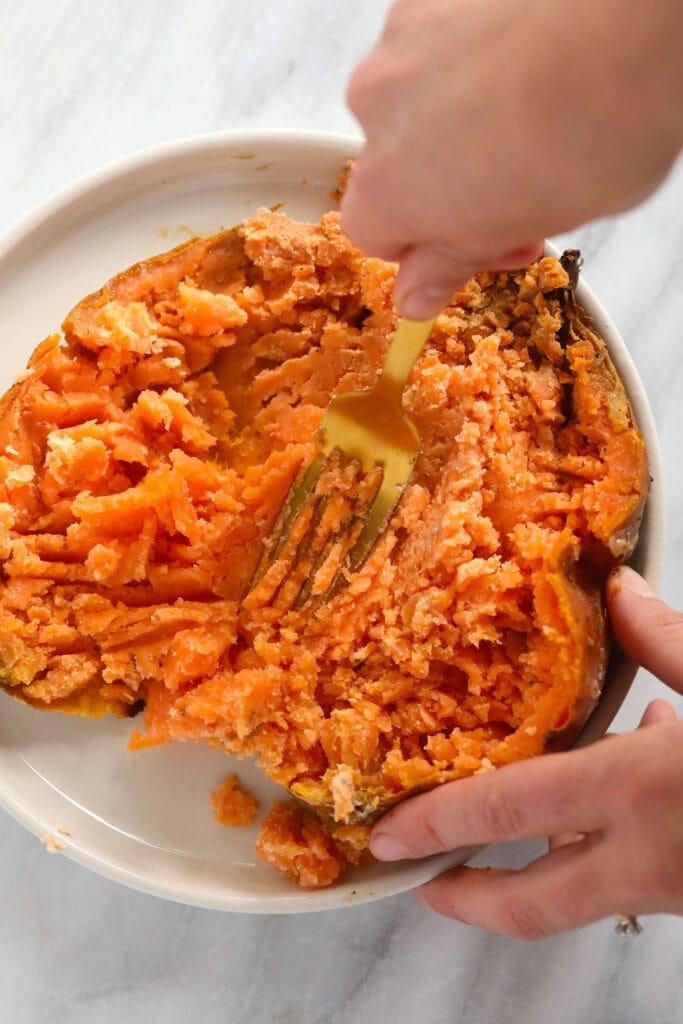 How to Cook with Sweet Potatoes
Sweet potatoes can be prepared a few different ways. How you prepare your sweet potatoes depends on what recipe you are making!
Roasted Sweet Potatoes are great for a side dish or if you are preparing a recipe like a buddha bowl or a breakfast hash!
Baked Sweet Potatoes are also great as a side dish or a main dish if you make them loaded sweet potatoes! We also like to turn our left over baked sweet potatoes into potato puree to use later!
Sweet Potato Puree is a great ingredient for baked goods like these sweet potato brownies and these healthy sweet potato pancakes!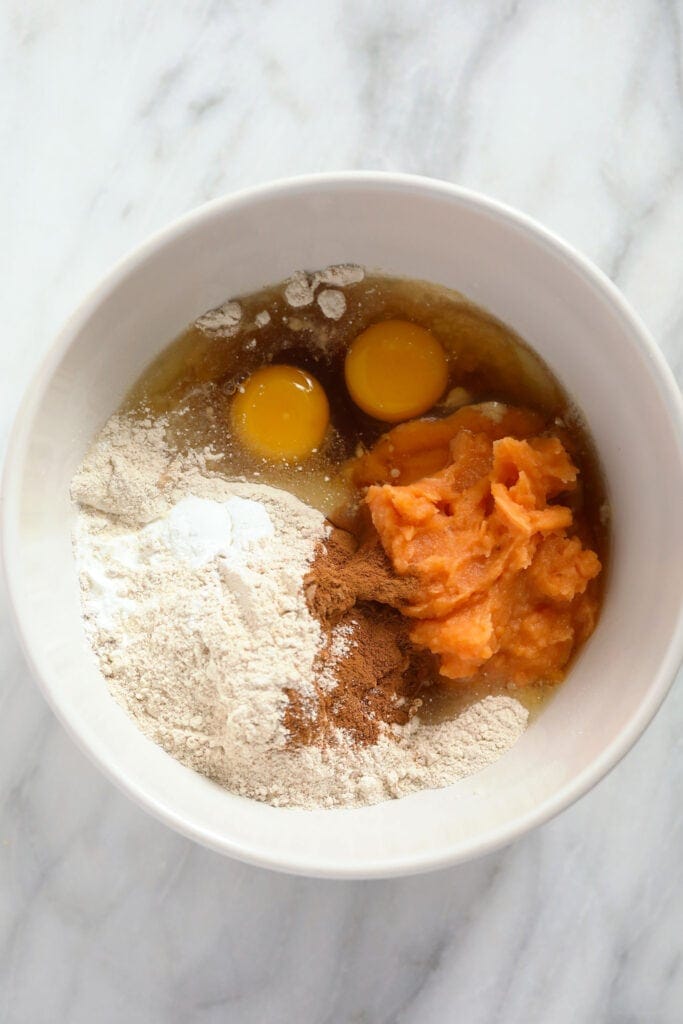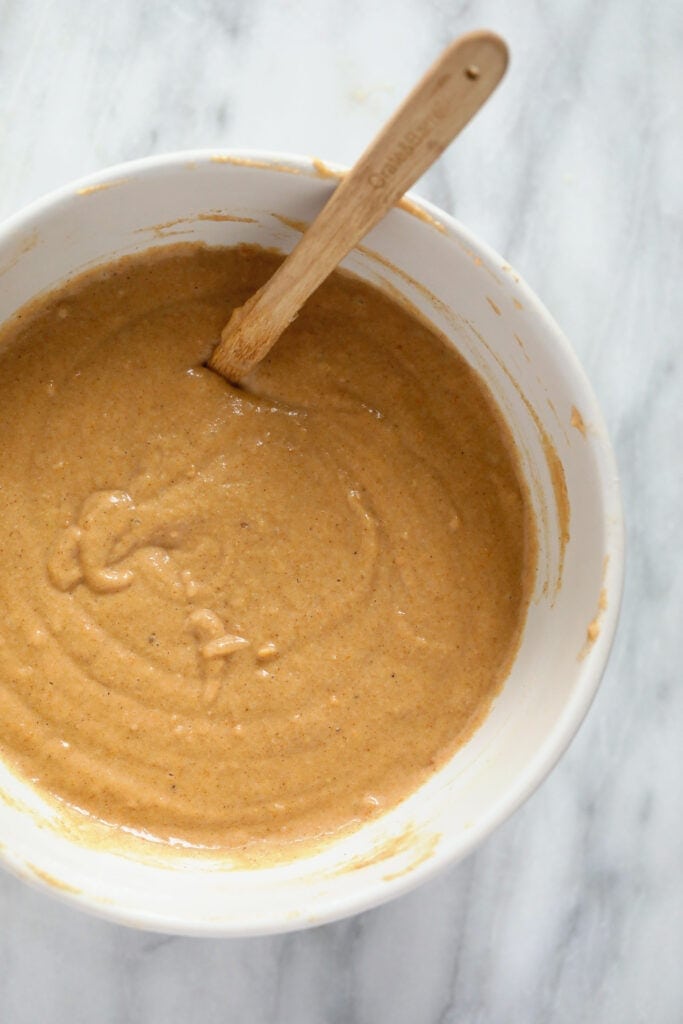 Why Should I Make Sweet Potato Pancakes?
They are easy.
The fact that you can mix eggs, flour, and sweet potato puree together to make delicious and healthy pancake recipe, still blows my mind sometimes.
You can puree your own sweet potato (learn how to HERE) or you can buy pureed sweet potatoes at the store, they will both work just fine!
They are healthy.
These sweet potato pancakes are my favorite healthy pancakes so far on FFF. We all know I've had quite a few pancakes in my day. They are perfect for a lazy Sunday morning or for a meal prep breakfast for the week.
You can meal prep them.
If you've never meal-prepped pancakes, it's amazing. All you do is make a batch or two of pancakes, let them cool, then throw them in a freezer safe bag for later.
When you're feeling like pancakes on a weekday morning, all you have to do is throw them in a toaster and BAM. Pancakes.
You can top them.
I love to serve these sweet potato pancakes with a little bit of almond butter and maple syrup, but if you're craving savory breakfast, try serving them with a fried egg. YUM.
here's a tip
Do you have left over sweet potatoes or sweet potato puree? Feel free to freeze it for later! All you have to do is let the sweet potatoes cool completely before purring them in a freezer safe container and then placing them in the freezer.
They will last up to 3 months in the freezer!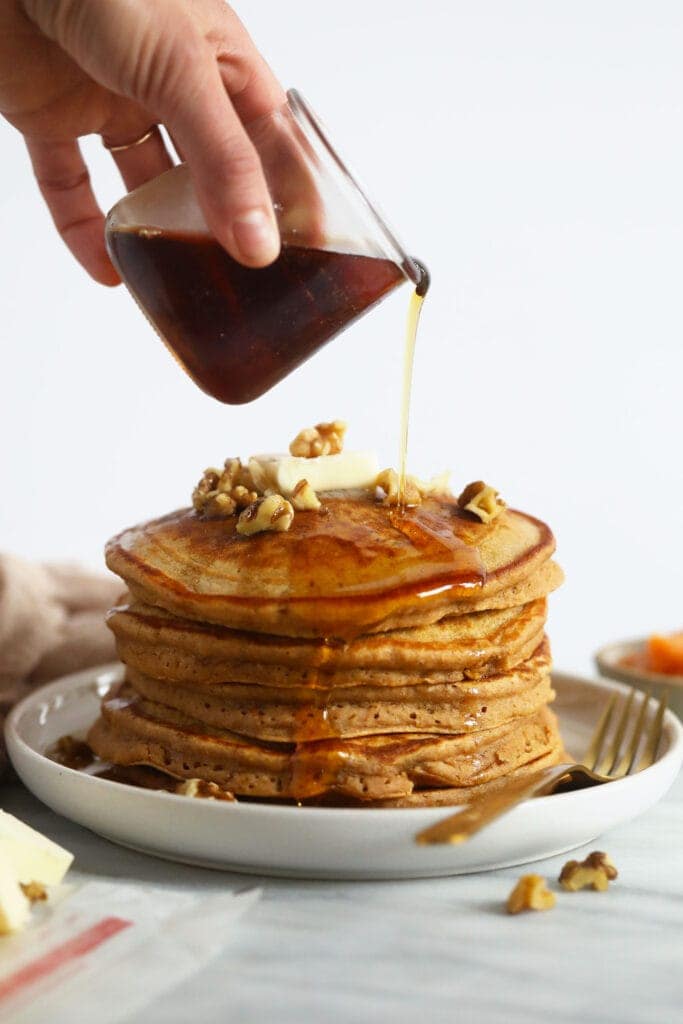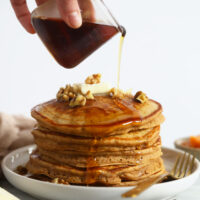 Healthy Sweet Potato Pancakes
Start your morning out right with these Sweet Potato Pancakes! This healthy pancake recipe is made with sweet potato puree and is naturally sweetened. They are packed with vitamin A and fiber so you'll feel energized all day long.
Prep: 5 minsCook: 10 minsTotal: 15 minutes
Fat 5 Carbs 27 Protein 5
Yield 8 1x
Ingredients
Dry Ingredients
1.5 cup

s white whole wheat flour

2 teaspoons

 baking powder

1 teaspoon

ground cinnamon

1/4 teaspoon

ground ginger

1/8 teaspoon

ground allspice

1/8 teaspoon

 salt
Wet Ingredients
2

 large eggs

3/4 cup

 unsweetened almond milk

1 cup

sweet potato puree

2 tablespoon

 maple syrup

1 teaspoon

 vanilla extract

2 tablespoon

s melted coconut oil
Instructions
In a medium bowl, mix together dry ingredients. Set aside. In a large bowl, whisk together wet ingredients.
Then, slowly add wet ingredients to dry and mix until there are no lumps.
Heat a skillet to medium heat and spray with coconut oil cooking spray. Use around a 1/3 cup scoop and pour batter onto skillet. Cool for around 2-3 minutes per side.
Serve with almond butter and maple syrup!
Tips & Notes
This recipe was updated on September 23, 2020.
Nutrition Facts
Serving Size: 1/8 Calories: 182 Sugar: 8 Sodium: 6 Fat: 5 Carbohydrates: 27 Fiber: 4 Protein: 5
Author: Lee HershCategory: BreakfastMethod: Stove topCuisine: American
Keywords: sweet potato pancakes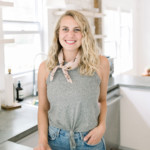 Lee is the founder of Fit Foodie Finds and based in Minneapolis, MN. She started this website in 2010 as a way to share her love for real food and wellness.