This grilled bruschetta chicken is marinated and grilled to perfection and then topped with mozzarella and fresh bruschetta.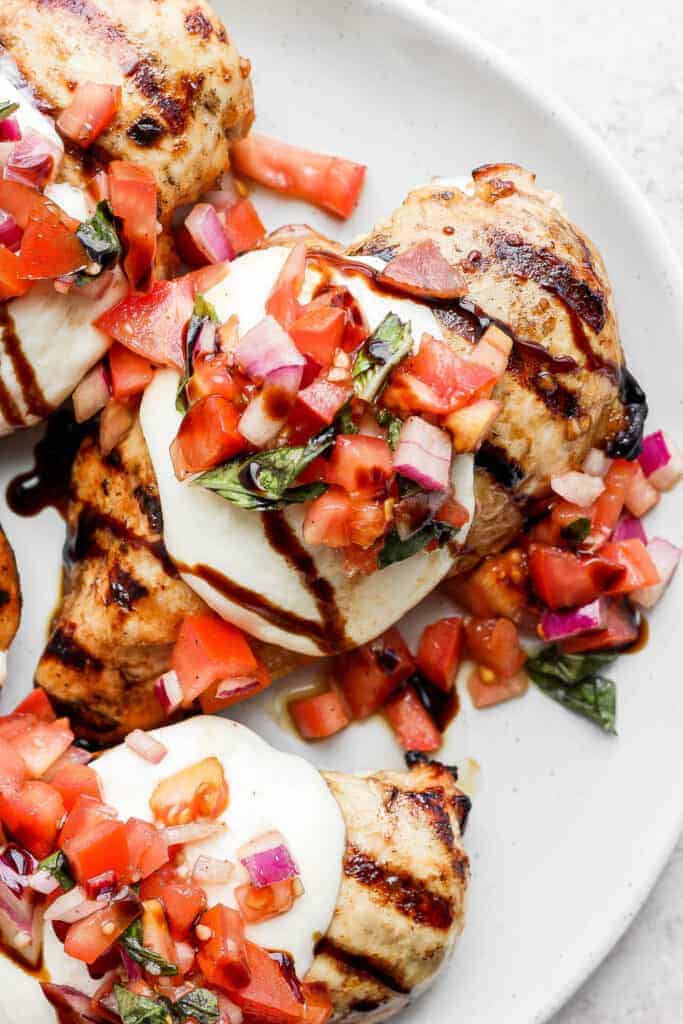 What is Bruschetta Chicken?
To understand what bruschetta chicken, first you have to know what makes up a classic bruschetta recipe!
Classic bruschetta is an Italian appetizer where you rub pieces of bread with garlic, bake the bread, and then top with with olive oil, fresh chopped tomatoes, basil, and other fresh ingredients.
For this grilled bruschetta chicken recipe we lost the bread and added chicken and mozzarella. It is the perfect summer dinner recipe!
Ingredients you need
There are a few different layers to this salad which comes with a list of ingredients! Have no fear, most of the ingredients for this recipe are very common and easy to find.
Balsamic vinegar- you are going to use balsamic vinegar in the chicken marinade and the bruschetta topping. It adds both a sweetness and a tartness to this recipe.
Olive oil– use a little EVOO in both the marinade and the bruschetta for this recipe! We love the flavor olive oil gives this recipe, so we don't suggest using any other oil.
Worcestershire- most of our chicken marinades have a bit of Worcestershire for a salty + and vinegary finish.
Honey– Ya need a little honey to balance out all of the flavors in this recipe. Feel free to use maple syrup instead!
Dijon mustard– adding a little dijon mustard adds a little depth to any recipe!
Lemon juice + zest– brighten up any recipe with a little lemon juice and lemon zest.
Garlic- don't ever skip the garlic! Garlic is a key ingredient to any bruschetta recipe.
Red pepper flakes- adding a little spice makes everything nice.
Salt + Black pepper– salt enhances all of the flavors from other ingredients! Feel free to salt and pepper to taste at the end of the recipe but be sure to season in layers.
Roma tomatoes– we used Roma tomatoes for this bruschetta recipe, but feel free to use any kind of tomato for this recipe.
Red onion– we serve this bruschetta with raw red onion, if you're not a fan of raw onion, feel free to caramelize the onions first!
Fresh basil leaves– go big on the basil leaves for the bruschetta. Tear the basil leaves into bigger pieces rather than small, they will stay fresher, longer.
Boneless chicken breasts– buy yourself 4 large boneless, skinless chicken breasts.
Mozzarella cheese– we suggest buying a log of mozzarella and cutting it into thin slices since we're trying to melt the cheese rather than mozzarella balls.
Balsamic reduction– after you've assembled the grilled chicken bruschetta, finish it off by drizzling a balsamic reduction over the top. We used store bought, but feel free to make your yourself!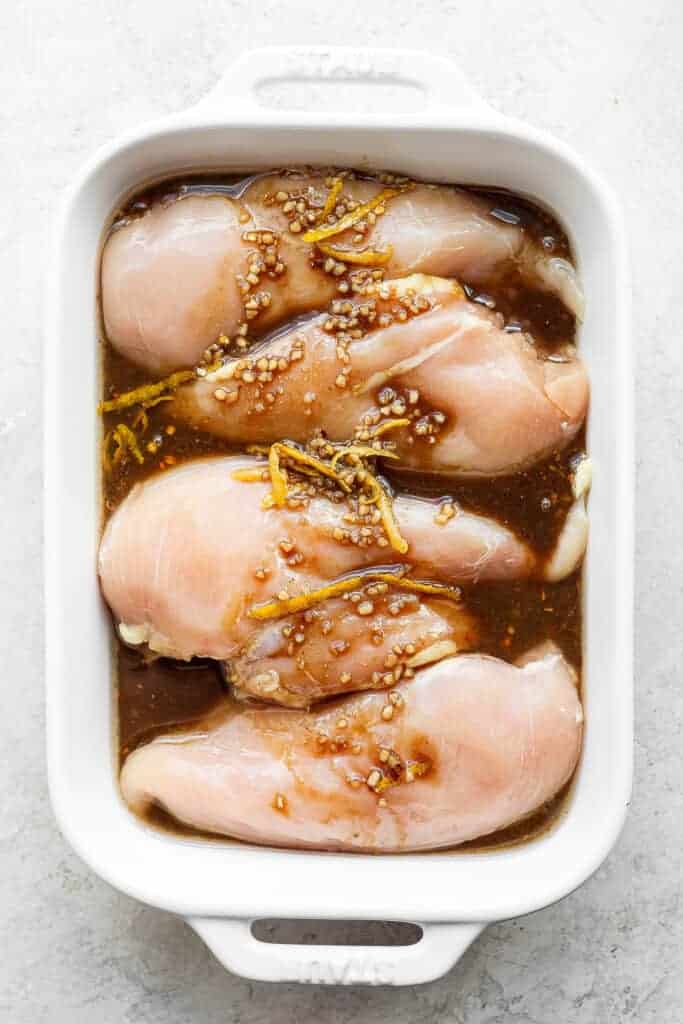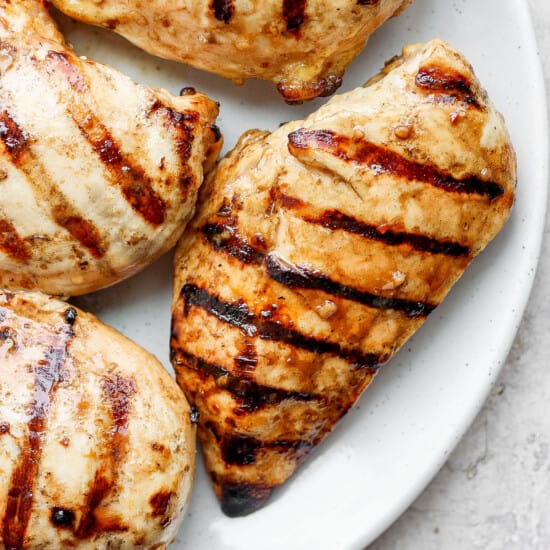 How to Make Bruschetta Chicken
Marinate Chicken. Mix all of the ingredients for the grilled chicken marinade in a bowl and then pour it over the chicken in a Ziploc bag or casserole dish. Cover and refrigerate for at least 2 hours, but we recommend overnight for the best flavor.
Prepare bruschetta. Chop your tomatoes and sprinkle them with salt and let the tomatoes sit for 10-15 minutes to draw out excess water. Discard excess water and add the rest of the bruschetta ingredients to the bowl and mix everything together. Place the bruschetta in the fridge.
Grill Chicken. Remove the chicken from the fridge and preheat the grill to 375ºF. Shake the marinade off the chicken and place the chicken on the grill. Grill over direct heat for 4 minutes on each side and then 10 more minutes off direct heat.
Add Cheese. Add the mozzarella slices to the chicken breasts and let the mozzarella melt.
Assemble + Drizzle. Place the chicken breast on a plate and top the chicken breast with the bruschetta and then drizzle with the balsamic glaze!
Don't skip salting the tomatoes and drawing out excess water! You will end up with a watery bruschetta!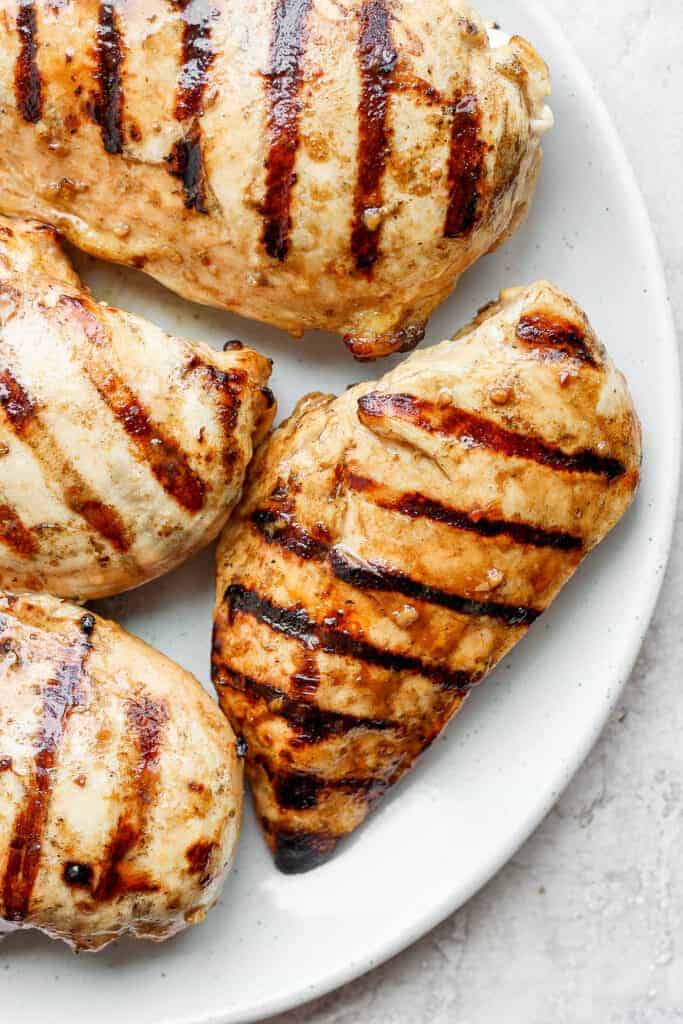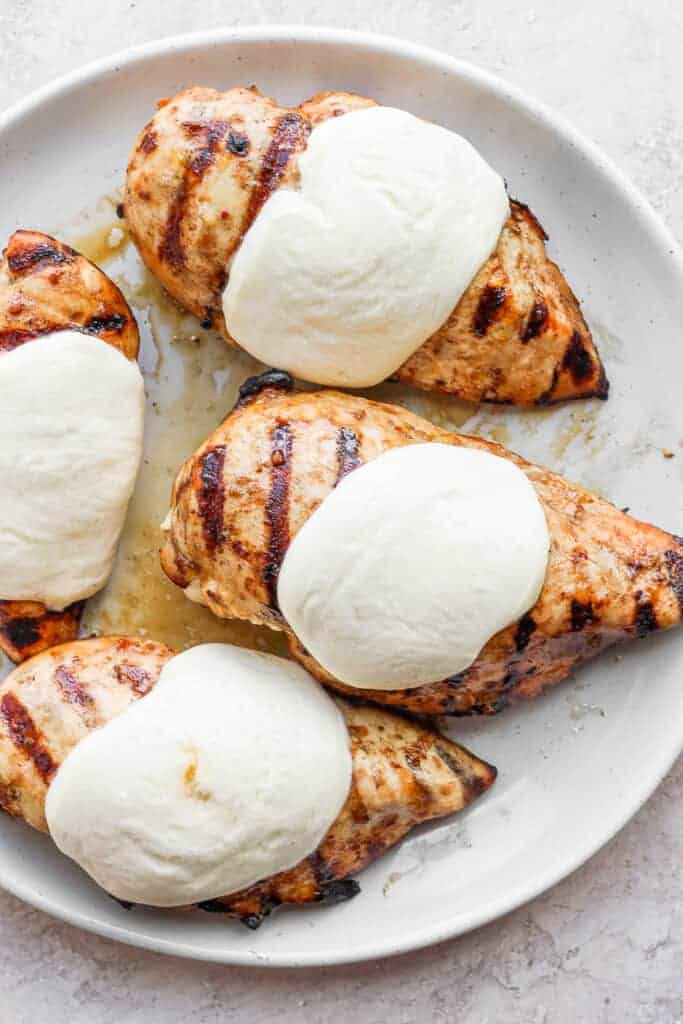 All You Need to Know Bruschetta Chicken
What does bruschetta taste like?
Bruschetta tastes like a fresh tomato salad with a hint of garlic. It's delicious!
Can I use a different kind of chicken in this recipe?
Yes, you can use chicken thighs for this recipe. Just follow the recipe, and let it grill for an additional 5-10 minutes or until the internal temperature reaches 165ºF.
How do I serve grilled bruschetta chicken?
You can serve bruschetta chicken by itself, over pasta, or with a side of garlic bread.
How long does bruschetta chicken last in the fridge?
Bruschetta chicken will last up to 5 days in the refrigerator in an air tight container.
Other Ways to Cook the Chicken
If you want to enjoy this bruschetta chicken, but don't have a grill you can cook the chicken a few different ways! Follow the recipe card other than the grilling instructions!
What to Serve with Bruschetta Chicken
You can serve this bruschetta chicken with any of the delicious recipes below for a complete and well rounded meal.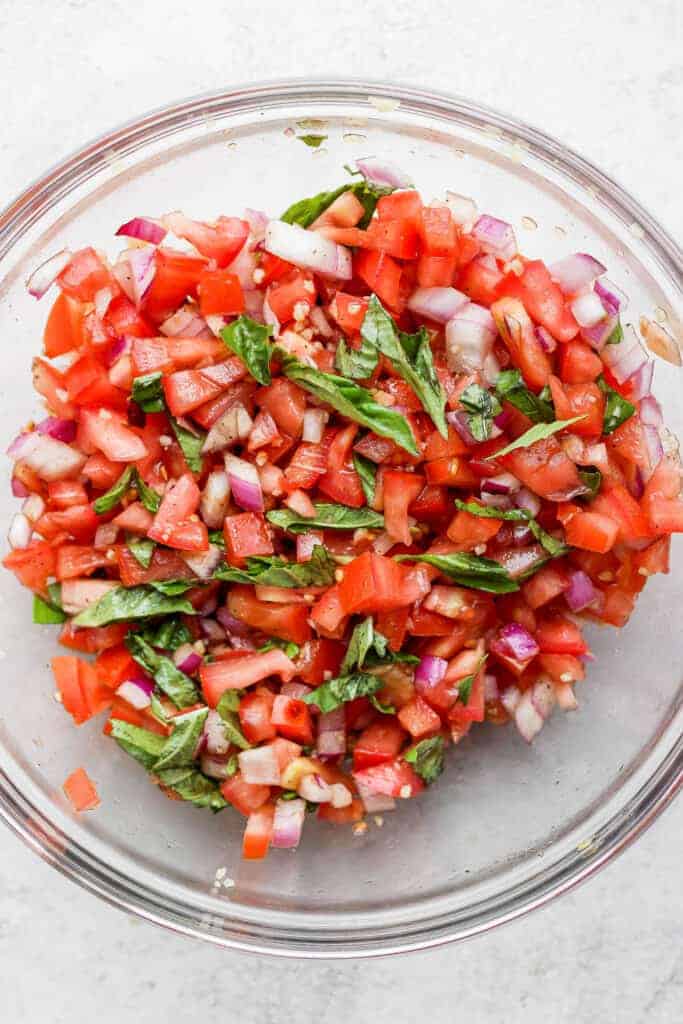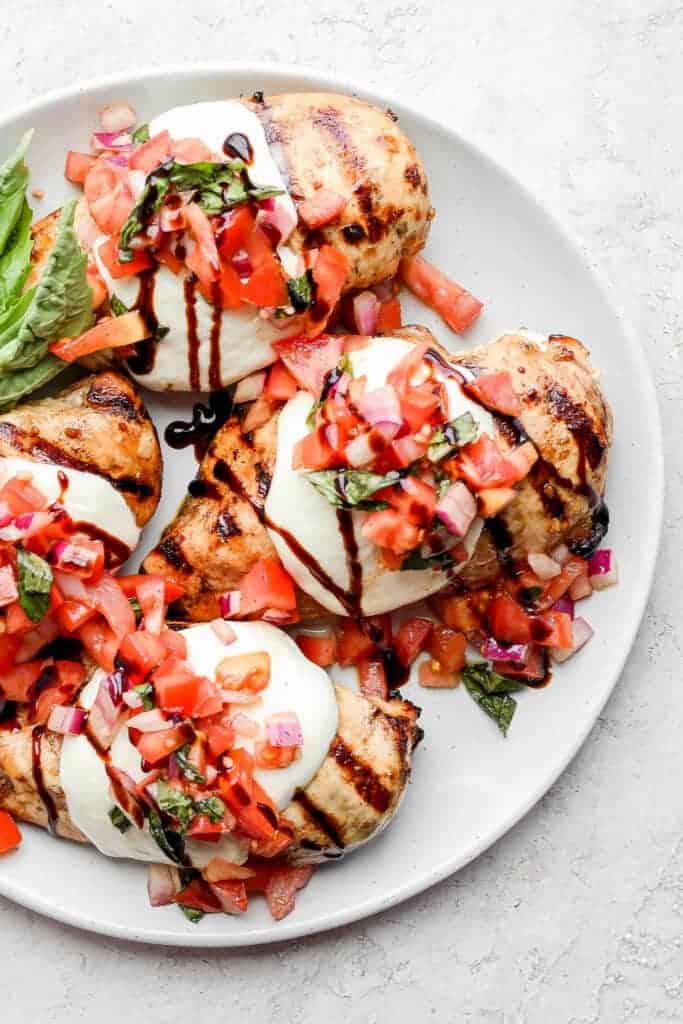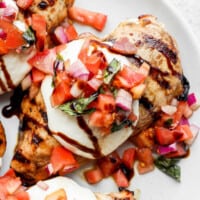 Grilled Bruschetta Chicken Recipe
This grilled bruschetta is an easy chicken recipe for any night of the week. It is a flavorful grilled chicken, topped with mozzarella and bruschetta! 
Prep: 1 hourCook: 18 minutesTotal: 1 hour 18 minutes
Fat 20 Carbs 18 Protein 43
Yield 4 1x
Ingredients
Chicken Marinade
1/4 cup

balsamic vinegar 

2 tablespoon

olive oil 

2 tablespoon

Worcestershire

2 tablespoon

honey

1 tablespoon

dijon mustard 

1/4 cup

lemon juice 

1 teaspoon

lemon zest 

1.5 tablespoons

minced garlic 

⅛ teaspoon

red pepper flakes 

1/4 teaspoon

salt 

1/4 teaspoon

black pepper

(4) 6-oz. boneless chicken breasts (~1.5 pounds) 
Bruschetta Topping
4

large Roma tomatoes, finely diced

¼ teaspoon

salt 

½

small red onion, finely minced

2

garlic cloves, finely grated 

⅛ teaspoon

ground pepper 

1 tablespoon

olive oil 

1 tablespoon

balsamic vinegar 

8

–

10

fresh basil leaves, julienned 
Bruschetta Chicken
4

-oz. Mozzarella cheese, thinly sliced (we used the fresh kind in log form)

Balsamic reduction, for topping
Instructions
Prepare the chicken marinade. Place all of the ingredients for the marinade into a jar. Cover the jar and shake until all of the ingredients are combined. 

Add the chicken breasts to a gallon-size Ziploc bag or a casserole dish and pour the marinade over the chicken. Be sure the chicken is completely coated in the marinade. Seal the bag and place the chicken in the fridge for at least 30 minutes or as long as overnight (the longer the better). 

While the chicken is marinating, prepare the bruschetta topping. Place the diced tomatoes in a sieve and sprinkle them with ¼ teaspoon salt. Mix the two ingredients together. Place the sieve over a large bowl and let the tomatoes sit for 10 minutes to drain excess liquid from the tomatoes. Discard the excess liquid and place the tomatoes in a large mixing bowl. 

Add the red onion, garlic, pepper, olive oil, balsamic vinegar, and basil to the bowl with the tomatoes and toss. Set aside for later.

Preheat the grill to 375ºF. 

Remove the chicken from the refrigerator and remove the chicken breasts from the marinade. Let excess marinade drip off of the chicken breasts. Do not discard the marinade. 

Place the chicken breasts over direct heat for 4 minutes, brush each chicken breast with excess marinade and then flip the chicken breast over and grill for another 4 minutes over direct heat. 

Move the chicken breasts over to indirect heat and grill them for an additional 10 minutes. 

When the chicken is almost fully cooked, around 155ºF – 160ºF, place thin slices of mozzarella cheese on top of each chicken breast. Once the chicken reaches 165ºF and the mozzarella cheese has melted, remove the chicken from the grill and let rest for 5 minutes.  

Serve chicken breast topped with a generous amount of bruschetta and a drizzle of balsamic reduction.
Nutrition Facts
Serving Size: 1/4 Calories: 438 Sugar: 15 Sodium: 599 Fat: 20 Carbohydrates: 18 Fiber: 1 Protein: 43 Cholesterol: 80
Author: Linley HansonCategory: ChickenMethod: GrillCuisine: Italian American
Keywords: Bruschetta Chicken
Photography: photos taken in this post are by Erin from The Wooden Skillet.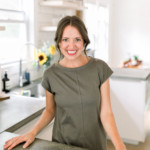 Linley is a 5′ nothing spitball of positive energy who joined Team Fit Foodie in the Spring of 2014. Linley has worked on the digital side of small businesses and nonprofits since 2011, where she specialized in social media community management. Lin has a passion for food and an incredible palate. She is FFF's chief recipe developer, so you can thank her for these incredible recipes!