This Greek salad is made with sweet cherry tomatoes, cucumber, red onion, feta, and homemade Greek salad dressing! It is perfect for meal prep, a summer picnic, or just a healthy summer meal!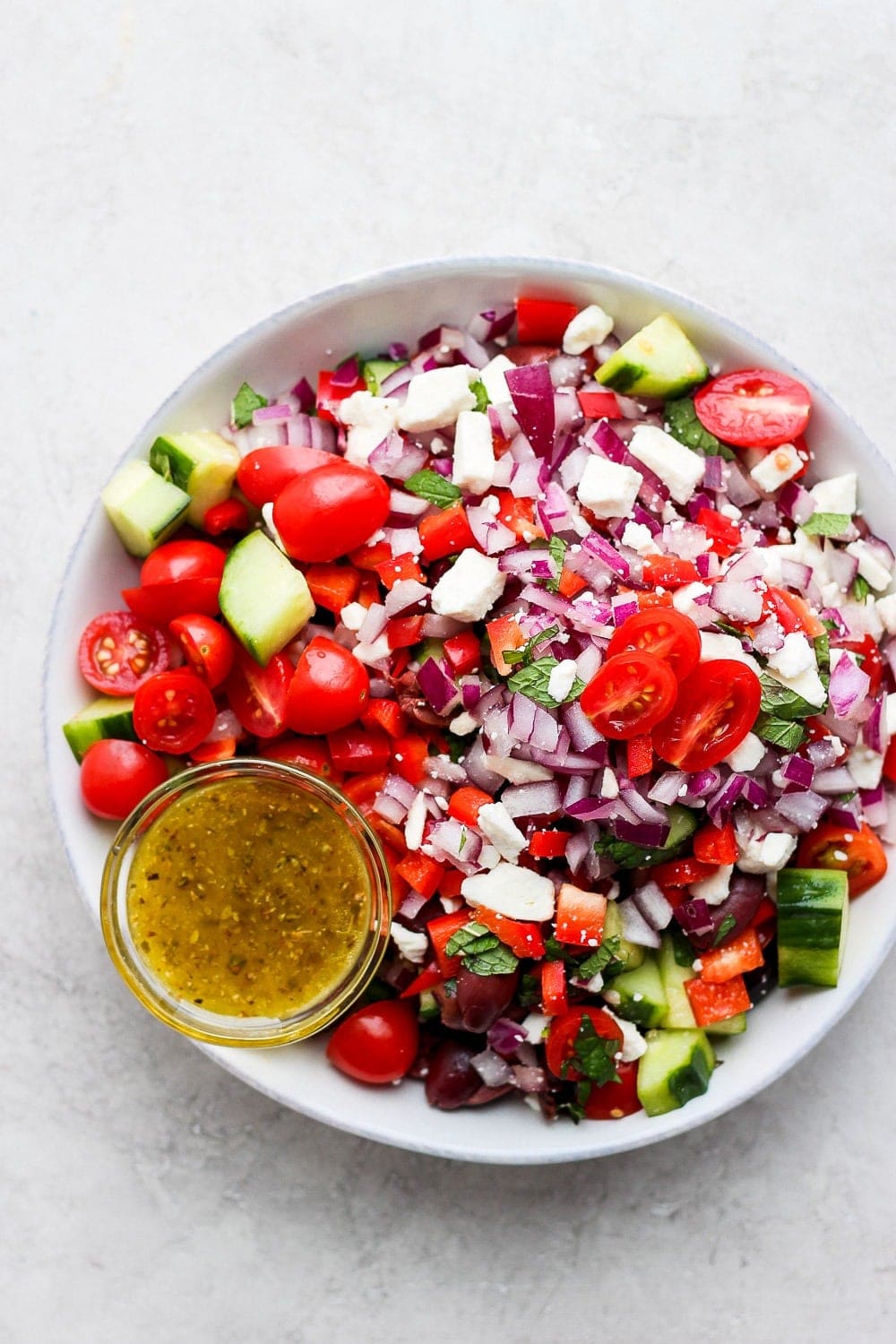 Greek Salad = The Perfect Salad
What is the perfect salad? It means something different to everyone, but this Greek salad is the perfect salad to me! And guess what? It doesn't even have any greens!
We love this Greek Salad recipe for so many reasons:
Every ingredient in this salad is cut into bite-sized pieces which means you get a little of each ingredient in every bite.
This salad is great for meal prep! Just be sure to wait to add the dressing to the salad until right before you plan to eat it.
This salad is fresh, salty, and vinegary all at the same time! It's is just plain delicious.
Ingredients in a Greek Salad
Traditional Greek salad recipes are a variation of cucumbers, tomatoes, red onion, olives, and feta. We did a mixture of traditional ingredients and added a couple of ingredients that made the salad extra delicious.
Remember, the key it to cut all of the ingredients (no matter what ingredients you use) into bites size pieces.
Cucumbers
Tomatoes
Red Pepper
Feta
Red Onion
Kalamata Olives
Fresh Mint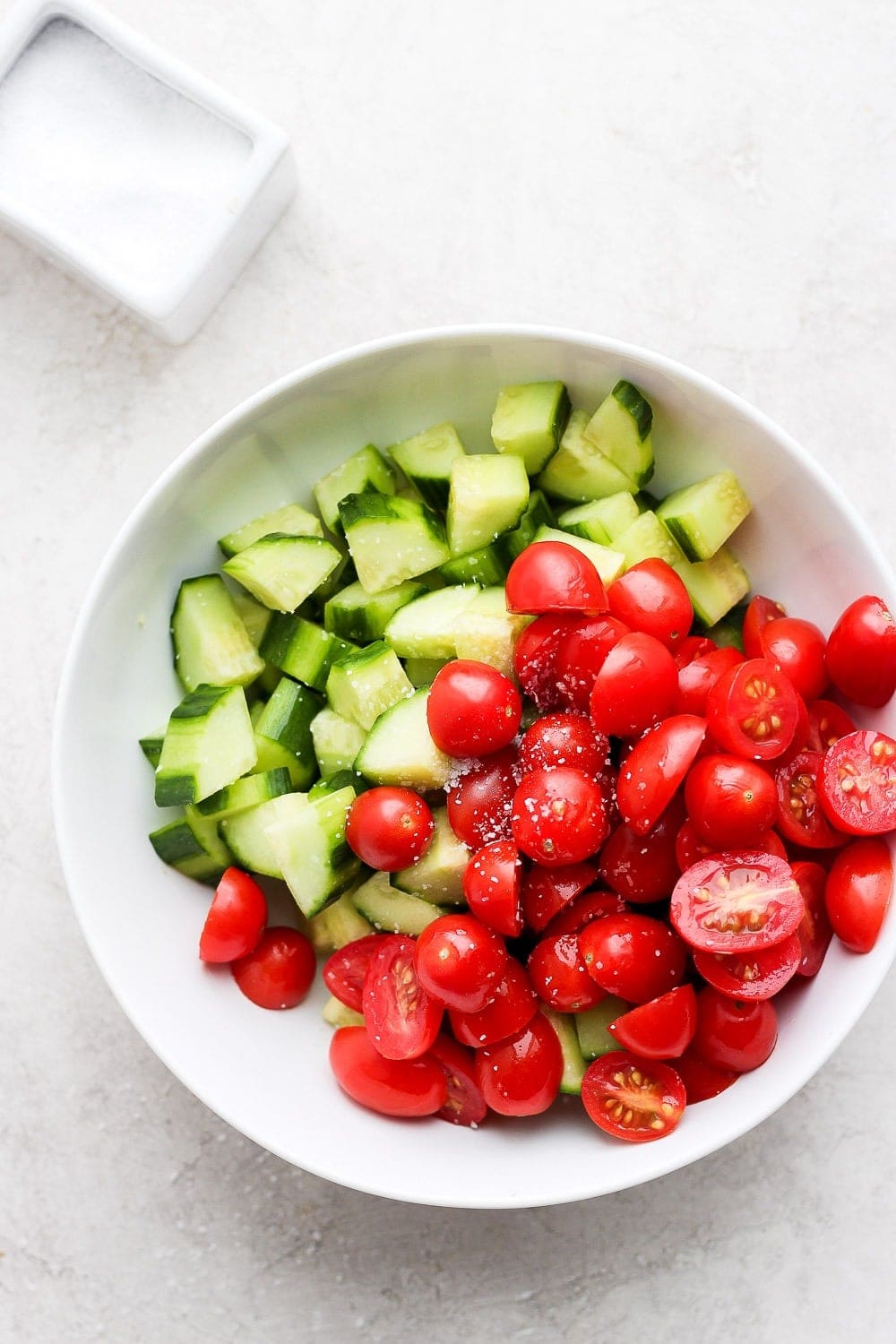 How to Prepare Tomatoes + Cucumber
This salad is very easy to prepare. The two most time-consuming parts of this salad are drawing moisture out of the cucumbers and tomatoes and mixing up the dressing. Both of which do not take much time at all!
Why do you have to take an extra step when preparing the tomatoes and cucumbers?
Tomatoes and cucumbers can hold a lot of excess moisture. So, when you toss them in a salad with a little salt, water comes out of the vegetables and leaves you with a watery salad. No thanks!
Before mixing the tomatoes and cucumbers with the rest of the salad, place the tomatoes and cucumbers in a separate bowl and sprinkle them with salt.
Let them sit for at least 15 minutes (they may need more time depending on your vegetables). After letting them sit, pour out the access water from the bowl and then mix the cucumbers and tomatoes with the rest of the other salad ingredients.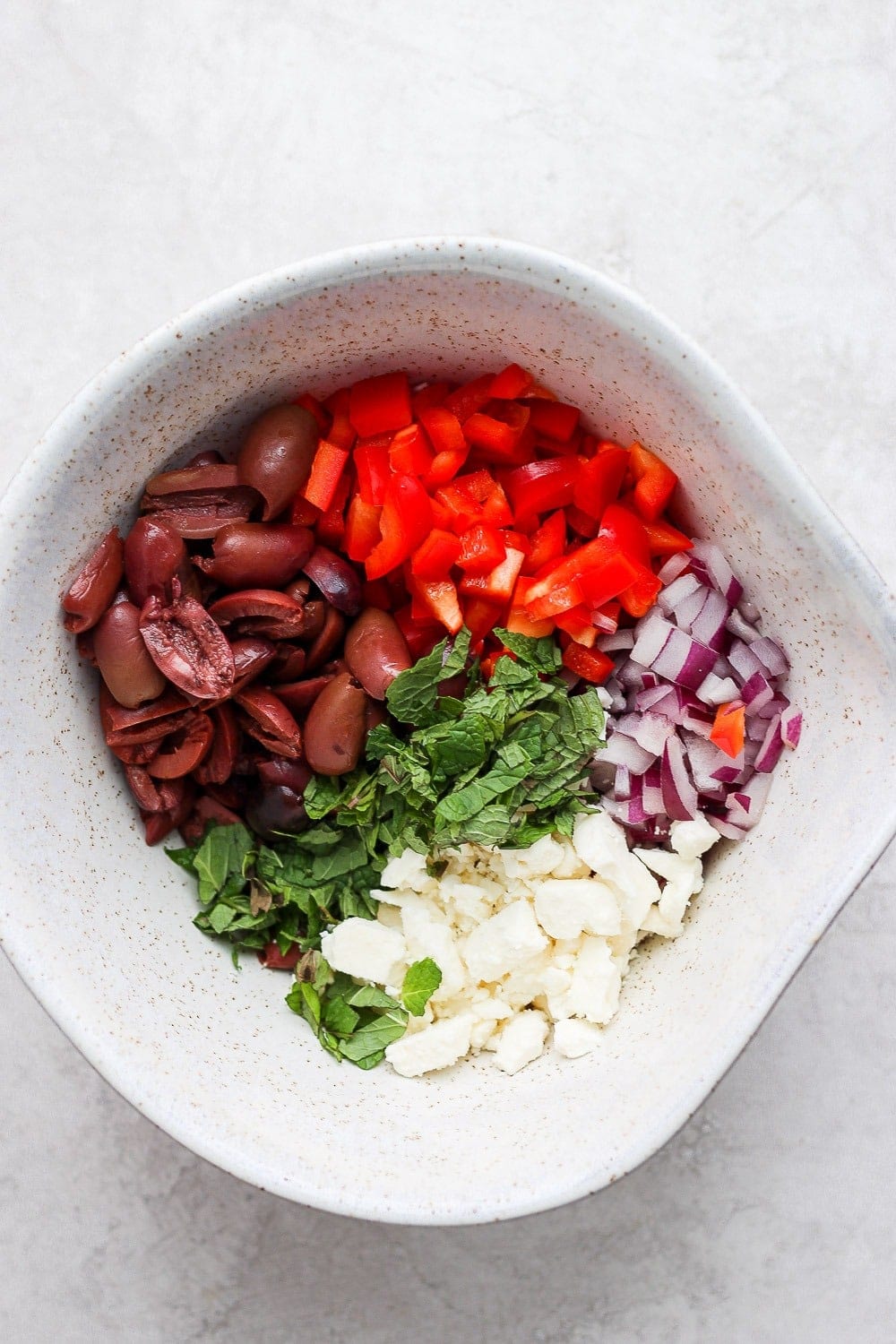 The Best Greek Salad Dressing
One way to get the most out of our Greek Salad, is to make this homemade Greek salad dressing! We recommend making this dressing in a container that has a cover like a mason jar. Here's what you need:
Olive Oil
White Wine Vinegar
Minced Garlic
Honey
Lemon Juice
Dijon Mustard
Dried Oregano
Salt
You can use the greek dressing on this Greek salad recipe and then save the rest of the dressing to make some delicious Greek chicken or Greek pasta salad.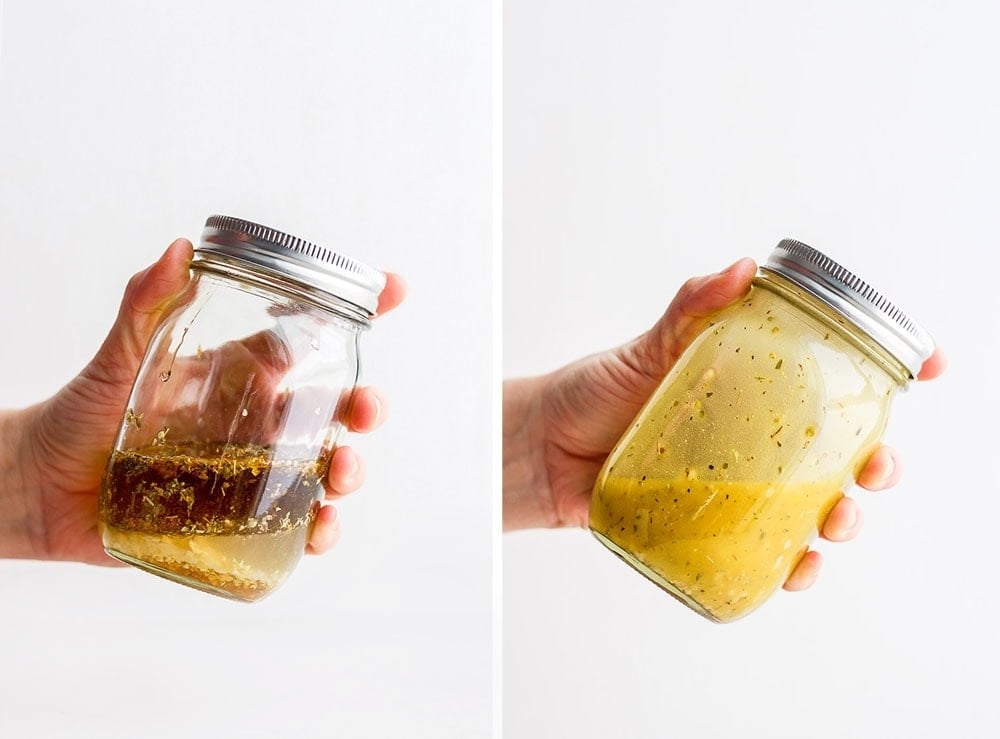 What to Serve with Greek Salad
This Greek salad is delicious on its own, but also makes for an excellent side next to some of our favorite Mediterranean dishes.
Storage
Got leftover Greek salad? Simply transfer it into an airtight container and store it in the fridge for up to 3 days.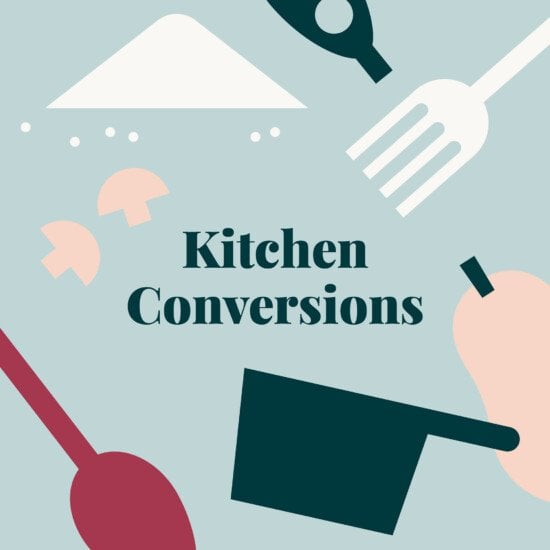 make it easy
Print Your Own
Keep common kitchen conversions like tablespoons to teaspoons and Fahrenheit to Celsius on hand at all times with our printable kitchen conversions chart.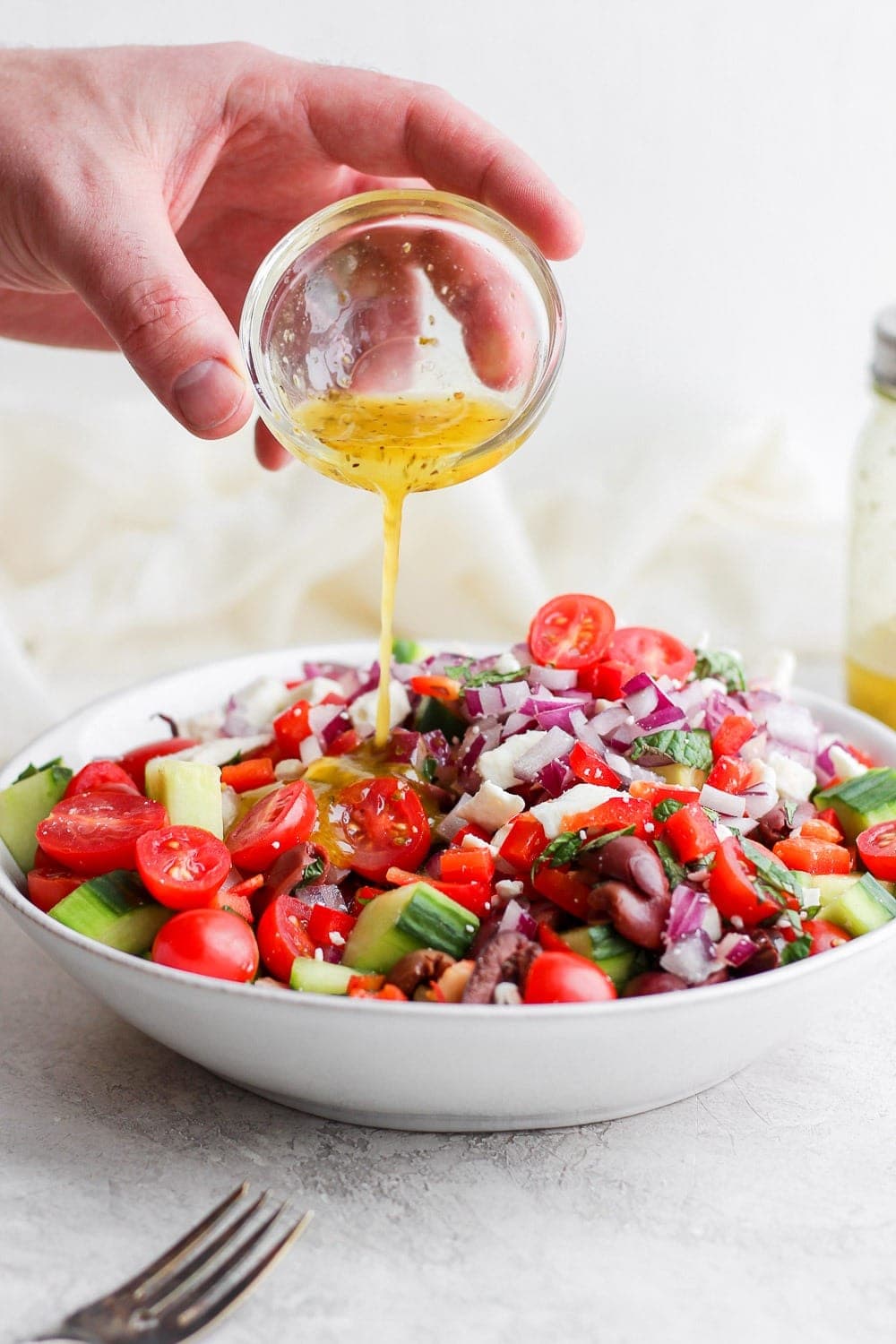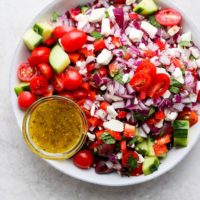 Greek Salad Recipe
This Greek salad is made with sweet cherry tomatoes, cucumber, red onion, feta, and homemade Greek salad dressing! It is perfect for meal prep, a summer picnic, or just a healthy summer meal!
Prep: 30 minutesCook: 0 minutesTotal: 30 minutes
Fat 26 Carbs 14 Protein 4
Yield 4 servings 1x
Ingredients
3 cups

sliced English cucumbers

1 pint

cherry tomatoes, halved

1/8 teaspoon

salt

1/2

red onion, finely sliced

1

large red pepper, diced

1 cup

kalamata olives, pitted and halved

1/2 cup

crumbled feta cheese

1/3 cup

chopped fresh mint, lightly packed

3

–

4

tablespoons greek salad dressing
Instructions
Begin by placing cucumbers and cherry tomatoes in a bowl and sprinkling them with salt. Mix well and let them sit for at least 15 minutes to draw out excess liquid. Set aside.
While the cucumbers and tomatoes are soaking, add the red onion, red pepper, olives, feta, and fresh mint in a large bowl.
Next, pour the cucumbers and tomatoes into a sieve and discard the excess liquid. Add them to the bowl with the rest of the salad ingredients and gently mix all of the ingredients together.
Finally, add 3-4 tablespoons of Greek salad dressing to the bowl and mix until all of the ingredients are covered in dressing. Serve immediately.
If this Greek salad is a meal prep meal, wait to add the dressing until right before serving.
Nutrition Facts
Serving Size: 1/4 Calories: 258 Sugar: 4 Fat: 26 Carbohydrates: 14 Fiber: 3 Protein: 4
Author: Linley RichterCategory: SaladMethod: No BakeCuisine: Mediterranean
Photo Credit: The Wooden Skillet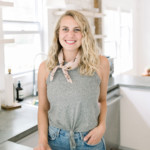 Lee is the founder of Fit Foodie Finds and based in Minneapolis, MN. She started this website in 2010 as a way to share her love for real food and wellness.