These flourless Monster Cookies are your new favorite dessert! Made with oatmeal, peanut butter, chocolate chips and M&M's, these cookies are jam-packed with all the good stuff.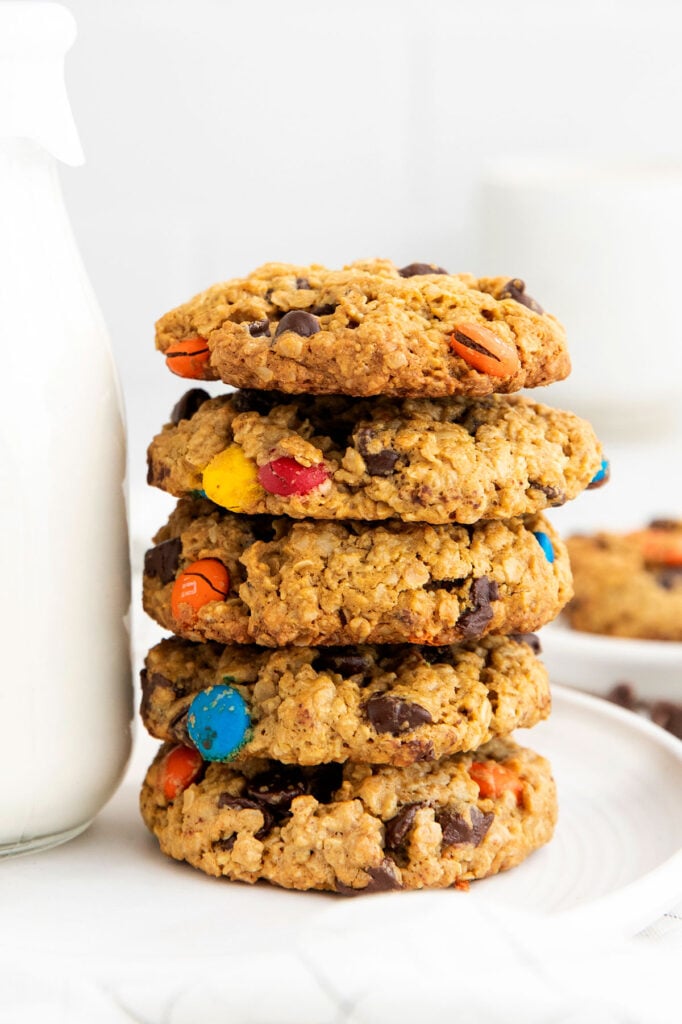 These are seriously the BEST monster cookies on the internet. They're made with the base of our famous Peanut Butter Oatmeal Cookies and are packed with chocolate.
What are monster cookies?
Monster cookies are an oatmeal and peanut butter-based cookie that are made with chocolate chips and m&m's. Monster cookies are typically big monstrous cookies that are soft and chewy.
Why you need to make these
Turns out that monster cookies are a midwest cookie and it's no surprise that they are super popular in Minnesota!
Monster cookies are my all-time favorite cookie because of the peanut butter + oatmeal + chocolate combo. Here's why you have to make this monster cookie recipe:
Flourless: there is no flour involved in our monster cookies. The base of these cookies is oats.
Jam-Packed: when I say jam-packed, I mean that you're going to get chocolate chips AND M&M's in every bite.
Easy to Freeze: make a batch (or two) and easily freeze these for up to 3 months.
BIG Cookies: most cookies are made with 1 to 1.5 tablespoons of cookie dough. These monster cookies are made with 2 heaping tablespoons. Sorry, not sorry.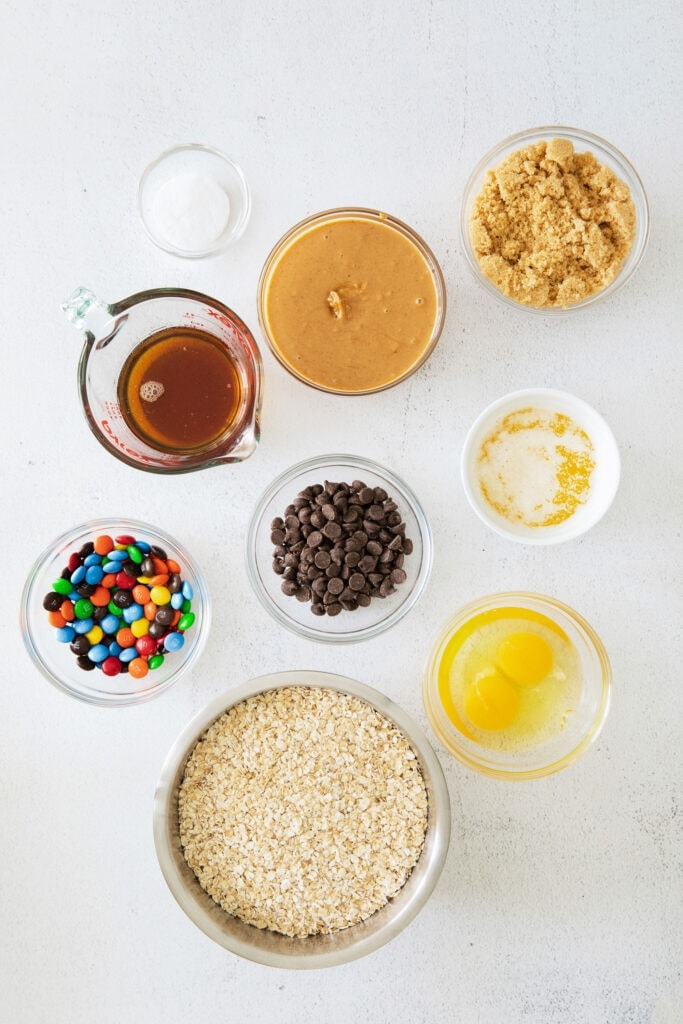 Main Ingredients for Monster Cookies
Oats: since these are flourless monster cookies, there is no flour involved. That's where oats come in! You need 2.5 cups of oatmeal.
Peanut Butter: we hope you love peanut butter because these monster cookies are loaded with it!
We tested this recipe with both normal creamy peanut butter (such as Jif) and all-natural peanut butter (that is drippy with lots of oil) and there was no difference. So, choose your favorite creamy peanut butter!
Chocolate Chips: we used semi-sweet chocolate chips, but you can also use milk chocolate or dark chocolate.
M&M's: an excuse to eat M&M's? I think yes! Feel free to use your favorite kind of M&M's.
Other Ingredients
Oats, peanut butter, chocolate chips, and M&M's are the most notable ingredients in monster cookies. Here's what else you need:
unsalted butter
brown sugar
maple syrup
egg
creamy peanut butter
vanilla
baking soda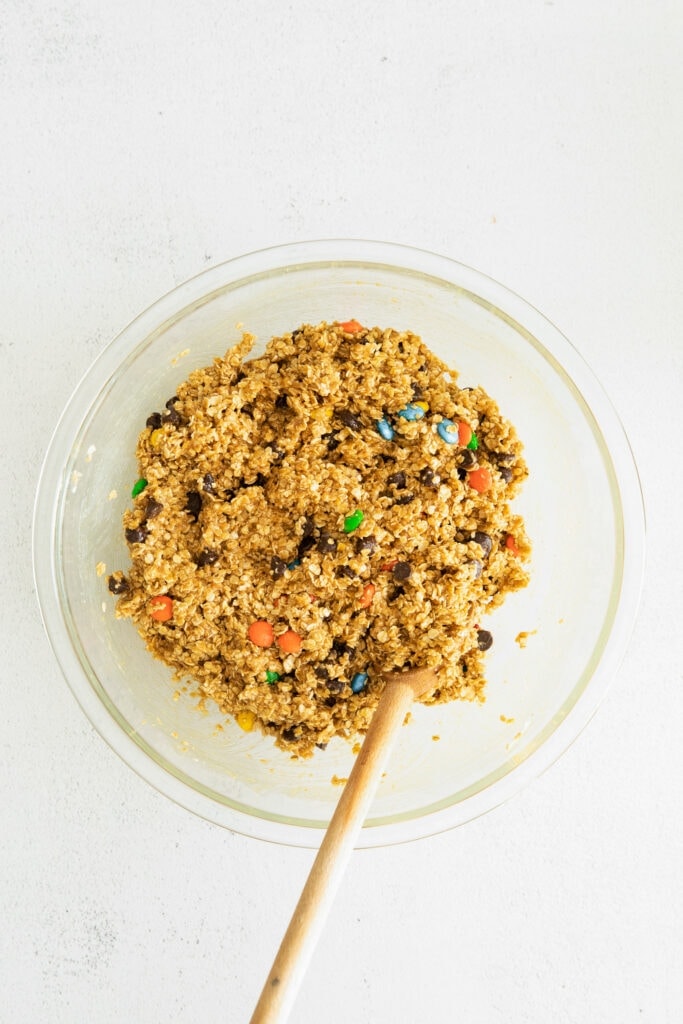 Top Tips for Monster Cookies
I took it upon myself to test these monster cookies many-a times. I'm not going to lie, I did it more for me than for you because I love these cookies that much! Here are some tips for you to use while baking these.
Refrigerate Cookie Dough: we found that these monster cookies come out best when the dough is refrigerated for at least 20 minutes. This will allow the dough to set and make it easier for you to roll them into balls.
Wet Hands Before Rolling: if you find that the dough is sticking to your hands while you're rolling it into balls, simply wet your hands a little bit and you should be good to go.
Slightly Pat Down Dough: These monster cookies don't expand a ton in the oven, so pat them down just a bit into a cookie shape.
Bake Until Golden Brown: since all ovens are different, we suggest keeping an eye on your cookies. They can go from golden brown to burned really quickly. Bake until they begin to turn golden brown around the edges.
Let Cool Completely: right when you take the cookies out of the oven they will seem super soft and delicate. This is because they are flourless. So, let them cool for at least 10 minutes on a wire rack. They will become more firm as they cool.
Recipe Variations
Nut butter: try to swap out your peanut butter for almond butter or cashew butter.
Other Add-Ins: make your monster cookies even chunkier and add other add-ins! Here are some ideas:
shredded coconut
peanuts
butterscotch chips
peanut butter chips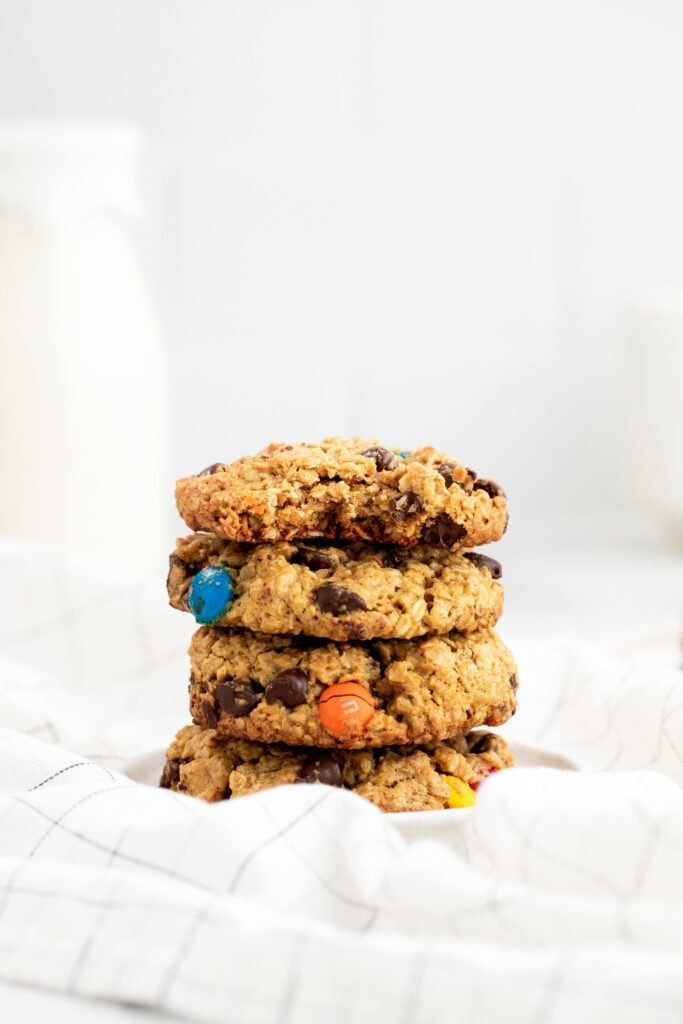 Storage
Let cookies cool completely and then transfer them into an airtight container. Store on the counter in a cool, dark place for up to 5 days.
Freezer Instructions
Monster cookies are such a great cookie to freeze because they'll last up to 3 months! Let cookies cool completely and then transfer into a freezer-safe gallon-size bag. Freeze for up to 3 months.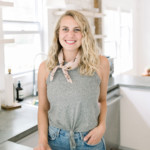 Lee is the founder of Fit Foodie Finds and based in Minneapolis, MN. She started this website in 2010 as a way to share her love for real food and wellness.