This month we're making a Fit Foodie reader fave! This 5-star Honey Garlic Chicken is made in the slow cooker and is perfect for any weeknight meal. It's kid-friendly and made with 5 simple ingredients.
What is the Fit Foodie Cooking Club?
The Fit Foodie Cooking Club is a monthly cooking challenge to get you in the kitchen cooking from scratch!
We thought there was no better way to bring our virtual community together than to all make the same recipe each month to celebrate real food.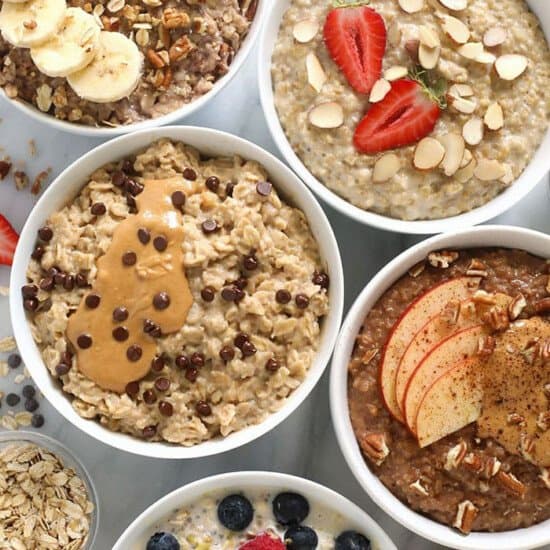 Join the Club!
Fit Foodie Cooking Club
Be the first to know about the recipe of the month + get other Fit Foodie Cooking Club announcements right to your inbox!
March 2022 – The Details
Read the below details VERY carefully as we want to make sure your entry counts! If you have questions, please leave them in the comments of this post.
Recipe of the Month
This honey garlic chicken is a Fit Foodie Finds reader FAVORITE. So many of you have made this dish time and time again. We're so glad you love it as much as we do! And if you haven't tried it yet, you're in for a treat ?
why you'll love this recipe
Slow cooker: this honey garlic chicken is made in the slow cooker aka set it and forget it — it's that easy!
5 ingredients: we aren't skimping on flavor in this recipe, but you'll only need 5 ingredients!
Great for meal prep: this recipe is SO GREAT for meal prep! Serve it with a grain and a green and enjoy it as a full meal throughout the week.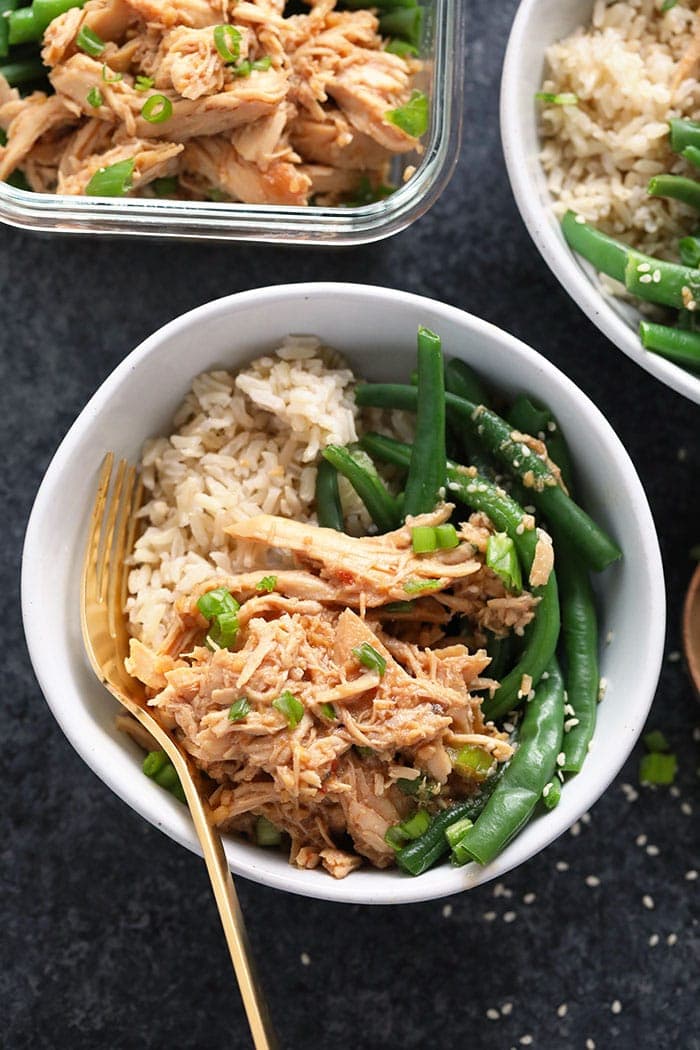 All About Honey Garlic Chicken
If you are looking for a simple, saucy, flavorful slow cooker chicken breast recipe, then you are going to swoon over this honey garlic chicken.
The honey garlic sauce for this recipe is flavorful, sweet, and spicy all at the same time and is made with just 4 ingredients. The chicken is slow-cooked in the sauce, leaving it super tender and saucy, the perfect topping for your grain of choice.
We love that you literally place all of the ingredients into the slow cooker uncooked (no need to sear in a skillet or pan) and let it do its magic!
Ingredients You'll Need
This amazing slow cooker honey garlic chicken is made with only 5 ingredients, and chances are you already have them in your pantry! Here's the line-up:
Boneless skinless chicken breasts: we're using chicken breast, but you're more than welcome to use boneless skinless chicken thighs instead.
Minced garlic: you're going to need 3 whole tablespoons of minced garlic. Trust us.
Honey: we love that honey is an all-natural sweetener. Plus, it pairs quite nicely with soy sauce and garlic.
Soy sauce (or tamari): soy sauce adds a great savory flavor and also has a decent amount of salt in it.
Red chili garlic sauce: want to add some heat, but not too much spice? A little red chili garlic sauce goes a long way.
Tools You'll Need
Recipe Tips
Make it spicier: If you want to make this honey garlic chicken any spicier, add red pepper flakes or a few teaspoons (or a tablespoon if you're a fire-breathing dragon!) of sriracha to the honey garlic sauce.
Make it a full meal: Serve this honey garlic chicken with grains such as brown rice, chicken fried rice, white sticky rice, quinoa or cauliflower rice and veggies such as green beans, steamed broccoli, or peppers and onions.
Make it In the Instant Pot Instead
This honey garlic chicken can easily be made in the Instant Pot! Here's how to do it:
Place chicken breast and honey garlic sauce into your Instant Pot.
Cover the Instant Pot and cook on high pressure for 8-10 minutes. Quick release.
Remove the chicken from the Instant Pot and use 2 forks to shred.
Thicken sauce by removing 1/4 cup of sauce and whisking it with 1/2 tablespoon of cornstarch. Pour the sauce and shredded chicken back into the Instant Pot and mix.
Turn on the sauté feature and bring the sauce to a boil to activate the cornstarch.
Once thickened, serve immediately.
How to Enter
Now that you know how to make the recipe, it's time to submit your creation!
Go to the Easy Honey Garlic Chicken blog post.
Make the recipe and snap a photo of it.
Leave a comment on the Easy Honey Garlic Chicken blog post with a photo of your creation letting people know how it went. We'd love a star-rating, but it's not required. Make sure to leave your name and email in the comment form because this is how we'll contact the winners!
join the fit foodie cooking club on facebook!
Join in on the Fit Foodie Facebook fun and become a member of our FREE Facebook Group. The Fit Foodie Cooking Club group on Facebook is a way to share your cooking creations and make new like-minded friends online.
Important Dates
Tuesday, March 8, 2022 – the first day you are eligible to submit an entry.
Tuesday, March 22, 2022 – the last day to submit your photo and comment.
Wednesday, March 23, 2022 – the winners will be randomly selected and announced in this blog post and on social media.
The Prize
2 participants will each win a $100 Target gift card. The selection will be random and based on comments that are received between February 3 and February 22, 2022.
Winners will be announced on the last Wednesday of the month (March 23, 2022) via social media and blog post.
Charity of the Month
UN Refugee Agency
Each month we'll select a different charity to support. March 2022's charity of the month is The Office of the United Nations High Commissioner for Refugees (UNHCR), also known as the UN Refugee Agency. We'll be doubling the match from our giveaway winners to donate $400 to UNHCR to aid in their efforts in Ukraine.
UNHCR is the world's leading organization aiding and protecting people forced to flee their homes due to violence, conflict and persecution. UNHCR provides shelter, food, water, medical care and other lifesaving assistance to refugees around the world.
The dream of most refugees is to return home. When possible, UNHCR helps refugees return to their homeland. When refugees can't go back home, UNHCR helps them rebuild their lives in another country.
DONATE
We would love for you to support our monthly charity and donate what you can.
If you feel so inclined, donate to UNHCR HERE.