This overnight French Toast Bake is a crowd-pleasing breakfast that can be made ahead of time for easy preparation in the morning! It's served with a delicious streusel topping and maple syrup.
We're excited for you to try this French toast casserole because it's something we serve for our families almost every Thanksgiving and Christmas morning.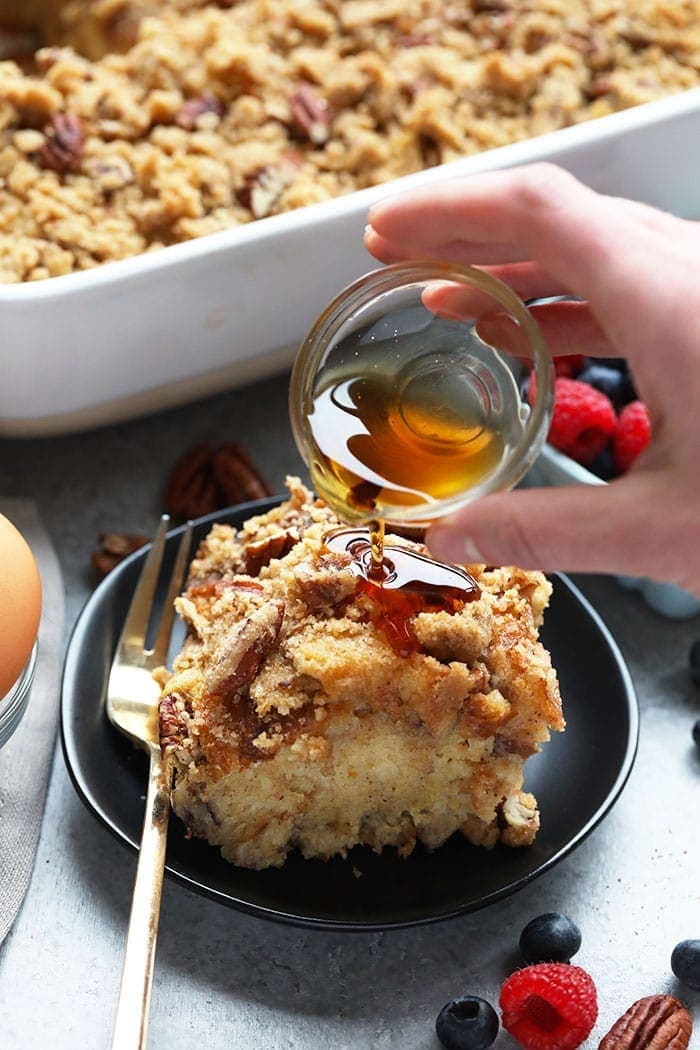 Best French Toast Casserole
This perfectly tender French toast bake with a sweet crisp topping is on our Christmas morning menu this year (and every year!). A baked french toast casserole is actually something my mother-in-law makes every year for Thanksgiving/Christmas and her recipe inspired this one!
When I asked my mother-in-law where she got her recipe from, she said Pioneer Woman and thus, the inspiration for this French toast casserole recipe toast was born.
Most overnight French toast recipes are made with tons of white sugar, butter, and cream, so I thought I'd get inspired by the flavors in Ree's recipe and lighten things up a bit without sacrificing flavor.
Healthy Swaps
Like we stated above, we lightened things up by removing the classic french toast bake "custard" and replaced it with better-for-you ingredients that are equally as delicious. Check it!
cream –> full-fat Greek yogurt
white sugar –> maple syrup + more spices
white bread –> sourdough
AP flour –> white whole wheat flour
I promise these alterations will not affect the flavor of this baked french toast casserole, they will truly enhance them!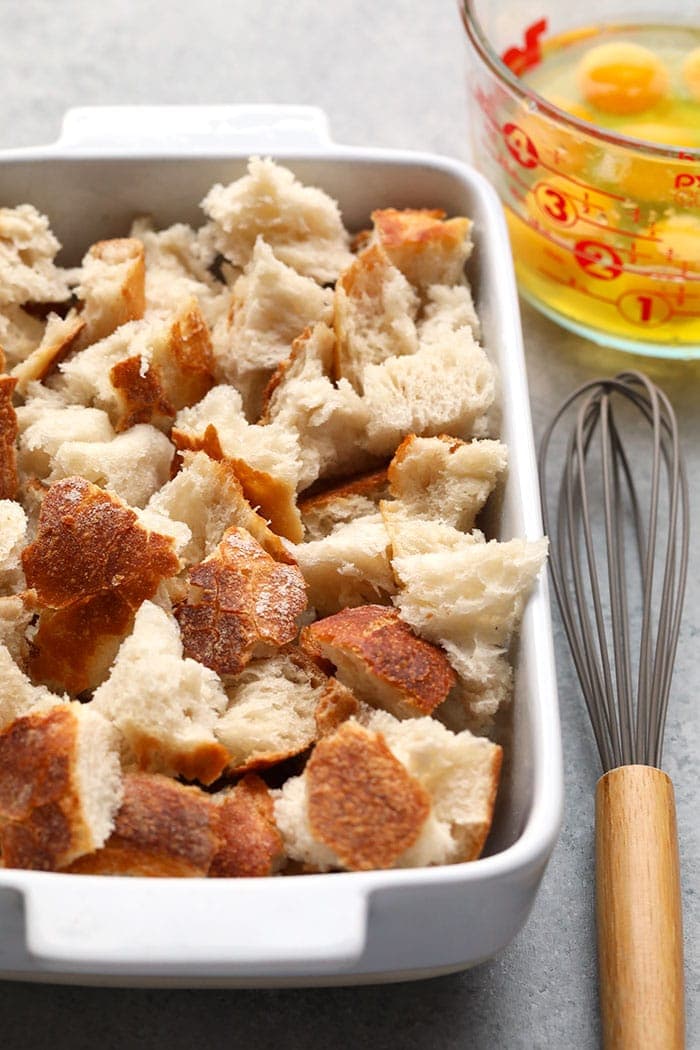 Baked French Toast Casserole Ingredients
In this French toast casserole recipe, we used a fresh loaf of sourdough from the bakery, but the normal sandwich sourdough would work as well. Actually, you can use whatever kind of bread you want including white, whole wheat, etc.
Here's what else you need:
sourdough bread
pecans
eggs
full-fat Greek yogurt
ground cinnamon
milk (any kind)
Best Streusel Topping
The streusel topping for this easy french toast casserole really makes the recipe! It's basic and made with 4 ingredients. Here's what you need:
white whole wheat flour – option to use AP flour.
pecans – walnuts would work too!
brown sugar – feel free to use coconut flour instead.
butter – coconut oil works just as well, but butter truly tastes better and is what we recommend.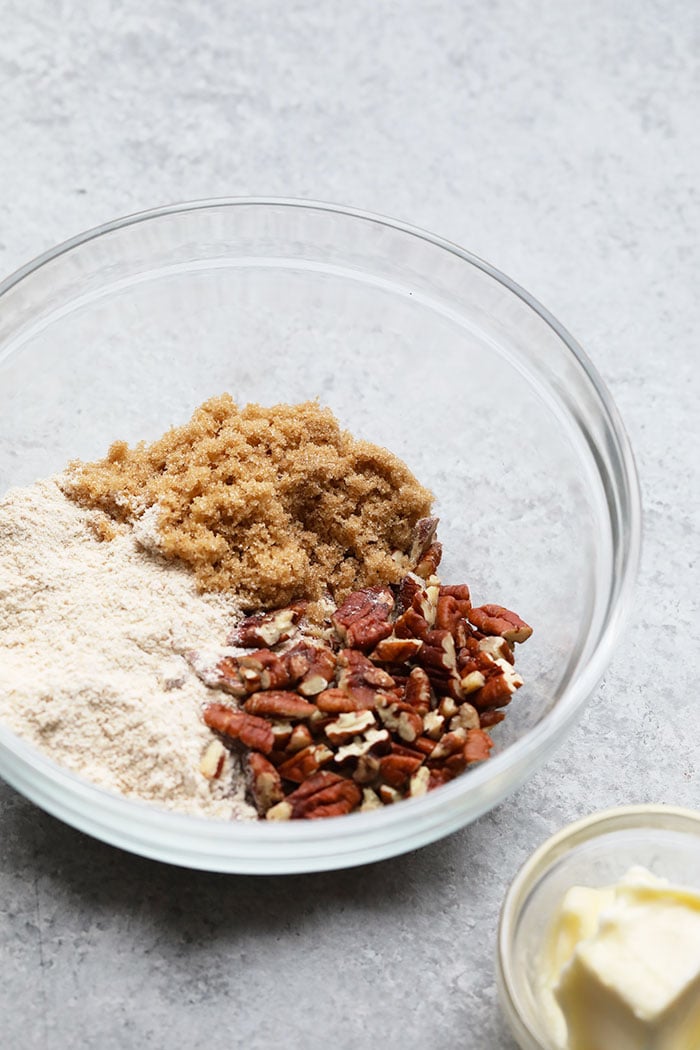 Easy Preparation (step by step)
Chop bread: Use a sharp knife to cut sourdough bread into bite-sized pieces around 1 to 1.5-inch chunks. Then, transfer the pieces into a greased casserole dish. Add in chopped pecans and toss.
Whisk egg mixture: whisk together eggs, Greek yogurt, maple syrup, milk, and spices. Make sure not to overmix!
Combine French toast: pour the egg mixture on top of chopped sourdough and use your hands to press the bread into the liquid making sure that everything is fully submerged and coated.
Let sit: Place casserole dish in the fridge and let sit for at least 30 minutes or overnight.
Bake: Cover casserole dish with tin foil and then bake at 350ºF for 30 minutes.
Streusel Topping: While the casserole is baking, make the streusel topping. Combine all ingredients in a medium bowl and mix to combine. Make sure that your butter isn't fully melted so that it stays more of a crumble than a paste.
Bake again: After 30 minutes, remove from the oven, sprinkle on streusel topping and bake for 15 more minutes or until the center is fully cooked.
Why do I need to let me French toast casserole sit?
The reason why we suggest letting your French toast casserole sit overnight night is so that the bread has time to absorb all of the eggy milk magic! Don't want to wait that long? Here are 2 options for you:
2 "overnight" options
Once you've prepared this easy French toast casserole recipe you essentially have 2 options to let it sit:
You can either place it in the fridge overnight for an easy morning breakfast of just popping it in the oven.
Or, you can let it sit for 30 minutes in the fridge and bake it immediately.
Know that they both work and taste great. It really all depends on your personal plan and how much time you have for breakfast preparation.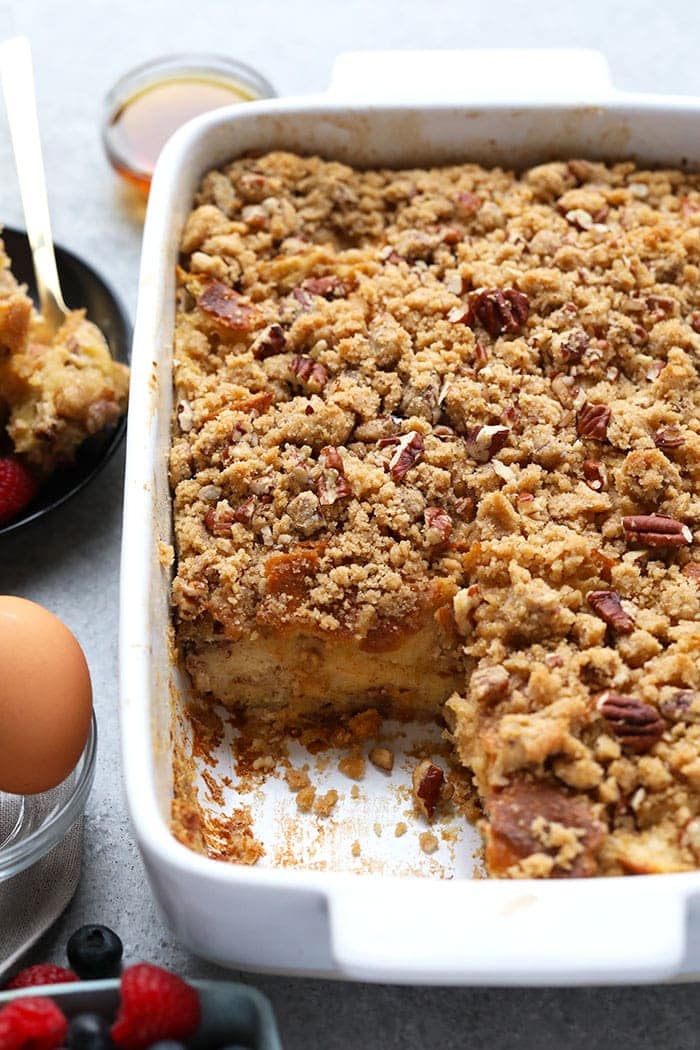 French Toast Casserole FAQs
Why is my baked French toast soggy?
Your baked French toast is likely soggy because you used too much milk (or dairy). Make sure to have the proper ratio of dairy AND egg so that your French toast isn't too soggy.
Is French toast bad for you?
Not all Frech toast is bad for you! If you're looking for a healthier French toast casserole – use a better-for-you bread and swap refined sugars for all-natural sugars when possible.
How do I make French toast bake in the oven?
The basis of French toast bake in the oven is bread, eggs, and milk. From there, you slice your bread into fluffy squares, whisk up your egg mixture, and mix it all together! Most French toast bakes come with a streusel topping, so you'll add that on top before baking.
How do you make French toast overnight?
Don't be afraid to prepare your French toast casserole the night before! All you have to do is find a French toast casserole recipe (like this one), prepare it the night before, cover it with saran wrap, and pop it in the fridge the night before. Overnight the bread will suck up all of that moisture and be ready for baking in the morning!
How do you make cinnamon roll French toast bake?
We have a delicious recipe on FFF for Instant Pot Cinnamon Roll French Toast Casserole that's made in less than 60 minutes!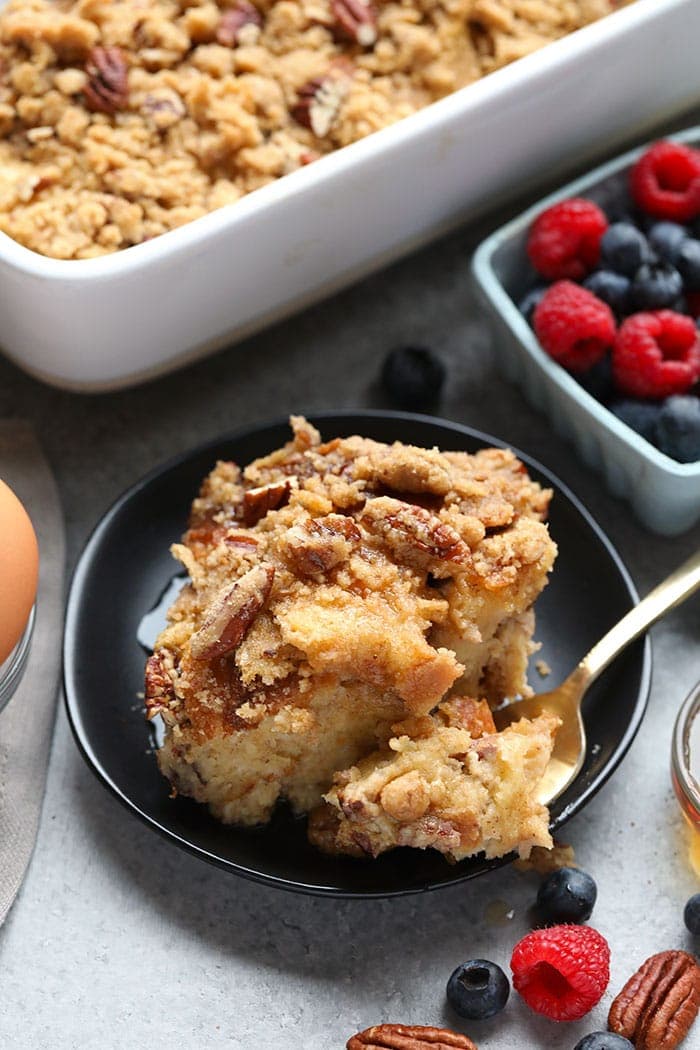 Topping Ideas
You are more than welcome to eat your french toast as is, but here are some of my favorite ways to top it:
maple syrup – this is a give-in and so tasty!
peanut butter – you may think this sounds weird, but this is how I personally eat my French toast! Try it and let me know what you think.
yogurt – an easy way to add more protein.
fresh fruit – any kind of fresh fruit is delicious. Try banana or berries for starters.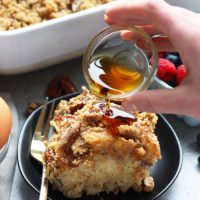 Overnight French Toast Casserole Recipe
An easy French Toast Casserole that is the perfect make-ahead breakfast idea for any holiday morning or special event!
Prep: 12 hoursCook: 55 minutesTotal: 12 hours 55 minutes
Fat 26 Carbs 30 Protein 12
Yield 6–8 1x
Ingredients
Baked French Toast
1

bakery-style loaf of sourdough bread

1 cup

chopped pecans

8

large eggs

1/2 cup

full-fat Greek yogurt

1/2 cup

maple syrup

2 teaspoons

ground cinnamon

1/2 teaspoon

ground nutmeg

1.5 cups

milk (any kind)
Streusel Topping
1/3 cup

white whole wheat flour

1/2 cup

chopped pecans

1/4 cup

brown sugar (or coconut sugar)

4 tablespoons

butter, room temperature (or coconut oil)
Instructions
Preheat oven to 350ºF and spray a 10 x 7-inch casserole dish* with cooking spray.
Use a knife to chop your sourdough into bite-sized pieces around 1 to 1.5-inches wide. If your sourdough is fresh from the bakery, it might be easier to tear the pieces apart with your hands. Transfer bread into casserole dish.
Then, sprinkle on 1 cup of chopped pecans and toss with sourdough pieces.
In a large bowl, whisk together eggs, Greek yogurt, maple syrup, cinnamon, nutmeg, and milk.
Pour egg mixture on top of sourdough and use your hands to press the bread into the egg mixture, submerging it. You want to make sure you do this to fully coat all pieces of bread.
Place in refrigerator overnight OR for at least 30 minutes if you'd like to bake it immediately.
Make streusel topping by mixing together white whole wheat flour, chopped pecans, brown sugar, and butter. Combine to form a crumble, not a paste. This will depend on how soft your butter is, so make sure not to fully melt it.
Remove French toast bake from the refrigerator and use your hands to submerge the bread in the egg mixture one more time before baking. Cover with tin foil and bake at 350ºF for 30 minutes, covered. Remove and add streusel topping. Bake for another 15-25 minutes, uncovered depending on how wet you like your French toast.
Let cool for at least 5-10 minutes before slicing.
 
Tips & Notes
Option to use a store-bought loaf that is used for sandwiches. Make sure to measure out 8 cups.
If you're using a bigger casserole dish (such as a 9×13-inch), you'll likely need to reduce the bake time by 5-10 minutes.
Nutrition is for 8 servings.
Nutrition Facts
Serving Size: 1/8 Calories: 398 Sugar: 22 Sodium: 146 Fat: 26 Carbohydrates: 30 Fiber: 1 Protein: 12
Author: Lee FunkeCategory: BreakfastMethod: OvenCuisine: American
Keywords: French toast casserole, french toast bake