These easy steak tacos are made from perfectly seasoned sliced flank steak and topped with a simple tomato pico, avocado slices and cotija cheese. Enjoy!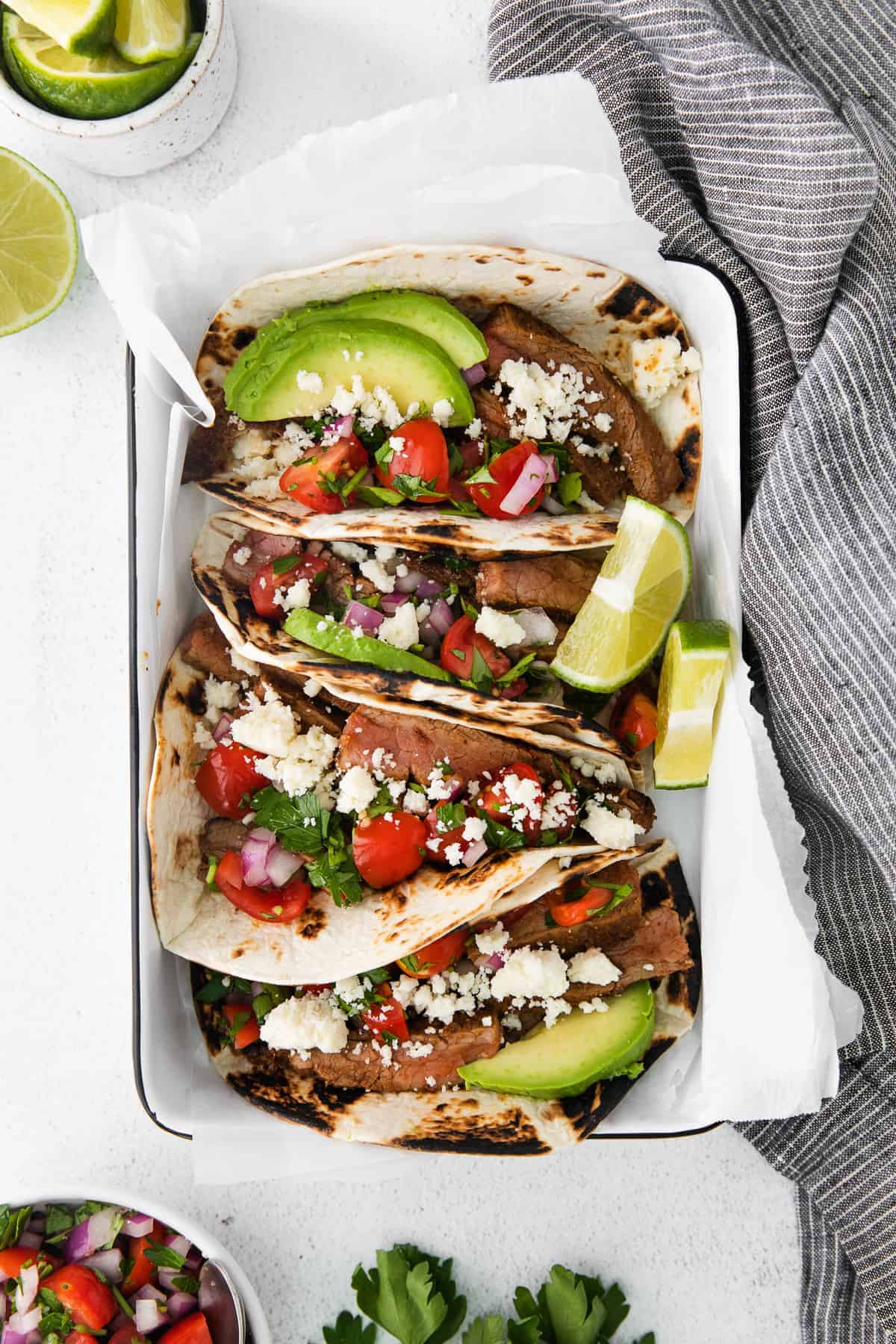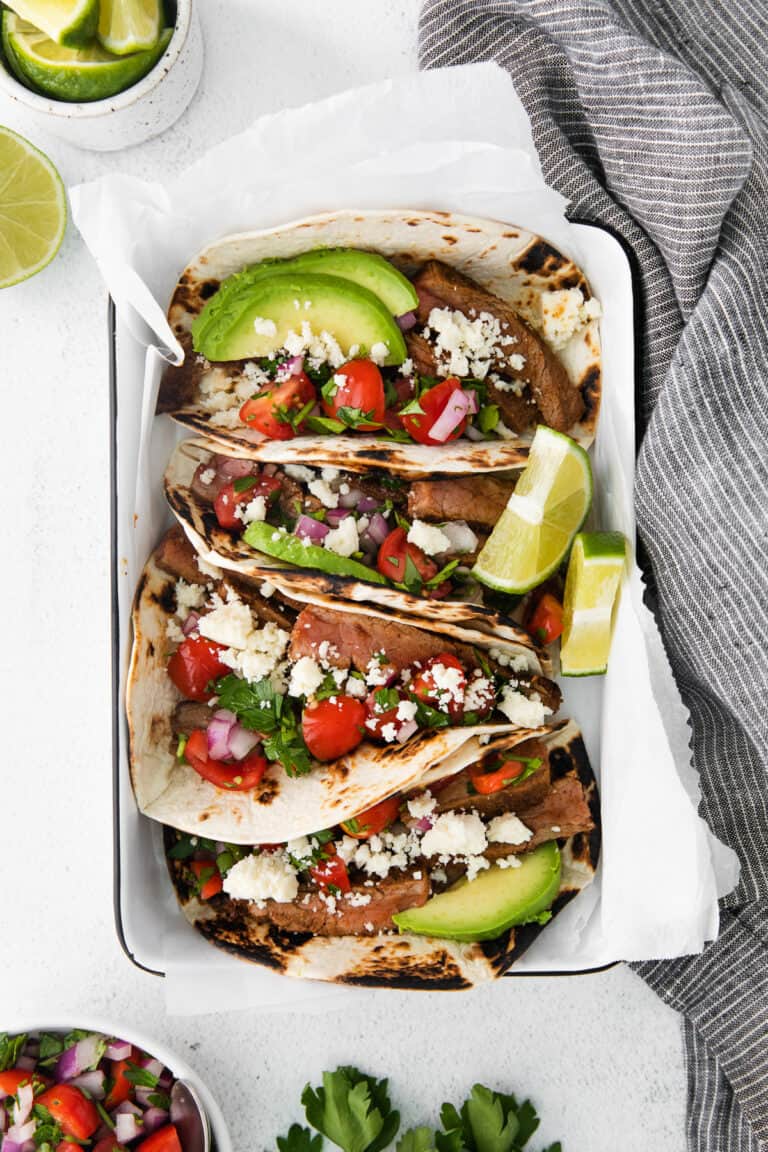 Bookmark for Taco Night
Who's a fan of taco night!? WE ARE. And even better if taco night can be whipped up in under an hour. Hello, easy weeknight meal solution. The whole family will love these steak tacos.
We'll show you how to make the perfect flank steak for tacos, plus:
A delicious tomato pico
Paired with sliced avocado
And cotija cheese with a squeeze of fresh lime juice
All put together to make YOUR NEW FAVORITE STEAK TACOS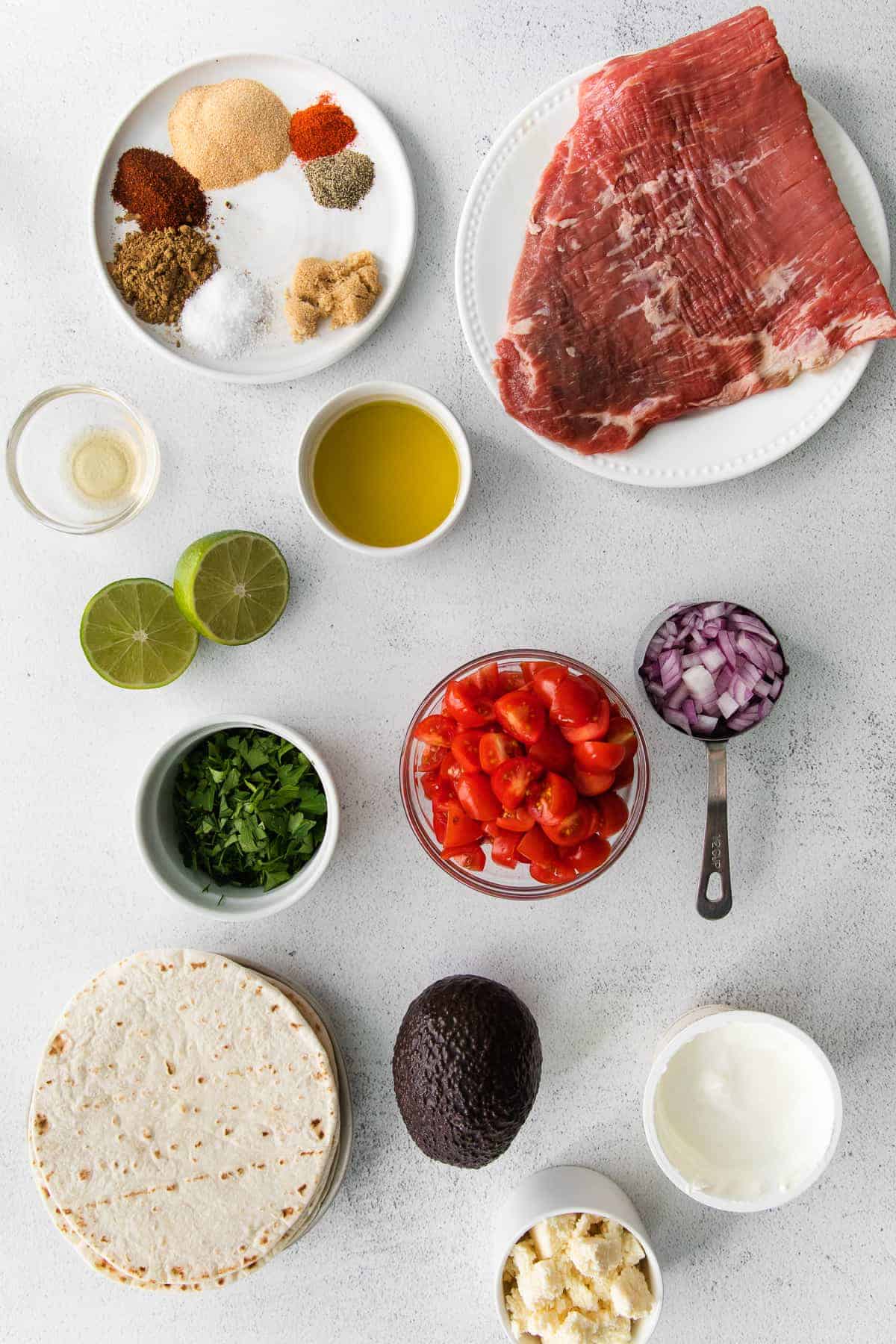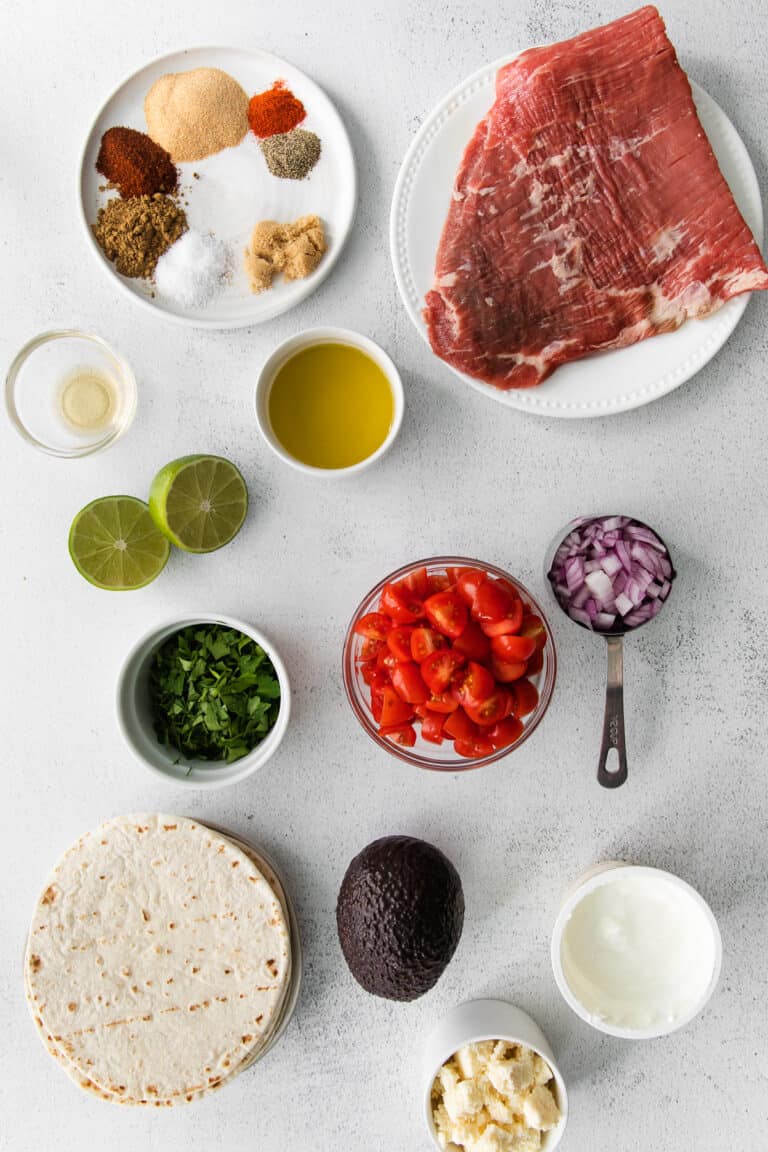 Steak Taco Ingredients
It's time to round up the following ingredients to make these easy steak tacos. You'll need:
For the steak
1 lb. flank steak
A delicious dry rub for seasoning (check it out below!)
For the tomato pico
Quartered cherry tomatoes
Diced red onion
Chopped cilantro
Apple cider vinegar
Fresh lime juice
Pinch of salt 
Jazz it up with taco toppings
Wrap your steak tacos in a tortilla (or any of the other options below!)
Greek yogurt
Fresh lime slices
Cotija cheese
Sliced avocado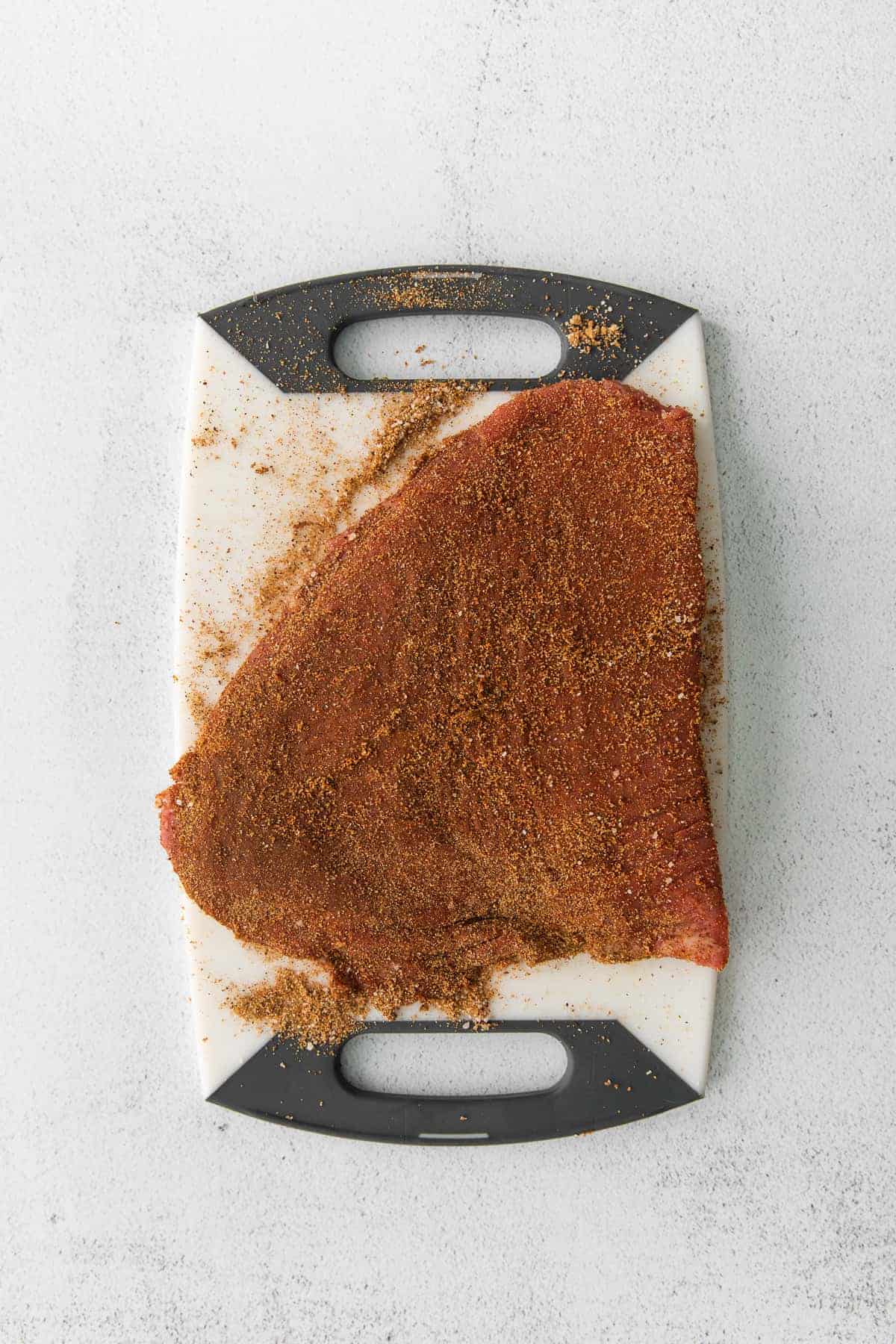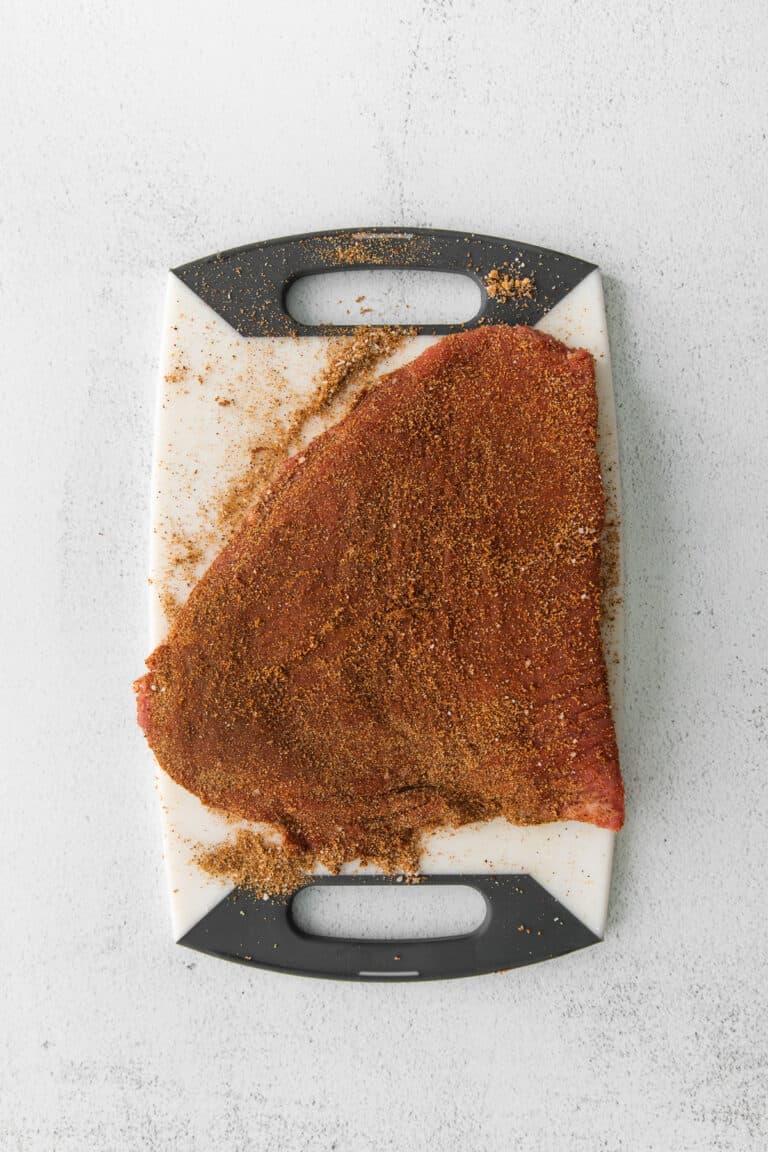 The Ultimate Steak Taco Seasoning
The dry rub for these steak tacos is so tasty! It brings together the following simple spices you likely already have in your spice cupboard:
Garlic powder
Chili powder
Cumin
Smoked paprika
Brown sugar
Salt & pepper
Pro tip: Be sure to massage the dry rub really well into the meat, and then let it rest "caked on" the meat before cooking. This will result in super flavorful and tender steak for your tacos ?
Choosing the Right Steak
Flank steak can get a bad rap because it is a more affordable cut of meat (plus, it is quite lean), and can be a bit tough if you don't cook it correctly.
We love flank steak here on Fit Foodie Finds because when you season and cook flank steak correctly, it's deliciously flavorful and tender — which makes it a perfect cut of meat for these thinly sliced steak tacos.
Recommended Kitchen Tools
Flank Steak Internal Temperature Guide
The best way to tell if your flank steak is cooked is by temperature. Here's what the internal temperature needs to be:
Medium Rare: 130 – 135ºF
Medium: 135ºF – 145ºF
Well Done: 145ºF – 155ºF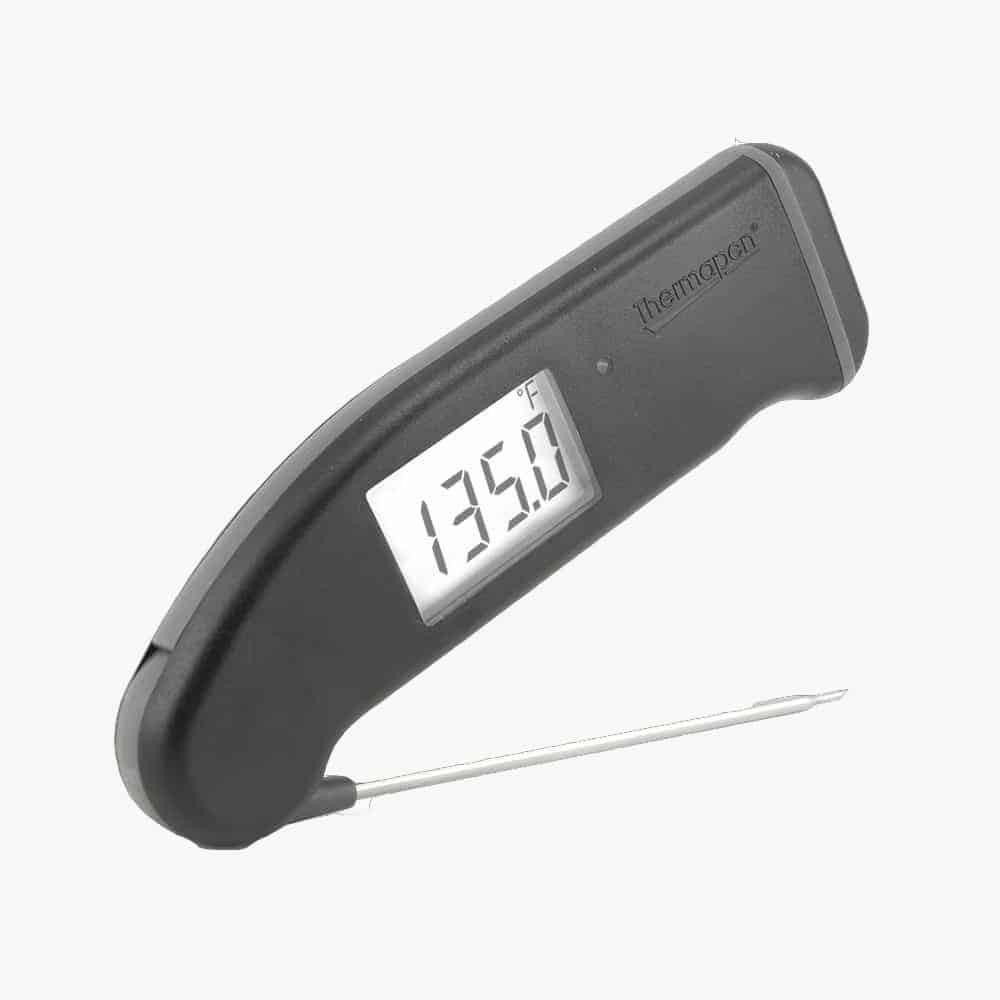 recommendation
Meat Thermometer
Looking for a high-quality meat thermometer? The Thermapen Mk4 is great for measuring the internal temperature of any meat.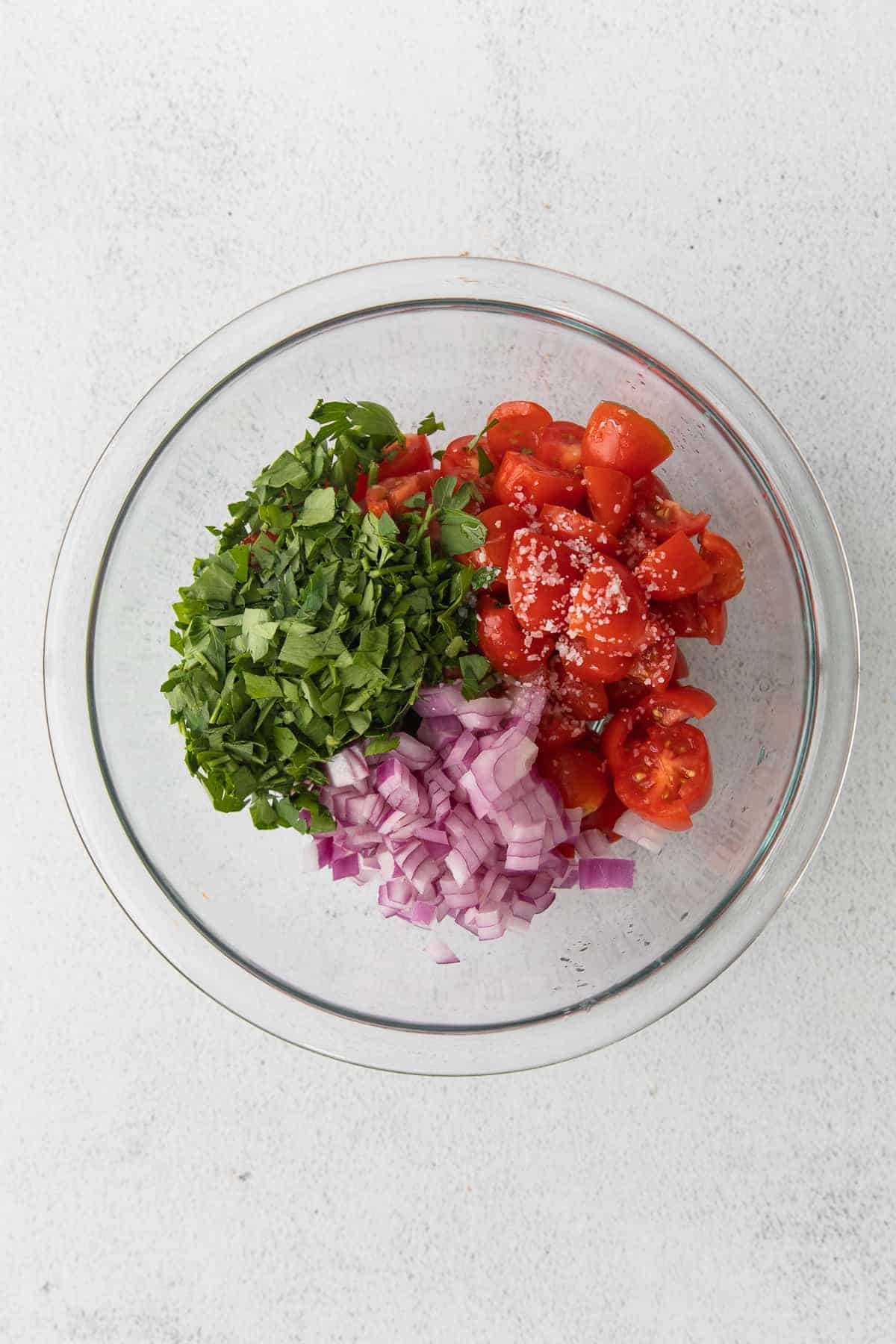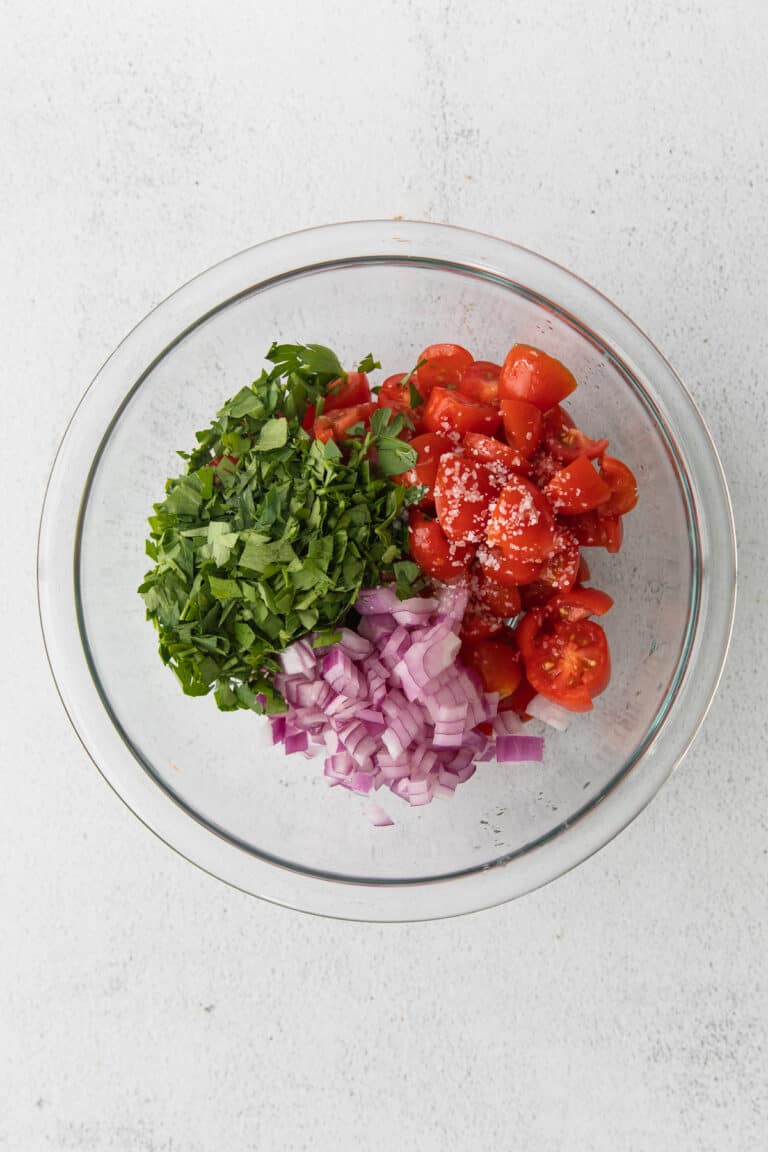 How to Make Tomato Pico
This simple tomato pico is such a nice complement to the flavorful flank steak in these steak tacos. Plus, you'll be making this pico while the flank steak rests in the delicious dry rub.
Add the cherry tomatoes, red onion, and cilantro to a medium-sized salad bowl and toss everything together. 
Then, drizzle the apple cider, lime juice, and salt over the mixture and toss again.
Place the tomato pico in the fridge while you cook the flank steak. This will allow all the flavors to mix together into pico perfection.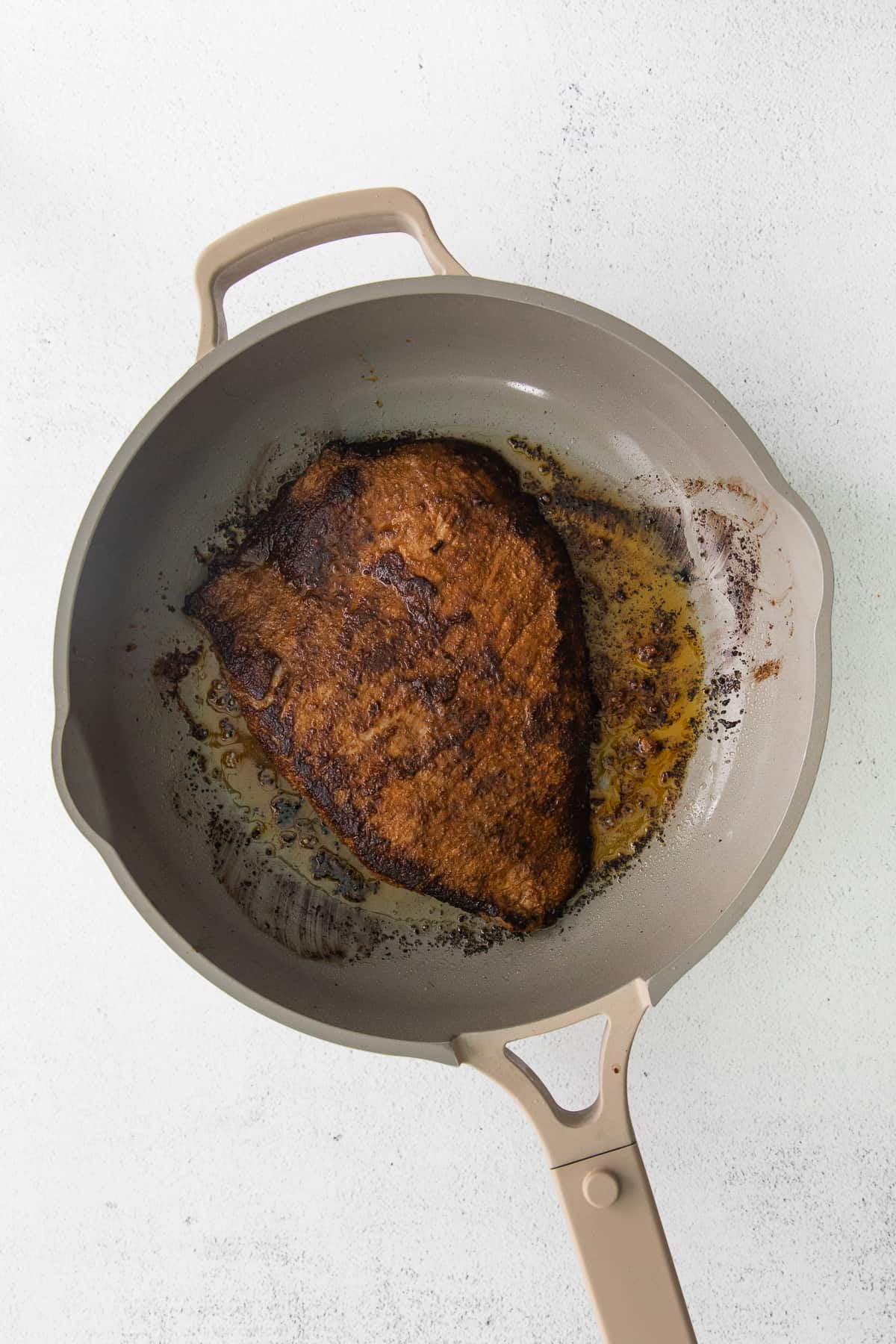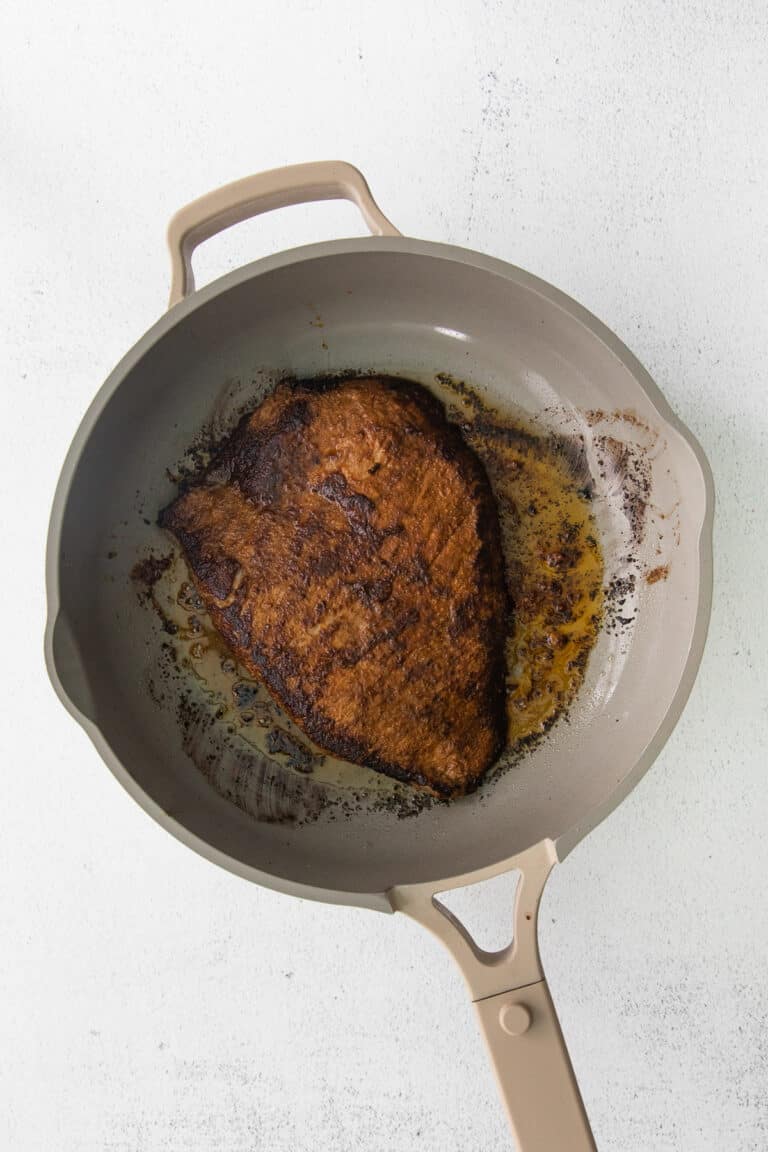 More Ways to Serve Tacos
Looking to serve these steak tacos in something other than flour or corn tortillas? Let us recommend any of the following:
Salad: Make a taco salad! Chop up romaine lettuce and serve your steak tacos with this tomato pico, Mexican corn, and our avocado cilantro lime dressing.
Taco Bowls: Not a tortilla person?! Make a taco bowl instead. Pair your steak tacos with cilantro lime rice and serve it with fajita veggies and salsa.
Burritos: chicken burritos and bean burritos are a favorite at FFF, but why not jazz things up with steak. Wrap your sliced steak in a large tortilla and then add Mexican rice, fajita veggies, and refried beans. BONUS – you can easily freeze these for later.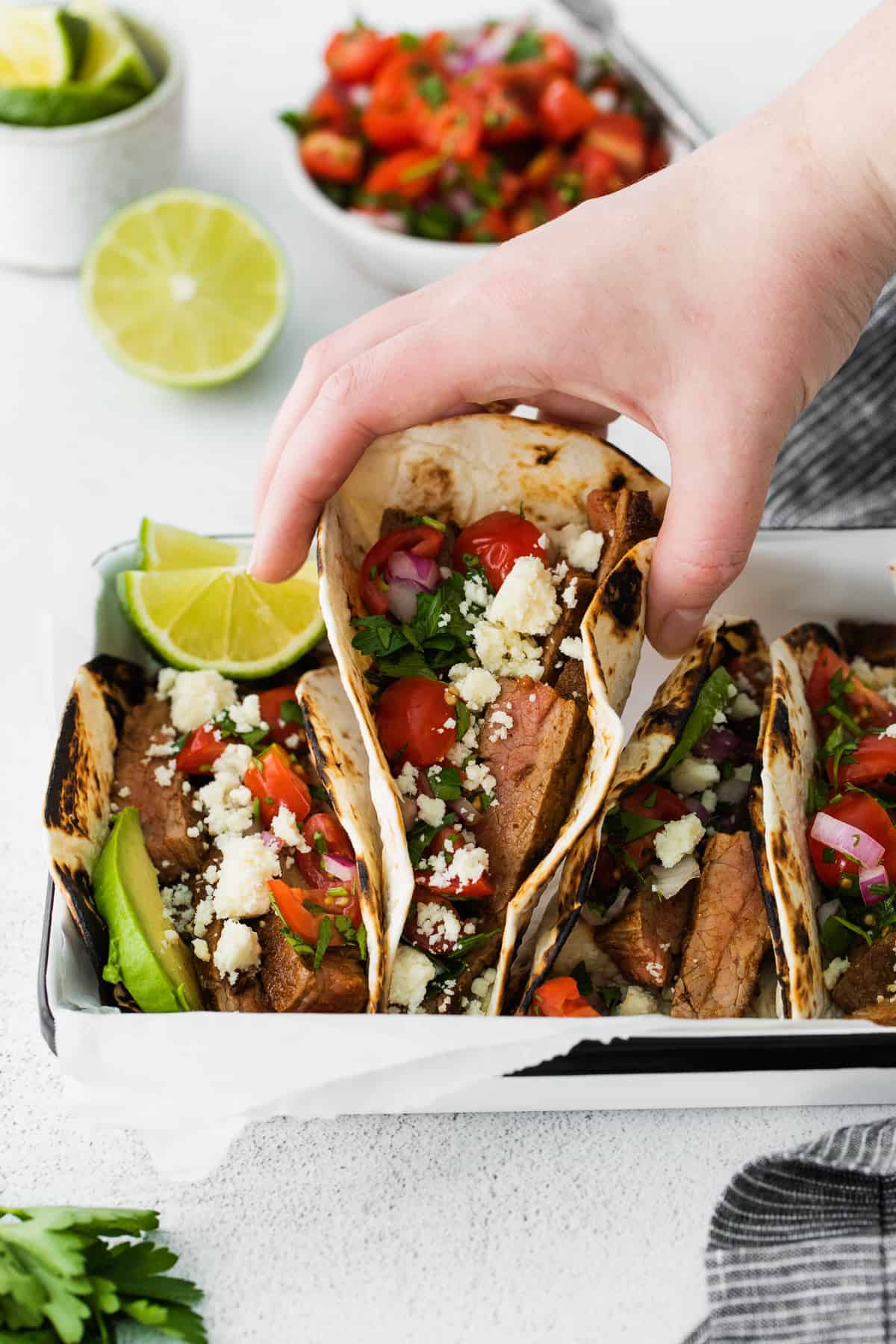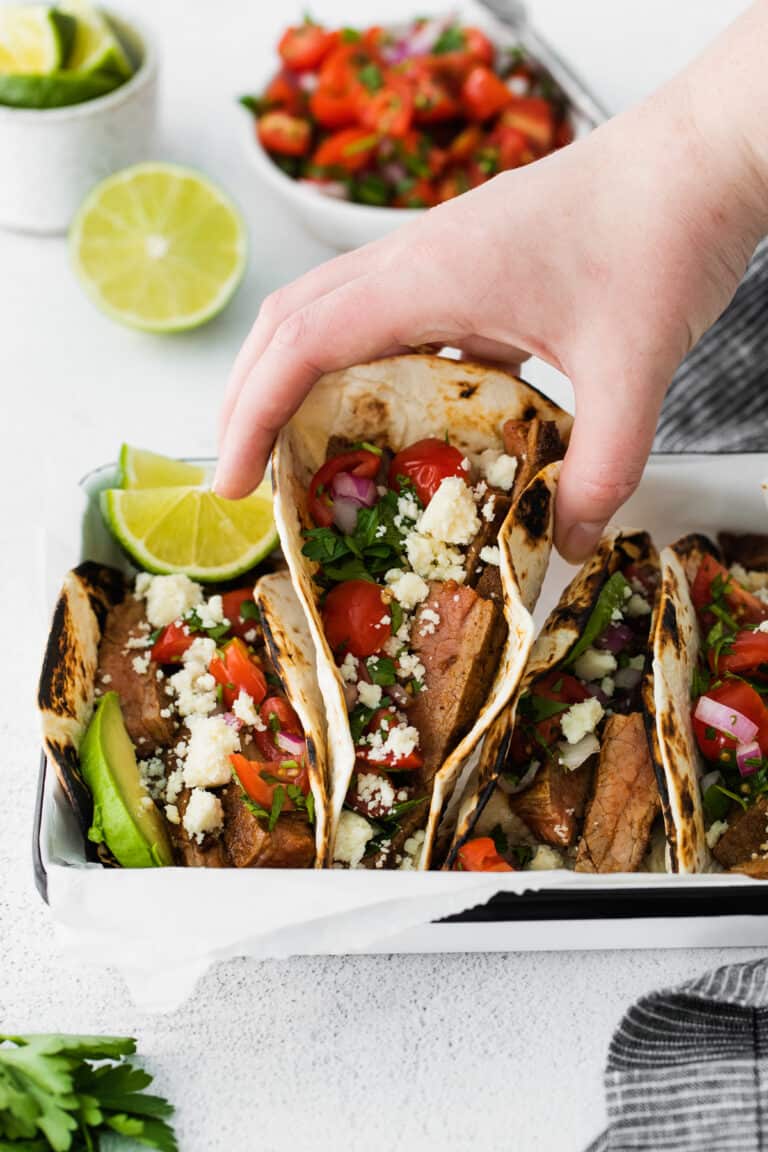 What to Serve with Steak Tacos
Round out taco night with any of the following sides that pair oh so perfectly with steak tacos.
Mexican Street Corn Salad: Our Mexican street corn salad is made with grilled corn, tomato, onion, and the most delicious cotija yogurt sauce with lime juice.
Grilled Mexican Street Corn: Fresh off the grill Mexican street corn is the best. We've got a super simple grilled Mexican street corn recipe that you'll absolutely love.
Black Bean Corn Salad: Looking for a simple cold salad that doubles as relish and triples as a dip? Make our black bean corn salad. It's made with fresh ingredients cilantro, jalapeño, cotija cheese, and lime juice.
Mexican Quinoa Salad: Make this light and refreshing quinoa salad with ingredients you probably already have on hand! This flavorful Mexican salad is vegan, gluten-free and the perfect vegetarian meal to add to your rotation.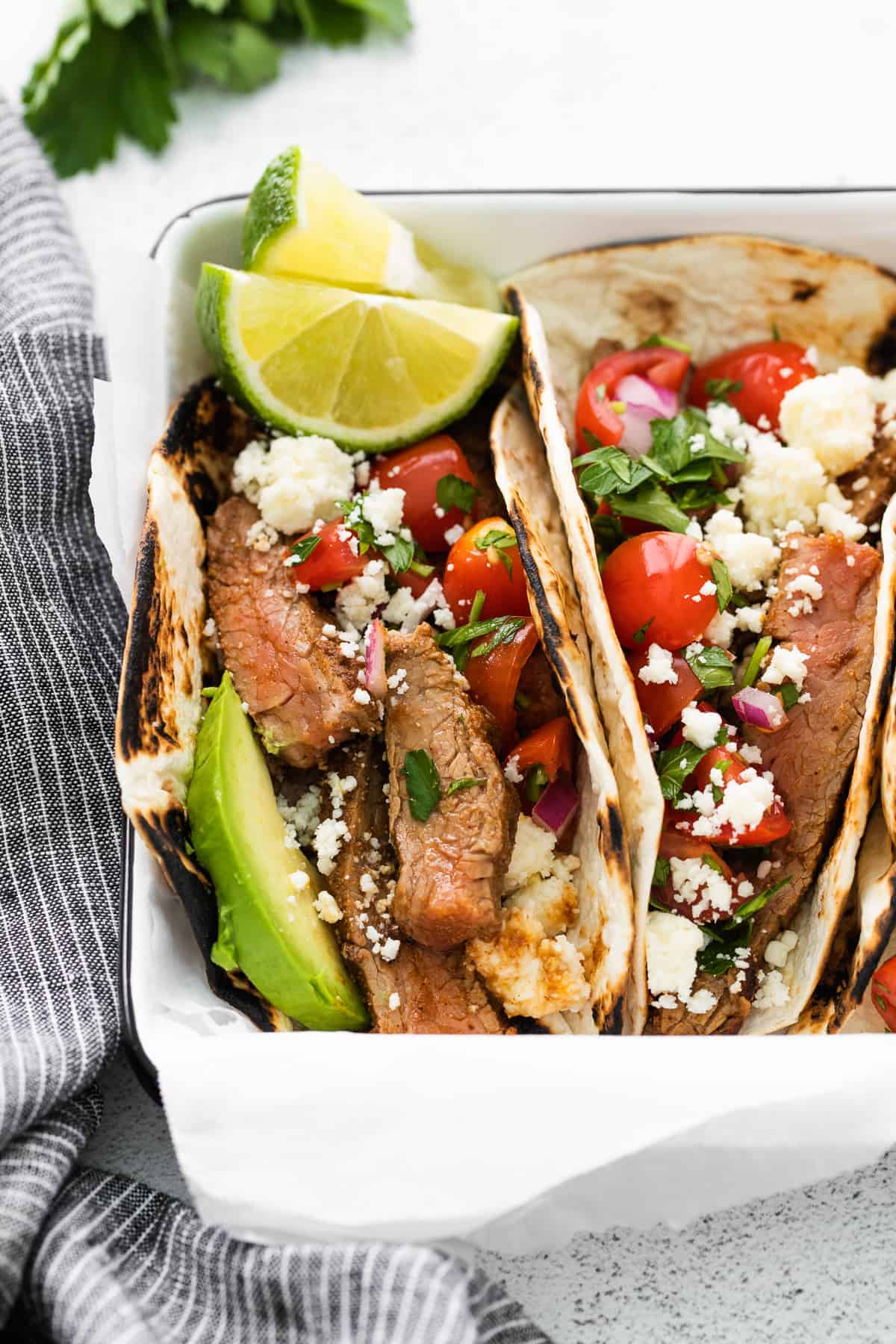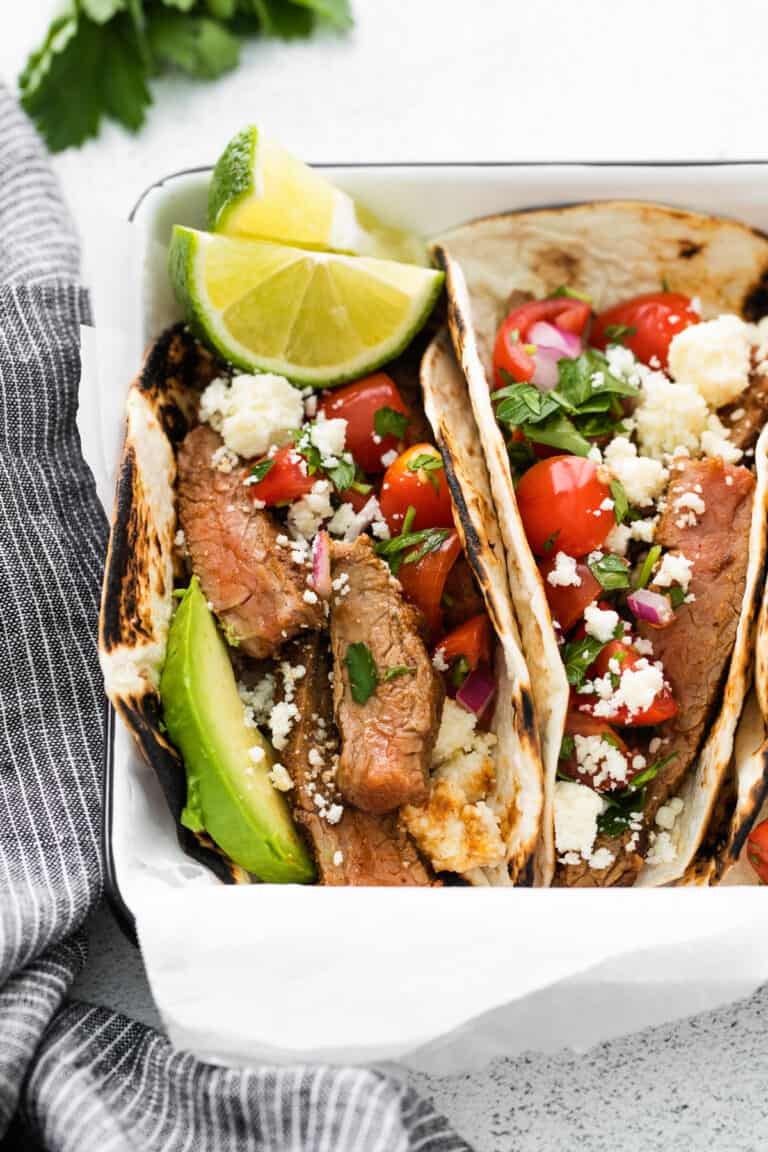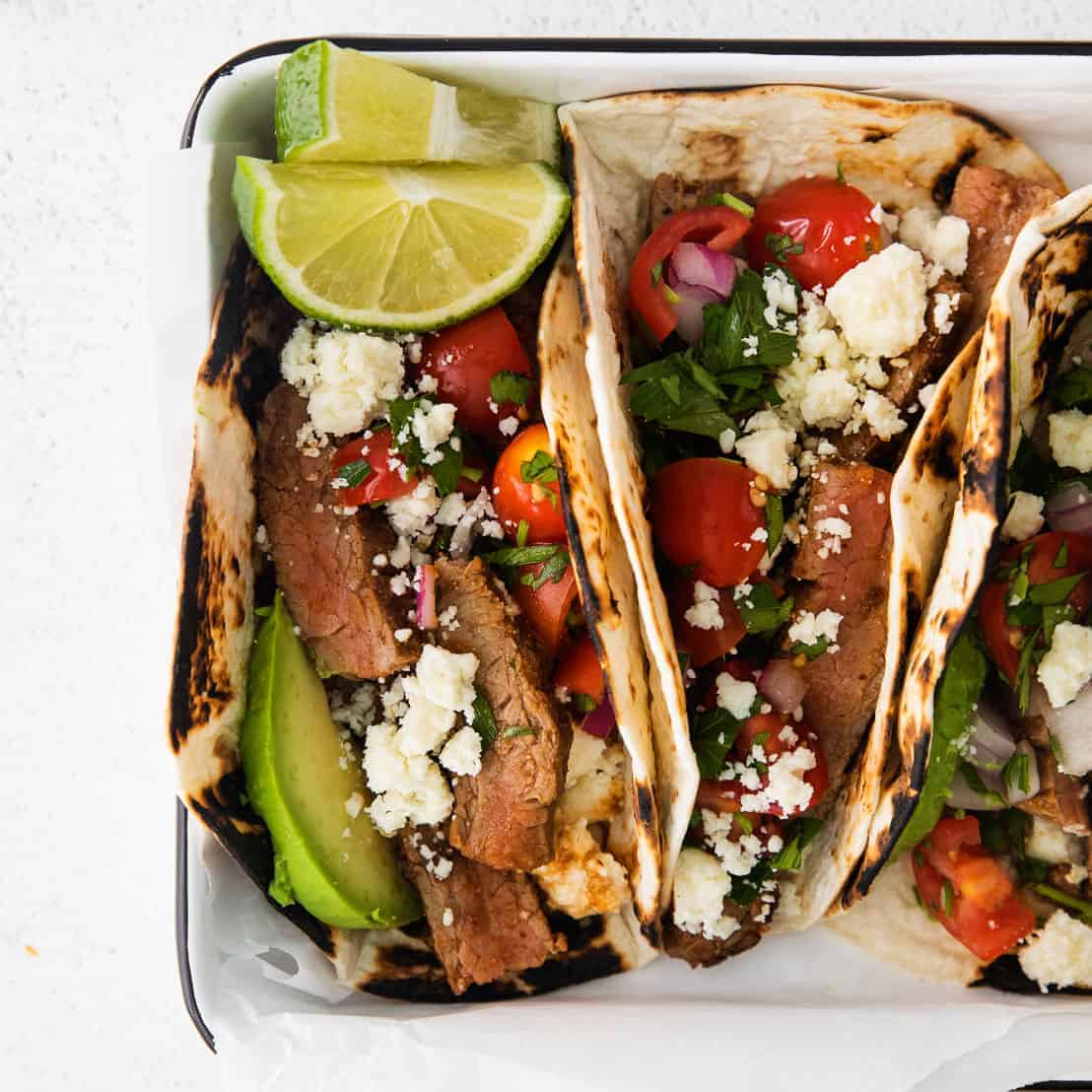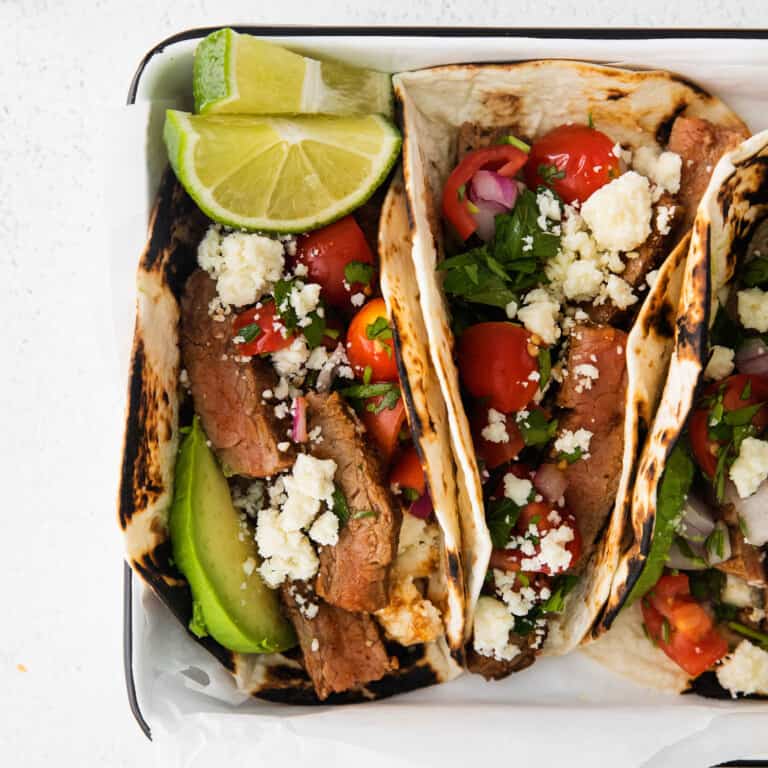 Steak Tacos Recipe
These easy steak tacos are made from perfectly seasoned sliced flank steak and topped with a simple tomato pico, avocado slices and cotija cheese. Enjoy!
Prep: 25 minutesCook: 10 minutesTotal: 35 minutes
Fat 16 Carbs 8 Protein 25
Yield 4 1x
Ingredients
Flank Steak
1

-lb. Flank steak 

1 tablespoon

garlic powder

1 teaspoon

chili powder

1 teaspoon

cumin 

¼ teaspoon

smoked paprika

1 teaspoon

kosher salt

¼ teaspoon

pepper

1.5 teaspoons

brown sugar

2 tablespoons

olive oil
Simple Tomato Pico 
10

-oz. cherry tomatoes, quartered

½ cup

red onion, diced

½ cup

cilantro, roughly chopped 

2 teaspoons

apple cider vinegar

2 teaspoons

lime juice

⅛ teaspoon

salt 
Other Ingredients*
8

–

10

small flour tortillas

½ cup

Greek yogurt 

Fresh lime slices

¼ cup

cotija cheese 

Large avocado, chopped
Instructions
Prepare the flank steak by placing the steak on a cutting board and cover it with plastic wrap or wax paper. 

Use a meat tenderizer to tenderize the meat and pound it to a 1-inch thickness. 

Next, add the garlic powder, chili powder, cumin, paprika, kosher salt, pepper, and brown sugar to a bowl and mix until combined. 

Pour the spice mix over the flank steak and massage the spices into the meat. Be sure the spices cover the steak completely. 

Let the flank steak rest in the spices for 20 minutes or longer for tender and flavorful meat. 

While the meat is sitting in the dry rub, add the cherry tomatoes, red onion, and cilantro to a medium-sized salad bowl and toss ingredients together. 

Drizzle the apple cider, lime juice, and salt over the vegetables and toss again. Place the tomato pico in the fridge.

Heat a large skillet or cast-iron skillet over medium/high heat. Add olive oil to the pan. 

When the olive oil is hot and fragrant, add the flank steak to the skillet. Be sure the flank steak is at room temperature and not cold. If the steak is cold and the skillet is hot, the spices will stick to the skillet.

Cook the flank steak for 4½ minutes on each side or until the internal temperature reaches 130-135ºF. 

Remove the steak from the skillet and let it sit for 10 minutes. 

Slice the steak into thin strips. 

Assemble the tacos by placing the tortillas flat. Start with ½ tablespoon of Greek yogurt slathered on the tortilla. Place a piece or two of steak over the Greek yogurt, a spoon full or the tomato pico, a sprinkle of cotija cheese, avocado and a squeeze of lime to the taco. Repeat until all tacos are assembled. 

Serve, and enjoy.
Tips & Notes
*Nutrition does not include optional toppings.
Nutrition Facts
Serving Size: 1/4 Calories: 277 Sugar: 4 Sodium: 435 Fat: 16 Carbohydrates: 8 Fiber: 2 Protein: 25 Cholesterol: 75
Author: Lee FunkeCategory: Main MealMethod: Stove TopCuisine: Tex Mex
Keywords: steak tacos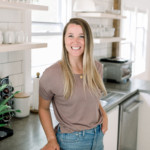 Emily spent the first 10 years of her career in marketing and advertising roles and started side-hustling with Fit Foodie Finds in Fall of 2015. She joined Team Fit Foodie full-time in the Spring of 2018. Em lives in Minneapolis with her husband and dog, and manages FFF business operations as well as all things sponsorships and brand collaborations.