This Crockpot Chicken Chili is so easy to put together, and made completely in the slow cooker! Plus, this easy chicken chili recipe is packed with protein, fiber, and so much good flavor!
If you love crockpot chicken recipes, you've come to the right place! Check out our: Crockpot Chicken Fajitas, Crockpot Chicken Noodle Soup, and Slow Cooker Honey Garlic Chicken.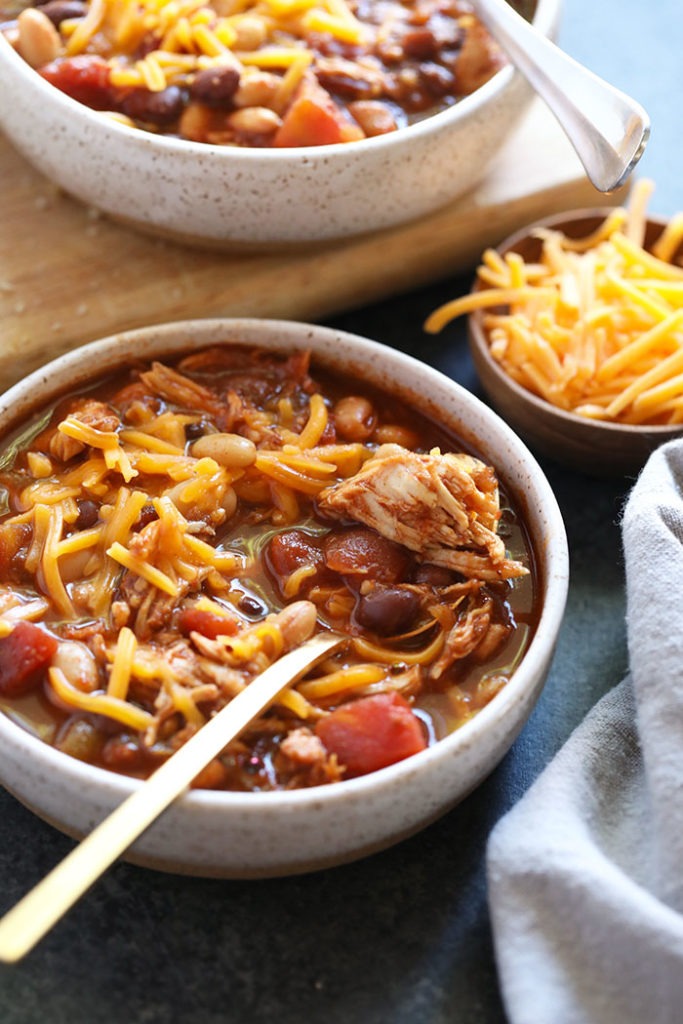 Best Chicken Chili Recipe!
I like to call myself a chili connoisseur because I make it at least once a week. Some of my favorites from FFF are: beef chili, white bean chicken chili, and vegetarian chili.
I've been making chili since college because it's something my midwestern mom made for my family often growing up and if you know how to open a can and measure spices, it's the easiest thing to make for the masses.
One of the most famous chili recipes on Fit Foodie Finds is this chicken chili. It's made with chicken breast, a few types of beans, diced tomatoes, and a variety of chili spices. Best part? It's all done in the slow cooker so it's super hands-off!
Red Chicken Chili vs. White Chicken Chili
There are 2 types of chicken chili that you'll find all over the internet. Classic chicken chili made with a tomato-based (just like this one) and a creamy white chicken chili recipe is oftentimes made with cream cheese and/or heavy cream.
While we love white chicken chili, we prefer ours with a red sauce!
What does chicken chili taste like?
Chicken chili is a savory dish made with chicken, beans, tomato products, and warm spices such as chili powder, pepper, onion powder, ground cumin, oregano, and garlic powder.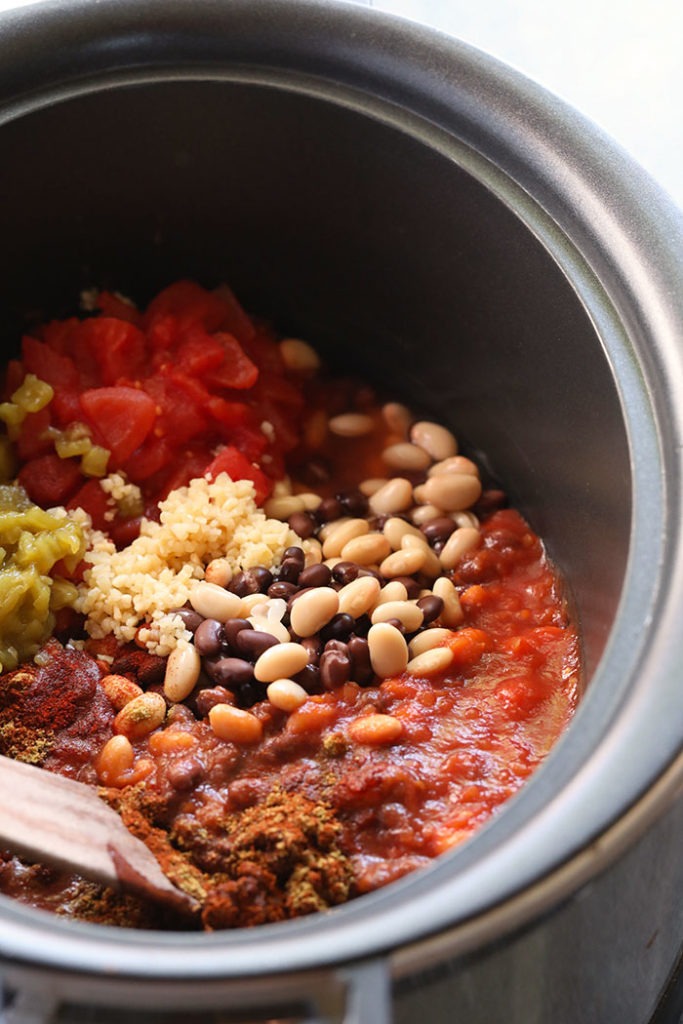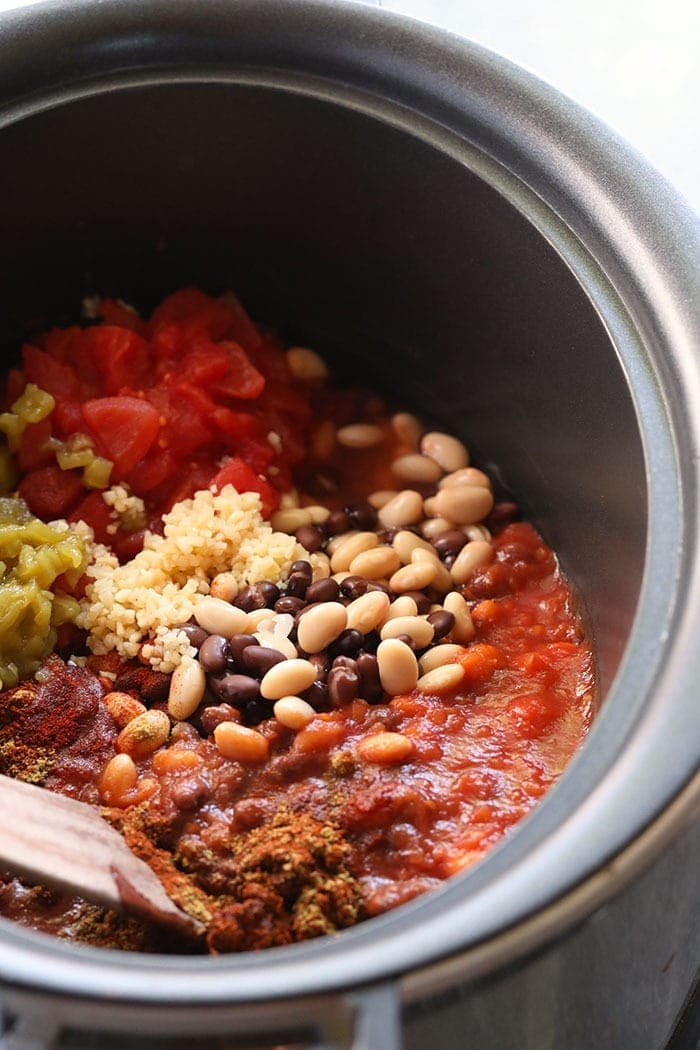 Crockpot Chicken Chili Ingredients
Boneless skinless chicken breasts
Salsa (any kind will work! we recommend using your favorite kind!)
Black beans
Great northern beans
Diced tomatoes
Green chiles
Minced garlic
Spices
Apple cider vinegar (if you like the heat, swap for hot sauce!)
Chicken broth (any kind of broth or water will do!)
Ingredient Swaps
Chicken: hoping to use different meat or no meat at all? Feel free to swap boneless, skinless chicken thighs or omit the chicken altogether. PS: you can even add rotisserie chicken at the end, too!
Beans: there are 2 cans of beans in this recipe, use whatever kind you want! Cannellini beans or garbanzo beans would be delicious substitutions! 
Green Chiles: hoping for something a little spicier? Swap in canned jalapeños instead.
Crockpot Chicken Chili Toppings
Never skip the toppings! We love jazzing up our chili with any of the following:
Tortilla chips
Sliced avocado
Fresh cilantro
Sour cream or Greek yogurt
Diced bell peppers
Lime wedges
homemade chili seasoning
We love keeping our homemade chili seasoning on hand at all times because it's the perfect blend for chilis just like this. So, feel free to swap all of the spices in this recipe for 3-4 tablespoons of homemade chili seasoning.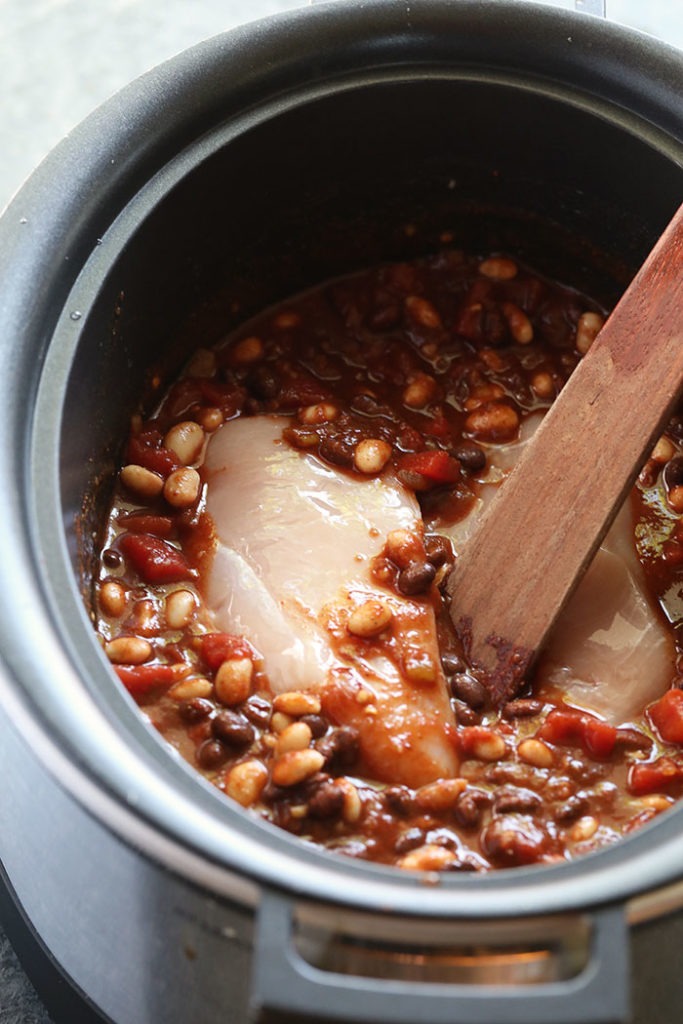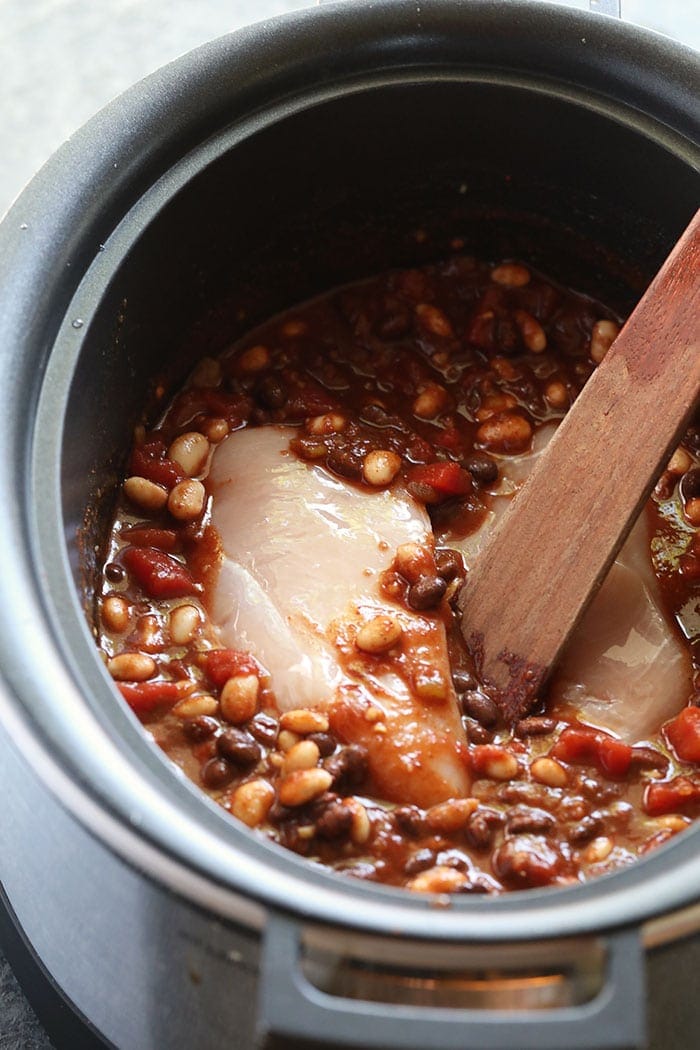 How to Make Crockpot Chicken Chili
It's a fact that this chili is the best of the best when it comes to crockpot chicken recipes. Why? Because the flavor can't be beat, and you don't need the stove. Here's how to do it:
Place all ingredients into your crockpot and make sure that the chicken is submerged under the liquid.
Place the lid on your crockpot and cook on high for 3-4 hours or on low for 6-8 hours.
Once the chicken is fully cooked, remove and use 2 forks to shred. Then, place it back in your slow cooker and stir. Let simmer on warm until you're ready to serve.
How do you make chicken chili thicker?
To make chicken chili thicker, remove about 1/4 cup of the liquid from your slow cooker. Then, dissolve about 1 tablespoon of cornstarch into the liquid by whisking.
Pour the cornstarch slurry back into the slow cooker and mix to combine. Then, let it cook on high for 10-15 more minutes to activate the cornstarch.
Is chili healthy to eat?
Chili is a healthy meal option because it's packed with protein and fiber. This chicken chili recipe packs in veggies, too…all while tasting delicious!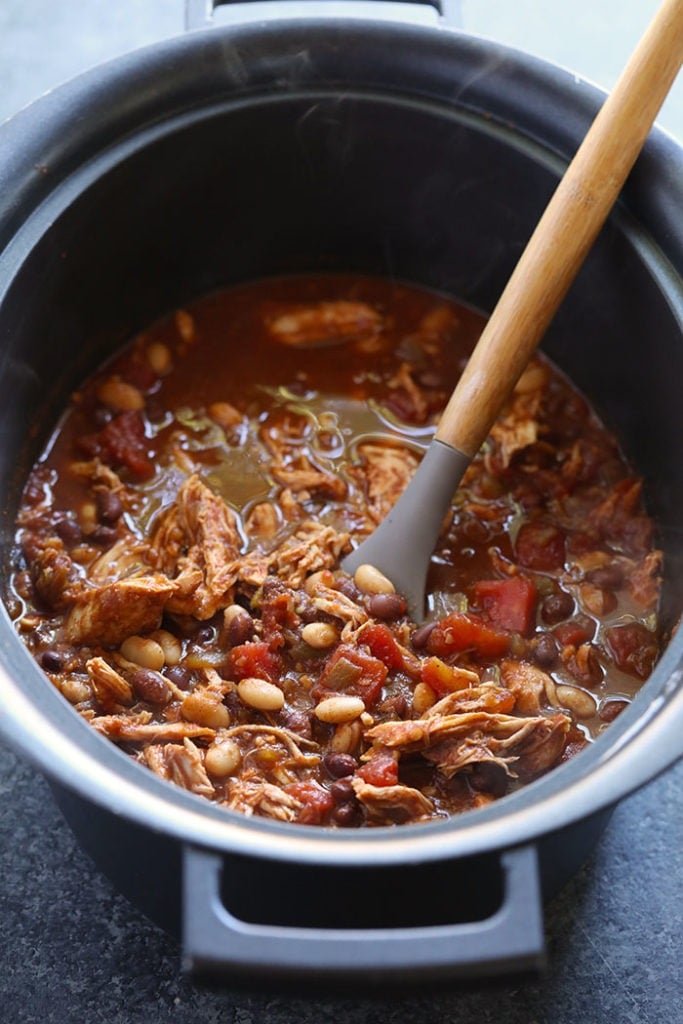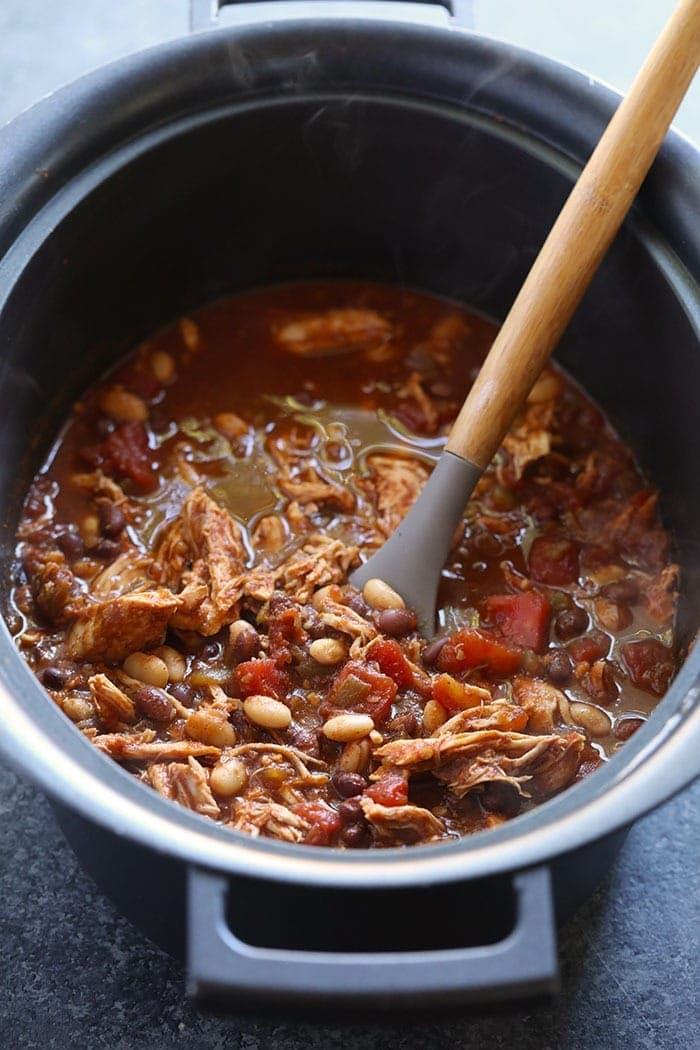 This easy chicken chili recipe is such an excellent meal-prep recipe or freezer meal that you can stock up on. Here are some storage tips and tricks:
Slow Cooker Chicken Chili Storage
Refrigerator: Transfer chili into a glass container and seal tightly. Refrigerate for up to 5 days.
How to Freeze Slow Cooker Chicken Chili: Let your crockpot chicken chili cool completely before transferring into a freezer-safe gallon-size bag or Tupperware. Seal and then place in the freezer. Will last for up to 3 months.
To reheat, let thaw on the counter and then transfer into a large pot, back into your slow cooker or microwave to heat up.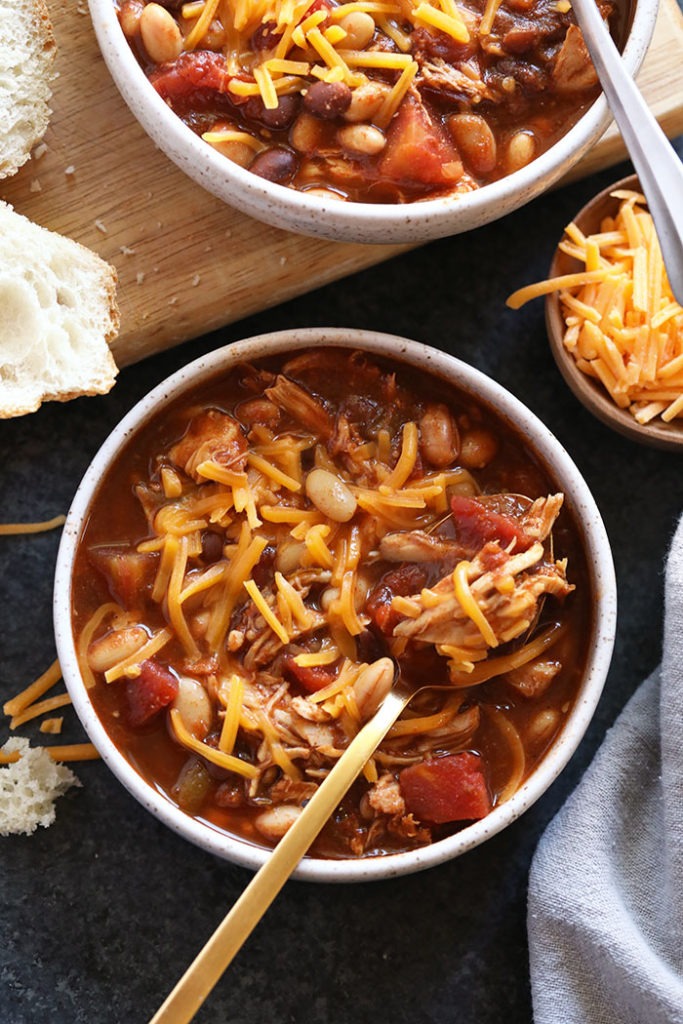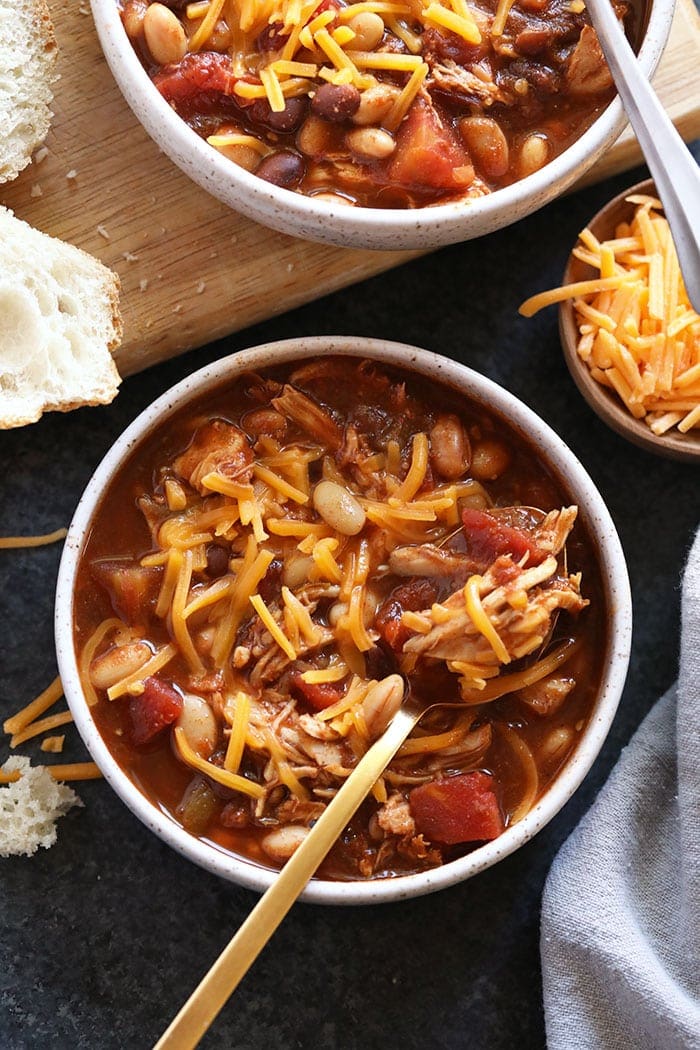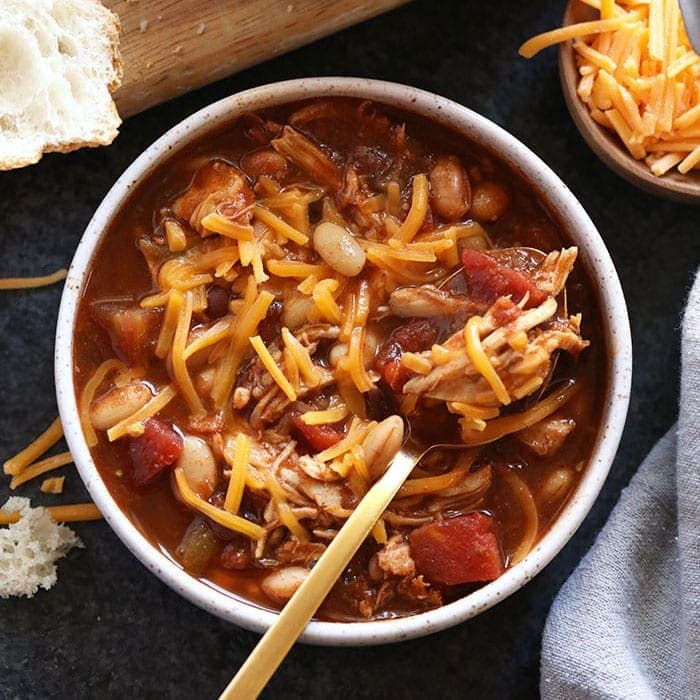 Crockpot Chicken Chili (+More Crockpot Chicken Recipes)
This Crockpot Chicken Chili is one of my favorite crockpot chicken recipes. It is so easy to put together, and made completely in the slow cooker! Plus, this easy chicken chili is packed with protein, fiber, and so much good flavor!
Prep: 15 minutesCook: 4 hoursTotal: 4 hours 15 minutes
Fat 2 Carbs 33 Protein 27
Yield 6 1x
Ingredients
16

-oz. boneless, skinless chicken breasts (2 large breasts)

12 oz

. salsa, any kind

1

 15-oz. can black beans, rinsed and drained

1

 15-oz. can white northern beans, rinsed and drained

1

 15-oz. can diced tomatoes

1

 4-oz. can diced green chiles

1 tablespoon

 minced garlic

3 tablespoons

 chili powder

1/2 tablespoon

ground cumin

1 teaspoon

 smoked paprika

2 teaspoons

 apple cider vinegar

1 cup

 chicken broth
Instructions
Place all ingredients minus the chicken breasts into your slow cooker. Mix until combined. Then, place chicken breasts on top and cover.
Turn crockpot to high and cook for 3-4 hours or low for 6-8 hours, stirring periodically.
Then, remove the chicken from the crockpot and shred using two forks. Place shredded chicken back in the crockpot and mix until combined.
Serve with all of your favorite toppings such as shredded cheese, Greek yogurt, and avocado.
Tips & Notes
Spices- option to use 3-4 tablespoons homemade chili seasoning.
Store in an airtight container in your refrigerator for up to 5 days.
This is an excellent freezer meal! Let cool completely and then transfer into a freezer-safe gallon-size bag and place into the freezer. Will stay for up to 3 months.
If you like a little bit more heat, feel free to swap hot sauce for the apple cider vinegar.
Nutrition Facts
Serving Size: 1/6 Calories: 275 Sugar: 5 Fat: 2 Carbohydrates: 33 Fiber: 9 Protein: 27
Author: Lee FunkeCategory: DinnerMethod: Slow CookerCuisine: AmericanDiet: Gluten Free
Keywords: chicken chili, crockpot chicken recipes
Top 6 Crockpot Chicken Recipes
Love crockpot chicken? Here are our favorite crockpot chicken recipes that you're sure to love!
Our Crock Pot Honey Garlic Chicken is perfect for any weeknight meal, is kid-friendly, and made with only 5 ingredients! So? Make your grocery list, head to the store, and cook up this amazing slow cooker honey garlic chicken.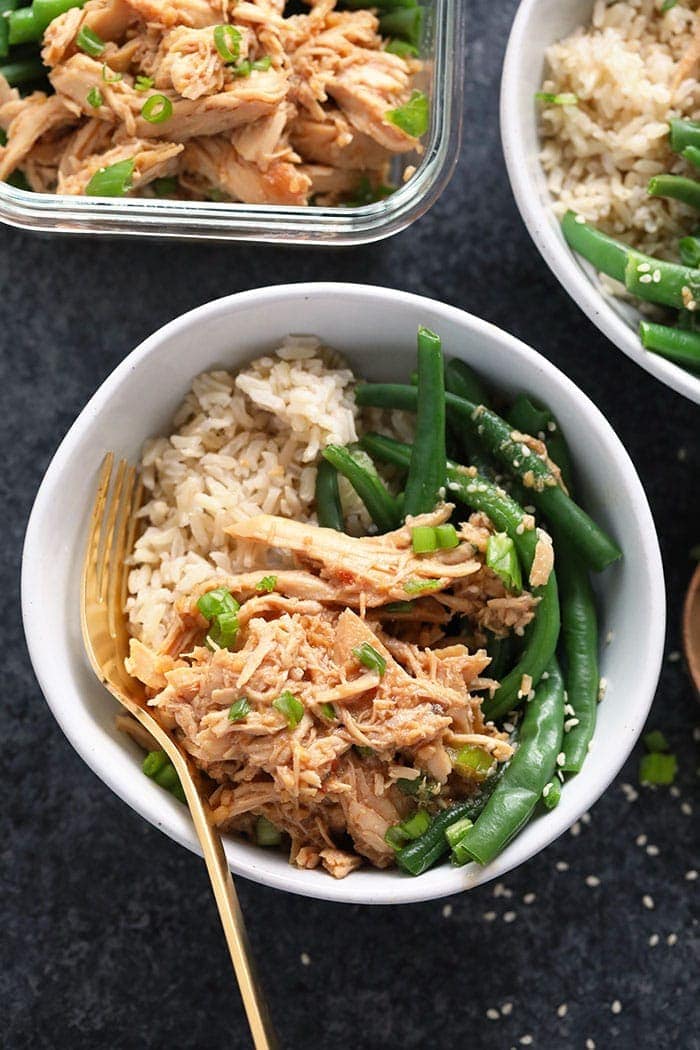 The most tender, flavorful Crockpot Chicken Tacos made with just 4-ingredients! Season chicken breasts with taco seasoning and then cook them in a slow cooker with a jar of salsa and taco night is ready in no time.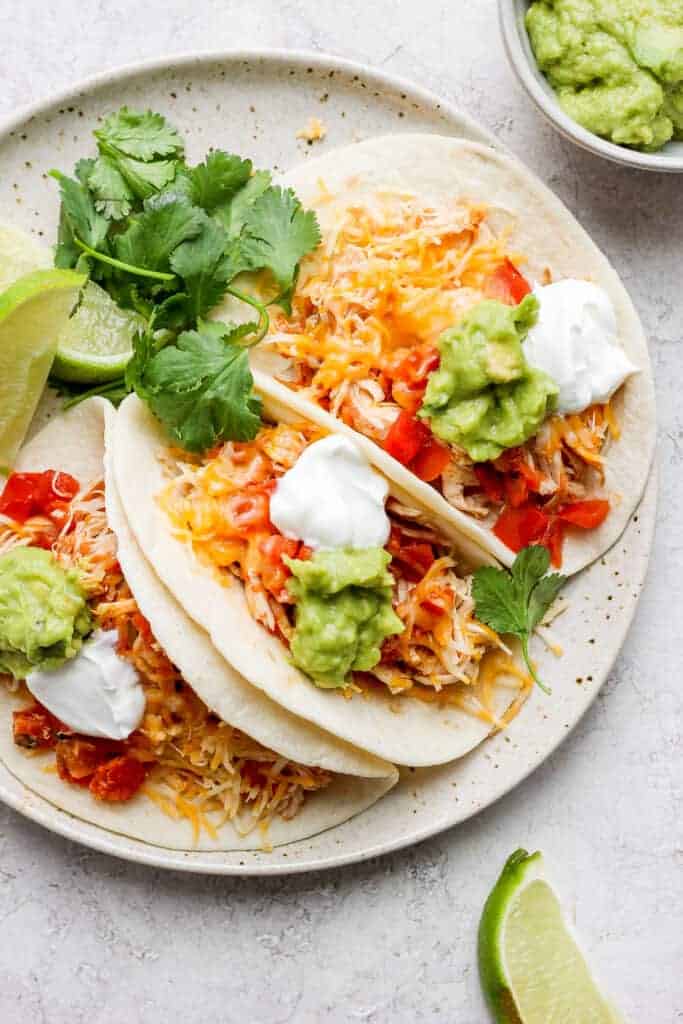 All you need are five ingredients to make this delicious, clean-eating, slow cooker honey sriracha chicken that's made with whole ingredients!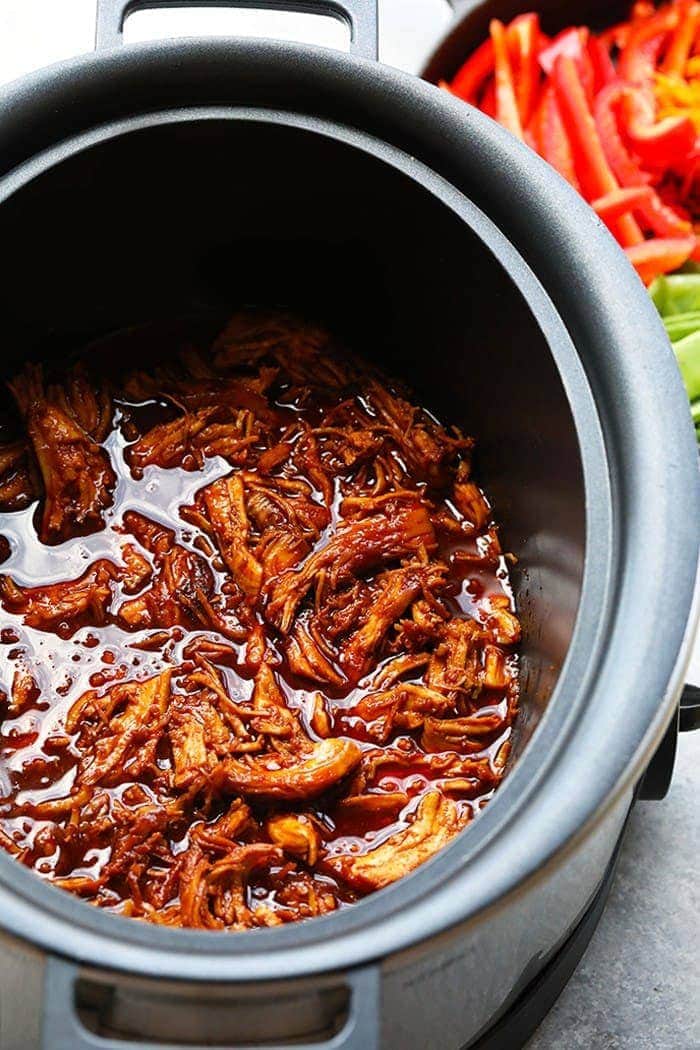 No matter the time of year BBQ Pulled Chicken is the way to go for any gathering. So, take out that crock pot and let's make the easiest Slow Cooker Pulled Chicken recipe of all time.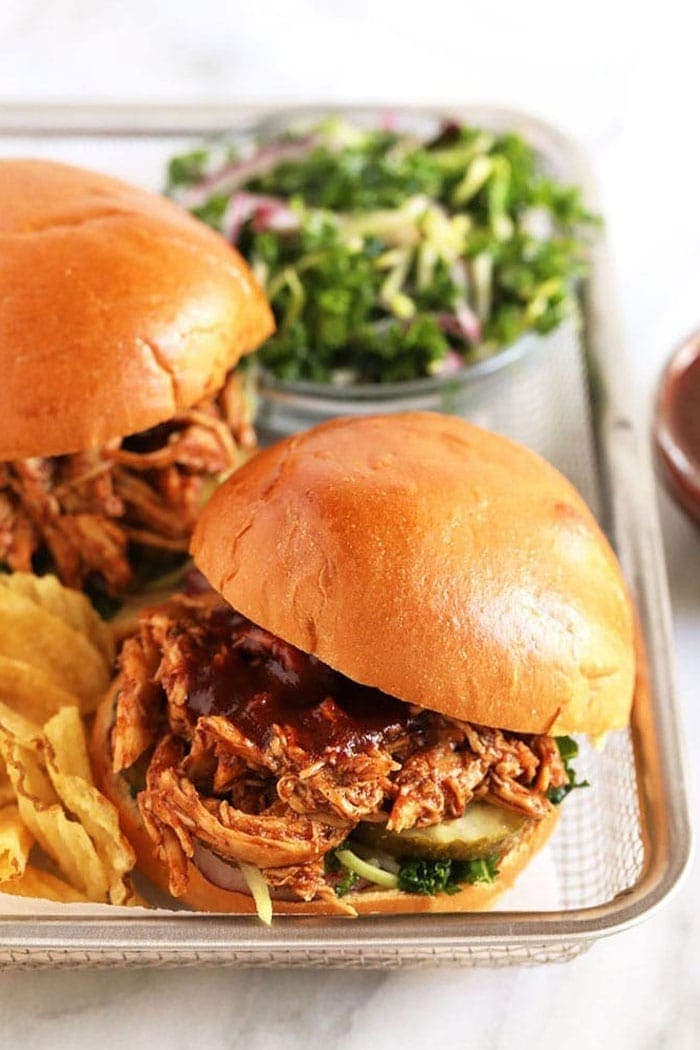 The most flavorful Coconut Curry Chicken made with Thai green curry, full-fat coconut milk, and fresh lime juice!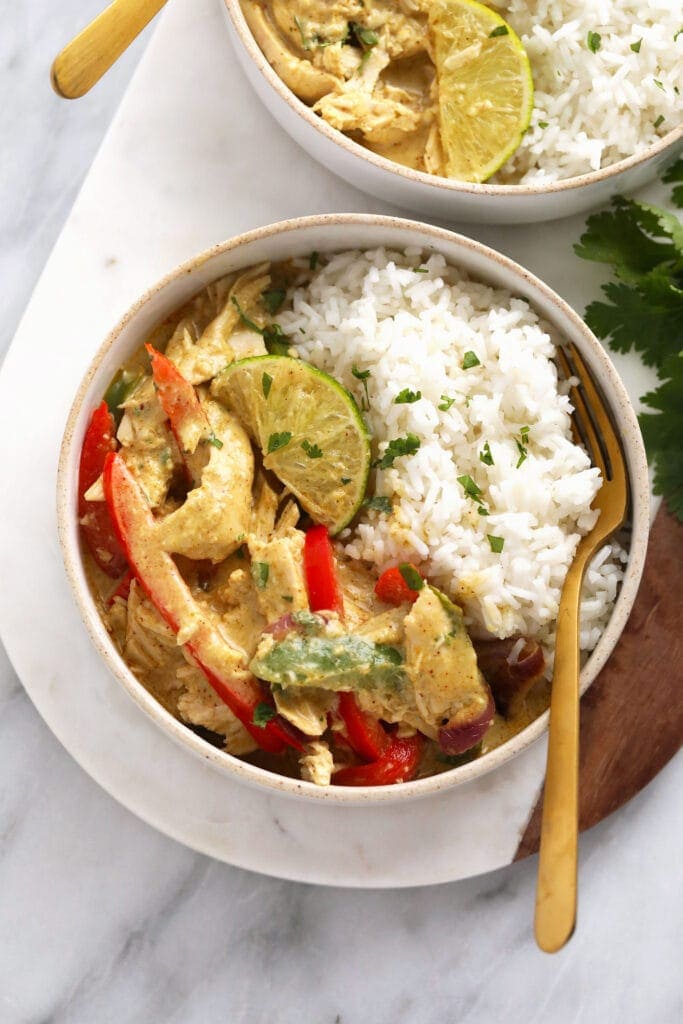 This Crockpot Chicken Noodle Soup is a *delicious* fan favorite. This chicken soup is made in the slow cooker with chicken breast, egg noodles, hearty vegetables, and chicken broth.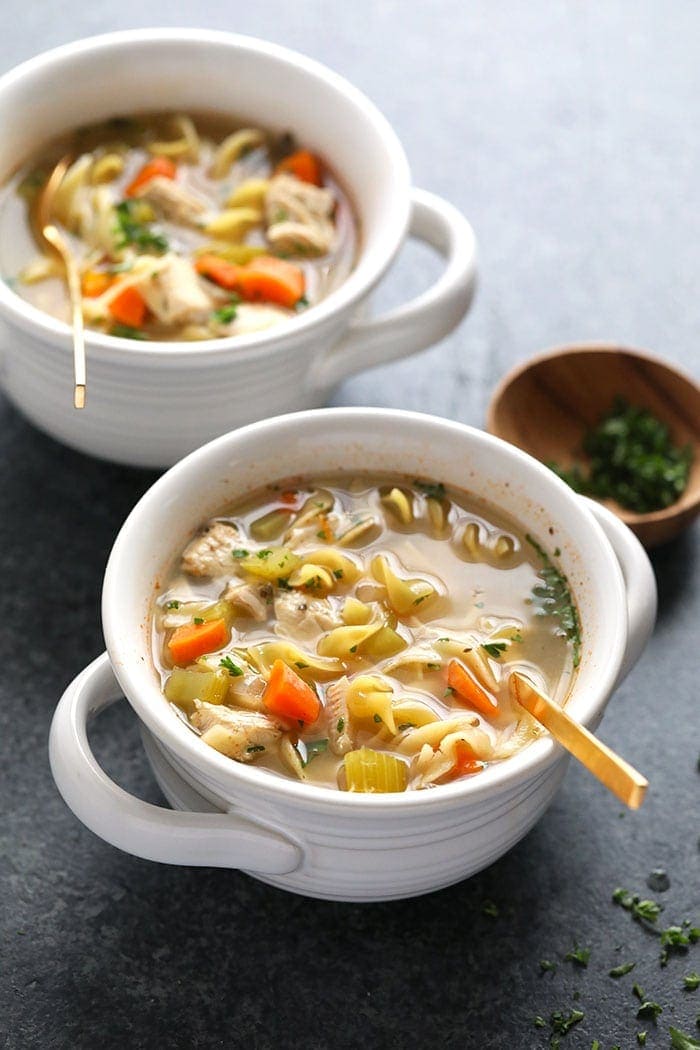 More Crockpot Chicken Recipes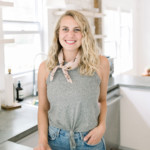 Lee is the founder of Fit Foodie Finds and based in Minneapolis, MN. She started this website in 2010 as a way to share her love for real food and wellness.